All LG Nokia Samsung Asus more...
Microsoft Alcatel ZTE T-Mobile Apple
Samsung today announced the Samsung Wallet, a new app that will let users store membership cards, boarding passes, tickets, and other content/associations. The application, which was revealed during a presentation at Mobile World Congress in Barcelona, is being released in a private beta for application developers. Samsung is providing developers with an SDK and the APIs needed to make their own apps compatible with the Samsung Wallet. The new app will rely on bar codes rather than NFC when it comes time to make a purchase or take advantage of membership benefits. Samsung said it is skipping NFC for now because retailers prefer the bar codes (less infrastructure to worry about). The app will launch with support from Walgreens, Belly, Major League Baseball Advanced Media, Expedia, Booking.com, Hotels.com, and Lufthansa. Samsung said a version of the app for consumers will arrive in the near future.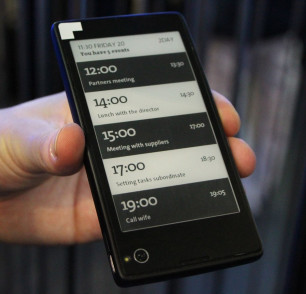 A company called Yota is pitching a device to network operators that has two displays. The front houses a traditional touch screen, while the back holds a black-and-white ereader display. Here are our thoughts.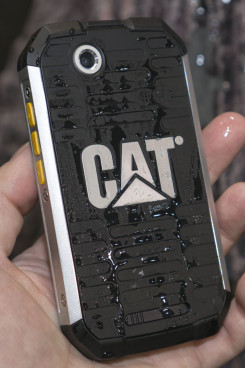 CAT (Caterpillar) is better-known for making bulldozers and backhoes, but now they're taking their reputation for tough machines down to a smaller scale with watches and smartphones. The B15 is their new Android effort, and we put it through its paces.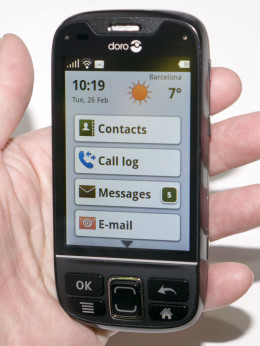 Doro is known for making really simple phones aimed at seniors. Now that the world is moving to smartphones, they've developed an interface that simplifies Android, and they're working to bring it to other manufacturer's Android phones in the U.S. Check it out in our hands-on.
Visa today announced that it has signed an agreement with Samsung to help speed up the deployment and availability of mobile payment systems. According to Visa, individual banking institutions that want to offer mobile payment apps can use its Visa Mobile Provisioning Service to provide the back-end tunnel though which payments can be made. At the same time, Samsung has agreed to install the Visa payWave applet onto its mobile devices. The applet can be used with Visa's software and handset-based NFC technology to piece together a complete mobile payment solution. Visa and Samsung have agreed to an ongoing mobile payment alliance, and expect to roll out devices with these features in the near future.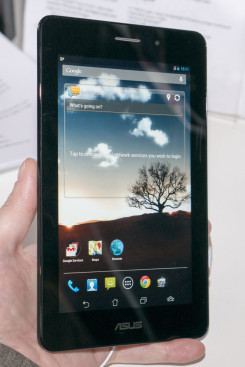 We spent a few moments with the new Padfone - a phone that that plugs into a tablet - and the Fonepad, a small tablet that doubles as a phone.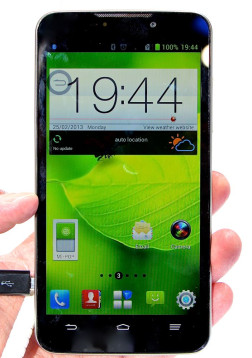 The ZTE Grand Memo pushes the boundaries of the phablet market with its 5.7-inch display. This massive phone crams tons of features into a slim package.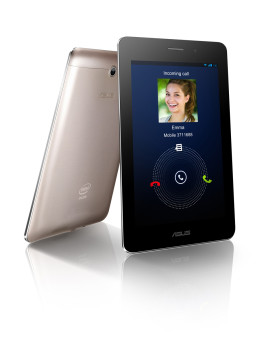 Asus today announced the Fonepad, an affordable phone/tablet with a 7-inch display for just $250 full price. The Fonepad is powered by an Intel Atom Z2420 processor and has a microSD memory card slot. The display is an IPS LCD panel with 1280 x 800 pixel resolution. It has a 3-megapixel main camera and 1.2-megapixel front camera. It has WCDMA 3G, but no 4G. It ships in April.
Asus today announced the Padfone Infinity, a new Padfone with a 5-inch 1080p display, that plugs into a 10.1-inch tablet, also with 1080p full HD resolution. The Padfone sports a 13-megapixel camera with an f/2.0 lens. The body is made from brushed aluminum alloy, with an NFC antenna embedded in the Padfone logo on the back. Like the HTC One, the Padfone sports a Qualcomm Snapdragon 600 1.7 GHz quad-core processor. It has 64 GB of storage, 2 GB of RAM, and LTE. The company also announced Asus Open Cloud Computing (AOCC,) a cloud platform to compete with iCloud.
Microsoft today released yet more tools that developers can use to create and manage apps for Windows Phone 8. Among the new features, Microsoft has released the Windows Phone Dev Center application. This app serves as a mobile dashboard through which developers can manage and control their apps, as well as track things such as downloads, crashes, and more. The Dev Center app also has a Live Tile that updates with crash reports and makes it easy for developers to share their application directly from the Start screen. According to Microsoft, developers have published 15,000 dedicated Windows Phone 8 apps since the platform launched in late 2013, with a total app count of more than 130,000 in the Windows Phone Store.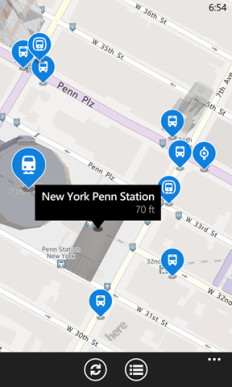 Nokia today made its rebranded HERE mapping and navigation services available to all devices running Windows Phone 8. Microsoft already baked Nokia Maps into Windows Phone 8. Beginning today, HERE Maps, HERE Drive Beta, and HERE Transit can be used by WP8 owners in the U.S., Canada, France, Germany, Italy, Mexico, Spain, and the U.K. Nokia first announced plans to rebrand its navigation services to HERE late last year. A separate HERE map app is available to the Apple iPhone, for example. The HERE apps for WP8 can be downloaded from the Windows Phone Store.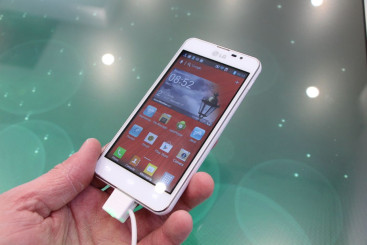 The F Series represents LG's commitment to design and features such as 4G. Variants of these two phones may or may not come to the U.S., but we took a look anyway.
LG today revealed that it has agreed to acquire the webOS operating system from HP for an undisclosed sum. LG said it has no intension to use webOS in mobile phones, as it is happy to use Google's Android mobile operating system in its smartphones. Instead, LG plans to take advantage of webOS in its smart television and other consumer electronics products. WebOS began life in 2009 as then-Palm's new operating system. Palm and webOS were later acquired by HP, which eventually shuttered the operating system and made it open source. WebOS will continue to be developed by LG at its Sunnyvale, Calif., R&D facility. Details about employee transitions, financials, and how the deal affects the open source version of webOS were not immediately made available.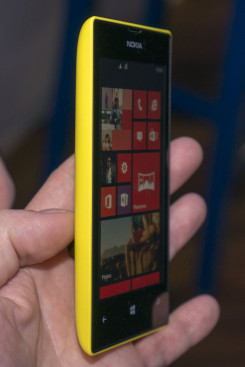 We spent a few moments handling Nokia's new Lumia 520, which will come to the U.S. as the Lumia 521 for T-Mobile USA. This Lumia is small and affordable. How's the hardware? Read on for our impressions.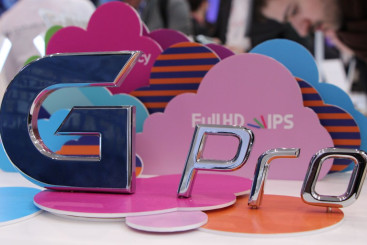 LG had its massive phablet on display at Mobile World Congress in Barcelona. Here's a quick look at LG's Galaxy Note II killer.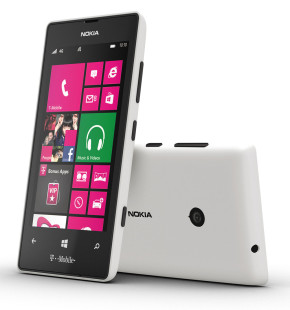 Nokia today announced two new Lumia Windows Phones, the Lumia 720 and Lumia 520. The Lumia 520 is Nokia's most affordable Windows Phone. One variant - the Lumia 521 - will be exclusive to T-Mobile USA and arrive in the second quarter. The 520 includes a 4-inch display with super-sensitive touch screen that works through gloves, 1 GHz Snapdragon S4 dual-core processor, 5-megapixel camera, 8 GB of internal memory, and a slot supporting up to 64 GB. The new Lumias include Here Maps, which includes transit navigation. The Lumia 720 is designed for "non-LTE" markets, indicating it may not come to the U.S. It sports a 4.3-inch ClearBlack display covered with curved glass. It is Nokia's first unibody-design phone with a memory card slot. The 720 sports a Carl Ziess f/1.9 lens.
A Samsung executive has revealed that the company is winding down its homegrown Bada OS and plans to move to the Tizen OS, an open source project that has roots in Nokia and Intel's Meego project. As part of the transition, Samsung's new Tizen devices will be backward-compatible with software written for bada. Both platforms are based on Linux.
MasterCard today announced MasterPass, an evolution of its PayPass mobile payments system. The new service encompasses NFC, QR codes, and online payments. It includes a complete solution for merchants for accepting payments and offering integrated loyalty programs. A component for banks allows them to roll out branded mobile wallets, including support for cards other than MasterCard. The service will roll out first in Australia and Canada next month, followed by the U.S. in the Spring, followed by other countries.
Intel today announced several new products for smartphones and tablets, including new mobile processors and an LTE modem design. The processors include dual-core Atom power plants using a 32nm processes, formerly codenamed Cover Trail+. They encompass the Z2580, Z2560, and Z2520. These processors are rated at speeds up to 2.0GHz, 1.6GHz, and 1.2GHz, respectively. According to Intel, they have twice the computing power and three times the graphics performance of their predecessors with the same power consumption. They feature Hyper-Threading to help with multitasking and can manage up to four application threads at a time. Other features of the Z2580, Z2560, and Z2520 include integrated graphics media accelerators that help manage content such as 3D, 1080p HD video encode/decode, camera sensors up to 16 megapixels, 15 frames-per-second burst mode for 8-megapixel cameras, as well as always-on HDR image/video capture. Last, they support large HD displays with resolutions ranging up to 1900 x 1200. Intel envisions these chips working best in high-end Android smartphones and tablets. Intel also announced the XMM 7160, a multi-band, multi-mode LTE modem. The XMM 7160 is targeted at smartphones, tablets, and ultrabooks. It supports up to 15 LTE bands in a single radio, which Intel believes will help ease LTE roaming headaches. Last, Intel said that a new line of Atom processors, code named Bay Trail, is on the horizon. The Bay Trail chips will use a 22nm processes and will first target ultrabooks, then tablets, and eventually smartphones.
LG today provided some clarification on the naming convention it will use for its smartphones moving forward. LG's Android devices will fall into one of four categories: G, Vu, F, and LII. The G Series includes phones such as the Optimus G and Optimus G Pro, which are the Korean firm's flagship models. G Series devices will include the best features and most cutting-edge specs, such as HD displays, fast processors, excellent cameras, and 4G. Next down the line is the Vu Series, including the Vu and Vu II. The Vu Series' defining characteristic will always be the phablet form factor with large displays, though they will share other features with the G Series. The F Series are what LG considers to be everyday 4G LTE devices, such as the recently announced F5 and F7. They will offer mid-range specs at affordable prices. The new LII Series devices, including the L3, L5, and L7, are 3G phones that offer good design and entry-level specs at a low price point. All phones in the G, Vu, F, and LII Series will continue to include LG's user interface customizations and features.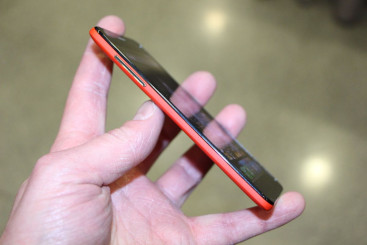 The Idol Ultra, an Android smartphone, may not be headed to the U.S. any time soon, but it was impressive enough that we though we'd share our first impressions.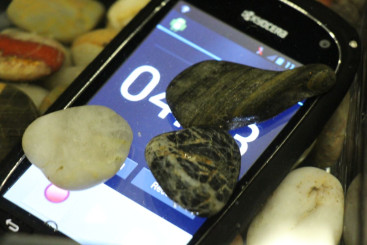 Kyocera was showing off the Torque at Mobile World Congress. This ultra-rugged Android smartphone claims to have it all.
Mozilla today announced that the default maps and navigation service for Firefox OS will be Here from Nokia.
Mozilla today announced the main launch partners for the first Firefox OS phones. The company also provided some details of the OS' app marketplace. Alcatel (TCL,) LG and ZTE will all make Firefox OS phones, all of which will use Qualcomm Snapdragon processors. The ZTE phone will either be called the Open (according to the press release) or Fire (according to reps at the press conference.) Telefonica will launch phones from all three manufacturers in Brazil, Colombia, Spain and Venezuela in mid-2013. Deutsche Telekom will launch the Alcatel One Touch Fire in Poland this summer, followed by additional countries. Huawei has also committed to make phones for the OS, although no carriers have committed to their efforts yet. Telnor will bring unspecified Firefox OS phones to Serbia, Montenegro and Hungary. America Movil will also bring Firefox OS phones to all of its Latin American markets. No U.S. carriers have committed to Firefox OS, although Mozilla expects the OS to reach U.S. shores in 2014. The Firefox Marketplace will support both downloadable and "one-time use" apps. The OS will also feature universal search, showing unified results from within apps and from the web.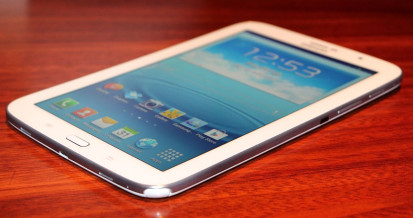 Samsaung introduced a new tablet at Mobile World Congress, the Note 8. It's a compact Android device that can also make voice calls.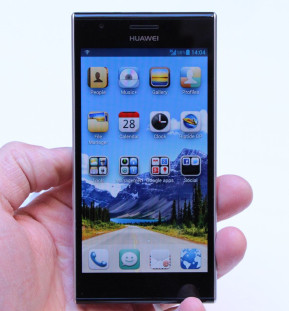 Here is a quick look at the Huawei Ascend P2, the company's flagship smartphone for 2013. It is incredibly thin and light, and still manages to include an impressive array of features. Here are our initial thoughts.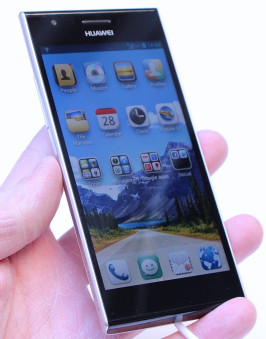 Huawei today announced the Ascend P2, a new Android smartphone that will launch in world markets later this year. The Ascend P2 is a slim smartphone that runs Android 4.1.2 Jelly Bean with Huawei's Emotion user interface. It features a 4.7-inch 720p HD display that has 315ppi and boasts a contrast ratio of 1000:1, 500 nits brightness, and 170-degree viewing angle. The P2 is powered by a 1.5GHz quad-core processor with 1GB of RAM, and the phone measures 8.4mm thick. The P2 includes a 13-megapixel camera with flash, back-side illumination, and HD video capture. It offers 16GB of on-board storage and supports microSD cards. Huawei claims it is one of the fastest phones in the world, with support for LTE Category 4, with theoretical download speeds of 150Mbps. The P2 has a 2,420mAh battery with quick charge and numerous power management functions. Other features include quick charge, DLNA for media sharing, and multiple user profiles for personalization. The Ascend P2 is to be Huawei's flagship device for the year. It will go on sale during the second quarter for €399. Pricing and availability for the U.S. has yet to be announced.