Hands On with the Rugged CAT B15
Article Comments 6
Feb 26, 2013, 8:58 AM by Rich Brome @rbrome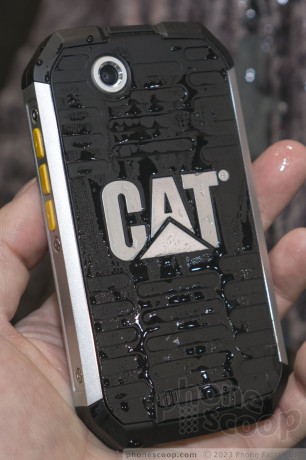 CAT (Caterpillar) is better-known for making bulldozers and backhoes, but now they're taking their reputation for tough machines down to a smaller scale with watches and smartphones. The B15 is their new Android effort, and we put it through its paces.
Advertisements article continues below...
CAT is known for big machines. Most people have seen guys wearing hard hats digging up a street using a CAT backhoe, and that's the image of toughness that CAT is trying to capitalize on with the extension of their brand to boots, watches, and now smartphones.
Of course, making a good phone is a bit different than making a tunnel-boring machine to carve a new subway line through Beijing, so CAT partnered with Compal to make the actual phone. CAT did the design, though, and brought some innovations to the touch screen and ports.
The case is a unique blend of aluminum, hard rubber, and Gorilla Glass. It feels extremely solid; not all rugged phones do. It's nice to pick a phone up and immediately have confidence that it will take whatever you throw at it, or whatever you throw it at. It's drop-proof and water-resistant (you can submerge it for up to 30 minutes.)
The screen has some special technology that lets it work even when wet. Most capacitive touch panels stop working when a drop of water gets on the screen, or your fingers are wet. CAT wasn't into sharing the technical details of how it works, but they demoed it, and it worked. One demo attempt for this tech failed, but that may have been an issue with that prototype. The next attempt worked quite well, as you can see in the video.
The other neat trick up this phone's sleeve is that the ports can withstand getting wet even with the port covers loose or open. That means the port covers are simple, easy-to-open flaps, instead of fidgety doors with thick rubber gaskets.
Otherwise, the B15 is a standard phone with Android 4.1, GSM, and WCDMA 850/1900 to support AT&T's network. They're working on a version that will support T-Mobile's 3G network, too. Unfortunately, there's no LTE, which may preclude a full AT&T release. The B15 does have a PTT key, so if they do bring it to AT&T in some form (they say they're trying) it they say it would support AT&T's PTT system.
Our only real gripe is the side keys. They're small, hard plastic keys. They work, but they look like they'd be tricky to use with gloves.
Cat B15 rugged Android phone
It'll be interesting to see if this has any significant uptake with AT&T's customer base. Given that AT&T is really hanging it's entire PTT marketing push on the capabilities of its new "EPTT" (enhanced PTT) service that can only run on its LTE network, it would seem to be a significant limiting factor that the B15 can't do LTE (and by extension can't do EPTT).

Pity, a Cat-branded phone of any type would have been a perfect addition to the Nextel line back in its heyday. Nextel made a good living with the "DeWalt style" black & yellow ruggedized "its-just-another-tool" type of phones & the marketing thereof, but also having a Cat-themed phone would have been a logical extension of Nextel's persona.

AT&T had the Sonim über-rugged hands...
(continues)
Don't know how they could release it w/o LTE. I'd love to have a phone that said CAT on it just for fun but no LTE is a deal breaker for a smartphone now
T-Mobile
This can be uses in areas where the network has been refarmed to 1900mhz.
I had a chance to test the phone at a trade show and I must say I was not impressed. It had major connectivity issues with both t mobile and AT&T. The unit was rugged but lacked many useful features in a rugged unit, such as loud speaker and ringtone....
(continues)