Recent Archive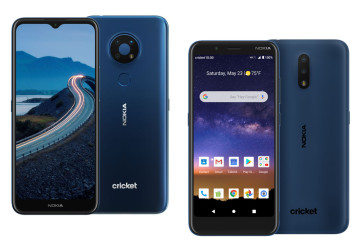 Nokia has two new affordable phones for Cricket: the Nokia C5 Endi and C2 Tava/Tennen. Both offer HD+ display resolution, multiple rear cameras, a dedicated Google Assistant button, Android 10, 3.5mm audio jack, and USB-C.
Nokia C5 Endi: Sports a 6.5-inch notched HD display, MediaTek Helio P22 processor, 4,000 mAh battery, 3 GB RAM, 64 GB storage, memory card slot, fingerprint reader, and a polycarbonate unibody design. Cameras include a 13 megapixel main camera, 5 megapixel wide camera, depth camera, 8 megapixel selfie camera. The camera app has AI scene detection and optimization, advanced portrait mode, and automatic multi-frame night mode. The Nokia C5 Endi will be available June 5th from Cricket for $170.
Nokia C2 Tava: Unlike the rest of Nokia's current global lineup, the C2 does not have an all-screen design; its display measures just 5.45 inches. Other specs include a removable 3,000 mAh battery, 2 GB RAM, MediaTek Helio A22 processor, 32 GB storage, and a memory card slot. It has an 8-megapixel main camera, depth camera for portrait mode, and a 5-megapixel selfie camera. The C5 Tava goes on sale with Cricket tomorrow, May 29th, for $110. The Nokia C2 Tennen is the same exact phone as the C2 Tava, but in a different color (Steel instead of Tempered Blue) and with different pricing for different sales channels. It will cost just $70 and be available from "select National retail stores" starting June 15th.
Qualcomm has announced the latest version of its FastConnect solution, which provides the Wi-Fi and Bluetooth functions for their phone chipsets. The FastConnect 6900 and 6700 support Bluetooth 5.2, Bluetooth LE Audio, and Wi-Fi 6E. These new FastConnect solutions will be integrated into Snapdragon-powered phones that will go on sale before the end of the year, according to Qualcomm. Wi-Fi 6E includes the 6 GHz band recently approved by the FCC, which opens up a relatively huge new swath of radio waves for Wi-Fi. Qualcomm claims the FastConnect 6700 supports peak Wi-Fi speeds approaching 3 Gpbs. By supporting 4-stream Dual Band Simultaneous (DBS) technology, the FastConnect 6900 supports Wi-Fi speeds up to 3.6 Gbps, which Qualcomm claims is the fastest in the industry for a mobile solution. By supporting Bluetooth LE Audio, the new solution supports audio sharing and broadcast audio. Qualcomm's new solution also supports dual Bluetooth antennas with intelligent switching, for better reliability and range.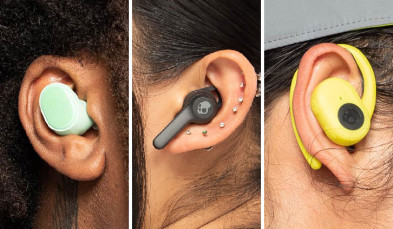 Skullcandy launched four new affordable true wireless Bluetooth earbuds today. All four models have Tile tracking technology to help find them if they are lost. Uniquely, each bud in the pair can be located individually using Tile, and they can be located both in and out of the charging case. Tile tracking works locally using Bluetooth, but also globally using the Community Find feature, whereby the phones of other Tile users can anonymously help find your lost item anywhere in the world. All of the new models offer at least IP55 water, sweat, and dust resistance. They range in price from $60-$100. The cheapest is the Sesh Evo. For $60, they offer a compact bud-style form factor, 24 hours of total battery life (6 for the buds alone), three equalizer modes, and the ability to use either bud on its own. The Indy Evo offers 30 hours of total battery life (6 for the buds alone) in a stick-style form factor (like AirPods) for $80. The Indy Fuel is the Indy Evo with a wireless charging case, for $100. The Push Ultra is the sport model, with IP67 sweat and rain protection, moldable ear hooks, 40 hours of total battery life, and a wireless charging case. They are also $100. All four models are available now from the Skullcandy web site.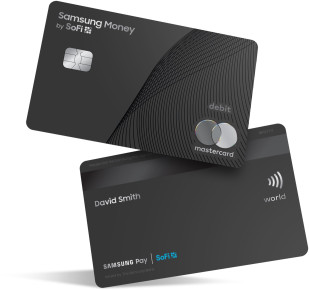 This summer, Samsung will launch Samsung Money by SoFi, a new financial product integrated with Samsung Pay. Like Apple Card, Samsung Money can be used as a payment method with the wallet app (Samsung Pay), the account is managed within the wallet app, and the product also includes a physical payment card. However, Samsung Money is not a credit card like Apple Card. Instead, it consists of a Mastercard debit card linked to a SoFi cash management account, which functions much like a free (no-fee) online checking account. The account will earn interest at a variable rate that would currently be 0.20% APY. Using Samsung Money earns Samsung Rewards points, which can be redeemed for purchases on samsung.com or with the Shop Samsung app. Or, one time only, points can be redeemed for cash at a rate of 1,000 points = $5 (minimum 1,000 points). (Apple Card offers 2% unlimited cash back on all purchases — and 3% with select retailers — which can be spent on anything.) The debit card can be used to withdraw cash without fees at any of the 55,000+ Allpoint ATMs. As with Apple Card, the physical card will not display the card number, expiration date, or CVV; those can be accessed securely from the Samsung Pay app when needed. Users are not liable for unauthorized transactions. Although Samsung Money presents itself to the user as one checking-like account, behind the scenes, SoFi "sweeps" money daily into accounts at partner banks, which in turn provide FDIC insurance protection once those "sweep" transactions clear. Because SoFi has partnered with six different banks for this service, and can divide your money between them, it can provide up to $1.5 million in FDIC insurance coverage, instead of the usual $250,000. The Samsung Pay app will enable Samsung Money users to check their balance, review past statements, search transactions, flag suspicious activity, pause or restart spending, freeze or unfreeze their card, and more. Samsung has just updated its Samsung Pay app with a new "Money" tab where those interested can join a waitlist, or they can head to www.samsung.com/us/money.
Arm today announced a suite of new processing core intellectual property intended for the chips that will power high-end phones starting in 2021. The new designs are for the new, cutting-edge 5nm manufacturing process that is just becoming available for the most high-end chips. (Currently, the main chips for flagship phones are made with a 7nm process.) The new Cortex-A78 offers 20% more sustained general computing performance compared to the A77. The new Mali-G78 offers 25% better graphics performance compared to the G77. Up to 24 Mali-G78 cores can be used in a single chip design. The new Ethos-N78 machine learning core offers 25% better performance efficiency compared to the N77. The N78 can be configured in over 90 different ways, offering anywhere from 1 TOP/s to 10 TOP/s. Companies that design processor chips often license Arm designs and use them as a starting point for their own chips, customizing the Arm designs along the way. Arm is extending its collaboration with such companies in a program called Cortex-X Custom, to produce even higher-end CPU designs. The first result of this program is the Cortex-X1, developed with an unnamed partner. The Cortex-X1 will have a 30% peak performance increase over the Cortex-A77. Arm is also announcing the Mali-G68, a "sub-premium" GPU core that brings many of the modern features of the new Mali-G78 to "sub-flagship" phones; it supports up to six GPU cores in one chip.
Sony will start accepting pre-orders for the $1200 4G flagship smartphone on June 1st. Those who pre-order by June 28th will receive a free set of Sony noise-canceling earbuds.
A federal judge in Seattle has ruled that the FBI violated a defendant's Fourth Amendment rights when it collected evidence by powering on the defendant's smartphone and photographing a notification displayed on the lock screen. The judge ruled that the FBI's actions amounted to a search, even though they made no attempt to unlock the phone. Because the FBI did not obtain a search warrant, it was unconstitutional. However, in the same case, the same judge stated that police officers collecting the same information at the time of arrest did not necessarily violate the defendant's constitutional rights. That's because arresting officers checking the lock screen "took place either incident to a lawful arrest or as part of the police's efforts to inventory the personal effects". Under those circumstances, search warrants are not necessarily required.
Verizon is offering a $200 discount on the brand-new Motorola edge+ flagship phone through June 3rd. Customers must purchase he phone online and will receive the discount in monthly credits over 24 months, but there are no other conditions.
Google marked today's Global Accessibility Awareness Day with the launch of new accessibility features across several of its apps and services. Google Maps now indicates wheelchair accessibility for businesses and other destinations in the US, UK, Japan, and Australia. When the (opt-in) feature is enabled, search results will include a wheelchair icon for accessible locations, and full listings will show more detail, such as whether the entrance, parking, seating, and restroom are wheelchair-accessible. The updated Maps app is now available for both Android and iOS. Google also added several major features to Live Transcribe, its Android app that provides real-time, speech-to-text transcriptions of everyday conversations for people who are deaf or hard of hearing. You can now set your phone to alert you by vibrating when someone nearby says your name to get your attention. Live Transcribe can also now be customized with a personal dictionary of custom names or terms for different places and objects. Finally, an optional feature makes it easy to search all conversations from the past three days. Google has also improved its Sound Amplifier Android app to support Bluetooth headphones. Sound Amplifier clarifies the sound around you. Now you can leave your phone near the source of the sound, like a TV or a lecturer, and have your phone transmit clarified sound to your Bluetooth headset up to 30 feet away. Finally, Google announced a new Android app: Action Blocks. A simple shortcut interface, Action Blocks is designed to make multi-step tasks on your phone simpler. People with cognitive disabilities or age-related cognitive conditions can now perform tasks like "call my daughter" in one step, right from their Android home screen.
T-Mobile is offering free, unlimited service to all official EMS, police, and fire agencies in the US. The new type of plan includes unlimited smartphone and tablet data within the US, including 5G. Streaming video is limited to SD quality (1.5 Mbps) and mobile hotspot is limited to 1 GB at high speed, but otherwise, data, text, and voice are all unlimited and free within the US. The plan includes 5 GB of high-speed data in Canada and Mexico, but no other international features are included in the free plan. A step-up plan for $15/month offers unlimited texting and basic data worldwide, 20 GB of mobile hotspot data, and unlimited in-flight Wi-Fi with Gogo. The new plans are available to all full-time staff using a company account registered to a verified first responder agency. Inclusion of volunteers will be at the discretion of the station chief or commander in consultation with T-Mobile. T-Mobile has committed to offering these plans for ten years.
Apple and Google have started to make their new, jointly-developed Exposure Notification technology available for public use. The technology automatically tracks which other phones your phones has been near for a certain period of time, using a new, Bluetooth-based system. When one user reports that they have tested positive for COVID-19, other users they have come into contact with are automatically alerted, so they can get tested. The system uses anonymous, frequently-changed tokens to preserve privacy. To use the system, users must install an official app from their local public health agency and explicitly opt in to the service. Apple and Google are only allowing one app per geographic region, and have multiple safeguards in place to protect user privacy, including a ban on collecting users' locations. The system is available now for public health agencies to develop and release their apps using the system, although not all governments plan to do so. It requires a new OS version to function. Apple released iOS 13.5 today, which includes Exposure Notification as well as other features specific to the ongoing pandemic. New versions of Android are expected soon that support Exposure Notifications. The two companies have promised a more comprehensive version of Exposure Notification in the coming months that will not require the installation of a special app, although it will remain opt-in.
Verizon has enabled data uplink functionality on its entire 5G network, enabling faster uploads for 5G devices in areas of Verizon mmWave 5G coverage. The company also announced that it will soon launch 5G in San Diego. Previously, Verizon's 5G network only supported downlink (download) connections, relying on 4G for uplink (upload). Now that an entire two-way data connection can occur over 5G, the network can provide better quality video calling/conferencing, faster upload and sharing of video files, faster cloud sync and backup, and better multi-player gaming. Verizon claims that 5G uploads should about 30% faster compared to 4G. On May 28th, Verizon will light up mmWave 5G service in parts of San Diego, bringing Verizon's total number of "5G cities" to 35. The service will be "concentrated in parts of Mission Valley near Westfield Mission Valley and SDCCU Stadium, Linda Vista along Linda Vista Road, Kensington near El Cajon Blvd, and in Banker's Hill on 1st Avenue."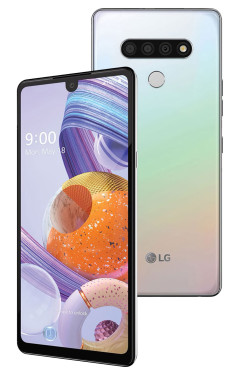 Boost Mobile is the first US carrier to launch the LG Stylo 6, an update to the popular Stylo 5 series. Compared to the 5 series, the Stylo 6 has a larger display, larger battery, more storage, and more cameras. It's about the same width and thickness as the 5, but taller. This, plus a modern all-screen design, allow an increase in screen size from 6.2 to 6.8 inches. It also has a 4,000 mAh battery and 64 GB of storage. The 13-megapixel rear camera has been joined by a depth camera and 5-megapixel wide-angle camera. The front camera, which sits in a small screen notch, has been upgraded to 13 megapixel. The Stylo 6 is powered by Android 10 running on a MediaTek Helio P35 processor with 3 GB of RAM. Other features are similar to the Stylo 5 series, including a pop-out stylus, full-HD display resolution, NFC, rear fingerprint reader, memory card slot, and 3.5mm audio jack. Boost is selling the LG Stylo 6 for $180, starting today. The FCC has also approved a different variant of the Stylo 6 that seems designed for T-Mobile's network. The Stylo 5 series was offered by all major US carriers and most prepaid brands.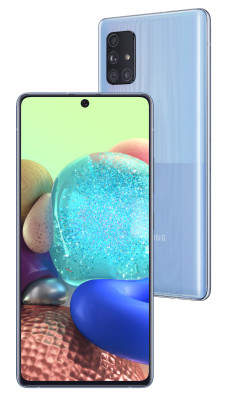 Samsung is developing a version of its Galaxy A71 5G phone for Verizon, according to information made public today in the Bluetooth SIG's database of devices that have passed the Bluetooth qualification process. The new listing describes the device as "Galaxy-A71-5g US VERIZON". Samsung announced the A71 5G last month, saying it would launch in the US and cost $600. The phone has a 6.7-inch full-HD display, 64-megapixel camera, 4,500 mAh battery, and 25W fast charging. 5G phones must be specifically designed for Verizon to work with the company's 5G unique network, since Verizon is currently one of the few carriers worldwide to rely exclusively on mmWave 5G. So while it cannot be confirmed that Verizon will definitely sell the Galaxy A71 5G, it would be very unusual for Samsung to expend the (considerable) effort to develop such a phone and then cancel it.
Comcast's Xfinity Mobile has launched "new" service plans that include mmWave 5G data at no extra cost. The new plans are mostly identical to the company's old plans, except the cheapest plan — offering just 1 GB of shared cellular data — is now $15/month instead of $12/month. Other plans remain unchanged, including 3 GB of shared data for $30/month, 10 GB for $60/month, or unlimited data for $45/month/line. Xfinity Mobile currently offers two 5G phones: the Samsung Galaxy S20+ and Galaxy S20 Ultra. New customers will automatically receive the new plans. Existing customers must opt in to a new plan to access 5G. Xfinity Mobile is available to existing Xfinity Internet customers. Xfinity Mobile uses the Verizon network, now including mmWave 5G in parts of 34 major US cities, including Atlanta, Boston, Chicago, Denver, Detroit, Houston, Memphis, Miami, Minneapolis, Spokane, St. Paul, and Washington, D.C.
MediaTek today revealed its second SoC (System-on-Chip) for 5G phones: the Dimensity 820. The 820 is a more affordable relative of the Dimensity 1000, announced late last year. Dimensity chips integrate an application processor and 5G modem in one package, like Qualcomm's Snapdragon 765. The 820 supports advanced 5G technologies including carrier aggregation, DSS, VoNR, and SA. Like the Dimensity 1000, the 820 only supports sub-6 GHz 5G, not mmWave. The 820 also supports cameras up to 80 megapixels, 4K HDR video capture, and 120 MHz displays. It also has a dedicated AI processing cores. MediaTek says the Dimensity 820 is designed for 5G networks in "Asia, North America, and Europe", although it did not give a timeline for devices using the 820 to reach the market.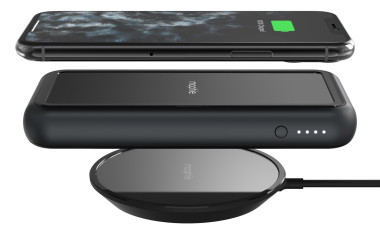 Mophie's latest external battery for iPhones is the Powerstation Wireless XL, with 10,000 mAh capacity, capable of adding 55 hours of use to an iPhone. It can charge an iPhone or other Qi device wirelessly, and simultaneously fast-charge an iPhone or other USB-PD device via its USB-C port. The battery itself can be charged via Lightning, USB-C, or wirelessly. The Mophie Powerstation Wireless XL is available now for $100, from mophie.com, apple.com, and soon in Apple stores worldwide.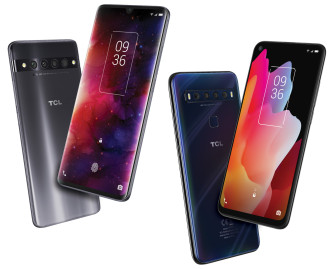 TCL Communication, maker of Alcatel-branded phones, is launching its first TCL-branded phones in the US. The TCL 10 Pro and TCL 10L will launch as unlocked phones. TCL also makes televisions and their own display panels. TCL phones use TCL displays.
TCL 10 Pro: A mid-range phone with a flagship-level design, including a curved-edge OLED display and matte glass back. The 6.47-inch display sports full-HD resolution and Netflix-certified HDR10 color. The four rear cameras include a 64-megapixel main camera, 16-megapixel 123º wide-angle camera, macro camera, low-light camera, laser focusing, and separated dual LED flashes. The front camera is 24 megapixel. It's powered by a 4,500 mAh battery, Qualcomm Snapdragon 675 processor, and 6 GB of RAM. It has 128 GB of storage plus a memory card slot. Other features include Android 10, in-display fingerprint reader, 3.5mm headset jack, USB-C, and, unusually, an IR emitter. A fast charger and clear case are included. 4G LTE network support includes US bands 2, 4, 5, 12, 13, 25, 26, 41, and 66. The only color option at launch in the US is Ember Gray. It will sell for $450.
TCL 10L: A more affordable option at $250, the 10L has a 6.53-inch full-HD display, Snapdragon 665 processor, 6 GB of RAM, and a 4,000 mAh battery. It also has quad rear cameras like 10 Pro, including a 48-megapixel main camera, 8 megapixel, 118º wide camera, 2 megapixel macro camera, and depth camera. The front camera is 16 megapixel. It has a rear-mounted fingerprint reader and 64 GB of storage. Like the 10 Pro, it has a memory card slot, 3.5mm headset jack, USB-C, multi-stream Bluetooth, Android 10, and 4K video capture. It supports the same US LTE bands as the 10 Pro: 2, 4, 5, 12, 13, 25, 26, 41, and 66. It will come in Mariana Blue with a "holographic finish on the back that reflects an iridescent shine."
Both phones will be available from Amazon, Best Buy, and Walmart starting May 19th.
Motorola is rolling out a major software update for its new Razr phone. The update brings Android 10, as well as new features for the unique large outer display. The outer display now lets you access favorite contacts, and reply to messages with a full on-screen keyboard or Smart Reply. The outer display now also displays music controls for popular music apps, and turn-by-turn navigation from Google Maps. They've also added new modes to the camera when the phone is closed, such as Group Selfie, Portrait Mode, Spot Color, and others.
Qualcomm has introduced a new high-end chip for gaming phones: the Snapdragon 768G. As implied by the numbering, the 768G is very similar to the 765G announced late last year, but with improved performance. The 768G has a higher clock speed for its primary core (2.8 GHz vs. 2.4 GHz), 15% more performance from its GPU, and support for Adreno Updateable GPU Drivers. The chip is otherwise similar to the Snapdragon 765 and 765G, enough so that it can be a drop-in replacement for either, in both hardware and software. Like the 765 chips, it offers processor cores and a 5G modem in one integrated chip. The first phone to use the 786G will be the the Redmi K30 5G Racing Edition, announced today.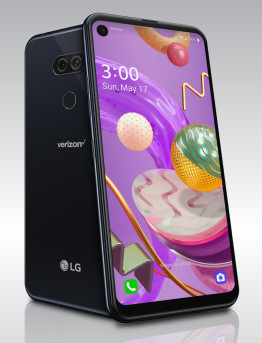 Verizon has launched a new mid-range phone, the LG Q70, for $350. Notable features include an IP68 water resistance rating, NFC, 3.5mm headset jack, 4,000 mAh battery, and a 32-megapixel camera that can capture 4K video. The phone is powered by a Qualcomm Snapdragon 675 chip with 4 GB of RAM. It has a 6.4-inch full-HD display with a "hole punch" in the corner for the 16-megapixel selfie camera. It also has 64 GB of storage, a memory card slot, depth camera for portrait effects, rear fingerprint reader, and USB-C with fast charging (USB PD 2.0 and Quick Charge 3.0). The phone is available from Verizon starting today.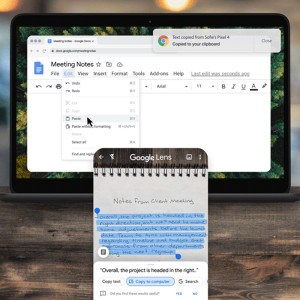 Google has updated its Google Lens computer-vision app with several new features. The app already recognizes printed and hand-written text in the real world, letting you copy it into other apps on your phone, or translate it to another language. A new option lets you select text and send it to you computer's clipboard, where it can be pasted into other apps. The feature requires the Chrome browser on your computer, and that both devices be signed in to the same Google account. Also new in Google Lens is a feature that tells you how to pronounce translated words. Google Lens is available for both Android and iOS.
Apple has added a new feature to iOS that can electronically share your "Medical ID" data with emergency dispatchers when you call 911. Apple's Health app already lets you input medical info such as blood type, allergies, medical conditions, and emergency contacts. Users can opt to make this information available on an iPhone's lock screen without unlocking, so first responders can access the info when you might be unresponsive. In the forthcoming iOS version, 13.5, this data can be automatically transmitted to 911 operators in areas where emergency call centers have been upgraded to receive Enhanced Emergency Data. The feature also works in conjunction with the fall detection feature in newer Apple Watches, which automatically calls 911 if you fall and don't move for one minute.
The NFC Forum has announced a new standard for low-power wireless charging using the NFC hardware in phones. Called Wireless Charging Specification (WLC), the spec calls for wireless charging up to 1 watt, suitable for a phone to charge a smaller device such as a smartwatch, fitness tracker, earbuds case, or advanced stylus. This new standard is separate from the Qi standard currently used by phones with wireless charging. WLC would enable phones with NFC to offer "reverse" wireless charging only; it does not enables phones to use wireless chargers.
Apple has set a date for its annual Worldwide Developers Conference (WWDC): June 22nd. The conference will be held online due to the pandemic, and will be free for all developers.
Apple and Google are preparing to launch Exposure Notification, a new technology to address the COVID-19 pandemic based on the principles of contact tracing. The first phase will center around downloadable apps developed by various government public health agencies. These apps will have exclusive access to new Exposure Notification APIs in forthcoming versions of Android and iOS. Apple and Google recently announced special rules that will apply to such apps. The companies will only allow one app per geographic region. The apps can only be used for pandemic response and no other purpose. To protect privacy, the apps must minimize the amount of data they collect, and are barred from collecting location data. The apps must also gain explicit user consent for initiating Exposure Notification technology, which operates using Bluetooth in the background.
T-Mobile has launched enhanced 5G service in New York City that uses three very different frequency bands to provide a unique blend of broad coverage and high speeds, according to a tweet from Neville Ray, the company's President of Technology. The network includes band 71 (600 MHz) for broad 5G coverage, although with speeds only marginally faster than 4G. This is the same band T-Mobile has deployed for "nationwide" 5G coverage. It also includes mmWave 5G, which offers the highest speeds but with coverage limited to the densest areas of the city. Finally, it includes band 41 (2.5 GHz), which offers something in-between. Band 41 is the new addition to the company's 5G network in NYC. Band 41 was owned by Sprint, so the recent merger of the two companies made today's launch possible. Of T-Mobile's current phone lineup, only the Samsung Galaxy S20+ and S20 Ultra can access all three bands.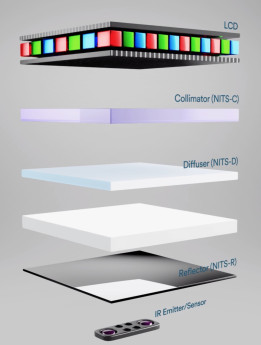 A new technology from 3M will allow optical fingerprint readers to be used behind LCD screens. Until now, optical in-display fingerprint sensors have been limited to OLED displays. Typical LCDs have multiple layers made from thin films that reflect and diffuse light, which would interfere with an optical fingerprint sensor. 3M's new NITS (Near Infrared Transmission System) technology replaces those layers with new films that perform similarly for visible light (retaining at least 97% display brightness when optimized), but are transparent to infrared light. This allows an infrared fingerprint sensor to operate from behind the LCD uninhibited.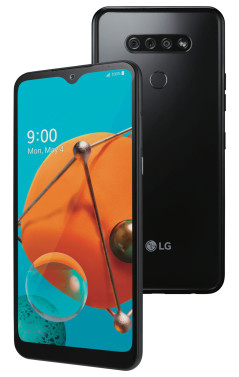 Boost Mobile has launched the LG K51, a new affordable Android phone with triple rear cameras and a large 4,000 mAh battery for $90. It also has a 6.5-inch HD display with a small notch, fingerprint reader, 3.5mm headset jack, and USB-C. It's powered by a MediaTek Helio P22 processor and 3 GB of RAM. It has 32 GB of storage and supports memory cards. The three rear cameras are: 13 megapixel standard camera with PDAF, 5 megapixel wide-angle (115º) camera, and a depth camera for bokeh (portrait) effects. It comes with Android 9. It also supports VoLTE, which future-proofs it against the eventual shutdown of the legacy Sprint CDMA network.
Verizon has added the OnePlus 8 and OnePlus 8 Pro to the list of unlocked devices it has tested and certified to run on its network. This enables activation of these unlocked phones on Verizon, including all network features.
T-Mobile has successfully tested a variety of 5G SA (stand-alone) technologies on a production network, using hardware from multiple vendors on both the network and device ends. The successful tests pave the way for T-Mobile to launch 5G SA later this year. In a world first, T-Mobile used a commercial 5G smartphone from OnePlus to test a low-band 5G SA data session, a VoNR voice call, and a ViNR video call, all on a production network. In another first, T-Mobile successfully tested 5G SA data between commercial modems from different vendors: MediaTek and Qualcomm. The 5G SA production network uses technology from Nokia, Ericsson, Cisco, and Qualcomm. Current 5G networks are NSA (non-stand-alone), which means they rely heavily on existing 4G networks. Currently, 5G phones connect primarily to 4G networks; data sessions that happen over 5G are orchestrated over 4G. 5G SA removes the dependence on 4G networks, marking the next step in the evolution of 5G. It will also enable lower latency and faster data speeds. VoNR will eventually allow voice calls over 5G networks, removing the last dependence on 4G. But first, an intermediate technology called "Evolved Packet System (EPS) fallback to VoLTE" will allow 5G SA to launch before VoNR is ready. It allows 5G phones to connect primarily to a 5G SA network, but fall back to 4G for voice calls. T-Mobile has successfully tested this technology with a MediaTek chipset. T-Mobile has also tested ViNR, the video-calling technology built into the 5G standard.
Apple today released a beta version of iOS 13.5 to developers. The new software includes two key features specifically related to the COVID-19 pandemic. First, FaceID will now detect if you're wearing a face mask and automatically prompt for a passcode as an alternate way to unlock the phone. Second, the update includes the first version of Apple and Google's COVID-19 Exposure Notifications technology, which provides an automated, opt-in alternative to traditional contact tracing. Today's beta release will help public health authorities prepare their own contact-tracing apps that will be able to use the technology when iOS 13.5 is released to everyone. Google is providing Android developers with a similar beta release of Android. Germany has already announced that it will adopt this Apple/Google technology.
Verizon, T-Mobile, and AT&T are working with iHeartMedia to donate 200,000 cell phone chargers to hospitals in major cities hardest hit by the coronavirus pandemic. "Many patients seeking treatment for Covid-19 either forget to bring their phone charger to the hospital or don't have one easily accessible. Losing the ability to communicate with friends and family during a pandemic can be terrifying and healthcare workers are struggling to keep up with the demand for chargers." Cities receiving the donations include New York, Chicago, Los Angeles, Seattle, Boston, New Orleans, Detroit, and Philadelphia.
LG and Tubi announced a deal to preload the Tubi video-streaming app on LG phones. Tubi is a division of FOX Entertainment. The Tubi app offers over 20,000 movies and TV shows for free, with ads. The app is already loaded on LG phones sold by T-Mobile, and is coming soon to LG phones sold by Metro and US Cellular. Additional carriers will be announced soon. The multi-year partnership is expected to cover "tens of millions of LG mobile phones in the US and Canada".
The FCC today approved new rules for the 6 GHz band that allow unlicensed use, including Wi-Fi. This opens up a large swath of new spectrum for Wi-Fi, which should result in faster, more reliable Wi-Fi when new devices become available that support the new band. The full 1200-MHz-wide band (5.925–7.125 GHz) will be available for indoor, low-power applications. Standard-power devices will have access to a smaller, 850 MHz portion of the band, with an automated system ensuring they don't interfere with existing, licensed users of the band, including microwave services that are used to support utilities, public safety, and wireless backhaul. The FCC is seeking comment on allowing higher power levels in the band.
A new contact-tracing technology developed by Apple and Google to address the COVID-19 pandemic will see its first release to developers on April 28th, earlier than originally planned. The technology uses Bluetooth to keep a history of which phones come near which other phones for certain periods of time, as an approximation of people who have come into contact, so that when someone tests positive for COVID-19, other people who need to be tested can be identified quickly. The technology is fully interoperable between iOS and Android phones, thanks to a unique collaboration between Google and Apple. The API being released next week will enable verified public health authorities to use the technology in their own apps. Such apps will need to be installed on a large percentage of phones for the technology to be useful in any given population. Later, Apple and Google plan to integrate a more complete contact-tracing technology into both iOS and Android, which would not require an app install. Apple and Google have designed the technology to be anonymous, voluntary, transparent, temporary, secure, and interoperable, and EU regulators are working with the companies to ensure the technology meets their strict standards in those areas.
AT&T today launched 5G in 90 new cities and counties, nearly doubling the company's number of 5G markets. The launches are in sub-6 GHz bands, the same bands used for 4G, and therefore offering coverage similar to 4G. While sub-6 5G offers good coverage, it is not as fast as the mmWave 5G that AT&T offers as "5G+" in limited densely-populated areas. Today's launch includes Chicago, Seattle, Tacoma, New Orleans, Sacramento, Colorado Springs, Tampa, Pensacola, Sarasota, Fort Wayne, South Bend, Billings, Portsmouth, Lubbock, Waco, Wheeling, and Madison.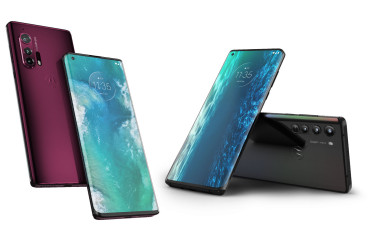 The Motorola edge+ is the company's first truly top-end phone in several years. It will be exclusive to Verizon in the US and go on sale May 14th. It's being introduced alongside the slightly more affordable — but still very high-end — "edge" model, which will be available in the US unlocked this summer. Both phones have the same 6.7-inch OLED "Endless Edge" display that curves a full 90º around the sides. An Edge Gaming feature adds virtual shoulder buttons to the curved display edge for games. The full-HD display also supports 90 Hz refresh and HDR10+. Both phones also have 5G, a water-repellent design, 3.5mm headset jack, NFC, and stereo speakers with Waze tuning that Motorola claims are the loudest of any smartphone.
The edge+ for Verizon supports both mmWave and sub-6 GHz 5G, is powered by a Qualcomm Snapdragon 865 chipset, has 12 GB of LPDDR5 RAM, and a 5,000 mAh battery. It also has 256 GB of UFS 3.0 storage, 18W fast charging, 15W wireless charging, and reverse wireless charging. It has a 108 megapixel main camera, a 16 megapixel combo wide and macro camera, an 8 megapixel 3x telephoto camera, and a 25 megapixel front camera. It can record 6K video, slow-motion (120 fps) video at full-HD resolution, and has a portrait mode in video . It will be available from Verizon in Smoky Sangria and Thunder Gray, starting May 14th, for $999.
The edge is powered by a Snapdragon 765 chip with integrated support for all US sub-6 GHz 5G networks. It has 4 GB of RAM, 128 GB of storage, a memory card slot, 4,500 mAh battery, and 18W fast charging. It has a 64 megapixel main camera, a 16 megapixel combo wide and macro camera, an 8 megapixel 2x telephoto camera, and a 25 megapixel front camera. It can record in 4K using either the main or wide-angle camera. It will be available unlocked this summer in Midnight Magenta and Solar Black. Pricing to be announced.
The popular battle royale game Fortnite is finally available via Google's Play Store on Android phones. Previously, those with Android phones had to jump through hoops to download and install the game, bypassing Google's security warnings. The game's developer has been protesting Google's 30% cut of Play Store purchases, including in-app purchases. Fortnite has been available via Apple's App Store on iOS for some time, even though Apple takes the same 30%.
Google has updated its Duo video calling service with several new features. First, the maximum number of people on a group video has been increased from eight to 12, and will be increased further in "the coming weeks". Google has also added a photo snapshot feature that will capture a moment and send the still photo of everyone to all participants, to save. Finally, Google is upgrading to the new AV1 video codec, "to improve video call quality and reliability, even on very low bandwidth connections." All of these new features work across both Android and iOS versions of Duo, and most work across other platforms as well.
More articles in the Archive ›
What do you want to hear about? We're already working on a number of articles for the coming months, but we want to write about the things you're most interested in. So sound off: tell us what you want to know more about!