Recent Archive
LG is "considering all possible measures, including sale, withdrawal and downsizing of the smartphone business", according to an internal memo that the company has confirmed is genuine. LG's smartphone business has lost $4.5 billion over the past five years.
Qualcomm today announced the Snapdragon 870, a new high-end chip that sits between the company's flagship chips of last year and this year (the 865 and 888, respectively) in terms of performance. In terms of architecture and features, it's almost identical to least year's 865, including having a separate 5G modem chip. (Most other Snapdragon chips, including the 888, have modem integrated into the main chip.) The key difference between the 865 and 870 is a boost of up to 10% in CPU and GPU performance. Commercial devices based on Snapdragon 870 are expected to be announced this quarter. Motorola and OnePlus are among the companies that have committed to using the 870.
The FCC today announced that its Auction 107 for C-Band spectrum has concluded its first phase, with final bids totaling $80.9 billion, shattering the record for any FCC auction. The auction made available licenses for 280 megahertz of spectrum in the 3.7 – 3.98 GHz band in the US. It is expected that wireless carriers snapped up most of the licenses and will use them to deploy expanded 5G networks that offer a better balance of coverage and speed than today's 5G networks, as well as additional network capacity for more users and faster data. This phase of the auction started in early December. In the next phase, winners in the first phase will be able to bid for specific frequency band slots. The FCC will announced the dates and details for that phase "soon".
A group of companies including Epic, Mayo Clinic, Microsoft, Oracle, and Salesforce have teamed up as the Vaccination Credential Initiative (VCI), working "to enable individuals vaccinated for COVID-19 to access their vaccination records in a secure, verifiable and privacy-preserving way." VCI is working on a system that would allow individuals to obtain an encrypted digital copy of their immunization credentials to store in a digital wallet on their smartphone. A verifiable record of vaccination status will be a critical element in enabling people to safely return to work, school, events, and travel. The interoperable digital format is based on the open SMART Health Cards specification, based on W3C Verifiable Credential and HL7 FHIR standards.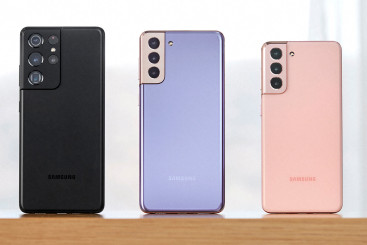 Samsung today officially unveiled its Galaxy S21 series of flagship phones for 2021. All three models sport a distinctive new "Contour Cut Camera" design where the metal frame extends around one corner to surround the rear cameras. Each of the three new phones has a starting price a full $200 lower than last year's models. Samsung achieved this on the S21 and S21+ by reducing RAM from 12 to 8 GB and switching from curved QHD-resolution displays to flat FHD displays. Also, none of the S21 series has a memory card slot nor ToD depth camera. Naturally the processor has been updated on all models to Qualcomm's new flagship chip, the Snapdragon 888. Samsung is also using Qualcomm's new Gen 2. ultrasonic in-display fingerprint reader, which offers a 70% larger sensing area and is 50% faster. The phones ship with Android 11 and have a number of software improvements to the camera, such as Director's View, Vlogger View, and multi-mic recording. Samsung has also used AI to improve Single Take, Portrait Mode, and Space Zoom. The camera hardware on the S21 and S21+ is nearly identical to that on the S20 series. The S21 Ultra has the most-upgraded specs of the three, despite starting at a lower price than last year's model.
Galaxy S21: The specs are very similar to last year's S20, including 4,000 mAh battery, 120 Hz refresh display, 64-megapixel main camera, 8K video capture, IP68 water resistance, fast wireless charging, and Wireless PowerShare. Unlike the S20, the S21 will come with mmWave 5G (including support for Verizon's "Ultra Wideband" network) from day one. It will come with 128 GB of storage, in Phantom Violet, Phantom Gray, Phantom Pink, and Phantom White, for $800. A 256 GB version will also be available in Phantom Gray for an extra $50. Phantom Gold and Phantom Red colors will be available exclusively from samsung.com.
Galaxy S21+: Its 4,800 mAh battery is larger than that in both the S21 and last year's S20+. It also adds UWB for directional tag-finding and wireless car keys. This is the first time Samsung has put UWB in its S-series. It retains all of the other specs and features of the S21, with a larger 6.7-inch display like the S20+. It will come with 128 GB storage, in Phantom Violet, Phantom Silver, and Phantom Black, for $1,000. A 256 GB version will also be available in Phantom Black for an additional $50. As with the S21, samsung.com will be exclusive seller of Phantom Gold and Phantom Red colors.
Galaxy S21 Ultra: This top-end model keeps the curved-edge, QHD-resolution display, 12 GB RAM, 108 megapixel main camera, and 40-megapixel front camera of last year's model, while adding several new features, all for a lower $1200 starting price. New this year is Wacom technology bringing full support for Samsung's S Pen, previously only offered on the Note series. The S Pen is an optional accessory. It also adds UWB, Wi-Fi 6e, adaptive display refresh from 10 – 120 Hz for power efficiency, and the ability to use 120 Hz refresh at QHD resolution. The telephoto camera system now includes dedicated 3x and 10x cameras, both 10 megapixel with OIS and dual-pixel auto-focus. All five cameras (front and back) can now shoot 4K video at 60 fps. The 108mp main sensor now has 12-bit HDR and can capture 12-bit RAW photos. It also has laser auto-focus. Pricing starts at $1,200 for 12 GB RAM / 128 GB storage in Phantom Silver or Phantom Black. Versions with 12 / 256 GB (for an extra $50) or 16 / 512 GB (for $1,380) will also be available, in Phantom Black only. Samsung.com exclusive colors will include Phantom Titanium, Phantom Navy. and Phantom Brown.
All three phones will launch on major US carriers as well as unlocked on January 29th. Pre-orders start January 14th at 11am ET. All pre-orders will include a free Galaxy SmartTag, and consumers who pre-order the S21 Ultra get a $200 credit to use on samsung.com or the Shop Samsung app.
Qualcomm has reached an agreement to acquire Nuvia, a company with "industry-leading expertise in high performance processors, Systems on a Chip (SoC) and power management for compute-intensive devices and applications". Qualcomm says it will use Nuvia's talent and chip designs for the CPU cores of future Snapdragon chips powering flagship smartphones. Qualcomm already designs its own GPU, DSP, and AI cores in its Snapdragon chips. But the CPU cores that handle general-purpose processing — which could be considered the heart of the chip — are based on Cortex designs from Arm. Bringing in Nuvia technology and talent may allow Qualcomm to build better CPU core designs, perhaps bypassing Arm's Cortex intellectual property altogether. Qualcomm already started down the path of customizing CPU core designs with the Cortex-X1 prime core in this year's flagship Snapdragon 888 chip. The Cortex-X1 was a special collaboration between Qualcomm and Arm to provide a primary CPU core with even greater performance than Arm's flagship Cortex A78 CPU core. (The Snapdragon 888 also has three Cortex A78 cores.) Of all the performance increases in the Snapdragon 888 compared to last year's 865, CPU is the area with the smallest performance gain at just 25%. Qualcomm will acquire Nuvia for $1.4 billion.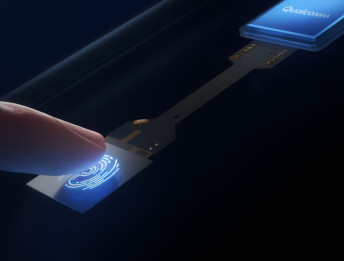 Qualcomm has introduced 3D Sonic Sensor Gen. 2, a new and improved version of the ultrasonic, in-display fingerprint sensor used in the Samsung Galaxy S10, Note10, S20, and Note20 series. The new sensor is 50% faster and has a 1.7x larger sensing area. The sensor itself is just 8 x 8 x 0.2 mm, allowing it to fit under the display without impacting phone size. (The first-generation sensor was 4 x 7 x 0.2 mm.) This line of standard-size sensors is not to be confused with 3D Sonic Max, a much larger sensor at 20 x 30 mm. Ultrasonic fingerprint sensors have an advantage of working even while the surface or finger is wet. Qualcomm 3D Sonic Sensor Gen. 2 is expected to debut in mobile devices early this year.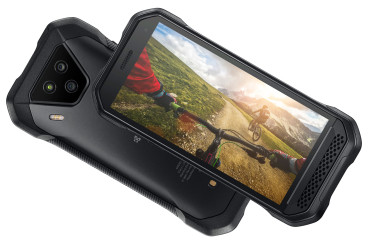 Kyocera today announced the DuraForce Ultra 5G UW, Kyocera's first 5G phone for the US and the first ultra-rugged phone in Verizon's 5G phone lineup. This ultra-rugged is certified military standard 810H to withstand drops of up to 5 feet directly onto concrete, water immersion (IPX6/IPX8), dust (IP6X), extreme temperatures, salt, fog, solar, shock, hazardous work environments and more. It's also fully washable and certified for Class I, Division 2 hazardous locations. Kyocera put its "virtually scratchproof" Sapphire Shield protection on both the display and camera lenses. It has a 24 megapixel main camera, 16 megapixel wide-angle (117º) camera, and an 8 megapixel front camera. It also has a ToF camera for fast auto-focus and advanced AR. The main camera supports pixel binning in low light, there's a multi-frame Super Night Vision mode, and an underwater mode. An Action Overlay "provides outdoor enthusiasts the ability to add elapsed time, distance, speed, G-force, altitude, date/time and map of route traveled to photos and videos". Dual front speakers provide 106dB of speakerphone and PTT volume for loud environments. The DuraForce Ultra also supports 802.11mc indoor positioning, CBRS, and Mission-Critical PTT (MCPTT). Other specs include a 4,500 battery, wireless charging, Qualcomm Snapdragon 765G processor, 5.45-inch full-HD display that works with gloves and when wet, fingerprint reader on the side, and a 3.5mm jack that supports stereo audio and PTT controls. Pricing will be announced when it launches on Verizon, which will be "very soon", according to Kyocera.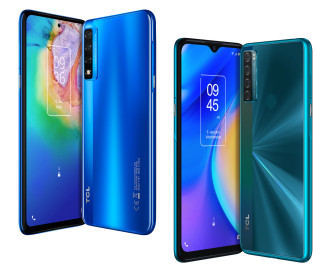 TCL today formally unveiled the TCL 20 Series, a lineup of five TCL-branded phones for 2021. The company provided details on the first two models launching this month — the TCL 20 5G and TCL 20 SE (shown) — and teased three additional models "coming soon": the TCL 20 Pro 5G, TCL 20L, and TCL 20S. The company also revealed that it will bring a device with a flexible display to market this year. The company has shown off several interesting prototypes of foldable and rollable phones over the past couple of years. LG teased a similar rollable device at its CES press conference earlier today.
The TCL 20 5G is an affordable 5G phone already available in Italy for 299 euros. It features a 6.67-inch full-HD display with HDR10, 48 megapixel main camera, 8 megapixel wide-angle camera, macro camera, and 8 megapixel front camera. It's powered by a Qualcomm Snapdragon 690 chipset paired with 6 GB LPDDR4x RAM and 128 GB UFS 2.1 storage. Its 4,500 mAh battery supports 18W fast charging via Qualcomm Quick Charge 4.0+. Other features include a side-mounted fingerprint reader, memory card slot, NFC, and dual-band Wi-Fi. It also features "Super Bluetooth" which allows audio playback through up to four Bluetooth devices simultaneously.
The TCL 20 SE offers a huge 6.82-inch display, 5,000 mAh battery, and 48-megapixel main camera for just 149 euros. It uses a Snapdragon 460 processor paired with 4 GB RAM.
Presumably, the TCL 20 Pro 5G is a higher-end model. No details were released on that model, nor the 20S and 20L. TCL says one or more models in the 20 Series will come to the US this year, but would not specify which models nor when.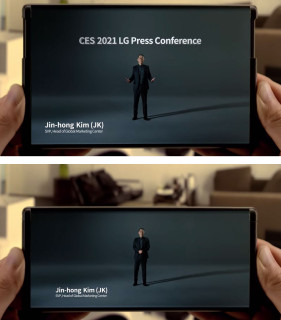 In a CES press conference today, LG briefly teased a new "rollable" device that uses flexible-display technology on rollers to expand from a phone to a tablet. The company didn't officially announce the device, but did show video of it expanding as part of its pre-recorded presentation. The Verge has been able to confirm that the device teased is a real LG product in development, currently set to be called the "LG Rollable". TCL has also shown off prototypes of a similar device.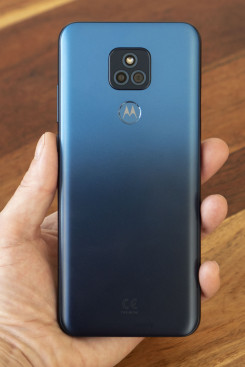 Motorola has a full slate of new affordable phones for 2021, ranging from $170 to $400 for the 5G model. The company's G series has long been well-regarded for quality and value. The new entries are the moto g play (2021), moto g power (2021), and moto g stylus (2021). There's also the Motorola one 5G ace, which — while technically part of the "one" series — seems closely related to the other three. In fact all four phones are quite similar, clearly sharing certain components and design priorities. But what are these phones like in person? How do they feel and what should you know beyond the specs? We're here to show you in this hands-on report.
Google and Apple have removed social media app Parler from their respective app stores. Both companies are insisting that Parler implement much stronger moderation of user-submitted content — including posts that encourage illegal behavior or incite violence — if it wants its app listed again. Google stated: "We're aware of continued posting in the Parler app that seeks to incite ongoing violence in the U.S. ... In light of this ongoing and urgent public safety threat, we are suspending the app's listings from the Play Store until it addresses these issues." Parler was created as a "free speech" safe haven for those on the political right that feel censored by more popular social media platforms such as Twitter. Wednesday's deadly storming of the US Capitol Building was planned in public forums and social media, including Parler. Apple initially gave Parler 24 hours to correct the issue, then on Saturday followed through on its threat to remove the app. Parler is facing an even larger threat from Amazon, which says it will remove the service from its AWS hosting platform, a move that will make it difficult for the company to keep the social network online in any form. Parler has pledged to rebuild, a process that its says will take at least one week, during which time the social network will be unavailable.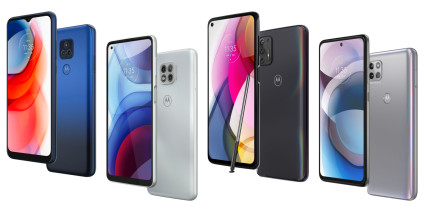 Motorola today unveiled a full lineup of four new affordable phones, including three g-series models ranging from $169 – $299 and one 5G model for $399. All four feature large batteries (4,000 – 5,000 mAh) and large displays (6.5 – 6.8 inches). All four also include a fingerprint reader, multiple cameras, headset jack, memory card slot, USB-C connector, and a "water-repellant design" that protects against accidental spills, splashes, sweat, or light rain. They ship with Android 10 and Motorola promises one full OS version update plus two years of security updates. Moto's latest camera app supports AI scene detection and optimization, Google Lens, portrait mode, RAW format, Active Photos, Auto Smile Capture, Gesture Selfie, time-lapse, and slow-motion on all models. All four also support gestures such as Lift to unlock, Flip for DND (Do Not Disturb), Pick up to silence, and Fast flashlight, where a quick double-chop motion turns the flashlight on or off. All four phones will be available unlocked as well as from many US carriers.
Unlocked versions of all four phones are available for pre-order starting today, with full availability on January 14th. Unlocked models can be purchased from Best Buy, Walmart, B&H Photo, Amazon, and motorola.com.
Verizon has once again delayed the planned shutdown of its legacy CDMA network. The company originally planned to shut down the network at the end of 2019, then in mid-2019 postponed it to the end of 2020. Now, the company says: "we don't have a plan to shut it down at this time". Verizon's original CDMA network was first launched as a 2G network by Bell Atlantic in 1996. Verizon then upgraded that CDMA network to 3G with the rollout of EV-DO technology in 2004. Each separate network technology requires its own dedicated part of the radio spectrum, and older technologies make less-efficient use of the limited resource that is radio spectrum. Verizon's original plans to phase out CDMA would have freed up more of Verizon's licensed spectrum for newer, more efficient 4G and 5G technologies, allowing the company to accommodate more 4G and 5G customers with better service. But apparently more customers remain active on the CDMA network than Verizon is willing to leave stranded.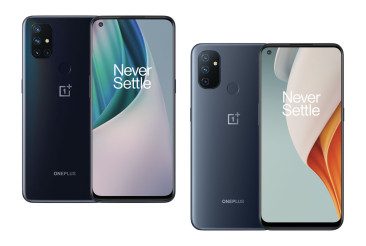 OnePlus has announced US launch details for its more-affordable Nord series, the OnePlus Nord N10 5G and OnePlus Nord N100. T-Mobile and Metro will both offer both models, marking OnePlus' entry into the prepaid market in the US. The phones will also be available unlocked directly from oneplus.com on January 15th, with pre-orders starting January 8th. Both phones will also launch on T-Mobile and Metro on January 15th.
The Nord N10 5G is powered by a Qualcomm Snapdragon 690 with 6 GB RAM. It has a 6.5-inch full-HD display with 90 Hz refresh. Its quad rear cameras include a 64-megapixel main camera, plus 8-megapixel wide-angle, macro, and monochrome cameras. The N10 5G also includes a 4,300 mAh battery, 30W fast charging, 128 GB storage, memory card slot, and a rear fingerprint reader. It comes in "Midnight Ice" and will sell for $300 unlocked or full price from T-Mobile (or $12.50 /month).
The Nord N100 uses Qualcomm's Snapdragon 460 paired with 4 GB RAM. It has 64 GB storage, expandable via memory card slot. It has a large 5,000 mAh battery plus 18W fast charging. Its triple rear cameras include a 13-megapixel main shooter, depth (portrait effect) camera, and a macro camera. Other features include a 6.5-inch display, rear fingerprint reader, and stereo speakers. It will come in "Midnight Frost" and sell for $180 unlocked or full price from T-Mobile (or $7.50 / month).
Best Buy, Amazon, and B&H will also sell the new Nord series unlocked in the US. Pricing on Metro is "coming soon".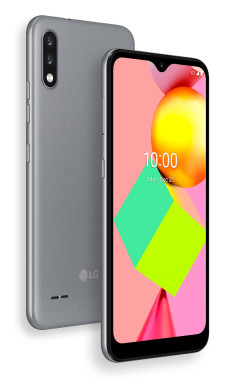 Boost has launched the new LG K22, an affordable, entry-level phone with a large 6.2-inch HD notched display. Normally priced at $90, Boost is currently offering the phone for just $70. Other specs include a 3,000 mAh battery, Android 10, Qualcomm 215 processor, 2 GB RAM, and 32 GB of internal storage plus a memory card slot supporting up to 32 GB more. Its 13 megapixel PDAF rear camera is accompanied by a 2 megapixel macro camera. The front camera is 5 megapixel. The camera app supports full-HD video capture and Google Lens. Like most current LG phones, it has a dedicated Google Assistant button on the side. It also includes a 3.5mm headset jack.
Venmo has launched a new feature of its money-moving app that lets users deposit checks directly into their Venmo accounts, bypassing their usual bank. The service incurs a 1% fee, although Venmo is temporarily waiving that fee for government stimulus checks. Like the mobile deposit feature in most bank apps, users simply take a photo of the check to be deposited with their phone's camera using the Venmo app. Venmo promises that transaction approval "usually takes a few seconds", although it can take longer in "rare circumstances". After the approval step, funds are available "in minutes". The feature is currently available to "select customers" by accessing "Manage Balance" from the main app menu and then "Cash a Check".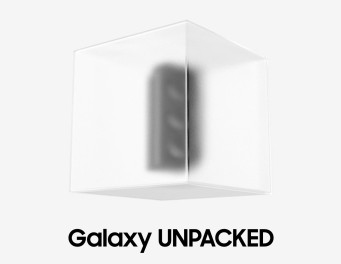 Samsung has set January 14th at 10 AM EST as the date and time for its next Unpacked event to launch its "next Galaxy" flagship device. The event will be live-streamed in samsung.com. The company is also offering $60 in instant discounts when customers "reserve" a pre-order prior to the event. The $60 comes in the form of $50 toward accessories in your order, plus $10 in the Android Shop Samsung App. The event is widely anticipated to include the Samsung Galaxy S21, the company's next flagship phone. A teaser video for the event features a series of past Galaxy S flagship phones.
Qualcomm today announced the Snapdragon 480 5G Mobile Platform, the first Snapdragon 4-Series chipset with 5G. The 4 Series is designed for affordable, mass-market phones. The X51 5G modem in the 480 supports mmWave and sub-6 GHz frequencies, NSA mode, and DSS. The 480 is also dramatically faster than its predecessor, the Snapdragon 460, with double the CPU and GPU performance, and a performance increase of over 70% for AI. It includes triple ISPs to support advanced camera functions. The 480 also supports Wi-Fi 6, 120 Hz display refresh, Quick Charge 4+, and has a Qualcomm Sensing Hub for low-power always-on features. The 480 is made using an 8nm manufacturing process. Qualcomm expects the first devices powered by the Snapdragon 480 to launch later this month.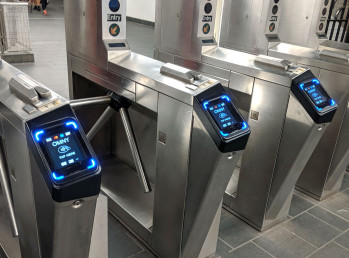 The MTA today announced that it has completed deployment of OMNY readers system-wide. This means that all 472 subway stations and 5,800 city buses in New York City now accept fare payment by tapping an NFC-equipped phone or smart device with any standard digital Wallet set up. OMNY supports Apple Pay, Google Pay, Samsung Pay, and Fitbit Pay, and payment cards from Visa, Mastercard, American Express, and Discover. Customers can also use a plastic debit or credit card that includes a contactless (tap) chip. Using OMNY charges the standard fare; there are no extra fees compared to using a MetroCard. MetroCards will be phased out in 2023. The MTA will also launch an OMNY app and start selling dedicated OMNY cards in 2021.
LA is planning to use an app from Healthvana to let patients record their own COVID-19 vaccine info. The app will remind users when to get their second dose of two-dose vaccines. It will also be able to add a "vaccine passport" to Google or Apple Wallets intended to let users confirm to others that they have been vaccinated. Such "vaccine passports" may be required for otherwise risky activities in 2021, including travel and large gatherings.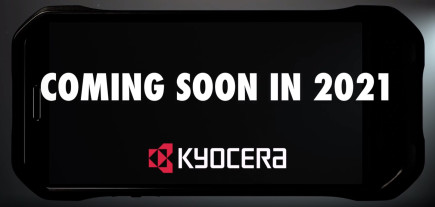 Kyocera Mobile is featuring a new video on its home page that teases the "fastest", "toughest", and "loudest ultra-rugged device" with "5G connectivity", "coming soon in 2021". This week the FCC approved a Kyocera phone matching that description, with frequency bands that indicate it's intended for Verizon's network. The phone, with technical model number E7110, supports both sub-6 and mmWave 5G, as well as NFC. Little else was revealed by the FCC approval documents. It's not yet clear if the phone will be exclusive to Verizon. Kyocera's last major phone for the US — the DuraForce Pro 2 — was released first for Verizon, then with AT&T five months later.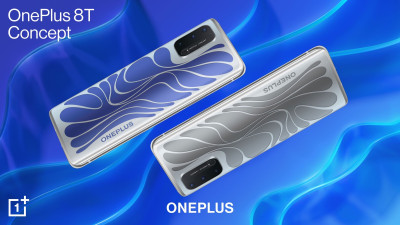 OnePlus has unveiled a new concept phone with a color-changing surface. A wavy pattern on the back of the phone is made from "a color-changing film that contains metal oxide in glass." Applying an electric current changes the color from dark blue to light silver. OnePlus says the technology could be useful way to catch the users' attention for incoming notifications and calls.
Verizon today announced the availability of "Nationwide" low-band 5G in four new areas of the country and faster "Ultra Wideband" mmWave 5G in parts of four new cities. The low-band network (offering wide coverage but speeds closer to 4G) is now available to an additional 24 million customers in central Texas, Tulsa, upstate New York, and the New England area. The "Ultra Wideband" mmWave 5G network — which offers much faster speeds but has coverage limited to specific dense areas of major cities — is now available in parts of Tampa, St. Petersburg, Albuquerque, and Durham. Verizon also announced that it has deployed carrier aggregation (CA) on its mmWave 5G network, enabling double data rates for "peak speeds up to 4 Gbps possible in some locations".
Samsung's President & Head of Mobile Communications Business Dr. TM Roh published a blog post this week giving broad strokes of what to expect from Samsung's phone lineup in 2021. Roh promised that Samsung will be "expanding our portfolio of foldables, so this groundbreaking category is more accessible to everyone." He also revealed that the Samsung will bring some of the "most well-loved features" of its Galaxy Note phones to other devices in the company's lineup.
AST SpaceMobile and Vodafone today unveiled plans for the world's first commercial mobile network for standard 4G/5G phones that operates from satellites in orbit instead of ground-based towers. The network is planned to launch in 2023, covering 1.6 billion people in the 49 largest countries in the equatorial regions. Service will launch initially in DRC, Ghana, Mozambique, Kenya, and Tanzania, expanding later to India and Europe. Using a network of 20 satellites, the service is intended to fill coverage gaps in rural and remote areas, as well as providing vital communications in the event of a natural or humanitarian disaster that damages ground-based networks. AST's technology does not require a special, expensive satellite phone, but rather is designed to work with ordinary cell phones. A rival company — Lynk Global — announced a successful test of similar technology in March.
Qualcomm and Google have collaborated to "enhance and extend" Project Treble, Google's initiative to make make it easier for phone makers to offer OS updates (major and minor) faster, more often, and for longer after a phone has launched. Offering an OS update for a phone requires work on the part of both the phone maker and the maker of the phone's chipset. Qualcomm has now committed to doing that work for all of its Snapdragon chipsets for four years after launch, starting with the new Snapdragon 888. This will make it easier for phone makers using those chipsets to offer OS updates to consumers, hopefully leading to more — and more timely — OS updates for Snapdragon-based phones, including major new versions of Android as well security updates. The new commitment is made possible by tweaks to the structure of Project Treble that dramatically reduce the work required to support OS updates across old vs. new devices, as well as across different chipsets.
Qualcomm's latest chip to power Bluetooth earbuds supports Bluetooth 5.2 and will support the new Bluetooth LE Audio standard. In supporting LE Audio, it will also support Audio Sharing, which lets one phone send audio to multiple earbuds or other audio devices simultaneously. The QCC305x chip also features Qualcomm's Adaptive Active Noise Cancellation, which compensates for poor earbud fit. It also includes aptX Adaptive for 'high quality listening and low latency streaming while watching videos or gaming" and aptX Voice for "top voice clarity on calls". Bluetooth LE Audio will also be supported in Qualcomm's latest flagship chip for phones, the Snapdragon 888.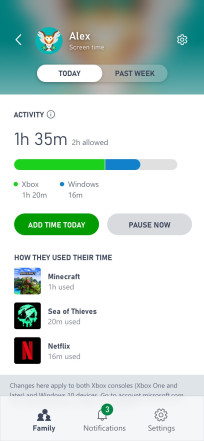 Microsoft has updated its Xbox Family Settings app to give parents the ability to remotely pause their kid's Xbox at any time, not just when predefined screen time expires. The update also brings the ability to review purchases that kids have requested, right in the app. Parents can also approve specific friend requests. The app already lets parents set screen time limits by day of week, enable age-based content filters, control and monitor online multi-player activity, monitor friend lists, and review activity reports. The app is available for both iOS and Android.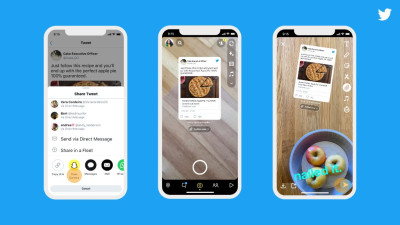 Twitter is making it easier to share Tweets on competing social networks Instagram and Snapchat with an enhanced "share" option for each Tweet within the Twitter app. The feature will require fewer steps than taking a screenshot, and give the resulting story post a more polished look and — in the case of Snapchat — a link back to the original Tweet. The feature is available now in Twitter for iOS to share to Snapchat Stories. Sharing to Instagram Stories will be tested with a limited number of users in the coming days.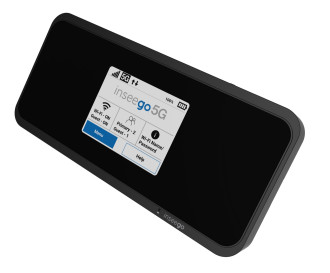 T-Mobile today launched the Inseego 5G MiFi M2000, a 5G mobile Wi-Fi hotspot that supports both low-band 5G (for maximum coverage) and mid-band 5G for faster data speeds in major cities. T-Mobile also launched four new hotspot data plans that include 5G, ranging from $20 to $50. The plans are: $20/month for 5 GB, $30/month for 10 GB, $40/month for 30 GB, while the $50 plan jumps up to a whopping 100 GB. (These monthly prices require auto-pay.) The Inseego M2000 supports Wi-Fi 6 and up to 30 Wi-Fi connections. It supports 5G in band 41 (mid-band) as well as bands 2, 66, and 71 (low-band), plus LTE. It has a 5050 mAh battery and comes with a 14.4-watt USB-C fast charger. The Inseego 5G MiFi M2000 is available now for $336, or $14/month for 24 months. The new hotspot plans will be available starting Sunday, December 13th.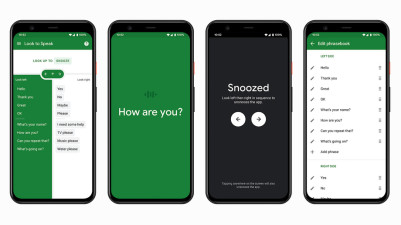 Google has launched Look To Speak, a new, free accessibility app for people living with speech and motor impairments, particularly those who are non-verbal and require assistance to communicate. This Android app "lets people use their eyes to choose pre-written phrases for their phone to speak out loud". Users can customize available phrases and fine-tune the eye gaze sensitivity. All of the data is private and never leaves the phone.
LG is reorganizing its mobile phone division to focus its internal R&D, design, and manufacturing resources exclusively on premium-tier phones. The company will outsource the design and manufacturing of all of its entry-level and mid-tier phones. The move is an attempt to cut costs as it competes with Chinese rivals. LG's mobile communications division has reported an operating loss for the past 22 consecutive quarters.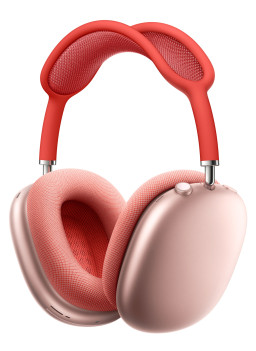 Apple is taking on its own iconic Beats over-ear headphones with AirPods Max, a new super-premium over-ear headphone set for $549. Features include Adaptive EQ, Active Noise Cancellation, Transparency mode, and spatial audio. The design includes a stainless steel headband frame, breathable knit mesh canopy where it touches the top of the head, and acoustically engineered memory foam ear cups. The right side sports a rotating "digital crown" control — similar to that on the Apple Watch —and a button. The AirPods Max are powered by 10-core dual H1 chips offering advanced computational audio features, including Adaptive EQ "to adjust the sound to the fit and seal of the ear cushions by measuring the sound signal delivered to a user and adjusting the low and mid-frequencies in real time". The 40mm dynamic drivers are custom designed by Apple. The headphones include standard AirPods features such as a simplified setup process with iPhones and sensors so music is automatically paused when an ear cup is lifted or the headphones removed. AirPods Max feature up to 20 hours of battery life, even with Active Noise Cancellation and spatial audio enabled. AirPods Max will run $549 and come in space gray, silver, sky blue, green, and pink. They're available to order starting today, shipping December 15th.
NTT Docomo in Japan has launched 5G sub-6 GHz Carrier Aggregation (CA), a world first. CA allows a phone to establish a data connection to the network using two different bands simultaneously, potentially doubling data speeds. Phones with Qualcomm's X55 modem support 5G CA, as do the Snapdragon 765, 786G, and just-announced 888. Docomo's implementation using 100 MHz in each of bands 78 and 79 allows them to offer 5G mobile download speeds of up to 4.2 Gbps without using any mmWave (though Docomo also offers mmWave 5G). Bands 78 and 79 are C-Band (AKA mid-band) spectrum, the kind the FCC in the US is currently auctioning off to carriers for additional 5G deployments. These frequency bands are thought to be ideal for 5G and should offer a better 5G experience once US carriers start deploying in them over the next few years. But US carriers can launch 5G CA before then to improve 5G data speeds.
Google has rolled out a new feature of Google Photos that makes important old photos stored with the service available as a Live Wallpaper on many Android phones. When the new "Memories" Live Wallpaper is enabled, the phone's wallpaper will automatically change to show a rotating selection of old photos curated by Google's AI. The feature is available on Android phones with Google's Live Wallpaper feature and Google Photos 5.22 or later.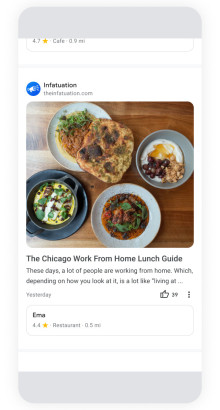 Google has added a new blog-like "community feed" feature to Google Maps, which highlights "what's happening in your area" and "makes it easier to discover things to do and places to go". It includes user-submitted photos, reviews, and posts from local experts, posts and updates from local businesses, and articles related to the area from major publishers. The feature is available in the Explore tab of the Google Maps app.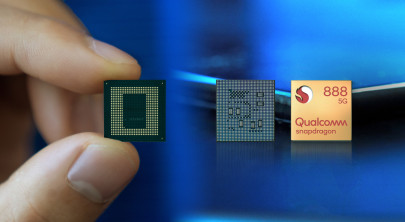 Qualcomm today fully announced the Snapdragon 888 chip and provided details on its features and performance. As the company's new top-end chip for phones, the 888 is expected to power many flagship-tier Android phones in 2021, just as its predecessor the 865 powered most Android flagships in 2020. While the 865 was a two-chip solution (processor + modem), the 888 is fully integrated in one chip. It uses a state-of-the-art 5nm manufacturing process for better efficiency. It's the first chip to support 5G CA (carrier aggregation) across TDD and FDD, sub-6 and mmWave, enabling faster 5G in more scenarios, including on US networks. The eight-core CPU offers a 25% performance boost compared to last year's 865. The GPU is 35% faster and 20% more power-efficient. The AI cores are 43% faster overall, with double the compute capacity, 3x performance per watt, and 26 TOPS (trillion operations per second). The ISP (camera processor) is 35% faster. New features of the 888 include:
A new 2nd-Generation Sensing Hub with 5x more AI performance and TensorFlow Micro to enable more low-power, always-on features like earthquake and car crash detection. The Sensing Hub can also tap into communication streams (such as GPS, 5G, Wi-Fi, and Bluetooth) for the first time, enabling more types of always-on intelligent features.
Support for capture of 10-bit color still photos, saved in HEIF format.
Triple-core Spectra ISP can handle three active cameras, simultaneously capturing three 4K HDR videos or three 28 megapixel still photos with zero lag.
CAI-compliant camera system, which allows the capture of cryptographically-sealed photos that then can be securely authenticated to confirm their source, and that they haven't been modified.
Support for new staggered HDR camera sensors, which offer computational HDR with low ghosting by taking multiple exposures of different lengths nearly simultaneously. The 888's triple ISP can then combine these exposures instantly. This enables computational HDR for video.
Variable Rate Shading (VRS), which can offer an increase of up to 30% in gameplay performance.
Game Quick Touch, for 10–20% faster touch response time.
A Type-1 Hypervisor that can run multiple OSes isolated at a hardware level, and let the user switch between them instantly. It can also be used to spawn a dedicated, isolated OS for each security-sensitive app on the phone.
Phones based on the Snapdragon 888 will start shipping in early 2021.
At Qualcomm's Snapdragon Tech Summit event, the company announced its next top-end Snapdragon chip, the Snapdragon 888. The 888 is expected to power most flagship Android phones in 2021. Although Qualcomm is saving many details for tomorrow's keynote, it did reveal a few top-level features of the chip. With its X60 modem, it will support 5G carrier aggregation (CA), which can offer up to double the sub-6 GHz 5G data rates compared to chips without 5G CA. The 888 is the first chipset to support 5G CA across TDD and FDD bands, as well as across sub-6 and mmWave bands. The updated Spectra ISP can capture roughly 120 photos per second at 12 megapixel resolution (a total throughput of 2.7 gigapixels per second). The new 6th-generation AI engine can process 26 tera operations per second (TOPS), (compared to 15 TOPS for last year's Snapdragon 865). AI is also part of the new 2nd-generation Sensing Hub, which incorporates lower-power always-on AI processing "for intuitive, intelligent features". Finally, Qualcomm promises the company's "most significant upgrade" in gaming performance.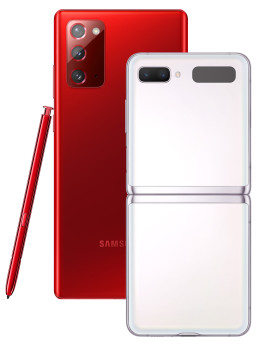 Samsung today launched new color options for two of its flagship phones, available "in limited quantities". The Galaxy Note20 will be available in a new Mystic Red color. This new color joins the current line-up that also includes Mystic Bronze, Mystic Green and Mystic Gray. Also, the Galaxy Z Flip 5G will be available in Mystic White, which joins Mystic Bronze and Mystic Gray. Samsung.com is offering special deals on both phones when trading in an eligible phone.
More articles in the Archive ›
What do you want to hear about? We're already working on a number of articles for the coming months, but we want to write about the things you're most interested in. So sound off: tell us what you want to know more about!