Recent Archive
In the aftermath of Hurricane Ian, AT&T will allow customers of other carriers to roam on its network in Florida for free, "even if their carrier's service isn't available after the storm."
Google will shut down its Stadia cloud gaming service on January 18th, 2023. The service launched in 2019, offering high-quality gaming streamed over the internet to any Chrome-capable device, including Android phones. Google will offer full refunds for all Stadia games, add-on content, and even hardware purchased from the Google Store.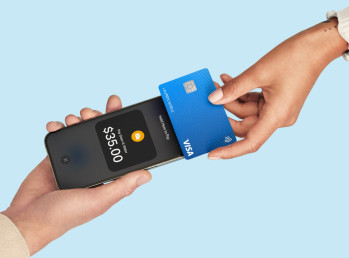 The Square Point of Sale app now fully supports Tap to Pay on iPhone, allowing any iPhone (11 or newer) to act as a payment terminal able to accept NFC (tap) payments without any additional hardware. Previously, merchants needed a separate hardware accessory to accept any kind of in-person card or tap payments. Tap to Pay on iPhone is compatible with Apple Pay, Google Pay, and Samsung Pay, as well as physical credit and debit cards with a contactless chip. The feature carries no additional cost to the seller. Apple announced Tap to Pay on iPhone in February. Stripe and Shopify also support the feature.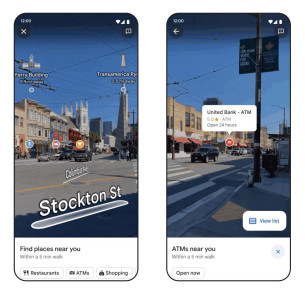 Google has announced an update to the Google Maps app with several interesting new features. The augmented-reality Live View feature now works in a search mode to find and show you specific places nearby, instead of just overlaying walking directions during ongoing navigation. From the main screen, a camera icon will appear in the main search box. Tapping that icon opens the new mode, which starts by showing landmark info overlaid on the real-world view from the phone's camera. It gives a few default search options, such as finding restaurants or ATMs within a five-minute walk. Those search results appear overlaid on the real-world view, with options view more details, such as hours, how busy a place is, and services offered. The feature "starts rolling out in London, Los Angeles, New York, San Francisco, Paris and Tokyo in the coming months on Android and iOS." Google also announced a new "neighborhood vibe" feature that displays a visual guide to local highlights when searching for a neighborhood by name. That feature is also rolling out "in the coming months", but will be available globally.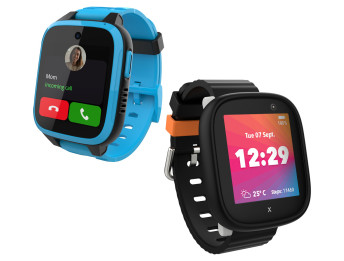 Xplora has a new lineup of connected watches for kids ages 4–11, spanning prices from $150 to $249. Xplora watches include a camera — so kids can check in with parents visually — as well as a connected step counter with reward-point system to encourage physical activity. These 4G devices include voice calling, messaging, and MMS (such as voice messages and photos). A companion app (for iOS and Android) lets parents set up approved contact lists, see GPS location, set up geofencing alerts, and enable "school mode", where only SOS is available during school hours.
The entry-level XGO3 improves on the XGO2 with a 2 megapixel camera and larger 850 mAh battery, in a slimmer and lighter design. It has a 1.3-inch TFT LCD display and is rated IP68 for dust wand water. It's powered by a Unisoc W307 chipset. It comes in black, blue, green, orange and pink, and retails for $150. It's available now from Xplora.com, Amazon, Target, Best Buy, and other retailers.
The mid-range X6 Play sports a larger, high-resolution 1.5-inch screen, faster response times thanks to a Qualcomm Snapdragon Wear 2500 chipset, and 5 megapixel camera. Improved battery life "will enable the watch to run for up to four days before recharging." It also has more physical-activity sensors. The watch comes with two wristbands and two bezels, with the option to purchase accessories in additional colors, for more than 3,465 possible style combinations. It will be available in late 2022 for $199, initially from Xplora.com.
The premium X6 Pro (not shown) is designed to appeal to slightly older children with a high-resolution AMOLED screen, improved speaker, and the faster Snapdragon Wear 4500 chipset, "eclipsing the performance of other smartwatches for kids." It will be available in seven colors and cost $249. Like the X6 Play, it will be available first from Xplora.com, with "additional retail availability" in 2023.
The FCC today issued proposals for new rules to fight scam text messages and other robotexts. The FCC wants to apply "caller ID authentication standards to text messaging". Mobile wireless providers would be required to "to block texts, at the network level, that purport to be from invalid, unallocated, or unused numbers, and numbers on a Do-Not-Originate (DNO) list." The FCC is also asking the industry if more can be done to detect and block texts from spoofed phone numbers. The FCC is seeking comment on these and any other steps the Commission might take to fight illegal texts.
Eligible T-Mobile customers receive free in-flight Wi-Fi — including streaming — on American, Delta, Alaska, and now United, for the whole duration of the flight. The perk applies to domestic and short-haul international flights. On United, it's now available on planes outfitted with Viasat or Thales connectivity. This includes United's 737s, MAX8s, MAX9s, select 757-300s, and select A319s. It will be coming soon to planes with other systems — such as Gogo or Panasonic — as well as United Express flights. United recently lowered its Wi-Fi rates to $10 per flight, or $8 for MileagePlus members.
Apple released iOS 16.0.2 today. It fixes two high-profile bugs: one that cause the camera to loudly "vibrate and cause blurry photos" when using third-party apps on iPhone 14 Pro models, and another that caused excessive security prompts when copying and pasting between apps.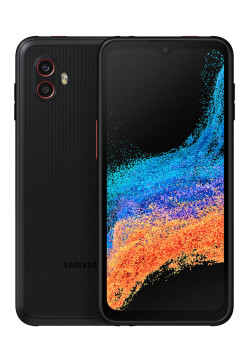 Samsung will bring its newest rugged phone for enterprise customers — the Galaxy XCover6 Pro — to the US next month. The XCover6 Pro replaces the original XCover Pro, which launched with AT&T in late 2020. The XCover6 Pro has a wide range of features designed to appeal to business users in a wide variety of industries. Compared to the original, it sports (sub-6) 5G, a larger 6.6-inch FHD display, a better main camera, and better durability thanks to Gorilla Glass Victus+. Like the original, it has a durable, waterproof body, replaceable 4,050 mAh battery, side fingerprint reader, 8 megapixel wide-angle camera, expandable storage, and a headset jack. The new model is powered by a Qualcomm Snapdragon 778G chip paired with 6 GB RAM and 128 GB storage. It supports Wi-Fi 6E as well as NFC designed to support the phone's use as a PoS (Point of Sale) payment terminal. The main camera is now 50 megapixel and supports "enterprise-grade" barcode scanning. The display is designed to work with gloved and/or wet fingers, and the phone has a "significant increase" in maximum speaker volume when using VoIP apps. It supports fast charging, including via pogo pins (for use with a dock). It also supports Samsung DeX for "PC-like productivity out in the field or in a vehicle". Samsung is providing industry-leading OS support for the XCover6 Pro at four OS upgrades and five years of security updates. Samsung did not announce which US carriers would offer the XCover 6 Pro, only that "select carriers" would offer it in the US starting Oct. 20th. Both AT&T and Verizon offered the original model, although the version approved by the FCC recently seems better suited to AT&T's network, including support for AT&T's new 3.45 GHz mid-band spectrum.
Verizon today launched Total by Verizon, a relaunch of Total Wireless, a brand of TracFone, which is now owned by Verizon. Total by Verizon is "created to serve the upper end of the prepaid market: value-conscious consumers who want speed and connectivity, but also the freedom of no contracts". The standard unlimited plan is mostly unchanged at $50/month, including 10 GB of mobile hotspot data as well as limited international talk & text. A new $60 unlimited plan includes access to Verizon's faster 5G Ultra Wideband network, a subscription to Disney+, double the hotspot data, and expanded international talk & text. At the lower end, $30 and $40 plans offer 5 or 15 GB of data, respectively. For multiple lines, each additional line is only $35/month, regardless of the plan level. This is effectively a multi-line discount for plans $40 and up, with greater discounts at the high end. For example, the $60 plan would work out to just $40/month/line for five lines. Total by Verizon will be available at more than 50,000 retail locations, including Walmart, Target, and Dollar General.
Apple has released the final version of iOS 16 as free update for iPhone 8 and newer. The new software has many new features, the most obvious of which is a completely new, customizable lock screen.
Google Fi has improved the international roaming offered with its plans, and improved overall iPhone compatibility. Google tripled its 5G coverage abroad, bumping the number of countries where users can roam on 5G from 26 to 39. (Full-speed 4G is available in over 200 countries.) Fi's Unlimited Plus plan has no extra roaming charges, so all your 50 GB of monthly full-speed data is available even overseas. Google also extended international 5G service to Samsung phones, instead of just its own Pixel phones. For iPhones, Google added international mobile hotspot and Wi-Fi calling, features that previously only worked with Android phones on Fi. Google Fi plan pricing remains unchanged.
Apple has quietly (in a footnote) announced that iOS 16 will be available as a free update on Sept. 12th. iOS 16 brings a new, more customizable lock screen as well as message editing and more.
Apple has refreshed its Apple Watch lineup with Series 8, a new Watch SE, and added a larger, more rugged Apple Watch Ultra for athletes and extreme adventurers.
Apple Watch Series 8 has two main upgrades over Series 7: temperature sensors and Crash Detection. The temperature sensors are primarily for detecting ovulation. Two sensors, (one to compensate for ambient changes,) take readings every five minutes during sleep. This is used to detect biphasic shift, so the watch can provide retrospective alerts about ovulation. It can also detect cycle deviation, which could indicate a serious health issue. Crash Detection uses upgraded sensors to detect a severe car crash and automatically call for help. The features uses an "improved" 3-axis gyroscope, high-g-force accelerometer, and the barometer (to detect airbag deployment). It samples 3000 times per second, but only when it detects you are in a moving car. When it detects a crash, it calls 911, shares your location, and calls your emergency contacts. The design and other features are similar to the Series 7. Color choices (for aluminum) are: Midnight, Starlight, Silver, and Product Red. It starts at $399 for the smaller 41mm size, in aluminum, without cellular. Add $30 for the larger 45mm size. Add $100 for cellular. Add $300 for stainless steel. It ships Sept. 16th.
Apple Watch SE (2nd Gen.) is just $249, or $299 with cellular. It also gains Crash Detection, and it's powered by the same 8th-gen chip as the Series 8, making it 20% faster than the 1st gen. Watch SE. It will be available in Midnight, Starlight, or Silver. Like the Series 8, you can order today and it ships Sept. 16th.
Apple Watch Ultra (shown) has a flat sapphire crystal face and ultra-rugged titanium body. It adds a new, customizable action button, alongside larger standard controls designed to work with gloves. Improved GPS now supports the L5 band for better performance in challenging areas such as urban races. A new compass app includes waypoints on the face and automatic backtracking. A bigger battery offers 36 hours of battery life. It's twice as waterproof, able to withstand depths of up to 100m, and designed for SCUBA diving at up to 40m. It automatically shows a depth gauge when submerged, and Apple teamed with Huish Outdoors to develop Oceanic+, an app that turns the watch into a dive computer. Its rugged cred includes MIL-STD 810H rating for low pressure (altitude), high temperature, low temperature, temperature shock, rain, humidity, sand and dust, freeze/thaw, ice/freezing rain, shock, vibration, and more. It has three mics and two speakers for clearer calls (cellular is standard). Those speakers can emit an 86 dB emergency siren that can be heard 600 feet away. A software update coming this fall will enable a new 60-hour low-power mode, as well as automatic detection when you arrive at a running track, for more accurate run tracking in that environment. It also includes all of the features of the Series 8. Apple designed three new types of bands for the Ultra, tailored for different activities. The Alpine Loop is for "outdoor adventurers", and is rugged and secure. The Trail Loop is for "endurance athletes", and is light, thin, stretchy, and easy to adjust. The Ocean Band is for "water sports and recreational diving", and has a stretchy design that can fit over a wetsuit, with a titanium buckle to keep it secure. The Apple watch Ultra comes in one size (49mm) and one color (titanium). It costs $799 and ships Sept. 23rd.
Apple also revealed that watchOS 9 will bring new features to older Apple Watches. Series 4 and newer will gain a new Low Power mode. Series 5 and newer with cellular will gain international roaming on over 30 carriers globally.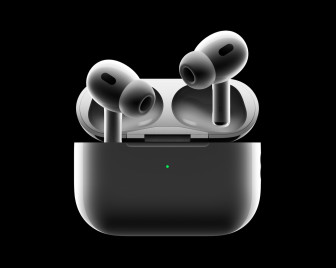 Apple has revealed its 2nd-generation AirPods Pro, now with ANC (active noise cancellation) that can cancel 2x the noise. It has has a revamped transparency mode called Adaptive Transparency, which samples outside sound 48,000 times per second so it can react quickly to dampen sudden loud noises. These features are thanks to a new Apple H2 chip, which also improves battery life 33%, to 6 hours of listening time. You can now adjust volume by swiping up or down on the stalk. The case is also upgraded, offering 6 more hours of battery life (for 30 total), precision finding when lost thanks to a U1 UWB chip, and a speaker that can also help locate the case when lost. The case can also now charge from a Apple Watch charger. A Personalized Spatial Audio feature uses the TrueDepth camera on your iPhone to create a 3D map of your unique ears, enabling more personalized sound. Finally, a new XS ear tip size enables a better fit for some users. The AirPods Pro 2nd Gen. will run $249 and ship Sept. 23rd.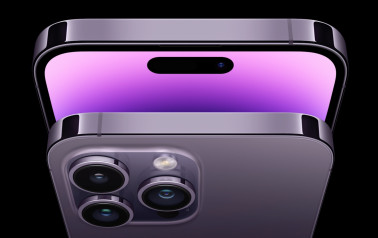 Apple has revealed the iPhone 14 series, with new features, improved specs, and new size options. In place of a Mini option, the iPhone 14 will come in the same 6.1-inch and 6.7-inch screen size options as the Pro models. The larger model is called the iPhone 14 Plus, while the Pro models keep the same screen sizes and naming scheme (Pro and Pro Max) as last year. All of the new iPhone 14 models include at least 2x better low-light performance on all cameras, including front cameras. They also include Emergency SOS via Satellite and Crash Detection, and move completely to eSIM, eliminating physical SIM cards. The Pro models move from a notched display design to a "pill" shape for the TrueDepth camera-and-sensor system, which changes shape via software in a feature Apple calls Dynamic Island. Emergency SOS via Satellite uses a low-bandwidth satellite data network. It requires you to point the phone at the satellite, which the interface guides you through. It only supports short messages sent at low speed, even using 3x compression. Messages may take 15 seconds or up to a few minutes to send. The interface guides you through creating a concise message that contains the info emergency responders will need to provide help. For 911 call centers that can't receive text messages directly, Apple will call that center and relay your message. The service also supports non-emergency usage, but only in the form of location sharing. The feature will be available first in the US and Canada starting in November, and will be free for the first two years. Crash Detection utilizes a new high dynamic range gyroscope and dual-core accelerometer to automatically detect a car crash and alert emergency services. The new dual eSIM works with all major US carriers and can be set up even without Wi-Fi. The 12 megapixel main camera has a larger sensor and faster lens for 49% better low-light performance in low light via hardware alone, while Deep Fusion has been improved and renamed Photonic Engine, boosting low-light performance 2x on all cameras, for a total boost of 2.5x on the main camera. The front camera is also improved and now has auto-focus. A new Action Mode provides gimbal-like stabilization for video. The iPhone 14 and 14 Plus do not feature an all-new chip like the Pro models, instead using an A15 Bionic chip like last year's models. However, Apple has redesigned the aluminum body to provide better thermals, which may improve peak chip performance. Apple says the iPhone 14 Plus has the best battery life ever for an iPhone. The 14 series will come in five colors: blue, purple, Midnight, Starlight, and Product Red. The iPhone 14 Pro and 14 Pro Max have all the features of the standard iPhone 14 models, plus the new Dynamic Island display design, always-on display, better display specs, better cameras, a new A16 Bionic chip, and stainless steel bodies. The Dynamic Island takes up 30% less space than Apple's notch. Via software, the black pill area can expand a little to the sides to show background activity status, or split in two to show two different activities. For more important alerts or interactive controls, it can expand vertically as well. An API will allow third-party apps to access the Dynamic Island display area, such as a sports app showing a live-updating game score. The always-on display uses LPTO dimming and refresh down to 1 Hz to keep battery life in check. Unlike some always-on displays, it supports widgets and can show wallpaper over the whole display. The display also has thinner bezels and is (Apple claims) the brightest display on any smartphone, offering up to 2,000 nits peak brightness outdoors. The main camera is now 48 megapixel, enabling a high-quality 2x tele mode while leaving the dedicated telephoto camera to 3x. The camera also offers a 48-megapixel ProRAW mode. The wide camera offers 3x better low-light performance, while the other cameras offer 2x better. A sophisticated new LED flash offers nine discrete LEDS shining through a special lens that lets it effectively "zoom" to match the current focal length. The new A16 Bionic chip engages the whole chip for photography, able to perform 4 trillion operations per photo. It uses a 4nm manufacturing process that improves power efficiency. The Pro and Pro Max will be available in black, silver, gold, and purple. The iPhone 14 will start at $799, the iPhone 14 Plus: $899, the iPhone 14 Pro: $999, and the iPhone 14 Pro Max: $1,099. All models will be available with 128, 256, or 512 GB of storage, while the Pro series also gets a 1 TB option. Pre-orders start Friday, September 9th. Most models ship September 16th, except the 14 Plus which will ship October 7th.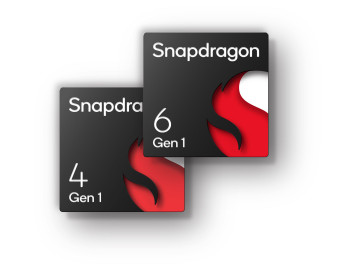 Qualcomm has just announced the two chips that will power a great number of entry-level and mid-range Android phones in 2023: the Snapdragon 4 Gen 1 and Snapdragon 6 Gen 1. Both chips integrate a 5G modem and include upgraded performance as well as new features compared to the chips they replace. The Snapdragon 6 Gen 1 has 40% faster processing (CPU), 35% faster graphics rendering (GPU), and 3x better AI performance compared to the Snapdragon 695. The move from a 6nm manufacturing process to 4nm brings better power efficiency. It's also the company's first 6-series chip to support staggered-HDR camera sensors, enabling computational HDR video capture. It supports 200 megapixel photo capture, Wi-Fi 6E (via FastConnect 6700), and 3GPP release 16 5G (via X62 modem), all firsts for the 6 series. It supports advanced Bluetooth 5.2, including LE Audio, dual antennas, and Snapdragon Sound. Specialized AI functions include AI De-Noising (AIDE) to remove noise in low-light images, audio noise cancellation/reduction, and contextual detection, such as listening for a baby crying, door closing, fire alarm, glass breaking, etc. Like the 695, the 6 Gen 1 has a 12-bit triple ISP for advanced photo and video. For gaming, it supports 10-bit HDR, Variable Rate Shading, and Qualcomm Game Quick Touch. It supports up to 12 GB of LPDDR5 memory at up to 2,750 MHz. It will ship in phones in the first quarter of 2023. The Snapdragon 4 Gen 1 moves to a 6nm manufacturing process, a first for the affordable 4 series. This and other upgrades offer 15% faster processing (CPU) and 10% faster graphics (GPU) compared to the Snapdragon 480. It's also the first 4-series chip capable of photo capture up to 108 megapixel. Its Spectra triple 12-bit ISP supports MFNR (multi-frame noise reduction) for better low-light photos. Its X51 5G modem supports peak download speeds up to 2.5 Gbps. Other features include Variable Rate Shading for gaming, a Hexagon Tensor accelerator for AI, and a 3rd Gen Qualcomm Sensor Hub. Carried over from the 480 are support for 120 Hz FHD+ displays, Quick Charge 4+, and FastConnect 6200 (for 2x2 Wi-Fi 5 and Bluetooth 5.2). The first phones to use the Snapdragon 4 Gen 1 will ship this month.
Following T-Mobile's announcement that customers of other carriers can switch to T-Mobile quickly and easily using only the T-Mobile app and eSIM technology, Verizon wants to remind people that it offers the same feature within its My Verizon app. Customers of other carriers with a Verizon-approved, unlocked, eSIM-capable phone can download the My Verizon app to set up a new account and activate the phone with Verizon right away, without needing to visiting a store or have a physical SIM card mailed to them. eSIM-capable phones include most recent Apple iPhones and Google Pixels, as well as certain recent Samsung phones. Customers can use either the app (for iOS and Android) or perform the same process via Verizon's BYOD web site.
Arm has filed a lawsuit against Qualcomm relating to Qualcomm's acquisition of Nuvia. Nuvia designs high-performance CPU cores that Qualcomm intends to integrate into future Snapdragon chips powering flagship smartphones. Nuvia's novel CPU designs would replace more standard CPU designs that Qualcomm currently licenses from Arm. However Nuvia licensed certain Arm technology before being acquired. Arm claims that "Qualcomm attempted to transfer Nuvia licenses without Arm's consent", breaching the terms of Arm's license agreement. Arm seeks to have Qualcomm "destroy certain Nuvia designs". Arm is also seeking "an injunction against trademark infringement as well as fair compensation for the trademark infringement."
Verizon has certified the new OnePlus 10T, enabling an unlocked 10T to be activated with Verizon. AT&T has done the same, and T-Mobile will offer the phone. The phone fully supports most US carriers' mid-band and "nationwide" low-band 5G networks, but doesn't support mmWave. Standout features of the 10T include a high-end display with 120 Hz refresh and HDR10+, flagship Snapdragon chip, and extremely fast 125-watt charging. The 10T was announced a month ago, is available for pre-order starting today starting at $649, and ships Sept. 29th.
The FCC has completed its Auction 108 for 2.5 GHz radio licenses and announced the winners. As expected, T-Mobile purchased the vast majority of the over 8,000 county-based licenses on offer. This 2.5 Ghz spectrum aligns with band 41, which T-Mobile already uses extensively for its mid-band 5G network. T-Mobile's existing licenses in this band were cobbled together from a variety of original owners, mostly covering more urban areas, leaving many rural areas unlicensed. This auction aimed to fix that, and succeeded, with 98% of the licenses sold. T-Mobile's new licenses will allow the company to fill some of the holes in its mid-band 5G coverage across the US. T-Mobile spent over $304 million for 7,156 licenses.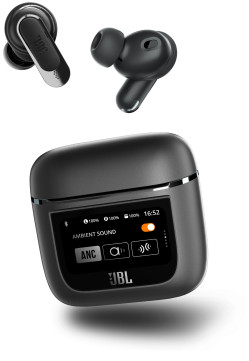 JBL's new Tour PRO 2 true wireless earbuds feature "the world's first smart charging case". The case has a 1.45-inch touch screen that lets users easily and intuitively control features like ANC and ambient sound that would normally require opening a dedicated app on your phone or remembering a complex set of touch gestures. The touch screen also lets you "manage your music, customize your earbuds, receive calls, messages and social media notifications in real time without touching your phone." The earbuds feature: customizable ANC and ambient sound, Personi-fi 2.0 "customizable sound experience", "JBL Spatial Sound", and "6-mic perfect calls with VoiceAware". The buds have Bluetooth 5.3 with LE Audio and offer 40 hours total music playback (10 hours in the earbuds + 30 in the case). The JBL Tour PRO 2 launch in January 2023 for €249, and will be available in black or champagne.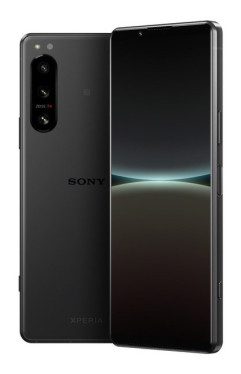 Sony has a new edition of the Xperia 5, its smaller sibling to the flagship Xperia 1 series. As Sony is known for making its own high-quality camera sensors, Xperia phones focus on photography and video, and this new model is no exception. The Xperia 5 IV sports three high-quality (Exmor RS for mobile), 12-megapixel cameras on the back, including wide-angle and telephoto lenses. All three rear cameras support 4K HDR 120 fps video recording and Sony's advanced AF/AE system. The front camera also sports a 12 megapixel Exmor RS for mobile sensor that supports 4K HDR video. Specs and features are high-end all around, including a 6.1-inch FHD+ OLED display with 120 Hz refresh, Snapdragon 8 Gen 1 chip, 8 GB RAM, Bluetooth 5.2 with LE Audio, 5,000 mAh battery, and two-way wireless charging. The 128 GB of storage is expandable with the memory card slot (up to 1 TB), and it has a 3.5mm headset jack. Advanced connectivity includes Wi-Fi 6E, USB 3.2, NFC, and wired video out (HDMI and DisplayPort) up to 4K/60fps. However its US network support may be limited. Sony's web site shows that it supports 5G in bands 5, 41, and 77; and 4G in bands 2, 4, 5, 12, 13, 25, 26, 41, and 66. But it does not support mmWave 5G, nor the full set of 5G nor 4G bands for any major US carrier. The body is IPX5/IPX8 water resistant and protected by Gorilla Glass Victus. It will be available in the US in black or green for $1,000. Pre-orders start today and it ships at the end of October. For a limited time, customers who pre-order the phone will receive Sony's latest WF-1000XM4 earbuds (a $280 value).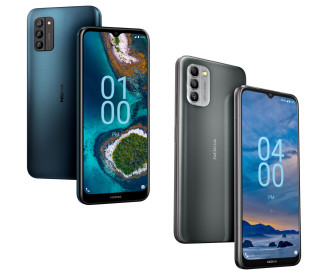 HMD Global this week finally launched its Nokia G400 5G with T-Mobile. Way back in January, the company announced that the launch was planned for the second quarter of the year. HMD also just announced that Boost will offer its Nokia C200 and G100 4G phones "in the coming weeks". Those phones were also part of the January announcement, although carrier partners were not disclosed at the time. The G100 is arriving later than planned, but at a lower price of $140. The C200 is already available from TracFone. Further, HMD was named "the #5 Smartphone company in the U.S." according to IDC. "Nokia smartphones now account for 2.9% of the U.S. smartphone market". The company released new details of the G100 and G400 5G:
The G100 improves on the C200 with a larger 6.5-inch display, larger 5,000 mAh battery, a more powerful Snapdragon 662 chip, a fingerprint reader, and an 8 megapixel wide-angle camera. Other specs are similar, including a 13 megapixel main camera, 8 megapixel front camera, 3 GB RAM, 32 GB storage (expandable), fast charging, and a headset jack. It will sell for $140.
The G400 5G steps up to FHD+ display resolution with 120 Hz refresh, a 48 megapixel main camera, 16 megapixel front camera, NFC, 4 GB RAM, 64 GB storage, and of course, 5G. T-Mobile is selling it for $234.
T-Mobile has updated its main T-Mobile app to enable customers of other carriers to switch to T-Mobile "in as little as a few minutes." The feature is able to activate the phone on a new T-Mobile line from right within the app, using eSIM technology. eSIM is found in recent Apple iPhones, Google Pixels, and many recent Samsung phones. Optionally, users can use this feature to activate a free three-month trial of T-Mobile's network as a second line, while keeping their existing service on the phone's primary SIM card. The feature is available for both consumer and business customers. The updated T-Mobile app is available now for both iOS and Android.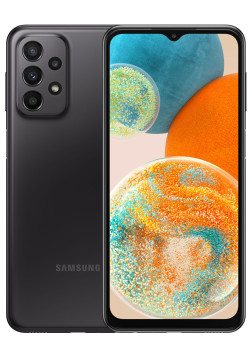 Another affordable 5G phone from Samsung has launched in the US. AT&T has started online sales of the Samsung Galaxy A23 5G for $300, in both postpaid and prepaid channels. The A23 5G is a small step up from the A13 5G, which AT&T sells for $250. For that extra $50, you get a sharper FHD+ display instead of HD+, and an 8 megapixel selfie camera instead of 5 megapixel. It also adds a 5-megapixel wide-angle camera on the back, and is powered by a Snapdragon 695 chip instead of a MediaTek Dimensity 700. Other features and specs are similar, including a large 5,000 mAh battery, NFC, expandable storage, fingerprint reader, and a headset jack. AT&T's web site currently shows delivery dates starting Sept. 7th.
T-Mobile's premium Magenta Max plan will now include an Apple TV+ streaming subscription at no extra cost, starting this Wednesday. Magenta Max already includes basic Netflix and a free year of Paramount+. An Apple TV+ subscription normally costs $5/month. Customers on lower-tier Magenta plans can receive Apple TV+ free for six months; Apple's standard free trial of the service is just seven days.
T-Mobile and SpaceX today announced a partnership to provide 100% coverage across the US and "vast" parts of oceans using SpaceX's next generation of Starlink satellites, which will be able to connect directly to existing cell phones. The service will use a dedicated "small slice" of the PCS band (the G block of band 25, which is 1910–1915 MHz for uplink and 1990–1995 MHz for downlink). The initial service will be limited to text messaging, MMS, and select third-party messaging apps. A beta version of the service is expected to be available late next year. Eventually, T-Mobile hopes to expand the service to general data as well as voice. The technology is enabled by new, much larger phased-array antennas that will be included on upcoming Starlink 2.0 satellites that could start launching by the end of this year. Current SpaceX lab tests show the service able to offer "2–4 Mbit per cell zone." T-Mobile plans to offer the service for free on its "most popular" plans, and for a small fee on lower plans. T-Mobile expressed interest in offering "reciprocal" roaming with other carriers, and SpaceX expressed interest in offering the service to other carriers around the world. AST SpaceMobile is working to launch its own new satellites that will provide a similar service. SpaceX is also launching AST's satellites.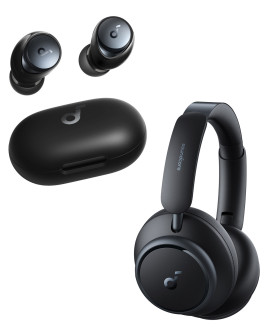 SoundCore today announced the Space A40 wireless earbuds and Space Q45 Headphones, part of a new line of audio accessories that have key features like ANC (adaptive noise cancelling), but are affordably priced. The Space A40 Bluetooth earbuds offer 10 hours of listening on their own, and 50 total hours with the included charging case. The charging case supports wireless charging. Upgraded adaptive noise cancelling automatically adjusts strength based on noise levels. High Resolution Sound offers better sound fidelity. HearID creates a personalized sound profiles for your specific ears. Multi-point connectivity allows users to connect to two devices simultaneously and smoothly switch between them. The Space A40 is available in black, white or navy blue starting today for $100. The Space Q45 headphones are over-ear style with a 4-mic Hybrid adaptive ANC. They offer 50 hours of listening with ANC, and 65 with it off. The transparency mode is adjustable, allowing a variable amount of ambient noise through for safety or so you can listen for announcements. Multi-point connectivity allows them to be used with a laptop and phone simultaneously. The Q45s use 40mm double-layer drivers with "silk and metal-ceramic material". They are also available starting today, in black, for $150. White and Blue models are slated to become available in certain markets later this year. SoundCore is a brand of Anker, which makes a wide variety of popular mobile accessories.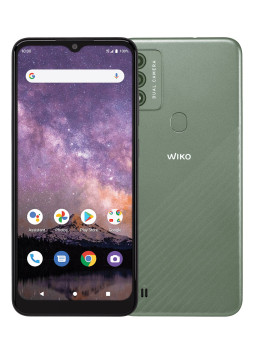 T-Mobile has launched the Wiko Voix, a new Android phone that runs just $126. The phone is also launching with Metro by T-Mobile for $120. The last Wiko-branded phones for a US carrier were the Ride series for Boost. Wiko is a brand of Tinno, which has a history of making affordable white-label phones for US carriers, including the AT&T Calypso series and Cricket Icon series. Although Tinno has not traditionally touted its own brand in this part of the world, the company has launched a new US web site. Key specs of the Wiko Voix include Android 12, 6.5-inch HD+ display, 3,400 mAh battery, 13 megapixel camera, rear fingerprint reader, 3 GB RAM, 32 GB storage, and a memory card slot.
Xfinity Mobile, the MVNO exclusively for Comcast Xfinity home internet customers, has changed its multi-line discounts to provide greater value, but with an unusual structure. The base rate for one line remains the same $45/month. However the new multi-line discount drops the rate to just $30/month/line for a family plan of two, three, or four lines. Previously, the rate dropped progressively with each additional line, a common scheme among US carriers. With this change, two- and three-line plans are now significantly cheaper, while four-lines plans remain the same. Also, additional lines (beyond four) are now just $20/month/line.
AT&T will offer the new Moto Edge (2022) — normally $500 — for just $180 for a limited time starting Sept. 2. The deal is open to new and existing customers, does not require a trade-in, but does require a qualifying unlimited plan and phone payment plan ($5/month for 36 months).
A potentially serious security flaw has been found in iOS and Apple's WebKit web browser software. It is recommended that all iPhone users update to iOS 15.6.1 immediately to fix the issue. The same issues affect most Apple software, including iPadOS and macOS. Apple hasn't released many details, giving users time to update before more bad actors get details they could use to exploit it. But Apple says it "is aware of a report that this issue may have been actively exploited." Presumably this means an advanced attacker, such as a state, may have already used this zero-day exploit on a high-profile target. Most users are not at risk yet, but that could change quickly as details emerge. The issue is an "out-of-bounds [memory] write issue" that gives an application the ability "to execute arbitrary code with kernel privileges". Basically, it's one of the more serious security issues you can find in modern software. The issue was reported to Apple by an anonymous researcher.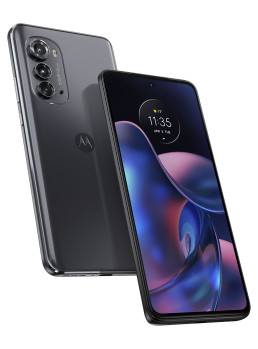 Motorola has taken the wraps off its new Edge phone for 2022. This is the little sibling to the Edge+, the company's flagship phone. It keeps many of that phone's best features, including a 50 megapixel main camera, large FHD+ OLED display with 144 Hz refresh and HDR10+, 30W fast charging, two-way wireless charging, 5G, Wi-Fi 6E, and NFC. And yet it's half the price at $500. It also represents a big win for Motorola as the first time since 2017 that a Motorola phone this high-end will be offered by all three top-tier US carriers. To achieve the lower price point compared to the Edge+, the new Edge (2022) uses a MediaTek Dimensity 1050 chip, the wide-angle camera is 13 megapixel instead of 50, the selfie camera is 32 megapixel instead of 60, and it drops stylus support. Camera features include 960 fps super-slow-motion and 4K HDR video capture. Its 6.6-inch main display hides an optical fingerprint reader and is protected by Gorilla Glass 3. The rest of the body is plastic, but with a back that looks like matte glass. Motorola boasts that this is one of its thinner and lighter phones, despite having a large 5,000 mAh battery. It supports Ready For, Motorola's unique software for hooking the phone up to large displays and other accessories for big-screen-optimized video streaming, gaming, and productivity apps. It ships with Android 12, but Motorola has improved its software commitment to three full OS upgrades and four years of bi-monthly security updates. It will come in one color: Mineral Gray. T-Mobile will launch it first, "in the coming weeks", offering it with 8 GB RAM and 128 GB storage for $498. Verizon's version will have 8 GB RAM and 256 GB storage, and of course adds mmWave 5G. AT&T will offer its own unique variant with 6 GB RAM and 128 GB storage. US Cellular, Spectrum Mobile, and Visible will also offer it. Motorola's unlocked version will have 8 GB RAM and 256 GB storage; it will sell for $500 for a limited time, after which it will run $600. It will be available from Best Buy, Amazon, and Motorola.com.
Motorola has a new $500 phone and it's kind of a big deal. While Motorola has been successful with more affordable phones lately, not since 2017 have all of the big three US carriers offered a Motorola phone over $400. But in the 2022 edge, Motorola may have come up with the perfect balance of specs and features at the $500 price point. It's certainly competitive, and possibly a really great value in this oft-neglected price class. But what compromises did Motorola make? How does it feel in person? We check it out and give you our first impressions in this hands-on.
Visible is moving to an entirely new service plan structure, dropping the base rate for a single line, but phasing out its "Party Pay" multi-line discounts. The company is also introducing a new premium plan. The new base plan is simply called Visible, and it runs $30/month (down from $40 before), taxes and fees included. It includes everything offered the old plan: unlimited 5G data, talk, and text; unlimited hotspot; unlimited talk and text to Mexico and Canada; and spam protection. The new Visible+ plan runs $45/month. It adds access to Verizon's faster 5G Ultra Wideband network, as well as 50 GB of "premium network experience" (meaning you won't be de-prioritized when the network is busy). It also adds unlimited talk, text, and data roaming in Canada and Mexico; international calling to 30+ countries; and international texting to 200+ countries. The new referral program gives you a $20 discount per referral, applied one per month and these discounts can be banked for up to 12 months. Current Party Pay customers will be grandfathered as of October 18th, keeping their Party Pay discount as long as they keep their old plan. But moving to these news plans removes Party Pay, and also requires a new SIM card.
Google has announced that a final version of Android 13 is available starting today for recent Pixel devices (Pixel 4 and newer). Version 13 doesn't bring huge changes, but rather a long list of small improvements, primarily around privacy and visual personalization. Public beta versions have been available for a few months. The final release will roll out for newer third-party phones over the next few months.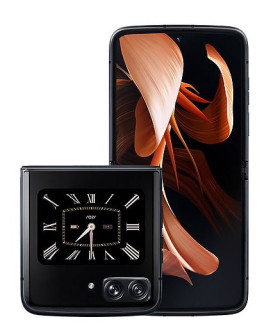 Motorola has launched its third-generation moto razr (2022) foldable phone, but only in China for now. It's unclear if the phone will come to other regions, although the Chinese web site for the phone does tout its global network support with a whopping 19 5G bands and 27 4G bands. The phone has a simplified design that looks more like a traditional smartphone when open. A new 3rd-generation hinge mechanism consists of 122 parts. The flexible main display includes steel mesh as one if its six layers, and bends to a radius of 3.3mm when folded. The phone is made from 7-series aluminum and Gorilla Glass 3D. The 6.7-inch OLED inner display sports 144 Hz refresh and HDR10+. The outer display measures 2.7 inches. The 50 megapixel main camera has OIS, joined by a 13-megapixel wide-angle camera. The selfie camera is 32 megapixel. The phone is positioned as a flagship with its Snapdragon 8+ Gen 1 chipset and up to 12 GB RAM. Memory options also include 8 GB of RAM, and 128, 256, or 512 GB storage.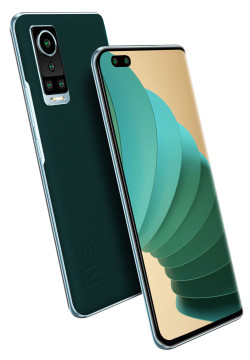 Bold (a sub-brand of Blu) has announced its first phone with 5G optimized for a US network: the Bold N2. The N2 is an affordable unlocked phone with very good support for T-Mobile's 5G and 4G networks, including mid-band 5G (bands 41 and 77). The N2 has a 6.6-inch, full-HD, curved-edge AMOLED display. It has a 4,200 mAh battery and supports 30-watt fast charging. It's powered by a MediaTek Dimensity 810 chip paired with a generous 8 GB RAM and 256 GB storage. On the back is a 64 megapixel main camera and 5 megapixel wide camera. The front sports a 16 megapixel camera with its own dedicated depth camera for portrait-mode selfies. It has an in-display fingerprint reader and runs Android 11. The teal-tinted body is "designed with deluxe textured leather and metal housing using premium, high-end materials". It will sell for $349 on Amazon, but Blu is offering a launch-day "flash launch deal of $100 off where early birds can snag it for $249 while supplies last."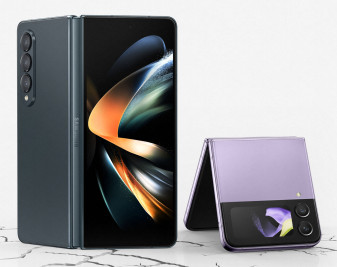 Samsung has announced its newest generation of foldable phones: the Galaxy Z Fold4 and Galaxy Z Flip4. Both have similar designs and features compared to their predecessors, with a slew of small updates and refinements across the board. Both have been updated with Qualcomm's newest, best Snapdragon chip: the 8+ Gen 1. Both also have upgraded main cameras that perform better in low light. Both have a "slimmer hinge", although the difference appears to be slight. Both are constructed from Armor Aluminum and Gorilla Glass Victus for durability, in addition to IPx8 water resistance.
The Galaxy Z Flip4 has slightly slimmer bezels on the main display, a larger (3,700 mAh) battery, and 14% faster charging. The cover display has been enhanced with more functionality, including SmartThings home controls and Quick Shot in camera mode. Similarly, Flex Mode — when the phone is half-folded — now provides a special split-screen interface for more apps, particularly third-party social and video apps. Like the Z Flip3, it has dual 12 megapixel rear cameras, display refresh up to 120 Hz, mmWave 5G, and two-way wireless charging. Also like the Z Flip3, the Z Flip4 will start at $1,000 for the base model with 128 GB storage (and 8 GB RAM). A 256 GB version will also be available, as well as a new 512 GB option. It will come in Bora Purple, Graphite, Pink Gold, and Blue. On samsung.com, a Bespoke Edition will allow users to mix and match frame and cover colors in 75 different possible combinations.
The Galaxy Z Fold4 is slightly lighter and more compact than the Z Fold3, while offering wider displays inside and out. The 7.6-inch main flexible display panel is brighter, 45% "stronger", and better hides the under-display camera. The main camera is upgraded to 50 megapixel, while the telephoto camera is now 10 megapixel instead of 12. The software has been overhauled thanks to Android 12L, Google's new version of Android optimized for foldable and large-screen devices exactly like this one. A new task bar floats at the bottom of the main display, and there are new options for split-screen multi-tasking and Flex Mode. Some apps can now be opened in two side-by-side instances of the same app. Other features and specs are similar to the Z Fold3, including the 6.2-inch HD+ AMOLED outer display with 120 Hz refresh, UWB, S Pen compatibility, 12 GB RAM, and two-way wireless charging. The Galaxy Z Fold4 will start at $1,800 with 256 GB storage. It will also be available 512 GB or a new 1 TB option. It will come in Graygreen, Beige, and Phantom Black, as well Burgundy exclusively from samsung.com.
Both phones — along with
Samsung's new smartwatches and earbuds
— will be available August 26th. All major US carriers will offer both phones. Customers who pre-order will receive a free storage upgrade and a free case. Pre-orders for the Z Fold4 will also come with a $100 Samsung Credit. Various trade-in offers are available depending in where you buy from. AT&T's is the most generous, at $1,000 off either phone when trading in any Galaxy phone, in any condition. That offer is available to all customers and makes the Z Flip4 free.
More articles in the Archive ›
What do you want to hear about? We're already working on a number of articles for the coming months, but we want to write about the things you're most interested in. So sound off: tell us what you want to know more about!