Recent Archive
Google has released another "feature drop" software update for its Pixel phones. The update includes several major, previously-announced features, such as free VPN service, Clear Calling, and automatic multi-person transcription in the Recorder app. Clear Calling helps reduce background noise from the other end of a phone call. The updated Recorder automatically separates and labels different speakers when recording a conversation. "And once the recording is complete, you can easily re-label speakers with their names." The free VPN and Clear Calling are exclusive to the Pixel 7 series, while the new Recorder is available for Pixel 6 and up.
Verizon has reached "its goal of reaching 175 million people covered by the end of 2022, a month ahead of schedule" in its deployment of 5G in new C-Band (mid-band) radio spectrum. Verizon is also expanding capacity in many deployed markets from 60 Hz to 100 Hz of bandwidth.
Google's open beta version of Messages will soon gain the ability to participate in group chats that are end-to-end (E2E) encrypted via RCS, the industry standard for enhanced messaging. E2E encryption is already available for one-on-one conversations.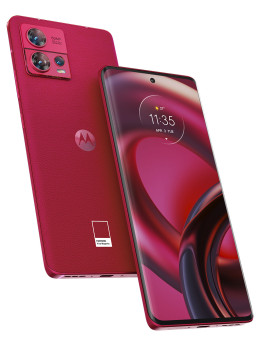 Motorola's edge 30 fusion — a model that would normally only be sold in other parts of the world — will come to the US as an unlocked phone compatible with AT&T and T-Mobile. This special edition will come in Pantone's just-announced Color of the Year 2023, Pantone 18-1750 "Viva Magenta". The edge 30 fusion is a near-flagship-level phone, featuring a Qualcomm Snapdragon 888+ chipset, pOLED display with 144 Hz refresh, and 50 megapixel camera with OIS. Other specs include a 4,400 mAh battery, 12 GB of RAM, 256 GB storage, 13 megapixel wide-angle camera, 32 megapixel front camera with auto-focus, and Wi-Fi 6E. Although it supports enough frequency bands to function on the AT&T or T-Mobile networks, it does not support all of the bands necessary for full coverage and best data speeds. (For example, it lacks 4G in bands 30 and 71, and lacks 5G in band 2.) Motorola will sell the phone starting December 12, unlocked on its web site for $800, in a bundle that includes the Moto Buds 600 ANC Bluetooth earbuds in the complementary color PANTONE 19-2118 "Winetasting". The phone will also be available on its own, in Lazuli Blue, for $700.
Google Pixel phones now have the ability to share digital car keys via messaging, including with iPhones. Select other phones with Android 12 or later will also get the feature soon.
Corning, a leader in specialty glass for phone surfaces, has announced Gorilla Glass Victus 2, its toughest glass yet. Gorilla Glass Victus 2 is more shatter-resistant than the original Gorilla Glass Victus, able to survive "drops of up to one meter on a surface replicating concrete", or drops of two meters onto asphalt. While the original Gorilla Glass series made trade-offs between shatter resistance and scratch resistance, the Victus series is durable in both ways. The Victus 2 has the same level of scratch resistance as the original Victus. Gorilla Glass is very commonly used for the display glass on phones, and sometimes the back surface as well. "Gorilla Glass has been designed into more than 8 billion devices by more than 45 major brands." Gorilla Glass Victus 2 "is expected to reach the market within the next few months."
Early next year, Bullitt will launch a phone in the US with 2-way messaging directly to satellites. Bullitt currently sells phones under the CAT brand, as well as a select Motorola-branded models. The new phone will be the first to use the MediaTek's new NTN (Non-Terrestrial Network) 5G satellite NB-IoT chip. The 3GPP NTN standard is designed to let phones connect directly to one of several satellite constellations. This phone will connect to a Geostationary Orbit (GEO) constellation. It will also use a MediaTek Dimensity 930 5G chipset. The satellite messaging service will be free for the first year. Further details about the phone, brand, and specific satellite network will be available closer to the device's release in the first quarter of next year.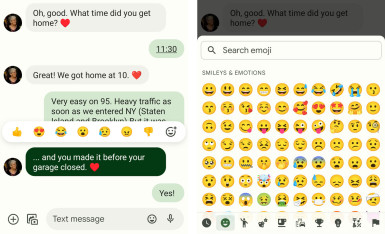 Google is quietly rolling out an update to Messages that lets users react to individual messages with any emoji, instead of just the usual seven. When long-pressing on a message, the usual seven reactions are still offered, along with a new "face plus" icon that leads to a full emoji picker.
The FCC has just adopted an even stricter stance against communications equipment from Chinese companies such as Huawei and ZTE, implementing a more complete ban. The US government has already taken a number of steps to constrain Chinese telecom equipment companies in recent years, effectively shutting them out of the US market, as well as many western markets. But the FCC has still accepted applications from the companies for "equipment authorization", which involves testing radios to ensure compliance with FCC rules that prevent radio interference, etc. This is a requirement for the importation and sale of any radio equipment (or equipment that could interfere with radios) in the US. Now the FCC will no longer issue authorizations for "communications equipment deemed to pose an unacceptable risk to national security". "The new rules implement the directive in the Secure Equipment Act of 2021, signed into law by President Biden last November, that requires the Commission to adopt such rules." While the new rules apply only to new equipment going forward, "The Commission is also seeking comment on future action related to existing authorizations."
TSMC, the Taiwan-based manufacturer of the world's most advanced chips, will bring its newest, most advanced chip production to US soil. The company had already announced plans for a 5-nanometer chip plant in Arizona. (The most advanced chips in Apple and Android phones currently use 4-nanometer technology. In chips, smaller is better.) Now TSMC will also build a next-generation 3-nanometer plant at the same Arizona location. The company is spending $12 billion on the 5nm plant, which is expected to start production in 2024. The company's founder, Morris Chang, made the announcement about the 3nm plant, adding that "the cost of manufacturing chips in the US will be at least 55% higher than in Taiwan". However Apple and other major customers are increasingly looking to diversify their supply chains globally. Regional tensions between Taiwan and China present a risk for companies like Apple and Qualcomm when all of the most advanced chips are made exclusively in Taiwan.
Verizon will now let prospective customers try out its network for free for up to 30 days using eSIM as a second line on their compatible existing phone. T-Mobile launched a similar service a year and a half ago. By activating as a second line, users can keep their existing service during the trial. Verizon's Test Drive includes unlimited talk and text and up to 100 GB of 5G and 4G, including Ultra Wideband and "premium network experience". The only service limitation is that video streaming is limited to 480p (SD) when not connected to 5G Ultra Wideband. Only certain phones are compatible with Verizon's network and the eSIM technology this service relies on, but this includes most recent iPhones, Pixels, and high-end Samsungs.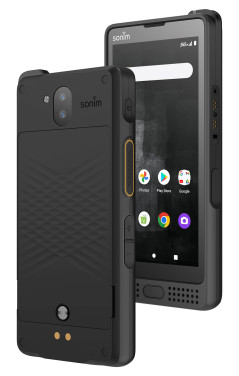 Sonim today announced the impending launch of their newest rugged smartphone, the XP10. The XP10 replaces the XP8, adding 5G but in a lighter and "sleeker" design. The phone will launch "with major carriers in the coming weeks". Key features include a removable 5,000 mAh battery, extra-loud 100bB+ speakers, and Android 12. Its rugged credentials include MIL-STD-810H ratings for drops (from six feet directly onto concrete), water immersion (in six feet of water for 60 minutes), and all weather conditions (from -4° F to 131° F). The XP10 can also be "sprayed, submerged and rigorously cleaned in soap and water or with harsh chemicals, like isopropyl alcohol or bleach, to ensure it is fully disinfected." For dangerous work environments, the XP10 is rated Non-Incendive Class I, II and III Div 2. Although Sonim did not announce specific carrier partners, both AT&T and Verizon carried the XP8.
Qualcomm has unveiled the Qualcomm S5 and S3 Gen 2 sound platforms, chips intended to power a range of Bluetooth audio products, including high-end and mid-range earbuds, as well as Bluetooth speakers. The big new feature is Dynamic Head Tracking for Spatial Audio, which maintains the perceived positions of sounds as you move your head. Other updates in the Gen 2 chips include improved lossless music streaming and 48ms latency between phone and earbud for lag-free gaming. The chips also fully support Bluetooth Auracast, the new broadcast feature of LE Audio that allows many people to simultaneously listen to a single audio source. Snapdragon Sound features like Dynamic Head Tracking for Spatial Audio are optimized to work with newer Snapdragon chips in phones, such as the Snapdragon 8 Gen 2 that was announced yesterday. Commercial products based on the new chips are expected in the second half of 2023.
In an interview with Phone Scoop, Brian Mecum, Verizon VP of Device Technology said "satellite is a very interesting space to us", when asked if Verizon planned an answer to T-Mobile's partnership with SpaceX for satellite connectivity. T-Mobile's planned system will allow existing, standard mobile phones to connect directly to SpaceX Starlink satellites for service outside of cellular coverage. Mecum declined to go into further detail, but Verizon could potentially partner with one of several companies that are working to bring similar technology to market, such as AST SpaceMobile or Lynk.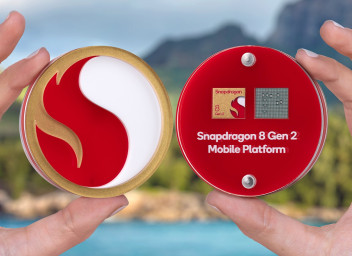 Qualcomm has announced its newest top-end chip, intended to power most flagship-level Android phones in 2023. As expected, the Snapdragon 8 Gen 2 is more powerful and power-efficient across the board (compared to Gen 1), but the most impressive improvements and new features involve AI. The chip also makes several architectural changes compared to previous Snapdragon chips. The new Qualcomm AI Engine doubles the size of the Tensor accelerator and has a new, dedicated power delivery system. It also implements INT4 (a first on mobile), an alternative level of precision for AI math, and Micro-Tile Inferencing. These changes result in an AI performance improvement of up to 4.35x, and up to 60% better power efficiency. A new, direct link between the Hexagon AI cores and the Spectra imaging cores enables features such as a Real-time Semantic Segmentation, where the phone can "see" and understand different parts of a scene in real time, allowing different image enhancements to be applied to faces vs. clothes vs. skies, for example. Qualcomm calls this Cognitive ISP. The Sensing Hub now has two AI processors and more memory, for smarter always-on features. The Kryo CPU cores have been shuffled around. An Arm Cortex-X3 at 3.2 GHz serves as the prime core, but there are now four performance cores and three efficiency cores. The performance cores are split between two Arm A715 and two Arm A710, with the latter optimized for legacy 32-bit apps. Overall, Qualcomm says these new CPU cores are 35% faster and 40% more efficient. On the GPU and gaming side, the new Adreno cores are up to 25% faster and more efficient, and support real-time hardware-accelerated raytracing as well as Unreal Engine 5's Metahumans technology. The X70 modem includes AI technology and supports 4-carrier aggregation for downlink speeds of up to 10 Gbps. The onboard FastConnect 7800 system is the first to support Wi-Fi 7 with High Band Simultaneous Multi-Link (for speeds of up to 5.8 Gbps) and latency below 2ms. Updated Snapdragon Sound now supports Spatial Audio with dynamic head tracking. Latency has also been reduced to 48ms for better gaming audio. The Snapdragon 8 Gen 2 will appear in phones shipping before the end of 2022.
Apple's new Emergency SOS via Satellite feature is now available to use in the US and Canada. The feature is exclusive to the new iPhone 14 series. It enables short messages to be sent to local emergency dispatchers where and when cellular and Wi-Fi are unavailable. The feature includes a demo mode that lets users try out the feature connecting to a real satellite, but without bothering emergency services. There is also one non-emergency feature: users can share their location with others while off-grid using the Find My app. Apple promises to launch the service in France, Germany, Ireland, and the UK by December.
Google has fixed a serious bug that allowed anyone with physical access to a Pixel phone to bypass the lock screen and access the home screen and all phone data. The exploit required only an extra SIM card to which the attacker knows the PUK (recovery PIN) code. Inserting the extra SIM and entering the PUK code would bypass the lock screen. The bug affected multiple Pixel models, and Android versions 10–13. It is unclear if the bug affects any other Android phones as well. Google has paid the researcher who found the bug $70,000.
T-Mobile has launched 5G SA (stand-alone) technology in its mid-band spectrum (primarily band 41) nationwide. This step not only moves to a more modern network with lower latency, but will enable 5G CA (carrier aggregation) of 3 frequency bands of simultaneous 5G, allowing faster data speeds of up 3 Gbps. This new, faster 5G mode will "begin" to roll out this year. The Samsung Galaxy S22 will be the first phone able to use this mode, "and it will expand to additional devices in the near future." Initial 5G networks operated in NSA (non-stand-alone) mode, which required mobile devices to stay connected to a 4G network in one band. This limited the specific frequency band combinations devices could use, limiting 5G data speeds and — in some cases — 5G coverage. T-Mobile addressed the coverage issue with the nationwide launch of 5G SA in its low-band frequencies in 2020. Today's announcement extends 5G SA to mid-band frequencies, addressing the data speed issue.
MediaTek's new Dimensity 9200 chip will power new high-end phones coming by the end of this year. The SoC (system-on-chip) includes a 5G modem that supports both sub-6 and mmWave, as well as AI for faster network searching. The 9200 is "the first smartphone chip to integrate an Arm Cortex X3 with operating speeds over 3GHz, and the first featuring the Arm Immortalis-G715 GPU with a hardware-based ray tracing engine." Rounding out the CPU cores are three Arm Cortex A715 and four Arm Cortex A510 efficiency cores. MediaTek's new sixth-generation AI engine is up to 35% faster, with 30% power savings for noise reduction applications and 45% power savings for "super resolution tasks". The chip is also the first for smartphones to support Wi-Fi 7, and the first with native support for new RGBW camera sensors. The chip supports high-end displays, including Full HD+ up to 240Hz, WHQD up to 144Hz, and even 5K displays. For storage, the 9200 supports UFS 4.0 and "provides each Cortex-A510 CPU core with direct access to storage, significantly boosting data transmission in multi-thread applications." The Dimensity 9200 is made with TSMC's cutting-edge 2nd Generation 4nm manufacturing process.
Charter has launched a new home internet + mobile service bundle with low introductory pricing. As with Comcast's Xfinity Mobile service, the mobile offering is exclusive to customers who also subscribe to the company's home internet service. For a base rate of $85/month — but just $50/month for new customers in the first year — Spectrum One includes unlimited 5G mobile service (but reduced data speeds after 20 GB), 300 Mbps home internet, and an advanced Wi-Fi 6 router. There are no added taxes and fees. Separately, Comcast announced that its competing Xfinity Mobile service has surpassed five million customers.
Samsung is rolling out new versions of its advanced camera apps for the Galaxy S22 phones, as well as a new feature to protect user's data when select Galaxy devices are handed over for repair. The Expert Raw camera app gains two new "Special Photo options" in Settings: Astrophoto and Multiple Exposure. Astrophoto is for "professional-looking photos of stars and dark sky activity", including a "Sky Guide" feature which can pinpoint constellations. The Multiple Exposure feature takes multiple shots and combines them for better photos. In the Camera Assistant app, new options (also available from the main camera app) let you customize which features are active. Features you can now disable this way include: Auto lens switching, Auto HDR, Soften pictures, Video recording in Photo mode, and Faster shutter. You can also now choose how many photos are taken in timer mode, and how long before the camera app times out. Separately, a new feature for Galaxy devices called Maintenance Mode lets you essentially create a temporary guest account on your phone that repair staff can use to diagnose issues and verify repairs. This keeps your private data and apps locked. When your device is returned to you, you confirm your identity to exit Maintenance Mode, which wipes the temporary account (and any apps downloaded during repair), returning your device to its previous state.
Motorola is offering deep discounts on its newest unlocked phones, with some models 40–50% off. The Moto g stylus 5G is now just $200, 1/2 off, and the flagship edge+ is down to $600, a $400 savings.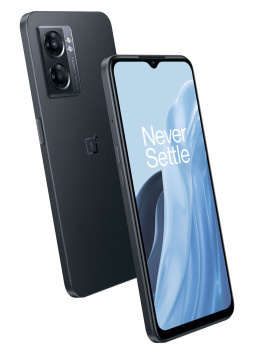 OnePlus has formally announced the OnePlus Nord N300 5G, its newest affordable 5G phone for T-Mobile and Metro. Starting at $228, it includes 33-watt fast charging, 90 Hz display refresh, and a 48 megapixel main camera. The N300 is powered by a MediaTek Dimensity 810 chipset made with a 6nm manufacturing process, paired with 4 GB RAM and 64 GB storage (expandable). A 33 watt fast charger is included, to quickly juice up the large 5,000 mAh battery. The display measures 6.56 inches, with HD+ resolution. The 48 megapixel main camera is assisted by a 2 megapixel depth camera for portrait shots. It will come in one color: Midnight Jade. The phone goes on sale November 3rd with both T-Mobile and Metro by T-Mobile.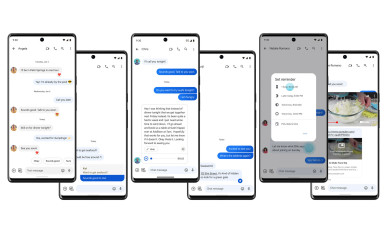 Google has announced a variety of new features for Messages, its messaging app for Android based on the RCS industry standard.
In addition to correctly displaying certain emoji reactions from iPhone users over SMS, Messages will now let you send reactions to SMS messages sent by iPhone users, and display them correctly on the Android side.
Another new feature will you reply to a specific message in an RCS thread, so it's clear what you're replying to in a busy conversation.
Google will also bring Voice Message Transcription to more phones. Originally announced for the new Pixel 7 series, the feature can present an audio message as text, for situations where it might be difficult or inappropriate to listen to the audio. The feature is coming to the Pixel 6 series as well as the Samsung Galaxy S22 and Galaxy Fold 4.
The app will now make even more pro-active intelligent suggestions based on your activity. These include birthday and anniversary reminders; prompts to "star" messages that appear to contain important info like addresses, door codes, and phone numbers; and shortcuts to make calls or add things to your calendar when receiving relevant messages.
You will now be able create your own reminders without leaving the app. "Remind yourself to call Mom on her birthday, or [to] schedule that appointment during regular business hours."
The app can now play YouTube videos without leaving Messages.
The updated Messages app "will begin rolling out in the coming weeks."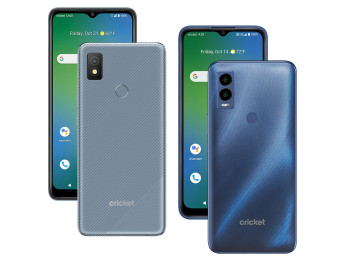 Cricket has started selling two new Cricket-branded phones: the Cricket Icon 4 and Cricket Innovate E 5G. While Cricket has offered many such white-label phones in the recent years, these additions bring the number of own-brand phones the company now sells to ten, possibly a record number for any US carrier. The Icon 4 is made by Wingtech, while the Innovate E 5G comes via Coosea. Wingtech is new for Cricket, although T-Mobile has relied on Wingtech for its last two generations of REVVL phones. Coosea also makes the Cricket Vision Plus (released in June) and Cricket Debut Smart, which launched just last month. Cricket has also turned to FIH and Tinno for white-label phones in the past. Both new phones are entry-level. The Icon 4 has a 6.5-inch HD+ display, 4,000 mAh battery, 13 megapixel camera, 5 megapixel front camera, and rear fingerprint reader. It has 3 GB RAM and 32 GB of storage, the smallest amounts supported by modern Android. It sells for $110. The Innovate E adds 5G and bumps the memory to 4 / 64 GB. It also adds NFC and the screen is slightly larger at 6.6 inches. But battery, camera, and other major specs are the same. It's very affordable for a 5G phone at just $160. (Cricket's other self-branded 5G phone, the Dream 5G, was originally $190, although the company has now discounted that phone to $100 for existing customers.)
Verizon Prepaid has revamped its prepaid plans to offer more for less, with restructured payment discounts. The cheapest plan, offering 5 GB of data for as little as $25 (after discounts), has been eliminated. The base rate for the remaining plans is now $5/month less, but the maximum payment discount is now $10 instead of $15, resulting in the same monthly rate overall. Previously, customers could stack a $5/month auto-pay discount plus up to $10 in "loyalty discounts" over time ($5 after three months; $10 after nine months.) Now, the two discounts are mutually exclusive: either a $10 auto-pay discount or up to $10 in loyalty discounts. This means customers can access the full discounted rate immediately if using auto-pay, instead of waiting ten months for the lowest rate. The 15 GB plan remains otherwise unchanged, available for $35/month with auto-pay. The basic Unlimited plan now includes 5 GB of hotspot data, for $50/month with auto-pay. The high-end Unlimited Plus sees the most changes, adding "50 GB of premium network access, 25 GB of premium mobile hotspot service, and one free Global Choice country per month (a $10 value)." Unlimited Plus is still $60/month after discounts. As before, Unlimited Plus includes faster 5G Ultra Wideband, and both Unlimited plans include talk, text and data to and from Mexico and Canada.
Verizon is now offering the "enterprise-ready" Samsung Galaxy XCover6 Pro to business customers for as little as $50. The full price is $600, but a two-year agreement brings that down to $300, and an instant discount (available through the end of this year) brings that down to $50.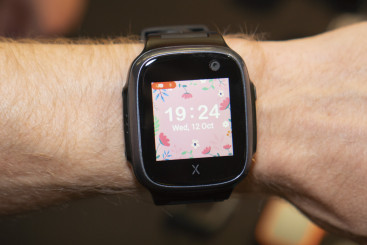 A really important segment of the mobile market is devices for young kids. Mobile technology provides communication and safety features that feel essential, but how young is too young for a phone? That's where kids' smartwatches come in. They have all the features parents want, with none of the drawbacks of giving a young kid a full-on smartphone. Xplora is making a big push in the US market, with a few new models to choose from. We checked out the two models available this holiday season: the XGO3 and X5 Play. Read on for a hands-on tour and our first impressions.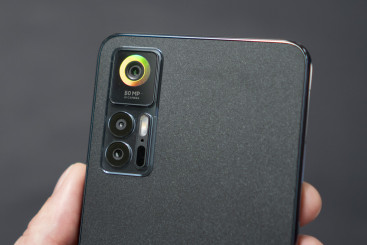 TCL continues to build out its lineup of affordable 5G phones with this new model that might come to T-Mobile later this year. While the TCL 30 XE 5G was truly entry-level, this model is a notable step up, with specs closer to the 30 V 5G that the company brought to Verizon earlier this year. Headline specs of this model include a 50 megapixel main camera, 6.7-inch full-HD display, huge 5,010 mAh battery, and NFC. The design is visibly quite different, though. What's it like in person? We checked it out. Read on for our first impressions.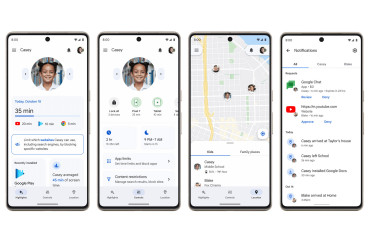 Google is revamping Family Link, the system-wide parental controls for a child's Android device. The biggest new feature is the ability to create temporary "Today Only" screen-time settings that override the usual daily settings. Another major new feature is a geofencing function that lets you "turn on notifications to be alerted when your child arrives at or leaves a specific destination like school or soccer practice." The new design is organized into three main tabs: "The Highlights tab shows a snapshot of your child's app usage, screen time and recently installed apps". The Controls tab lets parents "set screen time limits for each device or for specific apps, set content restrictions and manage app data permissions." "On the Location tab, you can see all of your children on the same map with their device location. You'll also find other useful features like battery life and the ability to ring your child's device to find it". Finally, a Notifications screen shows "important updates and ... requests from your children for app downloads, purchases and access to blocked websites." The update is rolling out over the next few weeks. The Family Link app for parents is available for both Android and iOS, as well as via the web.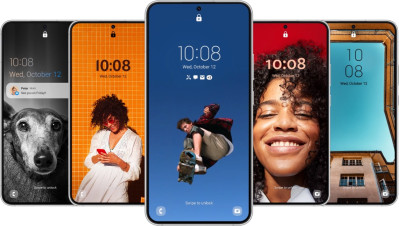 Samsung has revealed the design and key features One UI 5, the company's own spin on Android for its Galaxy phones. Besides a design refresh (including an iOS-like lock screen), several key features have been added. Bixby Text Call lets you participate in a phone call by typing text, which the phone converts to audio. The feature is designed for environments where a phone call would be difficult or not allowed, such as a loud concert, theater, or library. One UI 5 also includes a new video wallpaper function. Widgets can now be stacked, enabling fewer, tidier home screens. The software also makes it easy to extract text from images and paste that text elsewhere.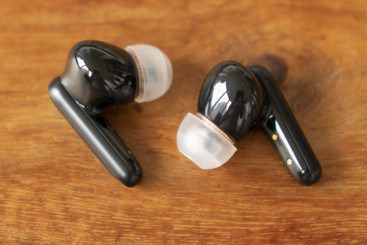 Anker SoundCore has a new pair of feature-packed earbuds on offer. The Liberty 4 have everything you'd expect: ANC, pass-through modes, hi-res audio, personal tuning, and a wireless charging case. They also have Spatial Audio and heart rate tracking. But what are they actually like in person? We tried them out for a few days and have some thoughts. Read on for first impressions.
OnePlus is dribbling out details of its next affordable phone for the US: the OnePlus Nord N300. The phone will include 33-watt fast charging, a MediaTek processor, and 90 Hz display refresh.
The USB Implementers Forum (USB-IF) has announced new branding guidelines for the various supported data speeds and charging ability of USB cables and devices. Instead of version numbers and brands like SuperSpeed, the USB-IF now wants manufacturers to simply write out the maximum supported data speeds and charging wattage directly. For example, SuperSpeed USB 3.2 should now be referred to as "USB 10 Gbps", and USB4 should now be expressed as "USB 40 Gbps". USB-C cables should add the maximum power delivery wattage they support for charging, such as "100W".
Google has started rolling out support for passkeys for web sites in Android and the Chrome browser. Passkeys are a more-secure and easier-to-use replacement for passwords. Passkeys are stored on your device and securely synced with the cloud. Creating and using them is a simple two-step process of tapping your username and authenticating (via fingerprint, for example). Passkeys can also be used cross-device and cross-platform. "For example, an Android user can now sign in to a passkey-enabled website using Safari on a Mac. Similarly, ... a Chrome user, for example on Windows, can do the same using a passkey stored on their iOS device." Google will enable passkeys for logging into Android apps later this year. The current implementation only works with Google's own password manager, but Google will also enable passkeys for third-party password managers next year.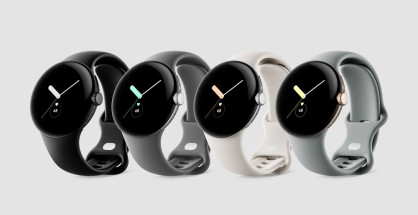 Google has revealed its first own-brand smartwatch, which is partially a product of its acquisition of Fitbit. In today's launch event, Google emphasized the quality and accuracy of its all-day continuous heart rate tracking. The watch has a round design with a 3D domed glass front and 80% recycled stainless steel body. Interchangeable straps attach with a unique curved slide-in system. On the side is a rotating crown knob and a single button. The watch is water-resistant down to 50 meters. It has 32 GB of on-board storage, NFC for payments, and is available with or without 4G LTE cellular. The WearOS 3.5 software offers sleep tracking and and a remote viewfinder for the Pixel 7's camera. An array of fitness features are included. A purchase includes six months of FitBit Premium, which has more advanced fitness features such telling when you should focus on recovery or work out. Three months of YouTube Music Premium are also included. Google claims up to 24 hours of battery life, and fast charging can get you 50% charged in 30 minutes. Color options include black, silver, and gold, with a variety of straps available, including woven, stretch, active, and leather styles, with metal coming next spring. The Google Pixel Watch is available now for pre-order and ship October 13th. Google is charging $350 to start, or $400 with 4G LTE cellular.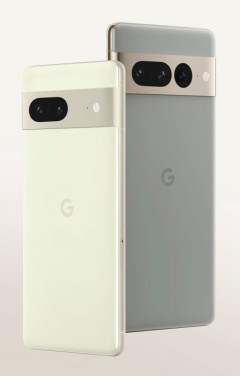 Google has revealed the full details of its new Pixel 7 and Pixel 7 Pro flagship phones. The new Pixel 7 is smaller, while the larger Pixel 7 Pro has a much more advanced camera system than any previous Pixel phone. An evolved design features a 100% recycled aluminum frame — unified with the camera bar — with a zirconia-blasted matte finish. Corning Gorilla Glass Victus covers both sides. Both models are powered by a new Google Tensor G2 chip with machine learning that's 60% faster and 20% more efficient compared to the original Tensor chip (in the Pixel 6 series). A 50 megapixel main camera with laser auto-focus offers high-quality 2x zoom via multi-frame capture. Video capture is improved in several ways, including 4K video at 60 fps, 10-bit HDR that works with third-party apps, Cinematic Blur (portrait mode for video), and improved stabilization & auto-focus for video. The front camera is also improved, with a larger sensor and 4K video capture. The standard Pixel 7 is smaller than the Pixel 6, with a 6.3-inch display with FHD+ resolution, 90 Hz refresh, and 25% higher peak brightness. The larger Pixel 7 Pro has a 6.7-inch display with QHD+ resolution and variable refresh up to 120 Hz. The Pro also adds a telephoto camera and improves the wide camera. The 12 megapixel wide camera is 21% wider and has auto-focus, allowing it to take macro photos. The 5x 48 megapixel telephoto camera works with the other cameras and multi-frame capture to provide a total "Pro" zoom of 0.5x – 10x, or up to 30x for video. Both phones have fast wired and wireless charging and reverse wireless charging. They also both have Wi-Fi 6E, Bluetooth 5.2, NFC, and an in-display fingerprint reader. The bodies are rated IP68 for water. The Pixel 7 has 8 GB of LPDDR5 RAM while the Pro has 12 GB. Both phones also have new software features, including emoji dictation, transcription of incoming audio messages, a voice recorder that separates different speakers, Guided Frame to help low-vision users take well-framed photos, and Photo Unblur to "fix" older photos taken with other phones. A feature drop coming later will add Clear Calling, which uses machine learning to clean up incoming audio on calls. Google is also introducing a free VPN service for Pixel phones to improve privacy. The Pixel 7 series will receive a guaranteed five years of security updates. Both models come in three colors. The Pixel 7 will be available in Obsidian, Snow, or Lemongrass. The Pro will be available in Obsidian, Snow, or Hazel. The new Pixels are available now for pre-order, and reach store shelves on October 13th. The smaller Pixel 7 will cost $599 (or $700 for the Verizon version with mmWave 5G), with the Pixel 7 Pro (with mmWave standard in the US) going for $899 for all US carriers. Both models start with 128 GB of storage, but have a 256 GB option. The Pro is also available with 512 GB.
Google is revamping its Home app for smart homes to focus on customization, and announcing future updates that will add even more customization as well as more powerful automation. The new app — available for preview in the coming weeks — opens to a Favorites tab, which can include shortcuts to control specific home devices, as well as tiles showing live camera views. New Spaces tabs group together devices types, such as lights, cameras, and thermostats. An update coming next year will let users create custom Spaces, such as Pets. Also coming next year is the ability to create much more powerful automations with scripting.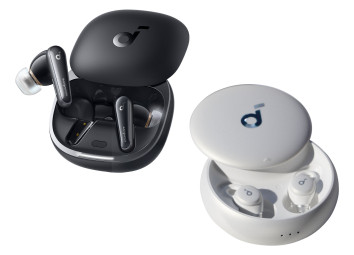 Anker's Soundcore brand has three new models of true wireless earbuds, including the feature-packed Liberty 4 as well as models tailored for sleep and gaming.
The Liberty 4 have a stick design similar to the Liberty Air 2 Pro or AirPods, but incorporate an impressively long list of features for buds that run just $150. Most notable is a heart rate sensor, but features also include Spatial Audio, personalized ANC (active noise cancelling), Hi-Res Audio, LDAC support, and Bluetooth 5.3. Soundcore's ACAA 3.0 Coaxial Acoustic System puts dual drivers (9.2mm + 6mm) in each bud for better sound quality. Each bud has three mics. The buds themselves last for up to nine hours, and the wireless charging case offers 28 hours of total playtime. With ANC enabled, the buds last for up seven hours on one charge. They're available directly from soundcore.com today for $150, and via Amazon in two weeks.
The new Sleep A10 are ultra-tiny for all-night comfort. They can block up to 35dB of noise (passively) while tracking your sleep. Adaptive noise masking delivers customizable, smart white noise. A customizable alarm clock function can wake you slowly. The buds last for ten hours straight, and the charging case adds 40 hours. They also double as standard Bluetooth earbuds for any audio. They're available now for $180.
Anker also previewed the upcoming VR P10 gaming earbuds (not shown). They can work as standard true wireless Bluetooth earbuds, but can also use a proprietary protocol to connect to a dedicated USB dongle for lower-latency audio than is possible with Bluetooth. Additional details are to be announced.
In the aftermath of Hurricane Ian, AT&T will allow customers of other carriers to roam on its network in Florida for free, "even if their carrier's service isn't available after the storm."
More articles in the Archive ›
What do you want to hear about? We're already working on a number of articles for the coming months, but we want to write about the things you're most interested in. So sound off: tell us what you want to know more about!