Recent Archive
The California Public Utilities Commission yesterday issued an order clarifying that it has not yet granted approval for Sprint and T-Mobile to merge in California, and the merger cannot proceed in that state until it does so. The Commission is scheduled to vote on the merger on April 16th.
T-Mobile is offering most customers with two or more voice lines free access to Quibi, the new mobile-only premium video streaming service launching April 6th. Eligible customers get a full year of Quibi free, and can continue receiving free access after that if they opt out of T-Mobile's free Netflix offer. Quibi is normally $5/month, or $8/month without ads. T-Mobile's offer is for the $5/month plan with ads. Quibi has a number of shows lined up featuring A-list celebrities. All episodes are 10 minutes or less, and are filmed so they can be viewed in either portrait or landscape video. To be eligible for the T-Mobile offer, customers must have two or more voice lines at standard rates on a Magenta or ONE plan. First Responder, Military, and Magenta Plus 55 plans are also eligible, as are small business customers with up to 12 lines. Customers have until July 7 to opt in to the offer.
Samsung has launched an unusual twist on phone trade-ins for its flagship S20 lineup. With the "guaranteed buy-back program", people who buy an S20 directly from Samsung can opt in to a program that will let them return the phone within two years for 50% of the purchase price. The phone must be in good condition, with a perfectly working display and no breaks or cracks. Customers must opt in to the program when making the initial purchase, and receive a credit with Samsung, not cash, when returning the phone.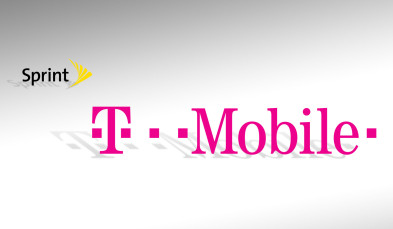 T-Mobile has officially completed its merger with Sprint. For the moment, the merger has little effect on customers, but "Sprint" lives only as a brand of T-Mobile, not a separate company. As of today, Sprint is no longer trading under its own symbol on the stock exchange. Current Sprint customers can keep their plans for the near future. As a condition of regulatory approval, T-Mobile has committed to not raise prices for three years. But over time, the Sprint brand will be replaced by T-Mobile. The companies have been making technical preparations for the merger since it was announced. Most new phones introduced by Sprint and T-Mobile in the past year are capable of accessing both networks, ensuring a smoother transition. The companies have already announced expanded roaming for Sprint customers on the T-Mobile network, for Sprint customers with those newer phones. While all major US wireless carriers are deploying 5G in both sub-6 GHz and mmWave radio frequencies, the new T-Mobile will have the key advantage of access to mid-band frequencies in the form of Sprint's unique band 41 (2.5 GHz). 5G in this band can offer a unique balance between high speeds (like mmWave) as well as broad coverage (like other sub-6 bands). The company claims that combining the two networks into one will allow the company to offer "14 times more capacity in the next six years than T-Mobile alone has today", "average 5G speeds up to eight times faster than current LTE in just a few years", and "$43 billion in synergies for all shareholders", mostly from "reducing redundant cell sites and rapidly deploying spectrum and other technologies more efficiently." The new company announced plans to invest "$40 billion into its network, business and more over the next three years." The company also announced that Mike Sievert will replace John Legere as T-Mobile CEO effective today, one month earlier than previously announced.
Apple has acquired the popular weather app Dark Sky. Dark Sky announced that it is pulling its Android and Wear OS apps from app stores, and existing installations on those platforms will stop working on July 1st, 2020. The company is also phasing out its API service, which is used by other apps and services. Dark Sky won't accept any new applications to use its API going forward, and the API service will shut down at the end of 2021. The iOS version of the Dark Sky app will continue to be sold in Apple's App Store.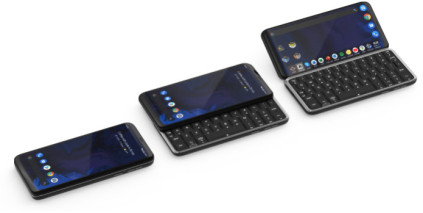 Planet Computers, known for its pocketable phones with "full" laptop-style keyboards, has revealed a new model — the Astro Slide — with a unique slide-and-tilt mechanism they call "RockUp". While the company's past models had a standard clamshell hinge that hid the main screen when closed, the main screen on the Astro Slide is always accessible, making it usable like a standard smartphone when closed. When slid open, the large backlit keyboard is available, and the screen can be tilted at an angle like a tiny laptop. The device has 6.53-inch display, MediaTek Dimensity 1000 chipset, 5G (sub-6), 4,000 mAh battery, and a 48-megapixel camera. It also has Android 10, two USB-C ports, a fingerprint reader, NFC, and wireless charging. The device is being crowdfunded on Indiegogo, with a starting price of $491 and an estimated ship date of March 2021.
AT&T is introducing a new $15 plan, and temporarily adding 10 GB of data to existing plans. The same offering is being made available under both of the company's prepaid brands: AT&T Prepaid and Cricket. The new $15/month comes with 2 GB of data and unlimited talk and text. It will only be available for a limited time. T-Mobile recently launched a similar plan. For existing AT&T Prepaid and Cricket customers with capped data plans, the company is automatically adding an additional 10 GB of data for the next 60 days. These moves are intended to help customers unexpectedly operating from home during the COVID-19 pandemic.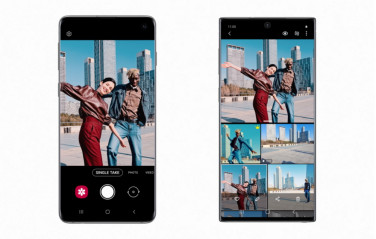 Samsung has started rolling out a significant software update for last year's Galaxy S10 and Galaxy Note10 series phone, which adds major new features first introduced on the company's latest S20 phones. In the Camera app, new features include Single Take, improved Night Mode, Night Hyperlapse, Custom Filters, and Pro Video (manual mode for video). In the Gallery app, Clean View uses AI to group similar photos together. The update also brings Quick Share and Music Share to the S10 and Note10. The update will be available "through an upcoming software update starting from March".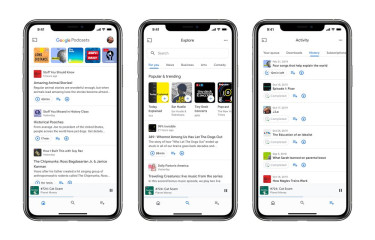 Google has redesigned its Podcasts app, and made a version available in Apple's App Store for iPhone users. Google Podcasts now stays fully synced between all platforms, including Android, web, and iOS, so you can pause a podcast on your phone and automatically pick up where you left off on the web. The new interface design has three tabs: Home, Explore and Activity. The Home tab features a feed of new episodes and gives you quick access to your subscribed shows. When you select an episode you want to listen to, you'll now see topics or people covered in that podcast. In the Explore tab, you can browse popular podcasts by category, and the app will make personalized show and episode recommendations. The Activity tab displays your listen history, queued up episodes, and downloads. For each show in your subscriptions, you can now enable automatic downloading and/or push notifications for when new episodes come out. The new Google Podcasts is available on iOS today and rolling out to Android this week.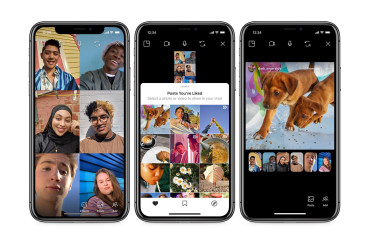 Instagram has just launched Co-Watching, a new feature that "allows you to view Instagram posts together with your friends over video chat. You can start a video chat by tapping the video chat icon in the Direct inbox or in an existing Direct thread, then view saved, liked and suggested photos/videos by tapping the photo icon in the bottom left corner in an ongoing video chat." The new feature is designed to help people stay connected while staying at home during the COVID-19 pandemic.
Apple has now fully launched Universal Purchase, a new feature of its App Store that lets customers make a single app purchase to gain access to that app across all of Apple's OS platforms, including macOS and iOS. For example, buying an app on your iPhone would automatically give you access to not only the iOS version, but also the macOS, iPadOS, watchOS, and tvOS versions of that same app, if they exist. Developers need to update their apps and App Store listings to support Universal Purchase.
Verizon is adding 15 GB of high-speed data to the plans of all wireless consumer and small business customers. Also, for low-income customers participating in the Lifeline program, the company is fully waiving the next two months of internet and voice service charges. The changes are automatic and require no action in the part of customers. These actions by Verizon are designed to help customers stay connected as they operate from home during the current COVID-19 pandemic.
Samsung has slashed the price of its flagship Galaxy S20 5G and Galaxy S20+ phones by $200 at retailers like Amazon and Best Buy, bringing the base configuration of the unlocked phones down to $800 and $1,000, respectively. The top-end Galaxy S20 Ultra is not currently being discounted. The S20 series of phones were just released on March 6th. The unlocked versions now being discounted are compatible with the 4G and 5G networks of major US carriers. The smaller S20 only supports sub-6 GHz 5G, but the larger S20+ supports both sub-6 5G and faster mmWave 5G networks.
T-Mobile is launching its cheaper T-Mobile Connect plans starting this Wednesday, March 25th, instead of waiting until its merger with Sprint closes, as originally planned. There are two plan options: $15/month (plus tax) for 2 GB of high-speed phone data, or $25/month for 5 GB of high-speed phone data. Both plans include unlimited talk and text, and include access to 5G with a compatible 5G phone. T-Mobile has also promised to automatically add a 1/2 GB of monthly data to each plan, each year for the next five years. The company also introduced new special offers for Metro customers to help them stay connected during the current pandemic. For the next two months, Metro is offering a $15 plan, half the price of the current most affordable plan. For 60 days after customers activate, it's $15/month for unlimited talk and text plus 2 GB of high-speed phone data. Also, new and current Metro customers with any voice line can also get a free 8" tablet with a new $15/month unlimited tablet data plan. Finally, Metro is offering half-off its dedicated mobile hotspot devices, and the $35/month hotspot data plan will include 20 GB — double the normal monthly data — for the next 60 days.
Verizon has announced new hours and policies for its physical locations, while AT&T has announced a new round of temporary store closings. Verizon stores will now be closed on Sundays, and open 11am – 4pm the rest of the week. Verizon is also reducing staff in stores and limiting occupancy so that the number of customers in a store may not exceed the number of employees working at any given time. The company is asking customers to use its web site and app instead of physical stores for any transaction that is not "critical". AT&T announced new closings. The company will only keep open one store within a 20-mile radius in urban and suburban areas, and just over a 30-mile radius in rural areas. AT&T is also limiting the number of customers that can enter a store at the same time.
T-Mobile is offering customers a two-month free trial of YouTube Premium, which includes ad-free viewing, offline viewing, and YouTube Music Premium. The service is normally $12/month with a one-month free trial. The special offer is being made available via T-Mobile Tuesdays, the company's bonus/reward program. Android users can access the offer starting tomorrow with the T-Mobile Tuesdays app, and iOS users can access it by visiting t-mobiletuesdays.com.
Google will no longer hold any sort of developer event this year, due to the current pandemic. The company's annual I/O event was already changed to an online-only format, but now will not happen at all.
AT&T has reached an agreement with Dish that will allow AT&T to use some of Dish's radio frequency licenses for the next 60 days. This will allow AT&T to temporarily, significantly boost the capacity its 4G LTE network. AT&T will be able to deploy the spectrum quickly using its existing network equipment for bands 66 and 29. Phones supporting those bands will be able to access the additional capacity automatically. Dish is providing the spectrum — which it owns but has not been using — at no cost to AT&T. In recent days, the FCC has taken the unusual move of forcing companies such as Dish to temporarily relinquish radio frequencies they own licenses to, but that have been sitting idle. Customers of T-Mobile, Verizon, and US Cellular have been the beneficiaries of those FCC actions this week. All of these temporary actions are designed to meet the sudden surge in demand for all types of broadband access, as people turn to video conferencing to work and learn from home during the COVID-19 pandemic.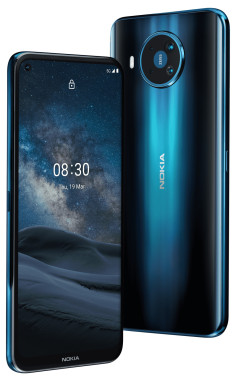 HMD Global today announced the Nokia 8.3 5G, the company's first 5G phone. HMD claims it supports more 5G networks than any other 5G phone to date, supporting sub-6 GHz 5G networks in 12 different frequency bands, including ones used in the US, such as bands 2, 5, 41, 66, and 71. The 8.3 5G supports both today's NSA (non-stand-alone) 5G networks, as well as forthcoming SA (stand-alone) 5G networks. It's powered by a Qualcomm Snapdragon 765G chipset paired with 6 or 8 GB of LPDDR4 RAM and 64 or 128 GB of storage. It has a 6.8-inch full-HD display with a corner hole-punch for the front camera, and a 4,500 mAh battery. It rear camera array uses Zeiss lenses and includes a 64-megapixel main sensor, 12-megapixel wide camera, 2-megapixel macro camera, and a depth camera for portrait effects. The front camera is 24 megapixel. The Nokia 8.3 5G also has a side-mounted fingerprint reader, memory card slot, 3.5mm audio jack, USB-C, fast charging, and a dedicated Google Assistant button. It will ship globally this summer starting at 599 Euros (approx. 640 USD).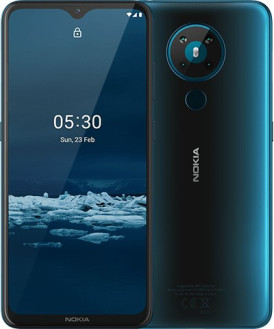 Nokia today announced the Nokia 5.3, a new mid-range Android phone. It has a 6.5-inch HD display with a small notch, 4,000 mAh battery, and is powered by a Qualcomm Snapdragon 665 chip. It has four rear cameras: a 13-megapixel main camera with f/1.8 aperture, plus a 5-megapixel wide camera, 2-megapixel macro camera, and a depth camera for portrait effects. The 5.3 also comes with 3–6 GB of RAM, 64 GB of storage, a memory card slot, USB-C, fingerprint reader, dedicated Google Assistant button, and a 3.5mm audio jack. The version for the Americas will support Cat. 4 LTE in bands 1, 2, 3, 4, 5, 7, 8, 12/17, 13, 28, 38 and 66. Color choices are Cyan, Sand, and Charcoal. It will ship globally in April for 189 Euros (approx. 200 USD).
The FCC has now granted Verizon, US Cellular, and T-Mobile permission to expand their 4G network capacity by temporarily using radio frequencies that are licensed to other companies, but had been sitting unused prior to the current pandemic. The unusual move by the FCC will help support the unprecedented number of people suddenly using wireless broadband to operate from home during the COVID-19 pandemic. T-Mobile was first to receive this special permission, and today announced that it has completed implementation, doubling the capacity of its 4G LTE network in band 71 (600 MHz). Yesterday, the FCC granted Verizon temporary use of idle spectrum in band 66 (also known as AWS-3). On Tuesday, the FCC granted similar permission to US Cellular.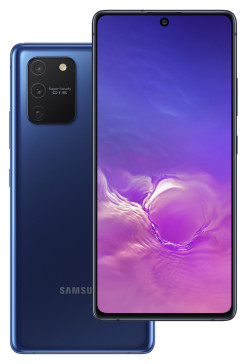 When Samsung announced the Galaxy S10 Lite at the start of the year, there were no indications it would come to the US. But the FCC has just approved a variant of the S10 Lite that appears to be designed specifically for the US market. It supports all major US 4G and 3G frequency bands, including ones that typically only appear on US-specific phones. This includes full support for Sprint's unique CDMA voice network, as well as bands unique to Verizon, AT&T, and T-Mobile. It also has a model number ending in "U", which, for a Samsung phone, indicates a US-specific model. The Galaxy S10 Lite has a 6.7-inch full-HD AMOLED display, 48 megapixel main camera, wide camera, macro camera, and a 4,500 mAh battery. It also has a memory card slot, fast charging, and an in-display fingerprint reader. US launch date and pricing has not been announced.
Virginia startup Lynk Global has successfully demonstrated new technology that allows satellites in low-earth orbit to communicate directly with standard, unmodified mobile phones on the ground. In multiple verified tests starting February 24th, Lynk was able to broadcast an emergency alert containing a text message from one of its test platforms orbiting in space, using standard GSM technology, which was successfully received by an off-the-shelf Android phone in the Falkland Islands. While satellite phones and GPS were designed for space–ground communication, common mobile phone standards such as GSM and LTE were not. Phones are specifically designed to connect only to land-based towers that are within a certain distance and not moving faster than certain relative speeds. Therefore it was thought that such space–ground cellular communication was impossible. Lynk is one of several startups working on this technology; Texas-based AST & Science is working on a similar concept. Lynk does not plan to compete with land-based mobile carriers, but rather to provide service only where there is no service from land-based mobile networks. It aims to connect people in extremely remote areas. It also hopes its technology can assist in emergencies, delivering emergency alerts to people in remote areas that would otherwise miss them, and offering connectivity to first responders when natural disasters have damaged land-based networks. With an initial fleet of several dozen satellites, the company should be able offer service to every point on earth at least once per hour. The company hopes to eventually offer continuous global coverage with a fleet of thousands of satellites.
Following T-Mobile, Sprint, and Verizon in temporarily closing many retail locations, AT&T today announced that it will close 40% of its company-owned stores, as well as AT&T Authorized Retail stores in indoor malls and "high traffic areas". The company is also adjusting its store hours to be closed on Sundays, and 11am – 7pm the rest of the week. These measures are in response to the COVID-19 pandemic, where most people in the US are currently advised to stay home, and avoid congregating near others in public when possible.
At the request of the FCC Chairman, essentially all US internet and telephone providers have pledged to waive all late fees, and not disconnect any service due to inability to pay bills, for the next 60 days. This includes Verizon, AT&T, T-Mobile, Sprint, US Cellular, and Comcast. The Pledge is designed to help people economically impacted by the COVID-19 pandemic, and everyone needing additional connectivity as they work and study from home. Companies agreeing to the FCC's pledge are also committed to opening up to everyone their wi-fi networks that were previously reserved for paying customers. On top of the pledge, both T-Mobile and Sprint are temporarily giving unlimited data to all customers on metered data plans, as well as 20 GB of mobile hotspot data.
T-Mobile is closing 80% of its stores until at least March 31st, including all indoor mall locations, to help slow the spread of the COVID-19 virus. Sprint will close 71% of its stores, including all indoor mall locations. Both closures take effect today. Verizon is also "reducing the number of Verizon stores that remain open", although it was not more specific. T-Mobile will leave at least one store open within a 30-minute drive of most customers in each market. Sprint is leaving open "its most highly critical retail stores". T-Mobile and Sprint are also reducing the hours their remaining stores are open. Most T-Mobile stores will now be open 10am – 6pm. Sprint's new temporary store hours are 11am – 6pm Mon-Sat, and 12pm – 5pm on Sundays.
US carriers have revealed launch plans for the new LG V60 ThinQ 5G flagship-class phone. T-Mobile will offer it starting March 20th for $800, or $900 in a bundle with LG's Dual Screen accessory. T-Mobile is also offering a buy-one-get-one (BOGO) deal where customers with two or more lines can get a second V60 for free, if both phones are purchased on a 24-month payment plan. AT&T will start taking online orders for the V60 on Friday, March 20th. The phone will cost $900, which includes a free Dual Screen accessory from LG. AT&T is also offering a BOGO deal, but it requires a new line of service. Verizon's version will be slightly pricier and ship later, reflecting that its unique variant supports mmWave 5G, which requires extra components and engineering. (Versions for other US carriers only support sub-6 5G, which is generally slower but offers broader coverage.) Verizon brands mmWave 5G as "Ultra Wideband", which is why its unique variant will be called the LG V60 ThinQ 5G UW. Verizon will sell the phone for $950, with pre-orders starting March 26th. Like AT&T, Verizon is offering a BOGO deal for customers adding a new line, and Verizon customers purchasing a V60 are eligible for a free Dual Screen from LG.
To help people unexpectedly operating from home during the COVID-19 pandemic, Mint Mobile is offering unlimited free high-speed data packs to its customers through April 14th. All new and existing customers can "buy" a 3GB add-on data plan that will be fully refunded within 24 hours. Customers can "buy" an additional free 3 GB plan when the current one is 95% exhausted, and repeat as many times as they need, through April 14th. Starting service with Mint Mobile requires a minimum three-month commitment at an introductory price of $15/month, which normally includes 3 GB of data per month.
Researchers at the University of Utah have developed an entirely new type of lens that is thin and flat, yet has an extreme depth of focus compared to traditional lens designs. A single flat lens can replace multiple bulky curved lenses, while keeping in focus multiple objects that are up to 6 meters apart from each other. The lens surface is patterned with nano-structures that bend the light in new shapes compared to traditional lenses.
As the US deals with the COVID-19 pandemic and more workers and students operate from home, data networks are being pushed to the limit. To address this demand, T-Mobile has requested that the government temporarily let it use radio frequency bands that are sitting unused even though the company does not own licenses to those specific radio frequencies. On Sunday, the FCC granted Special Temporary Authority to T-Mobile to do just that. The relevant spectrum is in the 600 MHz band (AKA band 71). For licensing purposes, this band is divided into smaller sub-bands as well many small geographic regions. T-Mobile owns many of these licenses, but not all. Comcast, Dish, and other companies own some of the other licenses, and some that were never claimed at auction are held by the FCC. Those licenses that are sitting unused can be now be used by T-Mobile for the next 60 days to increase its network capacity. T-Mobile's existing network equipment as well as phones with band 71 can be configured to use the new spectrum relatively quickly.
T-Mobile today announced temporary plan changes to support workers and students operating from home during the COVID-19 pandemic. For the next 60 days, all T-Mobile and Metro customers will have unlimited and/or increased data allotments. The company is also making international calling free from the US to countries heavily impacted by the virus. All T-Mobile and Metro customers with any kind of data plan will have unlimited smartphone data for the next 60 days. Those same customers will also soon have an additional 20 GB of mobile hotspot data. Lifeline program participants on the T-Mobile network will receive an extra 5 GB of data per month during this period. The company is also increasing the data allowance for schools and students using the EmpowerED digital learning program. While T-Mobile stores will remain open, customers who are quarantined — or who prefer to avoid the stores out of caution — can take advantage of free two-day shipping for the next 60 days.
Verizon and Verizon Media have launched Yahoo! Mobile, which re-packages Visible phone service under the Yahoo! brand and includes the ad-free Yahoo! Mail Pro for free (normally $3.49/month). Like Visible, Yahoo! Mobile offers one $40/month unlimited plan with 4G service on the Verizon network, including speed-capped mobile hotspot. Unlimited data works as it does with Visible, where "In times of traffic, your data may be temporarily slower than other traffic", meaning Verizon-brand customers have priority over Visible and Yahoo! Mobile customers. Yahoo! Mobile offers a lineup of phones similar to Visible's, and allows customers to bring their own compatible phone.
Sentons, which specializes in ultrasonic sensors that can replace physical buttons on a phone with virtual ones, has a new universal sensor available that it calls SDS ButtonBar. This thin, 1.9-inch part can be integrated almost anywhere in any phone design to provide virtual buttons anywhere else on the phone. The ButtonBar is designed with haptics to mimic the feel of physical buttons. Previously, Sentons worked with phone makers to customize its technology for each phone model. The new universal part, mass-produced by Foxconn, makes the Sentons' SDS (software-defined surfaces) technology more affordable; Sentons claims price parity with standard physical buttons. Virtual buttons provide an alternative when new trends make physical buttons challenging, such as thinner sides, "waterfall" displays that wrap around the side of the phone, mmWave 5G antennas, and waterproof ratings that demand fewer openings. Phone Scoop did a hands-on video with Sentons sensors at CES in January.
Federal Communications Commission Chairman Ajit Pai today proposed new FCC rules that would require that most US voice service providers implement the STIR/SHAKEN protocol by June 30, 2021. STIR/SHAKEN securely authenticates caller-ID info to combat caller-ID "spoofing" that allows fraudsters and robo-callers to mask their identity, often by pretending to call from a local or well-known phone number. Major wireless carriers have made progress implementing STIR/SHAKEN, but the technology is most effective when all companies in the telecom system have fully implemented it. Relatively new FCC rules already allow wireless carriers to automatically block calls that cannot be authenticated with technology such as STIR/SHAKEN. The new mandate rules will be voted on by the Commission on March 31st.
With the launch today of the Samsung Galaxy S20+ and S20 Ultra, AT&T is now offering consumers access to its faster mmWave "5G+" network in parts of 35 cities. Before today, consumers could only access the company's sub-6 GHz 5G network, which offers broader coverage. The faster mmWave "5G+" network was previously restricted to business customers. To access "5G+", consumers will need to be on either the "Unlimited Extra" or "Unlimited Elite" plan. The Galaxy S20+ and S20 Ultra are the first phones for the US that can access both types of 5G networks. AT&T also announced plans to launch 5G service for customers of its Cricket prepaid brand, starting "soon" with the Samsung Galaxy S20+ on an unspecified "compatible plan".
Apple has updated its rules for iOS apps to now allow push notifications for marketing purposes, as long as users opt in and are allowed to later opt out. The company made several other changes, such as tighter restrictions on dating and fortune-telling apps.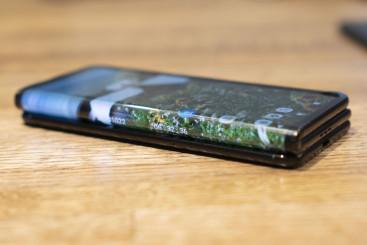 TCL has a new batch of concept phones to show off in 2020 that use flexible-display technology in interesting ways. Two are foldables, including a unique "tri-fold" design with two different hinges allowing it to reach full tablet size when open. An even more unique design offers all the screen-expanding advantages of a foldable without the thickness penalty. It looks like a standard smartphone, but magically "stretches" sideways to turn into a tablet. We had hands-on time with all three concepts at three different events in recent weeks. Here are our impressions, with photos and a video.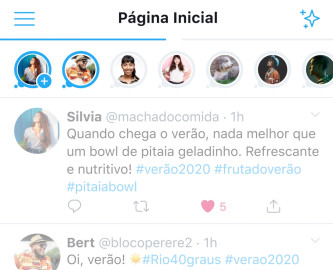 Twitter is testing a major new feature called "Fleets". Similar to Snapchat, or Stories in Instagram and Facebook, Fleets are automatically deleted after 24 hours. Also, Fleets are only visible to followers; they can't be shared directly with the public. For now, Twitter is only making the feature available in Brazil, as a public trial of the concept.
Google will not hold its annual, in-person developer conference this year, to avoid the risk of the gathering helping to spread the coronavirus (COVID-19). The company is refunding paid attendees. A Google spokesperson said the company "will explore other ways to evolve Google I/O to best connect with and continue to build our developer community."
AT&T today launched sub-6 GHz 5G in 22 new markets, bringing the company's total sub-6 5G coverage to 80 markets in the US. Sub-6 5G uses lower frequency bands than mmWave 5G, allowing sub-6 5G to offer broader coverage. This is the type of 5G that AT&T is currently offering to consumers. New markets launching today include Columbus, Denver, and Cincinnati, as well as: Albany, Ga.; Albany, N.Y.; Athens, Ga.; Beaverhead County, Mont.; Binghamton, N.Y.; Hamilton, Ohio; Lancaster, Pa.; Lincoln County, Mont.; Madera County, Calif.; Madison County, Va.; Mono County, Calif.; Provo, Utah; Raleigh County, W. Va; Ross County, Ohio; Santa Rosa, Calif.; Springfield, Ohio; State College, Pa.; Sussex County, N.J.; and Worcester, Mass. The company launched 5G in 37 new markets last month, including Atlantic City, Bakersfield, Boston, Dayton, Hartford, Kansas City, New Bedford, New Haven, Portland, San Luis Obispo, Santa Barbara, Spokane, St. Louis, Wichita, and Wilmington. AT&T also offers mmWave 5G, which has only been available to business customers so far, but will launch for consumers on Unlimited Extra and Unlimited Elite plans starting March 6th. mmWave 5G offers higher speeds but limited coverage. AT&T calls this "5G+" and currently offers it in parts of 35 cities.
More articles in the Archive ›
What do you want to hear about? We're already working on a number of articles for the coming months, but we want to write about the things you're most interested in. So sound off: tell us what you want to know more about!