Recent Archive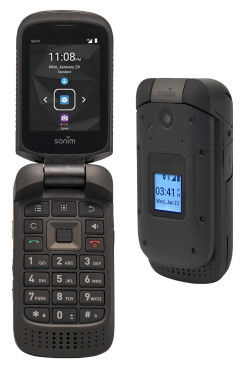 The Sonim XP3 rugged flip phone is now available on AT&T. The phone supports band 14 and FirstNet, the dedicated part of AT&T's network that gives priority to first responders. It's the first clamshell-style phone available for FirstNet. The XP3 launched a month ago on Sprint. The XP3 has a waterproof body, Push-To-Talk, 1-inch outer display, 3.5mm audio jack, USB-C connector, global roaming, Wi-Fi, mobile hotspot, and barometer. It has a 5-megapixel camera, but is also available without a camera. Its 1,500 mAh battery is removable. Its software is based on Android, but it does not run Android apps.
The Red Edition of the BlackBerry Key2 launches today with Best Buy and Amazon for $699. The Red Edition has more storage (128 GB) than the standard Key2 and comes with matching earbuds.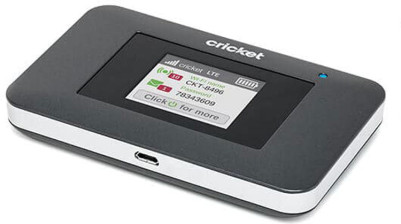 Cricket has announced new service plans that include only data and messaging, with no access to voice service. With the plans, messaging (SMS and MMS) is unlimited, but international service is not included. Data allotments are for high-speed data at the full speed of AT&T's LTE network, instead of capped at 8 Mbps as with Cricket's other plans. Streaming video is limited to SD quality by default, although HD can be enabled. The plans cost: $25/month for 3 GB of data, $35 for 10 GB, and $70 for 30 GB. A $5/month discount is available for the top plan when using AutoPay, making it $65/month. Add-ons are also available for even more data: $5 for an extra 2 GB or $10 for 5 GB. Cricket is also launching the Cricket Turbo Hotspot, a new mobile hotspot made by Netgear, for $120. Lastly, customers who switch to Cricket can take $200 off a Samsung Galaxy S10, or get the Samsung Galaxy J2 Pure for free.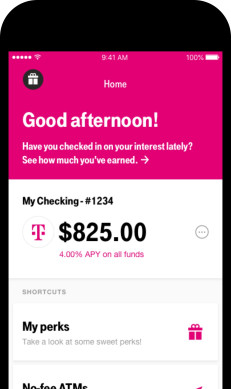 T-Mobile is now offering its own branded checking accounts as a new offering called T-Mobile Money. The accounts bear no monthly, overdraft or transfer fees, and no ATM fees. Accounts earn 4% interest on the first $3,000. The product is digital-only and mobile-first, accessed primarily through a phone app. The debit card is compatible with Google Pay, Apple Pay, and Samsung Pay, although customers receive a physical debit card as well. It supports direct deposit, mobile deposit, bill payment, and customers can send checks. The product is created and operated by BankMobile, a division of Customers Bank (Member FDIC). BankMobile has over 2 million customers, mostly college students using a similar product offered in partnership with over 800 colleges and universities.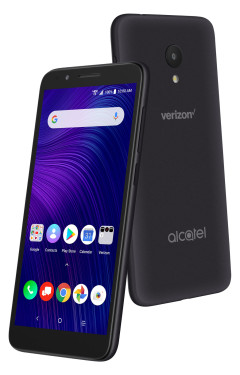 Verizon today started selling the Alcatel Avalon V, an entry-level Android phone that marks the first Alcatel phone to be offered by Verizon. The phone is similar to the Alcatel 1x Evolve already on sale with Metro by T-Mobile, but has a Snapdragon 425 processor instead of a MediaTek chip, and lower-resolution cameras (5 megapixel main and 2 megapixel selfie). The phone is notable for its tall (2:1 aspect ratio) display, which is still uncommon in truly entry-level phones such as this. The phone has a memory card slot, 2.5mm audio jack, and comes with Google Lens image recognition. It's available today for $100.
The first production units of the Samsung Galaxy Fold, sent to some phone reviewers, are experiencing serious failures of the folding screen after very little use, and at an alarming rate. Units sent to The Verge and CNBC have failed after just a few days of normal use. The unit used by Dieter Bohn of The Verge developed a sharp bulge poking up into the screen from the hinge mechanism; it destroyed the screen. The unit sent to CNBC started flickering off on the left side. Two other reviewers accidentally destroyed the screen after attempting to peel off a layer that looks like a removable screen protector, and can be peeled off, but is not intended to be removed. The Verge's unit also developed small nicks in the protective film after just a few days. The folding phone is supposed to ship to consumers at the end of next week.
Intel has confirmed that it has cancelled its 5G modem project intended for phones such as a future iPhone, and will focus its modem business instead on products for devices other than phones, according to the Wall Street Journal. Apple currently uses both Intel and Qualcomm modems in its iPhones. Earlier today, Apple and Qualcomm announced an agreement to end a years-long, ugly patent dispute. The agreement included a new commitment by Apple to use Qualcomm chips – perhaps exclusively – at the expense of Intel. Without its largest customer (Apple), Intel was left with no path to profitability for its phone modem business.
Justice department staff reviewing the proposed merger between T-Mobile US and Sprint have informed the two companies that they're disinclined to approve the merger as currently proposed, on antitrust grounds, according to the Wall Street Journal. The $26 billion deal would reduce competition and likely lead to lost jobs in the long run, although T-Mobile and Sprint claim otherwise. T-Mobile and Sprint could propose alterations to the deal to win approval. Also, senior Justice Department officials could override the staff recommendation and approve the deal as-is, although several state attorneys general are preparing to sue on antitrust grounds if that happens. A final decision from the Justice Department is expected in a few weeks, and T-Mobile and Sprint are still aiming to wrap up the deal by the end of July.
Qualcomm and Apple have reached an agreement to end all ongoing litigation over patents, including that extending to Apple's contact manufacturers. The companies have reached a six-year intellectual property agreement, with an option to extend for two years. As part of the agreement, Apple will pay Qualcomm an undisclosed sum, and has entered into a new agreement to buy chips from Qualcomm.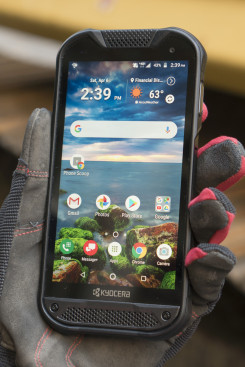 Kyocera's US phone lineup is down to just rugged phones these days, where they compete with Sonim. Kyocera's been at this for a while, though, so the DuraForce Pro 2 is building on quite a bit of experience. The DuraForce Pro was a solid entry, and its sequel mostly just updates the specs to keep current. It's offered by both Verizon and AT&T. How is it in person? We put on our work gloves and checked it out.
AT&T has a new promotion offering double the data on its mid-range plan. For $40/month, customers get 16GB of high-speed data, instead of the usual 8GB. The plan also includes unlimited talk and text across North America. The promo requires that customers enroll in AutoPay (without AutoPay, the plan is $50/month and only includes the usual 8 GB of data.) The plan includes rollover, where unused data is available the following month. The promo works by adding a special 8 GB block of "bonus data" each month. That bonus data is used first, followed by the standard data allotment. The bonus data does not roll over. Therefore if a customer used 8 GB one month, they could have up to 24 GB of high-speed data available the following month (8 bonus + 8 standard + 8 rollover). The plan also includes HD video and mobile hotspot. The next plan up is the unlimited prepaid plan for $65/month ($55 with AutoPay), but that does not include HD video nor mobile hotspot. The double-data promo will be available until July 11th, but customers who sign up before then will continue to receive the double data as long as they stay on the plan and signed up for AutoPay.
Sprint today launched a satisfaction guarantee to let potential customers try Sprint's latest LTE coverage risk-free for 30 days. If customers aren't happy, they can cancel and have all phone costs, service charges, and fees fully refunded. The offer also applies to existing customers adding a new line. Sprint is also offering up to $650 to cover switching costs (such as paying off a phone payment plan with another carrier). Also, for a limited time, Sprint is offering a $250 prepaid MasterCard when buying a new iPhone XS or iPhone XS Max from Sprint and porting a phone number from a competitor. Like most carriers, Sprint has spent billions in recent years to improve coverage and data performance. Sprint claims this has resulted in a 36.4% increase in national average download speeds year over year, and 30% more total LTE data coverage nationwide thanks to roaming agreements.
The Samsung Galaxy Fold will be on display and available for purchase on April 26th at AT&T, T-Mobile, Best Buy, and Samsung Experience Stores. T-Mobile will start accepting online orders the night before, at midnight ET / 9pm PT. Samsung will start accepting pre-orders tomorrow, April 12th, exclusively for people who have signed up to receive Galaxy Fold updates on samsung.com. Samsung also confirmed that the Galaxy S10 5G will launch in the US in May. Verizon has previously announced that it will be the first US carrier to offer the phone, with a period of exclusivity. AT&T also recently revealed that it will offer the S10 5G in the "spring", which implies that AT&T will launch the phone in June. Samsung says pre-orders for the S10 5G will start "soon".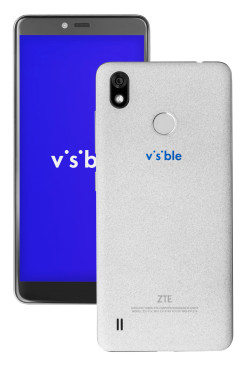 Visible — a relatively new MVNO using the Verizon network and backed by Verizon — is now offering a free new Android phone to new customers who trade in an old Android phone. Unlike most trade-in offers, any working Android phone is accepted, as long as it turns on, is paid off, and is not already compatible with Visible (making the Galaxy S9 and S9+ ineligible). The free new phone is the Visible R2 by ZTE, which has a fingerprint reader, 13-megapixel camera, 2:1 HD display, USB-C, and normally sells for $99. Visible will ship the new phone first, giving customers 14 days to send in the old phone, so new customers are never without a phone. There are no activation fees, shipping fees, taxes, or contracts. Visible offers unlimited service for $40/month, although data is limited to 5 Mbps speeds. The company has no physical locations, offering activation, support, and all customer interactions via its app.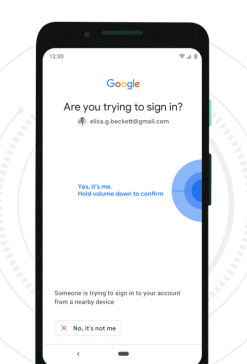 Google has expanded the two-step verification options when logging into Google services on a tablet or computer to allow the use of any Android 7+ phone as a hardware security key. The option is available today, for both personal and business accounts. It requires the Google Chrome browser on the computer or tablet. After entering their password on the computer or tablet, the user only needs to press one button on their phone, initiating the secure exchange of cryptographic keys over Bluetooth, which completes the login. Passwords alone only provide limited security, so two-step verification (2SV) is recommended for most users. Basic versions of 2SV use one-time codes, sent via text or app, as an additional password. But users can be tricked into giving these codes to attackers, and in some cases the codes can be intercepted. The most secure 2SV relies on a separate physical device carried by the user. Google sells such a keychain device — the Titan Security Key — for $50. Now any Android 7+ phone can serve that purpose, although Google still recommends a secure backup key in case the phone is lost.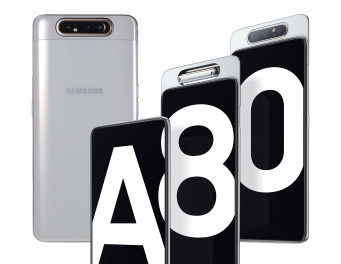 The Samsung Galaxy A80 has a unique triple-camera module that normally faces rearward. but is motorized so it can can slide up from the metal frame and spin around to face forward, for selfie mode. Samsung announced the phone today and plans to launch it by the end of May. The camera design allows the 6.7-inch, full-HD, AMOLED display to cover the whole front without a notch. The camera module includes a 48-megapixel main camera, 8-megapixel wide camera, and 3D depth camera. The 3D depth camera enables live focus (portrait effect) for video. The large 3,700 mAh battery can charge quickly with 25W charging. The fingerprint reader is built into the display. It comes with a generous 8 GB of RAM and 128 GB of storage, although it does not support memory cards. The A80 will be available in black, gold/pink and white/blue. Specific pricing and launch countries were not announced.
Qualcomm's latest Snapdragon chips bring advanced features to higher-end phones that are a bit more affordable than "flagship" models. The company announced three chips today, two in the 7 series and one in the 6 series. One is focused specifically on gaming phones.
730: The first 7-series chip with Spectra 350 image processing, capable of advanced computer vision functions using less power. It supports high-resolution depth sensing, 4K HDR videos in Portrait Mode (bokeh), and the new HEIF image format. The 730 also has powerful "AI" capability thanks to its Hexagon 688 processor with Hexagon Vector eXtensions and Hexagon Tensor Accelerator. The Hexagon 688 is twice as powerful as its predecessor, for faster intelligent functions in the areas of camera, gaming, voice, and security. The 730 also has a Kryo 470 CPU, Adreno 618 GPU, X15 LTE modem for download speeds up to 800 Mbps, and support for Wi-Fi 6.
730G: Optimized for gaming, the 730G is based on the 730 but upgrades to an enhanced Adreno 618 GPU for up to 15% faster graphics rendering. It also includes "Anti-Cheating Extensions" and a "Jank Reducer" feature that can reduce "janks by up to 90% in games running at 30fps".
665: Sports an X12 LTE modem for download speeds up to 600 Mbps, Kryo 260 CPU, and Adreno 610 GPU. Its Spectra 165 image processor supports advanced camera features such as scene recognition and super-resolution snapshots up to 48 megapixels. The Hexagon 686 signal processor supports "AI" functions via Hexagon Vector eXtensions.
The chips are expected to be used in phones shipping in mid-2019.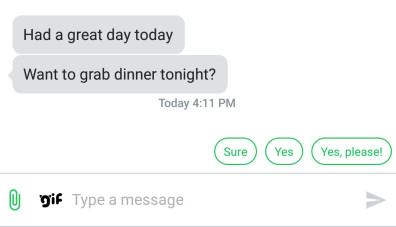 Google has turned its Smart Reply technology into an API that third-party Android and iOS developers can easily deploy in their own messaging apps. The software looks at the (up to) ten most recent messages in a thread, applies Google's machine learning algorithm locally (nothing is sent to the cloud,) and suggests three complete replies that can be sent with one tap. The software also uses machine learning to identify sensitive topics, so it can avoid making inappropriate suggestions in response to cases of personal tragedy/hardship or profanity. The feature is part of ML Kit, a suite of APIs that all use machine learning. Google also just added Language Identification to ML Kit. The new Smart Reply API is available first in English, and uses Language Identification to only suggest replies in the appropriate language. The first third-party app to make use of the Smart Reply API is textPlus.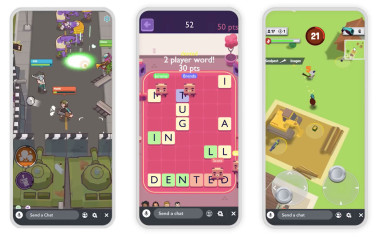 Snap has added Snap Games to the Snapchat app, a curated set of multiplayer games that Snapchat friends can play together, right within the app. The games are free to play, but include six-second ads. They're all designed for a vertical screen orientation. Players can chat via text or voice while playing. The first six titles include Tiny Royale by Zynga, Alphabear Hustle by Spry Fox, C.A.T.S. Drift Race by ZeptoLab, and Snapchat's own Bitmoji Party, where you play using your own avatar.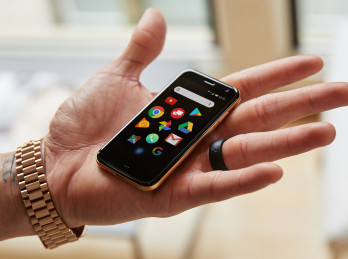 Palm has updated its tiny Android phone to operate as its own standalone smartphone. It was originally introduced as a companion device that required a "full" smartphone to share a phone number and sync with. The companion-device functionality remains, now as an option. The company introduced the standalone option today as part of a major software update. The update also improves camera quality and battery life. For the month of April, Verizon is offering the Palm for $199 (a $150 discount) with a 2-year contract or payment plan. Palm is also offering 50% off all Palm accessories until April 18th.
Google's automated voice assistant features for handling calls on a person's behalf are now rolling out to more phones beyond Google's own Pixel phones. The two features are Duplex and Call Screening. Duplex will make an entire interactive call on a user's behalf, making a reservation with a restaurant or business when requested via Google Assistant. This is rolling out to nearly all Android phones, as well as the iOS version of Google Assistant app. It's available in 43 US states. Call Screening is an alternative to directly answering an incoming call. With it, callers are prompted to explain who they are and why they're calling. The answer is transcribed and displayed in real time on the phone's screen, so you can decide to pick up if it's someone you want to talk to. Call Screening is rolling out now to Motorola g7 and One phones as a software update.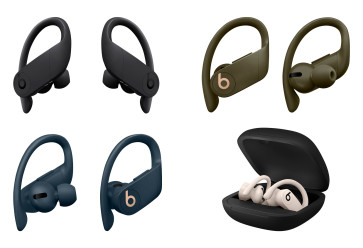 The new Powerbeats Pro from Beats use technology borrowed from Apple's latest AirPods to create the first Powerbeats without a wire between the two earbuds. Optimized for workouts, they have redesigned, adjustable rubber loops that hook over the ear like other Powerbeats. Despite being fully wireless, they're 23% smaller and 17% lighter than the Powerbeats3. Like AirPods, they automatically pause when removed from the ear. They also use the same Apple H1 chip as the latest AirPods, which enables them to respond to "Hey Siri" commands. Beam-forming microphones help filter out background noise during calls. Each bud has a full set of identical controls, allowing either one to be used without the other. Beats claims that each bud will last for 9 hours of music, and the included charging case brings that up to 24 hours total. Quick charging provides 1.5 hours of music playback with just five minutes of charging. Powerbeats Pro are compatible with both iOS and Android phones. Apple will sell the Powerbeats Pro in May for $250. They will be available in Black, Navy, Moss, and Ivory.
Verizon launched the first part of its commercial, mobile 5G network today in parts of Chicago and Minneapolis. Consumers can experience 5G service with the Motorola Moto z3 when used with the 5G Moto Mod accessory, which also goes on sale to the general public today. Verizon says early customers in Chicago and Minneapolis should expect typical download speeds of 450 Mbps, with peak speeds of nearly 1 Gbps, and latency less than 30 milliseconds. Verizon had originally announced April 11 as the launch date, but moved the launch up to today in order to beat Korea's SK Telecom to claim the "first commercial 5G network in the world that works with a 5G smartphone". SK Telecom just today announced its plans to launch commercial 5G on April 5th with the Samsung Galaxy S10 5G. Verizon has announced plans to carry the Samsung Galaxy S10 5G and LG V50 ThinQ phones, both of which have 5G fully integrated, but it appears SK Telecom will be the first to offer a phone with integrated 5G. Verizon's 5G service costs an extra $10/month. The company has announced plans to expand its 5G network to over 30 US cities this year. Verizon's 5G network launching today relies on the 28 GHz frequency band, which is considered mmWave. Such high frequencies have limited range and do not penetrate well indoors. Sprint plans to launch its 5G network — using much lower frequencies — starting next month, offering the LG V50 ThinQ. AT&T claims it launched its mmWave 5G network last year, but has yet to make compatible devices available to the general public. AT&T has promised to offer a 5G phone in the first half of 2019.
Verizon's new Just Kids wireless service plan bundles parental controls and a restricted call list with 5GB of data, for $10/month less than the company's cheapest unlimited plan. The company announced the plan today, and it will be available starting this Thursday. It requires a family plan with at least one other line on an unlimited plan. The parental controls are Verizon's Smart Family Premium product, which is normally an extra $10/month. It tracks location, limits online time, and includes content filters. Just Kids limits calling and texting to 20 parent-defined contacts, although that usage is unlimited. The plan includes 5 GB of 4G LTE data, with unlimited low-speed data after the 5 GB is exhausted, eliminating overages. The Just Kids plan starts at $35/month on family plans with 4 or more lines. With 3 lines, Just Kids runs $45/month; with 2 lines, the Just Kids line is $55/month.
Verizon now offers a free version of its Call Filter service, which lets customers get alerts when a call is likely spam, report unsolicited numbers, and automatically block robocalls based on their preferred level of risk. The service was previously $3/month/line, although a premium version with additional features (such as advanced caller-ID and personal block list) is still available for the same price. Only post-paid wireless customers are eligible, and they must opt in to receive the service. Features vary slightly by device. T-Mobile already offers a similar service. Verizon also announced that it's making progress in implementing STIR/SHAKEN, a technology that securely authenticates caller-ID info to deter number spoofing. T-Mobile has already implemented STIR/SHAKEN and AT&T also recently announced progress in its implementation. STIR/SHAKEN is more effective the more telecom companies implement it. The FCC has publicly threatened to impose new regulations if the industry does not do more to address the issues of robocalling and number spoofing.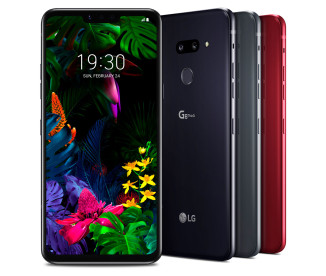 In two weeks, the LG G8 ThinQ will be offered by all major US carriers, with several offering major discounts at launch. This flagship phone from LG has a unique 3D depth camera on the front, supporting mid-air gestures, hand vein scanning, and 3D face scanning. Verizon, AT&T, T-Mobile, Sprint, US Cellular, and Xfinity Mobile will carry the G8, as well as Best Buy and B&H. The standard retail price is $820, although some carriers are offering significant discounts and deals. Read on for carrier deal specifics, color options, and pre-order dates.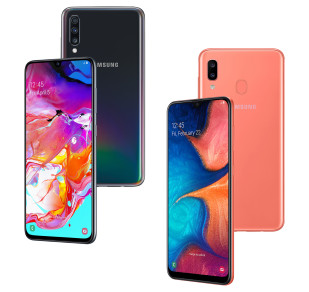 Samsung today published selected details of the new Galaxy A70, A40, A20, and A10 Android phones. These complement the Galaxy A30 and A50 the company announced a month ago. The A70 is the highest-end of the bunch. Although Samsung's A series is generally mid-range, the A10 is a decidedly entry-level model. It's not yet clear which models may come to the US, although the FCC has approved a version of the Galaxy A20 that's relatively friendly with the US networks. All of the new models have extra-tall displays with small centered notches and Android 9.0 (Pie).
A70: Sports a large 6.7-inch AMOLED display with full-HD resolution and 20:9 aspect ratio. It also has 32-megapixel cameras on the front and back, additional wide and depth cameras on the back, a huge 4,500 mAh battery, 25W Super-Fast Charging, in-display fingerprint reader, 6 or 8 GB of RAM, and a "Glasstic" body like the A50.
A40: A compact model around the size of the Galaxy S10e, it has a 5.9-inch AMOLED display with full-HD resolution and 19.5:9 ratio. It also sports a 25-megapixel selfie camera, 16-megapixel main camera, 5-megapixel wide camera, 4 GB of RAM, 3,100 mAh battery, rear fingerprint reader, and a "Glasstic" body. (not pictured)
A20: A more affordable model with a large display and battery. The AMOLED display measures 6.4 inches and has HD resolution. It has a 4,000 mAh battery, fast charging, 13 megapixel main camera with f/1.9 aperture, 5-megapixel wide camera, 3 GB of RAM, and a rear fingerprint reader.
A10: The LCD display measures 6.2 inches and has HD resolution. The battery rates 3,400 mAh, the rear camera is 13-megapixel, and the selfie camera is 5-megapixel. It has 2 GB of RAM and a memory card slot. (not pictured)
An unannounced Galaxy A60 has also been approved by the FCC, although the approval reveals little about that model.
Apple today announced an updated version of its Apple TV app that supports paid channels within the app. It will be available on iOS, tvOS, macOS, Roku, Fire TV, and smart TVs from Samsung, LG, Sony, and Vizio. It will be available in May in over 100 countries. Paid channels available in the US include Apple's new "Apple tv+" channel with its own original content, as well as HBO, Showtime, Starz, Cinemax, CBS All Access, Comedy Central, and more. The new Apple TV app supports offline viewing and family sharing.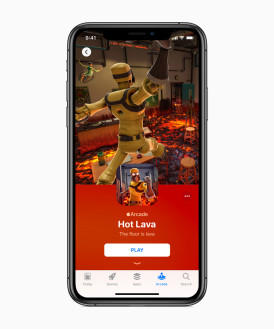 Apple Arcade will be a monthly subscription service for a series of curated games. It will feature over 100 games at launch, with new games added regularly. A single Arcade subscription buys full access to all Arcade games, none of which have ads. Arcade games will work across iOS, macOS and tvOS, and game state is maintained across different devices. The service will feature games from Annapurna Interactive, Bossa Studios, Cartoon Network, Finji, Giant Squid, Klei Entertainment, Konami, LEGO, Mistwalker Corporation, SEGA, Snowman, ustwo games and dozens more. Apple Arcade will launch in fall 2019 in more than 150 countries from a new tab on the App Store. Pricing was not announced.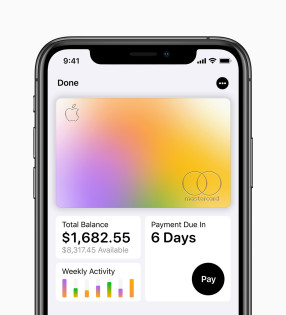 Apple today launched its own branded credit card: Apple Card. Starting this summer, customers can sign up for the card on their iOS device in minutes, and use it immediately with Apple Pay. It charges no annual fees, international fees, nor late fees. Customers get 2% cash back on all purchases, or 3% on purchases from Apple. The cash back is paid daily, deposited on a separate Apple Cash card, which also lives in the Wallet and works with Apple Pay. Apple uses Apple Maps and machine learning to translate often-cryptic charge descriptions into more obvious line items. An interactive interest calculator helps customers choose the best amount to pay down each month. A built-in spend analyzer helps users see expense categories and trends. Support is provided via iMessage. Apple card works anywhere MasterCard is accepted and is backed by Goldman Sachs.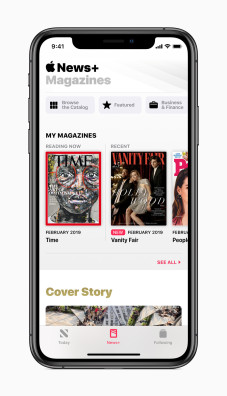 Apple's News app for iOS now offers a $10/month paid subscription option called News+, which includes full access to the Wall Street Journal, LA Times, over 300 magazines, and the premium sections of several major web sites such as TechCrunch. Separate subscriptions to all of these publications would cost over $8,000/year. New content is downloaded automatically. Neither Apple nor advertisers can see what you choose to read. Apple is offering the first month free. News+ is available today in the US via an update to iOS. A similar offering is also launching today in Canada, and coming soon to Australia and Europe, starting with the UK.
AT&T today launched sales of the Kyocera DuraForce Pro 2, an extra-rugged Android phone with waterproof body and a non-incendive rating. The 5-inch, full-HD display works through gloves and when wet. It has a 13-megapixel main camera plus wide-angle camera, fingerprint reader, NFC, barometer, memory card slot, wireless charging, and fast charging via USB-C. It utilizes a Qualcomm Snapdragon 630 processor with 4 GB of RAM and supports LTE Cat. 9 on all AT&T bands, including band 14 supporting FirstNet, as well as bands 29 and 30. It's powered by a 3,240 mAh non-removable battery. Verizon launched its own version of the phone in November. AT&T is offering the DuraForce Pro 2 today via online and business channels for $450.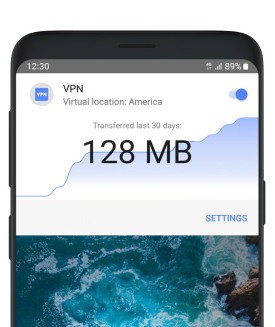 The Opera web browser for Android now includes a free VPN service, for securing data over untrusted networks such as public Wi-Fi. Opera for Android version 51 includes the feature, which is activated with a simple toggle, requiring no sign-in nor account. Opera lets users choose from one of several VPN server locations around the world, and does not log user activity. Opera for Android also includes an ad blocker. The new Opera app is available now from the Play Store.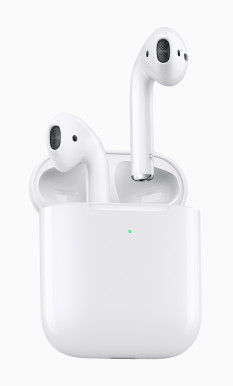 The new Apple AirPods have 50% battery life (talk time) and support "Hey Siri" voice commands to let users quickly change songs, make a call, adjust the volume or get directions. Apple also introduced an optional charging case that can be charged on any Qi-compatible wireless charging pad. The new AirPods are available today with the new wireless charging case for $199, or with the older standard case for $159. The wireless charging case is available separately for $79, for customers with existing AirPods. Apple is also now offering free personalized engraving on AirPods. The new AirPods and case are available online today, and in Apple Stores next week.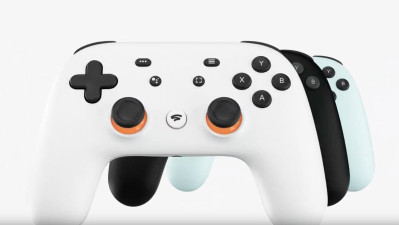 Google today announced a new, cloud-based service called Stadia that lets people play high-quality games on any device without downloading them. It also caters to people who like to watch others play games, in a way that's integrated with YouTube and competes with Twitch. The service supports high-end 3D games (such as Assassin's Creed) at up to 4K / 60 fps, on any device that supports Chrome, including Android phones, tablets, low-end desktops, and TVs with certain Chromecast dongles. It supports existing input devices, as well as a new Stadia Controller that links directly to the cloud via Wi-Fi. The controller has a headset jack, share/stream button, and Google Assistant button. Games run in Google Cloud datacenters, on special Linux-based Stadia instances that have twice the graphics performance of a modern game console such as the Xbox One X or PS4 Pro. The YouTube integration allows gamers to jump right into a multi-player game directly from a livestream. It supports advanced split-screen features, and the ability to share a playable game moment with other players with simple links. Stadia also supports cross-platform features to link to other game platforms.
Google's alternative email app Inbox will stop working on April 2nd. Many — but not all — of Inbox's hallmark features have recently been introduced in Google's Gmail app.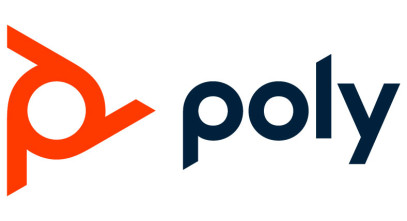 Following its merger with Polycom, Plantronics is rebranding the combined company as "Poly". The new entity will focus on solutions for businesses and office workers. Plantronics has made Bluetooth headsets with a professional bent for many years. Polycom is a leading manufacturer of audio- and video-conferencing solutions.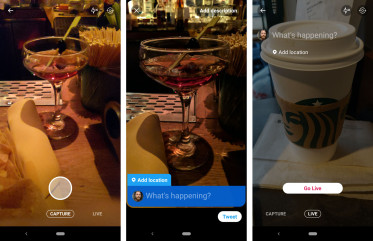 Twitter's new camera function offers an all-new visual interface that makes it faster and easier to share visual content, including photos, videos, and live streaming. The updated app has been rolling out in recent days. A new shortcut takes users directly to the camera by swiping sideways from the main feed. The interface offers standard and live modes. The standard mode has a large capture button that users can tap quickly to take a still, or hold to capture video. Both modes include prompts to add your location and a text comment. There's also a separate prompt to add a description of the visual content for the visually-impaired. The camera function defaults to the phone's rear camera, but supports selfie mode as well.
The FCC has issued a proposed rule that would require US carriers to provide vertical location data to emergency dispatchers when mobile users dial 911. The rule would take effect starting in April 2021, requiring that at least 80% of 911 calls provide vertical location data accurate to within three meters. This would help emergency dispatchers determine which floor of larger buildings callers are located on. The FCC first requested this capability in early 2014. The CTIA industry association established an implementation framework in late 2014, and carriers have been conducting tests since then. The FCC used data from these tests to make today's new rules.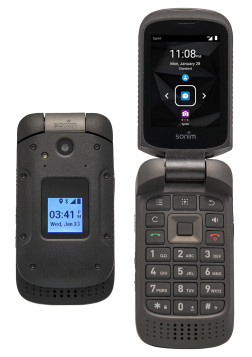 The Sonim XP3 is a new rugged clamshell-style phone for Sprint. The two companies announced the phone today, and it's available now. The phone is rugged to military specs, and waterproof with an IP68 rating. Its large buttons are designed to be glove-friendly. It supports Sprint's Direct Connect Plus PTT (walkie-talkie) service. Its 100 dB speaker with noise cancellation is designed to be extra-loud and clear. The software is based on open-source Android (Oreo) but cannot run Android apps. It has a removable 1,500 mAh battery, 2.6-inch LCD main display, small outer display, and a memory card slot. It comes with a three-year warranty. Sprint is offering it for $240, or $10/month.
More articles in the Archive ›
What do you want to hear about? We're already working on a number of articles for the coming months, but we want to write about the things you're most interested in. So sound off: tell us what you want to know more about!