Recent Archive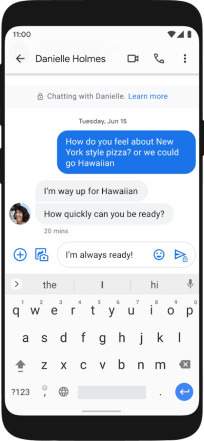 As part of a broad set of updates rolling out to most Android users this summer, Google is enabling two major new features in its Messages app. The first is end-to-end encryption for one-on-one conversations between Messages users. This means that when two users are both using the updated Messages app on Android with chat features enabled, their conversations will be encrypted so that no one — not even Google or their cellular provider — can see the content of your messages. The feature does not currently work with group conversations, nor when either party is using a messaging app other than Google Messages. Users can confirm that their conversation is fully encrypted when they see a small padlock icon added to the send button. The other new feature coming to Messages is the ability to "star" important individual messages within conversations. Starred messages are then collected in a new Starred category so they're easy to find later.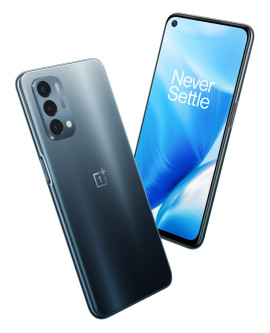 OnePlus today released several key specs and launch plans for its new Nord N200 5G phone. In the US, the phone will be available from T-Mobile for $216, Metro for $230, as well as unlocked for $240. The N200 has 5G, a 6.49" full-HD display with 90 Hz refresh, 5,000 mAh battery, and 18W fast charging. Like the moto g stylus 5G announced last week, the Nord N200 uses Qualcomm's new Snapdragon 480 chipset, which is specifically designed to bring 5G to more affordable price points. A few other specs were revealed, including 4 GB of RAM, 64 GB storage (expandable), 13 megapixel main camera, and 16 megapixel front camera. But OnePlus is withholding additional specs for now, such as details of the other rear cameras. The phone will be available June 25th in "Blue Quantum" from T-Mobile, Metro, and unlocked from oneplus.com. Best Buy, Amazon, and B&H will also sell the phone. T-Mobile will offer the phone for free with a trade-in or new line, via bill credits over two years. Metro will offer the phone for free to new customers via instant rebate, or for $60 for existing customers adding a new line.
HMD Global, the company behind Nokia-branded phones, today announced a new set of offerings and partnerships designed to win over business customers. HMD already offers a leading three years of monthly security updates for most of its phones (including all new X- and G-series phones), an attractive feature for business customers. Now enterprise customers will be able to purchase a fourth year of security updates for certain models. HMD is also offering insurance plans and extended warranties, and new management solutions. HMD Enable Pro is the company's EMM (Enterprise Mobility Management) solution for managing devices, while HMD Connect Pro is their new solution for managing SIMs and roaming worldwide. Connect Pro is based on the WING platform from Nokia. HMD is also partnering with global IT consulting firm CGI for system integration for enterprise customers.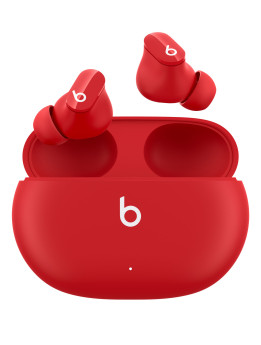 Beats has finally launched its first fully in-ear true wireless earbuds: the Beats Studio Buds. These $150 Bluetooth earbuds feature active noise cancelling (ANC) as well as transparency mode to let you hear limited background noise. And even though Apple owns Beats, the Studio Buds are designed to be fully "native" compatible with both Android and Apple devices, including one-touch pairing on Android and a companion Android app. They're are also compatible with the Find My services of both iOS and Android. The buds are rated IPX4 for sweat- and water-resistance. Class 1 Bluetooth offers extended range. Beam-forming mics ensure clear voice calls free of wind and background noise. Each bud houses a proprietary 8.2mm, dual-element diaphragm driver, that's optimized for better ANC performance. The buds also support Spatial Audio / Dolby Atmos when used with Apple Music. Each bud connects directly to the source device, meaning either bud can be used by itself. The buds themselves provide up to 8 hours of listening time, or 5 hours with ANC enabled. The included USB-C charging case boosts total playback time to 24 hours. Beats Studio Buds are available to order today, and come in black, white, and red.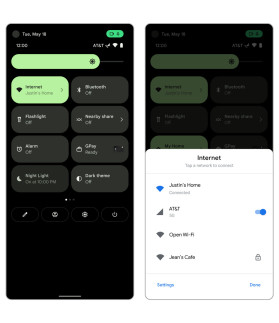 Google has released the second beta version of Android 12, which introduces several key features not found in the first beta. A new "Internet" quick setting consolidates Wi-Fi and cellular connections into one simpler control for Internet connections. Also new are universal, system-wide indicators and toggle controls for the microphone and cameras. It's now obvious at a glance any time any app is accessing the mic or camera, and such access can be switched off for all apps with one tap. There's also a new pop-up notification when an app accesses the clipboard and it contains data from another app. Finally, the new Privacy Dashboard offers a timeline view of all recent app accesses to microphone, camera, and location. The beta is intended only for developers and not for anyone's primary device. Phone Scoop has observed a relatively high level of instability with this particular version installed on a Pixel 5.
President Biden today revoked executive orders from the previous administration targeting Chinese-owned TikTok and WeChat. The old executive orders would have effectively banned the apps in the US as long as they remained under control by Chinese companies. Over the last nine months, the fate of the apps in the US has hung in legal limbo as judges have issued injunctions and the Commerce Department has delayed its deadlines. In place of the old orders, Biden issued a new executive order that "directs the use of a criteria-based decision framework and rigorous, evidence-based analysis to address the risks posed by [Chinese-owned apps] that may present an undue or unacceptable risk to the national security". "Additionally, the Department of Commerce will make recommendations for additional executive and legislative actions to further address the risk associated with foreign adversary connected software applications."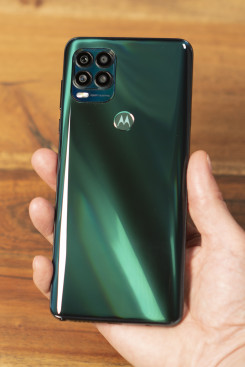 Motorola's moto g series has long had an option for people who want an affordable phone with a large screen and large battery. Recently, that's been the g stylus, which gives you something extra to use with that big screen. Motorola already has a moto g stylus for 2021, but now there's a version with 5G, and it brings with it an even larger battery. So what is this interesting mid-range phone actually like in person? Here's our hands-on report, with a plethora of photos for you.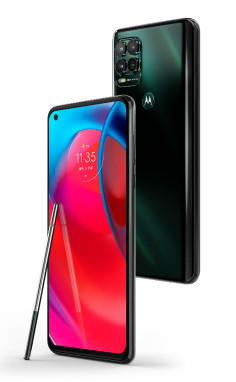 Motorola today announced the moto g stylus 5G, a version of this year's moto g stylus with 5G and a larger battery, for $400. The new 5G model has excellent support for all 5G and 4G networks in the US, (except mmWave 5G.) The battery has been bumped up from 4,000 mAh to a whopping 5,000 mAh. The 5G model has a Qualcomm Snapdragon 480 chipset instead the Snapdragon 678 in the 4G model. Although the 480 is a 4-series chip, it's newer than the 678 and offers similar performance. The 48 megapixel main camera offers access to the full 48 megapixel resolution, and the fingerprint reader is located on the back instead of the side. Other specs and features are similar to the 4G model, including a huge 6.8-inch full-HD display, wide camera, macro camera, 16 megapixel selfie camera, fast charging, memory card slot, and headset jack. The software is Android 11 with a nearly stock Google interface. Added stylus-oriented software includes the Moto Note app, Coloring Book app, and a customizable shortcut bar that appears when the stylus is removed. The stylus itself has been redesigned to be easier to remove and replace, and has a new feature that can help you find the stylus if you lose it. New features in the camera app include Spot Color for video and Dual Capture, which combines video from the front and rear cameras. The moto g stylus 5G will come in Cosmic Emerald. AT&T, Cricket, T-Mobile, Metro, Boost, Xfinity, and Spectrum will offer a version with 4 GB RAM and 128 GB storage (launch timing and pricing TBA), while the unlocked version sold by Motorola (plus B&H, Best Buy, and Amazon) will up that to 6 GB RAM / 256 GB storage. The unlocked version goes on sale for $400 on June 14th.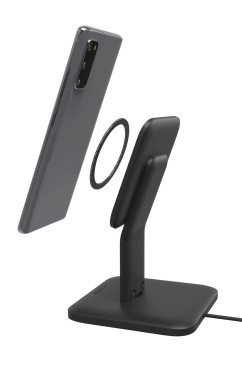 Mophie today announced the Snap+ line of iPhone- and Qi-compatible wireless chargers. They feature magnetic mounting, compatible with Apple's new MagSafe system on iPhone 12. However they also include an adaptor ring that adds the same magnet-mount functionality to any phone with wireless charging using the ubiquitous Qi standard. Available today are the basic snap+ wireless charger, a small disc that can provide up to 7.5W wireless charging to an iPhone, or 15W to other Qi phones. It runs $35. Also available starting today, for $50 each, are a car vent mount model, and the snap+ juice pack mini, a 5,000 mAh battery pack with wireless charging. Also available for $30 is the snap vent mount, which enables magnetic mount to a car vent, without the wireless charging. Later this summer/fall, Mophie will also offer angled stand versions of the desktop charger and battery back. The snap+ wireless stand (shown) is just like the snap+ wireless charger but with an angled stand, for $60. The snap+ powerstation stand will offer a huge 10,000 mAh battery for $70, with a built-in adjustable stand. In addition to wireless charging, it can charge another device via USB-C PD at up to 20W. The new products will be available at mophie.com, as well as AT&T, Best Buy, Staples, and Verizon.
Google today released its June security update for Pixel phones, which this month brings several new features along for the ride. When using the Night Sight camera mode to take long-exposure photos of the night sky (astrophotography), a Pixel phone will now record a short video along with the photo, showing the stars in motion. Another new feature lets you answer or reject a call with Google Assistant by saying "Hey Google, answer call" or "Hey Google, reject call." These two new features require a Pixel 4 or newer. For Pixel models 3 and newer, the update also introduces the previously-announced Locked Folder feature in Google Photos, to keep sensitive photos private, and the Heads Up feature to remind you to look up periodically while walking and using your phone.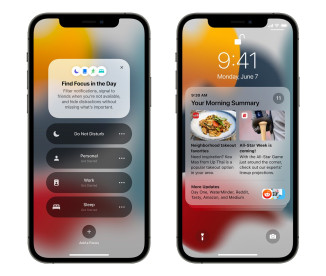 Apple today announced iOS 15, the next version of its core software that powers iPhones. Version 15 is not a major overhaul, but does add a long list of new features. An early beta version is available to developers starting today, with a more-polished public beta coming "next month". The final version will launch in the fall, likely alongside new iPhone models. New features include:
Revamped FaceTime with SharePlay: FaceTime will now support scheduled calls and web links for Android and Windows users to join calls. New features make it easier to share your screen or streaming media with everyone on a group call.
Live Text: System-wide recognition of text and objects within images.
Updated Wallet: Will support digital home keys, driver's licenses, corporate badges, hotel keys, and more.
Updated Maps: Adds AR mode for walking directions, 3D highway interchanges while driving, and greatly enhanced 3D views in select major cities.
Focus modes: The new Focus feature will let you create Work, Personal, Sleep, Do Not Disturb, and custom Focus modes. Each mode can have its own notification settings and filters, and even its own home screen with specific apps and widgets. iOS can intelligently suggest personalized settings for each Focus mode, but they can also be customized. The current Focus mode is automatically synced across Apple devices.
Notifications Summary: Can collapse all "non-time-critical" notifications into a morning summary and an afternoon summary, for example. Messages with contacts are still surfaced as received. iOS prioritizes information in notification summaries using on-device intelligence. Outside of Summaries, notifications will also have a more visual design with large icons.
On-Device Siri: Siri will now process voice recognition directly on-device by default, instead of sending your voice to the cloud. This change enhances privacy, make Siri much faster, and allows Siri to process certain simple commands without an Internet connection.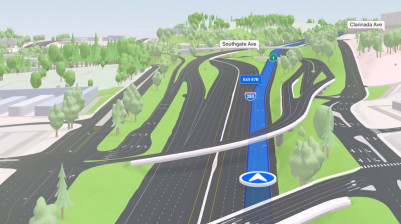 A revamped Maps app in iOS 15 will offer a number of new and improved features to better compete with Google Maps. While giving real-time driving directions, the app will now show complex highway interchanges in an accurate 3D view. In certain cities, a new AR mode provides walking directions visually overlaid on your surroundings, similar to a feature Google has offered since 2019. Certain areas will also show enhanced 3D views, including stylized 3D landmarks, illuminated night mode, and accurate elevations. New transit features let you set certain transit lines as favorites, and alert you when approaching your stop. The more advanced city features will be available first in LA, New York, Philadelphia, San Diego, San Francisco, Washington DC, and London.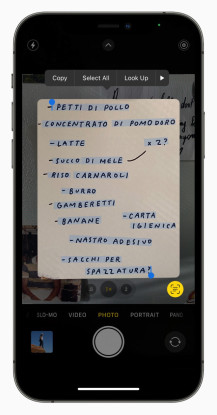 Apple today announced Live Text, a new feature of iOS that provides intelligent text and object recognition for images. In iOS 15, photos (new and existing), screenshots, and images on the wen have a new icon that runs text recognition on that image. All text — including handwritten notes — can easily be copied and pasted to other apps. Text in recognized formats, such as phone numbers, are presented as tappable links. The feature also recognizes certain kinds of objects — including animals, plants, and landmarks — and offers links to more information about that object.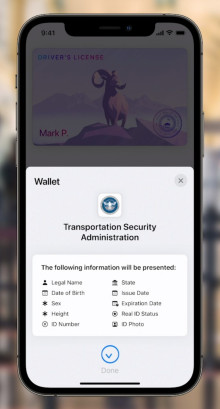 Apple today announced a major expansion of its Wallet app to support many new kinds of keys and cards, getting closer to the goal of fully replacing all of your physical wallet and keys. In addition to the previously-announced digital car key feature, Wallet will now support smart home front door locks, government ID cards — include US state driver's licenses — corporate ID cards, hotel keys, and theme park passes. Hyatt will soon support the feature at over 1,000 hotels. Schlage, Assa Abloy, and HID will support the feature for home and campus access. A number of US states will support digital driver's license in Wallet, and Apple is working with the TSA to accept these digital IDs at US airports. Finally, Walt Disney World will also support access cards in Wallet.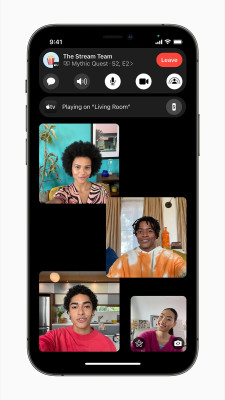 Apple today announced a huge revamp of its FaceTime video-call service, expanding its compatibility to Android phones and PCs via the web, and expanding its features to compete with leading videoconferencing apps like Zoom. Users can now schedule a FaceTime call in advance and invite other people to join with a link, which will work on any web platform, including Android and Windows devices. A grid view facilitates group video calls. Spatial Audio places each user in a 3D audio space, for a more realistic experience. New screen-sharing features let everyone in the group call see whatever is on your screen, with more tailored experiences for video and music. A new SharePlay API lets developers integrate their streaming apps with this new feature. The first apps to support it include Disney+, Hulu, HBOmax, Twitch, TikTok, MasterClass, NBA, ESPN+, and Paramount+. While watching shared media, a new feature also lets you easily take the conversation to a Messages chat.
OnePlus has started teasing its new OnePlus Nord N200 phone for the US market, a replacement for the Nord N100. Upgrades revealed to PC Mag include 5G and a better display, while coming in under $250.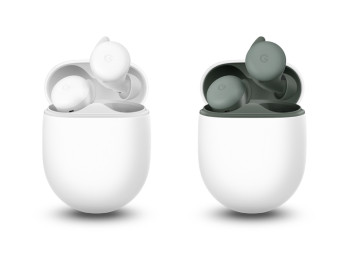 Google today announced the Pixel Buds A-Series, a new model of the company's true wireless earbuds that keeps most of the features of last year's Pixel Buds, but brings the price down from $179 to $99. The new A-series has a similar design for both the buds and charging case. Like the original, the buds feature custom-designed 12 mm dynamic speaker drivers. Adaptive Sound provides automatic volume compensation based on ambient noise levels. Beamforming mics ensure your voice is heard clearly during calls. Advanced Google Assistant features include real-time language translation, in either one-way or two-way mode. Improving on the original Pixel Buds, the new model uses a direct connection between each bud and the phone other other source device, instead of one bud relying on the other for a connection. The A-Series is cheaper thanks to fewer extra sensors, which means they don't support swipe gestures to change volume, nor automatic listening for specific sounds like a dog barking or baby crying. The buds are available in either Clearly White (with light gray accents) or Dark Olive. Pre-orders start today, with deliveries starting June 17th.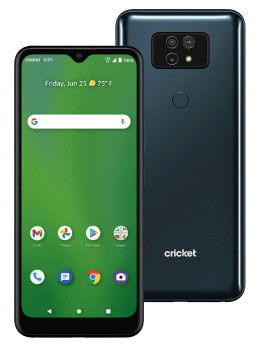 Cricket today launched its latest Cricket-branded affordable Android phone: the Ovation 2. The new phone is very similar to the first Ovation in terms of specs and features. The biggest difference is a taller screen that brings the screen size to 6.8 inches. Key specs include a MediaTek Helio A22 processor, large 3,900 mAh battery, 13 megapixel main camera, 5 megapixel wide camera, 8 megapixel front camera, and a fingerprint reader on the back. It also has 3 GB RAM, 32 GB built-in storage, a memory card slot, and a headset jack. The phone comes in "Evergreen" and available now for $130. The Ovation 2 is manufactured by FIH (a division of Foxconn) and sourced for Cricket by Emblem, which has a multi-year contract to supply AT&T and Cricket with private-label phones. The original Ovation was manufactured by Tinno.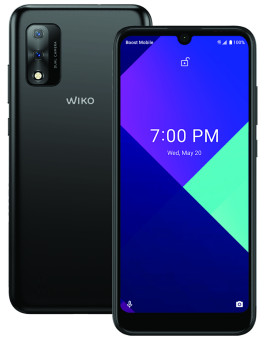 Wiko this week launched the Ride 3, an updated entry-level Android phone that Boost Mobile will sell for just $35. Compared to the Ride 2, the Wiko Ride 3 has a taller, more modern notched display, larger 3,400 mAh battery, faster MediaTek Helio P22 processor and more RAM (3 GB), 13 megapixel main camera, USB-C, and Android 11. It also has a headset jack and memory card slot. The Ride 3 is available now from Boost's web site. It will hit Walmart June 12th and Boost stores by the end of June. Wiko first entered the US market in 2019 with a single model for Boost Mobile: the original Wiko Ride. Although Wiko has yet to grow its presence in the US market, the company has consistently offered a new model in the Ride series each year.
Asus made its new ROG Phone 5 available to buy today in the US for $1,000. This is the standard model with 16 GB RAM and 256 GB storage; the Pro and Ultimate versions will go on sale next quarter.
Arm today announced details of its v9 processor core designs, which scale from smartwatches to laptops and compose what Arm calls its "Total Compute Solution". The suite of designs includes several new Cortex CPU cores, several new Mali GPU (graphics) cores, and a new interconnect design to link the cores that's 15% more efficient than before. The new core designs are faster and more power-efficient across the board, while introducing new security features. The new flagship CPU core is the Cortex X2, which is 16% faster than the X1 it replaces. The new standard "big" core is the A710, which is 10% faster and 30% more efficient than the A78 it replaces. The new A510 low-power "little" core is 35% faster and 20% more efficient than the A55 it replaces. The A510 also suitable as a main core for wearables like smartwatches. On the graphics side, the flagship Mali G710 GPU core is 20% faster than the G78 it replaces. At the other end of the lineup is the Mali G310, which Arm claims is the most performant entry-level GPU, rendering the Android interface twice as fast as previous-generation GPUs. Arm licensees like MediaTek, Qualcomm, Samsung, and Apple are expected to announce chips using the updated Arm architecture by the end of this year, with the first phones using this technology reaching the market in 2022.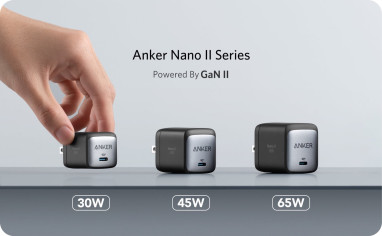 Anker today announced the Nano II series compact fast chargers. Available in 30, 45, or 65-watt versions, these tiny chargers use chips made of GaN (Gallium Nitride) material instead of silicon. GaN components enable the charger to handle a lot of electric current in a small form factor without overheating (or throttling down charging to avoid overheating). The smallest charger — the 30W model — is the same size as a standard iPhone charger but can fast-charge phones as well as devices as large as the new MacBook Air at full speed. The 45W and 60W models are only slightly larger, but can charge larger laptops and tablets at full speed. The 45W and 60W models also feature foldable plugs. All models support standard USB-C and Apple Lightning fast charging modes, as well as Samsung Super Fast Charging. The chargers range in price from $30 to $40. Pre-orders are open now; the chargers start shipping in the US in mid-June.
Qualcomm recently announced updatable NNAPI drivers in Android for new and existing Snapdragon chips. This means the software drivers that connect apps to the AI processing hardware of Snapdragon chips can now be updated easily and regularly via Google Play Services. This is similar to how Qualcomm recently made its graphics drivers updateable, but for AI. This will enable Snapdragon-powered Android phones to enjoy potential AI performance and feature gains over time, without waiting for a major OS update from the manufacturer. Apps that will benefit include Google Assistant and Google Maps.
Spotify has started rolling out a major update for its Apple Watch app. The new version has the ability to download playlists, albums, or podcasts to the watch itself, allowing them to be played back when no cellular or Wi-Fi connection is available, or when using your Wi-Fi-only Apple Watch out and about without your phone. The feature requires a Spotify Premium subscription. Downloads are initiated from the phone app, but a new Downloads section of the watch app lets you see what's available for offline listening.
The FCC today formally proposed moving up the deadline for smaller companies to implement STIR/SHAKEN technology by one year. This technology makes number spoofing difficult, allowing law enforcement and voice service providers to identify and block bad actors. Larger telecom companies must implement the technology by June 30th of this year. Smaller companies had until June 2023, but the FCC has recently determined that those smaller companies are "generating a high and increasing share of illegal robocalls compared to larger providers". This prompted the FCC's new proposal, to move the deadline for smaller companies up one year to June 30, 2022. The FCC is seeking comment on the rule change, as well as suggestions for implementing and enforcing it.
T-Mobile today announced out new small business plans called Business Unlimited. The three new options offer a better value than the existing Magenta for Business plans in several ways. The cheapest option is as low as $25/line/month, cheaper than before. The most premium plan is now as low as $40/line, $5/month cheaper than Magenta Max for Business while offering similar features. The cheapest multi-line pricing also kicks in at just six lines instead of eight, and all plans now include much more high-speed mobile hotspot data. All include unlimited talk and text, as well as 5G access. The plans are:
Business Unlimited Select: For $25/line/month (with at least six lines and AutoPay), this offers 50 GB of speedy "Premium Data", 5 GB high-speed mobile hotspot, unlimited talk, text, and 2G data in Canada and Mexico, and unlimited texting and 2G data overseas. Although T-Mobile advertises 50 GB of Premium Data for this plan, the fine print says "During congestion, ... customers choosing lower-prioritized plans (Select) may notice lower speeds than other customers". T-Mobile confirmed to Phone Scoop that this mean this plan has "a lower prioritization level, similar to Metro or T-Mobile Essentials" for data speeds. The other two plans do not have this limitation.
Business Unlimited Advanced: For $30/line, this ups the Premium Data to 100 GB (with top priority) and the high-speed mobile hotspot to 40 GB. It also adds 1 hour of Gogo In-Flight Wi-Fi, 5 GB high-speed data in Canada and Mexico, Microsoft 365 on Us, and HD video streaming.
Business Unlimited Ultimate: For $40/line, this steps up to truly unlimited Premium Data on each smartphone, 100 GB high-speed mobile hotspot, and Unlimited Gogo In-Flight Wi-Fi. It also offers 2x faster data internationally (256 kbps) and 4K video streaming.
T-Mobile is also throwing in "three one-hour one-on-one consultations with a Facebook marketing expert", and accounts will three or more lines will receive a $200 credit toward digital advertising on Facebook and/or Instagram. The new Business Unlimited plans will be available starting June 1.
Qualcomm today announced the Snapdragon 778G 5G Mobile Platform, an upgraded replacement for last year's 768G, and close sibling to the 780G. Compared to the 768G, the 778G offers 2x AI performance, 40% better CPU, and 40% faster GPU (graphics) performance. It also includes Qualcomm's triple ISP technology that can process up to 2 gigapixels from multiple cameras simultaneously. Also included are Elite Gaming features such as Variable Rate Shading and enhanced touch response time. Motorola has confirmed it will use the new chip. As the model number implies, the 778G is quite similar to the Snapdragon 780G that was announced just two months ago. Although there are some minor differences — such as a better Wi-Fi and Bluetooth subsystem on the 780G — the two chips are extremely similar in specs and features. In a call with reporters, Qualcomm explained that this unusual product lineup strategy is related to the ongoing global semiconductor shortage. No single chip manufacturer currently has enough available capacity to meet the high demand that Qualcomm is seeing for its higher-end 7-series 5G chipsets. So the 778G is effectively an alternate version of the 780G, manufactured by a different chip foundry. The 780G is made using a cutting-edge 5nm process while the 778G is made using a 6nm process.
Google today announced a major revamp of its smartwatch platform, combining its existing WearOS with Samsung's Tizen, together with a new health and fitness platform from FitBit. Although Samsung will use the new platform in its future smartwatches, it will be available to other manufacturers as well. Google is redesigning all of its apps for the platform. Google promises apps that are 30% faster, better battery life, and enough efficiency to offer continuous heart rate monitoring 24/7. The platform will utilize the Google Play Store for third-party apps.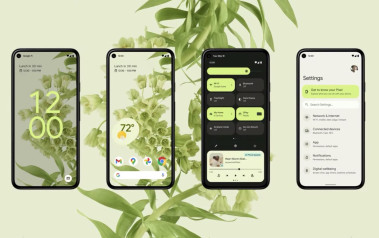 Google today took the wraps off the new consumer-facing features of Android 12. The most obvious is "Material You", a new iteration of Google's Material Design. Material You offers an array of customization features, including color palette, line widths, and more. It can take colors from a photo. Material You will launch first on Google Pixel phones and throughout all Google apps, but your custom choices will eventually extend to all Google products you use. The notification shade and Quick Settings are also getting a major overhaul. This includes "more intuitive" notifications, and new Quick Settings widgets for Google Play, Google Home, and system-wide disabling of app access to the camera and/or microphone. Improved indicators clearly show when an app is accessing your camera and/or mic. A new Car Key feature will use NFC and UWB to enable your phone to automatically unlock your car as you approach it. The feature will also allow you to share a temporary digital key with a friend. Car Key will be available first on Pixel and Samsung phones this fall. Android 12 also has a more "playful" lock screen with "dynamic lighting" animations. Google has also changed the shortcut for accessing Assistant (again) to be a long press of the lock button. Google also promises performance improvements under the hood that should make the whole OS faster. A beta version will be available starting today for phones from 12 different manufacturers.
Google today revealed several new security and privacy features across its platforms, including Android. A new Locked Folder protects selected photos and videos with an additional layer of security. This feature is coming soon to Pixel phones, to be followed by other Android phones. In Search, a new option immediately deletes the last 15 minutes of search activity. Finally, Google's Password Manager is gaining a new option to import passwords from other password managers. Password Manager will continue to sync automatically between Android and Chrome on the desktop, but this integration will be "deepened". These features were announced during the keynote at this year's Google I/O developer event today.
Apple is updating its Apple Music subscription service next month to support both Spatial Audio and Lossless Audio. The Spatial Audio feature supports Dolby Atmos and reproduces sound so it seems to come "from all around and from above". The Lossless Audio uses the proprietary Apple Lossless Audio Codec (ALAC) to encode audio with much greater fidelity, including higher bitrates, higher sampling rates, and no compression artifacts. Several quality levels are available, starting at "CD quality", on up to "Hi-Resolution Lossless" offering 24 bits and 192 kHz. Lossless audio will be available for "Apple Music's catalog of more than 75 million songs". Spatial Audio will be available for "thousands of tracks, ... with more added regularly". Both new features will be available at no extra cost starting next month.
AT&T is shedding its WarnerMedia division, which includes HBO, CNN, DC Comics, Warner Brothers, TBS, TNT, and Cartoon Network. In a complex deal, WarnerMedia will leave AT&T and merge with Discovery, Inc., to form a new media company. AT&T will receive $43 billion as part of the transaction. AT&T says the deal will create an opportunity for "stepped-up investment in growth areas", including mobile broadband. AT&T completed its purchase of Time Warner three years ago. Verizon sold its media division two weeks ago.
Nokia today announced the Nokia 2720 V Flip feature phone for Verizon. Styled after the Nokia 2720 offered by AT&T and T-Mobile almost 12 years ago, the 2720 V Flip is a modern 4G LTE feature phone. Running KaiOS, the phone offers Google Assistant and the ability to download select apps from the KaiStore. The phone also supports HD Voice, and Wi-Fi mobile hotspot. The main screen is 2.8 inches and the outer display is 1.3 inches. The phone has extra-large keypad buttons and display text can be enlarged up to 100%. An emergency button sends a message to five contacts, giving details of your location, after which it rings selected contacts until they answer. There's also a 2 megapixel camera on the back, just below the hinge, a 3.5mm headset jack, and a memory card slot. Nokia claims the removable 1,500 mAh battery can last 26 days on standby. The Nokia 2720 V Flip will be available available May 20th for $80 at VerizonWireless.com or using the My Verizon app.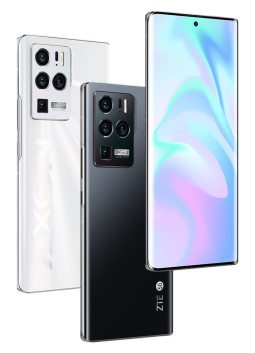 ZTE today announced the US launch details for its new Axon 30 Ultra flagship phone. It will be available starting June 4th for $749. Pre-orders start May 27th on ZTE's web site and include a free pair of Livebuds TWS earbuds. The Axon 30 Ultra is unique in having three 64-megapixel cameras (standard, portrait orientation, and wide-angle) on the back, plus a fourth camera with 5x optical zoom thanks to a periscope lens. Although ZTE will sell the phone in the US, it is not optimized for US networks, offering only basic support for AT&T's 4G network (LTE 2/4/5/12). It won't support 5G in the US, nor the 4G networks of Verizon and T-Mobile. Other specs include a Qualcomm Snapdragon 888 chip, 6.67-inch AMOLED display with 144 Hz refresh and HDR, and a 4,600 mAh battery. It also features 65W fast charging, NFC, Wi-Fi 6e, Bluetooth 5.2, and in-display fingerprint reader. The standard model comes with 8 GB LPDDR5 RAM and 128 GB UFS 3.1 storage. A step-up option offers 12 GB RAM + 256 GB storage for $849.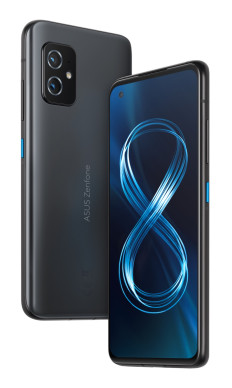 Asus today announced the Zenfone 8, its latest flagship phone. The phone is notably smaller than most competing phones, addressing the market for compact high-end phones. The 5.9-inch AMOLED display has 120 Hz refresh, HDR10+, and is protected by Corning's top-end Gorilla Glass Victus. The Zenfone 8 is powered by Qualcomm's top-end Snapdragon 888 chip, paired with up to 8 GB of 6400 Mbps LPDDR5 RAM and up to 256 GB of UFS 3.1 storage. The 4,000 mAh battery supports 30W fast charging. The main camera is 64 megapixel with a Sony IMX686 sensor that can shoot 8K video, accompanied by a 12 megapixel Sony IMX363 wide-angle/macro camera. The 12-megapixel front camera also has a Sony sensor and supports auto-focus and 4K video. Other features include IP68 dust and water resistance, Wi-Fi 6e, Bluetooth 5.2, in-display fingerprint reader, and Android 11. The US version of the Zenfone 8 has decent support for the 4G and 5G networks of AT&T and T-Mobile, including LTE in bands 2, 4, 5, 12, 25, 26, 30, 41, 66, and 71. Support for 5G NR includes bands 2, 5, 12, 25, 66, 71, and 77 (C-Band). Asus plans to launch in the Zenfone 8 in "late Q2" in North America. Final US pricing was not revealed.
Google this week announced new requirements for Android apps listed in the Google Play store to clearly disclose what user data the app collects, how it's used, how it's shared, how it's protected (such as encryption), and what choices users have in regard to that data. Also required is whether the app meets Google's requirements for family-friendly apps. The user choice section includes whether users have a choice in sharing data in the first place, and whether users can have their data deleted when the app is uninstalled. There will be an additional line for whether compliance with all of the above has been verified by an independent third party. App developers will be responsible for the accuracy of this information. If Google finds that a developer has misrepresented the data safety info they've provided, the app will be subject to "policy enforcement", after first being given an opportunity to become compliant. Developers can start submitting this info to Google toward the end of this year. It will be rolled out to users at the beginning of 2022, and become required for all apps in the second quarter of 2022. Apple launched a similar App Privacy section for its App Store listings last year.
As part of its quarterly earnings report today, T-Mobile provided an update on its 5G rollout and Sprint customer migration. The company's faster "Ultra Capacity" 5G network — the bulk of which relies on 2.5 GHz mid-band radio frequencies — now covers 140 million people and is on track to cover 200 million by the end of 2021. T-Mobile's Ultra Capacity 5G includes redeployed 2.5 GHz radio spectrum (band 41) it gained when the company merged with Sprint, as well as mmWave for even faster speeds in select urban areas. The company also offers "Extended Range 5G" which uses lower frequencies and offers lower data speeds (closer to 4G). That service now covers 295 million people across 1.6 million square miles. T-Mobile claims that is 4x more than Verizon's 5G service area and 2x more than AT&T's. T-Mobile also announced that 20 percent of former Sprint customers have been moved to the T-Mobile network, and those users represent 50 percent of Sprint customer traffic.
Boost Mobile today announced a partnership with K Health to include a telemedicine offering as part of the company's Unlimited Plus plan. New subscribers will receive free, 24/7 access to health services via the K Health app on their phone. Specifically, this will include the opportunity to chat with a doctor directly; use K Health's AI-powered symptom checker to understand what is wrong and decide what to do next; and get treatment, including medications prescribed. Boost's "Unlimited Plus" plan offers 35 GB of high-speed data and 30 GB of mobile hotspot for $60/month. Boost Mobile customers on other plans will be able to add K Health "for a discounted service fee" of $8/month. The service will launch early this summer.
Verizon has reached an agreement to sell its Verizon Media business — which includes Yahoo and AOL — to Apollo Global Management for $5 billion. Verizon will retain a 10% stake in the new company, to be known simply as Yahoo. The transaction is expected to close in the second half of 2021. Verizon bought AOL in 2015 and Yahoo in 2017.
Verizon is exploring the sale of its media businesses, including Yahoo and AOL, according to the Wall Street Journal. Verizon bought AOL in 2015 and Yahoo in 2017.
More articles in the Archive ›
What do you want to hear about? We're already working on a number of articles for the coming months, but we want to write about the things you're most interested in. So sound off: tell us what you want to know more about!