Recent Archive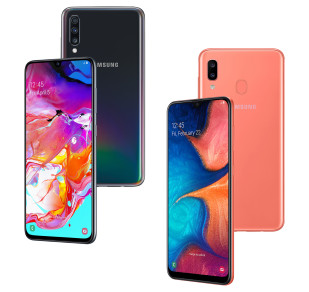 Samsung today published selected details of the new Galaxy A70, A40, A20, and A10 Android phones. These complement the Galaxy A30 and A50 the company announced a month ago. The A70 is the highest-end of the bunch. Although Samsung's A series is generally mid-range, the A10 is a decidedly entry-level model. It's not yet clear which models may come to the US, although the FCC has approved a version of the Galaxy A20 that's relatively friendly with the US networks. All of the new models have extra-tall displays with small centered notches and Android 9.0 (Pie).
A70: Sports a large 6.7-inch AMOLED display with full-HD resolution and 20:9 aspect ratio. It also has 32-megapixel cameras on the front and back, additional wide and depth cameras on the back, a huge 4,500 mAh battery, 25W Super-Fast Charging, in-display fingerprint reader, 6 or 8 GB of RAM, and a "Glasstic" body like the A50.
A40: A compact model around the size of the Galaxy S10e, it has a 5.9-inch AMOLED display with full-HD resolution and 19.5:9 ratio. It also sports a 25-megapixel selfie camera, 16-megapixel main camera, 5-megapixel wide camera, 4 GB of RAM, 3,100 mAh battery, rear fingerprint reader, and a "Glasstic" body. (not pictured)
A20: A more affordable model with a large display and battery. The AMOLED display measures 6.4 inches and has HD resolution. It has a 4,000 mAh battery, fast charging, 13 megapixel main camera with f/1.9 aperture, 5-megapixel wide camera, 3 GB of RAM, and a rear fingerprint reader.
A10: The LCD display measures 6.2 inches and had HD resolution. The battery rates 3,400 mAh, the rear camera is 13-megapixel, and the selfie camera is 5-megapixel. It has 2 GB of RAM and a memory card slot. (not pictured)
An unannounced Galaxy A60 has also been approved by the FCC, although the approval reveals little about that model.
Apple today announced an updated version of its Apple TV app that supports paid channels within the app. It will be available on iOS, tvOS, macOS, Roku, Fire TV, and smart TVs from Samsung, LG, Sony, and Vizio. It will be available in May in over 100 countries. Paid channels available in the US include Apple's new "Apple tv+" channel with its own original content, as well as HBO, Showtime, Starz, Cinemax, CBS All Access, Comedy Central, and more. The new Apple TV app supports offline viewing and family sharing.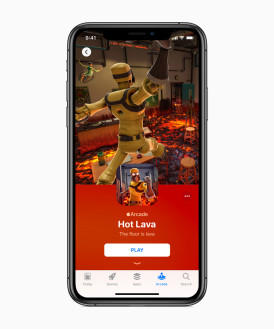 Apple Arcade will be a monthly subscription service for a series of curated games. It will feature over 100 games at launch, with new games added regularly. A single Arcade subscription buys full access to all Arcade games, none of which have ads. Arcade games will work across iOS, macOS and tvOS, and game state is maintained across different devices. The service will feature games from Annapurna Interactive, Bossa Studios, Cartoon Network, Finji, Giant Squid, Klei Entertainment, Konami, LEGO, Mistwalker Corporation, SEGA, Snowman, ustwo games and dozens more. Apple Arcade will launch in fall 2019 in more than 150 countries from a new tab on the App Store. Pricing was not announced.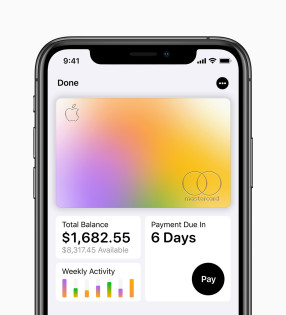 Apple today launched its own branded credit card: Apple Card. Starting this summer, customers can sign up for the card on their iOS device in minutes, and use it immediately with Apple Pay. It charges no annual fees, international fees, nor late fees. Customers get 2% cash back on all purchases, or 3% on purchases from Apple. The cash back is paid daily, deposited on a separate Apple Cash card, which also lives in the Wallet and works with Apple Pay. Apple uses Apple Maps and machine learning to translate often-cryptic charge descriptions into more obvious line items. An interactive interest calculator helps customers choose the best amount to pay down each month. A built-in spend analyzer helps users see expense categories and trends. Support is provided via iMessage. Apple card works anywhere MasterCard is accepted and is backed by Goldman Sachs.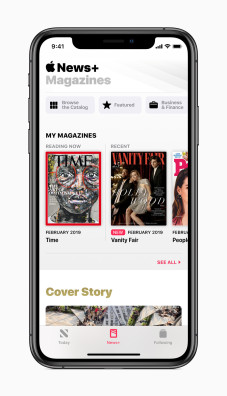 Apple's News app for iOS now offers a $10/month paid subscription option called News+, which includes full access to the Wall Street Journal, LA Times, over 300 magazines, and the premium sections of several major web sites such as TechCrunch. Separate subscriptions to all of these publications would cost over $8,000/year. New content is downloaded automatically. Neither Apple nor advertisers can see what you choose to read. Apple is offering the first month free. News+ is available today in the US via an update to iOS. A similar offering is also launching today in Canada, and coming soon to Australia and Europe, starting with the UK.
AT&T today launched sales of the Kyocera DuraForce Pro 2, an extra-rugged Android phone with waterproof body and a non-incendive rating. The 5-inch, full-HD display works through gloves and when wet. It has a 13-megapixel main camera plus wide-angle camera, fingerprint reader, NFC, barometer, memory card slot, wireless charging, and fast charging via USB-C. It utilizes a Qualcomm Snapdragon 630 processor with 4 GB of RAM and supports LTE Cat. 9 on all AT&T bands, including band 14 supporting FirstNet, as well as bands 29 and 30. It's powered by a 3,240 mAh non-removable battery. Verizon launched its own version of the phone in November. AT&T is offering the DuraForce Pro 2 today via online and business channels for $450.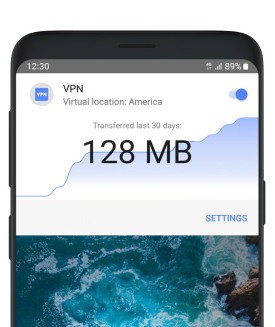 The Opera web browser for Android now includes a free VPN service, for securing data over untrusted networks such as public Wi-Fi. Opera for Android version 51 includes the feature, which is activated with a simple toggle, requiring no sign-in nor account. Opera lets users choose from one of several VPN server locations around the world, and does not log user activity. Opera for Android also includes an ad blocker. The new Opera app is available now from the Play Store.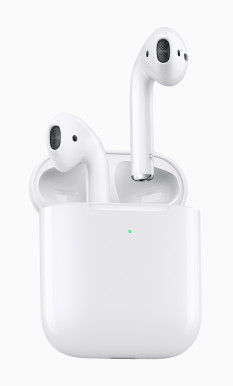 The new Apple AirPods have 50% battery life (talk time) and support "Hey Siri" voice commands to let users quickly change songs, make a call, adjust the volume or get directions. Apple also introduced an optional charging case that can be charged on any Qi-compatible wireless charging pad. The new AirPods are available today with the new wireless charging case for $199, or with the older standard case for $159. The wireless charging case is available separately for $79, for customers with existing AirPods. Apple is also now offering free personalized engraving on AirPods. The new AirPods and case are available online today, and in Apple Stores next week.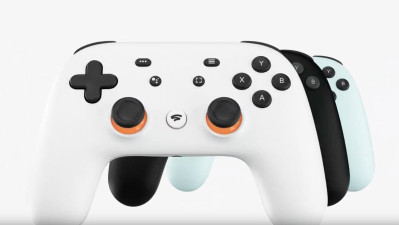 Google today announced a new, cloud-based service called Stadia that lets people play high-quality games on any device without downloading them. It also caters to people who like to watch others play games, in a way that's integrated with YouTube and competes with Twitch. The service supports high-end 3D games (such as Assassin's Creed) at up to 4K / 60 fps, on any device that supports Chrome, including Android phones, tablets, low-end desktops, and TVs with certain Chromecast dongles. It supports existing input devices, as well as a new Stadia Controller that links directly to the cloud via Wi-Fi. The controller has a headset jack, share/stream button, and Google Assistant button. Games run in Google Cloud datacenters, on special Linux-based Stadia instances that have twice the graphics performance of a modern game console such as the Xbox One X or PS4 Pro. The YouTube integration allows gamers to jump right into a multi-player game directly from a livestream. It supports advanced split-screen features, and the ability to share a playable game moment with other players with simple links. Stadia also supports cross-platform features to link to other game platforms.
Google's alternative email app Inbox will stop working on April 2nd. Many — but not all — of Inbox's hallmark features have recently been introduced in Google's Gmail app.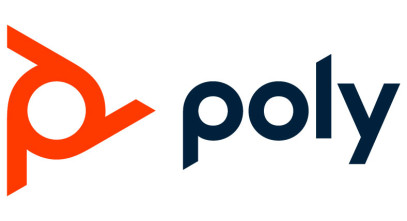 Following its merger with Polycom, Plantronics is rebranding the combined company as "Poly". The new entity will focus on solutions for businesses and office workers. Plantronics has made Bluetooth headsets with a professional bent for many years. Polycom is a leading manufacturer of audio- and video-conferencing solutions.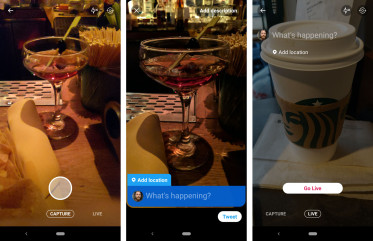 Twitter's new camera function offers an all-new visual interface that makes it faster and easier to share visual content, including photos, videos, and live streaming. The updated app has been rolling out in recent days. A new shortcut takes users directly to the camera by swiping sideways from the main feed. The interface offers standard and live modes. The standard mode has a large capture button that users can tap quickly to take a still, or hold to capture video. Both modes include prompts to add your location and a text comment. There's also a separate prompt to add a description of the visual content for the visually-impaired. The camera function defaults to the phone's rear camera, but supports selfie mode as well.
The FCC has issued a proposed rule that would require US carriers to provide vertical location data to emergency dispatchers when mobile users dial 911. The rule would take effect starting in April 2021, requiring that at least 80% of 911 calls provide vertical location data accurate to within three meters. This would help emergency dispatchers determine which floor of larger buildings callers are located on. The FCC first requested this capability in early 2014. The CTIA industry association established an implementation framework in late 2014, and carriers have been conducting tests since then. The FCC used data from these tests to make today's new rules.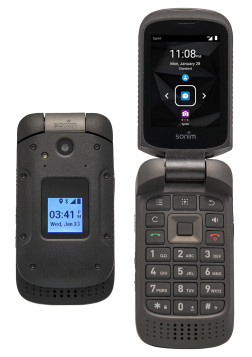 The Sonim XP3 is a new rugged clamshell-style phone for Sprint. The two companies announced the phone today, and it's available now. The phone is rugged to military specs, and waterproof with an IP68 rating. Its large buttons are designed to be glove-friendly. It supports Sprint's Direct Connect Plus PTT (walkie-talkie) service. Its 100 dB speaker with noise cancellation is designed to be extra-loud and clear. The software is based on open-source Android (Oreo) but cannot run Android apps. It has a removable 1,500 mAh battery, 2.6-inch LCD main display, small outer display, and a memory card slot. It comes with a three-year warranty. Sprint is offering it for $240, or $10/month.
Apple issued a statement today responding to Spotify's claims of unfair competition because Apple takes 30% of in-app purchase revenue, affecting products like a Spotify Premium subscription. In fact, Apple takes only a 15% cut after the first year of each annual subscription.
Apple today announced that its next annual developer conference will take place June 3-7, 2019 in San Jose. The company usually reveals details of a new version of its iOS software during the keynote presentation on the first day of the event.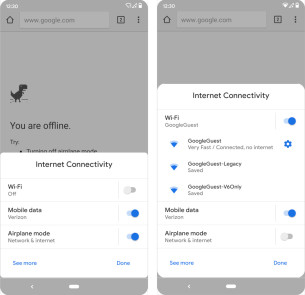 Google has released the first beta version of Android Q for Pixel phones. It's intended for developers to start working on app compatibility, and doesn't necessarily include all of the eventual consumer-facing features of the OS. Android Q will bring privacy, security, and performance enhancements. It also adds native support for peer-to-peer Wi-Fi, extended caller-ID and robocall-blocking features, foldable phones, and photo depth maps. It improves support for password managers. It also lets users easily activate certain hardware features (mobile data, wi-fi, NFC, and sound) at the moment an app requires those features, using simple pop-ups instead of needing to dive into the full Settings app. The beta is available now for all Pixel phones, including the very first models.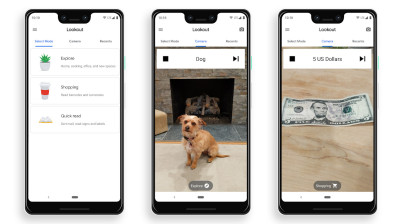 Google Lookout is a free app that uses AI to identify things it sees through the phone's camera and describe it to a visually-impaired user. The company announced this week that the app is available now for English speakers in the US with a Google Pixel phone. The app has three modes: Explore, for exploring new spaces and dealing with typical office, home, and cooking tasks; Shopping, which reads bar codes, prices, and physical currency; and Quick Read, which reads text from mail, signs, and labels. The app is designed to be used with the phone held in hand, or hung on a neck lanyard. Microsoft already offers a similar app called Seeing AI, and recently updated it to include haptic feedback.
Apple takes a 30% cut of all iOS in-app purchases for digital products and services (but not physical ones). This includes products like a Spotify Premium subscription. Spotify argues that it cannot offer pricing competitive with Apple Music when they have to pay the 30% but Apple does not. Spotify and similar companies can accept payments via other means, but Apple then prevents them from emailing their own customers about updates, etc. Spotify has taken their argument to the European Commission, asking them to rule that these practices constitute unfair competition.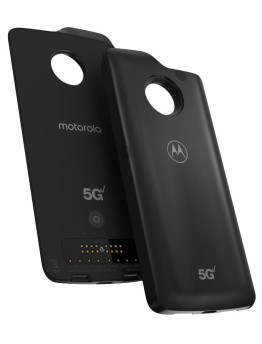 Verizon's first standards-compliant mobile 5G network will launch in select areas of Chicago and Minneapolis on April 11th. 5G service will cost an extra $10/month. The country's first 5G smartphone solution will be the 5G Moto Mod for the Moto z3, which customers can pre-order starting tomorrow, March 14th. For a limited time, the 5G Moto Mod is available for just $50, after which it will sell for $350. The $10/month 5G data plan offers truly unlimited 5G data and requires an existing "Unlimited" service plan. The first three months of 5G service are free. The 5G Moto Mod is only compatible with the Moto z3, and Verizon will only sell it to customers they can confirm have a Moto z3. Verizon has also announced plans to carry the Samsung Galaxy S10 5G and LG V50 ThinQ phones, both of which have 5G fully integrated. Verizon's initial 5G NR network relies on the 28 GHz frequency band, which is considered mmWave. Such high frequencies have limited range and do not penetrate well indoors. The initial Chicago coverage will include West Loop, South Loop, Gold Coast, River North, Old Town, Union Station, Willis Tower, Art Institute, Millennium Park, Chicago Theatre, and near the Verizon Store on the Magnificent Mile. The Minneapolis coverage will include Downtown West, Downtown East, areas of Elliot Park, Minneapolis Convention Center, Minneapolis Central Library, Mill City Museum, Target Center, The Commons, and U.S. Bank Stadium. 5G offers lower latency (delay) and faster data speeds overall. Verizon's 5G phones are only compatible with the new 5G NR network launching in April, and not the company's existing 5G Home network, which uses an incompatible, non-standard technology.
In the wake of Red pulling all mention of the 2D Pro Camera module for the Hydrogen One phone from its web site, CEO Jim Jannard issued a statement to clarify that a "pro camera for Hydrogen" project is proceeding, but has been re-assigned from the Hydrogen (phone) team to the Red team (that makes the company's professional video cameras.) The implication is that the device is being redesigned and therefore will look different from what was previously posted on the web site. Mr. Jannard also teased a "new in-device image capture system" and a "Pro camera version" of the Hydrogen One. He continued: "The changes create new opportunities to better satisfy the professional image capture customers as well as the casual consumer for the HYDROGEN program."
Red has removed all mentions of add-on modules for the Hydrogen One phone from its web site. When the phone was announced, add-on modules — including a high-end camera — were one of the key selling points. It was also supposed to integrate with other Red products via the module connector. The $1,300 phone with a unique 3D display is offered by both AT&T and Verizon.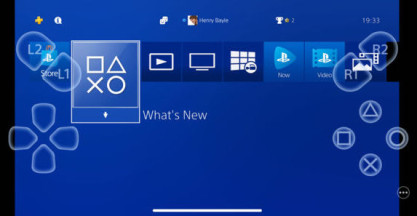 The Sony PlayStation 4 Remote Play app is now available for iOS, accompanied by a corresponding update to the software for the PS4 itself. The app allows users to stream games from their PS4 console to an iOS mobile device over Wi-Fi. The graphics for compatible games are streamed in real-time, overlaid with on-screen controls. The app also lets gamers use the mic and keyboard of their mobile device to interact with games. It requires an iPhone 7 or later, and iOS 12.1 or later. An Android version of the app has been available for several years, but is restricted to Sony's Xperia phones.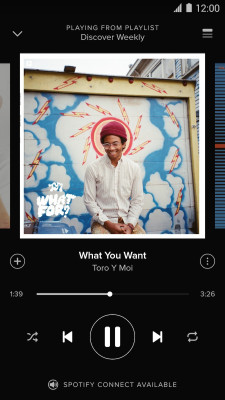 Spotify comes pre-installed as the default music-streaming app on all Samsung Galaxy S10 series phones globally, and US models come with six free months of Spotify Premium. Phones eligible for the free-six-months offer will also include the Galaxy Fold and certain A-series models. To be eligible, customers must be new to Spotify Premium / Unlimited, having never paid for it or used a trial offer. Spotify is also integrated with Samsung's Bixby assistant, including content and recommendations on the Bixby home screen.
Google is making it easier for game developers to add video ads that reward players with in-game currency (coins, points, etc.) or other benefits. The feature is called Rewarded Products and launches today in beta as a new API within Google Play, Google's suite of gaming-oriented APIs and services for Android games. As an example, a player might choose "watch ad" in the game, view a video, and then is granted 100 "coins" to use in the game. While full-screen video ads are the only product at the moment, other options for developers are planned.
Huawei is appealing a recent law restricting the purchase of Huawei and ZTE products at the federal level. Huawei is suing the US government in a Texas court, where its US headquarters is located. The law in question is the most recent National Defense Authorization Act. It bars the federal government from buying Huawei gear directly, and from doing business with companies that use a substantial amount of Huawei hear. It also prevents private companies from using federal grants or loans to purchase Huawei gear. Huawei claims these provisions are unconstitutional because they violate its right to due process, and are a violation of the separation of powers.
Corning is working on a new glass product for folding phone displays that can bend to a radius of 5mm. In an interview with Wired, Corning's head of the Gorilla Glass division John Bayne describes the new glass, which will be about 0.1mm thin. Current foldable phones use a layer of polymer over the diplay. Glass would be much more resistant to scratches, and to deforming over time. Corning is already delivering early samples to phone makers, but is working to improve performance before commercial end products ship. Phone makers are looking for better drop protection and/or a bend radius as tight as 3mm.
The W3C standards group has certified WebAuthn as an official web standard. WebAuthn enables web site logins that are both easier and more secure than passwords. Multiple authentication methods are supported, including biometric options on mobile devices, such as fingerprint readers. It's already supported in Android, Chrome, Firefox, Edge, and the preview version of Apple Safari. The standard enables biometric web site login on both desktop and mobile browsers, and also enables using your phone as an authentication tool to log into web sites on a desktop/laptop.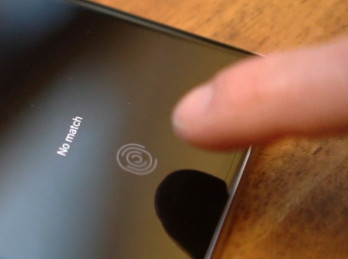 There's a special way you need to train the fancy new in-display fingerprint reader on the Samsung Galaxy S10. Some will get it right the first time, while others will be fooled by the misleading graphics during the training process. Do it wrong, and the phone will struggle to recognize your fingerprint. Get it right, and it's quite reliable. Our video explains the problem and shows you how to avoid it.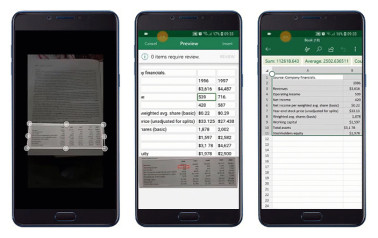 Excel for phones now lets users import table data directly into spreadsheets from a photo taken with the phone's camera. Microsoft announced the feature last September. It's rolling out now for the Android version of the app, "with iOS support coming soon". The feature lets users take a new photo from within the app, or import an image already on the phone. They can then crop to the table, then review the import for errors in a split-screen mode.
Google is removing the relatively insecure Voice Match security option from existing Android phones. Previously, older Pixel and Moto phones offered the option to secure a phone with voiceprint and fully unlock it by saying "OK Google". But the method wasn't very secure; it could be fooled by a recording of the owner's voice. When users update to the newest version of the Google app, this option will be replaced by a new, limited Google Assistant interface on the lock screen. Its options include accessing certain email results, calendar events, contacts, reminders, and shopping lists. But other Assistant features like playing music will be unavailable without fully unlocking the phone via a different method.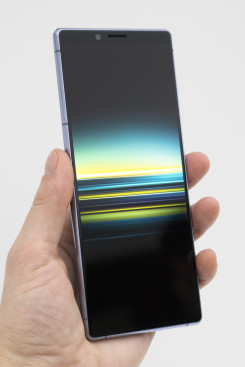 Sony's new phones for 2019 have an unusual display aspect ratio that makes them unusually tall. The Xperia 1 and 10 Plus are a normal width, but much taller than other phones, thanks to extra-tall displays plus a "forehead". The Xperia 10 is a similar shape but smaller, giving it a normal height but narrow width. That makes my impressions of the 10 much different than the other two. Read on for my full hands-on first impressions.
Motorola VP of Global Product Dan Dery confirmed this week that the company is working on folding phones and has "no intention of coming later than everybody else in the market". In an interview with Engadget, Dery also confirmed that the company is working on devices that fold inward, protecting the display, as well as potential dual-hinge devices.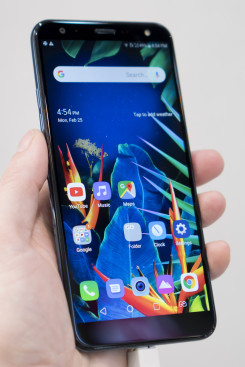 LG's more affordable phones aren't always exciting, but US carriers love them, and sell plenty to US consumers. LG has three new ones this year, the smallest and most of affordable of which is the K40. It's basically a replacement for the K30. Improvements include a larger, taller display and batter cameras. It also adds a dedicated Google Assistant button and AI Cam automatic scene detection. What's it like in person? We checked it out.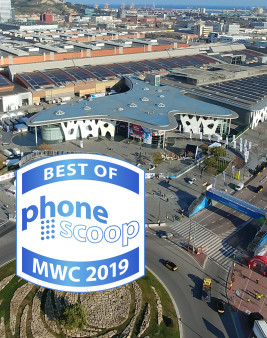 Each year, we trek to Barcelona to check out the mobile industry's latest and greatest at the industry's largest trade show: MWC. It's not all great, so after seeing it all in person, we pick out the real winners for our Best of MWC awards. This year, a lot of exciting phones were announced, including the first commercial 5G and foldable phones. Four of them really stood out.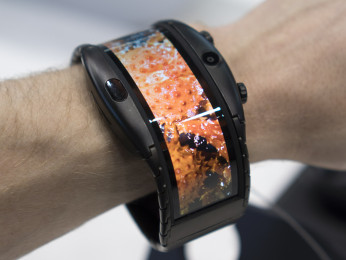 Nubia has a new smartwatch (actually, a full wrist-phone) with a flexible display that wraps all the way around your wrist. The flexible display aspect is actually pretty great, and works well. The rest of the product, not so much, but it's worth checking out just to see a glimpse of what's definitely coming now that flexible displays are coming to market. Check out our hands-on video to see it in action.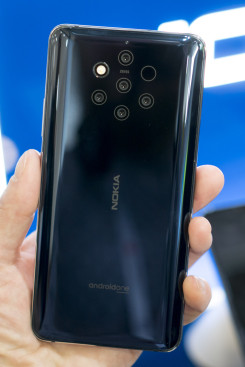 Nokia's new flagship phone has a crazy array of five cameras on the back, which use technology from Light to produce images with impressive quality and unique features. It's also a nice flagship phone in its own right, finally bringing the Nokia brand back to the high end of the market. What does it feel like to hold? What's it like to use the camera? We checked it out.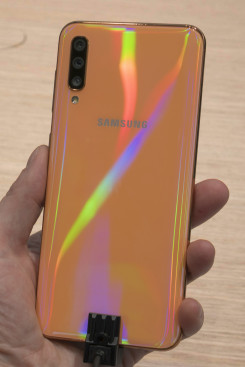 Samsung is going in a new direction with its A series of mid-range phones. Previous models married an understated but very premium design with popular features like Samsung Pay, with mid-range specs and prices. With the A30 and A50, Samsung is getting more adventurous with both the design and the features. They have dazzling prismatic finishes and surprising features like in-display fingerprint reader and 25-megapixel cameras. Now that everyone can make "premium" metal-and-glass designs at almost any price point, Samsung is experimenting with a material it calls "Glasstic" for the back. How is it? We checked 'em out.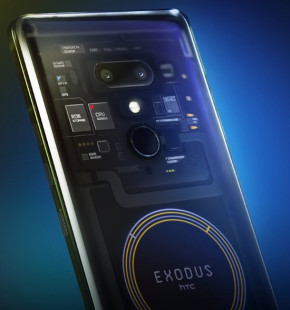 HTC's blockchain-focused phone — the Exodus 1 — will be available to buy for $699 in the US, starting in March. The Exodus 1 was initially available to buy only using cryptocurrencies BTC, ETH, or LTC. The company is also extending its Zion digital wallet with an API, which will be integrated with the Opera browser. Users can interact, transact with, and login to web services directly using their private keys held securely on their device. This includes micro-payments to content sites, for example. The Exodus 1 lets users store and track cryptocurrencies. The phone, essentially identical in hardware to the HTC U12+, has a Snapdragon 845 processor, 6 GB of DDR4x RAM, 128 GB of UFS2.1 storage, Cat. 18 LTE, a 3,500 mAh battery, 6-inch quad-HD display, and IP68 water resistance. It supports US LTE networks with bands 2/4/5/12/13/41/66, plus other global LTE bands, WCDMA, and GSM.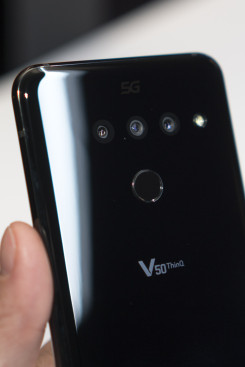 LG's V50 ThinQ is the first 5G phone for Sprint, and the first phone in the US to use 5G on low-frequency bands that provide broad coverage. LG took the V40 and somehow added both 5G and a larger battery, without making it any bigger. It keeps the V40's triple cameras, and other hallmark features of the V-series like wireless charging, 3.5mm audio jack... and memory card support. LG didn't leave anything out. There's also a sleek new design. How is it? We took it for a quick spin.
More articles in the Archive ›
What do you want to hear about? We're already working on a number of articles for the coming months, but we want to write about the things you're most interested in. So sound off: tell us what you want to know more about!