Recent Archive
At launch, Verizon and T-Mobile won't support RCS on the Pixel 4 and Pixel 4 XL. RCS is an industry-standard messaging protocol designed to replace SMS and MMS, offering many of the features of Apple's iMessage. Verizon supported RCS on the Pixel 3. T-Mobile has been a vocal proponent of RCS, but only supports it on Samsung phones.
The FCC today held a vote on — and gave its blessing to — the proposed merger of T-Mobile and Sprint. The five commissioners voted as expected and/or promised. The vote was along party lines, with the three Republican commissioners voting to approve, and the two Democratic commissioners voting against. The deal has also been approved by the Department of Justice. However the deal could still be stopped by a bipartisan coalition of 17 state Attorneys General that are suing to block the deal. Pennsylvania was the most recent state to join the lawsuit, one month ago.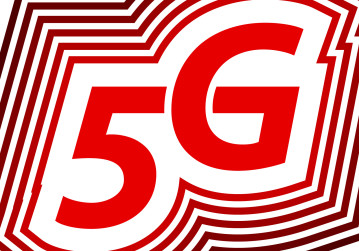 5G is a new radio technology, so naturally those most concerned about environmental health have been asking if it's safe. New antennas are going up outside apartment windows, and most of us tend to keep our phones quite close to us at all times. There's a lot of science on the subject, and also a lot of pseudo-science. We try to cut through the bull to explain the safety issues with radio waves in general, cell phones in particular, and what makes 5G different.
Google has stopped selling Daydream VR headsets and the new Pixel 4 phones won't support Daydream VR. The Daydream headset used a phone's display and processor to power a mid-range VR experience.
Google has unveiled the Pixel 4 and Pixel 4 XL, its new own-brand flagship Android phones. The phones have Motion Sense, which uses a tiny RADAR sensor to read mid-air hand gestures, and power advanced face recognition for phone security. Google claims its face unlock is the fastest on the market, and requires no screen touch at all. This technology was first developed as Google's Project Soli. The OLED display supports an auto-adjusting refresh rate, up to 90 Hz. The Pixel 4 also reacts to squeeze gestures. The Pixel 4 comes with Google Recorder, which includes real-time, on-device voice recognition and dictation that produces searchable transcripts. The camera includes both standard (12 megapixel, f/1.7, 77º) and telephoto (16 megapixel, 52º) lenses, as well as multi-frame hi-res digital zoom. The improved HDR+ now supports live preview and dual exposure controls for greater creative control. An AI-powered white balance feature recognizes scene elements to provide better color. The improved portrait function uses both cameras. The new night mode supports astrophotography with long exposures up to 4 minutes. The larger XL model has a 6.3-inch QHD+ display and 3,700 battery, while the smaller model has a 5.7-inch FHD+ display and 2,800 mAh battery. Both models have a Snapdragon 855 processor, 6 GB of RAM, 64 or 128 GB of storage, and 18W fast charging. The Pixel 4 will be available from all major US carriers on October 24th, with pre-orders available today. It will start at $799 ($899 for the XL) and come in Just Black, Clearly White, and Oh So Orange.
Google today announced that its Stadia game-streaming service will launch on November 19th. Separately, Microsoft has formally launched a public preview of its xCloud game streaming service, starting with Android.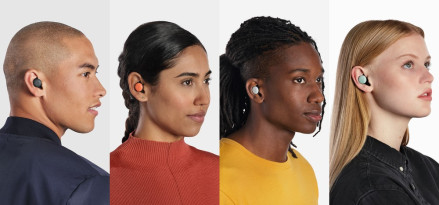 Google today previewed the new Pixel Buds, which are its first fully wireless Bluetooth earbuds. They feature built-in machine learning processing that powers Google Assistant, language translation, and other experiences to be announced. They have long-range Bluetooth that can reach up to the length of a football field. The design fits almost completely inside the ear, with a spatial vent that allows you to hear a limited amount of ambient sound at all times. Beam-forming mics allow you to be heard clearly on calls, and power an auto-volume feature. The new Pixel buds last 5 hours on their own, or 24 hours with the included charging case. They'll be available in the spring of 2020 for $179.
Motorola is bringing its One Action phone to the US this month in an unlocked version for $350. This otherwise typical mid-range Android phone has a wide-angle (117º) camera on the back that's oriented to shoot landscape video when the phone is held vertically. The phone also has a standard 12 megapixel camera, a depth camera for portrait effects, and a 12 megapixel selfie camera. The 6.3-inch LCD screen has full HD resolution and a small hole-punch cutout for the selfie camera. The One Action has a Samsung Exynos processor, 4 GB of RAM, memory card slot, NFC, fingerprint reader, and 3.5mm audio jack. Pre-orders start today and the phone will be available from Motorola, Amazon, Best Buy, and B&H Photo by October 31st.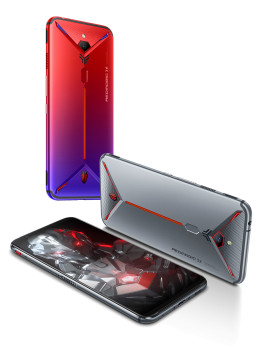 The Nubia Red Magic 3S gaming phone will launch next week — October 16th — starting at $479. It has a faster processor (Snapdragon 855+) and storage (UFS 3.0) than original Red Magic 3, but the specs and design are otherwise almost identical. It has a 6.7-inch, full-HD OLED display with 90 Hz refresh rate, 240 Hz touch sampling rate, 5,000 mAh battery, shoulder buttons, liquid+air cooling with integrated fan, and a customizable light-up strip on the back. It also has a 48-megapixel Sony main camera, 3.5mm headset jack, fingerprint reader, and 27W fast charging. It does not have NFC, wireless charging, nor a memory card slot. It supports LTE 2/4/5/12/25/26/30/41/66 for US networks, giving it better support for AT&T's network than many other unlocked phones. The base version has 8 GB of RAM / 128 GB of storage, and is available in black or silver for $479 direct from the Red Magic web site. An upgraded "Cyber Shade" version has 12 GB RAM / 256 GB storage and a red/purple gradient design for $599.
Hulu is rolling out the ability for users on its ad-free plan to download shows to watch offline. The feature is available now for iOS, and soon for Android.
Sony is updating its PS4 software this week for both console and mobile platforms. The new PS4 Remote Play app for Android will work on all phones with Android 5.0 and up; it was previously available only on Sony Android phones. Remote Play is already available for iOS. Sony is also updating its Second Screen app that turns your phone into a companion device while console gaming. Second Screen will now include a voice transcription accessibility feature for group chats, which converts party voice chat to text, and enables you to enter text that is read aloud to other party members. The new software is rolling out this week.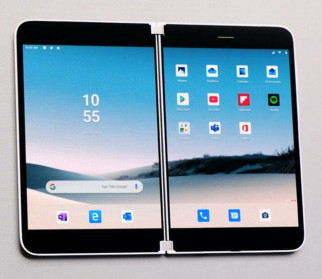 The Microsoft Surface Duo is a unique dual-screen device running Android that functions as a foldable tablet and mini version of the company's just-announced Surface Neo. Its dual 5.6-inch displays are joined by a 360-degree hinge that lets it fold with the displays facing either in or out. When folded, it's far wider than most phones, making it a slightly distinct category of device. It can run two apps side-by-side, use the second display as a keyboard, or function like one unified tablet. It won't be available until fall 2020.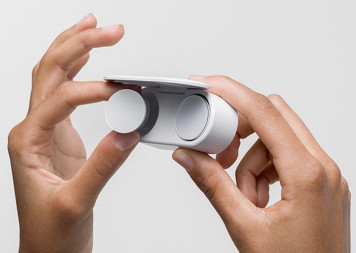 Microsoft's new Surface Earbuds are true wireless Bluetooth earbuds that promise 24-hour battery life. The buds integrate with Spotify and Microsoft Office. Touch controls on the outside can control Spotify music, or a PowerPoint presentation. They also include voice dictation and translation features. For example, they can add real-time captions of what you're saying to a live PowerPoint presentation, and translate those captions into any one of 60 languages. Surface Earbuds will sell for $250 and be available this fall.
LG's entry-level K30 2019 model has launched in several different versions, under a variety of names, at AT&T, T-Mobile, and Cricket in recent weeks. Cricket launched the phone as the Escape Plus a few weeks ago, and sells it for $80. Since then, AT&T Prepaid has launched the same phone as the Arena 2 for $120, and LG now sells it unlocked as the K30 2019 for $140. Also, a slightly higher-end version with a fingerprint reader and better camera (13 megapixel instead of 8) is now available as the Prime 2 on AT&T (also $120) and Aristo 4+ on T-Mobile for $162.50. Those two models also differ: the Prime 2 has NFC, while the Aristo 4+ has dual-band Wi-Fi instead. Unusually, the Prime 2 and Aristo 4+ have only 16 GB of storage, while the otherwise lower-end Escape Plus and Arena 2 have 32 GB. All versions in the series have a tall HD display, 3,000 mAh battery, dedicated Google Assistant button, 5-megapixel selfie camera, 3.5mm headset jack, and a memory card slot.
Going forward, all new phones shipping with Android 9 or 10 will come with the YouTube Music app. On Android 10 devices, it will be the only music app from Google to be pre-installed, replacing Google Play Music.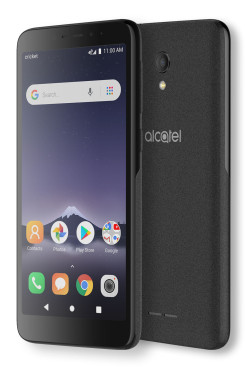 Cricket now offers two different $80 phones running Android 9 Go Edition. The company launched the Alcatel Insight today, and the Cricket Icon on Monday. Both phones have a MediaTek MT6739 processor, FWVGA+ LCD display, 5 megapixel main camera, and 2 megapixel front camera. Go Edition is a special version of Android designed for entry-level phones with less than 2 GB of RAM and limited storage. Both the Icon and Insight have 16 GB of storage, but do have a memory card slot. The Alcatel Insight also has Google Lens, full-HD video recording, and a 2,200 mAh battery with Battery Saver Mode.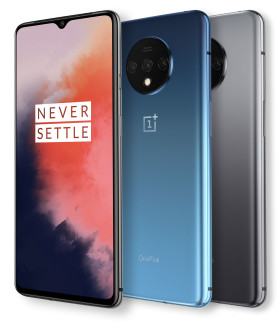 OnePlus today revealed the OnePlus 7T, a new model that's a blend of the 6T and 7 Pro, offering most of the best features of both, for less money than the 7 Pro. It has a small-notch screen design like the 6T, but in an extra-tall 20:9 ratio with full-HD resolution and HDR10+. The 20:9 ratio allows the 7T to be slightly narrower than the 7 Pro. It also has the new Qualcomm Snapdragon 855+ processor, a slightly faster, gaming-optimized version of the top-end 855. Like the 7 Pro, it has three rear cameras (standard, wide, and telephoto) including a 48-megapixel main sensor, but the telephoto camera has been upgraded from 8 megapixels to 12. A new Macro Mode lets users to get up close to a focus distance of 2.5cm. Also like the 7 Pro, it has 90 Hz display refresh rate, "Warp Charge" fast charging, 128 GB of UFS 3.0 storage, Cat 18 LTE, and an in-display fingerprint reader. The 7T has 8 GB of RAM and a 3,800 mAh battery. It will ship with the just-released Android 10. Available color options are Glacier Blue and Frosted Silver. It will sell for $599 unlocked starting October 18th, and T-Mobile will be the exclusive US carrier for it.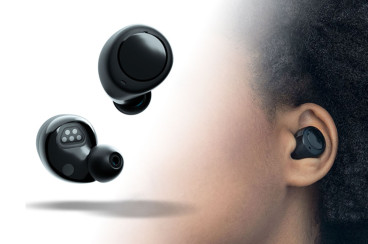 Amazon's new Echo Buds are true wireless Bluetooth earbuds with Amazon's Alexa voice assistant, although they are also compatible with Siri and Google Assistant. Using three microphones in each bud, they offer Bose Active Noise Reduction, as well as Passthrough Mode for bringing in ambient noise when desired. Each bud has two premium, balanced armature drivers for better sound. They're rated IPX4 to withstand "splashes, sweat, or light rain." The buds alone last 4-5 hours, and the case provides three additional charges. Using Alexa requires the Alexa app on your connected phone. Echo Buds will cost $130. They are available for pre-order now and will ship October 30th.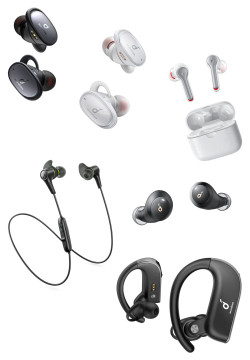 Anker today introduced a new range of Spirit and Liberty Bluetooth earbuds. The new buds are much-improved over the original Spirit and Liberty series, but also much more expensive. While last year's Liberty models were all well under $100, the new Liberty 2 models range in cost from $100-150. Similarly, last year's Spirit models were all under $50, but the new Spirit 2 models range in cost from $60-100. All six new products charge via USB-C. The new Liberty 2 lineup are true wireless buds with enhanced sound quality. They all feature 4-mic noise cancellation and HearID personalized tuning.
The top-end Liberty 2 Pro feature Anker's unique Astria Coaxial Acoustic Architecture for better sound quality. Anker collaborated with 10 Grammy-winning audio producers to tune the sound to match professional studio monitor speakers. The buds alone last for eight hours, and the buds+case lasts for 32 hours. Ten minutes of charging in the case provides two hours of listening time. They will sell for $150.
The $100 Liberty 2 have the same design, features and specs as the Pro model, just swapping the Astria drivers for diamond-coated drivers of a more traditional design.
The Liberty Air 2 have specs and features similar to the Liberty 2, but in a style closer to Apple's AirPods, including the case. They also add wireless charging for the case, but still cost $100.
The Spirit line are relatively affordable buds with sweat protection (rated IPX7 or better), extra-secure fit, and BassUp, which analyzes and tunes audio in real time for more intense bass.
The Spirit 2 are the most affordable in the new range at $50. Like the original Spirit, they have a wire connecting the two buds behind the neck. But this year's edition has improved battery life (14 hours vs. 8), better waterproofing (IP68), and a built-in USB-C connector that can deliver two hours of juice after just fives minutes of charging.
The Spirit Dot 2 are small true wireless earbuds with a charging case. Their unique design has "Zero-Pressure AirWings" integrated into one end of each bud, so that the part that would normally stick out instead clips into your ear to hold them in place. The buds alone last for 5.5 hours, and the buds+case lasts for 16 hours. Diamond-coated composite drivers deliver superior sound. They will run $80.
The Spirit X2 are also a true wireless model, but with an over-ear loop, beefier 12mm drivers, better battery life at nine hours (36 with case), and an IP68 waterproof rating. They will sell for $100.
The FCC this week launched an investigation into allegations that Sprint collected federal subsidy payments for 885,000 subscribers that were not actively using Sprint service, violating a key rule of the Lifeline program for low-income consumers. If true, this would amount to Sprint collecting over $8 million/month of taxpayer money that it was not entitled to. FCC Chairman Ajit Pai announced the investigation yesterday. Today, FCC Commissioner Geoffrey Starks released a statement saying that the investigation "directly impacts our review of the proposed merger between Sprint and T-Mobile, one of the largest wireless transactions in FCC history. Given the enormity of the apparent wrongdoing committed here, we must pause our Commission review. ... There is no credible way that the merger before us can proceed until this Lifeline investigation is resolved and responsible parties are held accountable."
Cricket is offering a choice of eight different phones for free to new customers through the end of the month, and two models after that. Until October 1st, the free choices include several mid-range models such as the Moto g7 Supra, LG Stylo 5, and Nokia 3.1 Plus. Also free are the Samsung Galaxy J2 Pure, LG Harmony 2, LG Fortune 2, Moto e5 Cruise, and Nokia 3.1 C. After Oct. 1st, the Moto e5 Cruise will continue to be free until Nov. 21. The Samsung J2 Pure will be free again Oct. 11 - Nov. 21.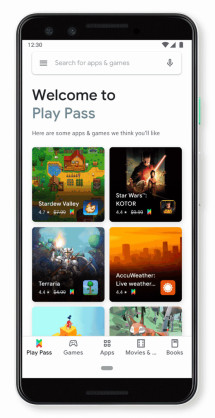 Google today launched Play Pass, a new $5/month subscription service for Android users that provides full access to over 350 games and apps, ad-free and without in-app purchases. Google is offering a ten-day free trial as well as special intro pricing of just $2/month for the first 12 months. The collection of games and apps is curated by Google. Games and apps part of Play Pass at launch include Terraria, Monument Valley, Risk, Star Wars: Knights of the Old Republic, AccuWeather, and many more. Google will add new titles every month. Developers are invited to express interest, but Google decides which developers to invite into the program. The service is similar to Apple Arcade, a $5/month subscription games service Apple just launched for devices using its platforms. Google is leveraging existing titles while Apple Arcade games are all exclusive to that service.
Cricket has launched the Icon — a Cricket-branded, entry-level phone — for $80. The phone is manufactured by Tinno for Emblem Solutions, which launched a little under a year ago with a financial investment and strategic agreement from AT&T to provide exclusive phones and tablets to AT&T. Cricket is a brand of AT&T. Cricket is offering a unique 2-year warranty on the phone. The Icon runs Android 9 Go Edition. It has a 5.5-inch display, 2,500 mAh battery, 5 megapixel rear camera, 2 megapixel front camera, MediaTek 6739 processor, 16 GB of storage, and a memory card slot.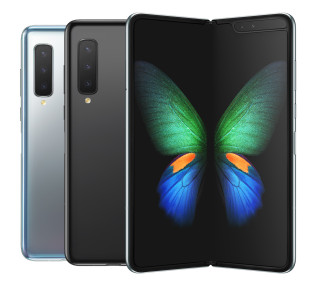 Samsung has finally set a US release date for its delayed and tweaked Galaxy Fold: this Friday, Sept. 27th. While T-Mobile had originally planned to offer the Fold, now it will only be available from AT&T and in an unlocked version. Select Best Buy and Samsung Experience Stores will sell both the unlocked version and the AT&T version. The Fold will come with a special support offering called Galaxy Fold Premier Service. This will include a dedicated phone number, video chat service, and in-person support. "Samsung experts" will be available for complimentary "onboarding" as well as ongoing support. The Galaxy Fold is the first smartphone for the US with a flexible pOLED screen that actually folds in half. It also has a full touchscreen interface on the outside. Its specs are similar to the high-end Galaxy S10+, including a top-end Snapdragon 855 processor, 12 GB of RAM, and triple rear cameras (wide, standard, and telephoto.) The Fold was originally slated to launch April 26th of this year, but the launch was delayed after multiple reviewers experienced serious issues soon after receiving the phone. The design has since been improved to address the issues seen on the original design.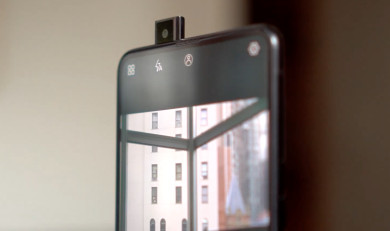 A quick look at the Bold N1, an attempt to offer a flagship experience for just $250. Where else will you find a phone for that price with a true all-screen design, pop-up selfie camera, in-display fingerprint reader, and wireless charging? We examine the ins and outs of this "bold" new phone in this video tour.
Getting a new iPhone? The back may be a lovely honed finish this year, but it's still all glass, so consider getting a case. We took a look at a few options from three established companies offering good protection at affordable prices. And since design is a core part of the iPhone's appeal, we also focused on options that show off or complement the Apple aesthetic, including various types of clear cases. These cases are all shipping now, support wireless charging, and cost $40 or less.
Apple will release iOS version 13.1 on Sept. 24th, a week earlier than originally planned, reports Engadget. Many reviewers and users have reported that iOS version 13.0 is unusually buggy.
Verizon has revealed that it will light up its mmWave 5G service in New York City in one week, on September 26th. As with all mmWave deployments, it will focus on dense, downtown areas and public spaces, rather than broad citywide coverage. The coverage areas include parts of uptown, midtown, and downtown Manhattan, along with select parts of Brooklyn, the Bronx, and Queens. NYC is Verizon's 11th 5G city. The company has promised to launch 5G in 30 US cities by the end of the year. Verizon's lineup of phones with integrated 5G include the Samsung Galaxy S10 5G, LG V50 ThinQ 5G, and Samsung Galaxy Note10+ 5G.
Alcatel today announced the Go Flip 3 and SmartFlip, two variants of essentially the same clamshell-style feature phone. The phone runs KaiOS, and for the first time in the US, supports both Google Assistant voice control and the KaiStore for downloading third-party apps such as WhatsApp. The hardware is otherwise similar to previous KaiOS phones by Alcatel for the US, such as the Go Flip, MyFlip, QuickFlip, and Cingular Flip 2. Like those models, it has 4G LTE, a large screen and keypad, HD Voice, 2-megapixel camera, HD video capture, music player, memory card slot, 3.5mm audio jack, Bluetooth, Wi-Fi, and a color outer display. The model branded Go Flip 3 is for T-Mobile and Metro, and supports mobile hotspot, band 71, and Sprint bands; it replaces the original Go Flip. The model branded SmartFlip is for AT&T and Cricket; it supports band 14 (FirstNet) and replaces the Cingular Flip 2 and QuickFlip.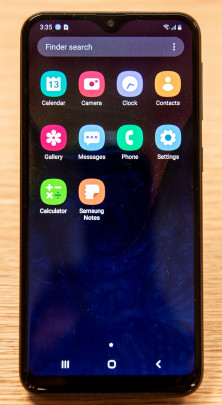 A new kid-oriented phone service launches today nationwide. Gabb Wireless offers basic voice and messaging service for parents who want their kids to be connected, but "protect children from too much technology too soon". Although both phones offered by the company are Android smartphones, they have no data service, no app store, and no games. Gabb service runs $20/month for unlimited SMS and voice. MMS service runs an extra $3/month. Service is pay-as-you-go and contract-free. Gabb offers an entry-level ZTE phone called the Z1 for $100. The step-up offering is the Samsung S1 for $200, which is similar to the Samsung A10e. Compared to the Z1, the S1 offers a larger screen thanks to its modern, tall screen with a small notch. It also offers better cameras and Bluetooth.
Google has added an unlimited-data plan option to its Google Fi cellular service. The pricing is competitive with what most major US carriers are currently offering, starting at $70/line for just one line, down to $45/line for 4-6 lines. The plan also includes unlimited data and texting while abroad in 200 destinations, and free calling from the US to 50 countries and territories. It also includes a Google One membership, which includes 100 GB of cloud storage. Like most competing plans in this price range, Google "may" limit streaming video to SD resolution, and data speeds are reduced after 22 GB is used in a given month. Google still offers its traditional Flexible plans, which start at $20/month plus $10/GB for data. Flexible plans do not include free data while overseas, free international calling, nor Google One membership.
Comcast's Xfinity Mobile is offering $250 back when new customers switch from another carrier and purchase a new iPhone. Customers must keep their account for 90 days, after which they will receive the $250 as a prepaid card within a month.
The FCC this week granted permission for initial commercial service to commence in the unlicensed part of band 48, also known as CBRS, a radio frequency band spanning the range of 3550 - 3700 MHz. In a new and unique arrangement, consumer phones will be able to cellular technologies like LTE in an unlicensed band that also has incumbent users such as the military and satellite operators. To prevent interference, five companies will operate central databases that coordinate access to the band in real-time. Having proven their systems in certified lab tests, it is these five Spectrum Access System (SAS) Administrators that have received permission from the FCC to begin "initial commercial deployment", which is both a real-world test phase and a commercial launch. The five approved Administrators are Google, Sony, Federated Wireless, Amdocs, and CommScope. Verizon has been most vocal among the major US carriers about deploying service in band 48 for its customers. The most recent flagship phones from Samsung, Apple, LG, OnePlus, and Razer already support band 48. In mid-2020, the FCC plans to auction a different part of the CBRS band that will be licensed in a more traditional way for deployment of 5G service.
Sprint is offering a free iPhone 11 to new customers when they trade in an iPhone 7 or newer. The old iPhone can be in any condition but must be unlocked. The deal requires a new line activation and an 18-month "lease" that costs $0 after a monthly credit is applied. Verizon is offering a similar deal of a free iPhone 11 for new customers with trade-in. T-Mobile is offering 50% off the new iPhones with trade-in.
Walmart and Verizon are both offering substantial discounts and offers for customers buying a new iPhone this year. New and existing customers of Verizon, AT&T, and Sprint can pre-order the new iPhone 11 models from walmart.com starting this Friday and receive $50 off the usual phone price when choosing a device payment plan and picking up their phone in a Walmart store (starting Sept. 20). Existing customers of Verizon and AT&T can instead opt to have the phone shipped to them with free two-day shipping, and receive the same $50-off pricing. Separately, Verizon is offering deals on iPhones for customers activating new Unlimited lines, and deals on other Apple devices for all customers. Customers activating a new Unlimited line can get up to $700 toward a new iPhone 11 (making the base model iPhone 11 free) with device trade-in. The trade-in credit of up to $500 is applied over 24 months, with the remaining $200 delivered as a prepaid card. Or customers can get a second iPhone Xr for free when purchasing the first iPhone Xr on a payment plan and activating a new Unlimited line. Verizon customers can also get a $250 discount off any iPad when purchasing any iPhone (with both devices on Verizon payment plan; discount applied over 24 months.) Verizon customers purchasing a new Apple Watch can get a second one for up to 50% off.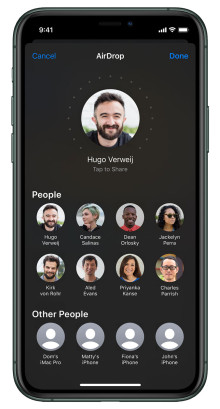 Apple's new iPhone 11 series of phones includes a new U1 chip, which uses ultra-wideband technology to determine the relative location of other devices with U1 chips nearby. Apple promises "amazing new capabilities" thanks to the new chip. The first new feature to utilize the U1 is AirDrop, which now lets you choose who to send a file to by simply pointing your phone at theirs.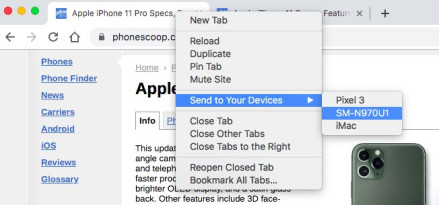 The Google Chrome web browser now lets you send the web page you're on at the moment to another one of your devices, so you can finish on your phone an article you started reading at your desk, for example, or vice-versa. The feature debuted in version 77, which just became available for all platforms. To use the feature on a desktop platform, simply right-click the browser tab and choose "Send to Your Devices". The feature is somewhat hidden on mobile: tap the three-dot menu icon at the top right, choose "Share...", scroll down to "Apps list", and there's now an extra Chrome icon that says something like "Send to yo...". After choosing a target device, a notification appears on the target device that you can click to open the sent web page. The feature does not preserve sessions on web sites that require a login. Although The Verge could not get it to work on macOS, Phone Scoop used the feature on macOS. Firefox has had a similar feature since February.
Apple today announced the iPhone 11 Pro, which comes in two sizes. The smaller model has a 5.8-inch screen like the iPhone Xs, while the larger iPhone 11 Pro Max has a 6.5-inch screen, just like the iPhone Xs Max. Both iPhone 11 Pro models have three 12-megapixel cameras on the back: one "wide", one ultra-wide, and one telephoto, together providing a total 4x optical zoom. The matte glass back and camera surround is milled from a single sheet of glass, set into a stainless steel frame. The OLED display has been improved with HDR, Dolby Vision, 1200 nits peak brightness, 2,000,000:1 contrast ratio, P3 color gamut, 458 ppi, and True Tone. Apple calls the new display "Super Retina XDR". Audio has also been improved with Dolby Atmos and spatial audio. Battery life has also been improved, adding 4 hours for the smaller size and 5 hours for the Max, and a 18W fast charger is now included. Like the cheaper iPhone 11 announced today, the iPhone 11 Pro is powered by Apple's new A13 Bionic chip, which is 20% faster than last year's A12 chip while using less power. It also include Face ID, IPX8 waterproofing, and supports slow-motion video with the selfie camera, which Apple calls a "Slowfie". The main camera now supports portrait mode for pets and objects, and has a new automatic night mode. In the fall, a software update will add a new camera feature called Deep Fusion, which combines multiple quick photos with one long-exposure using computational photography to create a higher-quality photo in lower-light situations. The iPhone 11 Pro comes in Midnight Green, Space Gray, silver, and gold. The smaller model starts at $999, while the Max starts at $1099. Pre-orders begin at 8am Eastern on Friday, September 13th, with full retail launch on September 20th.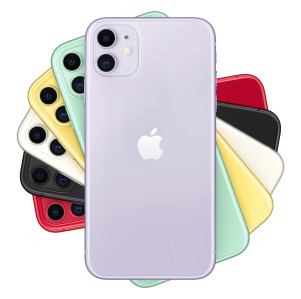 The new iPhone 11 from Apple sports a new dual-camera system with two 12-megapixel cameras, one "wide" and one "ultra-wide". It replaces the iPhone Xr and has the same 6.1-inch display size. It's the most affordable of today's three new iPhones at just $699. It's powered by Apple's new A13 Bionic chip, which is 20% faster than last year's A12 chip while using less power. It also include Face ID, IPX8 waterproofing, 1 hour extra battery life compared to the iPhone Xr, and Wi-Fi 6. The front camera has also been updated with higher resolution, wider field of view, and the ability to shoot both 4K video and slow-motion video, which Apple calls a "Slowfie". The main camera also now supports portrait mode for pets and objects, and has a new automatic night mode. The iPhone 11 has a milled glass back and comes in six colors: cream, yellow, mint, lavender, Product Red, and black.
Apple today announced Apple Watch Series 5, an update that brings a new always-on display. The new display can stay on in a dim mode all day (18 hours) thanks to LTPO display technology, variable refresh rate, and an ambient light sensor. The new Watch also adds a compass sensor, which works with Maps and third-party apps, and has it own app and complication. The new Watch is otherwise similar to last year's Series 4. Series 5 is available in a variety of materials, including white ceramic, brushed titanium, and black titanium. The base model starts at $399, and the cellular version starts at $499. Pre-orders start today, with retail availability on September 20th. Apple is also keeping the basic Series 3 Watch in its lineup, and dropping the price to $199.
More articles in the Archive ›
What do you want to hear about? We're already working on a number of articles for the coming months, but we want to write about the things you're most interested in. So sound off: tell us what you want to know more about!