Recent Archive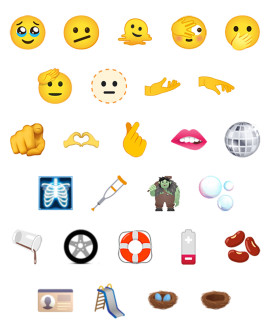 The Unicode Consortium has finalized and released version 14.0 of Unicode Standard for multi-lingual text, including 37 new emoji characters. New versions of Unicode are usually incorporated into updated versions of iOS and Android. The new emoji include: face holding back tears, face with diagonal mouth, melting face, face with peeking eye, face with hand over mouth, saluting face, dotted line face, palm up/down hands, finger pointing at the viewer, heart hands, hand with index finger and thumb crossed, biting lip, mirror ball, x-ray, crutch, troll, bubbles, pouring liquid, wheel, life preserver, low battery, beans, ID card, slide, and full/empty nests.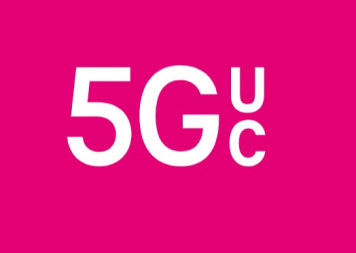 T-Mobile phones will soon display a new icon in the status bar to indicate when they are connected to 5G in a higher frequency band that offers faster data speeds. The icon will appear first on the newest iPhones, and the company is working with phone makers "to include this update on as many devices as possible". The icon says "5G UC"; UC stands for Ultra Capacity, the company's name for its mid-band and mmWave 5G networks. Those networks offer much faster data speeds than 5G operating in lower frequency bands. All three major national carriers offer 5G in both low-band and higher frequency bands. The low-band 5G networks offer the broadest coverage, but typically offer data speeds that are not much faster than 4G. T-Mobile has been aggressively rolling out 5G in mid-band frequencies (band 41) that it gained access to in its merger with Sprint. Verizon and AT&T will start to roll out their mid-band 5G networks (in band 77 AKA C-Band) by the end of this year or early next year.
Apple today announced the iPhone 13 series. All models feature improved battery life, display, cameras, and processor. Although the model options and designs are similar to the iPhone 12 series, the notch for the TrueDepth camera system that powers Face ID is now 20% smaller, allowing more usable display area. The OLED displays on all models are now more efficient and offer greater peak brightness outdoors, while supporting HDR10 and Dolby Vision. The Pro models gain adaptive refresh of 10–120 Hz. The cameras have been updated to let in much more light for better performance, especially in low light. The main camera features a f/1.6 aperture on the standard models and f/1.5 on the Pro models. Apple has also brought sensor-shift OIS to the standard models, a feature previously exclusive to the Pro Max. On the Pro models, the telephoto camera has been bumped from 2x to 3x, for 6x total optical zoom range. The Pro models also feature an all-new ultra-wide camera with an unprecedented f/1.8 aperture as well as true auto-focus, enabling a new macro mode. All three cameras now support night mode. A new Cinematic Mode in the camera app can automatically change focus based on who is looking where in the scene, and lets the user adjust focus in videos after they have been shot. A new Photographic Styles feature offers greater control over Apple's advanced multi-frame image processing. The Pro models can also now shoot and edit Apple ProRes video at 4K (30 fps). The new A15 Bionic chip powers all four models. Apple claims it's 50% faster than the best competing chip. The A15 variant in the Pro models is slightly more powerful with five GPU cores instead of four. Improved efficiency and larger batteries give the iPhone 13 Mini and iPhone 13 Pro 1.5 hours more of battery life, while the iPhone 13 and iPhone 13 Pro Max gain 2.5 hours of battery life. iPhone 13 and 13 mini will be available in pink, blue, midnight, starlight, and (PRODUCT)RED in a new entry-level capacity of 128 GB (double last year's starting option), as well as 256 or 512 GB. The standard-size iPhone 13 starts at $799 while the mini starts at $699. iPhone 13 Pro and Pro Max will be available in graphite, gold, silver, and sierra blue in 128, 256, or 512 GB, plus a new 1 TB option. The iPhone 13 Pro starts at $999 while the Pro Max starts at $1,099. Customers will be able to pre-order all four iPhone 13 models this Friday, with full availability September 24th.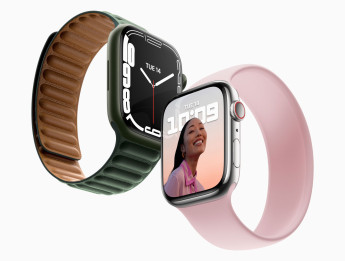 Apple today announced the Apple Watch Series 7, which features a display with 20% more screen area, in roughly the same size case as previous models. The bezels are now just 1.7mm wide. Apple has tweaked watchOS to take advantage of the larger display, including a new full QWERTY keyboard option for text input, with swipe typing. The new display also fits up to 50% more text, and key buttons have been enlarged. A new modular face fits more, larger complications. The new display is also 70% brighter in idle/always-on mode indoors. The redesigned case has more rounded cover glass (that's more durable) and corners, but still fits all existing interchangeable bands. The new watch also charges 33% faster. New cycling features in watchOS 8 improve Outdoor Cycle workout mode with automatic start, pause, and resume, and now track workouts accurately with e-bikes. There's also a new Fall Detection feature for cycling. Apple Watch Series 7 will come in titanium (2 colors), stainless steel (2 colors) and recycled aluminum (5 colors). It will be available "later this fall" starting at $399. Series 7 replaces Series 6; Series 3 and Apple Watch SE will continue to be available.
Apple today released a set of urgent security updates for iOS, watchOS, macOS, and Safari for Mac. The updates fix a previously-unknown zero-day security flaw that enabled "arbitrary code execution" when viewing a maliciously crafted PDF file, which could be transmitted by visiting a web page and/or receiving an iMessage. All versions of iOS prior to today's 14.8 update are vulnerable. The Citizen Lab, which found the issue and reported it to Apple, claims the exploit is already in use in the wild. It was used to silently install NSO Group's Pegasus spyware on the iPhone of a Saudi activist. All users of Apple devices should install the updates immediately.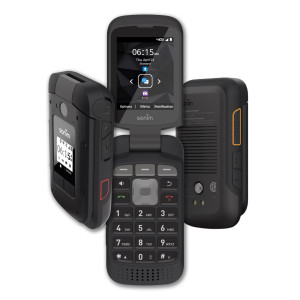 Sonim's newest rugged flip phone is the XP3plus, launching today with T-Mobile. This new model is a significant upgrade over the original XP3 from 2019, featuring larger displays and a battery that's over 50% larger (2,300 vs. 1,500 mAh). It introduces a new button configuration and interface with three soft-keys below the main display. It also adds the unique feature of two soft-keys below the outer display, one of which can be customized to user functions. The processor, memory, and (optional) camera have also been upgraded compared to the XP3. Like all Sonim phones, the XP3plus is ultra-rugged with IP68, military, and Non-Incendive ratings. It also has large, glove-friendly buttons — including dedicated push-to-talk and SOS buttons — and a 100dB+ ultra-loud speaker for noisy environments. Sonim offers a range of accessories for the phone, including vehicle kits, rugged headsets, and charging docks. The company also offers a three-year warranty. T-Mobile is selling the phone for $210. Sonim's web site says the phone will be "available at other carriers in Fall 2021."
Vimeo now lets iPhone users both upload and view videos recorded with Dolby Vision. The iPhone 12 Pro introduced the ability to capture video in the HDR format, but there have been few ways to share the content in its full glory until now.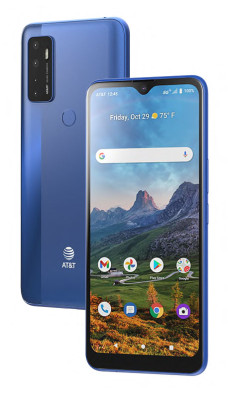 AT&T Prepaid and Cricket are offering a new, white-label 5G phone for as low as $100, a new milestone for affordability of 5G phones. AT&T Prepaid is offering the phone as the AT&T Radiant Max 5G. AT&T's web site shows a list price of $180, but is currently selling the phone for $100. Cricket (a brand of AT&T) is selling the same exact phone as the Cricket Dream 5G for $190. The phone is powered by the MediaTek Dimensity 700, a chip specifically designed to enable more-affordable 5G phones. The phone is manufactured by FIH Mobile, a subsidiary of Foxconn. Specs include a 6.82-inch HD display, 4,750 mAh battery, 48 megapixel camera, 4 GB RAM, and 64 GB storage (expandable). Key features include a fingerprint reader, 8-megapixel wide-angle camera, NFC, dual-band Wi-Fi, and a headset jack. It's available now from Cricket and AT&T Prepaid.
A US Federal Judge has ruled that Apple must allow app developers to "steer" customers away from Apple's App Store payment service, which collects a fee of up to 30%. The ruling was part of Fortnite maker Epic Games' lawsuit against Apple for anti-competitive behavior. The case did not completely go Epic's way; the court did not find that Apple's App Store constituted a monopoly, as Epic claimed. "Nonetheless, the trial did show that Apple is engaging in anticompetitive conduct under California's competition laws," according to the decision. "The Court concludes that Apple's anti-steering provisions hide critical information from consumers and illegally stifle consumer choice." Apple recently announced plans to allow specific "reader" apps to steer customers to third-party payments in response to an investigation by the Japanese government. But this new US ruling could force Apple to open up third-party payments for all apps. Apple does have the option to appeal the decision.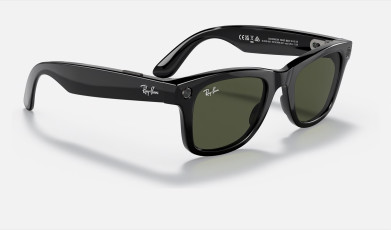 Facebook and Ray-Ban have collaborated to create Ray-Ban Stories, "smart" glasses similar to the Spectacles 3 from Snap. Ray-Ban Stories feature dual 5-megapixel cameras that capture photos with depth as well as videos up to 30 seconds. They also include open-ear Bluetooth audio for music and calls, with three microphones for beam-forming and background noise suppression. They do not include any display technology, and therefore do not compete with Google Glass, nor do they include AR features. A companion app called Facebook View (available for both iOS and Android) lets you view, edit, and share content captured by the glasses' cameras. A small light next to one of the cameras lets others know they're being recorded. The glasses are available in 20 variations, in classic Ray-Ban styles — Wayfarer, Wayfarer Large, Round and Meteor — and five colors, with a range of lenses including clear, sun, transition, and prescription. Ray-Ban Stories start at $299 and are available to order now, shipping this month.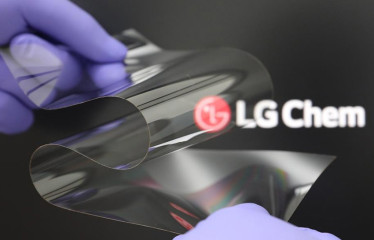 LG Chem has developed a new top layer for flexible displays that it claims is both "hard as glass" and "flexible as plastic", while offering several key advantages over materials currently used in folding displays. LG calls the new material Real Folding Window. Compared to existing materials, Real Folding Window should offer "significantly improved fold lines in the folding area", meaning less-visible creases. The material is also designed for both inward- and outward-folding displays, unlike current commercial products that are optimized for inward-folding displays. The mew material is thinner than tempered glass and cheaper than existing polyimide film products. LG's new material consists of a thin, proprietary coating on both sides of a thin PET (plastic) film. LG plans to begin "full-scale" sales of Real Folding Window from 2023. The company is already working on an improved version that removes the need for a PET base layer, which will be even thinner and better-suited to "rollable" displays.
Apple will "take additional time to make improvements" before launching its technology to detect and report known child sexual abuse material (CSAM) in users's iCloud photos. The tools, first revealed a month ago, are designed to preserve user privacy by using sophisticated hashing algorithms that run on the user's device. Only once a threshold of at least 30 CSAM images is detected can photos be decrypted by Apple for manual inspection and potential reporting to authorities. Privacy experts have expressed concern over the feature, as some governments may be tempted to force Apple to search for other types of imagery. Privacy advocates also expressed concern that the system could be abused by third parties to implicate innocent people. Apple has responded to these concerns, stating that its database of known CSAM will never include images reported from just one country, and researchers will be able to verify that all Apple devices are using the same database of known CSAM.
Samsung's new Isocell HP1 camera sensor features 200 megapixel resolution. That unprecedented number of pixels enables several specific new capabilities. The most important is variable pixel binning, which Samsung calls "ChameleonCell". While existing high-res sensors are designed with a fixed pixel binning mode of either 2x2 or 3x3, the HP1 can switch between 4x4 binning (offering 12.5 megapixel output), 2x2 binning (offering 50 megapixel output), or no pixel binning for full 200 megapixel output. The 4x4 mode combines 16 pixels acting as one, for better low-light performance. The 2x2 mode enables, for the first time, the capture of 8K video while benefitting from pixel binning for better quality. The HP1 is small enough that it "fits comfortably in today's handheld devices". The Isocell HP1 is sampling to device makers now. Samsung's first 108-megapixel sensor was announced in August 2019 and ended up in Samsung's Galaxy S20 Ultra the following February.
Starting early next year, Apple will allow media player apps like Spotify and Netflix to direct new users to subscribe via their own web sites and third-party payment systems. Previously, Apple required such apps to use Apple's payment system, where Apples takes a cut of up to 30%. Although Apple will continue to require apps that "sell digital services and subscriptions" to use Apple's in-app payment system, apps that "provide previously purchased content or content subscriptions for digital magazines, newspapers, books, audio, music, and video" are now considered "reader" apps, and will be exempt from that rule. The change comes after an investigation by the Japan Fair Trade Commission (JFTC), and was announced as a deal with the JFTC to close that investigation. However Apple will apply the change globally.
Qualcomm today announced aptX Lossless, a technology designed to deliver CD-quality 16-bit 44.1kHz lossless audio quality over Bluetooth. As part of Snapdragon Sound, aptX Lossless automatically kicks in when a phone detects the user listening to a lossless music file "and the RF conditions are suitable". In congested RF environments, aptX Adaptive can "smoothly scale down" from over 1Mbit/s to as low as 140kbits/s, to minimize audio dropouts and glitches. aptX Adaptive works in conjunction with Qualcomm Bluetooth High Speed Link technology to help deliver the required sustainable data throughput. While 16-bit 44.1kHz lossless is the default, users can also choose a 24-bit 96kHz lossy mode. The technology is expected to be available by the end of 2021.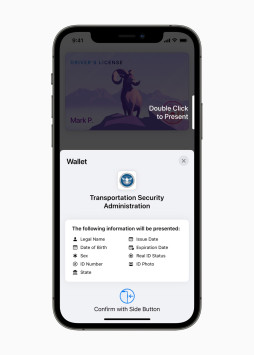 Residents of Arizona and Georgia will soon be able to add a secure digital version of their driver's license or state ID to the Wallet app on their iPhone and/or Apple Watch. Connecticut, Iowa, Kentucky, Maryland, Oklahoma, and Utah have also announced plans to support Apple's implementation. The first place people will be able to use these digital ID cards will be "select airport security checkpoints and lanes in participating airports". Apple's implementation of this technology is compliant with the ISO 18013-5 mDL (mobile driver's license) standard. Adding a license or ID to Wallet requires taking photos of both the user's physical ID card and themselves, which are sent to the issuing state for verification. Presenting a digital ID is initiated by simply tapping the phone or watch on a reader device, similar to Apple Pay. The user's device then displays what specific information is being requested. Only after the user confirms their identity using Face ID or Touch ID is the requested information securely transferred. Users do not need to unlock, show, or hand over their device to present their ID. Utah launched a pilot program of standard-compliant mDL technology using a standalone app earlier this year.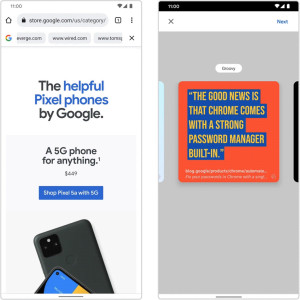 The newest beta version of Google's Chrome web browser for Android includes two major new features. After executing a Google search and choosing a result, a new bar below the address bar lets you quickly navigate to a different search result. The other new feature automatically creates stylized images of text when you want to share a quote from a web page. To use it, you select a bit of text on a web page, choose "Share" and then "Create card". You can then choose from several visual styles. The resulting image includes the quote and web page address, and makes it easier to share quotes and web pages on social media, especially visual platforms such as Instagram. Both features are only available in the beta version of Chrome for new, and must be manually enabled by entering chrome://flags in the address bar.
The Samsung Galaxy Z Fold3 and Z Flip3 include a new "Protect battery" option that stops charging when the battery reaches 85%. The feature should extend the useful life of the battery over several years.
South Korea's National Assembly has passed a new law that will require Apple and Google to open up in-app purchases to third-party payments. Apple and Google currently require the use their own payment systems for in-app purchases, from which the companies extract a cut of up to 30%. The law also regulates approval times for new apps, as well as reasons for removing apps from app stores. The new law is similar to ones being considered in the US and EU, but South Korea will be the first major market to implement such a law. The law will go into effect as soon as the President Moon Jae-in signs it, as he is expected to do.
Jabra today unveiled a new lineup of three true wireless earbuds: the top-end Elite 7 Pro, the Elite 7 Active for workouts, and the affordable Elite 3. The Jabra Elite 7 Pro build on the popular and well-reviewed Elite 75t, but are 16% smaller and add Jabra MultiSensor Voice. This new technology combines a bone conduction sensor, four microphones, and algorithms to ensure crystal clear calls. When the microphones are not picking up clear enough sound, the bone conduction sensor automatically kicks in, and an algorithm uses the best combination of inputs to transmit the best call clarity. The Elite 7 Pro provide nine hours of non-stop play time using the buds alone, even while using Active Noise Cancellation (ANC). The case boosts total battery life to 35 hours, and fast charging delivers 1.2 hours of play time in 5 minutes. The Elite 7 Pro goes on sale October 1st for $199, in black, charcoal, and beige. The Elite 7 Active are similar to the 7 Pro, including adjustable ANC. They swap the bone conduction sensor for a "ShakeGrip" coating that provides a more secure fit during workouts. They also go on sale October 1st, for $179. The new Elite 3 are the affordable option at just $79. They still include 6mm speakers, 4 microphones, equalizer, Qualcomm aptX HD, and HearThrough mode for situational awareness. They offer seven hours of battery life, or 28 hours including the charging case. They will be available starting tomorrow in Dark Grey, Navy, Lilac. and Light Beige.
For the first time, T-Mobile has won the title of Fastest Mobile Network in PCMag's annual nationwide drive test. T-Mobile's 5G network was the fastest in 24 out of 36 tested cities and regions. PCMag attributes the win to T-Mobile's use of mid-band spectrum (band 41, around 2,600 MHz) for 5G. This unique frequency band was originally owned by Sprint, and T-Mobile has been aggressively re-deploying it for 5G since merging with Sprint. Mid-band frequencies are ideal for 5G, offering a good balance of coverage and potential data speeds. AT&T and Verizon recently purchased C-band spectrum that will let them deploy mid-band 5G networks like T-Mobile starting by the end of this year. Verizon's "Ultra Wideband" mmWave 5G network is the fastest 5G network, but has very limited coverage. AT&T and Verizon's sub-6-GHz (non-mmWave) 5G networks are often barely faster than 4G. Looking only at 4G networks, AT&T was once again the winner.
T-Mobile today announced a new promotional perk included with its Magenta and Magenta Max plans: 12 months of Apple TV+ for free. The offer is available to both new and existing customers. Also eligible are customers on the Magenta 55+, Magenta Military, Magenta First Responders, and small T-Mobile for Business customers. Only customers on the most-affordable Essentials plan are ineligible. Legacy Sprint customers on the Unlimited Plus or Premium plans are also eligible. Magenta and Magenta Max customers already receive Netflix for free.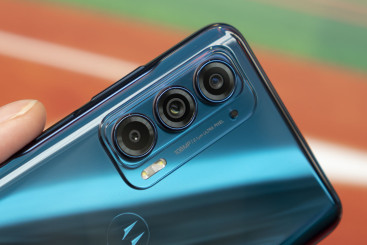 Motorola describes the new Edge as their one premium phone for the US for 2021, (besides whatever RAZR they may or may not introduce.) It's not a flagship, but it's well above the usual affordable fare that Motorola has primarily focused on in recent years. It has a fast-refresh display and a whopping 108 megapixel main camera. It will be available soon unlocked, and later on with Verizon. But it's a bit of an odd duck, with an unusual spec mix that's unlike any other mid-range phone. It looks nice enough in photos, but what's it like in person? Read on for our first impressions.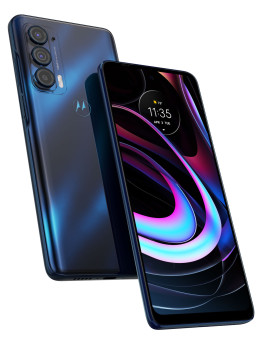 Motorola today announced a new premium-tier phone: the Motorola edge (2021). The headline features are a 108 megapixel main camera and a large 6.8-inch display with adaptive refresh up to 144 Hz. It also has a large 5,000 mAh battery, 30-watt fast charging, Qualcomm Snapdragon 778G processor, Wi-Fi 6E, and NFC. The 108-megapixel camera operates in 9-pixel pixel-binning mode by default, for excellent low-light performance with 12 megapixel output. It's accompanied by am 8-megapixel wide-angle camera, a depth camera, and a 32 megapixel selfie camera. Verizon will offer a version supporting its mmWave 5G network, while the unlocked version has excellent support for the 4G and sub-6 5G networks of both T-Mobile and AT&T. The unlocked version will be available in blue for $700. It goes on sale September 2nd with a special price of $500 for a limited time. Pre-orders start August 23rd. Verizon and Spectrum Mobile will offer the Verizon version later this fall; pricing for that version is yet to be determined.
Cricket is now offering a free HBO Max subscription included with its top-end unlimited plan. The HBO Max subscription is the ad-supported tier, which is normally $10/month on its own. The eligible plan is otherwise unchanged, and runs $60/month for one line (or as low as $32/month/line for five lines). Cricket currently offers two unlimited plans: one for $55 and one for $60. The $60 plan adds 5G access, 15 GB of mobile hotspot data, 150 GB of cloud storage, and now HBO Max. Perks like this are currently rare with prepaid plans in the US. Cricket is a brand of AT&T, which currently owns HBO, although AT&T has started the process of spinning off its media businesses.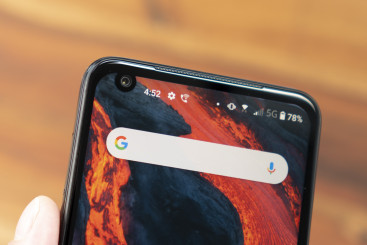 Orbic (which is actually a brand of Reliance Communications) has been low-key making low-end phones for Verizon for a few years, but now they're ready to step into the spotlight with a much more interesting 5G phone, the Orbic Myra 5G. It is designed to be one of the more affordable 5G phones in Verizon's lineup, but this mid-range phone goes beyond the basics with a 48-megapixel main camera, Qualcomm Snapdragon 750G chip, huge 5,000 mAh battery, and 18-watt fast charging. But what is it actually like in person? Read on to find out.
Samsung has partnered with The Commons Project to enable digital COVID vaccine passports within the Samsung Pay wallet. Vaccine passes must be set up via the CommonHealth app.
By the end of this year, apps such as Samsung Weather, Samsung Pay, and Samsung Theme will cease displaying ads. The change is in response to user feedback.
T-Mobile today revealed the full extent of the recent theft of sensitive consumer data from its internal systems. The breach affects over 40 million people across three groups: people who applied for credit with the company (whether they became a customer or not), a fraction of its current postpaid customers (7.8 million), and 850,000 prepaid customers under the T-Mobile brand. Metro, Boost, and legacy Sprint customers are not affected. Two different types of data were stolen. For the credit-check and postpaid groups, the stolen data includes names, birth dates, Social Security numbers and driver's license information. It does not include phone numbers, account numbers, PINs, passwords, or financial information. But for prepaid customers, the stolen data includes names, phone numbers, and account PINs. T-Mobile has already reset all affected PINs. While T-Mobile confirmed earlier this week that its systems had been compromised, the company did not confirm that customer data had been successfully stolen until today.
Apple has postponed the launch of SharePlay until after the initial launch of iOS 15. SharePlay was one of the major new features announced as part of iOS 15. The feature allows the sharing of your screen or media with everyone on a group call, including app-specific experiences thanks to a new API for developers. Apple now says "SharePlay will be enabled for use again in future developer beta releases and will launch to the public in software updates later this fall."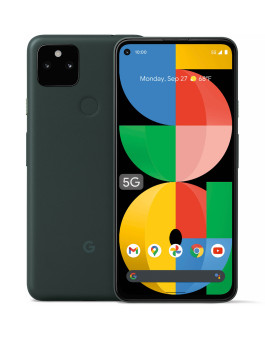 Google today revealed the Pixel 5a, a more-affordable alternative to the Pixel 5 and modest update to the Pixel 4a 5G. Like most Pixel "a" models, it has a larger display, larger battery, and a headset jack, yet is more affordable than the flagship models by skipping features like fast display refresh and wireless charging. For the first time in an "a" model, the Pixel 5a has IP67 water resistance, enough to be submerged in shallow water for short periods of time. It also has the largest battery ever in a Pixel phone at 4,680 mAh, and largest display at 6.34 inches. Otherwise, it shares most features and specs with other recent Pixel phones, such as a Qualcomm Snapdragon 765G chip, 6 GB RAM, 128 GB storage, full-HD OLED display, 12 megapixel main camera + 16 megapixel wide camera, 8 megapixel front camera, NFC, fast charging, and a rear fingerprint reader. As expected with any Pixel phone, it has excellent support for all 4G and sub-6 5G networks in the US, including forthcoming C-band networks. The Pixel 5a ships August 26th in Mostly Black for $449. Pre-ordering is open now.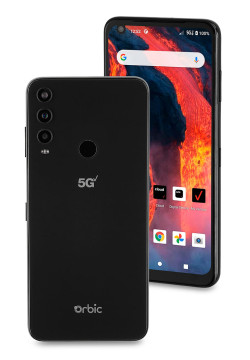 Verizon is now offering the Orbic Myra 5G, the first Orbic phone in the US with 5G, and the first with mid-range specs. Orbic has been offering entry-level phones for Verizon since late 2018, including two Android smartphones and one feature phone. The Myra offers both sub-6 and faster mmWave 5G which Verizon brands "Ultra Wideband". It should also support mid-band 5G (band 77 / C-Band) when Verizon launches that network. The Myra uses Qualcomm's Snapdragon 750G chip, alongside 6 GB RAM and 64 GB storage (expandable). It has a large 6.78-inch HD+ display and large 5,000 mAh battery. Other features include Android 11, a 48 megapixel main camera, 8 megapixel wide camera, 16 megapixel front camera, Quick Charge 3.0 (18-watt charger included), and a headset jack. It's available from Verizon starting today for $349. Orbic is a brand of Reliance Communications.
The newest beta version of Android 12 brings a new accessibility option to Android: face gestures. The feature recognizes six different face gestures using the front camera, and lets users assign those to specific actions that work across many apps. The face gestures are: open mouth, smile, raise eyebrows, look left, look right, and look up. The actions include: scroll forward, scroll backward, next, previous, select, touch & hold, back, home, notifications, and quick settings. The feature is available Settings > Accessibility > Switch Access. Switch Access was originally designed to work with hardware buttons connected via USB or Bluetooth. Now a "Camera Switch" option has been added. Users of some phones may need to install Android Accessibility Suite from the Google Play Store.
A bipartisan group of three US Senators has introduced new legislation that would place major new rules on the app stores run by Apple and Google. The Open App Markets Act would:
Ensure users could access third-party app stores and make them the default.
Ensure users could access third-party apps and make them the default.
Ensure users could install third-party apps and app stores through a method other than the main app store (side-loading).
Ensure users could hide or delete default apps, the default app store, and pre-installed apps from business partners.
Ensure developers could use third-party systems for in-app payments.
Ensure developers could offer more favorable pricing outside of a given app store.
Prevent Apple and Google from giving preference to their own apps (or those of business partners) in search results and rankings.
Prevent Apple and Google from giving their own apps special API access not available to third-party apps. This clause has special exceptions for user privacy, security, and digital safety; spam or fraud prevention; and complying with Federal or State law.
The legislation targets Apple and Google rather specifically by only applying to app stores with over 50 million users in the US. The bill was introduced by Senators
Richard Blumenthal
(D-CT), Marsha Blackburn (R-TN), and Amy Klobuchar (D-MN). A similar bill is expected in the House shortly. The Open App Markets Act has been endorsed by number of technology and consumer groups, including Consumer Reports, Internet Accountability Project, Coalition for App Fairness, Lincoln Network, Digital Progress Institute, and Electronic Frontier Foundation. Apple and Google are expected to lobby heavily against the bill, as they have against similar measures at the state level.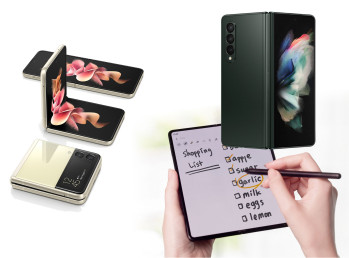 Samsung's third-generation foldable phones are slimmer, lighter, more durable, and more affordable. The Galaxy Z Fold3 and Galaxy Z Flip3 both feature IPx8 water resistance as well as bodies crafted from a new "Armor Aluminum" material and Gorilla Glass Victus. The flexible displays inside use Samsung's Ultra Thin glass, but with updated protective layers that that are stronger and more durable. The displays now offer adaptive refresh up to 120 Hz, including on the cover display of the Z Fold3. The Z Flip3 now supports mmWave 5G, and has a 4x larger outer display. The Z Fold3 now supports Samsung's S Pen stylus. A standard S Pen for the Z Fold3 runs $50, while a new S Pen Pro for $100 supports other Samsung phones and supports remote-control and mid-air gesture features. The Z Fold3 also has Samsung's first under-display camera, on the main (inner) display. Both phones sport Qualcomm's flagship Snapdragon 888 chip. The two phones are otherwise similar to their predecessors in design and features, including camera specs. The Galaxy Z Flip3 will come with 8 GB RAM and 128 or 256 GB storage, starting at $1,000. It will be offered in cream, green, lavender, and matte black. Samsung's web site will also offer it in pink, grey, and white. The Galaxy Z Fold3 will come with 12 GB RAM and 256 or 512 GB storage, starting at $1,800. It will come in green, silver, and black. Pre-orders for both phones start today, with full availability August 27th. Pre-order customers get a credit of $150–200 to spend with Samsung on accessories, etc. All three national US carriers will offer both phones. Verizon is offering a Samsung Fold Cover and S Pen bundle for free with the Fold3 "while supplies last".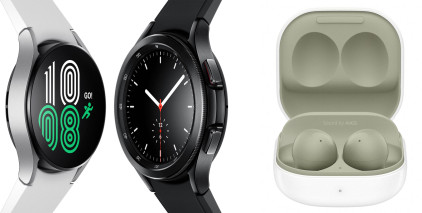 Samsung today announced new smartwatches and Bluetooth earbuds: the Galaxy Watch4 series and Galaxy Buds2. Both feature a long list of small improvements over their predecessors. The Galaxy Watch4 has a smooth, thin design similar to the old Galaxy Watch Active, with an aluminum body. The Galaxy Watch4 Classic steps up to stainless steel and adds a physically rotating bezel. Both are available with or without 4G LTE, and in two sizes. The Watch4 series now includes more and better Google apps, faster automatic workout recognition, more accurate calorie counts, better sleep tracking, a sharper always-on AMOLED display, faster charging, and a thinner body. A new "BioActive" sensor combines optical and electric heart sensors, plus Bioelectrical Impedance Analysis, which offers body composition stats. The Watch4 series also has a Samsung Exynos processor that uses cutting-edge 5nm technology for greater efficiency. The Watch4 series is the first tangible fruit of a collaboration between Google and Samsung. The two companies have combined the best of their smartwatch technology to create "Wear OS Powered by Samsung". Samsung has added their own software on top of that called One UI Watch, which lets a Samsung phone, watch, and/or earbuds act intelligently as one system. Key settings and app installs are automatically synced between phone and watch. Meanwhile, the Galaxy Buds2 are 15% smaller and 20% lighter than their predecessor. They include ANC that can cut background noise "by up to 98%", and triple mics with beam-forming for clear outbound audio, enhanced with machine learning. The ambient audio feature is adjustable. The Galaxy Watch4 series starts at $250, or $300 with 4G LTE. The Watch4 Classic is $100 more. Pre-orders start today. The Buds2 are $150 and come in graphite, white, olive, and lavender. Both will hit stores August 27th.
By the end of September, Dish Network will launch a 90-day "beta" of its own 5G network covering Las Vegas. Anyone interested in participating is invited to sign up at the company's "Project Geni5is" web site. Dish currently operates the Boost Mobile brand, which it bought from Sprint as a condition of the T-Mobile merger. Dish has promised to build its own nationwide 5G SA network from scratch to create a new fourth national carrier, an ambitious project.
Google has simplified its lineup of Titan hardware security keys, dropping Bluetooth options in favor of NFC to connect to phones. There are now just two models, one with USB-A and another with USB-C for connecting to computers. Titan keys offer a vastly more secure way to sign in to online services compared to passwords and SMS codes. They also protect against phishing.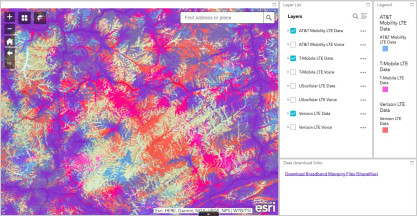 The FCC has launched a new interactive map showing 4G LTE coverage for the whole US. It includes Verizon, T-Mobile, AT&T, and US Cellular networks. The data is sourced from the carriers, but is required to meet standards intended to make the data uniform and allow apples-to-apples comparisons. "Specifically, it shows where customers can expect to receive 4G LTE broadband service at a minimum user download speed of five megabits per second (5 Mbps) and a user upload speed of one megabit per second (1 Mbps) based on propagation modeling." Another "voice" layer shows where users should be able to get basic service regardless of data speed.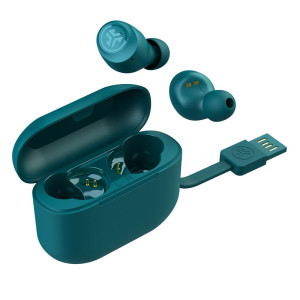 JLab has introduced a pair of true wireless earbuds that are just $20, a new level of affordability. The GO Air POP earbuds feature 8 hours of battery life in the buds, plus another 24 hours with the included charging case. A full-size USB cable is built into the case. The buds can be used together, or either one on its own. They have touch controls and IPx4 water/sweat resistance. Users can choose from three different sound profiles without using an app. They're available now in black, lilac, red, slate, and dark teal.
More articles in the Archive ›
What do you want to hear about? We're already working on a number of articles for the coming months, but we want to write about the things you're most interested in. So sound off: tell us what you want to know more about!