Recent Archive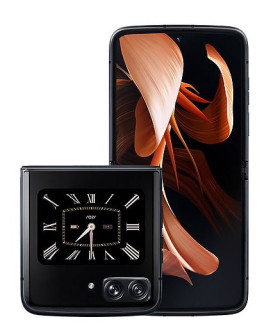 Motorola has launched its third-generation moto razr (2022) foldable phone, but only in China for now. It's unclear if the phone will come to other regions, although the Chinese web site for the phone does tout its global network support with a whopping 19 5G bands and 27 4G bands. The phone has a simplified design that looks more like a traditional smartphone when open. A new 3rd-generation hinge mechanism consists of 122 parts. The flexible main display includes steel mesh as one if its six layers, and bends to a radius of 3.3mm when folded. The phone is made from 7-series aluminum and Gorilla Glass 3D. The 6.7-inch OLED inner display sports 144 Hz refresh and HDR10+. The outer display measures 2.7 inches. The 50 megapixel main camera has OIS, joined by a 13-megapixel wide-angle camera. The selfie camera is 32 megapixel. The phone is positioned as a flagship with its Snapdragon 8+ Gen 1 chipset and up to 12 GB RAM. Memory options also include 8 GB of RAM, and 128, 256, or 512 GB storage.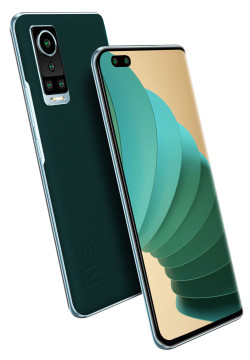 Bold (a sub-brand of Blu) has announced its first phone with 5G optimized for a US network: the Bold N2. The N2 is an affordable unlocked phone with very good support for T-Mobile's 5G and 4G networks, including mid-band 5G (bands 41 and 77). The N2 has a 6.6-inch, full-HD, curved-edge AMOLED display. It has a 4,200 mAh battery and supports 30-watt fast charging. It's powered by a MediaTek Dimensity 810 chip paired with a generous 8 GB RAM and 256 GB storage. On the back is a 64 megapixel main camera and 5 megapixel wide camera. The front sports a 16 megapixel camera with its own dedicated depth camera for portrait-mode selfies. It has an in-display fingerprint reader and runs Android 11. The teal-tinted body is "designed with deluxe textured leather and metal housing using premium, high-end materials". It will sell for $349 on Amazon, but Blu is offering a launch-day "flash launch deal of $100 off where early birds can snag it for $249 while supplies last."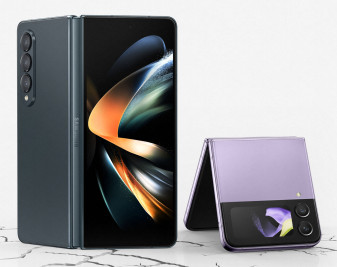 Samsung has announced its newest generation of foldable phones: the Galaxy Z Fold4 and Galaxy Z Flip4. Both have similar designs and features compared to their predecessors, with a slew of small updates and refinements across the board. Both have been updated with Qualcomm's newest, best Snapdragon chip: the 8+ Gen 1. Both also have upgraded main cameras that perform better in low light. Both have a "slimmer hinge", although the difference appears to be slight. Both are constructed from Armor Aluminum and Gorilla Glass Victus for durability, in addition to IPx8 water resistance.
The Galaxy Z Flip4 has slightly slimmer bezels on the main display, a larger (3,700 mAh) battery, and 14% faster charging. The cover display has been enhanced with more functionality, including SmartThings home controls and Quick Shot in camera mode. Similarly, Flex Mode — when the phone is half-folded — now provides a special split-screen interface for more apps, particularly third-party social and video apps. Like the Z Flip3, it has dual 12 megapixel rear cameras, display refresh up to 120 Hz, mmWave 5G, and two-way wireless charging. Also like the Z Flip3, the Z Flip4 will start at $1,000 for the base model with 128 GB storage (and 8 GB RAM). A 256 GB version will also be available, as well as a new 512 GB option. It will come in Bora Purple, Graphite, Pink Gold, and Blue. On samsung.com, a Bespoke Edition will allow users to mix and match frame and cover colors in 75 different possible combinations.
The Galaxy Z Fold4 is slightly lighter and more compact than the Z Fold3, while offering wider displays inside and out. The 7.6-inch main flexible display panel is brighter, 45% "stronger", and better hides the under-display camera. The main camera is upgraded to 50 megapixel, while the telephoto camera is now 10 megapixel instead of 12. The software has been overhauled thanks to Android 12L, Google's new version of Android optimized for foldable and large-screen devices exactly like this one. A new task bar floats at the bottom of the main display, and there are new options for split-screen multi-tasking and Flex Mode. Some apps can now be opened in two side-by-side instances of the same app. Other features and specs are similar to the Z Fold3, including the 6.2-inch HD+ AMOLED outer display with 120 Hz refresh, UWB, S Pen compatibility, 12 GB RAM, and two-way wireless charging. The Galaxy Z Fold4 will start at $1,800 with 256 GB storage. It will also be available 512 GB or a new 1 TB option. It will come in Graygreen, Beige, and Phantom Black, as well Burgundy exclusively from samsung.com.
Both phones — along with
Samsung's new smartwatches and earbuds
— will be available August 26th. All major US carriers will offer both phones. Customers who pre-order will receive a free storage upgrade and a free case. Pre-orders for the Z Fold4 will also come with a $100 Samsung Credit. Various trade-in offers are available depending in where you buy from. AT&T's is the most generous, at $1,000 off either phone when trading in any Galaxy phone, in any condition. That offer is available to all customers and makes the Z Flip4 free.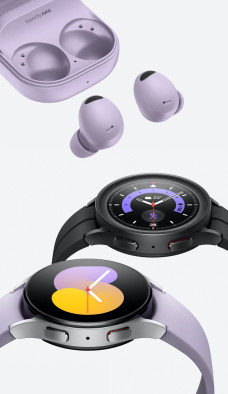 Alongside its new foldable phones, Samsung has revealed its newest smartwatches and Bluetooth earbuds, each with significant engineering improvements. The new Galaxy Watch5 has a 13% larger battery and 60% more durable face compared to the Watch4. The new Galaxy Buds2 Pro are 15% smaller and filter out 40% more outside noise compared to the original Buds Pro. The company has also introduced an all-new "Pro" watch model.
The Galaxy Buds2 Pro are not only smaller and block more outside noise, but improve comfort with improved air flow to reduce unwanted pressure, and a revised design to prevent rotation, helping them stay in the ear more securely. They also support 24-bit Hi-Fi audio, Bluetooth 5.3, and are "LE Audio ready". Misplaced buds can be located with SmartThings Find. They can also connect directly to the newest Samsung TVs. The buds alone provide up to eight hours of continuous music, or five when using ANC (Active Noise Cancellation). The charging case provides up to 30 hours total play time. The buds are made from 90% recycled plastic. The buds will cost $230 and come in three colors: Graphite, Bora Purple, and white.
The new Galaxy Watch5 not only has a large battery, but 30% faster charging as well. The body sensors now make better contact with the skin for better accuracy, and are joined by a new temperature sensor. The watch no longer has a physically rotating bezel, but it is more durable, with an improved Sapphire Crystal glass face, Armor Aluminum case, IP68 water rating, and pressure resistance up to 5ATM. Updated software will support full navigation mode in Google Maps without a smartphone. Other features include an always-on Super AMOLED display, Bluetooth 5.2, dual-band Wi-Fi, GPS, NFC, and 16 GB of storage. The watch comes in two sizes: 40mm (with a 284 mAh battery) and 44mm (with a 410 mAh battery). Both sizes are available Graphite or silver, plus one other color; the smaller version is available in Pink Gold, while the larger one is available in Sapphire. All of these options are available with or without 4G LTE cellular. The LTE models start $330, while non-LTE models start at $280.
The all-new Galaxy Watch5 Pro is similar to the larger Watch5, but with an even larger 590 mAh battery and a titanium case. It will come in black or gray, starting at $450 without LTE, or $500 with LTE.
All of these wearable devices will go on sale August 26th, the same date as
Samsung's new foldable phones
, also announced today. Various pre-order deals are available, including a free dual charger and a $50 credit to spend with Samsung. Some bundle deals are also available, such as Verizon offering $75 off the Buds2 Pro when also purchasing a new Galaxy Z Flip4 or Z Fold4.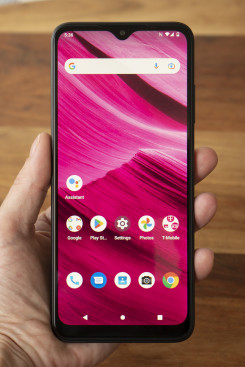 T-Mobile's REVVL 6 Pro 5G is a large-screen 5G phone with decent specs and a decent feature set. And it's just $220. What do you get for that price? What's it like in person? How well does it work? We took it for a quick spin. Read all about our first impressions in this hands-on.
The state Attorneys General for North Carolina, Indiana, and Ohio are leading a new "Anti-Robocall Litigation Task Force" consisting of all 50 state Attorneys General. This bipartisan nationwide task force is focused on the "gateway providers and other entities that are allegedly responsible for a majority of foreign robocall traffic." The task force has already issued civil investigative demands to 20 such entities. "Gateway providers that bring foreign traffic into the U.S. telephone network have a responsibility to ensure the traffic is legal, but these providers are not taking sufficient action to stop robocall traffic. In many cases, they appear to be intentionally turning a blind eye in return for steady revenue. The task force will focus on the bad actors throughout the telecommunications industry".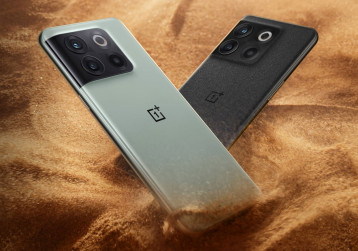 OnePlus has announced the OnePlus 10T 5G, its newest flagship-class phone. Key improvements include 125-watt fast charging (in the US; 150-watt in other regions) and up to 16 GB of RAM. The power system has a dual-cell 4,800 mAh battery and 13 temperature sensors for safe fast charging. The phone is powered by Qualcomm's latest and greatest Snapdragon 8+ Gen 1 chip. While the 10T does not have a Hasselblad camera system like the 10 Pro, it does have a 50 megapixel Sony main camera with OIS and 10-bit color. The rear cameras also include wide-angle and macro cameras. The 6.7-inch AMOLED display has full-HD+ resolution, adaptive refresh up to 120 Hz, and HDR10+. It will be available with 128 or 256 GB of UFS 3.1 (2-lane) storage, and 8, 12, or 16 GB of LPDDR5 RAM. It has a total of 15 antennas to ensure reliable connectivity even when held in landscape for gaming. A new "Cryo-velocity" cooling system promises to stave off thermal throttling better than competing flagship phones. The unique design features a seamless 3D glass back that includes the camera hump. Color options are a textured Moonstone Black and a smooth Jade Green. The OnePlus 10T 5G will start at $649 for the 8 / 128 GB version, or $749 for the 16 / 256 GB version. Pre-orders in the US start September 1st, with full availability on September 29th.
The new self-repair program that Samsung announced in March has now launched. The collaboration with iFixit allows customers to order kits that will let them repair their own Galaxy S20 or S21 phone.
New York's MTA has announced a ten-year plan to expand cellular service to all 418 miles of subway tunnels in New York City. The project is a partnership with Transit Wireless, which already provides cellular and Wi-Fi service at all 281 underground stations. The $600 million project to add service between stations will allow uninterrupted connectivity as passengers move through the system. The announcement comes after the MTA and Transit Wireless successfully launched a pilot project in 2020 that brought cellular service to the L train tunnel connecting Brooklyn and Manhattan. The new project will also expand Wi-Fi service to all above-ground stations. Transit Wireless will pay for the new infrastructure and the MTA is expected to benefit financially from the deal, to the tune of $410 million.
Google has notified developers that they need to prepare their apps for a new way the "back" gesture will work in a future version of Android, possibly Android 14. Google calls it a "predictive back gesture", and it will display an animation as the user performs the swipe gesture that shows a preview of the screen that "back" will take them to. This will allow users to pause mid-gesture and decide whether to continue or cancel the action.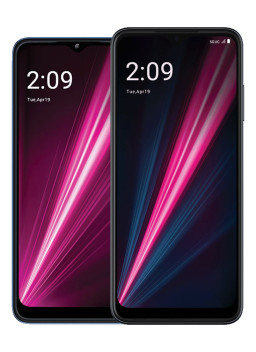 T-Mobile has announced it latest series of T-Mobile-branded affordable phones, the REVVL 6 5G and REVVL 6 Pro 5G. They will sell for $170 and $220, respectively.
The REVVL 6 5G has a 6.52" HD+ display, 4,500 mAh battery, 13 megapixel main camera, 4 GB RAM, and 64 GB storage.
The REVVL 6 Pro 5G has a 6.82" HD+ display, 5,000 mAh battery, wireless charging, 50 megapixel main camera, NFC, 6 GB RAM, and 128 GB storage.
Both phones have a fingerprint reader and 15-watt fast charging. The REVVL 6 series will be available on August 4th from both T-Mobile and Metro. Both phones are powered by the MediaTek Dimensity 700 chipset and Android 12. The phones were brought to market quickly using
GMS Express
, a program offered by MediaTek and Google that streamlines the software development, testing, and certification process for phones running full Google Android on MediaTek-powered hardware. FCC approvals show that both phones are manufactured by Wingtech, which also made the REVVL V series.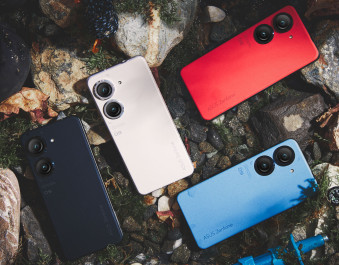 Asus has unveiled its next flagship phone: the Zenfone 9. The 5.9-inch display makes this high-end phone relatively compact. Uniquely, the phone has a "6-Axis Hybrid Gimbal Stabilizer" on its 50 megapixel Sony main camera. This plus an IP68 water rating allows it to double as an action camera. The Zenfone 9 is powered by the Snapdragon 8+ Gen 1, paired with 6–16 GB LPDDR5 RAM and 128–256 GB UFS 3.1 storage. Its Samsung-made AMOLED display has FHD+ resolution and 120 Hz refresh. The 4,300 mAh battery supports 30-watt fast charging. It supports Wi-Fi 6E, Bluetooth 5.2, and NFC. It has both stereo speakers and a headset jack. It will come in four colors: Moonlight White, Sunset Red, Starry Blue, and Midnight Black. US pricing and launch date are to be announced.
Apple has released the fourth beta version of iOS 16, and it makes significant changes to the way Edit and Unsend work in the Messages app. There is now just a two-minute window to unsend an iMessage, down from 15 before. There is also now a full edit history available to all parties. Further, iMessage editing is now limited to five edits. As before, editing is only available for 15 minutes after the initial iMessage is sent. The final version of iOS 16 is expected to be released this fall.
Qualcomm has introduced a new chip designed to power the next generation of smartwatches. The Snapdragon W5+ Gen 1 is a major leap over the company's previous efforts, offering "50% lower power, 2X higher performance, 2X richer features, and 30% smaller size compared to previous generation". Much of the raw efficiency benefit comes from moving to a 4nm manufacturing process, the current state of the art for high-performance chips. The previous generation (Snapdragon Wear 4100+) used a relatively old, inefficient 12nm process. The new chip supports Bluetooth 5.3 and LTE, as well as cameras. It has several new features that enable various low-power modes, and it's paired with an always-on co-processor chip. Qualcomm says the new chip is powerful enough to enable features such as "3D watch faces, rich real-time maps, and even two-way video calls." Qualcomm says that 25 new smartwatches will launch soon using the chip.
Verizon recently added bandwidth to its C-Band (mid-band) 5G network, improving 5G speeds and network capacity in "many markets". Verizon launched its mid-band 5G network in January with 60 MHz of bandwidth in most markets. But thanks to a recent agreement with the satellite companies that are in the process of vacating the C Band, Verizon is now able to deploy 100 MHz of bandwidth in many markets. Verizon says its testing shows real-world speeds of up to 1.4 Gbps using this upgraded part of its network. When the C Band is fully deployed around the end of 2023, Verizon will offer even more bandwidth in this band: 140–200 MHz nationwide.
Sonim has introduced the XP5plus, an update to its XP5s rugged feature phone with PTT (push-to-talk) designed for first responders and other field workers. While the phone has several upgrades, the most unusual is the two large physical knobs on the top, for PTT channel select and volume. This makes the phone physically operate more like the traditional two-way radios it's designed to replace. The knobs allow full control over the PTT features "without users ever taking their eyes off the mission in front of them." A version without the knobs is also available. It also has a "Sonim SecureAudio" accessory connector to ensure that the "wide range of industrial grade accessories including headsets [and] RSMs" available stay attached even during rigorous activity. Its rugged creds include military ratings for ruggedness and IPx9K, which rates it for not only water, but high-pressure steam, pressure washing, and detergents. The XP5plus has a larger display and battery compared to the XP5s. It has extra-loud front-facing speakers, camera, and expandable storage. AT&T is offering the XP5plus starting today for $298. The XP5plus is, of course, compatible with FirstNet, AT&T's exclusive network that offers first responders priority access to band 14.
Google has released Android 13 Beta 4, the last public beta before the final release, which is now "a few weeks away", according to Google. Android 13 will feature support for Bluetooth LE Audio, as well as new personalization and privacy features.
The Bluetooth Special Interest Group (SIG) today announced the completion of the full set of specifications that define LE Audio, the next generation of Bluetooth audio. "Initial consumer products supporting LE Audio, including those with Auracast broadcast audio, are expected to come to market in the coming months, and the Bluetooth SIG anticipates LE Audio product availability to ramp up as we approach the holiday season and end of the year." The Bluetooth SIG has opened up the qualification process for LE Audio devices.
Verizon has introduced a new entry-level unlimited plan that's $5/month cheaper. The new Welcome Unlimited plan is mostly similar to the company's 5G Start plan (which was previously the cheapest, and remains available), but does not include the 5 GB of mobile hotspot data that was recently added to that plan. Instead of offering any special phone deals, Verizon is encouraging customers to bring their own compatible 4G or 5G phone. Customers who switch to Verizon and bring their own phone to this new plan will receive one $240 Verizon e-gift card for each line. Welcome Unlimited costs $65/month for a single line, $55/line for two lines, $40/line for three lines, $30/line for four lines, or $25/line for five or more lines. Unlike the company's other Unlimited plans, Welcome Unlimited cannot be "mixed and matched"; all customers must be on the Welcome Unlimited plan to qualify for the family plan discount. Like 5G Start, Welcome Unlimited has unlimited 4G and 5G data, but not access to the faster Ultra Wideband 5G, nor is it "premium" data, so other customers get priority access when the network is busy. Welcome Unlimited does include unlimited talk and text to and within Canada and Mexico, as well as 1/2 GB of high-speed data per day when roaming in those countries. It also includes unlimited global texting to most countries. Like the company's other plans, the advertised prices require paper-free billing and Auto Pay (otherwise add $10/line/month).
Apple has made a beta version of the forthcoming iOS 16 available to the public. As usual, Apple cautions users to back up their data first and avoid installing beta software on critical devices.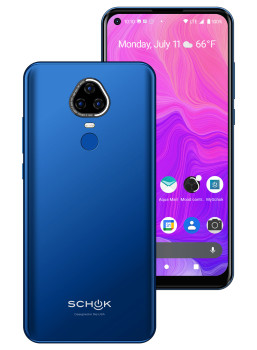 Schok — a relatively new, Texas-based mobile phone company focusing on entry- and mid-segment phones — has launched the Schok Freedom Turbo XL, a mid-range unlocked phone with an entry-level "introductory" price of just $169, "while supplies last". The phone features NFC, wireless charging, Corning Gorilla Glass on both sides, a 48 megapixel main camera, 16 megapixel wide camera, 24 megapixel front camera, and a 6.53-inch FHD+ display. It's powered by a Snapdragon 665 chip paired with 6 GB RAM and 128 GB storage. It has a 4,000 mAh battery and supports 18-watt fast charging. Its unique design features "RGB Halo lighting surrounding the camera module", controlled via the Schok mood control app. The phone has "two premium stereo loudspeakers" and comes with SoundID software from Sonarworks, which lets users calibrate the audio output for an "ideal personalized sound profile". Other unique features for this class of phone include wired video output and an infrared blaster. The phone has 4G compatible with AT&T and T-Mobile networks. Schok is selling the phone directly on its web site. The first 1,000 orders will include a free accessories bundle worth $70. This includes a Qualcomm Quick Charge 3.0 18W fast charger, braided USB-C cable, braided earphones tuned by Sonarworks, protective transparent back cover, display protector, and a leatherette "phone wallet sleeve". Schok also recently launched the Schok Flip flip phone with T-Mobile and Metro. This is a rebranded version of the Schok Classic flip phone that the company already sold unlocked.
Apple has revealed a new feature in iOS 16 aimed at "the very few users who, because of who they are or what they do, may be personally targeted by some of the most sophisticated digital threats". The new Lockdown Mode disables certain features and functionality that are most commonly used by the world's most advanced "mercenary spyware" to infiltrate specific phones. Some governments purchase this expensive mercenary spyware from companies like NSO Group, and use it to hack into phones of journalists, activists, rival politicians, and officials of foreign governments. At launch, Lockdown modes will disable most message attachments, link previews, certain complex web technologies (like just-in-time JavaScript compilation), wired connections when iPhone is locked, configuration profiles, and mobile device management (MDM). It will also block incoming invitations and service requests, including FaceTime calls, if the user has not previously sent the initiator a call or request. Apple is also creating a new bug bounty category for anyone who can bypass Lockdown Mode, with bounties of up to $2 million, the highest maximum bounty payout in the industry. Finally, Apple is making a $10 million grant "to support organizations that investigate, expose, and prevent highly targeted cyberattacks, including those created by private companies developing state-sponsored mercenary spyware." The grant is being made via the Dignity and Justice Fund, established and advised by the Ford Foundation.
Google is introducing a new feature of its opt-in Location History feature that will automatically remove certain entries that the company considers "particularly personal". The list of sensitive locations includes abortion clinics, and is designed to address concerns that Google's location data could be used by state governments to target women seeking abortions in states where abortion is now — or soon will be — illegal. Google's Location History feature is off by default, and already includes tools to delete some or all past data, and an option to auto-delete all data after 3, 18, or 36 months. The list of sensitive locations also includes counseling centers, domestic violence shelters, fertility centers, addiction treatment facilities, weight loss clinics, and cosmetic surgery clinics.
Google's Switch to Android app for iOS now makes it easy for iPhone users to move data like contacts, calendars, and photos to any new Android 12 phone. The app initially supported only Pixel phones.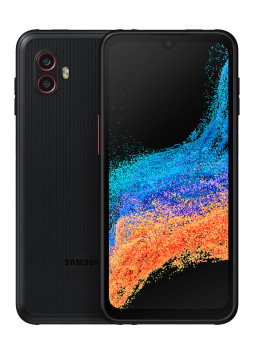 Samsung has revealed the Galaxy XCover6 Pro, a new "enterprise-ready smartphone powerful enough to support today's most demanding businesses". Its rugged design carries an IP68 water and dust rating, and MIL-STD-810H certification for drops, altitude, humidity, immersion, salt fog, dust, and vibration. Corning Gorilla Glass Victus+ protects the display, which is designed to work with gloves and wet fingers. The phone also has a removable 4,050 mAh battery, yet is only 9.9mm thick. The body includes two customizable shortcut buttons and POGO pins for dock charging. DeX support lets the phone offer a PC-like experience by connecting an external display, keyboard, and mouse. The phone comes with Android 12 plus four OS upgrades and five years of security updates. Specs include a 6.6-inch LCD display with 120 Hz refresh, 5G, Wi-Fi 6E, NFC, and a fingerprint reader. It has 6 GB RAM and 128 GB storage, expandable via microSD card. The main camera 50 megapixel, paired with an 8 megapixel wide-angle camera and 13 megapixel front camera. North America is not in the list of markets where the phone is launching this July, but Samsung promises "availability expanding to other regions at a later date". A version has been approved by the FCC with excellent support for US 4G and (sub-6) 5G networks. AT&T has offered the XCover series in the past.
Arm has revealed 2022 Total Compute Solutions (TCS22), its next-generation CPU and GPU designs for mobile devices including phones, with a focus on improved mobile gaming performance. All-around performance of this year's solution is up to 28% better, with up to 16% power reduction. The new second generation Armv9 CPUs are designed to improve performance, efficiency, and scalability across the board, but "especially for gaming". Complementing those are a new range of Arm GPUs for advanced 3D graphics, including a new Immortalis brand for flagship GPUs that are even more powerful than the Mali line. The Immortalis-G715 is the first Arm GPU to offer hardware-based ray tracing support on mobile, while the new Mali-G715 supports Variable Rate Shading. The new Mali-G615 improves on the Mali-G610 and rounds out the lineup. All of the new GPUs offer a 15% performance improvement compared to the previous generation. On the CPU side, the new Arm Cortex-X3 delivers "a 25% performance improvement compared to the latest Android flagship smartphone". The new Cortex-A715 replaces the A710, offering 20% better energy efficiency and 5% better performance. For context, this matches the performance of the Cortex-X1. Meanwhile, an updated Cortex-A510 "little" core offers a 5% power reduction. A newly updated DSU-110 interconnect supports 50% more CPU cores (up to 12) and supports a high number of Cortex-X3 cores. With TCS22, Arm is also introducing two new security technologies to address memory safety vulnerabilities: Asymmetric Memory Tagging Extension (MTE) and Enhanced Privileged Access Never (EPAN). Apple, Qualcomm, MediaTek, Samsung, and Google all use Arm's designs and technology as a starting point for their own processor chips that power essentially all of today's phones.
Samsung Electronics has announced a new camera sensor for phones with 200 megapixel resolution. While Samsung already makes 200 megapixel camera sensors, the new ISOCELL HP3 sensor has pixels that are 12 percent smaller, enabling "approximately 20 percent reduction in camera module surface area, allowing smartphone manufacturers to keep their premium devices slim." The sensor also has several cutting-edge features, including "Super QPD" auto-focus, where every group of four pixels can perform PDAF (phase-detection auto-focus) in both horizontal and vertical directions. The sensor also supports staggered HDR and a triple-ISO mode that can capture three different exposures at once, outputting 14-bit color depth. The sensor is designed to use pixel binning in most situations, and offers two different binning modes: combining four pixels into one for 50 megapixel output, or combining 16 pixels into one for 12.5 megapixel output. The Samsung ISOCELL HP3 is currently sampling, and "mass production is set to begin this year."
Mobile phone startup Nothing has confirmed to PCMag that its forthcoming first phone won't be sold in the US and won't work well on US networks. The much-hyped phone has a unique design with transparent back and several light-up elements.
Apple's forthcoming iOS 16 and macOS Ventura will support the new Privacy Pass industry standard for authenticating users as legitimate people and not bots. This new technology can replace annoying CAPTCHAs, allowing web sites and app services to fight fraud in a way that's automatic and invisible for users. Privacy Pass authenticates users as real without identifying them or allowing any kind of tracking. It does this with a multi-step exchange of "blinded" cryptographic keys involving an authentication server that the web site trusts, plus a separate authentication server that the phone (and Apple) trusts. The process verifies that the user is using a trusted, signed app (such as Safari), that they are signed in to a valid Apple ID account, and that they have successfully unlocked their phone using biometric authentication. The browser can then generate signed tokens on demand as part of a new "PrivateToken" HTTP handshake process when connecting to a web server. When using the Safari browser or certain APIs for apps, this happens automatically before a web page loads. If successful, the web page will load without the CAPTCHA that it would normally have. Users do not need to do anything to use the feature. Web site owners that currently use CAPTCHAs will need to update their servers to support Privacy Pass, although CAPTCHA providers may be able to enable the feature through their existing CAPTCHA APIs.
The FAA, wireless carriers, and the aviation industry have reached an agreement that will allow AT&T and Verizon to fully utilize their new mid-band 5G radio spectrum near airports by this time July 2023. The agreement includes a phased approach that will allow loosened restrictions by the end of 2022. AT&T and Verizon paid billions to the FCC for the right to use the airwaves starting at the end of 2021. Mid-band spectrum is ideal for 5G and allows the carriers to offer much better 5G service. But the FAA objected that 5G in this band could interfere with radio altimeters — critical airplane safety equipment in some conditions — that operate in a nearby band. This led to last-minute delays in launching the new 5G service. Testing has since found that most airplanes tolerate the signals just fine, but some smaller regional aircraft have altimeters with inadequate filters. These planes that are "most susceptible to interference" must be retrofitted with improved filters by the end of 2022. "This work has already begun and will continue on an expedited basis. At the same time, the FAA worked with the wireless companies to identify airports around which their service can be enhanced with the least risk of disrupting flight schedules." Additional filters and replacement altimeters will be installed on less-affected aircraft by July 2023, enabling "minimal restrictions" on 5G networks by that time.
Starting June 21st, T-Mobile's most popular plans will include more and/or faster data while overseas, as well as inflight on major US airlines. T-Mobile's most premium plan, Magenta Max, gets the biggest upgrades, with 5 GB of international high-speed data each month — up to 5G speeds where available — in 210+ countries and destinations. The same plan will also now include free inflight Wi-Fi, all flight long, on "select flights" with Delta, American, and Alaska, coming soon to United as well. This includes streaming TV "where available". These same benefits also apply to the Business Unlimited Ultimate plan. Customers on Magenta, Business Unlimited Advanced, and equivalent Sprint plans also see improvements, though not as great. For international roaming, those customers will now get 5 GB of 5G data each month in the 11 European countries with a T-Mobile network: Austria, Croatia, Czech Republic, Germany, Greece, Hungary, Macedonia, Montenegro, Poland, Romania, and Slovakia. In other countries, the free data roaming speed (for things like basic navigation and email) is being doubled from 128 kbps to 256 kbps. For inflight Wi-Fi, Magenta customers will now get free service for the whole flight on up to four flights each year, and one free hour on all additional flights.
Verizon has launched a new "Mobile+Home Discount" for customers who use the any of company's home internet services and also have a "premium" 5G Unlimited mobile service plan with Verizon. The $25/month discount brings the cost of a basic 300 Mbps FiOS plan down to just $25/month (with AutoPay). The discount applies to both FiOS connections as well as Verizon's fixed wireless options (4G or 5G). The discount should help Verizon better compete with Comcast, which offers Xfinity Mobile service (with special pricing) exclusively to Xfinity Internet customers.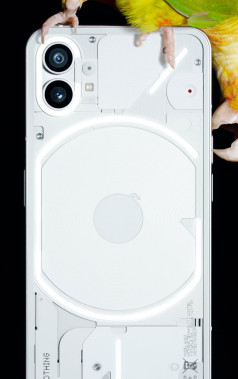 New mobile startup Nothing has released a photo showing the official design of its upcoming smartphone, the phone (1). The unique design has a transparent back that exposes several components, including the NFC coil antenna. The company will hold a launch event to reveal further details on July 12th. Nothing was founded by Carl Pei, the former co-founder of OnePlus. Videos that have been released subsequently show the lightest white parts lighting up and flashing.
Dish has finally launched its own, from-scratch 5G Standalone (SA) network in "120+ Cities" spanning the US. The launch comes just hours before the FCC's deadline for the company to launch service covering 20% of the country. It's not immediately clear how much native coverage the network will provide in each city, but the company does provide customers with roaming service on other networks. Dish calls the network Project Genesis (sometimes written "Gene5is"), and the service "Smart 5G". Cities with service at launch include: Albuquerque, Boise, Charlotte, Cleveland, Dallas, El Paso, Fort Worth, Hartford, Houston, Kansas City, Las Vegas, Nashville, Norfolk, Oklahoma City, Orlando, Pueblo, Raleigh, Rochester, Salt Lake City, Spokane, Springfield, St. Louis, and Stockton. Dish currently appears to be offering only one phone option: the Samsung Galaxy S22 for $400 (50% off the usual price). This seems to be the phone of choice for 5G SA technology at the moment, as it's the same and only model that T-Mobile says is currently compatible with its new high-speed 5G SA service. Dish started offering commercial 5G SA service in launch city Las Vegas last month, after a beta period that started last September.
T-Mobile has successfully tested 5G triple carrier aggregation (NR CA) using 5G standalone (SA) and mid-band spectrum, achieving an impressive downlink data rate of 3 Gbps. Triple CA is not new, but non-standalone (NSA) 5G requires that one of those three carriers be slower 4G, limiting potential data speeds. SA mode allows all three carriers to be 5G, and two can even be in the same band. T-Mobile's band 41 mid-band spectrum is wide enough to allow that in some parts of the country. T-Mobile's test combined 100 MHz of band 41 (2.5 GHz) + another 90 Hz of band 41 + 20 Mhz of band 25 (1.9 GHz), for a total of 210 Hz of bandwidth. The test used a Samsung Galaxy S22, and customers with that phone can experience NR CA in some areas today. "This capability will expand across the Un-carrier's network and to additional devices in the near future."
Verizon has successfully tested 5G technology in two different modes within band 48, also known as CBRS. At 3.5 GHz, this valuable mid-band spectrum is close to the C Band spectrum that Verizon recently deployed. The two bands will compliment each other, further improving the coverage and performance of Verizon's 5G network. Band 48 has a unique three-tier structure where the government has top-priority access (Tier 1), while companies with FCC licenses (mostly Verizon) have Tier 2 access, known as PAL (Priority Aaccess License). The third tier is General Authorized Access (GAA), which is open to anyone, much like Wi-Fi. Verizon has now successfully tested 5G using both PAL and GAA modes, giving Verizon users access to as much of band 48 as possible for 5G. Verizon already uses band 48 for 4G LTE service.
WhatsApp now supports Apple's "Move to iOS" system, making it easy for users to switch from an Android phone to an iPhone without losing their WhatsApp chat histories. Move to iOS consists of an Android app that users can download from Google's Play Store. It moves contacts, text messages, photos, videos, web bookmarks, mail accounts, and calendars to a new iPhone. It transfers the data over a temporary, private Wi-Fi network between the two phones. WhatsApp is taking advantage of support for third-party data in Move to iOS. WhatsApp data transferred this way is encrypted and unreadable until the user signs in to WhatsApp on their new iPhone.
Apple has quietly announced WeatherKit, a new API that will let app developers integrate "hyperlocal" weather forecast data into their apps. This is the same kind of specific weather data previously offered by DarkSky, which Apple acquired in 2020. WeatherKit will be available across platforms — including Android — via a standard REST API. A Swift API will also be available on Apple platforms. The data available includes 10-day forecasts as well as a minute-by-minute precipitation forecast for the next hour. Wind and UV data will also be available.
Google has released Android 13 Beta 3, which brings the OS to a key milestone known as Platform Stability. This means that new APIs used by developers are now finalized and won't change, so devs can move full speed ahead with Android 13 versions of their apps.
The European Union has all but finalized a new rule that will require mobile devices to include a USB-C port for wired charging. This includes phones, as well as Bluetooth headphones, tablets, cameras, and laptops. The legislation will also require that consumers have the option to buy such devices without an included charger. The goal of the new rule is cut down on e-waste from extra, unnecessary chargers. Apple will be required to comply, potentially forcing the company to abandon its proprietary Lightning connector, at least in the EU. The rules still need to be formally voted on, but it is expected to pass by late summer, with the rule coming into force in fall 2024.
More articles in the Archive ›
What do you want to hear about? We're already working on a number of articles for the coming months, but we want to write about the things you're most interested in. So sound off: tell us what you want to know more about!