Recent Archive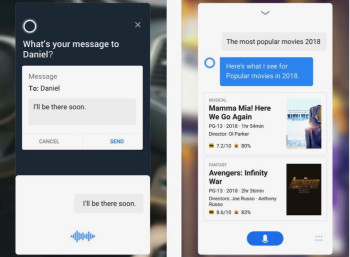 Microsoft today dropped a rebuilt version of Cortana for iOS devices. Cortana is similar to Siri in that it can perform actions based on voice requests. Microsoft says the new Cortana is less robotic and more conversational. This helps interactions feel more natural. The app can be used to set up and manage Cortana devices, listen to music and podcasts on the go, and stay on top of tasks, reminders, and to-dos. Cortana for iOS also integrates with other Microsoft services more tightly, such as Skype and Teams, email and calendar. Cortana is free to download from the iTunes App Store.
The FCC today began auctioning off licenses for a total of 1.55 GHz of spectrum that's earmarked for 5G mobile service. Two auctions are on deck. Auction 101, which commenced today, includes two 425 MHz blocks in the 28 GHz band that are being made available on a county basis. Auction 102 for 24 GHz spectrum will begin immediately after Auction 101 concludes. The 24 GHz auction includes seven 100 MHz blocks of spectrum. These two auctions will be followed by another next year that covers three mmWave spectrum blocks at 37 GHz, 39 GHz, and 47 GHz. Wireless carriers are expected to bid on these spectrum licenses and eventually use the airwaves for mobile 5G service.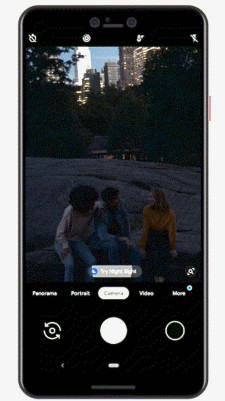 Google says all three generations of Pixel phones will soon be able to take advantage of Night Sight, Google's new low-light photo feature. Night Sight uses several techniques at once in order to improve the chances of capturing a successful shot in dark environments. Night Sight continually adapts to the movement of the Pixel phone and the surrounding light. The software is able to measure hand shake and motion in the scene to find the right exposure. Google says when the Pixel is held still, Night Sight will take longer exposures to minimize noise, but if the subject is moving Night Sight will use shorter exposures to minimize blur. Night Sight can compensate for some amount of motion in the shot by firing off a burst of photos and then merging the results to provide a bright, sharp photo. Night Sight also uses machine learning to balance color and create true-to-life images. Pixel phones will automatically suggest Night Sight when they detect low-light conditions, though users can also turn the feature on manually. Night Sight will be rolling out over the next few days through an update to the Google Camera app.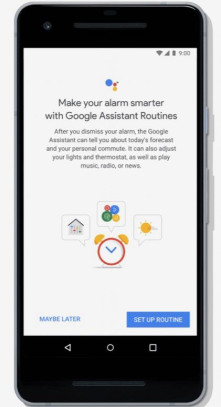 Google is adding a wide range of features to its AI-powered Google Assistant that focus on improving the experience at home. First, family members will be able to respond to broadcasts. The broadcast feature lets people send a voice message to their Google Home speakers or video displays from their phone. Until now, broadcasts have been a one-way feature. Moving forward, people who receive broadcast messages via Google Home speakers/displays can reply. The reply is transcribed and sent to the original broadcaster as a notification. Next, Google Assistant is targeting in-home chefs. Smart display users will now see recommended recipes on an info card. The recommendations will be based on previous recipe searches. Google says recommendations will be updated regularly based on the season and time of day. Users will be able to save their favorites for easy referencing. Alarms just became more fun for kids. Google Assistant can now set up alarms based on popular animated characters that include signature music, jokes, and other messages. The Read Along feature is being improved with more sound effects and music from select books, and the Assistant itself can read any of 25 family-friendly stories upon command. Google Assistant now hooks into more smart TVs from the likes of Panasonic and LG. It can provide a Home View dashboard for controlling media and entertainment devices. Podcast lovers have new control over playback speed. Last, Google is bringing routines to the clock app for Android phones. For example, after the user dismisses the alarm, Google Assistant can immediately begin a routine, such as reading the news, providing a weather or traffic report, or turning on pre-set lights. On the flip side, Assistant can turn on do not disturb mode on all devices with a single command. Google says these features will roll out slowly to Google Home speakers, smart displays, and Android phones over the coming weeks.
Randall Stephenson, CEO of AT&T, wants Congress to prevent states from enacting their own net neutrality and privacy laws. "There are a number of states that are now passing their own legislation around privacy and, by the way, net neutrality." Stephenson made the comments in a video interview with the Wall Street Journal. "What would be a total disaster for the technology and innovation you see happening in Silicon Valley and elsewhere is to pick our head up and have 50 different sets of rules for companies trying to operate in the United States," said Stephenson. The Obama-era FCC created a national net neutrality policy that was later torn down by Trump's republican-led FCC. In the wake of that action, individual states have promised to create their own legislation to protect net neutrality. California was among the first to approve such legislation, though it won't put its new laws into effect until litigation against the FCC works its way through the courts. Stephenson believes Congress should act to keep the states from creating a patchwork of rules that could tangle AT&T and other internet providers in a sticky web of compliance. Stephenson does agree with one core tenet of net neutrality: "There should be no blocking," he said, and ISPs "should not be allowed to throttle somebody else's content." He said nothing about paid prioritization or zero-rating.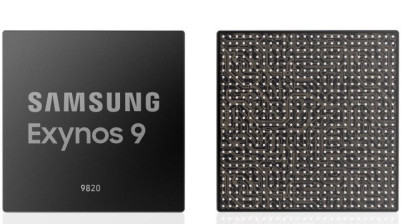 Samsung is upping its AI game. Samsung today announced the Exynos 9 Series 9820, a system-on-a-chip for premiere smartphones such as the Galaxy S and Galaxy Note series. The key upgrade for Samsung's latest mobile processor is the adoption of a neural processing unit to bring artificial intelligence calculations onto the device. Samsung says the dedicated NPU helps the 9820 perform AI tasks about seven times faster than the 9810 by negating the need to route such calculations over the network to a server. In addition to raw speed, Samsung says this also adds a layer of security for end users. The NPU will allow camera applications to instantly adjust settings based on the surroundings, or recognize objects in AR/VR settings. Apple, Qualcomm, and Huawei adopted AI-dedicated NPUs in their premium processors in 2017. Beyond the AI upgrade, Samsung elevated the 9820's performance across the board. It features a new, custom CPU that's 20% faster than its predecessor in single-core mode or 40% more efficient. Multi-core performance is up by about 15%. The 9820 includes the Mali-G76 GPU for improved mobile gaming experiences. It is 40% faster or 35% more power efficient than before. The SoC supports the latest in LTE connectivity. It relies on LTE-Advanced and LTE-LAA with 4x4 MIMO, 256 QAM, and eight-channel carrier aggregation to deliver download speeds up to 2 Gbps and upload speeds up to 316 Mbps. On the multimedia front, the Exynos 9820's multi-format codec can decode 4K video at 150 frames per second as well as render 10-bit color. Samsung says the Exynos 9 Series 9820 is expected to be in mass production by the end of this year and will show up in devices in 2019. Samsung's Exynos processors are mainly found in global variants of its phones. Samsung phones bound for the U.S. typically rely on Qualcomm processors.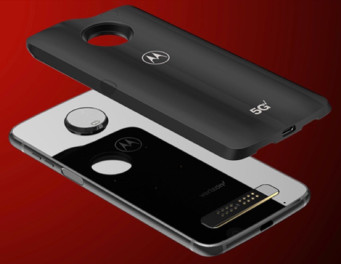 Motorola and Verizon Wireless say they've successfully completed a 5G NR data transmission test between the Moto Z3 paired with a 5G Moto Mod and Verizon's network. Motorola announced the Moto Z3 for Verizon in August along with a Moto Mod capable of adding 5G to the Z3. While the Z3 went on sale over the summer, Motorola and Verizon said the 5G Moto Mod wouldn't arrive until 2019. The test demonstrates that the Mod does indeed bring 5G service to what Motorola and Verizon marketed as the "first 5G upgradeable phone." The companies performed this test in Providence, R.I., using Verizon's 28 GHz spectrum. The 5G Moto Mod relies on Qualcomm's Snapdragon X50 5G modem with QTM052 mmWave antennas. The companies used the publicly available Motorola Moto Z3. Motorola says the Moto Z3 will be the "first smartphone with access to Verizon's 5G network" when that network launches. Verizon is expected to launch mobile 5G service during the early months of 2019. It launched fixed 5G in October. Verizon competitors AT&T, Sprint, and T-Mobile are all clamoring to be first to offer mobile 5G. AT&T recently revealed its first mobile 5G product, the Netgear Nighthawk hotspot. Sprint says it is working with LG to bring a 5G-capable phone to market.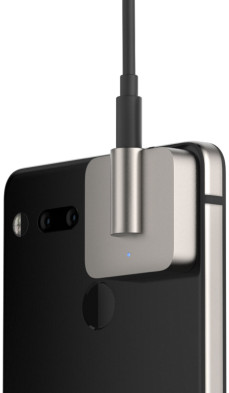 Essential Products today said the magnetic snap-on headphone jack it announced over the summer is available for the Essential Phone. Like existing Essential Phone accessories, the 3.5mm headphone jack is a modular attachment that affixes to two small poles on the rear of the phone. With the mod attached, Essential Phone owners can plug in and enjoy their favorite pair of wired headphones. The Audio Adapter HD features a high-resolution ESS Sabre DAC with hardware rendering and an audiophile-grade amp that can power high-end headphones. Essential updated the Essential Phone itself earlier this year to deliver higher-quality audio through support for Master Quality Authenticated (MQA) for studio quality sound. The Audio Adapter HD is available from Essential's web site for $149.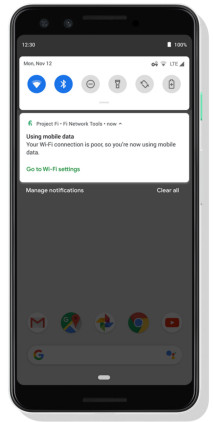 Google today said its Project Fi wireless service will soon be more secure. The company is extending the way it uses a VPN to protect subscribers' connections. Moving forward, all connections, whether cellular or WiFi, will be encrypted via Google's VPN. Using a VPN prevents bad actors from intercepting the data being sent between your device and the connection point. Moreover, the VPN was designed so a user's traffic isn't tied to their Google account or phone number, providing another layer of security. Google Fi provides LTE via three different carriers (Sprint, T-Mobile, U.S. Cellular) and automatically switches to WiFi when available. Google says Fi will be more proactive about returning to the cellular network when the WiFi connection gets sketchy. Google claims this reduces the amount of time people wait for their device to switch over by as much as 40%. Google will begin distributing these new features to devices running Android 9 Pie on Project Fi over the coming week.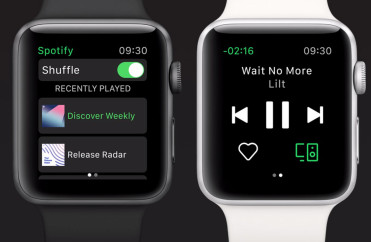 Spotify today revealed a new way for people to manage their music. The company developed an app specifically for watchOS and the Apple Watch. Once installed, people will be able to play, pause, or skip to the next track; instantly set tempo-matching songs for runs; connect to home speakers; as well as access and manage playlists. The wrist-born controls also make it possible to favorite tracks and rewind podcasts on the go without reaching for your iPhone. The controls are built into the Spotify watch face. Spotify says its new app for the Apple Watch will be rolling out to users in phases over the coming weeks. Apple Watch owners will also need to update Spotify on their iPhone. The app is free. Spotify charges for some subscriptions.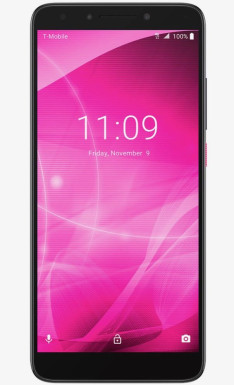 T-Mobile today announced the pending availability of the T-Mobile Revvl 2 and T-Mobile Revvl 2 Plus (pictured). These low-cost Android phones are rebadged variants of the Alcatel 3 and Alcatel 7, respectively. Shared features between the two phones include 18:9 displays, mirror black finishes, fingerprint sensors and facial recognition, 32 GB of storage, and Android 8 Oreo. Each supports T-Mobile's Band 66 and Band 71 LTE.
Revvl 2: The smaller of the two phones has a 5.5-inch HD+ display with a 1.5 GHz quad-core MediaTek MT6739 processor with 2 GB of RAM. The Revvl 2 has a 13-megapixel rear camera and an 8-megapixel selfie camera. It includes a 3,000mAh battery.
Revvl 2 Plus: The larger of the two phones has a 6-inch full HD+ display with a 2.5 GHz octa-core MediaTek MT6739 processor with 3 GB of RAM. This phone has a 12-megapixel rear camera with 2-megapixel secondary camera for portrait shots. The Revvl 2 Plus has an 8-megapixel selfie camera. It includes a 4,000mAh battery.
T-Mobile says the Revvl 2 and Revvl 2 Plus will be available online and in stores November 16. For a limited time, the Revvl 2 with be free and the Revvl 2 Plus will be $84 when adding a line. T-Mobile didn't announce the full retail price of either phone. Metro by T-Mobile already sells the Revvl 2 Plus as the Alcatel 7 for $180.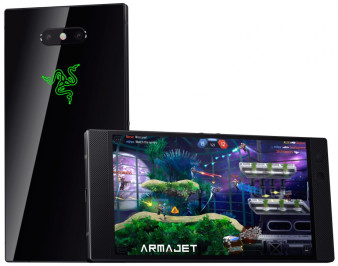 AT&T today announced that it will be the first U.S. carrier to sell the Razer Phone 2. The device will reach select stores on November 16 and will be available online the same day. The phone costs $799 and AT&T is looking for $26.67 per month for 30 months on an AT&T Next plan. The Razer Phone 2 is a dedicated gaming device. It has a 5.7-inch quad HD IGZO screen with a 120 Hz refresh rate and is powered by the Snapdragon 845 processor with 8 GB of RAM. The main camera features a wide field of view with a 12-megapixel sensor, while the secondary camera has a telephoto lens with a 12-megapixel sensor. It has an 8-megapixel front camera. Owners can adjust the illuminated Chroma on the rear of the phone however they wish. The Razer Phone 2 has a 4,000mAh battery that supports rapid charging and wireless charging. The chassis is rated IP67 for protection against water and dust, and a fingerprint reader is located on the right edge. Razer nixed the headphone jack, but it included a DAC-assisted USB-C-to-3.5mm adapter in the box and the phone includes Dolby stereo speakers. It runs Android 8.1 and has its own launcher styled after Razer's design language. The phone includes the Cortex Mobile app, where owners can find the latest games. The unlocked version of the Razer Phone 2 (with AT&T, T-Mobile, and Verizon compatibility) is already available online.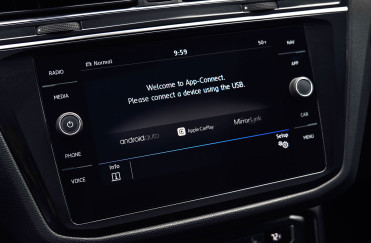 iPhone owners will soon be able to unlock and start their Volkswagen using Siri commands. Volkswagen of America today said it is bringing Siri support to its VW Car-Net mobile app. In order to access voice commands, iPhone owners will need to have iOS 12 installed on their phone and a compatible car. Once properly setup, owners will be able issue Siri commands to lock and unlock their car, check estimated mileage (fuel or charge), and turn on flash or honk and flash commands. The feature supports Siri shortcuts, allowing people to set up personalized phrases for tasks such as turning on the defroster or climate controls, or locating their car with a "where is my car" command. The VW Car-Net app already allows people to control certain aspects of their car via smartphone. Volkswagen didn't immediately say which models are compatible with the new Siri integration.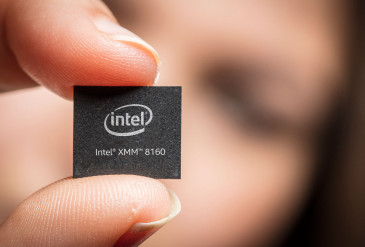 Intel today introduced the XMM 8160, a 5G modem that will bring high-speed connectivity to mobile phones, computers, and other broadband devices in 2020. The modem supports the 5G NR spec, including both standalone (SA) and non-standalone (NSA) modes for fixed and mobile service. The XMM 8160 will be backwards compatible with 4G, 3G, and 2G networks. It supports both mmWave and sub-6 GHz spectrum (including T-Mobile's 600 MHz Band 71), and will be capable of peak download speeds of 6 Gbps. Intel claims the multi-mode baseband will allow device makers to create smaller and more power-efficient gear that can support old and new networking technologies. For example, it includes simultaneous connectivity, allowing devices to seamlessly switch between 5G and LTE 4G when 5G is not available. Intel says the modem has support from carriers and device makers and is compatible with a wide range of platform. The Intel XMM 8160 5G modem will ship to device makers in the second half of 2019 and will reach commercially available equipment during the first half of 2020. This is an accelerated timeline. Previously, Intel said its 5G modem wouldn't be available until early 2020, with devices arriving in late 2020. Intel is facing fierce competition from Qualcomm, which has the Snapdragon X50 5G modem on deck for the first wave of mobile 5G devices.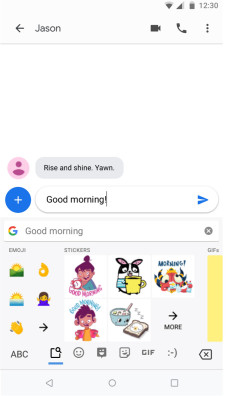 Google's GBoard application for Android devices is prepared to add a bit of smarts to the conversation. The latest version of the app will use artificial intelligence to suggest GIFs, emojis, and stickers. As people type, Google will scan for words that are commonly paired with GIFs, emoji or stickers. When it reads them, the "G" logo on the keyboard will light up, letting the user know that GIFs are available. Tapping on the "G" then takes users to a screen where they can choose from pre-selected GIFs, or search for a different one. Google says all the AI processing is done locally on the phone to ensure a quick experience. The new AI-assisted GIF suggestions are available globally in English starting today. Google hopes to expand to more languages over time.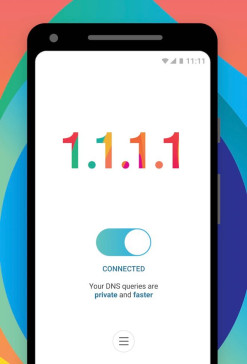 Cloudflare has extended its fast and private 1.1.1.1 DNS to mobile devices in a simple-to-use app. The 1.1.1.1 DNS is based on Cloudflare's global network, which the company claims is 28% faster than other public resolvers. This translates to faster web browsing. More importantly, the 1.1.1.1 DNS prevents internet service providers from snooping on DNS queries and the web sites people visit for private browsing. Cloudflare says it will never sell user data, or take advantage of user data to target ads. There are no in-app purchases and the 1.1.1.1 DNS is free to use for life. The app is available via the Google Play Store and iTunes App Store.
OnePlus today said the thunder purple color variant of its flagship OnePlus 6T phone will reach North America beginning November 15. The device was initially an exclusive to OnePlus' home market of China. The thunder purple model features a gradient rear panel that transitions from purple at the bottom to black at the top. Other than the color, all the other features of the phone are the same as the midnight black and mirror black versions. The 6T has a 6.3-inch display, Snapdragon 845 processor, 8 GB of RAM, and 128 GB of storage. It also includes an under-the-glass fingerprint reader and is compatible with Verizon's network. The thunder purple OnePlus 6T costs $579.
Apple has quietly launched a replacement program for the display of the iPhone X. The company's support page provides the details. "Apple has determined that some iPhone X displays may experience touch issues due to a component that might fail on the display module," said the company. In certain instances, Apple says the display or part of the display may not respond to touch input, or responds intermittently. In other instances, the display reacts even though it was not touched. People who own an iPhone X can take it to an Apple Store or Apple Authorized Service Provider to have the display module replaced for free. No other phone qualifies for this program.
Amazon has agreed to sell more products from Apple, including the company's iPhone, iPad, Beats headphones, and wearables. The deal arrives just ahead of the holiday shopping season and means Amazon customers will have access to the iPhone Xs, Xs Max, Xr, iPad Pro, and Apple Watch 4, among other products. Amazon already sells a few Apple devices, including some Beats models and MacBook laptops. Amazon will not sell the Apple HomePod, which competes directly with Amazon's own Alexa-powered home speakers. The distribution deal applies to Amazon's footprint in the U.S., U.K., France, Germany, Italy, Spain, Japan, and India. Products should reach Amazon's warehouses in those markets over the next few weeks. Moving forward, only authorized Apple resellers will be allowed to sell Apple and Beats products via the Amazon marketplace. The move means pricing of Apple products on Amazon should normalize. Moreover, it makes Apple's products more available to consumers.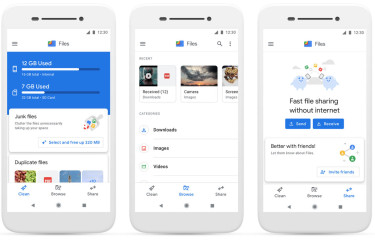 Google today said it is rebranding its mobile app for managing on-device storage and sharing files with others. When Files Go first launched in December 2017, its goal was to help people whose devices had limited storage. It was also meant to let people share music, videos, and apps with others even when an internet connection wasn't available. Google says the app has grown to 30 million monthly users. The company is rebranding Files Go to Files by Android and redesigned the user interface at the same time. The app now focuses more on content stored on the mobile phone, yet it still includes lighthearted experiences such as celebratory notifications explaining how much storage people have recovered when they delete files from their device. Files by Android is free to download from the Google Play Store.
Samsung revealed more information about its new Infinity Flex Display, which it expects to begin manufacturing in volume within the coming months. The cover display measures 4.58 inches across the diagonal with 840 by 1,960 pixels, making for an aspect ratio of 21:9 and density of 420ppi. The main display measures 7.3 inches across the diagonal with 1,526 by 2,152 pixels, making for an aspect ratio of 4.2:3 and density of 420ppi. Continuity will be key for the pair of screens, which means tasks being performed on one will automatically adjust to the other when the phone is opened or closed. The main display supports multiple multi-tasking modes, with one, two, or three windows each supporting individual apps. Flipboard was among the first outside developers to announce support for the Infinity Flex Display. Samsung said it is doing its best to ensure that battery life of its multi-screened device will be equivalent to current Galaxy phones. Samsung has not said anything else about the phone that will make use of this display other than that the first phone to carry the Infinity Flex Display will be priced as aggressively as possible.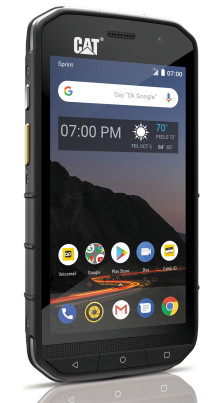 Sprint and Cat Phones today announced the S48c, a fully ruggedized, mil-spec 810G phone that withstands drops, shock, moisture, dust, altitude, and temperature extremes. It is rated IP68 for protection against water and dust. The phone includes a programmable PTT button and is compatible with Sprint's Direct Connect service. Cat says the phone is intrinsically safe, a first for the company, which means the S48c can be used in hazardous environments with flammable vapors. The S48c has a 5-inch full HD display with Gorilla Glass 5, wet finger tracking, and glove mode. It is powered by a 2.2 GHz octa-core Snapdragon 630 processor with 4 GB of RAM and 32 GB of storage. A slot for microSD cards supports up to 128 GB of expandable storage. The main camera has a 13-megapixel sensor with LED flash, while the selfie camera has a 5-megapixel sensor. The phone can take pictures when under water. The battery measures in at 4,000mAh and provides up to two days of battery life. The phone ships with Android 8 Oreo and a commitment from Cat to update to Android 9 Pie. The S48c costs $480 and will go on sale online and in Sprint stores November 9. Monthly payments for the phone are $20.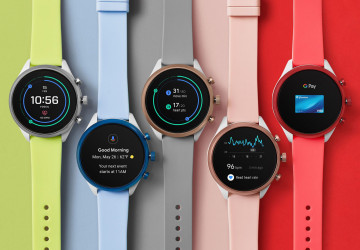 Fossil today announced a new Wear OS-based smartwatch that is among the first to ship with Qualcomm's Snapdragon 3100 Wear platform and the latest version of Wear OS. Qualcomm announced the system-on-a-chip, which makes big gains in maximizing battery life, earlier this year. Fossil says in normal mode the Sport can last more than a full day, while battery saver mode extends uptime to closer to three days. The Fossil Sport comes in 43mm and 41mm sizes with a swim proof aluminum/nylon casing. It is sold in more than a half-dozen colors and supports swappable straps. Other features include Bluetooth 4.2 LE, GPS, NFC with Google Pay, wireless charging, and Wear OS-based alerts. The Fossil Sport Watch is available online today and reaches retail shops on November 12. It costs $255.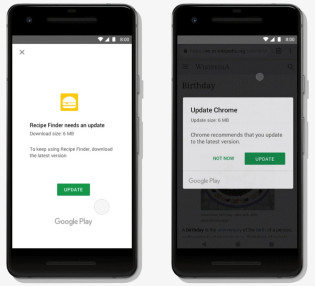 Google today announced a number of features that developers can put to use in their Android apps. First up, the new In-App Updates API lets developers push updates to their app while the app is in use. One one scenario, the user waits a moment while the update is applied immediately. In another scenario, the update is downloaded in the background even while the app is in use. Google believes this will make the updating process feel more seamless to end users, as they won't be forced to close apps or update via the Play Store. Google Slices, a concept introduced earlier this year, are now in public testing. Slices allow a snippet of an app to run without the app actually being installed on the device. Several apps, including Kayak and Doist, will have Slices up and running by the end of the month. Google expects to expand Slices to more apps in the near future. Google also released a new version of the Kotlin coding language, launched Android Studio 3.3 in beta, added support for uncompressed native libraries in Android App Bundles, and made improvements to Instant Apps. Developers can access and put these new tools to use through the Android developer portal.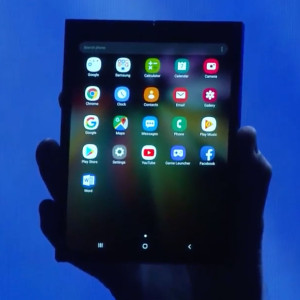 Samsung today showed its folding display technology for the first time. The company had been hinting for several months that it would debut a folding phone. The Infinity Flex Display is what Samsung calls the future of smartphone screens. Samsung used new materials to design the display from scratch. Samsung says the Infinity Flex Display can be unfolded and folded hundreds of thousands of times without degradation. The company created a new adhesive, reduced the thickness of the polarizer by creating a new, thinner material, and made changes to the OLED panel itself to ensure flexibility. The cover display is a fully functioning touchscreen of unspecified size. For a bigger screen experience, users can unfold it to reveal the full 7.3-inch display. Together with One UI, the foldable display relies on continuity so the app on the cover display ports to the inner display fort seamless transitions. It can support up to three apps running in multitasking mode. This is called Multi-Active Windows. Samsung said it should be able to start mass production of the Infinity Flex Display in the coming months.
Samsung today announced One UI, a brand new user interface that it intends to roll out to devices such as phones and tablets. It relies on new design language based on the idea of blocks floating over a surface to give it a more modern feel. In the settings menus, Samsung will ensure that similar or related functions are put together in the UI. Moreover, it will put the most-used settings closer to the top of the screen. Samsung hopes to make the UI more natural. It has moved many of the touch controls to the bottom of the screen so they are easier to reach. Samsung says another goal of One UI is to make the user experience more visibly comfortable. The company is increasing font size in some menus and adding a more thorough dash of color to better indicate the status of some controls. Users will be able to choose from a handful of basic color schemes for their phone. Samsung says it is launching a One UI beta testing program in the U.S., Germany, and Korea later this month. The beta will allow people to test the user experience before its official release. One UI will be available to the Galaxy S9, S9+, and Note9 early next year.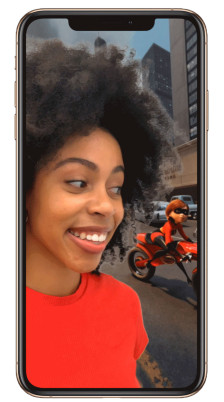 Apple today provided an update to Clips, its app for creating and sharing videos on the iPhone and iPad. First, the new version of Clips adds a half dozen Selfie Scenes, which are Apple's 360-degree background environments that let people put themselves into a 3D scene. The new Scenes rely on the TrueDepth camera on the newer iPhones and iPad Pros so people can record themselves against animated backdrops, such as from "Incredibles 2." Clips gains three new filters, too, including black and white comic book, monochrome watercolor, and aged film. There are new posters for creating title cards with fun scenes. Fresh stickers and text labels let people dress up their Clips, and 17 new soundtracks mean users can add background music to their Selfie Scenes. Clips 2.0.5 is free to download from the iTunes App Store. It is compatible with devices from the iPhone 5s and up, and the iPad Air, and up. Selfie Scenes requires a device with a TrueDepth camera.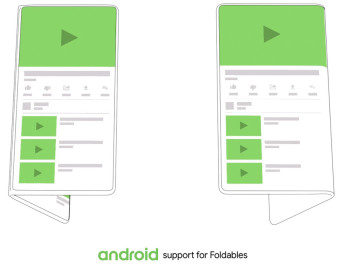 Google today announced support for folding devices, what it calls "foldables," at the Android Developer Summit. Google says this is a new form factor coming from Android device makers next year. With native support for foldables baked into Android, apps will be able to run seamlessly as the device folds and unfolds. This achieves this form factor's chief feature, which Google says is screen continuity. Google didn't spell out any specific devices. Samsung is widely expected to announce a folding phone in the near future.
Samsung today said it is redesigning Bixby to be a scalable AI platform. The most important part of this change means developers will soon have access to the AI-assisted Bixby. Samsung plans to release an SDK with associated APIs to developers so they may integrate Bixby into their own apps. This will make Bixby more useful and more powerful on mobile devices. Samsung hopes to expand Bixby to more devices as well, such as refrigerators, TVs, and speakers. Samsung said Bixby is expanding the number of supported languages by five, which should greatly increase the number of people who can use Bixby. Bixby is installed on most of Samsung's newer devices. On the latest Galaxy S and Note series, Bixby has a dedicated hardware button. Samsung didn't immediately say when the SDK will be available to developers, though it did introduce the Bixby Studio, which is what contains all the needed tools. Samsung shared the news at its annual developer conference.
Apple is not in settlement talks with Qualcomm "at any level" and is preparing to go to trial against the chipmaker over patent fees. Apple sued Qualcomm in 2017 over what it described as illegal patent licensing practices. Apple has since ceased using Qualcomm-made modems in its mobile devices and instead relies on Intel for those components. "There is absolutely no meaningful discussion taking place between us and Qualcomm, and there is no settlement in sight," said an unnamed source to Reuters. "We are gearing up for trial." The case, which is separate from the one between the Federal Trade Commission and Qualcomm, is scheduled to go to trial early next year. Qualcomm's chief executive, Steve Mollenkopf, told investors in July that the two companies "continue to talk." It's not clear if those talks have since broken down. Neither Apple nor Qualcomm commented on the matter. Apple hasn't paid Qualcomm royalty fees since filing the lawsuit. Reuters says another, unnamed phone maker is also disputing royalty fees with Qualcomm. The company, believed to be China's Huawei, has made a "good faith partial payment" of $500 million and the talks are ongoing.
Qualcomm was dealt a blow by U.S. Federal Judge Lucy Koh today, who ruled that the chip giant must license some of its mobile technology patents to competing companies. The preliminary ruling was made against the backdrop of the Federal Trade Commission's antitrust lawsuit against Qualcomm, which is scheduled to reach the trial phase in 2019. Koh says Qualcomm needs to let rival firms, such as Intel, license patents related to modems, a key component that allows phones to communicate with cellular networks. The FTC and Qualcomm had asked Koh to delay the ruling as they discuss the possibility of a settlement, but Koh denied the motion. Qualcomm has run afoul of the Chinese and Korean governments over its licensing practices, which some view as anticompetitive. The company settled with Taiwan and has appealed rulings in Korea. Qualcomm recently said that Apple owes the company some $7 billion in unpaid royalties. Apple sued Qualcomm in June 2017 over what it deemed "illegal" licensing practices. Qualcomm didn't immediately comment on today's court ruling.
Commuters who use the Port Authority's PATH train service will soon have broader access to wireless service. Beginning today, AT&T and T-Mobile service is live in underground PATH stations in New York City. AT&T and T-Mobile service will expand to underground stations in New Jersey over the next three weeks. The Port Authority says service from Sprint and Verizon Wireless will reach underground stations in both New York and New Jersey in early 2019. Cellular service will be available on platforms and throughout the underground stations. The underground PATH stations in New York are located at 33rd, 23rd, 14th, 9th, and Christopher streets, while the underground New Jersey stations are located at Hoboken, Exchange Place, Newport, and Grove Street. The Journal Square, Harrison, Newark Penn Station (which are all above ground), and World Trade Center PATH stations already offer cellular device. The Port Authority recently added free unlimited, high-speed WiFi service at the four major New York-area airports.
Verizon Prepaid now offers a bit more bang for the buck. Verizon Wireless has shuffled its prepaid plans and is including more discounts along the way. The new plans cost $70 per month for unlimited service, $50 for 8 GB, and $40 for 3 GB. These plans are all eligible for a $5 per-line discount when customers opt for Auto Pay. Verizon still offers a basic prepaid unlimited talk and text plan with 500 MB of data for $30 per month. All plans offer unlimited international texting, while the 8 GB and unlimited plans also include unlimited calling from the U.S. to Canada and Mexico. Verizon Prepaid customers can now enroll as many as 10 lines (up from five) on a single account, including tablets and Jetpacks. Verizon Prepaid service can now travel with subscribers to international destinations thanks to TravelPass. Last, prepaid customers can mix and match prepaid plans to find the right combination of services for each family member. The new plans and discounts go into effect November 6.
Sprint today said it has deployed LTE Advanced technology nationwide, providing access to more consumers while also doubling average speeds on its 4G network. Sprint said it achieved these network gains through both its own Next-Gen Network investment as well as rehashed roaming agreements. Consumers can take advantage of several Sprint offers to make use of the improved network. For a limited time, customers who switch to Sprint and subscribe to the Unlimited Basic plan can get three lines for $24 per month, with the fourth and fifth lines for free. After January 2020, those rates will go up to $60 per month for the first line, $40 per month for the second line, and $20 per month for lines three through five. Subscribers to this plan will see video streams capped at 480p, music streams capped at 500 Kbps, gaming streams capped at 2 Mbps, and throttling when the network is congested. Moving forward, existing subscribers to Sprint's Unlimited Plus plan will have access to 50 GB of mobile hotspot data per month and subscribers to Sprint's Unlimited Premium plan will have access to 100 GB of mobile hotspot data per month — all at no extra cost. Sprint says it will unveil more offers over the months to come.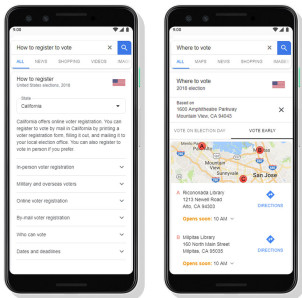 Google today rolled out several tools to help Americans vote in the 2018 mid-term elections. There are three components to the information being offered by Google: how to vote; who are the candidates and what are the issues; and what are the results. Anyone who searches for "how do I register to vote" or "how do I vote" will be given detailed information on registration deadlines, requirements, eligibility, and the logistics of casting a ballet at your local polling place. Searching for "where do I vote" should show people the right location. Need help understanding what's at stake? Google has created knowledge panels about every candidate and ballot measure in clear, easy-to-understand language. The panels will highlight candidates' platforms, statements, and legislative priorities. Last, Google will help people follow the results. People can search for "Senate results" or "House results" to see up-to-the-minute updates as results begin to come in. These results will include a real-time summary of each chamber. People can also seek out information on gubernatorial elections.
FCC Chairman Ajit Pai sent letters to more than a dozen telephone service providers today asking them for a status update on their efforts to curb robocalls. He demanded these companies deploy a system that authenticates the identity of callers as those calls transit the networks with the goal of identifying and squashing spoofed numbers and spam. Pai wants the system rolled out no later than 2019. "Combatting illegal robocalls is our top consumer priority at the FCC," said Pai. "That's why we need call authentication to become a reality — it's the best way to ensure that consumers can answer their phones with confidence." Earlier this year, the FCC approved an authentication system called SHAKEN/STIR. This system verifies calls from the originating carrier as legitimate and ensures they are validated once again by the receiving carrier before the calls reach consumers. Americans receive billions of robocalls annually. If no action is taken, more than half of all calls made in 2019 are predicted to be robocalls. "By this time next year, I expect that consumers will begin to see this on their phones," continued Pai. "If it does not appear that this system is on track to get up and running next year, then we will take action to make sure that it does." Pai asked the telephone service providers to send in status reports indicating how far along they are in adopting the SHAKEN/STIR framework. The telephone companies have until November 19 to reply. Some of the companies that received letters include AT&T, Google, Sprint, T-Mobile, U.S. Cellular, and Verizon.
Google today provided details concerning the November security update for Android. Google says the newest patch solves a number of vulnerabilities in the Android source code impacting the framework, media framework, and core system. Many of the problems spotted were rated "high" or "critical" in terms of severity. The majority of "critical" issues could lead to remote code execution, wherein a hacker might launch malicious apps. As far as Google knows, none of the security holes have been exploited. Google revealed these problems to its phone-making partners last month. The company is providing two updates, one dated November 1 and the other dated November 5. These updates should reach Google's branded Pixel and Nexus devices over the next week or so. The company plans to distribute the patched code to AOSP within 48 hours. It is up to individual device makers to update their own hardware with the patched platform.
Apple today released watchOS 5.1.1, an update to watchOS 5.1 correcting a problem that bricked some Apple Watches. Apple pulled the update last week to sweep up the bug. Apple didn't indicate how many devices were impacted, but not all users experienced the problem. WatchOS 5.1 adds new emoji, Group FaceTime audio, and new watch faces.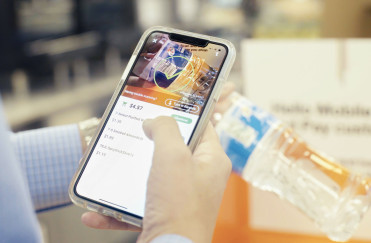 7-Eleven is testing a new way for customers to pay for items as they shop at 7-Eleven retail locations. The Scan & Pay feature is being added to the 7-Eleven mobile app. Customers will need to install the app and sign up for the 7Rewards loyalty program in order to gain access to the feature. When customers are near a store that supports Scan & Pay, the "start scanning" option will appear within the app. Customers can then scan their items through the app as they go, adding items to their virtual basket. The app supports Apple Pay, Google Pay, or credit/debit cards for completing the transaction. Once customers have paid, the app generates a QR code that shoppers scan at the confirmation station before they can leave with their items. 7-Eleven is piloting this feature at just 14 stores in the Dallas area. It expects to expand availability of Scan & Pay over time.
The U.S. Supreme Court will not consider a 2016 verdict over net neutrality, leaving the initial ruling intact. Earlier this year, the Trump administration asked the Supreme Court to vacate the 2016 ruling that verified the validity of the Obama-era net neutrality rules. Specifically, the Trump administration hoped the Supreme Court would find that the then-Democratic FCC had exceeded its authority or violated the First Amendment by putting net neutrality rules into effect in 2015. Those rules have since been stripped by the current Republican-led FCC. The agency voted in December 2017 to drop the rules and formally did so in June 2018. Dropping net neutrality rules was largely seen as a victory for companies that supply broadband and wireless services.
More articles in the Archive ›
What do you want to hear about? We're already working on a number of articles for the coming months, but we want to write about the things you're most interested in. So sound off: tell us what you want to know more about!