Recent Archive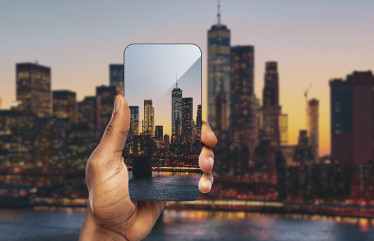 A new optical sensor from ams could enable phone makers to make display bezels even thinner, for truly all-screen designs. The optical sensor works from underneath an OLED display, similar to new technology that allows the front camera to be placed under the display. The sensor detects proximity, ambient light levels, and ambient light flicker. Most phones today have such a sensor, but need to make room for it in the bezel area above the display. The sensor incorporates several specific innovations, including compensating for display output when sensing ambient light, and dispersing infrared light from the proximity sensor to avoid activating OLED materials and introducing visible display distortion. The part is available to manufacturers now for sampling.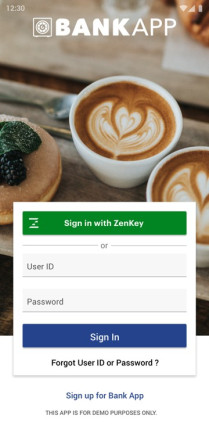 Verizon, AT&T, and T-Mobile have officially launched ZenKey, a new way quickly log in to apps that leverages the authentication that happens automatically every time your phone connects to the cellular network. Apps must be updated to support ZenKey, and developers have the option of enabling ZenKey as the primary login, or as the second token in two-factor logins, replacing PIN codes sent my text message, for example. Customers must also download the ZenKey app (available for both iOS and Android) to start using ZenKey. Currently, only a handful of apps support ZenKey login, (mostly the carriers' own apps,) but carriers hope more apps will add support.
Verizon has introduced new Unlimited data plans for non-phone devices including smartwatches, tablets, and mobile hotspots. The new $10/month plan intended for smartwatches covers both watches with their own phone number and those using NumberShare to share a phone number between a phone and a watch. It includes 15GB of top-speed 4G LTE data, plus unlimited voice and texting. Previously, Verizon charged up to $15/month for just 1 GB of data. Existing customers will automatically be switched to the new pricing. The $20 plan, intended for tablets and hotspots, also includes 15 GB of top-speed data but adds hotspot functionality. Finally, a new Unlimited Plus plan for $30/month doubles the "premium" 4G data allotment to 30 GB and includes unlimited 5G data. Customers with a higher-end Unlimited phone plan (Do More or Get More) can get a 50% discount on Unlimited Plus, bringing it to just $15/month. The new plans are available starting today.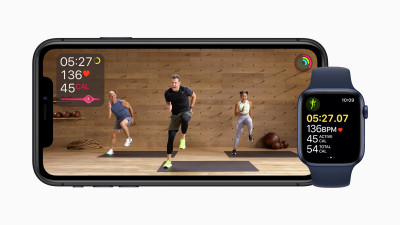 Apple today introduced Apple One, a new bundle of Apple services offering savings of $6 – $25 per month. The basic Individual plan includes Apple Music, Apple TV+, Apple Arcade, and 50 GB of iCloud storage for $15/month. The Family plan ups the iCloud storage to 200 GB and can be shared among up to six family members. It runs $20/month, an $8/month savings compared to subscribing separately. Finally, the Premier plan adds Apple News+ and the new Apple Fitness+, as well as upping the storage to 2 TB. It will run $30/month, a $25/month savings. Apple Fitness+ offers a variety of trainer-led workouts and incorporates real-time data from Apple watch sensors. Apple Fitness+ is also available separately for $10/month or $80/year. A one-month free trial is available, and new Apple Watches now come with a free three-month trial of Fitness+.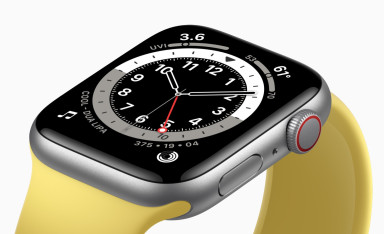 Apple today announced a new, more affordable Apple Watch variant: Apple Watch SE. It will start at $279, a full $120 cheaper than the new Apple Watch Series 6, even though it has most of the same features. The cellular version is an even better deal at $329, $170 cheaper than the cellular Series 6. The features sacrificed for cost are the always-on display, blood oxygen sensor, and ECG function. It also uses last year's S5 processor instead of the new S6. However the design, functions, and specs are otherwise identical to the new Watch Series 6. That includes the large Retina display, waterproof aluminum body in two sizes, optical heart sensor, GPS, fall detection, compass, always-on altimeter, noise monitoring, and digital crown with haptic feedback. It's available to order today, and in stores this Friday, September 18th.
Apple has concluded the beta testing period for its latest OSes. The final version of iOS 14 will be available tomorrow, September 16th.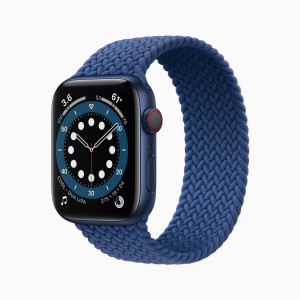 Apple has revealed Apple Watch Series 6, which adds a new blood oxygen saturation sensor. Blood oxygen is an important vital sign that can drop to dangerous levels in those with COVID-19. Apple has started three research studies that use the new sensor, including one focused on COVID-19 and the flu. The other studies are focused on asthma and heart failure. The Watch can measure blood oxygen periodically in the background, or on demand in 15 seconds. Series 6 also uses a new S6 processor, has a display that's 2.5 times brighter in always-on mode, and has an always-on altimeter. Apple also announced new family features designed to make Apple Watch better-suited for kids and seniors. Family Setup lets you use your iPhone to set up someone else's cellular Watch, such as your phone-free kid. It also lets you control the contacts your kid can communicate with, and set up location alerts. A School Time mode restricts functions to help kids focus during school hours. Series 6 is available in new color options, including a blue or red aluminum body. New band options include "Solo Loop", a single fixed band without a clasp, available in nine sizes. Solo Loop is available in a variety of colors, and either solid silicone or a woven design made with silicone yarn. To reduce electronic waste, Series 6 does not come with a USB power adapter. Apple Watch Series 6 is available to order today, and in stores this Friday, September 18th, starting at $399, or $499 with cellular (LTE).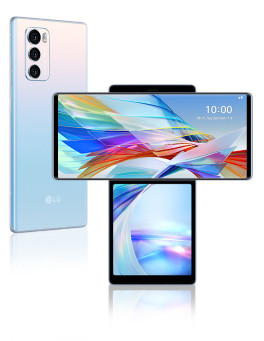 The first phone in LG's "Explorer Project" series is the LG Wing, a phone with a unique swivel display design. The 6.8-inch full-HD OLED main display swivels up to reveal a 3.9-inch second screen. The hinge features a hydraulic damper for smooth motion, and is rated for 200,000 swivels. The unique design is optimized for viewing videos full-screen while commenting or messaging on the second screen, for example. It can also keep GPS navigation full-screen while offering call controls on the second screen. A Grip Mode ignores accidental touches while recording video with the hinge open. A "Gimbal Motion Camera" mode takes this further with joystick, lock, and follow controls on the second screen. The 64 megapixel main camera is accompanied by two wide-angle cameras: a 12 megapixel "big pixel" camera plus another 13 megapixel wide camera. One wide-angle camera is mounted in standard portrait orientation while the other is rotated 90º to match the shape of the swivel screen when open. The 32 megapixel selfie camera pops up from the top of the phone. The Wing is powered by a Qualcomm Snapdragon 765G chip with 8 GB of RAM. It will come with either 128 or 256 GB of storage, plus a memory card slot. The 4,000 mAh battery can be charged via Quick Charge 4.0 or wireless charging. The Wing is rated IP54 for water and dust resistance. Available colors include Aurora Gray and "Illusion Sky". In the US, the LG Wing will launch first with Verizon, followed by T-Mobile, AT&T, and other US carriers. "Specific pricing, availability, specs and color options will vary by network partner."
Verizon has reached an agreement to buy TracFone, the country's leading prepaid mobile provider and largest reseller of wireless services. TracFone operates a family of value-oriented brands that includes StraightTalk, Net10, Simple Mobile, Total Wireless, PagePlus, Walmart Family Mobile, SafeLink, and ClearWay. As an MVNO, TracFone replies on other mobile networks. Out of 21 million total TracFone customers, 13 million already use the Verizon network. "Following the acquisition, Verizon expects to bring its award-winning 4G LTE and 5G networks and other innovative technologies to Tracfone customers". Verizon already offers its own prepaid service and has a prepaid subsidiary called Visible. Verizon expects to keep all 850 TracFone employees. The $6.25 billion deal is expected to close in about a year.
Nvidia and Softbank have announced a $40 billion deal whereby Nvidia will acquire Arm from Softbank. Arm is a UK-based designer of processor architectures. Nearly all phones are powered by SoC chips that are based on Arm technology. Qualcomm, Apple, MediaTek, and Samsung all license Arm technology and use it as the basis for their mobile chip designs. Arm has been successful with a relatively neutral open licensing model. Nvidia promises that it "will continue Arm's open-licensing model and customer neutrality and expand Arm's IP licensing portfolio with Nvidia technology". Nvidia is a leader in graphics and AI processor technology.
Recent listings in the public Bluetooth database show approvals for an unannounced Samsung phone called the "Galaxy S20 FE 5G" or "Galaxy S20 FE UW". We assume that "FE" stands for "Fan Edition", a model name modifier Samsung used recently in the Note series. The model numbers in the database indicate versions for every major US carrier, with variants such as "SM-G781V ... for VZW", "SM-G781U ... for ATT", and "SM-G781U ... for TMB". The Bluetooth approvals reveal little else, except that the phones will offer Bluetooth version 5.0.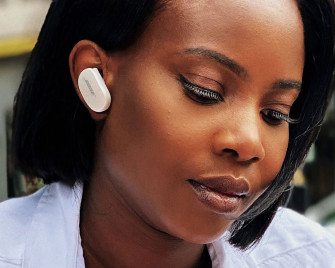 Bose is launching its first true wireless earbuds with company's famous QuietComfort brand of ANC (active noise cancelling). The Bose QuietComfort Earbuds (QC Earbuds for short) include a "proprietary electronic chip loaded with an exclusive new algorithm" that can compensate for changing outside noise in a fraction of a millisecond. It offers 11 levels of noise control to let through the exact amount of background noise you want to hear. The QC Earbuds offer 6 hours of battery life, plus another 12 via the included charging case. They come in black or white, and will be available Sept. 29th for $279.
Google has announced the Android 11 version of Android Go, the special edition of Android tailored for the most affordable devices with limited memory specs. While previous versions of Android Go were targeted at phones with just 1 GB of RAM, Android 11 (Go edition) will also be made available to phones with up to 2 GB of RAM. This change accommodates features such as fingerprint readers and dual cameras, which are increasingly common on entry-level phones, and require extra RAM. In version 11, apps now launch 20% faster. Google also continues to shave down the RAM and storage required by the OS itself, making available 270 MB more RAM for apps, and 900 MB additional free storage space. The new OS includes many of the key features of standard Android 11, including new privacy controls and a dedicated notification area for conversations. Android 11 (Go edition) will be available starting next month.
Motorola today revealed the 2020 edition of its razr foldable phone, with upgraded specs across the board and a tweaked design. The general design is largely similar to the 2019 original, including the same flexible inner display and folding mechanism. The hinge has been tweaked with slightly more enclosed gears and is rated for 200,000 flips. The design is sleeker thanks to a 3D curved Gorilla Glass 5 front, and a chin made thinner by moving the fingerprint reader to the back. The frame is now made from 7000 series aluminum instead of stainless steel. Spec bumps include the addition of 5G, a larger battery (2,800 mAh), much better cameras (48 megapixel main with laser auto-focus and OIS + 20 megapixel selfie), Qualcomm Snapdragon 765G processor, 8 GB RAM, and 256 GB storage. The new razr has the same 2.7-inch, high-resolution touchscreen on the outside, which can run scaled-down versions of select Android apps. The outer interface includes a new navigation bar at the bottom and a customizable app menu. The revamped camera app includes a customizable mode carousel. 5G support includes bands 2, 5, 25, 41, 66, 71, and 78. The new Motorola razr will be offered by both AT&T and T-Mobile, a change from last year's model that was exclusive to Verizon. It will also be available unlocked for $1,400 from motorola.com, Best Buy, B&H Photo, and Amazon. It will be available in Blush Gold, Polished Graphite, and Liquid Mercury (shown). Motorola would only cite "this fall" as the launch timeframe.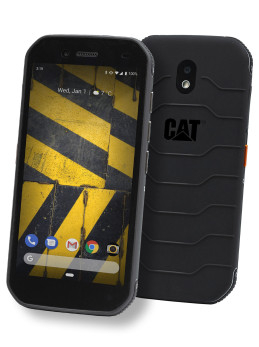 CAT today launched the S42, its latest "mid-range" rugged phone, for sale unlocked in the US. Like most CAT phones, it's rugged and waterproof (IP68), but also fully washable with soap and water. It's rated for 6-foot drops onto steel, and also meets US military spec for thermal shock, vibration, humidity, and salt mist. It has a large 4,200 mAh battery and NFC. Its 5.5-inch HD screen is protected by Gorilla Glass 5 and works with both gloves and wet fingers. Other specs include a MediaTek Helio A20 chip, 3 GB RAM, 32 GB storage, memory card slot, LTE Cat. 6, dual-band Wi-Fi, and VoLTE. It ships with Android 10 plus a commitment to an Android 11 update. It also has a programmable side button, headset jack, and micro-USB connector. It has good support for AT&T's 4G network including band 14, and good support for T-Mobile's 4G network including bands 25, 26, 41, 66, and 71. It's available now for $329, from catphones.com and multiple online retailers.
Google is launching Android 11 today, having completed the beta period. The new OS will begin rolling out today on select Pixel and OnePlus phones, with more partners launching and upgrading devices over the coming months. Key features of Android 11 include:
New treatment for "conversation"-related notifications from messaging apps, including a dedicated area in the Notifications shade, and Bubbles, which lets you briefly view a conversation thread as a pop-up overlay, without leaving the app you're in.
Privacy improvements, including the ability to grant apps one-time access to sensitive permissions, an "auto-reset" of permissions for apps that haven't been used in a while, and an extra steps required to enable background access to location. Google will also start requiring that developers obtain explicit permission from Google before their app is allowed to ask for background access to location.
A revamped screen when the lock button is pressed provides quick access to smart-home device controls.
Support for digital IDs, including digital driver's licenses.
Support for wireless Android Auto on all phones.
New media controls that make it easier to switch output device.
New screenshot tools, including built-in screen recording on all phones. On Pixel phones, Android 11 brings a new feature when taking a screenshot that lets you easily copy an image or text to the clipboard instead.
For phones linked to a company network, the personal/work Profiles features has several improvements. New Personal/Work tabs have been added to several places including the Share pop-up sheet. A new API available to apps will allow certain apps to present both work and personal data together, while protecting both company data and employee privacy. Google Calendar will support this feature, and third-party apps will be able to support it as well.
New APIs allowing apps to better support new display technologies, including "waterfall" displays that wrap around the side, and variable refresh rates.
Further, on Google Pixel phones, Android 11 brings a new feature called Live View with Location Sharing. When someone sends you their location, the feature uses AR to show you exactly where that person is in the real world, how far away they are, and can guide you to them, even in parks or the wilderness.
Google is making its own Phone app available to "even more Android devices" starting this week. Google's Phone app offers Google's unique Verified Calls feature, which shows the caller's name, logo, reason for calling and a verification symbol indicating the business has been authenticated by Google for incoming calls from participating businesses. The Google Phone app comes pre-loaded on Pixel and select other Android phones, but many manufacturers pre-load their own Phone app on their phones. Google's app hasn't been made available to most such phones before now.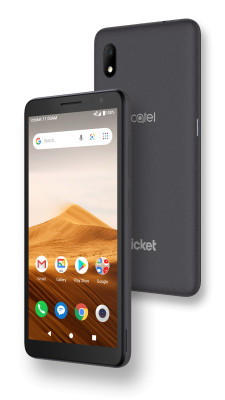 Cricket today launched the Alcatel Apprise, a new Android 10 Go Edition phone that sells for just $70. Android Go Edition is optimized for affordable phones with limited memory, like the Apprise with its 2 GB RAM and 16 GB storage. The Apprise has a memory card slot, 5.5-inch SD display, 3,000 mAh battery, MediaTek MT6739 processor, and 5 megapixel cameras front and back. It also has a dedicated Google Assistant button on the side.
T-Mobile today announced that will start selling the LG Velvet on September 10th. T-Mobile's version will be powered by a MediaTek Dimensity 1000C chip, instead of Qualcomm's Snapdragon 765G. This change will allow T-Mobile to offer the Velvet for $588, a tad cheaper than the $600 that AT&T charges for its Velvet. The Dimensity 1000 is MediaTek's flagship SoC with integrated 5G, and the 1000C variant is tailored to the US market. The 1000C also adds supports for Dual Display, a key feature of flagship LG phones such as the Velvet. The Velvet will be the first 5G phone in the US powered by a MediaTek chip. T-Mobile will offer two color choices: Aurora Gray and Pink White.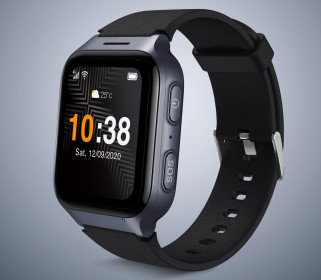 TCL today announced the MoveTime Family Watch MT43A, a wrist-worn wearable device designed specifically for the needs of seniors, with a design similar to the Apple Watch. It includes an array of communication, health, and safety features. It has 4G and two-way voice and texting capability, including emoji and photos. It accepts voice commands for hands-free interaction. Health features include daily activity tracking with the built-in pedometer, sleep monitoring, medication reminders, and heart rate tracking that can alert the user to an unusually low or high heart rate. Other safety features include fall detection — which can send a message to designated emergency contacts with the wearer's precise location — and geo-fencing to alert when outside of a designated "safe zone". It also has a dedicated SOS button on the side. It's rated IP67 for dust and water resistance, and has an OELD touch display. TCL says its 600 mAh battery should provide two-day battery life. The software is proprietary and sports extra-large icons. The MoveTime is sold as a standalone device that can be added to a cellular plan like any other connected smartwatch. It's available in dark grey or black in the US starting this fall for $199. Earlier this year, Verizon launched a similar device, and Coolpad announced it is working on one as well.
Qualcomm is teasing a new Snapdragon 4xx chip that will support 5G. The company is withholding details for now, but promises that devices using the new chip will ship in the first quarter of 2021. In the Snapdragon lineup, the 4 series targets mass-market affordable phones, sitting just above the 2 series (for the most entry-level phones). Even many entry-level phones now use 4-series chips, so bringing 5G to the 4 series will mark a major milestone. Qualcomm President Cristiano Amon added that the "Snapdragon 4-series 5G Mobile Platform is designed to exceed expectations for the mass-market segment by bringing an assortment of predominately high- and mid-tier features to a broader audience." Qualcomm started introducing 5G at the top end of the Snapdragon lineup, with the 8-series. It was just two months ago that Qualcomm brought 5G to the 6 series with the Snapdragon 690.
Qualcomm today announced Adaptive Active Noise Canceling, a new technology in its latest chip designed to power true wireless earbuds. Whereas most earbuds with Active Noise Canceling (ANC) require a tight fit in the ear canal for the feature to work well, Qualcomm's new tech is designed to detect a poor fit and compensate. It also adjusts the ANC to compensate for varying types and levels of background noise, offering different ANC profiles for plane versus street noise, for example. Adaptive ANC is available on Qualcomm's new QCC514x chip for true wireless earbuds.
The FCC has approved a version of the TCL 10 5G with a combination of frequency bands unique to Verizon's 4G and forthcoming sub-6 GHz 5G networks. Unlike all of Verizon's current 5G phones, it does not seem to support Verizon's existing mmWave 5G network. mmWave offers fast speeds but very limited coverage. mmWave also required special antennas in the phone, which is why Verizon's 5G phones to date have often been $50–100 more expensive than the the versions without mmWave offered by other carriers. No longer requiring mmWave will enable Verizon to offer more affordable 5G phones. Verizon is expected to launch its sub-6 GHz 5G network (with vastly greater coverage) in the coming months. TCL has already announced that the TCL 10 5G would come to a major US carrier by the end of the year, with TCL branding, for under $500.
T-Mobile today announced the launch of 5G in valuable 2.5 GHz mid-band spectrum in 81 "new cities and towns". Many of the new areas are suburbs of the eight major cities already launched: Atlanta, Chicago, Dallas, Houston, Los Angeles, New York City, Philadelphia, and Washington D.C.. However some all-new areas include select neighborhoods near Tampa, Boston, Charlotte, Winston-Salem, and Portland (Oregon). T-Mobile says it is adding mid-band 5G to 1,000 cell towers per month, brining the service to "thousands of cities and towns across the country" by the end of the year. The company is also adding more mid-band spectrum to cell towers already enabled with mid-band 5G, for even greater capacity and data speeds. T-Mobile is the only major carrier with significant mid-band spectrum, which offers a good balance of speed and coverage for 5G service, compared to other bands.
The FCC today published the winners of the recent Auction 105 for part of the 3.5 GHz band. Verizon shelled out $1.9 billion for 557 licenses covering 157 counties, likely covering major cities. Dish Network (bidding as "Wetterhorn Wireless") shelled out $913 million for 5,492 licenses covering 3,128 counties. Several cable companies also participated, but for fewer and/or less-valuable licenses. In this part of the 3.5 GHz band, each license covers 10 MHz of bandwidth in one county. The FCC auctioned off a maximum of seven licenses in any given county, with each company allowed to own a maximum of four licenses per county. Verizon appears to have approached that maximum in the counties it bid for, gaining 40 MHz of spectrum in a slight majority of its 157 counties, and 30 MHz in all or most of the rest. Dish won spectrum covering many more counties, but likely in more rural areas since it paid less for those licenses. Dish appears to have averaged closer to two licenses (20 MHz) per county. Dish currently operates the Boost brand using the T-Mobile network, but is preparing to build its own 5G SA network over the coming years. Auction 105 is the first of three FCC auctions for different parts of the 3.5 GHz band. This auction covers 3550-3650 MHz. The next 3.5 GHz auction starts in December.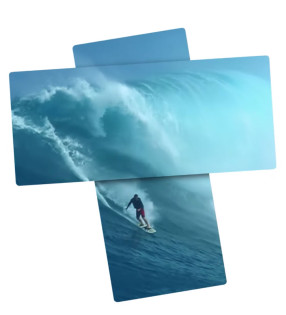 LG today released a new video teasing the first phone in the company's new "Explorer Project" lineup of unique phones. The video includes visuals that line up with rumors of a "Wing" phone with two halves that rotate form a cross shape with two displays. LG explains that its mainstream phones such as this year's Velvet are now considered part of the company's "Universal Line", while the "Explorer Project will focus solely on new usability that is discovered with innovative designs". LG will reveal more details on September 14th.
Google and Apple are updating their COVID-19 Exposure Notification system to support US states that have yet to develop their own Exposure Notification app. While the initial release of Exposure Notifications required countries or states to release their own app supporting the system, the new Exposure Notifications Express removes that requirement. States must still opt in to the system, but once they do, most iOS and Android phones in that state will receive a push notification inviting them to opt in to the system. On iOS, opting in will activate the new Exposure Notifications Express feature built in to the just-released iOS 13.7. Android users opting in will be prompted to download an app from Google to enable the feature. As with all variants of Exposure Notifications, privacy is protected since personal-identifying and location data is neither collected nor sent to states. Instead, randomly-generated ID numbers are exchanged with nearby phones via short-range Bluetooth, to keep track of which phones are near which other phones, and for how long. When someone enrolled in the system self-reports that they have tested positive for COVID-19, others enrolled in the system that have been near that person are notified, so they can seek testing. Maryland, Nevada, Virginia, and Washington, D.C. have already announced that they will participate, while six states have already released their own apps to enable Exposure Notifications.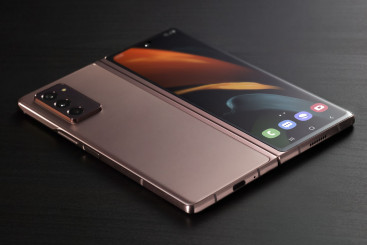 Samsung has revealed new details of its Galaxy Z Fold2 foldable phone, the successor to last year's pioneering Galaxy Fold. While Samsung has improved or refined most aspects of the design — including the hinge — the much larger outer display stands out, having grown from 4.6 to 6.2 inches, and now protected by Gorilla Glass Victus. The flexible inner display is also larger thanks to thinner bezels, and is protected by Samsung's proprietary Ultra Thin Glass material that debuted on the Galaxy Z Flip earlier this year. It also supports adaptive screen refresh up to 120 Hz. Both screens have a single hole punch for a 10-megapixel selfie camera. The three rear cameras (standard, wide, and 2x telephoto) are all 12 megapixel. It has a 4,500 mAh battery. It supports 25W fast charging, 11W wireless charging, and reverse wireless charging. Its radios include both sub-6 and mmWave 5G, UWB, NFC, and Wi-Fi 6. It's available in one spec configuration — 12 GB RAM + 256 GB storage (no memory card slot) — for $1999. Samsung is also expanding the "Galaxy Z Premier Service" included with all of its Z series phones with new VIP amenities such as Founders Card membership. Color options for the Z Fold2 are: Mystic Bronze and Mystic Black. Optionally, the hinge color can be customized, which a choice of four metallic hinge colors: silver, gold, red, or blue. Starting September 18th, it will be available from AT&T, T-Mobile, and Verizon, as well as unlocked directly from Samsung. Pre-orders start at midnight tonight. Read on for a photo gallery, full specs, and new software feature info.
Qualcomm today introduced the Snapdragon 732G chip to power high-end 4G gaming phones. The 732G is based on the Snapdragon 730G, but offers a 15% boost in graphics performance.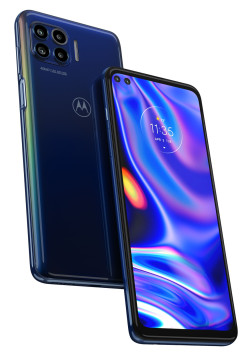 Motorola today announced the Motorola One 5G, a new sub-$500 phone with 5G and six cameras. It will launch with sub-6 GHz 5G "soon" on AT&T, while a version that also supports mmWave 5G will launch on Verizon in early October. Exact pricing and launch dates were not revealed. The One 5G is powered by a Qualcomm Snapdragon 765 chip and huge 5,000 mAh battery. It also has a 6.7-inch, full-HD display with HDR10 and 90 Hz refresh, 4 GB RAM, 128 GB storage, memory card slot, headset jack, and NFC. Its four rear cameras include a 48 megapixel main camera, 8 megapixel wide camera, and a 5 megapixel macro camera with a unique ring flash. Its dual hole-punch selfie cameras include a 16 megapixel standard camera and an 8 megapixel wide camera. Its side-mounted fingerprint reader can be double-tapped to summon a pop-up widget with customizable shortcuts to apps and app actions.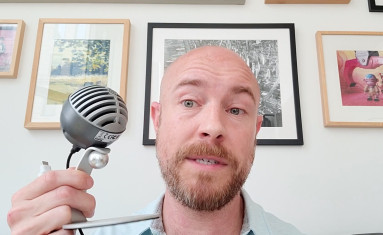 Samsung's Note series phones are pricey and aimed at road warriors. So you might think they're ill-suited for 2020. But they do have very unique capabilities that can help you up your video conferencing game as you work from home, as we demonstrate in this video using the Galaxy Note20 Ultra.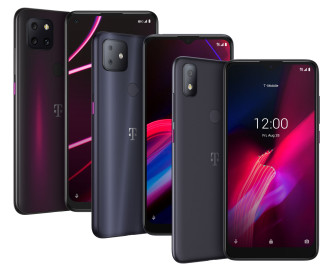 T-Mobile today introduced three new models in its own-branded REVVL series: the REVVL 4, REVVL 4+, and REVVL 5G. The REVVL 5G will sell for $400 — or $200 with a new line of service — making it the most affordable 5G phone in the US to date. All three phones run Android 10 and have a fingerprint sensor.
REVVL 5G: Powered by a Qualcomm Snapdragon 765 chip and a 4,500 mAh battery. Key specs include 6.53-inch full-HD display, 6 GB RAM, 128 GB storage, and triple rear cameras. The main camera has a 48 megapixel sensor, joined by an 8-megapixel wide camera and 5 megapixel macro camera. A 16 megapixel front camera sits behind a corner hole-punch in the display.
REVVL 4+: Powered by a Qualcomm Snapdragon 665 chip and a 4,000 mAh battery. Key specs include 6.52-inch HD display, 4 GB RAM, and 64 GB storage. The main camera has a 16 megapixel sensor. A 16-megapixel front camera is located in a display notch. It will sell for $192.
REVVL 4: Powered by a MediaTek Helio A22 chip and a 3,500 mAh battery. Key specs include 6.22-inch full-HD display, 2 GB RAM, 32 GB storage, 13 megapixel main camera, and 5 megapixel front camera. It runs $120.
All three new REVVL phones will be available starting September 4th from both T-Mobile and Metro. As we
reported two months ago
, TCL is making some or all of these new phones. TCL also makes phones under the Alcatel brand and has made several previous generations of REVVL phones for T-Mobile.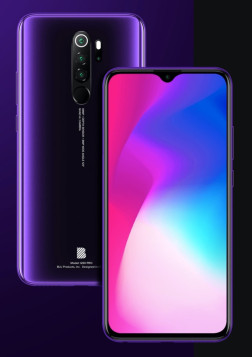 The Blu G90 Pro is a $200 gaming phone. It's powered by a MediaTek Helio G90T processor, a chip introduced last year specifically to power affordable gaming phones such as the Blu G90 Pro. The phone also has a huge 5,000 mAh battery and supports 18W fast charging. The 6.5-inch display has full-HD resolution. It has 4 GB RAM, 128 GB storage, and a memory card slot. It has a 48 megapixel main camera with a Sony sensor, 8 megapixel wide camera, 2 megapixel macro camera, depth camera, and a 32 megapixel selfie camera. It also has USB-C, rear fingerprint reader, and Android 10. It's available in Purple Haze starting today from Amazon.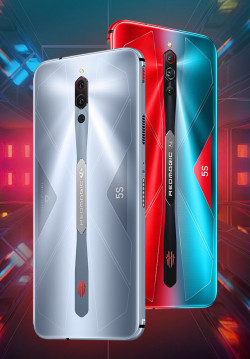 Nubia has started taking pre-orders for its latest gaming phone, the RedMagic 5S. As gaming phones go, it's relatively affordable, starting at $579. Its gaming creds include Qualcomm's top-end Snapdragon 865 chipset, a built-in cooling fan, 8–12 GB of LPDDR5 RAM, 128–256 GB of UFS 3.1 storage, 6.65-inch FHD AMOLED display with 144 Hz refresh and up to 240 Hz touch sampling, 4,500 mAh battery, and up to 55W fast charging (18W charger included). It also has touch shoulder buttons, fully customizable RGB lighting effects, 3.5mm headset jack, and HDMI output. Other features include a 64 megapixel main camera, 8 megapixel wide camera, 2 megapixel macro camera, NFC, and a fingerprint reader. Its support for US networks is basic, including 5G NR in band 41 (T-Mobile) and LTE 2/4/5/12/26/41. Available accessories include a larger fan that clips on the back, and physical game controls that attach to the ends via a special case. The base version for $579 has 8 GB RAM, 128 GB storage, and a "Sonic Silver" color scheme. The step-up "Pulse" version has 12 GB RAM, 256 GB storage, and an eye-catching red/blue color scheme, for $649. Pre-orders start today with full global availability on September 2nd.
The FCC today announced the conclusion of auction 105, which sold the rights to 70 MHz of new licensed spectrum near 3.5 GHz for 5G service. 20,625 licenses for specific frequencies and geographic areas were sold for over $4.6 billion in total. The frequencies involved are within 3.55–3.65 GHz. Details of which companies won which licenses will be released by the FCC in a few days. 3.5 GHz is also known as "mid-band" spectrum, which has properties that should allow 5G service to offer a good balance of speed and coverage. Auction 105 is the first of several by the FCC to auction off 3.5 GHz spectrum for 5G. The next, auction 107, starts in December, for the 3.7–3.98 GHz portion of the C-band. An additional swath at a slightly lower frequency (3.45–3.55 GHz) was announced just two weeks ago.
In the ongoing legal drama between Epic Games and Apple over App Store rules and fees, a judge has granted Epic a temporary restraining order preventing Apple from cutting off Epic's access to Apple developer accounts and tools. Apple had tried to cut off Epic completely, which would have put Epic's Unreal Engine for Apple platforms in serious jeopardy. Unreal Engine is the foundation of many popular 3D games, including some that are part of Apple Arcade. Epic also requested an order to keep Fortnite in the App Store, but the court declined.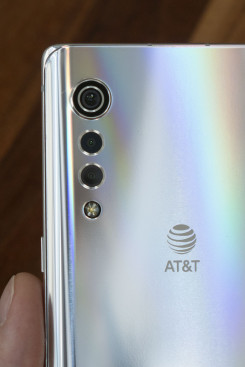 The Velvet is LG's 5G flagship phone for 2020. Instead of aiming for the very best specs on the market, LG has attempted to deliver a very premium 5G experience at a reasonable price. For example, the Velvet uses a Snapdragon 765 chip instead of Qualcomm's pricier 865. Did LG strike the right balance? In this hands-on, we take the Velvet for a spin to find out.
Google today released a new "feature drop" update for its Pixel Buds true wireless earbuds, adding a number of new features. With the new Attention Alerts feature, the Buds will now actively listen for specific outside sounds that may be important — such as dog barks, baby cries, and emergency vehicle sirens — and automatically lower the volume so you can safely remain aware of your surroundings. A new "transcribe" mode for language translation will continuously translate from one language to another and speak the translation into your ears. This one-way mode is ideal for understanding lectures or tour guides, unlike the existing "conversation mode" for back-and-forth interaction. Transcribe mode is initially available for translating English into Spanish, French, German, and Italian. Another new feature gives each Bud individual volume controls when sharing one bud with another person. Google has also added a new Bass Boost option. Finally, the Find My Device function can now display the last known location of your Pixel Buds on a map. Pixel Buds are available from Google for $179.
A new company, OnwardMobility, is picking up the BlackBerry torch. OnwardMobility is licensing the BlackBerry brand and promises a 5G BlackBerry phone with a physical keyboard in North America and Europe in the first half of 2021. OnwardMobility will be responsible for product planning and market development, while FIH Mobile — a subsidiary of Foxconn — will handle design and manufacturing, "under strict guidelines to ensure component, device and supply chain integrity." The last company to make BlackBerry-branded phones was TCL, which launched a handful of Android-based BlackBerry phones from 2016 to 2018.
Samsung has provided key details on a new commitment to offer major new versions of Android to existing phones. All Galaxy S, Galaxy Note, and Galaxy Z (foldable) series devices will receive "three generations of Android operating system (OS) upgrades". For example, current models that shipped with Android 10 will receive an update to Android 11, plus the next two major versions. Higher-end Galaxy A models — such as the A51 and A71 — are also included, as well as last year's models (the S10 and Note10 series) and the original Galaxy Fold. Samsung also revealed that the S20 series will be its first models to receive the Android 11 update, "with other devices to follow shortly thereafter." Samsung briefly mentioned the new commitment during its Note20 launch event, but did not elaborate on the details until today.
More articles in the Archive ›
What do you want to hear about? We're already working on a number of articles for the coming months, but we want to write about the things you're most interested in. So sound off: tell us what you want to know more about!