Recent Archive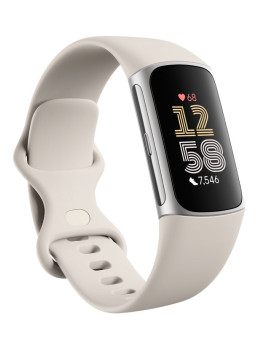 Google has announced the Fitbit Charge 6, a fitness tracker watch with more smartwatch features than ever. It includes smarter features like YouTube Music, Google Maps with built-in GPS, and Google Wallet with NFC, yet costs $160, less than half the cost of a Pixel Watch. The Charge 6 has heart rate tracking that's 60% more accurate than previous Fitbits. It also performs sleep tracking and has a Daily Readiness Score, "a Premium feature that helps you understand your body's readiness to tackle a tough workout or take a day to recover, with daily activity recommendations based on your score." It can also measure electrodermal activity and blood oxygen saturation (SpO2). The Charge 6 can connect to compatible gym equipment via Bluetooth, so your heart rate can be displayed on machines from NordicTrack, Peloton, Concept2, and Tonal. Pre-orders start today, with delivery this fall.
FCC Chairwoman Jessica Rosenworcel has started the process to bring back net neutrality rules first implemented in 2015, but repealed in 2018. The rules classify broadband internet service as "essential", like water, power, and phone service. This give the FCC the authority to ensure that internet providers to not play favorites with the content and services carried over their networks. Providers would be barred from blocking legal content, and would have to provide the same speeds and access for all services and content. The Chairwoman started the process now that a Democrat-majority Commission has been confirmed by the Senate. The FCC has been without a full slate of five commissioners for two and a half years. The process will take some time as official new rules are proposed, then the FCC accepts feedback from the public and industry before adopting final rules.
The newest beta version of Android 14 includes a new and previously-unannounced feature: an option to turn your phone into a high-quality wired webcam. The feature is useful because most phone cameras currently offer much better quality than most standalone webcams. Because the feature implements the USB Video Class (UVC) standard, it should be compatible with most laptops and desktops. To use the feature, connect the USB cable; the usual options for File transfer, USB tethering, etc. will now include a new "Webcam" option. Users can choose to use the front or rear camera, and zoom in or out. The feature currently works on most newer Pixel phones. It seems that it will be up to manufacturers whether to enable the feature when bringing Android 14 to other phones. Apple introduced a similar feature called Continuity Camera in iOS 16, which can operate wired or wirelessly, but only works with Macs.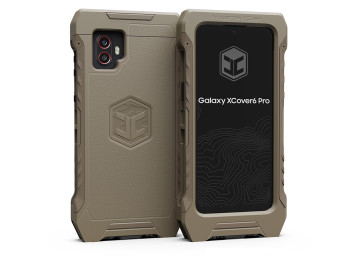 Samsung has introduced its third generation of Tactical Edition smartphones designed primarily for military personnel. For the first time, they support AT&T's FirstNet network and will be available to first responders. Also for the first time, there are two different models: a Galaxy S23 Tactical Edition, and a more-rugged Galaxy XCover6 Pro Tactical Edition. Samsung's Tactical Edition phones have a long list of specialized features and certifications tailored to military needs, including support for tactical radios, drone feeds, laser range finders, external GPS, and SDR receivers. Samsung now offers serverless license activation for streamlined setup. Samsung partnered with Juggernaut Case and Kagwerks to develop rugged, military-grade cases (available separately). The Samsung Galaxy S23 Tactical Edition and Samsung Galaxy XCover 6 Pro Tactical Edition are available starting today through select IT channel partners.
AST SpaceMobile has achieved another important testing milestone by successfully making a 5G phone call on an unmodified Samsung Galaxy S22 via its BlueWalker 3 test satellite currently in orbit. The phone was located in a cellular dead zone on Maui, Hawaii. The connection used AT&T spectrum; the same radio frequencies AT&T uses for its land-based 5G network. The company has conducted a series of different tests over the past year to validate its technology, including the first phone call in April, followed by 4G data in June, data download rates of up to 14 Mbps, video calls, streaming video, and "full compatibility with phones made by all major manufacturers". The company says it is on track to launch five commercial BlueBird satellites — already under construction — in the first quarter of 2024. AT&T is one of the many companies worldwide that AST has an agreement with to provide satellite coverage where its land-based network does not reach. AST's technology is made possible by the satellite's massive antenna, "the largest-ever commercial communications array deployed in low Earth orbit."
The final version of iOS 17 is now available to download. iPhone users with an iPhone Xr/Xs or newer (including the iPhone 11 series, 12 series, etc.) can now go to Software Update in Settings to upgrade to the new OS. iOS 17 was announced in June and has a number of new features, including: Contact Posters, StandBy, Check In, NameDrop, Live Voicemail, offline maps, smarter auto-correct, and the ability to respond to just "Siri" instead of "Hey Siri". It also has new protections against unwanted nude images. Beta versions have been available since July.
T-Mobile has reached an agreement to lease and then purchase radio spectrum licenses from Comcast worth $3.3 billion. The licenses are for 10 MHz of bandwidth around 600 MHz (band 71). T-Mobile already uses band 71 to provide blanket coverage. As one of the lowest frequencies in use for cellular networks, 600 MHz reaches long distances and well into buildings, with tradeoff of not providing the best high-speed data rates. This additional spectrum should help T-Mobile improve the baseline capacity of its network in areas where higher-frequency bands don't reach, improving network coverage and reliability. Comcast is preparing to launch its own 5G network starting this month in Philadelphia. The company has been testing its own 5G network in both the 600 MHz and CBRS (band 48) bands. Performance in the unlicensed band 48 has "exceeded our expectations", leading to the conclusion that Comcast is "unlikely to need the 600 MHz spectrum licenses that we currently hold to support our wireless customers." But the spectrum is valuable, especially to T-Mobile. Comcast has offered Xfinity Mobile wireless service to its home internet customers for several years using the Verizon network. Launching its own network in select markets will reduce traffic from Xfinity Mobile customers on the Verizon network, and presumably save money for Comcast. Verizon also uses band 48, so most of Xfinity's lineup of (Verizon-compatible) phones already support band 48, while not all support band 71.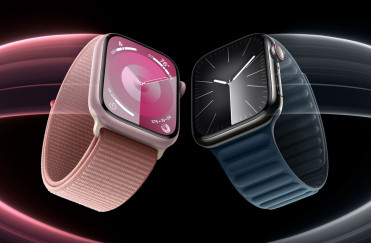 Apple has announced Apple Watch Series 9, a major upgrade of the internal components to enable new features. The new S9 chip includes a quad-core neural engine with twice the machine learning performance. This enables the Siri voice assistant to run locally on the device instead of relying on the cloud. This, in turn, allows Siri to query and update personal health data. Another major new feature is the finger double-tap gesture. Using the new neural engine and nearly all of the Watch's sensors, the Series 9 can detect when you touch your thumb to your index finger. Doing this twice quickly can trigger certain actions, such an answering a call, pausing music, snoozing an alarm, or taking a photo with the Camera Remote app. The new neural engine also enables a new dictation engine that's 25% more accurate. A new UWB chip (the same second-gen chip as in the new iPhone 15 series) enables precision finding for locating a lost iPhone. The UWB also allows the Watch to automatically pop up media controls when you approach a HomePod. The display has been improved to reach 2000 nits of brightness, twice as bright as before. It can also get as dim as 1 nit, for dark environments like a theater. The Apple Watch also now supports NameDrop (which lets you share contact info by bringing two Apple devices close together.) The new Apple Watch Ultra 2 brings all of these improvements and features to the Ultra, and further boosts display brightness to 3000 nits, making it the brightest display Apple has ever put in any product. Apple says the new watches are its first products that are 100% carbon neutral (depending on band choice). Apple is eliminating leather from its lineup, including watch bands. Instead it has come up with FineWoven, a "luxurious and durable microtwill" that has "a suedelike feel". All new Apple products are being designed to incorporate more recycled material than ever, including watch bands, and Apple has partnered with Nike and Hermès on several new non-leather bands that are more environmentally friendly. As usual, the standard Apple Watch comes in two sizes. The Series 9 starts at $399, while the Apple Watch Ultra 2 starts at $799. All of the new watches are available for order today, with full availability next Friday, Sept. 22nd.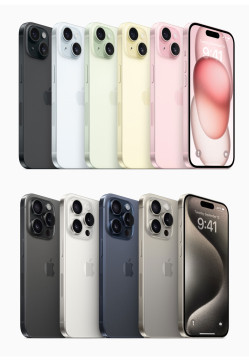 Apple has revealed the iPhone 15 series, which moves to a USB-C connector and brings several key features from last year's Pro models to the more-affordable standard models. These include the pill-shaped sensor cutout in the display that Apple calls Dynamic Island, a brighter display that can reach 2000 nits, a 48 megapixel main camera, and the A16 Bionic processor chip. The Pro models move to a titanium outer frame and a new A17 Pro chip that uses a cutting-edge 3nm manufacturing process. The A17 Pro has faster graphics with ray-tracing as well as a 2x faster Neural Engine for on-device machine learning. As with last year, both standard and Pro models come in two sizes: a 6.1-inch display and a 6.7-inch display. The larger models also include a larger battery. The larger iPhone 15 Pro Max also steps up from a 3x tele camera to a 5x. That camera features 3D sensor-shift OIS, a first in a phone. The titanium frame on the Pro models is stronger and lighter, granting them lighter weight and a slightly smaller physical size due to thinner bezels around the display. All models feature durable ceramic shield display glass and a frame with slightly rounded edges for a more comfortable feel in hand. The industry-standard USB-C connector replaces Apple's proprietary Lightning connector. On the iPhone 15 series, it supports charging, data, audio, and video (up to 4K). Apple is launching new wired earbuds and AirPods Pro for the new connector. On the Pro models, the connector supports USB 3 for data rates up to 10 Gbps. The Pro models can even record ProRes video directly to external storage. The 48 megapixel main cameras that are now standard across the lineup have a new default mode that captures both a 48 megapixel image and a higher-quality 12 megapixel image using pixing binning, then combines them to output a 24 megapixel photo with a better balance of quality and resolution. The standard models do not include a dedicated telephoto camera (like the Pros), but still offer 2x tele mode thanks to the higher-resolution main sensor. Video mode supports smooth zooming while filming. In standard Photo mode, the camera app now automatically detects a portrait situation (including of a pet) and captures a depth map. This lets you turn the photo into a portrait with bokeh (blurred background) after the fact, and even choose which part is in focus. Apple has also added a new nano-coating to the camera lenses to reduce lens flare in photos, a common complaint with recent iPhone models. A new, 2nd-generation UWB chip has longer range and enables a precision finding feature for other people you know with iPhones. A new "Voice Isolation" feature powered by machine learning eliminates background noise coming from your side while on a phone call. The emergency satellite features have been expanded to include roadside assistance from AAA; that service is now included with a AAA membership. The Pro models have a few other tweaks, such as a customizable action button replacing the silent switch, and rear glass that's easier to remove for better repairability. The Pro models can also capture 3D "Spacial Video" for Apple's new Vision Pro AR headset, plus log encoding for professional video capture and color grading. Finally, the Pro models support Wi-Fi 6E and Thread. The iPhone 15 starts at $799 while the larger Plus starts at $899, both with 128 GB of storage. The iPhone 15 Pro starts at $999 (128 GB) while the 15 Pro Max starts at $1199 (256 GB). The iPhone 15 and 15 Plus come in black or one of four pastel colors: blue, green, yellow, or pink. The Pro models come in black, white, blue or "natural titanium". Pre-orders start this Friday, with full availability a week later on Sept. 22.
HMD Global, the company that took over the Nokia brand in the phone space, plans to launch its own brand of phones. HMD Global CEO Jean-Francois Baril published a post saying that "we are establishing an original HMD brand. You can expect to see a new portfolio of HMD branded mobile devices, as well as Nokia devices and collaboration with exciting new partners."
Apple has extended its contract with Qualcomm to supply 5G modem chips for iPhones through 2026. Apple has been attempting to develop its own 5G modem chips, and purchased Intel's phone chip business in 2019 for $1 billion to further that effort. While rumors suggested Apple planned to debut its own 5G chips this year or next, the new deal with Qualcomm suggests that project is delayed. Apple could still debut its own 5G chip before 2026, but may phase in the change over time, across different iPhone models and/or different markets. Apple used modems from different suppliers in the iPhone 7 series, with the Qualcomm modems offering superior performance.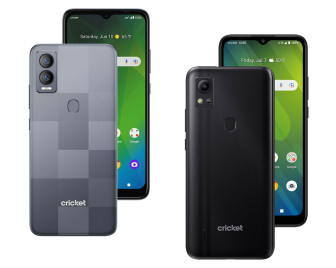 Cricket has started selling two additional phones under its own brand, adding to what was already the largest lineup of white-label phones among US carriers. The Cricket Magic 5G offers 5G for just $140, while the Cricket Icon 5 is a 4G Android phone for just $90. Both offer basic features such as Android 13, a 13 megapixel main camera, 5 megapixel front camera, 4,000 mAh battery, HD+ display with notch, and a fingerprint sensor. The Magic 5G also has NFC and a slightly larger display at 6.6 inches (vs. 6.5" on the Icon 5). The Magic 5G is manufactured by Tinno, which also makes the Cricket Ovation 3. It may also come to AT&T branded as the AT&T Propel 5G. The Icon 5 is made by Coosea, which also makes the Cricket Debut Smart, Innovate E 5G, and Vision Plus. The Icon 5 may also come to AT&T as the AT&T Motivate 4.
Apple has released iOS 16.6.1 for iPhones, which fixes an "actively exploited zero-click vulnerability". All iPhone and iPad owners should update their OS software immediately, as this is one of the most severe types of security issues. The vulnerability can be exploited with zero interaction from the victim; the attacker merely needs to send an iMessage with a maliciously crafted image. The Citizen Lab discovered the vulnerability — which they have dubbed "Blastpass" — being actively exploited in the wild and used to install NSO Group's Pegasus "mercenary spyware", which gives the attacker nearly complete access to the target device. Citizen Lab notes that iPhones in Lockdown Mode would not have been vulnerable to this exploit. Lockdown Mode is an existing feature of iOS that cuts off likely attack vectors. It's designed for people likely to be targeted for who they are or what they do. This particular exploit involves "a validation issue" with the PassKit API in Wallet, in combination with a buffer overflow issue in Apple's image-processing framework. Buffer overflows are a common cause of security vulnerabilities across most OSes.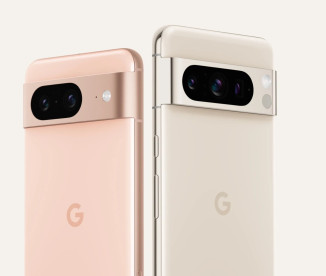 Google has posted an official page on its web site for the forthcoming Pixel 8, Pixel 8 Pro, and Pixel Watch 2. The page includes a few photos plus a short video with a all-around views of both phones. Side-by-side shots show a significant size difference between the two. Few concrete details are provided, but Google promises that the phones will offer "the most advanced Pixel cameras yet, and Google AI to help you do more, even faster." Examples of Google AI include smart photo editing and live language translation. As for the Pixel Watch 2, Google promises "even more personalized help, safety features, and health insights." All three products are going to be announced October 4th, and could be available the same day.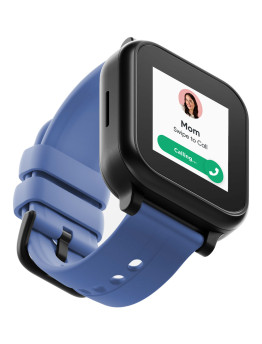 Gabb has announced its newest watch for kids, the Gabb Watch 3. The new model offers significant upgrades from the Watch 2, including full text messaging (via voice or keyboard), wireless charging, and Bluetooth pairing (to the parent's phone). It's also more durable with Gorilla Glass 3 and IP68 water resistance. It supports a larger allowed contact list, up from 25 to 100. Parents can also use the parent app to remotely track location, set Safe Zones, enable focus and silent modes, and create text message presets. The watch comes with several non-connected, non-addicitive games and apps, including an exercise tracker. The watch is designed to look "on par with leading adult smartwatches" and offers a variety of themes and wallpapers. It's available starting today for $150. Service plans start at $13/month. Gabb also makes a function-limited phone for kids.
New filings related to Arm's planned initial public offering (IPO) reveal that Apple has signed a deal with the company that "extends beyond 2040". Apple licenses Arm chip technology which it then customizes to create the A-series processor chips that are the heart of iPhones and iPads. More recently, Apple also moved its Mac computers to M-series "Apple Silicon" chips which are also based on Arm technology. Other major mobile chip companies like Qualcomm and MediaTek also license Arm technology as the basis for their chip designs. As Arm prepares to go public, Apple is among the strategic investors who has agreed to buy shares in the IPO.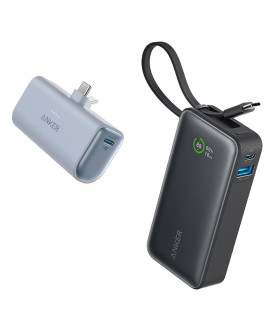 Anker has announced seven new MagGo wireless chargers and two new Nano power banks, all with faster charging than its previous-generation products. The new MagGo series fully supports the new Qi2 standard based on Apple's MagSafe. That means they support full 15-watt wireless charging, for 2x wireless charging speed. The series "includes a variety of wireless chargers, powerbanks, wireless magnetic pads and an 8-in-1 magnetic charging station". The two new Nano power banks have built-in USB-C connectors eliminating the need for a separate cable. A smaller model attaches directly to the bottom of the phone with a flip-out rigid connector. It has a 5,000 mAh capacity and can charge at up to 22.5 watts. A larger model has a short, built-in USB-C cable that supports two-way charging at 30 watts. It also has both USB-C and USB-A ports and a small color status display. It has a 10,000 mAh capacity. The power banks are available now for $30 and $50, respectively. Pricing and availability for the new MagGo wireless chargers will be announced later.
Google has ended its Pixel Pass subscription bundle after just 22 months, even though the offering was advertised as including a new phone after two years. The news comes as Google prepares to announce a new lineup of Pixel phones (presumably the Pixel 8 series) on October 4th. The monthly fees paid so far did cover the cost of an initial Pixel phone, plus a bundle of cloud services. Google is also offering a $100 credit to affected customers. But those customers are losing access to special discounted rates for streaming music and other services. Google has a long history of killing off products more quickly than other companies.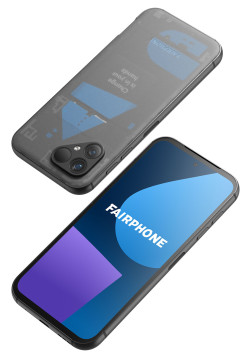 Fairphone has revealed the Fairphone 5, the next version of its sustainability-focused line of Android phones. The Fairphone 5 has better specs than past models, including dual 50 megapixel cameras (normal and wide) and a 90 Hz OLED display (6.46-inch, FHD+). The phone is modular and easily repairable. Full support lasts for five years and includes a warranty as well as full Android OS version upgrades. Security updates are promised for eight years. The company also uses materials that are better for the planet. Other specs include a 4,200 mAh battery, 8 GB RAM, 256 GB storage (expandable), Wi-Fi 6E, and NFC. Even though it's easily repairable, the phone carries an IP55 rating for dust and water resistance. It's available in black, blue, and transparent. The company is currently only taking pre-orders in Europe, but the the Fairphone 4 did eventually reach the US.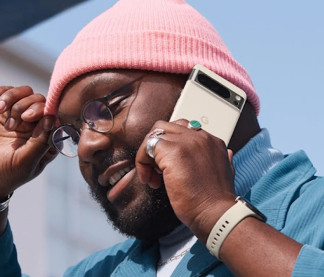 A page on Google's own Store web site briefly featured an image clearly showing the company's next flagship phone. The photo was labeled "A person takes a call on a Pixel 8 Pro phone in Porcelain." That phone has yet to be announced. Google historically announces such phones in October. Leaks like this are common enough for Google that they may be intentional, to drum up interest ahead of the official announcement.
Sonim's flagship rugged smartphone, the XP10, is now available in some form from all three major US carriers. It launches today for T-Mobile business customers, after launching first on AT&T and more recently with Verizon. The XP10 supports sub-6 5G on both T-Mobile and AT&T. Like all Sonim phones, it has an ultra-rugged, waterproof design that can be used without a case. The Sonim XP3plus — a rugged flip phone — is also available for all three major US carriers. Sonim has been doing well in the US market, and recently announced plans to expand into more affordable durable phones for consumers. Those phones are expected to reach the market with "two tier-one carriers in North America" in 2024.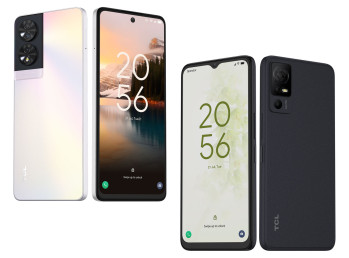 TCL has announced a new line of phones that employ NXTPAPER, the company's unique display technology that attempts to offer a "full color paper-like visual experience". Most obviously, the displays have an anti-reflective matte finish. A total of ten extra layers provide various benefits, including reducing disruptive blue light. NXTPAPER has been available in tablets and laptops, but these are the first phones to use the technology. TCL showed off a prototype NXTPAPER phone at this year's CES trade show. (We published a hands-on report.) The two NXTPAPER phones just announced are the 4G TCL 40 NXTPAPER and the TCL 40 NXTPAPER 5G. The 5G model has a 6.6-inch HD+ display, 50 megapixel main camera, MediaTek Dimensity 700 chipset, 6 GB RAM, 256 GB of storage, 5,000 mAh battery, and NFC. The 4G model, while cheaper, has upgraded specs in some areas, including 8 GB RAM, 6.78-inch FHD+ display, faster fast charging, and a better (32MP) front camera. An optional stylus and stylus case are also available. Both models are launching in Europe over the next two months. According to TCL, "details on U.S. availability will be shared in early 2024."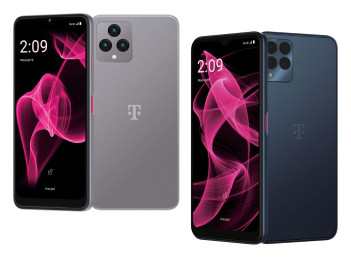 T-Mobile has launched updated versions of its REVVL 6 series of affordable 5G phones. The new REVVL 6x 5G and REVVL 6x Pro 5G are similar to their predecessors, with a few upgrades like double the storage (now 128 GB on the 6x and 256 GB on the 6x Pro). That is the only notable change on the larger Pro model. The smaller 6x also gains a couple of features were previously exclusive to the Pro model: a 50 megapixel main camera and NFC; however it no longer supports the bands necessary for 3G or 4G service overseas. Other specs remain largely unchanged. The smaller 6x has a 6.52-inch HD+ display, 4,500 mAh battery, and 4 GB of RAM. The larger 6x Pro has a 6.82-inch HD+ display, 5,000 mAh battery, 6 GB of RAM, and wireless charging. Both are powered by a MediaTek Dimensity 700 chipset. Both have a fingerprint reader, expandable storage, and a headset jack. The REVVL 6x comes in Lunar Gray for $200. The REVVL 6x Pro comes in Moonlit Ocean (dark blue) for $230. Both are available starting today from both T-Mobile and Metro by T-Mobile.
T-Mobile plans to lay off 5,000 employees over the next five weeks. The number amounts to about 7% of staff and will not affect retail nor customer care positions. The reductions will be in "primarily duplicative" corporate and "back-office" jobs. Five years ago when T-Mobile sought FCC permission to merge with Sprint, the companies promised 3,000 – 11,000 additional positions instead of layoffs.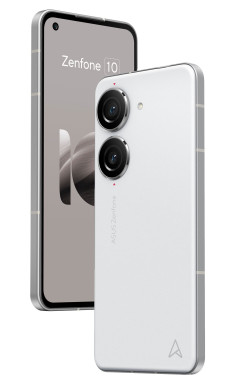 Asus has started accepting pre-orders in the US for its new compact flagship phone, the Zenfone 10. Shipping "around early September", the Zenfone is priced at $700–800, depending on configuration. The Zenfone 10 was first announced in late June, and packs high-end features into an unusually small body with a 5.9-inch display. The cheapest option at $700 has 8 GB RAM and 128 GB storage, but only comes in black. Stepping up to 256 GB of storage runs $750 with all five color options available (blue, green, red, white, and black). For $800, you get 16 GB RAM + 512 GB storage and a choice of black or green. Between now and Sept. 30th, pre-orders include a free set of ROG Cetra Bluetooth earbuds worth $100.
Google recently released a new version of Android Runtime (ART), a core software layer that all Android apps run on. The update "delivered real-world app start-up improvements of up to 30% on some devices." Starting with Android 12, Google was able to make ART a module separate from the rest of the Android OS. That means the new ART 13 update with faster startup times is available to all Android phones with Android 12 or later. Future ART updates — with performance and security updates, as well as new programming features for developers — will also be available to all Android 12+ phones. Google expects that ART 14 will further "improve performance while reducing code size".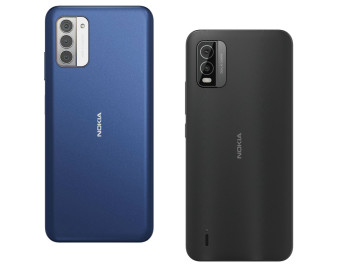 HMD Global has two new, affordable Nokia phones for the US market, and one of them is an affordable 5G phone with a user-replaceable display, battery, and charging port. The new Nokia G310 5G uses HMD's "QuickFix" design. Through a partnership with iFixit, users can get easy-to-follow repair guides and genuine spare parts to repair their own phone. This helps a phone last longer, which saves the user money and is better for the planet. The Nokia G310 5G is powered by a Snapdragon 480+ 5G chipset, has a 6.6-inch HD+ display with 90 Hz refresh, and a 5,000 mAh battery. It also has a 50 megapixel main camera, NFC, 20-watt fast charging, 4 GB RAM, 128 GB of storage (expandable), and a fingerprint reader on the side. It will be available from both T-Mobile and Metro, starting at $186 on August 24th. The Nokia C210 is a 4G phone that starts at just $109. It's powered by a Snapdragon 662 chipset paired with 3 GB of RAM and 32 GB storage (expandable). The display measures 6.3 inches and the battery clocks in at 3,000 mAh. There's also a 13 megapixel camera. It hits Metro on September 14th.
Verizon is now cleared to use 100% of the C-band spectrum it won in an FCC auction in 2021. This relatively new mid-band spectrum is ideal for providing terrestrial 5G service with a good balance of coverage and fast data speeds. This spectrum was originally used by satellite operators, but the FCC worked with those companies to relocate their operations to a smaller band of higher frequencies, freeing spectrum for 5G. This required the launch of new satellites. As those launches have been proceeding well, Verizon is now able to access all of its new spectrum four months ahead of schedule. Verizon initially launched in just 60 MHz of the C-band. As the transition proceeded, Verizon was able to expand that to 100 Mhz in some areas. Now Verizon has full access to at least 140 Mhz in the C band in all available markets, and up to 200 MHz in some (mostly rural) markets. That additional bandwidth gives the 5G network much greater capacity without getting congested and slowing down. It also gives Verizon the capacity to expand its use of 5G for home internet service.
The Samsung Galaxy Z Flip5 and Galaxy Z Fold5 are now officially available. Samsung is offering some previously-unannounced free trials as extras when the phones are ordered from samsung.com. With either phone, get four months of YouTube Premium, four months of Microsoft 365 Basic, and two months of Adobe Lightroom. Like the wireless carriers, Samsung has its own trade-in deals that let customers save up to $600 on the Flip5 and up to $1,000 on the Fold5.
Google has released the fifth and final beta version of Android 14. Although no specific date has been announced for the release of the final public version, the company says it is "only weeks away".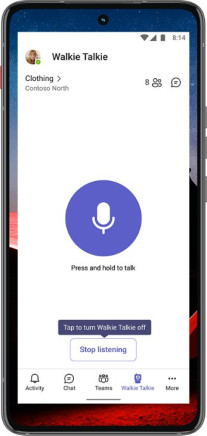 Motorola and Microsoft are bringing new business-oriented software features to the business-focused Lenovo ThinkPhone by Motorola. The new features are: fully integrated support for Windows 365 cloud capabilities, and Push To Talk (PTT) integration with the Walkie Talkie feature on Microsoft Teams. The Windows 365 cloud feature lets users stream a full instance of a Windows PC from the cloud, much like a streaming game service. Users can connect an external display (via USB-C), keyboard, and mouse (via Bluetooth) to the phone for a full desktop experience. The new Teams-based PTT function can be assigned to the Red Key on the side for quick access.
Google announced that it has finished rolling out end-to-end (E2E) encryption for group chats that take place over RCS using the Google Messages app, the default messaging app on most Android phones in the US. Google is also enabling RCS by default, unless a user has previously, explicitly turned it off. Google launched E2E encryption for one-on-one conversations in 2012, and started testing it for group chats at the end of last year.
Dish has reached an agreement to re-merge with EchoStar, a company it spun off in 2008. EchoStar offers satellite internet service under the HughesNet brand. The intent of the merger is for the new company to be better-positioned financially to continue building out Dish's new 5G network, according to Charlie Ergen, the co-founder and chairman of both companies.
Qualcomm is one of several major electronics companies teaming up on a new joint venture to advance the RISC-V architecture. RISC-V is an open-source alternative to the Arm architecture, which is the basis for the chips that power most mobile devices today. Arm is a British company that develops reference designs for the cores at the heart the chips that power most phones. Both Qualcomm and Apple currently license Arm designs for their own chips. Earlier this year, Google announced long-term plans to make Android compatible with RISC-V architectures. Qualcomm says "initial application focus will be automotive, but with an eventual expansion to include mobile and IoT." The new company will be based in Germany. Other partners in the joint venture include Bosch, Infineon, Nordic Semiconductors, and NXP.
Visible has officially dropped the price of its entry-level service plan from $30/month to $25/month. The company offered the lower rate through some limited promotions earlier this year, but has now made $25/month the standard rate. This entry-level plan is the "Visible" plan, as opposed to the "Visible+" plan, which is still $45/month. The more expensive plan adds a "Premium Network Experience", access to Verizon's faster "5G Ultra Wideband" network, international calling and texting, and roaming in Canada & Mexico. The cheaper plan still includes unlimited data, calling, and texting, as well as basic 5G access, unlimited mobile hotspot, and unlimited calling and texting to Mexico and Canada.
Verizon and AT&T are both increasing the monthly rate for some of their older plans. AT&T is increasing the monthly charge of its Unlimited Elite plan by $2.50 for phone lines added before August 1, 2022. Verizon is increasing the price of "select legacy plans" by $3/month. This reportedly impacts the 5G Start, Go Unlimited, Beyond Unlimited, Beyond Unlimited w/5G Ultra Wideband, Above Unlimited, Above Unlimited w/5G Ultra Wideband, and Single Unlimited Talk & Text 500MB plans. Verizon implemented a similar $2/month price hike on other legacy plans in April.
Samsung and Microsoft have launched a new technology called device attestation that allows companies and other organizations to confirm that a mobile device has not been compromised before it is allowed to access company resources, even with unmanaged personal devices. The companies claim that this solution is "the industry's first on-device, mobile hardware-backed device attestation solution that works equally well on both company and personally owned devices." The solution requires a Samsung Galaxy device and Microsoft Intune. It enhances security, helps organizations implement Zero Trust policies, and opens up new possibilities for BYOD (bring your own device) in the enterprise.
T-Mobile has launched a new feature of its 5G SA network that enables faster data speeds of up to 3.3 Gbps. The technology is called four-carrier aggregation (4CA) and it combines four different channels (carriers) of radio spectrum to act as one, enabling faster data rates than any one frequency band could offer. T-Mobile launched three-carrier aggregation (3CA) at the end of 2022, offering data speeds of up to 3 Gbps. T-Mobile's new 4CA mode consists of two channels near 2.5 GHz (both within the very wide band 41), one near 1900 MHz (band 2/25), and another near 600 Mhz (band 71). T-Mobile says 4CA is available "in parts of T-Mobile's network now and will be available nationwide in the coming weeks." The only phones that can currently take advantage of T-Mobile 4CA are the Samsung Galaxy S23 series, "with more devices to follow."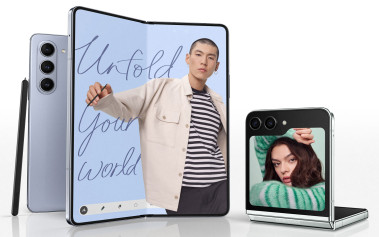 Samsung has unveiled its newest generation of Galaxy Z foldable phones: the Galaxy Z Fold5 and Galaxy Z Flip5. The Z Flip5 has an outer display that's almost 4x larger. Samsung calls it Flex Window and it has greatly increased functionality — including quick reply and widgets — much like Motorola's new razr+. Other changes are more minor, including a new hinge design that folds completely flat, allowing both phones to be thinner. The Z Fold5 is lighter as well, and its inner display can reach a higher peak brightness when outdoors. Samsung has also made the S Pen Fold Edition and its special case slimmer and more compact. The bodies of both phones are made from Gorilla Glass Victus 2 and Armor Aluminum, and are still rated IPx8 for water resistance. Both phones have been updated to Qualcomm's latest flagship chip: the Snapdragon 8 Gen 2 for Galaxy. The Z Flip5 comes with double the storage by default (256 instead of 128 GB) and it now supports Wi-Fi 6E. Otherwise, both phones have nearly identical specs and features compared to their predecessors, including the cameras, battery, charging, and RAM. Pricing also remains the same, starting at $1,000 for the Z Flip5 and $1,800 for the Z Fold5. Pre-orders are eligible for a free storage upgrade (from 256 to 512 GB, for example). The Z Flip5 will be available in Mint, Graphite, Cream, and Lavender, plus the samsung.com exclusive colors Blue, Gray, Green, and Yellow. The Z Fold5 will be available in Icy Blue, Phantom Black, and Cream, plus the samsung.com exclusive colors Blue and Gray. Samsung and carriers are offering generous trade-in deals of up to $1,000 off. Pre-orders are now open and the phones will be available August 11.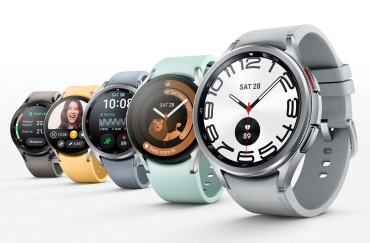 Samsung has announced its new lineup of smartwatches for this year, including a Galaxy Watch6 Classic with a "fan-favorite" rotating bezel, a model that was conspicuously missing from the Watch5 lineup. The Watch6 series brings a long list of upgrades over last year's models, including significantly thinner bezels that allow the displays to be 20% larger. The displays are also brighter and higher resolution. To compensate, the batteries are larger and the watches have "reduced battery consumption". Eight minutes of charging can deliver eight hours of battery life, ideal for the improved sleep tracking and coaching features. A new fabric band (free with pre-order) improves comfort for sleep tracking. For runners, the watch now supports personalized heart rate zones. The heart tracking also now provides FDA-certified Irregular Heart Rhythm Notification. The watch now supports full Samsung Wallet features, including IDs, event tickets, and boarding passes. Find My Phone now works directly on the watch, including a map to your lost phone. New APIs support custom deployments in healthcare and enterprise settings. Both watches come in two sizes, two colors, and are available with or without 4G LTE. The Galaxy Watch6 starts at $300 while the Watch6 Classic starts at $400. Add $30 to either for the larger size. Add another $50 for 4G LTE versions (instead of Bluetooth-only). Pre-orders are now open, with full availability on August 11. Samsung will also continue offering the Galaxy Watch5 Pro with its larger battery and titanium case.
More articles in the Archive ›
What do you want to hear about? We're already working on a number of articles for the coming months, but we want to write about the things you're most interested in. So sound off: tell us what you want to know more about!