Home
Samsung's newest software will allow the controversial Bixby button on its phones to activate a custom action instead of Bixby. The change will be available on new S10 phones as well as older S9, S8, and Note phones.
Apple and Goldman Sachs are working together on an Apple MasterCard credit card that would integrate with Apple Pay and offer 2% cash back. The Wall Street Journal reports that the card would offer unique software features in iPhones, such as setting spending goals, tracking rewards and managing balances from within Apple's Wallet app. Goldman has never offered a credit card before, and is spending $200 million to build the infrastructure to support the new card. The product is about to enter testing with Apple employees. The companies plan to launch it for consumers later this year.
By the end of this year, AT&T's 5G network will use sub-6 GHz radio bands to achieve broad coverage. The Samsung Galaxy S10 5G announced today won't be able to access that part of AT&T's 5G network; it can only access mmWave spectrum being launched only in dense urban areas. AT&T and Samsung are working on a second 5G phone that will be able to access the whole 5G network, to be available by the end of this year. AT&T's press release reads: "In addition to the Galaxy S10 5G, we previously announced that we're working with Samsung to make another 5G smartphone available in the second half of this year. This smartphone will be able to access 5G using sub-6 GHz spectrum broadly available later this year and nationwide in early 2020, as well as access 5G+ over mmWave in dense urban areas when available." Sprint and T-Mobile also plan to launch 5G networks in sub-6 GHz bands. Verizon has thus far only announced plans to launch 5G in mmWave bands, which cannot provide broad coverage.
The Samsung Galaxy S10 series covers a wide range of prices, from $750 up to $1,600 for the best S10+, the Ceramic edition with 12 GB RAM and 1 TB storage. Although Samsung initially announced pricing only for the lowest-memory configuration of each S10 model, US carriers have now revealed additional details and deals, including pricing for the high-memory configurations, and monthly payment options. The pricing of the Galaxy S10 series is remarkably consistent across all US carriers, with up-front pricing being identical, and monthly options working out to an even split of the up-front price across the full term of the payment plans, with no interest. Most carriers are also offering special deals for multiple phones and/or adding lines to existing plans. Read on for full details.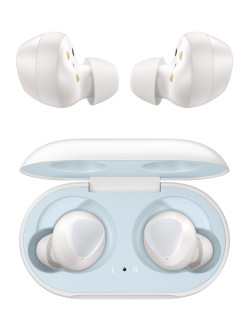 Samsung's new Galaxy Buds are 30% smaller than the Gear IconX they replace, and lighter as well, at just 5.6 grams each. These fully-wireless Bluetooth 5.0 earbuds have adaptive dual microphones that can use an outer microphone for your voice, or automatically switch to an inner microphone when there's excessive background noise. They also support Samsung's Bixby voice assistant, including voice commands that query and control the Buds themselves. The Buds offer 5 hours of calling or 6 hours of music on a single charge. The Buds themselves have a 58 mAh battery, while the charging case has its own 252 mAh battery. The included charging case supports USB-C and wireless charging, so it can charge from the back of the new Galaxy S10 using its Wireless PowerShare feature. The Galaxy Buds will be available March 8th for $129 in either black or white. Customers who pre-order a Galaxy S10 or S10+ will receive the Galaxy Buds for free, while supplies last.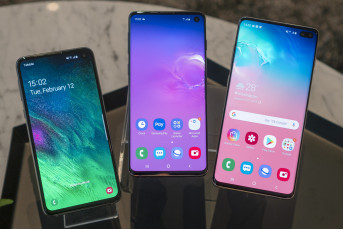 The new Samsung Galaxy S10 isn't just one or two phones, but a series of four phones. We spent some time with the S10e, S10, S10+, and S10 5G. How much smaller is the S10e? What did they leave out to make it cheaper? How huge is the S10 5G? And does the whole lineup live up to the legacy of the Galaxy S line on its tenth anniversary? We have your answers.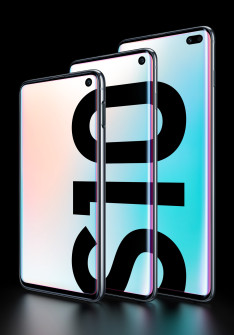 The tenth edition of Samsung's Galaxy S series of flagship phones includes, for the first time, four different models spanning a range of sizes and price points. Samsung announced the Galaxy S10 series today at an event in San Francisco. In addition to the standard S10 and (larger) S10+ that mirror pervious years' offerings, Samsung also revealed a smaller, cheaper S10e, as well as the S10 5G, which is even larger than the S10+. All of the S10 models include the new, top-end Snapdragon 855 processor, Cat. 20 LTE, a new "Dynamic" AMOLED display with hole-punch design and HDR10+, and two-way wireless charging that can charge other phones or accessories. For photography, they all include the same 12-megapixel main camera as the S9 (with dual-pixel and dual-aperture technology), a 16-megapixel wide-angle camera, and a new 10-megapixel, auto-focus front camera that can record 4K video. All models keep the 3.5mm audio jack, as well as IP68 rating for water-resistance. Most S10 models (the S10e excluded) also have an ultrasonic fingerprint reader embedded in the display, a third camera on the back for telephoto shots, an Infinity Edge display that curves at the sides for thinner bezels, heart rate sensor, and a minimum of 8 GB of RAM / 128 GB built-in storage. The S10 5G also adds 3D depth cameras to both the front and back and 25W fast charging. The S10, S10e, and S10+ go on sale worldwide March 8th, with pre-orders available starting tonight at midnight Eastern time. Those models will be available in the US in Prism Black, Prism White, Prism Blue, and Flamingo Pink (which is based on Pantone's color of the year, Living Coral). Pricing will be the same unlocked and at all major US carriers: The S10e will start at $750, the S10 at $900, and the S10+ at $1,000. Variants with added memory will cost more. All four top US carriers will offer all four models. Those who pre-order the S10 or S10+ will receive a free set of Galaxy Buds fully wireless earbuds (normally $129). Samsung is also offering trade-in deals worth up to $550. The S10 5G will be available in the 2nd quarter, first with Verizon before the middle of the year, followed by AT&T, Sprint, T-Mobile, Spectrum, and Xfinity "at a later date this summer." Read on for more details.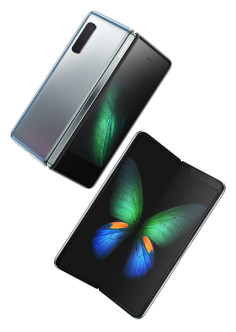 Samsung today announced the Galaxy Fold, the company's first commercial phone with a flexible display that folds in half. Folded, it resembles a thick smartphone with 4.6-inch HD Super AMOLED display; unfolded, it approximates a tablet in size and form factor, with a 7.3" "Infinity Flex" Dynamic AMOLED display. App Continuity allows users to start an Android app on the outer screen, then open the phone and continue uninterrupted on the larger screen. The inner screen also supports up to three apps side-by-side. It's powered by a Snapdragon 855 processor with 12 GB of RAM, and comes with 512 GB of storage. It also supports UFS 3.0 for faster storage access. Its two batteries total 4,380 mAh, and it supports fast wireless and wired charging. It has six cameras and a fingerprint reader on the side. The camera arrays are the same as on the new Galaxy S10+, including standard, wide, and tele cameras on the back, plus 10 megapixel selfie cameras on both the front and inside. The 4G LTE version will go on sale April 26th for $1,980, and a 5G version will also be available. Both AT&T and T-Mobile will offer the Galaxy Fold in the second quarter of this year. The phone comes in Cosmos Black, Space Silver, Martian Green, and Astro Blue, with choice of hinge color for further personalization.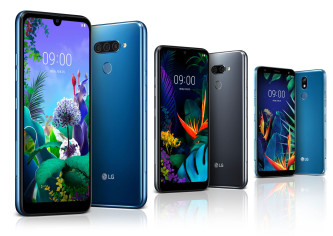 LG's new mid-range phones for 2019 all feature tall 2:1 displays, fingerprint readers, a dedicated Google Assistant button, and "AI CAM" automatic scene detection and mode selection, a feature thus far found only on higher-end phones. LG announced the Q60, K50, and K40 today, ahead of the MWC trade show next week.
Q60: 6.26-inch display with a small notch, three rear cameras (16mp main, 5mp wide, and 2mp depth), 13mp selfie camera, 3,500 mAh battery, 3 GB RAM, and 64 GB storage.
K50: The same 6.26-inch display with a small notch, two rear cameras (13mp main and 2mp depth), 13mp selfie camera, 3,500 mAh battery, 3 GB RAM, and 32GB storage.
K40: 5.7-inch display, 16mp camera, 8mp selfie camera, 3,000 mAh battery, 2 GB RAM, and 32 GB of storage.
They all have memory card slots supporting cards up to 2 TB and DTS:X 3D surround sound. Further details of the three phones will be revealed next week at the MWC trade show.
A television ad for the unannounced Samsung Galaxy S10 has aired in Norway, and it confirms several of the key features of the device. The ad clearly shows an ultrasonic fingerprint reader, "hole-punch" display, three rear cameras, and reverse wireless charging that can charge new wireless earbuds.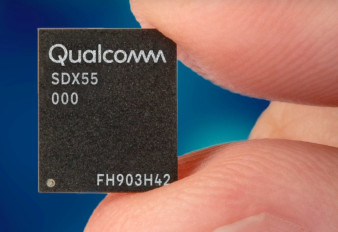 Qualcomm's new X55 standalone modem chip supports 5G in all major frequency bands as well as FDD and TDD modes. Support for FDD makes it the first chip to support T-Mobile's planned 5G network in the 600 MHz band. Qualcomm's first 5G modem chip, the X50, only supported TDD in the 28 GHz mmWave band. The 5G version of the Snapdragon 855 SoC supports more 5G frequency bands, but only in TDD mode. Verizon, AT&T, and Sprint all have TDD (unpaired) spectrum they will use for some or all of their initial 5G deployment. T-Mobile is focused on its existing FDD bands for 5G. The X55 also includes both 5G and 4G, and is the first chip to support Cat. 22 LTE, offering up to 2.5 Gbps speed. Furthermore, it supports dynamic spectrum sharing between 4G and 5G, for carriers planning to use existing cellular bands for both 4G and 5G simultaneously. The X55 also supports both SA (standalone) and NSA (non-standalone) 5G networks. The X55 can deliver speeds up to 7 Gbps down (and 3 Gbps up) on 5G networks. Qualcomm also introduced a new front-end 5G solution designed to work with the X55, providing the other components needed for 5G. These include a new mmWave antenna that supports band 258 (26 GHz), and is thinner than the current model, allowing 5G phones as thin as 8mm. The X55 and companion parts will appear in commercial devices by "late 2019".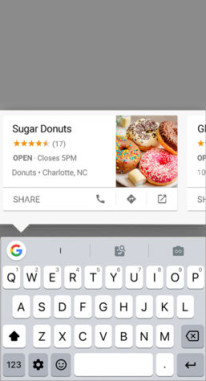 Google's newest version of Gboard — its keyboard-replacement app for iOS — adds physical feedback when typing. Apple's own iOS keyboard does not offer this popular feature. The haptic feedback feature is available on iPhone 7 and later. Gboard also offers input by word swipe and voice. It includes emoji (with search), GIFs, stickers, and personalized stickers. Google search is built-in and results — such as business listings, videos, images, and articles — can easily be pasted and sent to others. The new version is 1.4 and is available now in the Apple App Store.
The LG G8 ThinQ, the company's next flagship phone, will have a 3D face scanner for biometric security, and use its screen surface as the phone earpiece. LG has made several announcements leading up to the phone's launch about its features, also confirming the phone's name — the LG G7 ThinQ — and that it will be fully unveiled at the MWC trade show, which takes place the week of February 24th. The 3D face scanner will provide "sophisticated security for phone unlocking and payment authentication". The scanner is an Infineon REAL3 image sensor chip. It's tuned to infrared light and uses its own infrared light source so it's unaffected by ambient light. It uses time of flight (ToF) technology, which measures the time it takes for light to make the round trip to and from objects the light reflects off of. The screen-based earpiece is technology LG calls Crystal Sound OLED (CSO). LG developed CSO in-house, and says it "repurposes the OLED display as a diaphragm, vibrating the entire surface to produce sound with impressive volume." The G8 will also have a speakerphone using more traditional technology on the bottom, including the "Boombox" design (also found on the G7) that uses the interior of the whole phone as a resonance chamber to boost bass and volume.
Originally an Android-based OS for any smart-home or IoT device, Google has now decided that Android Things will be limited to smart speakers and smart displays with Google Assistant built in. As a result, Google is withdrawing support for several hardware platforms. The company just finalized Android Things 1.0 last May and promised three years of OS updates for some of the platforms it is now dropping.
AT&T today added Chicago and Minneapolis to its list of cities that will get a true 5G network by the end of this year. That list already includes Las Vegas, Los Angeles, Nashville, Orlando, San Diego, San Francisco and San Jose. The company already has 5G available to a limited group of customers in "parts of" Atlanta, Charlotte, Dallas, Houston, Indianapolis, Jacksonville, Louisville, Oklahoma City, New Orleans, Raleigh, San Antonio, and Waco. The company plans to launch 5G nationwide by "early 2020". This true (standards-based, mmWave) 5G network is not yet available to most consumers, and no phones have launched yet that support 5G. AT&T is currently running a misleading campaign to promote "5G E", which is actually 4G LTE. Sprint is currently taking AT&T to court over that campaign.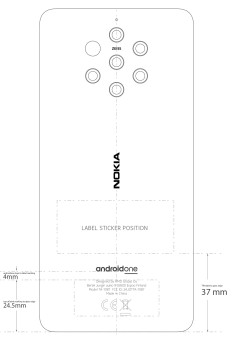 A Nokia phone with a large array of cameras on the back was just approved by the FCC. The unusual design with up to six discrete cameras on the back is clearly visible in a drawing of the back of the phone. FCC documents also reveal the phone's radio functions, which include NFC and all of the LTE bands used by Verizon, as well as basic LTE functionality for AT&T and T-Mobile. Verizon did recently launch its first Nokia phone (since the brand was handed over to HMD Global). Camera company Light revealed a prototype of a similar multi-camera phone in the middle of last year, and promised that its light field technology will come to a smartphone with five to nine cameras. Light says its phone design is capable of capturing 64 megapixel shots, better low-light performance, and sophisticated depth effects. Rumors have circulated that a phone looking like this will be called the Nokia 9 PureView. The old Nokia used the PureView brand for its phones with the most advanced cameras.
After holding out longer than most auto makers, Toyota's new 2020 lineup includes, for the first time, a variety of models that support both Apple CarPlay and Google's Android Auto. The new models include the 2020 4Runner, Sequoia, Tacoma, and Tundra. Last year's Avalon supported CarPlay, but not Android Auto. The two technologies are comparable, letting the driver sync their phone to the car and display an interface on the dash touchscreen that's driven by the phone, and includes voice control. The interfaces are tailored to driving, with a focus on navigation, music, and basic communication. Other car companies already supporting both CarPlay and Android Auto are: Chrysler (and Dodge, Fiat, Jeep, Ram), Ford (and Lincoln), GM (Buick, Cadillac, Chevy, GMC), Honda (and Acura), Hyundai (and Kia), Jaguar, Land Rover, Mazda, Mercedes-Benz, Mitsubishi, Nissan, Subaru, VW (and Audi), and Volvo.
AT&T's marketing of a "5G E" network — which is actually 4G LTE and has nothing to do with 5G technology — now has the company in legal trouble, as Sprint is taking AT&T to court for "false advertising and deceptive acts". AT&T has been marketing "5G E" in large national ad campaigns, as well as updating existing phone software to show a "5G E" indicator for 4G LTE service. Sprint is seeking an injunction to stop these actions, as well as damages caused by the success of AT&T's campaign. According to Sprint, "AT&T's deceptive ads have harmed consumers by persuading them to purchase or continue purchasing AT&T's services based on the lie that they are offering 5G." Sprint made its filing in a United States federal court in New York, based on a combination of federal and New York state laws.