Home
Verizon Wireless today said that it will automatically credit its customers in areas impacted by Hurricane Michael for three months of service. The credit will be made for every line on both consumer and business accounts. While the company continues to make repairs to its damaged network, it has set up temporary cell sites for first responders in areas that have little or no service. Verizon said earlier that it has sustained massive damage to its fiber network, which carries traffic from its wireless network across the internet. The company has put up charging stations at some shelters and police/fire stations. Verizon customers can check the company's web site to follow the progress on repairs.
FCC Chairman Ajit Pai lowered the boom on the nation's wireless network operators and their collective lack of progress in bringing wireless service back to the areas impacted by Hurricane Michael. "Even though efforts to restore communications services have been going well in most of the areas affected by Hurricane Michael, the slow progress in restoring wireless service in areas close to where the hurricane made landfall is completely unacceptable," said Pai in a statement. The agency has been in constant contact with the carriers. "I'm concerned that [the carriers'] actions on the ground aren't matching the urgency that we have conveyed during those conversations." Pai is asking the carriers to waive the bills of Floridians in the affected area for the month of October. Pai is also asking the carriers to let customers change wireless companies without penalty. Florida Governor Rick Scott has called on carriers to take these same actions. Each of the major carriers has offered free calling and messaging in the affected areas, as well as waived data overages. Finally, Pai wants the carriers to be more transparent about where and how quickly they will restore service. Pai has asked Homeland Security to investigate the matter.
Google today said it is appealing the European Commission's recent decision against Android. The EU sees the mobile platform's dominance as anti-competitive and fined Google $5 billion. Google believes Android has spurred competition and created a rich and flourishing ecosystem. However, Google has also developed a plan to comply with the EU's decision. Moving forward, Android device makers that want to install the Google Play Store and Google apps on phones and tablets in the EU will also be able allowed to build non-compatible, or forked, variants. Device makers can license the Google mobile application suite separately from Google Search and Google Chrome, which will now have their own licensing agreement. Google says it will offer new agreements to its partners that choose to pre-install Search and Chrome. Competing search and browser apps may also be pre-installed. "Since the pre-installation of Google Search and Chrome together with our other apps helped us fund the development and free distribution of Android, we will introduce a new paid licensing agreement for smartphones and tablets" that are shipped to the EU, said the company. Google will use the licensing fees to make up for lost revenue due to the decrease in Search and Chrome pre-installs. The change goes into effect October 29.
Google today said people can now search for and locate electronic vehicle charging stations in Google Maps. In addition to displaying the closest stations, Maps will provide information about the business where the charger is located, the types of ports that are available, how many ports there are, and charging speeds. Google says it offers crowd-sourced information, too, such as photos, ratings, and reviews of the charging stations. Google will supply links to additional details about the charger. Globally, Google Maps will locate Tesla and Chargepoint chargers, and in the U.S. it will also locate SemaConnect, EVgo, and Blink chargers. Android and iOS users can download the new version of Maps with EV charging locations today. Google says the same information will be available on desktop PCs in the coming weeks.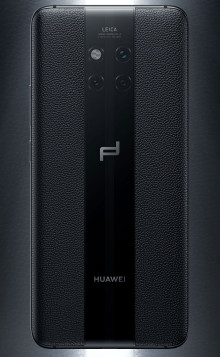 Huawei today unveiled two devices apart from the Mate 20 and Mate 20 Pro. First up, the Mate 20 X is a massive slab with a 7.2-inch screen and a 5,000mAh battery. Huawei is pitching the phone as a gaming device. It relies on a graphene film and vapor chamber to keep the Kirin 980 CPU/GPU cool, which translates to faster speeds for longer periods of time. The phone includes the same 40-megapixel ultra-wide-angle camera that's found on the Mate 20 Pro. It supports pen-based input and has an IP53 rating for protection against minor splashes. The Mate 20 X will retail for €899 and goes on sale October 26. The Mate 20 Porsche Design RS (pictured) features a custom-designed chassis that was inspired by Porsche's racing legacy. It has a glass racing stripe on the rear panel that's surrounded by leather. The phone has a more round shape than that of the other Mate 20 phones, but shares all the specs with the Mate 20 Pro. The Mate 20 Porsche Design RS will start at €1,649 and goes on sale in November.
Boost Mobile today announced the Coolpad Illumina, an affordable Android phone that runs the lightweight Android Go platform. Android Go is designed for low-spec'd devices and includes simplified versions of core apps such as Gmail, YouTube, and Maps. The Illumina has a 5-inch screen and it is powered by a quad-core Snapdragon 210 processor with 1 GB of RAM and 8 GB of storage. A 5-megapixel camera graces the rear and a 2-megapixel camera faces the user. Other features include a 2,150mAh battery, Bluetooth 4.2, GPS, WiFi, and a 3.5mm headphone jack. Boost Mobile is selling the Coolpad Illumina for $40 after an instant $40 credit.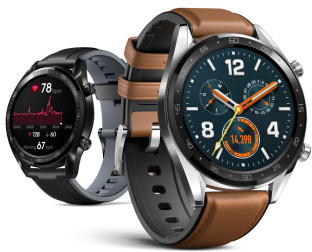 Huawei today announced the Watch GT, a smartwatch that has a traditional appearance and focuses on fitness. Huawei says the Watch GT is designed for "urban explorers" and can track a wide range of activities. The device can automatically track running, swimming, cycling, cross fit, hiking, and walking. The device has a round, 1.39-inch AMOLED screen that's surrounded by a ceramic-coated bezel and stainless steel chassis. The wearable features excellent battery life. It relies on a dual-chip system so it can separate low- and high-power tasks. Huawei says it relies on AI to understand what the wearer is doing and it will automatically switch to power-saving mode when it can. As a result, the device supports up to two weeks of battery life with the heart rate monitor on and tracking 90 minutes of activity per week. With heart rate and GPS off, the wearable can offer the time, messages, and calls for up to 30 days. With continuous exercising, and the GPS/heart rate monitor active, the battery lasts about 22 hours. The device features a six-sensor heart rate monitor to record the most accurate measurements. The UI is not based on Google's Android Wear OS, as Huawei's older watches are. Instead, it favors a Wear OS-like UI that Huawei developed itself. The Classic version costs €249 and the Sport version costs €199. They will be available later this month.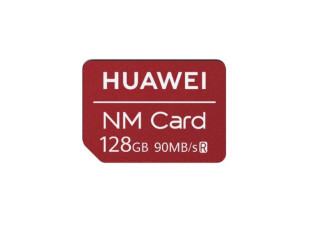 Huawei today showed off a new memory card format to accompany its flagship Mate 20 Pro smartphone. The Mate 20 Pro supports two SIM cards, but not a traditional microSD memory card. In order to give people the option to add storage to the Mate 20 Pro, Huawei made a memory card that's shaped and sized like a nano SIM card. Huawei didn't say what storage allotments the card will come in, though it did show a 128 GB card on stage. There's no word on pricing or availability, and Huawei didn't say how the memory card interfaces with the SIM connector.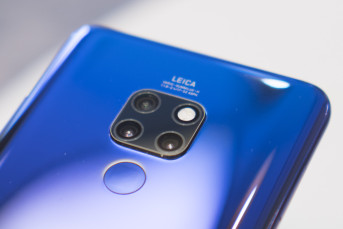 Huawei's latest phones, the Mate 20 and Mate 20 Pro, are impressive metal-and-glass slabs that go toe-to-toe with the best from Apple, Google, LG, and Samsung. Those seeking non-carrier fare will find plenty to like about this powerful pair of intelligent devices. Here are Phone Scoop's initial impressions.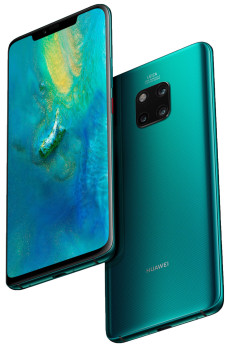 Huawei today announced it flagship series for the year, the Mate 20 and Mate 20 Pro. The phones share a number of features, but have their own identity thanks to differences in the screen and chassis. The most distinctive feature is the camera module on the rear, which is square-shaped and contains three cameras and the LED flash. Both the Mate 20 and Mate 20 Pro are powered by Huawei's Kirin 980 processor, which it says delivers even more AI-based smarts than its last-generation chip. The Kirin 980 features dual neural processing units to improve image recognition, Master AI for processing 1,500 different scenes, and predictive focus for tracking subjects in real time. Other shared features include Cat 21 LTE with dual SIM cards, Bluetooth 5.0, WiFi, GPS, and support for 256 GB memory cards. Both include a 24-megapixel selfie camera at f/2.4, and come in five colors, including green, blue, twilight, pink gold, and black. The devices run Android 9 Pie with Huawei's EMUI 9.0 skin on top. EMUI 9.0 is pared back a bit when compared to EMIO 8.0, and features business software as well as the ability to project a desktop mode to wireless displays.
Mate 20 Pro: The Mate 20 Pro is the higher-end version of the two phones. It boasts a notched 6.39-inch curved OLED display with quad HD+ resolution and support for HDR. The Mate 20 Pro includes a fingerprint reader buried under the display, as well as 3D facial recognition for security. The phone features three rear cameras contained in a square module on the rear. The main camera has a 40-megapixel sensor at f/1.8, and it is joined by an ultra wide-angle 20-megapixel sensor at f/2.2, and an 8-megapixel 3x telephoto sensor at f/2.0. The phone supports wireless charging and can even act as a charger for other devices. The battery is rated at 4,200mAh. It comes with 6 GB of RAM and 128 GB of storage.
Mate 20: This device has a "teardrop" notched screen that measures 6.53 inches across the diagonal with full HD+ resolution. The Mate 20 also features a three-camera array on the back with a main sensor of 12 megapixels at f/1.8, a wide-angle sensor of 16-megapixel at f/2.2, and an 8-megapixel 2x telephoto sensor at f/2.4. The phone supports wireless charging and the battery is rated at 4000mAh. It comes with either 4 or 6 GB of RAM and 128 GB of storage and a rear-mounted fingerprint reader for security.
The Huawei Mate 20 and Mate 20 Pro are expected to ship starting today. The Mate 20 costs €799 and the Mate 20 Pro costs €1049.
Google designed a special wireless charger for the Pixel 3 and Pixel 3 XL. Not only does the Pixel Stand charge your phone rapidly, it conjures up special features that turn the phone into a miniature desktop assistant.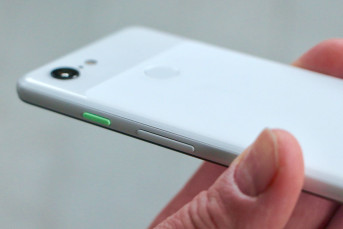 The Pixel 3 from Google is an intelligent phone that wants to help you. The Google Assistant is baked into every facet of the Pixel 3, and together with Android 9 Pie it will learn who you are, what you like to do, and what you need as you move throughout your day. Here is Phone Scoop's in-depth review of Google's most complete product.
Google has quietly updated its Google Assistant to make real-time translations available across a wider range of products. The real-time translations were initially limited to Google's own Pixel Buds. Now, any set of headphones that support Google Assistant can access the instantaneous translation function. The headphones that ship with the new Google Pixel 3 and Pixel 3 XL are among the first to support this feature.
Google says it plans to introduce support for external microphones for its line of Pixel phones. This will allow those shooting video to capture higher-quality audio to accompany their visuals. The feature will work with USB-C ports (Pixel 2, 3) and 3.5mm jacks (Pixel). The company confirmed the update in its forums, stating, "At the same time as Pixel 3 launch (October 18th), we will introduce support for Android-compatible plugged-in external microphones in the default camera app for all Pixels." Other Android camera apps have supported this feature for some time, but not the main Pixel camera app. Pixel owners can expect to see their app update with the new tool in the next few days.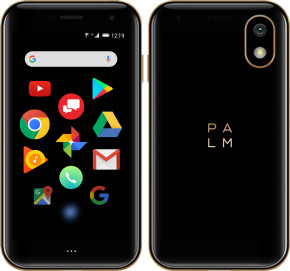 Palm, a California company that purchased the rights to the Palm brand from TCL, today launched a new device it calls an ultra-mobile product that "syncs with your smartphone to keep you connected but not consumed." The idea is to allow people to access their vital apps when needed, but keep them from staring at their screen all day — particularly when they are out and about. The device is tiny and features an aluminum chassis with Gorilla Glass panels front and back. It's rated IP68 for protection against dust and water. Palm says the device is designed to be worn, not carried. Rather that serve as a primary phone, it is a companion device. Owners will need to have a regular Android or iOS smartphone on a Verizon service plan. The Palm is billed like a smartwatch. Service costs $10 per month and it relies on the same number as the main device. It's able to keep messages, calls, and other data in sync between itself and the primary phone. The Palm has a 3.3-inch HD screen and it is powered by a Snapdragon 435 processor with 3 GB of RAM and 32 GB of storage. It has a 12-megapixel rear camera with flash and an 8-megapixel selfie camera. The Palm includes LTE, WiFi, GPS, and Bluetooth, with an embedded SIM card. The device has an 800mAh battery and relies on face unlock for security. The phone runs Android 8.1 Oreo and is compatible with millions of Android apps. The user interface skips the idea of a home screen and instead shows all the on-board apps. A small gesture pad is available at the bottom of the screen, accessed by swiping up, and it can be used to search for apps based on scrawling the first letter of the app. The gesture pad also contains shortcuts to the phone, messages, camera, and music apps. The crux of the Palm is Life Mode. With this mode activated, the Palm essentially goes to sleep when users turn off the screen, preventing calls and messages from interrupting the owner. Owners can customize Life Mode a bit. The phone returns to full functionality when owners choose to wake the screen back up. Google Assistant is built in and works with custom, voice-activated shortcuts that perform a variety of actions. The Palm costs $350 and will go on sale in November.
The Trump administration has asked a federal appeals court to reject a lawsuit that challenges the FCC's repeal of net neutrality rules. The FCC voted in December 2017 to nix the Obama-era rules, and the change went into effect in June. A group of corporations, local governments, public interest groups, and 22 states filed a lawsuit seeking the rules to be reinstated. The Department of Justice disagrees, saying the suit has "no substantial reason to second-guess the commission's decision to eliminate rules that the agency has determined are both unlawful and unwise." The FCC reclassified internet access as an information service, rather than a utility under Title II. The Republican leadership of the FCC believes the industry will regulate itself through transparency. The now-negated regulations had bright line rules that prevented providers from blocking content, throttling speeds, and offering paid fast lanes. The State of California recently enacted its own net neutrality legislation and was promptly sued by the Justice Department. The tug-of-war over the issue will continue in the courts.
Facebook today provided an update on last month's hack. The hackers used accounts under their control to access the tokens of some 400,000 users. Using automated techniques, the hackers then boosted that number into the tens of millions. Facebook now says that 30 million accounts were definitely impacted, which is less than the 50 million it had originally estimated. Of those 30 million accounts, 15 million had their name and contact details (phone number, email address) scraped. For 14 million, the hackers stole their name, contact data, as well as username, gender, location, relationship, religion, hometown, birthday, device types, education, work, and locations/posts in which they were tagged. For 1 million people, the hackers didn't access any information. Facebook says users can check to see if their information was stolen via its online Help Center. The social network also plans to proactively email people to let them know what data was taken and how they might protect themselves. Facebook says the hackers did not compromise Instagram, Messenger, Messenger Kids, Oculus, Pages, payments, WhatsApp, or Workplace. The investigation is ongoing and Facebook is cooperating with law enforcement.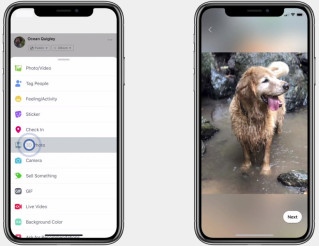 Facebook has made it possible for people to share 3D pictures via the social network. There are multiple steps needed to successfully create a 3D post. First, 3D photos require an image captured using the Portrait mode on the dual-camera iPhone 7+, 8+, X or Xs. This is vital, as the second camera captures depth-of-field information as well as perspective. Facebook has added a special tab to News Feed that allows people to post 3D images. Once the Portrait photo is uploaded, Facebook does the rest. Everyone will be able to interact with 3D photos via their browser, using the mouse to tilt and pan a bit for the 3D effect. Facebook says 3D photos can also be viewed through its Oculus virtual reality devices. The 3D photos should reach everyone in the coming weeks. Facebook didn't specify when dual-camera Android phones will gain the ability to post 3D photos.