Home
Google has released another "feature drop" software update for its Pixel phones. The update includes several major, previously-announced features, such as free VPN service, Clear Calling, and automatic multi-person transcription in the Recorder app. Clear Calling helps reduce background noise from the other end of a phone call. The updated Recorder automatically separates and labels different speakers when recording a conversation. "And once the recording is complete, you can easily re-label speakers with their names." The free VPN and Clear Calling are exclusive to the Pixel 7 series, while the new Recorder is available for Pixel 6 and up.
Verizon has reached "its goal of reaching 175 million people covered by the end of 2022, a month ahead of schedule" in its deployment of 5G in new C-Band (mid-band) radio spectrum. Verizon is also expanding capacity in many deployed markets from 60 Hz to 100 Hz of bandwidth.
Google's open beta version of Messages will soon gain the ability to participate in group chats that are end-to-end (E2E) encrypted via RCS, the industry standard for enhanced messaging. E2E encryption is already available for one-on-one conversations.
Motorola's edge 30 fusion — a model that would normally only be sold in other parts of the world — will come to the US as an unlocked phone compatible with AT&T and T-Mobile. This special edition will come in Pantone's just-announced Color of the Year 2023, Pantone 18-1750 "Viva Magenta". The edge 30 fusion is a near-flagship-level phone, featuring a Qualcomm Snapdragon 888+ chipset, pOLED display with 144 Hz refresh, and 50 megapixel camera with OIS. Other specs include a 4,400 mAh battery, 12 GB of RAM, 256 GB storage, 13 megapixel wide-angle camera, 32 megapixel front camera with auto-focus, and Wi-Fi 6E. Although it supports enough frequency bands to function on the AT&T or T-Mobile networks, it does not support all of the bands necessary for full coverage and best data speeds. (For example, it lacks 4G in bands 30 and 71, and lacks 5G in band 2.) Motorola will sell the phone starting December 12, unlocked on its web site for $800, in a bundle that includes the Moto Buds 600 ANC Bluetooth earbuds in the complementary color PANTONE 19-2118 "Winetasting". The phone will also be available on its own, in Lazuli Blue, for $700.
Google Pixel phones now have the ability to share digital car keys via messaging, including with iPhones. Select other phones with Android 12 or later will also get the feature soon.
Corning, a leader in specialty glass for phone surfaces, has announced Gorilla Glass Victus 2, its toughest glass yet. Gorilla Glass Victus 2 is more shatter-resistant than the original Gorilla Glass Victus, able to survive "drops of up to one meter on a surface replicating concrete", or drops of two meters onto asphalt. While the original Gorilla Glass series made trade-offs between shatter resistance and scratch resistance, the Victus series is durable in both ways. The Victus 2 has the same level of scratch resistance as the original Victus. Gorilla Glass is very commonly used for the display glass on phones, and sometimes the back surface as well. "Gorilla Glass has been designed into more than 8 billion devices by more than 45 major brands." Gorilla Glass Victus 2 "is expected to reach the market within the next few months."
Early next year, Bullitt will launch a phone in the US with 2-way messaging directly to satellites. Bullitt currently sells phones under the CAT brand, as well as a select Motorola-branded models. The new phone will be the first to use the MediaTek's new NTN (Non-Terrestrial Network) 5G satellite NB-IoT chip. The 3GPP NTN standard is designed to let phones connect directly to one of several satellite constellations. This phone will connect to a Geostationary Orbit (GEO) constellation. It will also use a MediaTek Dimensity 930 5G chipset. The satellite messaging service will be free for the first year. Further details about the phone, brand, and specific satellite network will be available closer to the device's release in the first quarter of next year.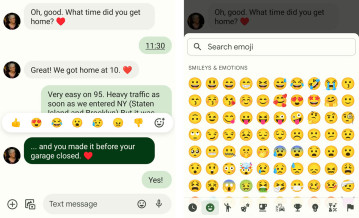 Google is quietly rolling out an update to Messages that lets users react to individual messages with any emoji, instead of just the usual seven. When long-pressing on a message, the usual seven reactions are still offered, along with a new "face plus" icon that leads to a full emoji picker.
The FCC has just adopted an even stricter stance against communications equipment from Chinese companies such as Huawei and ZTE, implementing a more complete ban. The US government has already taken a number of steps to constrain Chinese telecom equipment companies in recent years, effectively shutting them out of the US market, as well as many western markets. But the FCC has still accepted applications from the companies for "equipment authorization", which involves testing radios to ensure compliance with FCC rules that prevent radio interference, etc. This is a requirement for the importation and sale of any radio equipment (or equipment that could interfere with radios) in the US. Now the FCC will no longer issue authorizations for "communications equipment deemed to pose an unacceptable risk to national security". "The new rules implement the directive in the Secure Equipment Act of 2021, signed into law by President Biden last November, that requires the Commission to adopt such rules." While the new rules apply only to new equipment going forward, "The Commission is also seeking comment on future action related to existing authorizations."
TSMC, the Taiwan-based manufacturer of the world's most advanced chips, will bring its newest, most advanced chip production to US soil. The company had already announced plans for a 5-nanometer chip plant in Arizona. (The most advanced chips in Apple and Android phones currently use 4-nanometer technology. In chips, smaller is better.) Now TSMC will also build a next-generation 3-nanometer plant at the same Arizona location. The company is spending $12 billion on the 5nm plant, which is expected to start production in 2024. The company's founder, Morris Chang, made the announcement about the 3nm plant, adding that "the cost of manufacturing chips in the US will be at least 55% higher than in Taiwan". However Apple and other major customers are increasingly looking to diversify their supply chains globally. Regional tensions between Taiwan and China present a risk for companies like Apple and Qualcomm when all of the most advanced chips are made exclusively in Taiwan.
Verizon will now let prospective customers try out its network for free for up to 30 days using eSIM as a second line on their compatible existing phone. T-Mobile launched a similar service a year and a half ago. By activating as a second line, users can keep their existing service during the trial. Verizon's Test Drive includes unlimited talk and text and up to 100 GB of 5G and 4G, including Ultra Wideband and "premium network experience". The only service limitation is that video streaming is limited to 480p (SD) when not connected to 5G Ultra Wideband. Only certain phones are compatible with Verizon's network and the eSIM technology this service relies on, but this includes most recent iPhones, Pixels, and high-end Samsungs.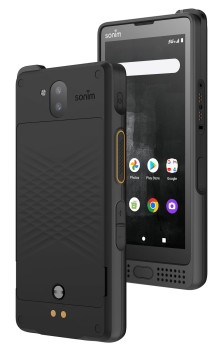 Sonim today announced the impending launch of their newest rugged smartphone, the XP10. The XP10 replaces the XP8, adding 5G but in a lighter and "sleeker" design. The phone will launch "with major carriers in the coming weeks". Key features include a removable 5,000 mAh battery, extra-loud 100bB+ speakers, and Android 12. Its rugged credentials include MIL-STD-810H ratings for drops (from six feet directly onto concrete), water immersion (in six feet of water for 60 minutes), and all weather conditions (from -4° F to 131° F). The XP10 can also be "sprayed, submerged and rigorously cleaned in soap and water or with harsh chemicals, like isopropyl alcohol or bleach, to ensure it is fully disinfected." For dangerous work environments, the XP10 is rated Non-Incendive Class I, II and III Div 2. Although Sonim did not announce specific carrier partners, both AT&T and Verizon carried the XP8.
Qualcomm has unveiled the Qualcomm S5 and S3 Gen 2 sound platforms, chips intended to power a range of Bluetooth audio products, including high-end and mid-range earbuds, as well as Bluetooth speakers. The big new feature is Dynamic Head Tracking for Spatial Audio, which maintains the perceived positions of sounds as you move your head. Other updates in the Gen 2 chips include improved lossless music streaming and 48ms latency between phone and earbud for lag-free gaming. The chips also fully support Bluetooth Auracast, the new broadcast feature of LE Audio that allows many people to simultaneously listen to a single audio source. Snapdragon Sound features like Dynamic Head Tracking for Spatial Audio are optimized to work with newer Snapdragon chips in phones, such as the Snapdragon 8 Gen 2 that was announced yesterday. Commercial products based on the new chips are expected in the second half of 2023.
In an interview with Phone Scoop, Brian Mecum, Verizon VP of Device Technology said "satellite is a very interesting space to us", when asked if Verizon planned an answer to T-Mobile's partnership with SpaceX for satellite connectivity. T-Mobile's planned system will allow existing, standard mobile phones to connect directly to SpaceX Starlink satellites for service outside of cellular coverage. Mecum declined to go into further detail, but Verizon could potentially partner with one of several companies that are working to bring similar technology to market, such as AST SpaceMobile or Lynk.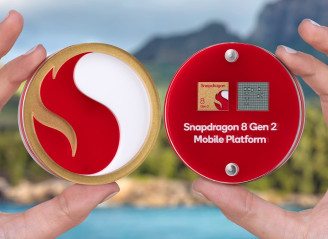 Qualcomm has announced its newest top-end chip, intended to power most flagship-level Android phones in 2023. As expected, the Snapdragon 8 Gen 2 is more powerful and power-efficient across the board (compared to Gen 1), but the most impressive improvements and new features involve AI. The chip also makes several architectural changes compared to previous Snapdragon chips. The new Qualcomm AI Engine doubles the size of the Tensor accelerator and has a new, dedicated power delivery system. It also implements INT4 (a first on mobile), an alternative level of precision for AI math, and Micro-Tile Inferencing. These changes result in an AI performance improvement of up to 4.35x, and up to 60% better power efficiency. A new, direct link between the Hexagon AI cores and the Spectra imaging cores enables features such as a Real-time Semantic Segmentation, where the phone can "see" and understand different parts of a scene in real time, allowing different image enhancements to be applied to faces vs. clothes vs. skies, for example. Qualcomm calls this Cognitive ISP. The Sensing Hub now has two AI processors and more memory, for smarter always-on features. The Kryo CPU cores have been shuffled around. An Arm Cortex-X3 at 3.2 GHz serves as the prime core, but there are now four performance cores and three efficiency cores. The performance cores are split between two Arm A715 and two Arm A710, with the latter optimized for legacy 32-bit apps. Overall, Qualcomm says these new CPU cores are 35% faster and 40% more efficient. On the GPU and gaming side, the new Adreno cores are up to 25% faster and more efficient, and support real-time hardware-accelerated raytracing as well as Unreal Engine 5's Metahumans technology. The X70 modem includes AI technology and supports 4-carrier aggregation for downlink speeds of up to 10 Gbps. The onboard FastConnect 7800 system is the first to support Wi-Fi 7 with High Band Simultaneous Multi-Link (for speeds of up to 5.8 Gbps) and latency below 2ms. Updated Snapdragon Sound now supports Spatial Audio with dynamic head tracking. Latency has also been reduced to 48ms for better gaming audio. The Snapdragon 8 Gen 2 will appear in phones shipping before the end of 2022.
Apple's new Emergency SOS via Satellite feature is now available to use in the US and Canada. The feature is exclusive to the new iPhone 14 series. It enables short messages to be sent to local emergency dispatchers where and when cellular and Wi-Fi are unavailable. The feature includes a demo mode that lets users try out the feature connecting to a real satellite, but without bothering emergency services. There is also one non-emergency feature: users can share their location with others while off-grid using the Find My app. Apple promises to launch the service in France, Germany, Ireland, and the UK by December.
Google has fixed a serious bug that allowed anyone with physical access to a Pixel phone to bypass the lock screen and access the home screen and all phone data. The exploit required only an extra SIM card to which the attacker knows the PUK (recovery PIN) code. Inserting the extra SIM and entering the PUK code would bypass the lock screen. The bug affected multiple Pixel models, and Android versions 10–13. It is unclear if the bug affects any other Android phones as well. Google has paid the researcher who found the bug $70,000.
T-Mobile has launched 5G SA (stand-alone) technology in its mid-band spectrum (primarily band 41) nationwide. This step not only moves to a more modern network with lower latency, but will enable 5G CA (carrier aggregation) of 3 frequency bands of simultaneous 5G, allowing faster data speeds of up 3 Gbps. This new, faster 5G mode will "begin" to roll out this year. The Samsung Galaxy S22 will be the first phone able to use this mode, "and it will expand to additional devices in the near future." Initial 5G networks operated in NSA (non-stand-alone) mode, which required mobile devices to stay connected to a 4G network in one band. This limited the specific frequency band combinations devices could use, limiting 5G data speeds and — in some cases — 5G coverage. T-Mobile addressed the coverage issue with the nationwide launch of 5G SA in its low-band frequencies in 2020. Today's announcement extends 5G SA to mid-band frequencies, addressing the data speed issue.