Home
OnePlus today announced two new models in its Nord series of affordable phones. The new OnePlus Plus Nord N10 5G and Nord N100 will be the first Nord-series phones to be offered in North America. Specific US launch dates, sales channels, and pricing will be announced at a later date. Both phones share a very similar design, with a corner-hole-punch display on the front, and a stand-alone fingerprint reader on the back.
Nord N10 5G: Key specs include the brand-new Qualcomm Snapdragon 690 5G chipset, a 6.5-inch Full-HD display with 90 Hz refresh, and a 4,300 mAh battery. The N10 also includes 6 GB RAM, 128 GB storage, memory card slot, 30W fast charging, 64 megapixel main camera, wide camera, macro camera, and a monochrome camera. It will sell ​for £329 in the UK, which could put it under $450 in the US.
Nord N100: A 4G phone with a huge 5,000 mAh battery and 18W fast charging. Other specs include a 6.5-inch display, Qualcomm Snapdragon 460 chipset, 4 GB RAM, 64 GB storage, memory card slot, stereo speakers, 13 megapixel main camera, macro camera, and depth camera. It will sell for ​£179 in the UK, which would be around $235.
Boost has sweetened the value of its cheapest plans, temporarily offering 2 GB of high-speed data with unlimited talk and text for just $10/month. The offer is only available to new customers who bring their own unlocked phone compatible with the T-Mobile network. Further, the 2 GB of monthly data is only for the first three months, after which it becomes 1 GB of monthly data. A step-up plan with similar terms runs $15/month for 4 GB of monthly data, stepping down to 2 GB after three months. This limited-time offer is available until the end of the year.
NASA has awarded a contract to Nokia to build and deploy a 4G LTE network on the surface of Earth's moon. Nokia will build an ultra-compact, low-power, space-hardened LTE base station and deploy it on the lunar surface using a lunar lander from partner Intuitive Machines in late 2022. The contract is one of many issued by NASA as part of the overall Artemis program which aims to establish a sustainable presence on the Moon, including humans, by the end of the decade. "The network will provide critical communication capabilities for many different data transmission applications, including vital command and control functions, remote control of lunar rovers, real-time navigation and streaming of high definition video."
Apple has revised its pricing for the iPhone 12 and 12 mini for T-Mobile, matching the $30 "instant discount" for AT&T and Verizon that puts the starting price at $799 and $699, respectively. That means iPhone 12 series pricing is now the same for all major US carriers. The iPhone 12 and 12 mini do not come with the instant discount when purchased "SIM-free". That means an effective $30 premium for purchasing an iPhone 12 or 12 mini SIM-free. The iPhone 12 Pro models have consistent pricing across carrier and SIM-free options.
Verizon today launched the Motorola One 5G for $550, matching the price of the Samsung Galaxy A51 5G, Verizon's cheapest 5G phone before today. AT&T sells the One 5G for $445, but Verizon's version adds support for mmWave 5G, which Verizon calls Ultra Wideband.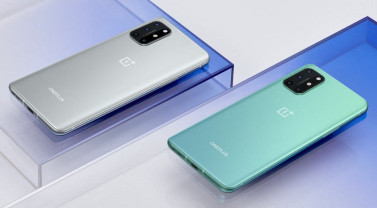 OnePlus has revealed the OnePlus 8T, an update to its flagship phone. Compared to the OnePlus 8 launched in April, the new 8T has a faster display refresh at 120 Hz (up from 90), and 65-watt fast charging (up from 30). The battery is also slightly larger at 4,500 mAh (up from 4,300). The included 65W charger can deliver "a full day's charge" in 15 minutes, or a 100% charge in 39 minutes. To achieve this, the 8T has dual batteries and 12 temperature sensors inside. Also new are a video portrait mode and new always-on display options. Finally, the display is now flat instead of having curved sides. Other features and specs are similar to the OnePlus 8, including the Snapdragon 865 chip, 6.6-inch full-HD AMOLED display with HDR10+, 8 or 12 GB RAM, 128 or 256 GB storage, 48 megapixel main camera, 16 megapixel wide camera, 5G, NFC, stereo speakers, and an in-display fingerprint reader. It will come in Lunar Silver and Aquamarine Green, and ships with Android 11. The OnePlus 8T will sell for $749 in the US. That's $50 more than the starting price for the OnePlus 8, but it's also the version with maximum RAM and storage (12/256 GB). It will be available from OnePlus and Amazon on October 23rd, with pre-orders starting today. T-Mobile will also offer it at a later date as the OnePlus 8T+ 5G, which adds an IP68 water and dust rating, and fully supports T-Mobile's 5G SA (stand-alone) network at launch.
Apple today announced the iPhone 12 series, the company's largest lineup of new iPhones to date. All four new models share same new design with flat metal sides and thinner bezels than previous iPhones. All four also include a bevy of high-end features, including:
A14 Bionic chip, made with a bleeding-edge 5nm process that offers better performance and efficiency. It has 11.8 billion transistors and offers 50% faster graphics performance and 70% faster machine learning computations.
5G, including mmWave in US models.
Super Retina XDR OLED displays, offering HDR and ~460 ppi sharpness.
"Ceramic Shield" display glass from Corning that Apple claims is the toughest of any smartphone.
MagSafe for iPhone, a new magnet system that aligns wireless charging coils, (which have been upgraded to support 15W fast wireless charging,) and supports snap-on magnetic cases and accessories.
A new 12 megapixel main camera with a 7-element lens and f/1.6 aperture, for 27% better low-light performance.
Advanced camera app features like Night Mode now work with all cameras, including wide-angle and selfie cameras. Also new is a Night mode Time-lapse feature.
Water resistance.
The four iPhone 12 models and their differences:
iPhone 12: The same 6.1-inch screen size as the iPhone 11, but upgraded to the same "Super Retina XDR" OLED technology as the Pro models. The new design fits a 6.1-inch display into a body that's lighter and 15% smaller. The secondary camera is a 12 megapixel "ultra wide" camera similar to that on the iPhone 11. Apple is offering five color options: black, white, Product Red, green, and blue. Available October 23rd for $799 with any major US carrier, or $829 unlocked.
iPhone 12 mini: All the features of the standard iPhone 12 in a smaller body with a 5.4-inch display. Apple claims it's the smallest, thinnest, lightest 5G phone in the world. Available November 13th for $699 with any major US carrier, or $729 unlocked.
iPhone 12 Pro: Similar in size to the standard iPhone 12 with a 6.1-inch display. As with last year's Pro models, the main step-ups are better materials (stainless steel and milled glass) and the addition of a telephoto camera. New is a LiDAR scanner, which aids low-light focusing and AR features. A new ProRAW photo format combines the best of Apple's Deep Fusion computational photography with the flexibility of a RAW format. It's also the first phone that can record and edit Dolby Vision HDR video at up to 60 fps and 4K resolution. Color options: silver, Deep Graphite, gold, and Pacific Blue. Available October 23rd starting at $999 with 128 GB of storage.
iPhone 12 Pro Max: Steps up a 6.7-inch display, the largest Apple has put in a phone. The main camera has a 47% larger sensor area and sensor-shift OIS, for 87% better low-light performance. It also upgrades the telephoto lens from 2x to 2.5x, providing 5x optical zoom range across all three rear cameras. Shipping November 13th starting at $1099.
At Apple's iPhone 12 launch event, Verizon announced the launch of its nationwide sub-6 GHz 5G network, offering broad 5G coverage from Verizon for the first time. The network covers over 200 million people spanning 1,800 cities and towns. The company also detailed plans to continue expansion of its mmWave "Ultra Wideband" network, offering even higher speeds in select dense areas. The company is launching mmWave 5G in 19 new cities today, including Baltimore, Hartford, Jersey City, Las Vegas, Louisville, Milwaukee, Oklahoma City, Philadelphia, San Francisco, St. Louis, and Tucson. That bring Verizon's mmWave city count to 55, a number they expect to reach 60 by the end of the year.
Google has added screen sharing to its Duo video-calling app.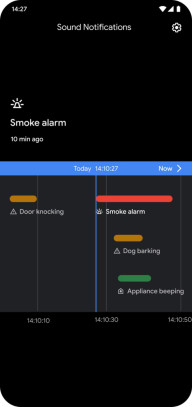 Google has added a helpful new feature to Android for anyone with hearing loss or simply wearing headphones. Sound Notifications provides push notifications for critical sounds around you, including baby sounds, water running, smoke and fire alarms, appliances beeping, dog barking, and door knocking. There's also a timeline that shows past detected noise events. The feature uses offline AI. Many Android phones already have this feature, but it can also be added by downloading both Live Transcribe and Sound Notifications from the Google Play app store.
Google today launched third-party app integration for Google Assistant. This lets Android users perform specific actions within their favorite apps with a single "Hey Google..." command. For example, you can now say "Hey Google... new TikTok video", "send money with Venmo", "order Dunkin", "book a Lyft", "Tweet", "my friends' birthdays in Facebook", or "search cozy blankets on Etsy". Users can further customize the feature by adding their own shortcuts, such as "Hey Google, lace it" as a shortcut for "Hey Google, tighten my shoes with Nike Adapt". Users can explore and customize the new Shortcuts features by saying "Hey Google, show my shortcuts". The feature is available now on all Assistant-enabled Android phones.
Google Fi today launched 5G phones and 5G service, now that Google has launched its own 5G Pixel phones. Google Fi will include 5G service with all plans at no extra charge. They are offering the Pixel 5 and Pixel 4a 5G, as well as the Samsung Galaxy Note20, Note20 Ultra, S20, S20+, S20 Ultra, and A71 5G.
T-Mobile has successfully tested the world's first 5G standalone (SA) data session with New Radio Carrier Aggregation (NR CA) on a commercial smartphone. Carrier aggregation lets a mobile device on a wireless network use more than one frequency band simultaneously, boosting available bandwidth and therefore increasing data speeds. Carrier aggregation has long been a standard feature of 4G (LTE) networks, but is just now coming to 5G (NR) networks. T-Mobile's test used an LG Velvet phone with a MediaTek Dimensity 1000C chipset to connect to Ericsson network equipment over two bands: band 41 (2.5 Ghz, AKA mid-band) and band 71 (600 MHz, AKA low-band). T-Mobile says CA boosts download speeds on its band 41 by 20 percent on average initially.
Google and Snapchat have created new guidelines for face-retouching features in phone camera apps. Google conducted multiple studies and consulted experts, finding that retouched photos can "negatively impact mental wellbeing" and "quietly set a beauty standard that some people compare themselves against". The new guidelines state that face-retouching features should be off by default, stay off when turned off, provide clear indication when they are turned on, and avoid the term "beauty", using value-neutral terms and iconography instead. The two companies have committed to following these guidelines in their own products, and encourage other companies in the mobile industry to follow.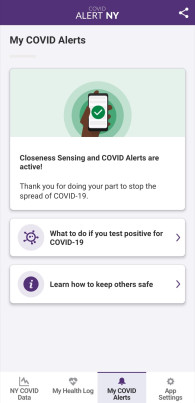 New York State has launched COVID Alert NY, its official app enabling the COVID-19 Exposure Notification system developed by Apple and Google. New York is the largest US state to date to launch an app using the system, and joins ten other states that have already launched similar apps: Alabama, Arizona, Delaware, Nevada, New Jersey, North Carolina, North Dakota, Pennsylvania, Virginia, and Wyoming. New York's app supports the national key server that allows Exposure Notifications to work across state lines, including New Jersey, Pennsylvania, and Delaware. Exposure Notifications is an opt-in system that uses Bluetooth to track which phones come near which other phones, how closely, and for how long. When someone reports that they have tested positive for COVID-19, the service can alert other people that may have come into contact with that person, so they can get tested as well. The service does not track users' locations, and protects privacy by using randomly-generated, frequently-changed ID codes to keep everyone anonymous. The system is more effective the more people participate. New York's app is available now for Android and iOS. Several other states are working on similar apps they plan to launch soon, including California, Colorado, Maryland, Oregon, Washington, and Washington, DC. New York's app was developed by NearForm, which also developed Exposure Notification apps for New Jersey, Scotland, and Ireland.
Google today announced its 5G Pixel phones for 2020: the Pixel 5 and "Pixel 4a (5G)". The confusingly-named Pixel 4a (5G) actually has more in common with the Pixel 5 than with the Pixel 4a. Both have a large OLED display (6–6.2 inches) with HDR, large battery (roughly 4,000 mAh), the exact same high-quality camera arrays, Titan M security chip, and are powered by a Qualcomm Snapdragon 765G chip. The key differences are that the Pixel 5 has wireless (and reverse wireless) charging, water resistance, aluminum (vs. polycarbonate) body, and 8 GB RAM instead of 6. However only the Pixel 4a (5G) has a 3.5mm headset jack. The new Pixels include several new camera features. Night Sight in Portrait Mode lets you take portrait shots with blurred backgrounds even in very low light. Portrait Light lets you simulate a studio light and position it anywhere relative to your subject. That feature can also be applied to existing photos in Google Photos. Video mode now lets you choose from three different stabilization modes, including a new Cinematic Pan mode. The main camera is the same 12-megapixel sensor with f/1.7 aperture that Google has used in Pixel phones for the past year. The two new 5G models also have a 16-megapixel ultra-wide camera, a departure from the Pixel 4 which had a telephoto camera instead. A new Hold for Me feature lets you assign Google Assistant to monitor a call on hold and alert you when a person is on the line. Extreme Battery Saver lets you pick which apps are essential and shuts down everything else to prolong battery life up to two days. Hold for Me and Extreme Battery Saver will come older Pixel phones via software update. Google has also improved its Recorder app, which records audio while transcribing it to text, even offline. Now, you can crop and remove sections of audio by simply editing the text. The Pixel 5 will be available unlocked in mint or black starting October 15th for $699. Pre-orders are open now. It will also come to Verizon with mmWave 5G for the same price, at a later date. The Pixel 4a (5G) will be available unlocked in November for $499, in black or white. Verizon will sell a version with mmWave 5G for $600, and will start taking pre-orders for that version October 29th.
Facebook has started testing the ability to send direct messages between its Instagram and Facebook Messenger apps. Facebook is also updating messaging in Instagram to be more like Messenger, adding features such as vanishing messages, selfie stickers, custom emoji, and new ways to block unwanted messages. The new features are currently being "tested in select markets and will expand globally in the coming months." Facebook announced plans to integrate its various messaging platforms last year, eventually including WhatsApp.
AT&T has tweaked its unlimited postpaid service offering to allow mix-and-match family plans. AT&T calls this "Unlimited Your Way". Each family member can now choose the unlimited plan right for them, while taking advantage of multi-line discounts. For example, with a five-line account where two customers wanted the Unlimited Elite plan, AT&T previously required that all five family members have the Unlimited Elite plan for $45/line/month, running $225/month total. Now, AT&T will allow three of the five lines to choose the Unlimited Starter plan (for example) instead, which runs $30/month/line, for a total of $180/month, a $45/month savings. The details of each Unlimited plan are otherwise unchanged from what AT&T announced almost a year ago. Verizon debuted mix-and-match plans over two years ago.