Home
T-Mobile is tweaking its plans, including one increase that applies to existing plans, and extending a new discount-matching deal to new customers switching from competitors. To account for Netflix raising its prices, customers on an existing T-Mobile One plan with Netflix on Us will see a new $2/month Netflix charge starting in July. Customers can avoid the charge by dropping NetFlix on Us, or switching to a new Magenta plan. The new Magenta plan is the same as the existing T-Mobile One plan, but only includes Netflix Basic, (which does not include HD), although it does include 3 GB of 4G mobile hotspot data. The higher-tier T-Mobile One Plus plan is being renamed Magenta Plus, but is otherwise unchanged, including full Netflix. Starting June 2nd, new customers switching from Verizon, AT&T, or Sprint can also new have special discounts matched, up to $15 per line. Eligible discounts include employer, corporate, affiliate, military, and senior discounts.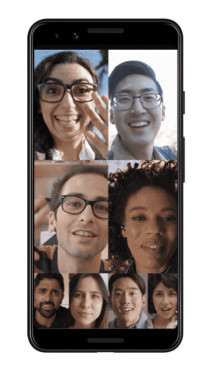 Google today announced the global launch of a group video calling feature for its Google Duo app. The feature lets up to eight people join a live video chat at once. It's available for both iOS and Android. Apple's FaceTime has supported group calls of up to 32 people since January, but only works on iOS devices.
AT&T now accepts Bitcoin for paying bills. The option is available after logging into an AT&T account online or in-app, and is only available for postpaid accounts.
NOAA, NASA, and the Navy have raised concerns with Congress that the new 24 GHz radio frequency band for 5G may interfere with critical water vapor sensors on US weather satellites. The 24 GHz band is one several new mmWave bands the FCC is making available for mmWave 5G service. Verizon and AT&T are deploying 5G this year in the 28 and 39 GHz mmWave bands. The FCC's auction of the 24 GHz band is expected to conclude on May 28th. The weather sensors in question operate at 23.8 GHz. The new 24 GHz band being auctioned spans 24.25 — 25.25 GHz. Even though the frequencies do not overlap, it is possible for adjacent radio signals to interfere due to "out-of-band emissions". NOAA claims the interference could reduce the accuracy of weather forecasts by up to 30%. The FCC and CTIA (the industry group that represents American cellular companies) both claim that such interference isn't possible.
A proposed bipartisan law in the Senate would require a warrant for border agents to search electronic devices such as phones, or demand access to online accounts such as social media. The law protects all digital content of devices, and requires a warrant for passwords, PINs, and biometric authentication such as a fingerprint or face. It would prevent any agent of the government from denying entry to the US (or delaying entry for more than four hours) for refusing to provide device access. The law does include limited exceptions for immediate risk of death, organized crime, conspiracies threatening national security, and threats to public safety or health. The law also places new restrictions on retaining data extracted from devices. The new law would apply to all US citizens and permanent residents entering and exiting the US. A similar bill is being introduced in the House. In 2018, the Department of Homeland Security conducted more than 33,000 device searches. The ability to conduct warrantless device searches at the border has been challenged in court by the ACLU.
Internally, the US Justice Department's antitrust division has recommended the agency file a lawsuit to block the proposed merger of T-Mobile and Sprint, according to a Reuters reports citing two sources familiar with the matter. The final decision on whether to allow the merger now lies with political appointees at the department. That decision is expected in about a month, the two sources said. Earlier this week, two FCC commissioners announced their support for the deal, after Sprint agreed to shed its Boost prepaid brand. Both the FCC and DoJ must approve for the merger to proceed.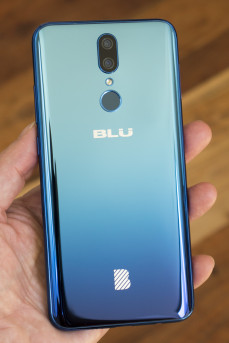 The Blu G9 is $180 Android phone that tries very hard to look like a flagship-level phone, and pulls off the look pretty well. Its HD screen has a small notch, it supports fast charging of the large 4,000 mAh battery, and it has 4GB of RAM, so there's substance behind the style. What's this eye-catching phone like in person? We checked it out.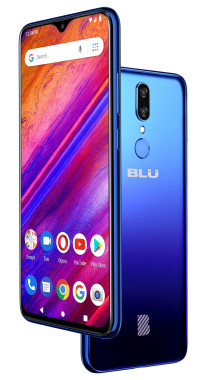 The Blu G9 went on sale today, offering mid-range specs and flagship looks for just $130 for a limited time on Amazon, and $180 thereafter. The phone has a metallic frame and glass-like metallic back with color gradient. Its 6.3-inch HD screen has a small notch and a 19:9 aspect ratio. Its large 4,000 mAh battery supports fast charging via USB-C. It also has dual rear cameras, Android 9 (Pie), a MediaTek Helio P22 processor, 4 GB of RAM, and 64 GB of storage. It also has a fingerprint reader, 3.5mm audio jack, and memory card slot. The G9, an unlocked phone, has Cat. 6 LTE in bands 2, 4, 5, 12, and 13, providing basic support for AT&T and T-Mobile networks.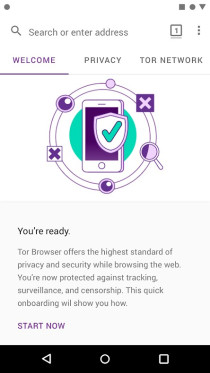 The Tor web browser is now available for Android phones. Tor provides complete privacy and anonymity using "onion routing", which routes traffic through multiple servers to mask its source, and encrypts it each step of the way. The Tor browser interface is based on the familiar Firefox browser. It also provides protections against cross-site tracking and fingerprinting. The Android version has been in alpha since September, but just became available in a final, stable release. It's available now from the Play Store.
In a recent presentation to investors, Sony revealed new plans for its struggling phone business. The company will continue making phones, but focus exclusively on four markets: Europe, Japan, Taiwan, and Hong Kong.
A federal judge in San Jose sided with the Federal Trade Commission in its case against Qualcomm, ruling that the company unlawfully suppressed competition in the market for cellphone chips and used its dominant position to exact excessive licensing fees. Several practices were singled out, including: charging royalties on a percentage of a phone's price, threatening to cut off access to its chips when negotiating patent royalties, and exclusive supply agreements with phone makers like Apple that block potential rivals like Intel. The judge said Qualcomm must submit to monitoring for the next seven years to ensure it abides by the remedies. Qualcomm issued a statement saying it will immediately seek a stay of the judgment and an expedited appeal.
ARM has stopped doing business with Huawei, potentially ending Huawei's mobile chip business. Essentially all current processors for mobile phones are based on ARM technology and intellectual property. Crucial processor and SoC chips from Qualcomm and Apple are based on ARM designs. Similarly, Huawei's own Kirin chips rely on ARM intellectual property (IP). All major mobile OSes, such as Android, are designed to work on ARM's architecture. The US government recently barred US companies from doing business with Huawei, cutting off Huawei's access to hardware from Qualcomm and software from Google. Huawei was relying on its own Kirin chips to continue making phones independently of Qualcomm, but Kirin chips face an uncertain future without access to ARM IP. This challenges Huawei's future ability to make phones and sell them outside of China. ARM is headquartered in Cambridge, UK and it owned by Japanese conglomerate SoftBank, but ARM has significant offices in the US and its designs contain "US origin technology".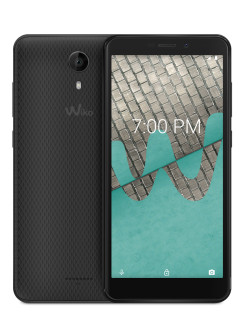 French phone maker Wiko today made its US debut with launch of the Ride, an $80 Android phone available now from Boost. The Ride is an entry-level phone with a 5.45-inch display, 5 megapixel main camera, 2 megapixel selfie camera, 2 GB of RAM, 16 GB of storage, and a 2,500 mAh removable battery. It has a memory card slot, 3.5mm audio jack, and runs Android version 9 (Pie). Wiko is a 5,000-person company that makes phones with a focus on design that are popular in Western Europe. To support its US operations, the company is opening offices in Plano, TX and Atlanta, GA.
FCC Chairman Ajit Pai announced that he will recommend the agency approve the proposed merger between T-Mobile and Sprint. To secure the recommendation, the companies have promised to divest the Boost prepaid brand and not raise prices for three years. With Commissioner Brendan Carr also announcing his support, the deal seems close to FCC approval. The Department of Justice must also approve the deal.
The Trump administration issued an executive order last week preventing "foreign adversaries" from doing telecommunication business in the US. Although the order's wording was vague, the implementation includes preventing Huawei from doing business with any US software or hardware supplier, including Google, Intel, Qualcomm, and Broadcom. This means Huawei will no longer be able to ship new phones to western markets with Google's version of Android that includes the Play Store, Google Maps, Google Assistant, and Gmail. Huawei can still use the open-source version of Android, but Android phones without Google services are a tough sell in western markets. Although Huawei can use its own SoC chips instead of Qualcomm's, being cut off from US hardware suppliers is likely to affect its smartphone business worldwide. The company has reportedly been stockpiling chips and parts from US companies for months to prepare for this possibility.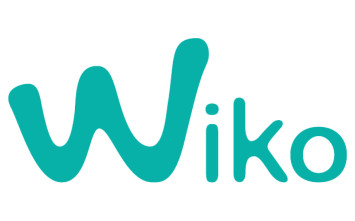 French phone maker Wiko is entering the US market this month. A statement on their new US web site states that they are "partnering with one of the leading mobile carriers to offer a smartphone ... created to simplify your life at an affordable price." The company already sells its phones in more than 30 countries in Europe, Africa, the Middle East, and Asia. Representatives have confirmed to Phone Scoop that they have plans to open US offices in Plano and Atlanta.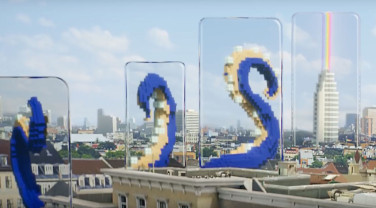 Microsoft is working on a new Minecraft game for phones that uses AR to overlay Minecraft as a persistent, massively multiplayer game over the whole planet. Players will be able to build with Minecraft blocks anywhere in public. Players will be able to see avatars of other players and collaborate. Adventure challenges will pop up in the game, with rewards like treasure and rare blocks. Microsoft says it will kick off a closed beta of Minecraft Earth this summer on iOS and Android. Microsoft is also starting with select locations before eventually expanding the game to be truly global.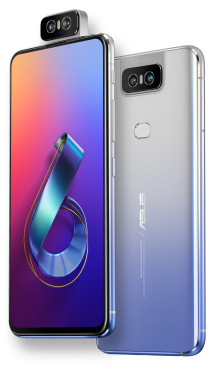 The Asus ZenFone 6 is the company's new flagship phone, sporting a 6.4-inch, full-HD display that covers the front without a notch, thanks to a motorized dual-camera module that flips up from the back to double as a selfie camera. The camera motor can also be used to track subjects while shooting video or automate a panorama, and the camera angle can be controlled manually. The camera contains a 48-megapixel Sony main sensor with laser focusing, plus a 13-megapixel wide-angle (125º) camera. The phone is powered by a Qualcomm Snapdragon 855 processor paired with up to 8 GB of RAM. It contains a huge 5,000 mAh battery. The phone also sports NFC, rear fingerprint sensor, memory card slot, and stereo speakers. A version will be compatible with US networks. The pricing will start at $560.