Home
Xfinity Mobile, the Comcast MVNO for Xfinity home internet customers, today introduced discounts for accounts with multiple lines. The discounts are greater for more lines, similar to what many other US carriers offer. While a single line of unlimited data remains $45/month, two lines are now $40 each, while four lines are just $30/line. Three lines are $33.33/line, to make the monthly total an even $100. Other aspects of Xfinity's mobile plan are unchanged. Xfinity Mobile runs on Verizon's 4G / 5G network.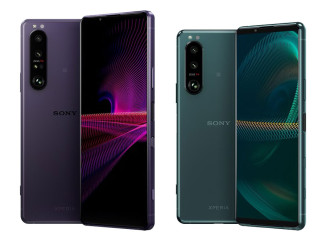 Sony today announced its 2021 phone lineup for consumers: the Xperia 1 III and Xperia 5 III. The two phones are both high-end models with similar specs and features, with the 5 III being the smaller of the two. Both phones have OLED displays with 120 Hz refresh and three 12-megapixel rear cameras. While the standard and wide-angle cameras are similar to last year's models, the new periscope-style telephoto camera has its own optical zoom feature, offering both 2.9x and 4.4x zoom. The main and telephoto cameras include OIS (optical image stabilization). The phones are powered by Qualcomm's flagship Snapdragon 888 chip and offer excellent support for the (sub-6) 5G and 4G networks of T-Mobile and Verizon. Other specs include 4,500 mAh battery with 30W USB-PD fast charging, Android 11, NFC, memory card slot, headset jack, and IP68 water resistance. The stereo speakers are the first in a phone to support 360 Reality Audio. The Xperia 5 III has a 6.1-inch display with FHD+ resolution, 8 GB RAM, and 128 GB storage. The larger Xperia 1 III has a 6.5-inch display with 4K resolution, 12 GB RAM, and 256 GB storage. The 1 III also adds a ToF camera, wireless charging, Gorilla Glass Victus on the front, and speakers that are 40% louder than last year's model. The Xperia 1 III design consists of frosted glass and "blasted" metal, available in black or purple. The 5 III has a mirror finish and will be available in black or green. Both phones will be ship in the US "this summer". Pricing is to be announced.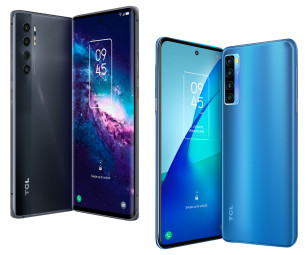 TCL today announced several new TCL-branded phones in its 20 series, including two models that will come to the US: the TCL 20 Pro 5G and the TCL 20S. The US launches will include major carrier partners. TCL has joined the Android Enterprise Recommended program, and all of its new 20-series phones are so verified. The TCL 20 Pro 5G is powered by a Qualcomm Snapdragon 750G chip and comes with 6 GB RAM and 256 GB storage. The 4,500 mAh battery can be topped up with 18W wired charging or 15W wireless charging, a first in a TCL phone. The phone is similar to the well-received TCL 10 Pro, but with an upgraded Sony IMX582 main camera. That 48 megapixel camera has optical image stabilization (OIS), another first for TCL. The curved 6.67-inch AMOLED display has full-HD+ resolution and HDR10. The rear has a matching curved glass cover with no camera bump. The camera system also includes a 16 megapixel wide camera, 5 megapixel macro camera, and 32 megapixel front camera. The phone is capable of recording 4K video with both front and rear cameras, as well as video HDR. The phone has excellent support for all 4G and sub-6 5G networks in the US. Other features include Android 11, 3.5mm headset jack, memory card slot, NFC, Super Bluetooth, and in-display fingerprint reader. The TCL 20S is the US version of the new TCL 20L+. The 20S has a 5,000 mAh battery, 6.67-inch full-HD+ display, and a 64 megapixel main camera. Other cameras include an 8 megapixel wide camera, 2 megapixel macro camera, and 16 megapixel front camera. The display features circular polarization, making it compatible with polarized sunglasses. While the 20L+ will have a Snapdragon 662 processor, the 20S will have a different (but similar) processor, to be announced, one of the few differences between the two models. The 20S also has 6 GB RAM + 256 GB storage, Super Bluetooth, NFC, headset jack, and memory card slot. The fingerprint reader is located on the side, and the phone also has a dedicated Google Assistant button. Both phones will arrive in the US in "early summer", but pricing and other launch specifics are to be announced.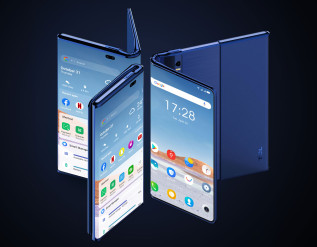 TCL's latest concept phone to use flexible-display technology is called the "Fold 'n Roll". Like the company's earlier double-hinge concept, the design attempts to create a device the size of a standard smartphone that transforms into a full-size tablet. The Fold 'n Roll replaces the second hinge with rollable technology to produce a device that's thinner when closed. The Fold 'n Roll is just a concept, but TCL is currently planning to launch a commercial device using flexible display technology by the end of 2021.
LG today announced that it will continue to issue Android operating system updates for three years for its premium phones, and two years for its lower-end phones. The pledge follows the news earlier this week that LG will stop making phones by mid-year. For premium phones, LG's commitment is "up to three iterations of Android operating system updates from the year of purchase". This applies to G series and V series phones released in 2019 and later, as well as the Velvet and Wing. Lower-end models include the K series and Stylo phones released in 2020 "will receive two OS updates".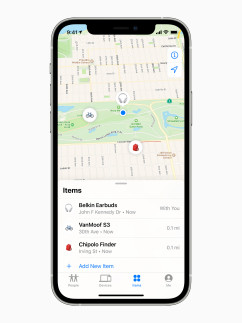 Apple has officially opened up the technology behind "Find My iPhone" to non-Apple devices. The first devices using the new program ship next week, including bicycles from VanMoof, true wireless earbuds from Belkin, and a keychain-style tracking tag from Chipolo. If lost, these items can be located using Apple's Find My app. The Find My network uses iPhones and other Apple devices worldwide to find items reported missing. When an iPhone (etc.) comes within Bluetooth range of a device reported missing, the approximate location can be reported back to the owner, and the owner can send a command for the missing device to play a sound. The entire process is end-to-end encrypted and anonymous, so no one else, not even Apple or the third-party manufacturer, can view a device's location or information.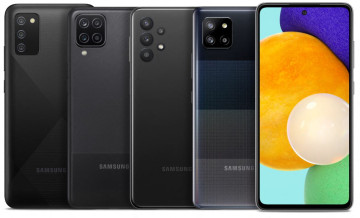 Samsung today announced the US launch of five new phones in the company's affordable Galaxy A series, including three 5G models. The Galaxy A32 5G will be the most affordable 5G model at just $280, and will be exclusive to T-Mobile (and Metro) at launch. Samsung is able to offer 5G at this prince thanks in part to the MediaTek Dimensity 720 5G chip in the A32 5G, whereas the two pricier 5G models use the Qualcomm Snapdragon 750G. Samsung announced the A32 5G and A52 5G a few weeks ago, but withheld US launch details at that time. The Galaxy A52 5G will run $500 and come to both AT&T and T-Mobile (including Metro). New is the Galaxy A42 5G, which is similar to the A32 5G but adds mmWave 5G for Verizon. It also swaps the 90 Hz LCD display for a 60 Hz Super AMOLED display, switches to an in-display (optical) fingerprint reader, and has double the storage at 128 GB. Most other keys specs are identical to the A32 5G. The A42 has a unique design on the back divided into four equal parts. Verizon starts selling the Galaxy A42 5G tomorrow for $400. All three 5G models will be available by the end of this week. The two more affordable 4G models are the A12 and A02s. We reported on the Galaxy A12 for AT&T on Monday. That model will also come to T-Mobile this week, and Verizon on April 29th. The most affordable model is the new Galaxy A02s (shown), "starting at" $110, although Verizon will sell it for $150 and T-Mobile says "Stay tuned for pricing details." The A02s has the same 6.5-inch HD display and huge 5,000 mAh battery as the A12, but with expected cost-trimming on the cameras (13 megapixel main and no wide-angle), processor (Snapdragon 450), and RAM (2 GB instead of 3). The A02s also loses NFC and the fingerprint reader, but keeps 15W fast charging, USB-C, memory card slot, and the headset jack. The A02s is distinguished by its textured design on the back, divided into sections diagonally. Verizon starts selling the A02s on April 29th; T-Mobile has yet to announce a launch date.
Google has finally given the green light for navigation, parking, and charging apps for Android Auto. The new categories were announced last August and have only been available via beta programs before today.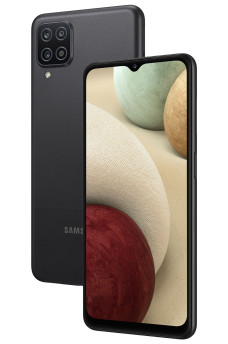 AT&T has started selling the Samsung Galaxy A12, a new entry-level phone, for $180. The A12 replaces the Galaxy A11 and has several upgrades, most notably a huge 5,000 mAh battery (up from 4,000) and the inclusion of NFC. The amount of RAM has also been bumped up to 3 GB and the processor is a MediaTek Helio P35. The main camera is 16 megapixel, a step down from the 48 megapixel sensor in the international version. The A12 also has wide-angle (5 megapixel), macro, and depth cameras. Other specs remain similar to the A11, including an 8 megapixel selfie camera, 6.5-inch HD display, 32 GB storage (expandable), fast charging, and a headset jack. Design-wise, the A12 switches to a notched display (from a corner hole-punch on the A11) and moves the fingerprint reader to the side of the phone. AT&T is currently only offering the phone in black, although red, white, and blue versions are available in other parts of the world. A new entry-level phone from Samsung is timely, as LG did well in this segment in the US. LG announced earlier today that it is leaving the phone business, leaving a void that phones like the A12 could fill.
The Supreme Court today ruled against Oracle in its bid to force Google to pay for implementing Java in the Android smartphone operating system (OS). Oracle owns the intellectual property and copyrights for Java, but Java is widely used throughout the open-source software community. In creating Android, Google created APIs that allowed developers to write Android apps using Java. Oracle claimed in court that these APIs amounted to copyright infringement, while Google argued that the APIs were covered by the legal doctrine of "fair use". Oracle was seeking over $9 billion in damages. While an appeals court found in favor of Oracle, today's Supreme Court ruling settles the matter in favor of Google. The decision was 6-2. The decision is also a relief for the open-source community and many smaller software companies.
LG Electronics today announced that it is closing its mobile business unit, exiting "the incredibly competitive mobile phone sector". The company has lost money on phones for years, having trouble competing with Samsung and Apple. Current LG phones will continue to be sold at first, but the company plans to move relatively quickly, completing the "wind down" of the business by July 31. "LG will provide service support and software updates for customers of existing mobile products for a period of time which will vary by region."
MVNO US Mobile today launched a special promo offering 50% off its plans for one year (up to a maximum of $250 saved for the whole year) when new customers activate a OnePlus 9 or OnePlus 9 Pro. US Mobile offers service on both the Verizon and T-Mobile networks, but this offer applies to customers signing up for the Verizon network, which US Mobile refers to as its "Super LTE network". US Mobile offers unlimited plans starting at $45/month for one line, or as low as $25/line for multiple lines. Non-unlimited plans range from $12/month for 1 GB of data to $30/month for 30 GB of data (all include unlimited talk and text). Prices do not include taxes and fees. All US Mobile plans include free access to 5G with compatible phones.
Apple has introduced changes to the voice options of its Siri voice assistant in the newest beta of iOS 14.5. For US English, there are now two additional voices to choose from. Further, the OS no longer defaults to a female voice, instead presenting users with a choice during setup. In a statement to TechCrunch, Apple says "This is a continuation of Apple's long-standing commitment to diversity and inclusion, and products and services that are designed to better reflect the diversity of the world we live in." The new voices take advantage of Apple's Neural speech engine, for more natural-sounding contextual phrasing.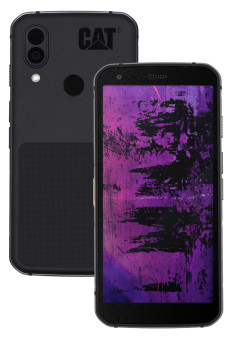 Bullitt Group today announced the CAT S62 Pro, the latest in its line of ruggedized phones for field professionals. The company is releasing the US version today, which has excellent support for T-Mobile and Verizon 4G networks, and will also work on AT&T. The S62 Pro is the third CAT-branded phone to feature a FLIR thermal imager, and sports the most advanced thermal sensor in a phone to date with full-HD+ resolution, a high-end spec for this type of sensor. It's also the first CAT+FLIR phone with a sleeker design instead of the odd hump hat extended from the top of the S60 and S61. The camera software includes FLIR's newest algorithms for combining thermal and visible imaging in real time, with several options and adjustable intensity. The software also includes new "analytic and reporting features typically found in higher end, dedicated thermal imaging products", including the ability to generate PDF reports of thermal conditions. The phone is also rated IP68 & IP69 for water and dust, as well as MIL-SPEC for thermal shock, high & low temps, vibration, humidity, and salt mist. It's fully washable with soap. The screen is protected with Gorilla Glass 6 and works with gloves and wet fingers. The phone is powered by a Qualcomm Snapdragon 660 processor with 6 GB RAM and 128 GB storage (which is expandable). Other specs include a 5.7-inch FHD+ LCD display, 12 megapixel main camera, 4,000 mAh battery, and Quick Charge 4. Other features include 4K video capture, Android 10, NFC, fingerprint reader, and LED notification light. Bullitt promises an update to Android 11 and three years of security updates. The CAT S62 Pro is available today starting today for $699 unlocked.
Verizon this week announced that it will finally shut down "the last of" its legacy 3G CDMA network on December 31, 2022. Verizon has set and extended the date several times already, but now promises that "The date will not be extended again." Verizon started preparing for this transition many years ago, requiring that all new phones (including basic feature phones) support 4G LTE and VoLTE. Newer Verizon phones do not even support CDMA, and Verizon stopped activating new CDMA devices starting in 2018. Verizon says that less than 1% of its customers still access the CDMA network. Verizon is urging customers still using CDMA devices to upgrade as soon as possible, saying they may "experience a degradation or complete loss of service" "as we move closer to the shut off date" and the company "will only be able to offer extremely limited troubleshooting help on these older devices." The move is necessary in order to free up radio spectrum for more-efficient technologies such as 4G LTE and 5G NR, which means better service to customers using those new technologies (which is over 99% of Verizon customers).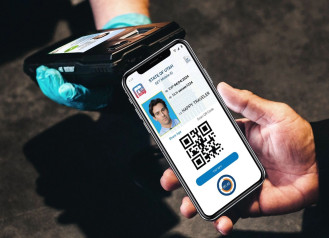 Utah has launched a pilot program for mobile driver's licenses (mDL) based on the international mDL standard. The pilot will expand to 10,000 participants this year, including the broader public starting June 1. Participants download the GET Mobile ID app to their phone, which stores the secure digital identification document. People requesting ID — such as a TSA agent at an airport or a liquor store cashier — can use any app or reader device compliant with the ISO 18013-5 standard to request the information they need, such as the GET Mobile Verify app. Utah businesses can participate in the pilot to accept mDLs now and prepare for when mDL is available to all Utahns. To start a transaction, the two devices connect via NFC, Bluetooth, or QR code. Both parties have control over which data is exchanged, so only necessary information (such as age, but not address) is shared, enhancing privacy. The ID holder's photo is provided to the requester — either directly or over the internet — for visual verification, and a digital signature confirms the mobile ID data. The ISO 18013-5 standard is currently designed for in-person transactions, although future versions are planned to support unattended and over-the-internet transactions as well. The Utah Driver License Division (DLD) tapped GET Group North America and its technology partner Scytáles for this project. Florida recently promised to launch a similar, standards-based mDL program some time in 2021, with technology provided by Thales.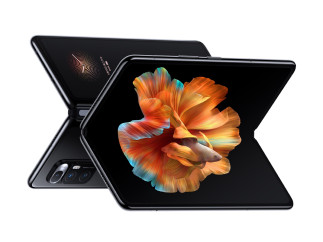 Xiaomi today announced its first foldable phone, the Mi Mix Fold. The phone is also the first in the world to use Liquid Lens technology on one of its cameras. The Liquid Lens consists of transparent fluid wrapped in film. The radius of curvature of the spherical surface can be accurately changed thanks to a high-precision motor. This enables one 8 megapixel camera to serve as both a 3x optical zoom telephoto camera as well as a macro camera that can focus at a distance of 3cm. Philips first announced liquid lenses for phones in 2004, followed by Varioptic in 2006. Varioptic and partner Seiko even announced manufacturing ramp-up of two specific models of liquid lenses designed for phones in 2008. But none of these made it to shipping phones at the time. Those early designs used electric current to bend the liquid, which differs from Xiaomi's more mechanical approach. The Mi Mix Fold sports a design very similar to Samsung's Galaxy Fold and Z Fold2, with a tablet-size flexible screen that folds inward like a book, and a large outer display similar to that on a standard smartphone. The phone also has a 108-megapixel main camera and 13-megapixel wide camera. Other features include Qualcomm Snapdragon 888 processor, 5G, quad speakers, and 67W fast charging. The phone goes in sale in China starting April 16th. Xiaomi phones are generally not designed for US networks, nor officially sold in the US.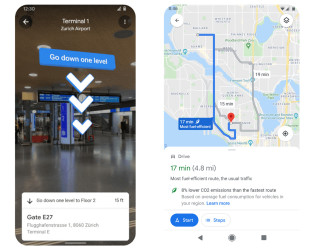 Google today announced a variety of new features for its Google Maps app. The flashiest is indoor Live View for select airports, transit stations, and malls. This augmented reality (AR) mode overlays step-by-step navigation instructions on a real-time view of your indoor surroundings via your phone's camera. The first locations supported are malls in Chicago, Long Island, Los Angeles, Newark, San Francisco, San Jose, and Seattle, followed by select airports, malls, and transit stations in Tokyo and Zurich, "with more cities on the way". The feature can help you "find the nearest elevator and escalators, your gate, platform, baggage claim, check-in counters, ticket office, restrooms, ATMs and more". Google Maps is also gaining new navigation features that take into account carbon footprint. When multiple driving routes are available, it will show which route(s) are most fuel-efficient, and by how much, as a percentage. When multiple routes have approximately the same ETA as the fastest route, it will default to the more fuel-efficient route. Maps will also now offer route options that include transit or bike without toggling between tabs.