Home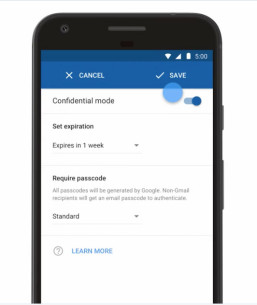 Google today said that confidential mode, which can help protect sensitive information from unauthorized access, is available via the mobile Gmail app. Users will need to enable confidential mode when composing an email. Emails sent via confidential mode can be revoked at any time, or set to expire after a specific period. People who receive confidential emails won't be able to forward, copy, print, or download them. Google points out that confidential mode cannot stop people from taking screen shots of confidential emails. The updated mobile Gmail app is being distributed via the Google Play Store over the next few days.
Google today updated the way it displays search results in order to surface a more complete picture of search subjects. Rather than simply supply a list of links, Google is introducing new panels with a set of relevant subtopics for additional information. In the example provided by Google, people to search for "quartz vs. granite" will discover not only where they can buy those materials, but also comparisons of the two materials and how they apply to home renovations. Google says the new format is "meant to help guide you with what we understand to be common, useful aspects of the topic and help you sift through the information available." The panels are created automatically based on related content from around the web. Google says people should begin to notice the panels in search results over the next few days.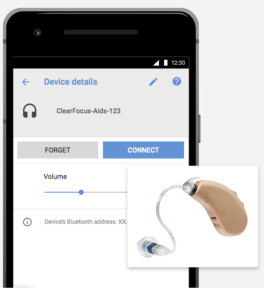 Google today said that it partnered with GN Hearing to create an open specification meant to stream audio to hearing aids. The published spec is called Audio Streaming for Hearing Aids (ASHA) on Bluetooth Low Energy Connection-Oriented Channels. Google says the spec will allow hearing aid users to connect their phone to the aid, monitor battery life, and listen to any audio content from their phone. Google says it created the spec to ensure connections have minimal impact on battery life and provide low latency for near instant response time between the phone and the hearing aid. Google said it expects to add ASHA to a future version of Android down the road. Since the spec is open, any hearing aid manufacturer can build in native update the spec over time.
Google is rolling out a new version of its Android Messages application and given the app a fresh coat of paint. To start, the "+" button has been removed in favor of a "start chat" button, making it clearer for people to use. The app also adopts Google's Material Design, which means some changes to the fonts and coloring. A new toggle allows people to switch to a new dark theme that features a black background and light-colored text. The app is rolling out slowly. Android Messages is free to download from the Google Play Store.
Sony plans to begin updating a number of its mobile phones to Android 9 Pie beginning in November. The devices first on deck for the refreshed operating system from Google are Sony's flagships, the Xperia XZ2, XZ2 Premium, XZ2 Compact, Xperia XZ Premium, XZ1, and XZ1 Compact. Sony says the mid-range XA2, XA2 Ultra, and XA2 Plus devices will receive Android 9 in early 2019. Android 9 Pie introduces machine learning and more predictive behaviors to the OS, as well as a Digital Wellbeing suite meant to help people use their devices less. Pie is already available to the Google Pixel phones. Motorola also recently committed to updating some of its phones to Pie.
Google is prepared to begin screening all apps submitted to the Android Wear OS Play Store in a bid to bolster quality. For the moment, submitting Wear OS apps for review is optional. Beginning later this year it will be mandatory. Google says all new Wear OS apps submitted after October 1 will have to go through the review process. Existing apps will be reviewed after March 4, 2019. The review process itself is not being changed. Updates to mobile apps will not be blocked if the Wear OS variant fails review. One of the requirements is the ability of the app to support screenshots, which Google explains will help with discovery in the Google Play Store. Google also wants to ensure that apps will run on both round and square screens. "We hope this lightweight app review process will improve the quality of Wear app experiences across the wide range of devices available to your users," said Google.
Google has begun alerting subscribers to its Project Fi service that the text forwarding feature will be turned off on September 12. As it works now, texts sent to Project Fi can be automatically forwarded to most any other number. Google didn't say why the feature is being turned off, although call forwarding will remain available to Fit subscribers. Google suggests those who use the text forwarding feature review their settings ahead of the shutdown.
Best Buy has agreed to acquire GreatCall, the parent company of Jitterbug, for $800 million. Best Buy says the two companies have had a retail relationship for a decade, with Jitterbug phones available at many Best Buy locations. Jitterbug phones are targeted at seniors and are easy to use. In addition to the Jitterbug devices, GreatCall offers customers an easy way to connect with a healthcare professional or emergency services. Best Buy said it plans to use the acquisition expressly to expand into the growing health services market. Once the acquisition is complete, GreatCall will operate as an independent company and CEO David Inns will remain at the helm. GreatCall will stay in its San Diego headquarters. The acquisition is subject to regulatory approval.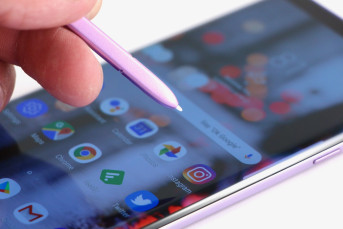 The Galaxy Note9 from Samsung is a powerful and impressive piece of hardware. This Android phone offers a massive screen, a giant battery, and a killer set of cameras. The stylus defines the Note series and Samsung has made the S Pen even more useful thanks to new features. Here is Phone Scoop's in-depth review of the Samsung Galaxy Note9.
Apple has made iOS 12 Beta 8 available to developers. Beta 8 appears after Apple pulled Beta 7, which introduced performance problems to devices earlier this week. The new beta resolves the issues that appeared in Beta 7. Apple didn't spell out any other specific changes in this build other than bug fixes and improvements. iOS 12 includes a number of new features, such as improved notifications, memoji for the iPhone X, performance refinements, Screen Time for monitoring usage, and better security. The final version of iOS 12 won't arrive until September or October. A new public beta is expected to arrive later this week.
Google today made Google One generally available to anyone who wishes to use it. Google One is the company's new online storage service; it supplants Google Drive. All Google Drive users are being automatically upgraded to the new Google One, which offers tiers of storage at various price point. All users get 15 GB for free, while 100 GB costs $2 per month, 200 GB costs $3 per month, and 2 TB costs $10 per month. Google One also includes access to Google experts 24/7 to help with things such as file recovery. Other benefits include credits on Google Play and deals on hotels booked through Google Search. Google One can also be shared with family members, who will each be given access to their own storage under a single monthly bill. Google says it will expand Google One to more regions and add more features over time.
Google today said it plans to release a new version of Android Go based on the Android 9 Pie platform. The current version of Android Go, Google's slimmed-down variant of Android for low-cost devices, is based on Android 8 Oreo. Chiefly, the revised version of Android Go tackles performance. It will allow for faster device boot times and offers about 500 MB of additional on-device storage. It also introduces verified boot for additional security and a new dashboard for tracking and monitoring data consumption. Google has been busy updating the Android Go version of its core apps, as well. For example, Google Go now offers the ability to read web pages aloud and highlights each word as it goes. YouTube Go uses less data, Maps Go includes offline navigation, Files Go permits peer-to-peer file transfers, Assistant Go supports additional languages as well as more device actions, and Android Messages is 50% smaller and includes caller ID and spam detection. Google expects to release the Android Go Pie edition on new devices later this fall.
Motorola today said it plans to update a handful of its phones to Android 9 Pie beginning later this fall. The phones on deck to receive the updated platform include the Moto Z3, Z3 Play, Z2 Force, Z2 Play, X4, G6 Plus, G6, and G6 Play. Motorola said the distribution of Pie will depend a bit on the carrier and country. Android 9 Pie was made available to Google's own Pixel phones earlier this month. Other phone makers that have committed to providing Pie include Essential, Sony, and OnePlus.
T-Mobile today said it is prepared to reward its customers with music via the T-Mobile Tuesday app. On August 28, T-Mobile customers will be able to score 12 months of free Pandora Plus. Pandora Plus offers an ad-free listening experience with unlimited skips. Further, T-Mobile has partnered with Live Nation to offer customers "exclusive $25 tickets to amphitheater shows, reserved seats in sold-out sections" and more. T-Mobile says the tickets will become available 30 days before the show. The company says it will also offer fast-lane entry, lawn chairs, and other exclusive perks.
T-Mobile today said it is investing in serving its customers through a new model that bypasses voice-based systems in favor of a direct connection with real people. The Team of Experts idea includes a dedicated team that handles customer support issues with no robots, no phone menus, and no call bouncing. T-Mobile considers customer service a "pain point" that needs to be fixed. The company says the team sits together in its call centers and will work together to resolve customer problems. Customers can schedule calls, use text messaging, and access help 24 hours a day. T-Mobile's U.S.-based team will answer calls between 7am and 9pm local time, while overseas representatives will answer calls during the overnight hours. The Team of Experts is free for all T-Mobile customers to access when they need assistance with their account or device.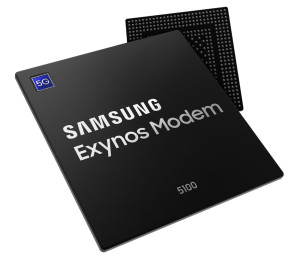 Samsung has announced the Exynos Modem 5100 for mobile devices with support for the 5G New Radio standard (3GPP release 15) in both sub-6 GHz and mmWave bands. Samsung says the Exynos 5100 is built using a 10nm process. The company claims to have successfully conducted an over-the-air 5G NR test with the modem using a 5G base station. It handles legacy networks, such as 2G GSM/CDMA, 3G WCDMA, HSPA, and LTE along with the 5G standard. Samsung says the modem delivers download speeds up to 2 Gbps in sub-6 GHz settings and 6 Gbps in mmWave settings. The Exynos 5100 is capable of achieving 1.6 Gbps via LTE 4G. Samsung says the Exynos Modem 5100 also includes envelope tracking, radio frequency IC, and power management solutions. It will be available to hardware makers by the end of the year. Phones with integrated 5G are not expected until 2019.
Verizon Wireless today said that Indianapolis will join Los Angeles, Houston, and Sacramento as one of its launch markets for 5G. This particular deployment will be fixed residential 5G broadband service. Verizon is testing a number of different technologies for its forthcoming 5G network, including millimeter wave. Verizon doesn't plan to launch mobile 5G service until 2019. Verizon and its carrier competitors are all racing to be first to deploy 5G, with AT&T and T-Mobile also targeting late 2018 launches. Initial rollouts will include fixed broadband service, with mobile service to follow later. Phones with 5G may reach the market as soon as the first half of 2019. Sprint and LG announced such a device today. AT&T has gone on the record saying its first mobile 5G device with be a puck, or mobile hotspot. Verizon also announced today that YouTube TV and Apple TV 4K will be included with its fixed 5G service.
Sprint today announced that together with LG it will bring its first 5G mobile phone to market during the first half of 2019. Sprint said the "innovative handset" is being "built for the country's first mobile 5G network." Sprint claims its forthcoming 5G network will allow customers to download full-length HD movies in seconds instead of minutes, and stream graphic-heavy videos and games without delays or lag-time. Specifics concerning the device were not provided. Sprint plans to launch its 5G mobile network in Atlanta, Chicago, Dallas, Houston, Kansas City, Los Angeles, New York City, Phoenix, and Washington, D.C. Sprint says more 5G devices are in development and will be announced over time. All the major carriers are rushing to be first to launch 5G. AT&T expects to offer a 5G mobile hotspot by the end of the year, while Verizon Wireless and Motorola will offer a 5G Moto Mod to the recently-announced Moto Z3 smartphone early next year.