Home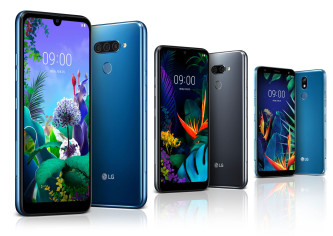 LG's new mid-range phones for 2019 all feature tall 2:1 displays, fingerprint readers, a dedicated Google Assistant button, and "AI CAM" automatic scene detection and mode selection, a feature thus far found only on higher-end phones. LG announced the Q60, K50, and K40 today, ahead of the MWC trade show next week.
Q60: 6.26-inch display with a small notch, three rear cameras (16mp main, 5mp wide, and 2mp depth), 13mp selfie camera, 3,500 mAh battery, 3 GB RAM, and 64 GB storage.
K50: The same 6.26-inch display with a small notch, two rear cameras (13mp main and 2mp depth), 13mp selfie camera, 3,500 mAh battery, 3 GB RAM, and 32GB storage.
K40: 5.7-inch display, 16mp camera, 8mp selfie camera, 3,000 mAh battery, 2 GB RAM, and 32 GB of storage.
They all have memory card slots supporting cards up to 2 TB and DTS:X 3D surround sound. Further details of the three phones will be revealed next week at the MWC trade show.
A television ad for the unannounced Samsung Galaxy S10 has aired in Norway, and it confirms several of the key features of the device. The ad clearly shows an ultrasonic fingerprint reader, "hole-punch" display, three rear cameras, and reverse wireless charging that can charge new wireless earbuds.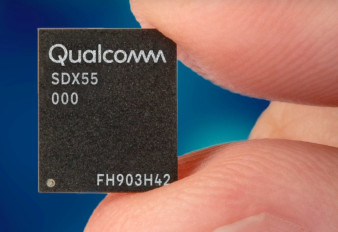 Qualcomm's new X55 standalone modem chip supports 5G in all major frequency bands as well as FDD and TDD modes. Support for FDD makes it the first chip to support T-Mobile's planned 5G network in the 600 MHz band. Qualcomm's first 5G modem chip, the X50, only supported TDD in the 28 GHz mmWave band. The 5G version of the Snapdragon 855 SoC supports more 5G frequency bands, but only in TDD mode. Verizon, AT&T, and Sprint all have TDD (unpaired) spectrum they will use for some or all of their initial 5G deployment. T-Mobile is focused on its existing FDD bands for 5G. The X55 also includes both 5G and 4G, and is the first chip to support Cat. 22 LTE, offering up to 2.5 Gbps speed. Furthermore, it supports dynamic spectrum sharing between 4G and 5G, for carriers planning to use existing cellular bands for both 4G and 5G simultaneously. The X55 also supports both SA (standalone) and NSA (non-standalone) 5G networks. The X55 can deliver speeds up to 7 Gbps down (and 3 Gbps up) on 5G networks. Qualcomm also introduced a new front-end 5G solution designed to work with the X55, providing the other components needed for 5G. These include a new mmWave antenna that supports band 258 (26 GHz), and is thinner than the current model, allowing 5G phones as thin as 8mm. The X55 and companion parts will appear in commercial devices by "late 2019".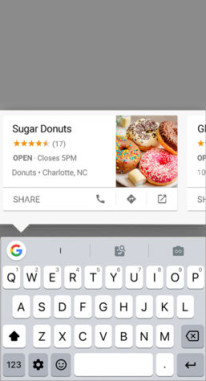 Google's newest version of Gboard — its keyboard-replacement app for iOS — adds physical feedback when typing. Apple's own iOS keyboard does not offer this popular feature. The haptic feedback feature is available on iPhone 7 and later. Gboard also offers input by word swipe and voice. It includes emoji (with search), GIFs, stickers, and personalized stickers. Google search is built-in and results — such as business listings, videos, images, and articles — can easily be pasted and sent to others. The new version is 1.4 and is available now in the Apple App Store.
The LG G8 ThinQ, the company's next flagship phone, will have a 3D face scanner for biometric security, and use its screen surface as the phone earpiece. LG has made several announcements leading up to the phone's launch about its features, also confirming the phone's name — the LG G7 ThinQ — and that it will be fully unveiled at the MWC trade show, which takes place the week of February 24th. The 3D face scanner will provide "sophisticated security for phone unlocking and payment authentication". The scanner is an Infineon REAL3 image sensor chip. It's tuned to infrared light and uses its own infrared light source so it's unaffected by ambient light. It uses time of flight (ToF) technology, which measures the time it takes for light to make the round trip to and from objects the light reflects off of. The screen-based earpiece is technology LG calls Crystal Sound OLED (CSO). LG developed CSO in-house, and says it "repurposes the OLED display as a diaphragm, vibrating the entire surface to produce sound with impressive volume." The G8 will also have a speakerphone using more traditional technology on the bottom, including the "Boombox" design (also found on the G7) that uses the interior of the whole phone as a resonance chamber to boost bass and volume.
Originally an Android-based OS for any smart-home or IoT device, Google has now decided that Android Things will be limited to smart speakers and smart displays with Google Assistant built in. As a result, Google is withdrawing support for several hardware platforms. The company just finalized Android Things 1.0 last May and promised three years of OS updates for some of the platforms it is now dropping.
AT&T today added Chicago and Minneapolis to its list of cities that will get a true 5G network by the end of this year. That list already includes Las Vegas, Los Angeles, Nashville, Orlando, San Diego, San Francisco and San Jose. The company already has 5G available to a limited group of customers in "parts of" Atlanta, Charlotte, Dallas, Houston, Indianapolis, Jacksonville, Louisville, Oklahoma City, New Orleans, Raleigh, San Antonio, and Waco. The company plans to launch 5G nationwide by "early 2020". This true (standards-based, mmWave) 5G network is not yet available to most consumers, and no phones have launched yet that support 5G. AT&T is currently running a misleading campaign to promote "5G E", which is actually 4G LTE. Sprint is currently taking AT&T to court over that campaign.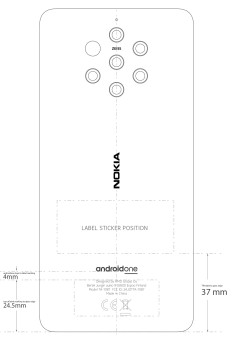 A Nokia phone with a large array of cameras on the back was just approved by the FCC. The unusual design with up to six discrete cameras on the back is clearly visible in a drawing of the back of the phone. FCC documents also reveal the phone's radio functions, which include NFC and all of the LTE bands used by Verizon, as well as basic LTE functionality for AT&T and T-Mobile. Verizon did recently launch its first Nokia phone (since the brand was handed over to HMD Global). Camera company Light revealed a prototype of a similar multi-camera phone in the middle of last year, and promised that its light field technology will come to a smartphone with five to nine cameras. Light says its phone design is capable of capturing 64 megapixel shots, better low-light performance, and sophisticated depth effects. Rumors have circulated that a phone looking like this will be called the Nokia 9 PureView. The old Nokia used the PureView brand for its phones with the most advanced cameras.
After holding out longer than most auto makers, Toyota's new 2020 lineup includes, for the first time, a variety of models that support both Apple CarPlay and Google's Android Auto. The new models include the 2020 4Runner, Sequoia, Tacoma, and Tundra. Last year's Avalon supported CarPlay, but not Android Auto. The two technologies are comparable, letting the driver sync their phone to the car and display an interface on the dash touchscreen that's driven by the phone, and includes voice control. The interfaces are tailored to driving, with a focus on navigation, music, and basic communication. Other car companies already supporting both CarPlay and Android Auto are: Chrysler (and Dodge, Fiat, Jeep, Ram), Ford (and Lincoln), GM (Buick, Cadillac, Chevy, GMC), Honda (and Acura), Hyundai (and Kia), Jaguar, Land Rover, Mazda, Mercedes-Benz, Mitsubishi, Nissan, Subaru, VW (and Audi), and Volvo.
AT&T's marketing of a "5G E" network — which is actually 4G LTE and has nothing to do with 5G technology — now has the company in legal trouble, as Sprint is taking AT&T to court for "false advertising and deceptive acts". AT&T has been marketing "5G E" in large national ad campaigns, as well as updating existing phone software to show a "5G E" indicator for 4G LTE service. Sprint is seeking an injunction to stop these actions, as well as damages caused by the success of AT&T's campaign. According to Sprint, "AT&T's deceptive ads have harmed consumers by persuading them to purchase or continue purchasing AT&T's services based on the lie that they are offering 5G." Sprint made its filing in a United States federal court in New York, based on a combination of federal and New York state laws.
Apple iOS 12.1.4 is available today, and fixes the major privacy bug discovered last week that enabled FaceTime callers to hear (and sometimes see) people before they picked up the call. Apple turned off Group FaceTime for everyone as its initial response to the issue, and it remains off for everyone without today's update.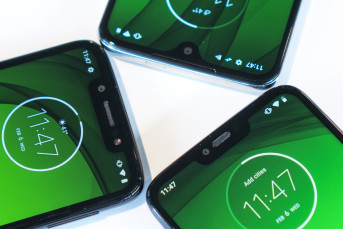 Moto's new g-series phones bring up-to-date features, upgraded specs, and clean Google software to three models ranging from $200 to $300. This year's series moves to a notched-screen design, steps up to a Qualcomm Snapdragon 632 processor, and supports USB-C across the board. They will all launch with Android 9 (Pie). All three will eventually come to US carriers, most by this spring.
Moto g7 play: The most affordable at $199, it has a 5.7" HD display, 3,000 mAh battery, fast charging, fingerprint reader, 13 megapixel camera, 2 GB of RAM, 32 GB of storage, memory card slot, 3.5mm headset jack, and FM radio. It will be available from Boost, Virgin, US Cellular, Ting, and Republic, as well as unlocked from most major retailers.
Moto g7 power: The main feature is its huge 5,000 mAh battery, which Motorola claims will last for three days. It builds on the specs of the g7 play, stepping up to a larger 6.2" display, 3 GB of RAM, and a higher-quality 12-megapixel camera. It will be available for $249 from Verizon, T-Mobile, Metro, Cricket, Xfinity Mobile, Republic, Ting, and Consumer Cellular, as well as unlocked from most major retailers.
Moto g7: Higher-end but with a normal-size (3,000 mAh) battery, this flagship of the g series has a curved glass back, full-HD 6.2" display with a smaller notch, 4 GB of RAM, 64 GB of storage, 4K video capture, and dual cameras for portrait effects. It also has a more advanced camera app, with new features like automatic group smile capture, hi-res digital zoom using multiple frames, hyperlapse video, and RAW output. The camera also integrates with YouTube Live and Google Lens. It will be available unlocked from most major retailers for $299 this spring, followed by launches with Google Fi, Republic Wireless, and Ting.
Read on for our first impressions, including photos and a video.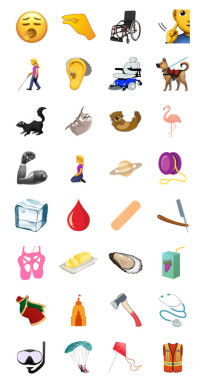 Unicode 12, the annual release for 2019, includes a wide variety of new standard emoji. Many focus on accessibility, including wheelchair, motorized wheelchair, person in wheelchair, probing cane, person with probing cane, deaf person, guide dog, service dog, ear with hearing aid, and mechanical limbs. Other new emoji include yawning face, pinching hand, ice cube, yo-yo, axe, drop of blood, adhesive bandage, stethoscope, ringed planet, chair, straight razor, safety vest, parachute, diving mask, kite, hindu temple, sari, and ballet shoes. New animals include skunk, otter, sloth, flamingo, and orangutan. New food emoji include butter, onion, garlic, waffle, falafel, oyster, and juice box. Emoji of people holding hands has also been expanded with greater diversity. Annual emoji releases typically reach phones when major new OSes are released in early fall.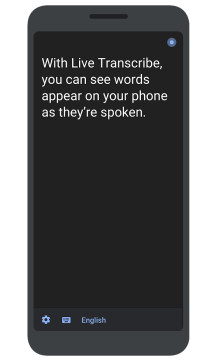 Google has two new apps rolling out designed to help the Deaf and Hard-of-Hearing use their smartphones to understand people speaking aloud around them. Live Transcribe is an app that listens, converts speech to text, and simply displays a live transcript on the screen of what's being said aloud nearby. Haptic feedback lets the user know when someone has started speaking. An icon provides a visual indicator of volume and background noise. The app uses the Google Cloud Speech API, and thus requires a decent data connection. It works in 70 different languages. It can use the phone's microphone, or an external mic. Sound Amplifier is the other app; it filters background noise and boosts quieter sounds, making it easier for the hard-of-hearing to hear what's important around them. It's designed for use with wired headphones. The filtering effects can be fine-tuned for each ear. Live Transcribe is available in a limited beta, while Sound Amplifier is available to everyone today in the Play Store. Both apps will pre-installed on Pixel 3 phones going forward.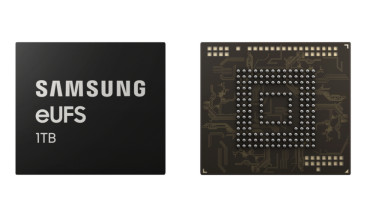 Samsung has a new storage chip for phones that can hold twice as much data in the same space as last year's chip, and enables faster data access. The new embedded Universal Flash Storage (eUFS) 2.1 chip can store 1 TB (1,000 GB) of data, in the same size as Samsung's 512 GB eUFS chip introduced in late 2017. 1 TB is enough for over 43 hours of 4K video. The new chip is also up to 38% faster at reading data, and up to 25% faster at writing, compared to Samsung's 512 GB chip. eUFS chips provide internal storage for phones, which is distinct from RAM and removable memory cards. If the past is any indication, Samsung will likely use the chip in its next flagship phone, the Galaxy S 10, which is slated to be announced on February 20th.
Waze has installed a series of new Bluetooth beacons in NYC tunnels that permit accurate positioning for drivers using smartphones for real-time navigation. GPS signals generally don't reach into tunnels. The Waze Beacons permit better functioning of Waze apps, as well as any other location-based apps, including Google Maps. Drivers need only ensure that their phone's Bluetooth is switched on to take advantage of the beacons. The Waze app will prompt users to activate Bluetooth when driving a route that includes a beacon-equipped tunnel. The NYC installation includes 313 beacons installed in the Queens Midtown and Hugh L. Carey Tunnels. Google-owned Waze has installed over 3,000 such beacons in over 60 miles of tunnels, in cities including Chicago, Boston, and Pittsburgh. The beacons use Eddystone technology over Bluetooth LE (Low Energy), permitting 4-year battery life.
A massive bug in Apple's new Group FaceTime feature allowed callers to listen in on people before they answered an incoming FaceTime call, and in some cases even see live video. Apple has already moved to prevent the issue from affecting users by turning off the Group FaceTime feature altogether, for all users, apparently with a change to its cloud systems. Before Apple acted, anyone running iOS 12.1 could exploit the bug by initiating a FaceTime video call to their target, then making it a Group FaceTime by adding their own phone number to the call. The caller would then receive audio from the other end, and if the callee pressed the power button to dismiss the incoming call, it would instead trigger live video to be sent to the caller. The issue also affected FaceTime on MacOS. Apple has acknowledged the bug and promised a software update to fix it this week.
The US government is pursuing a criminal case against Huawei for stealing the design for — as well as actual parts and software from — a unique phone-testing robot developed by T-Mobile USA. The gov't alleges that Huawei offered bonuses for employees to steal such trade secrets, and obstructed justice in a related civil case. A Seattle grand jury returned a 10-count indictment for theft of trade secrets conspiracy, attempted theft of trade secrets, seven counts of wire fraud, and one count of obstruction of justice. The robot in question is called "Tappy" and simulates human fingers activating a set of actions on a phone being tested. The theft occurred in 2012 and 2013. T-Mobile pursued a civil case against Huawei in 2014, and in 2017 a jury awarded T-Mobile $4.8 for Huawei's breach of contract. In the civil case, T-Mobile alleged that Huawei employees authorized to use Tappy snuck another, unauthorized Huawei employee into T-Mobile's labs to photograph Tappy. A Huawei employee also stole one of Tappy's "fingers" and copied some of its software. T-Mobile provided surveillance photos to back its claims, and Huawei admitted to several of the allegations. Under the maximum sentencing provisions applicable to corporate entities, Conspiracy and Attempt to Commit Trade Secret Theft are punishable by a fine of up to $5,000,000 or three times the value of the stolen trade secret, whichever is greater. Wire Fraud and Obstruction of Justice are punishable by a fine of up to $500,000.