Home
Google has updated how its displays Google search results on phones. Users can now simply continue scrolling down to see beyond the first "page" of results, instead of needing to tap a "See more" button. The change is rolling out starting today, and applies to both Google searches in a web browser and via the Google app.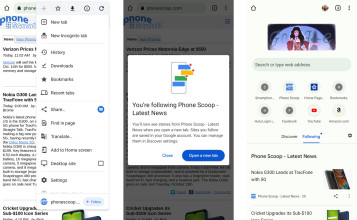 Google has added a new feature to the mobile version of its Chrome web browser that lets users subscribe to the RSS feeds of their favorite web sites. The browser's main menu now includes a "+ Follow" button when on a web page that provides an RSS feed. Entries from "followed" RSS feeds will appear in a new "Following" tab on the bottom half of Chrome's New Tab page. The feature is now available in the current version of Chrome for Android, although it may require enabling by going to "chrome://flags" in the browser and searching for "web feed". The feature is coming to the iOS version of Chrome "soon".
Verizon will sell the Motorola edge 5G UW starting this Thursday, Oct. 14th for $550. Motorola sells an unlocked version with more memory and storage (but no mmWave 5G) for $700.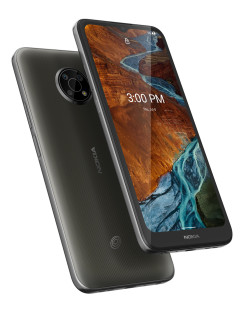 Nokia's latest phone for the US is the G300, an affordable 5G phone for TracFone and Straight Talk. TracFone is making a big new push into 5G, having recently launched the Orbic Magic 5G. The Nokia G300 is cheaper at just $199. Key features include a 6.52-inch display, 4,470 mAh battery, 16 megapixel main camera, 5 megapixel wide camera, and 8 megapixel front camera. It has 4 GB RAM, 64 GB built-in storage (expandable), and is powered by a Qualcomm Snapdragon 480 processor. It also has a fingerprint reader, dual-band Wi-Fi, fast charging, and a headset jack. The Nokia G300 goes on sale next Tuesday, October 19th.
Cricket today launched the Icon 3, the third in its series of own-brand phones that sell for under $100. The Icon 3 sells for $90. The phone is very much entry-level, yet has significant upgrades over the Icon 2 it replaces. The new model adds a fingerprint reader and steps up to a taller 6.5-inch display with a modern notch design. RAM has been upgraded from 1 to 3 GB, and storage from 16 to 32 GB. The main camera is also a bit sharper at 8 megapixel, and the battery slightly larger at 3,500 mAh. It's powered by a MediaTek Helio A20 processor. While the Icon 2 was manufactured by Tinno, the Icon 3 is manufactured FIH, a subsidiary of Foxconn. Cricket's Ovation 2, released in June, is also made by FIH. The Ovation 2 was also released under the AT&T brand with a different name, and regulatory documents indicate AT&T plans to do the same with the Icon 3. Cricket is a brand of AT&T.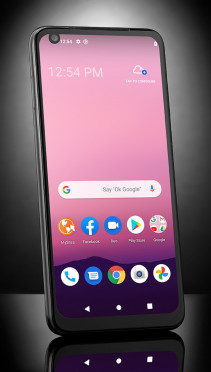 The Orbic Magic 5G is now available with TracFone. This is the first Orbic phone for a US carrier other than Verizon. According to the company, this "shows that Orbic is growing as brand into other channels." Orbic got its start in the US making entry-level phones for Verizon. The Orbic Myra 5G for Verizon launched recently and was the company's first mid-range phone, and first 5G phone. The Magic is identical to the Myra save for network frequency band support and the Snapdragon chipset inside. The Magic supports sub-6 5G and 4G on both the Verizon and T-Mobile networks, and uses a Qualcomm Snapdragon 690 chipset. The Myra supports Verizon's mmWave "Ultra Wideband" 5G network, which required the higher-end Snapdragon 750G. The company confirmed this as the reason for the two different chipsets. Like the Myra, the Magic 5G has a 6.78-inch HD+ display, 5,000 mAh battery, 48 megapixel main camera, 8 megapixel wide camera, 6 GB RAM, 64 GB storage (expandable), and Quick Charge 3.0. TracFone is selling the Orbic Magic 5G for $300. Orbic is a brand of Reliance Communications.
Motorola today announced the moto g pure, the company's latest entry-level phone. The phone will be sold by essentially every carrier in the US, including Verizon, AT&T, T-Mobile, Cricket, Metro, Boost, US Cellular, and Xfinity. Verizon will be the first to offer it, for $150 starting October 14th. Other carriers will offer the phone "in the coming months". Motorola will sell the phone unlocked for $160, with pre-orders starting October 14th. The phone will come in two variants: one for AT&T, Cricket, and Verizon — with support for AT&T's unique bands 14 and 30 — and the other for all other carriers, supporting T-Mobile's network and overseas 4G networks. Both variants will be powered by a MediaTek Helio G25 chip. The phone's features include a fingerprint reader on the back, basic water resistance, headset jack, and dual-band Wi-Fi. The HD+ display measures 6.5 inches. The 13 megapixel main camera is joined by a depth camera for portrait shots and a 5 megapixel front camera. Motorola claims two days of battery life from the 4,000 mAh battery. It has 3 GB RAM and 32 GB of storage, which is expandable with a memory card. It comes with Android 11 and Motorola promises one major OS upgrade plus two years of security updates (at least quarterly).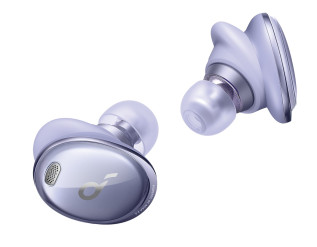 Soundcore today announced Liberty 3 Pro premium true wireless earbuds. Compared to the Liberty 2 Pro, the new model adds active noise cancellation (ANC) and improved sound performance. The HearID ANC system is "capable of automatically customizing noise reduction based on outside conditions while creating a unique, tailor-made sound profile by analyzing in-ear pressure". This is in addition to Soundcore's standard HearID technology, which can boost specific frequencies based on the results of a personal "hearing test". The earbuds have three different transparency modes for hearing important outside sound. Like the Liberty 2 Pro, the new model has a separate armature for high frequencies, in addition to a more traditional large driver for bass. Six microphones ensure clear outbound audio. The Liberty 3 Pro also support LDAC for high-resolution audio. They are 30% smaller than the Liberty 2 Pro. The buds support Bluetooth 5.2 and are rated IPx4 for water resistance. They come with four different size silicone ear tips plus four sizes of silicone ear wings for a custom fit. The buds can operate for eight hours at a time (six with ANC on). The case can add up to 32 additional hours, including fast charging for 3 hours of playtime in 15 minutes. The case supports both wireless and USB-C charging. The Liberty 3 Pro is available starting today, in four colors, for $170. Soundcore is a brand of Anker Innovations. (Hands-on photos below.)
The FCC today started Auction 110, the third in a series of auctions to sell licenses for valuable C-band (mid-band) radio frequencies that offer a good mix of data speeds and coverage when deployed for 5G networks. All three major US wireless carriers have registered and qualified to bid in the auction. The most recent auction in the series was Auction 107, which was for the highest and widest range of frequencies in the band. In that auction, all three major carriers spent billions, with Verizon spending the most. Before that, Auction 105 — for the middle range of frequencies — saw Verizon and Dish Network come out on top. The current auction is for the lowest range of frequencies in the band: 3,450 – 3,550 MHz. The US government only decided a little over a year ago to allow commercial service in this new range of frequencies. The Department of Defense currently uses this radio spectrum for radar operations that support missile defense, counter-mortar capabilities, weapons control, electronic warfare, air defense, and air traffic control. Auction proceeds must cover 110% of the expected sharing and relocation costs for federal users currently operating in the band, which in this case is estimated to be over $14 billion.
Telecom infrastructure provider Syniverse recently disclosed to the SEC that it discovered a hack of its systems this year, which appears to have been ongoing since 2016. The compromise affects the Electronic Data Transfer (EDT) environment for 235 of its customers, including Verizon, AT&T, and T-Mobile. The EDT handles a wide variety of sensitive customer data, including the content of SMS text messages, call records, data usage records, and billing details. Ninety-five of the top 100 mobile carriers in the world are Syniverse customers. Syniverse's systems allow different carriers around the world to connect to each others' networks, exchanging text messages between networks and enabling roaming agreements and billing.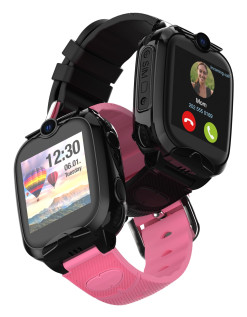 Xplora's newest smartwatch for kids age 4–1, the XGO2, includes a step tracker that gamifies step tracking to encourage physical activity. Kids earn "coins" for every 1,000 steps taken, which can be redeemed in games in the company's Goplay platform. The XGO2 also includes a VGA camera that lets kids take photos and send them to approved contacts. Like many other smartwatches for kids, the XGO2 includes GPS tracking with geofencing, and the ability to call and text with a set list of approved contacts. The watch works on 4G networks and has a 1.4-inch display, 700 mAh battery, and IP67 water resistance rating. The watch is available now for $120 contract-free, or $100 with a one- or two-year service contract. The two-year plan runs $8/month while the one-year plan is $10/month. Pay-as-you-go service is also available for $12/month.
The FCC has proposed new rules for wireless telecom carriers to require best practices for authenticating customers who are attempting to move service to a new phone or new carrier. The rules are an attempt to crack down on SIM swap fraud and port-out fraud, where a bad actor impersonates a wireless customer in order to take over their phone number. This then allows the bad actor to receive one-time passcodes intended for the victim, and access other online accounts, including email, social media, and bank accounts. The new rules require authentication by pre-established password or a one-time passcode. The rules also tighten requirements for giving out any sensitive customer information, banning authentication by "readily available biographical information, account information, recent payment information, or call detail information", and requiring photo ID for in-person interactions. The rules also require specific new customer notifications when a SIM swap or number port has occurred. The proposal now enters a 60-day comment period.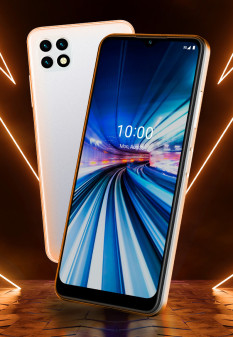 Boost Mobile has introduced the Celero5G, a white-label affordable 5G phone with a unique launch promotion attached. Like T-Mobile's REVVL V+ 5G, the Celero5G is manufactured by Wingtech and powered by a MediaTek Dimensity 700 chipset, (but the two phones differ in size and specs.) The Celero5G has a 6.5-inch display, 4,000 mAh battery, 4 GB RAM, and 64 GB storage, expandable by up to 2 TB. The main camera is 16 megapixel, along with a 5-megapixel wide camera and 8-megapixel front camera. It also has a side fingerprint reader, 15W fast charging, and a headset jack. The "premium design" has a glass back and metallic frame. Until October 31, customers can get a free year of service when paying the full $280 retail price for the phone. The free year of service includes unlimited talk, text, and up to 35 GB of 5G/4G data per month. Boost's web site shows the phone as shipping October 17th. Boost also offers the Samsung Galaxy A32 5G with a list price of $280 but currently selling for $130, and the Motorola g stylus 5G with a list price of $250 but currently selling for $200. Boost is a brand of Dish Network. Boost is currently transitioning from T-Mobile's network to AT&T's network, while also building out its own 5G-only network.
Apple has released new versions of its productivity apps for its platforms, including Keynote, Pages, and Numbers for iOS on iPhones. Keynote now lets you place "live video objects" into presentations, allowing "the presenter to appear alongside the content in their slide — ideal for lectures, how-to videos, and remote presentations through video conferencing apps." The feature can use the front-facing camera on an iPhone or other Apple device. The live video objects can be resized or styled with masks, frames, drop shadows, and reflections. Keynote for Mac can also now "show the screen of a connected iPhone or iPad right on a slide for live, interactive demos." Pages for iPhone has a new Screen View mode that re-arranges page layouts into a single column that's easier to read on a small screen, while supporting full editing tools. Numbers now supports pivot tables, including on iPhone and iPad, making it "the first app to bring full-featured pivot tables to mobile".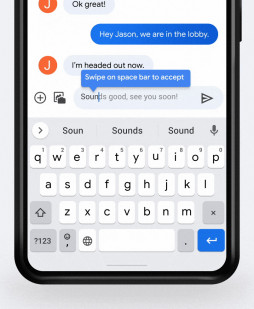 Google is adding to Android a number of features that started out exclusive to the company's Pixel phones. An update to the Gboard keyboard adds Smart Compose, which uses machine learning to suggest complete sentences. Gboard is also gaining Smart Clipboard, the ability to intelligently extract phone numbers, email addresses, and URLs from copy-and-pasted text. Finally, "when you open a messaging app right after taking a screenshot, Gboard will now show that screenshot as a suggestion to share." Google is also bringing Locked Folder to general Android. The feature lets you keep sensitive photos and videos in a separate "passcode-protected space" "so they won't show up as you scroll through Google Photos or any other apps on your device."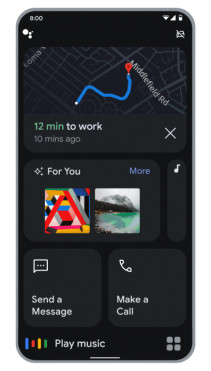 Google today announced a new version of Android Auto with several new features, as well as a revamp of how Driving Mode works in Android. The new version of Android Auto adds the voice command "Hey Google, pay for gas", which will make it faster and easier to pay for gas "at over 32,500 gas stations across the U.S. starting with Exxon and Mobil, Conoco, Phillips 66 and 76 stations." The feature will also work in Google Assistant on Android, without Android Auto. Android Auto is also gaining better support for dual-SIM phones and phones with a Work Profile set up. The home screen for Android Auto will also now feature "music, news and podcast recommendations from Google Assistant." When using Android in your car without Android Auto, Google is pulling its Driving Mode feature out of Maps and into Google Assistant, to make it useful even when not using Maps' navigation features. Now users will "be able to say 'Hey Google, let's drive' (or connect your phone to your car's Bluetooth) to open the new driving mode dashboard". The dashboard (shown) supports Maps navigation, but also provides easy, safe access to calls, messaging, music, and podcasts whether using navigation or not, via voice commands or oversize buttons.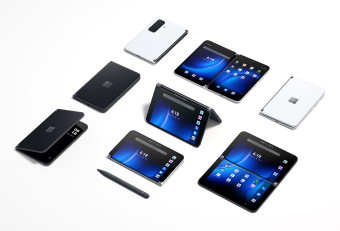 Microsoft today revealed the Surface Duo 2, an updated version of the company's Surface Duo concept that attempts to address the major criticisms of the initial version. The new model has a similar form factor but with larger 5.8-inch OLED displays that curve slightly at the hinge to show notification graphics when closed. The displays support HDR and adaptive refresh up to 90 Hz, and are protected by Corning's premium Gorilla Glass Victus. The improved chipset is based on the Qualcomm Snapdragon 888 with 5G — including mmWave and C-band — and 8 GB LPDDR5 RAM along with 128, 256, or 512 GB of storage. The upgraded camera system has 12 megapixel main and 2x tele cameras with OIS, plus a 16 megapixel wide-angle camera. It also has NFC, Wi-Fi 6, and Bluetooth 5.1. The Duo 2 has excellent support for all 4G and 5G networks in the US. The 4,449 mAh battery supports fast charging at up to 23 watts. The Duo 2 runs Android 11 and is compatible with all Android apps. It has a number of features to configure apps in multiple ways across the two screens for multi-tasking. It comes with a large array of Microsoft apps, including Office, Teams, Outlook, OneNote, OneDrive, and more. Available in Glacier or a new Obsidian color, Surface Duo 2 starts at $1,500 and is available for pre-order today. It ships October 21st.
Nokia today announced the third phone in its relatively new G series. The Nokia G50 has 5G and costs $299. Key features include a large 6.82-inch HD display, large 5,000 mAh battery for "two-day battery life", and a 48-megapixel main camera. The G50 also has 18-watt fast charging, a 5-megapixel wide-angle camera, NFC, side fingerprint reader, memory card slot, and headset jack. It's powered by a Qualcomm Snapdragon 480 chipset with 4 GB RAM and 128 GB built-in storage. It has decent support for AT&T's 4G and low-band 5G networks, although it lacks LTE 14/29/30 and NR 77 (US C-band) that would give it the best performance with AT&T. It will not be certified for Verizon and lacks LTE 71 that would give it decent support for T-Mobile's network. The phone is available in two colors: Midnight Sun (rose gold) and Ocean Blue. The Nokia G50 ships starting Sept. 30th and is available for pre-order from nokia.com starting today.