Home
The newest affordable Pixel phone from Google is the Pixel 4a, which starts at $349, making it the most affordable Pixel phone ever. (The Pixel 3a started at $399 at launch.) A 5G version will also be available this fall starting at $499. The Pixel 4a is powered by a Qualcomm Snapdragon 730G chip paired with 6 GB of RAM and 128 GB of storage. The 4a is a relatively small phone, with a 5.8-inch OLED display that covers the front. A small hole punch in the corner accommodates the 8 megapixel selfie camera. The single rear camera is 12 megapixel with dual-pixel focusing. The phone comes with an 18W USB-PD fast charger for its 3,140 mAh battery. It also has a fingerprint reader on the back, headphone jack up top, stereo speakers, and NFC. It does not have water resistance nor wireless charging. It will be available in black (only) starting August 20th from Google, Best Buy, Amazon, Google Fi, U.S. Cellular, and Verizon. Pre-orders from Google and Google Fi start today. Google also revealed that a 5G-enabled Pixel 5 will be announced in the "coming months" and be available this fall, but said little else about it.
Dish Network has made a unique deal with Tucows, the owner and operator of Ting Mobile. Dish is buying the Ting brand and its customers, who will join Boost customers under the new Dish wireless umbrella. Dish is also entering into a long-term deal for Tucows to provide billing, activation, provisioning, and funnel marketing services for Dish's wireless customers, starting with existing Ting customers. Dish will move Boost customers to the Tucows platform in the second half of 2021. Dish recently purchased Boost as part of a deal that facilitated government approval for T-Mobile to merge with Sprint. Dish uses the T-Mobile network for the time being, but has started building its own 5G network.
The Sprint brand is no more, as T-Mobile today completes its effort to bring former Sprint stores and other assets under the T-Mobile umbrella with re-branding. Most Sprint stores closed early last night to give employees time to conduct the T-Mobile make-over. The Sprint web site is also gone; sprint.com now re-directs to t-mobile.com. Customers previously with Sprint can now access their accounts via t-mobile.com. The two companies legally completed their historic merger on April 1st. T-Mobile has not yet announced its timeline for phasing out legacy Sprint technology such as its CDMA network.
Netflix is rolling out variable speed playback to its mobile apps, starting with a rollout to Android users over the next few weeks. The company plans to test the feature with its iOS app and web playback as well. Four new playback speeds are available: 0.5x, 0.75x, 1.25x, and 1.5x. Similar features have been available in YouTube and podcast apps for some time.
Google today provided an update on the quickly-evolving Exposure Notifications System (ENS) they developed and launched in partnership with Apple to augment pandemic contact tracing efforts. The system now supports interoperability between countries and states, including a "national key server" run by the Association of Public Health Laboratories to allow the system to work across the 20 US states and territories using ENS with their own official public health apps. Also, "Bluetooth calibration values for hundreds of devices have been updated to improve the detection of nearby devices". As always, ENS is completely anonymous, does not track your location, and is opt-in. Google also explained the technical reasons users may be asked to turn on "location services" to use ENS, even though ENS does not us location data and ENS apps are prohibited from collecting location data. At a system level, in Android 10 and earlier, permission for an app to use Bluetooth is linked to "location services" because the app may connect to Bluetooth beacons, which are intended to mark locations. But ENS apps are prohibited from gathering this data. In Android 11, ENS apps will be given an exemption that allows the location services setting to remain off, since those apps cannot collect such data.
CVS will start accepting PayPal and Venmo for touchless in-store payments nationwide by the end of this year. The option will work via QR codes and the customer's phone. The standard PayPal/Venmo QR code system works with a printed QR code at each register. The customer opens the app on their phone, scans the code, and enters the amount to be paid.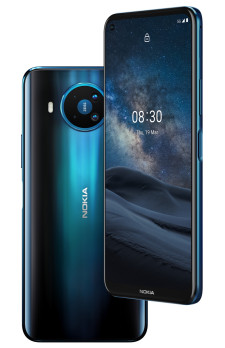 Nokia today announced that it will bring the Nokia 8.3 5G to the US "this autumn" as an unlocked phone capable of working on both AT&T and T-Mobile 5G networks. The 8.3 is the company's first 5G phone and was first revealed globally in March. A US launch is not surprising, since the specs of the 8.3 have always included support for US (sub-6 GHz) 5G networks. Key specs for the Nokia 8.3 5G include a Qualcomm Snapdragon 765G chipset, 6–8 GB of RAM, 6.8-inch full-HD display, 4,500 mAh battery, and a 64-megapixel main camera.
Google has sweetened its Google One service to offer full, automatic phone backup for free for all Android phones. (Full automatic phone backup previously required a paid subscription.) The company is also launching a Google One app for iOS, which will offer a free backup service and storage manager for that platform. On iOS, Google One will be able to back up photos, videos, contacts, and calendar events. The Google One service on both platforms uses the 15 GB of storage that comes free with all Google accounts. Google One will continue to offer paid subscriptions that offer more storage and enhanced support.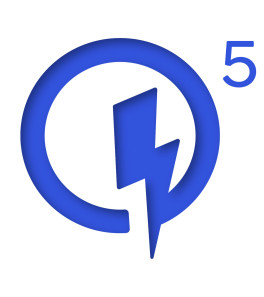 Qualcomm today announced Quick Charge 5, the latest version of its standard for fast-charging battery-powered devices such as phones. Version 5 is a huge leap over Quick Charge 4, promising four times faster charging. Quick Charge 5 can charge a dead phone to 50% in just five minutes, and 100% in under 15. It does this using a massive 100 watt / 20 volt power supply, and supports even higher wattages and/or voltages. Because individual battery cells and charging circuits inside phones cannot support those power levels directly without overheating, it supports "stacked cell" designs with effectively two batteries (also called 2SnP) — and two or three separate charging circuits — in one phone. Quick Charge 5 can also offer greater efficiency and/or lower temperature while charging. It leverages — and is compatible with — the USB-PD standard. All Quick Charge 5 wired chargers will be able to supply at least 45 watts and 20 volts, while also being full backward-compatible with older versions of Quick Charge. Quick Charge 5 can also be used with wireless charging. Mobile devices with Quick Charge 5 are expected to ship with the next couple of months.
AT&T has set a date for switching off its 3G WCDMA network. Starting February 2022, customers will need a 4G phone with VoLTE technology (a feature AT&T refers to as HD Voice) to connect to AT&T's network. Most smartphones released since 2014 support this technology, as well as most feature phones released in the last two-three years. Phones that will stop working include the Apple iPhone 5s and older, Samsung Galaxy S4 and older, the original Google Pixel, and the OnePlus 6T and older. Shutting down the 3G network will allow AT&T to allocate all of its airwaves to more-efficient 4G and 5G technologies, enabling greater network capacity and data speeds for 4G and 5G customers. AT&T sent an email to some customers earlier this week saying they needed to upgrade their phone without making clear the 2022 deadline. AT&T issued the following statement about the email: "This email was one of many planned to keep customers informed about the shutdown of our 3G network in early 2022. It should have included the date that certain devices would no longer be supported. We apologize for any confusion this may have caused and will be more clear in future updates."
AT&T has expanded its sub-6 GHz 5G network to 40 new markets, for total coverage of 395 markets. Major new markets include Houston, San Antonio, Minneapolis, Jacksonville, Daytona Beach, Santa Fe, and Little Rock. The company also tweaked its plans to include 5G access at no extra charge on all unlimited-data plans, for both consumers and businesses. 5G access was previously limited to the company's top-tier plans, but will be included with "Unlimited Starter" plans starting August 7th. Some of AT&T's network remains 4G-only; but with 5G service now covering over 200 million people, it meets the FCC's definition of "nationwide" service. T-Mobile reached this threshold in December 2019.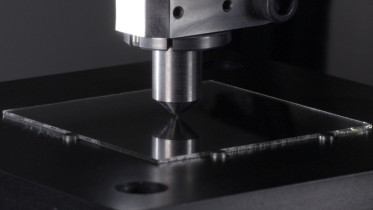 Corning's newest Gorilla Glass for phones is Gorilla Glass Victus, which the company claims provides improved drop and scratch resistance compared to Gorilla Glass 6 and the competition. Samsung will be the first company to use Gorilla Glass Victus "in the near future". Most advanced glass materials optimize for either drop protection or scratch resistance. For example, the first versions of Gorilla Glass focused on scratch resistance, while more recent iterations have focused on drop protection. Gorilla Glass Victus improves both, providing "up to a 2x improvement in scratch resistance" compared to Gorilla Glass 6, while also providing "drop performance up to 2 meters when dropped onto hard, rough surfaces", compared to 1.6 meters for Gorilla Glass 6.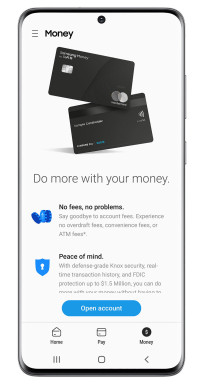 Samsung Pay users can now sign up for Samsung Money in the new Money tab of the Samsung Pay app. Samsung Money is a debit card linked to a dedicated cash management account (similar to a checking account). Samsung has now sweetened the deal by announcing today that Samsung Money users will have access to exclusive "discounts on Samsung Galaxy smartphones, tablets, wearables, TVs, laptops, washers, refrigerators and more on Samsung.com".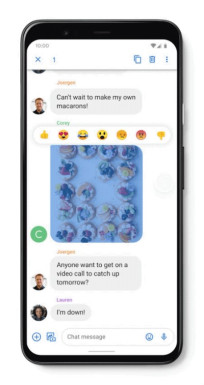 Google has updated Messages — its own standards-based rich messaging app for Android — to support emoji-like message reactions, similar to the reactions features in iMessage and Facebook. Available reactions are: like, love, laughter, surprise, sadness, anger, and dislike. The feature only works in "conversations with chat features enabled", referring to message threads using rich messaging (RCS) instead of standard text messaging SMS. Google and some US carriers have been increasingly supporting RCS on new Android phones in the past couple of years.
Asus has unveiled its third generation ultra-premium gaming phone: the ROG Phone 3. The phone starts with flagship-level specs and pushes even further in every area related to gaming, including battery, display, sound, and accessories. Core specs include 5G, a Qualcomm Snapdragon 865+ chipset, up to 16 GB of LPDDR5 RAM, up to 512 GB of UFS 3.1 storage, 6,000 mAh battery, 30W fast charging, 6.6-inch full-HD AMOLED display, Wi-Fi 6, and Bluetooth 5.1. For gaming, the display offers 144 Hz refresh rate, 270 Hz touch sampling, 25ms touch latency, and HDR10+. The ROG Phone 3 has front-facing stereo speakers with dual dedicated amps, tuned by Dirac. Like its predecessors, the phone supports an array of unique accessories thanks to its dual USB-C ports (one on the bottom and one on the side). A dedicated fan accessory — now with an integrated kickstand — can augment the phone's extensive internal cooling system to ensure the processor doesn't throttle down due to heat. Other accessories include a physical gaming controller, dual-screen mobile dock, and a desktop dock for gaming with a full-size monitor and controls. The updated design includes a window on the back exposing the internal heatsink. The phone also includes a 64 megapixel main camera, 13 megapixel wide camera, macro camera, and 24 megapixel front camera. The ROG Phone 3 has excellent support for nearly all (sub-6) 5G and 4G networks in the US, including 5G NR in bands 2, 5, 41, 66, and 71, and 4G LTE in bands 2, 4, 5, 12, 13, 25, 26, 29, 30, 41, 48, 66, and 71. The ROG Phone 3 will be available in North America in September. Pricing will be announced closer to launch.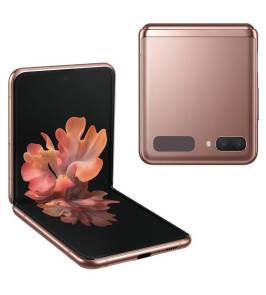 Samsung today announced the Galaxy Z Flip 5G, a variant of the company's folding-screen, clamshell-style phone that adds sub-6 GHz 5G and a faster processor, but is otherwise similar to the 4G version. In the US, it will be available for $1,450 starting August 7th from AT&T and T-Mobile, and unlocked from Samsung, Amazon, and Best Buy. The processor is Qualcomm's new, top-end Snapdragon 865+, compared to the older Snapdragon 855+ in the 4G version. The Z Flip 5G will support the sub-6 GHz 5G networks of AT&T and T-Mobile in bands 2, 5, 25, 41, 66, and 71, as well as 4G LTE in all US bands. The 5G variant looks identical to the 4G model, except it comes in new colors: Mystic Gray and Mystic Bronze, both with a haze finish that minimizes fingerprints. The Z Flip has a unique bending display featuring "flexible glass". The Z Flip also has a 3,300 mAh battery and 8 GB of RAM.
Motorola is now taking pre-orders for its new edge high-end unlocked phone for the US, offering a limited-time $200 discount that brings the price to just $500. The edge ships July 31st and will be available from Best Buy, B&H Photo, Amazon, and Motorola.com.
T-Mobile is temporarily offering lower prices for accounts with four to six lines on its Essentials plan. Normally $30/month/line, families and small businesses with four lines can now sign up for the Essentials plan for just $25/month/line. Adding a fifth or sixth line is just $20/month/line. Unlike T-Mobile's pricier Magenta plans, Essentials plan rates do not include taxes and fees. The Essentials plan does include 5G data, but limits data speeds during network congestion (giving Magenta-plan customers priority), limits mobile hotspot use to 3G speeds, limits data in Canada and Mexico to 2G speed, and does not include data roaming for other countries. Nor does Essentials include perks like Netflix and Gogo, although it does include T-Mobile Tuesdays.