Home
The California Public Utilities Commission yesterday issued an order clarifying that it has not yet granted approval for Sprint and T-Mobile to merge in California, and the merger cannot proceed in that state until it does so. The Commission is scheduled to vote on the merger on April 16th.
T-Mobile is offering most customers with two or more voice lines free access to Quibi, the new mobile-only premium video streaming service launching April 6th. Eligible customers get a full year of Quibi free, and can continue receiving free access after that if they opt out of T-Mobile's free Netflix offer. Quibi is normally $5/month, or $8/month without ads. T-Mobile's offer is for the $5/month plan with ads. Quibi has a number of shows lined up featuring A-list celebrities. All episodes are 10 minutes or less, and are filmed so they can be viewed in either portrait or landscape video. To be eligible for the T-Mobile offer, customers must have two or more voice lines at standard rates on a Magenta or ONE plan. First Responder, Military, and Magenta Plus 55 plans are also eligible, as are small business customers with up to 12 lines. Customers have until July 7 to opt in to the offer.
Samsung has launched an unusual twist on phone trade-ins for its flagship S20 lineup. With the "guaranteed buy-back program", people who buy an S20 directly from Samsung can opt in to a program that will let them return the phone within two years for 50% of the purchase price. The phone must be in good condition, with a perfectly working display and no breaks or cracks. Customers must opt in to the program when making the initial purchase, and receive a credit with Samsung, not cash, when returning the phone.
T-Mobile has officially completed its merger with Sprint. For the moment, the merger has little effect on customers, but "Sprint" lives only as a brand of T-Mobile, not a separate company. As of today, Sprint is no longer trading under its own symbol on the stock exchange. Current Sprint customers can keep their plans for the near future. As a condition of regulatory approval, T-Mobile has committed to not raise prices for three years. But over time, the Sprint brand will be replaced by T-Mobile. The companies have been making technical preparations for the merger since it was announced. Most new phones introduced by Sprint and T-Mobile in the past year are capable of accessing both networks, ensuring a smoother transition. The companies have already announced expanded roaming for Sprint customers on the T-Mobile network, for Sprint customers with those newer phones. While all major US wireless carriers are deploying 5G in both sub-6 GHz and mmWave radio frequencies, the new T-Mobile will have the key advantage of access to mid-band frequencies in the form of Sprint's unique band 41 (2.5 GHz). 5G in this band can offer a unique balance between high speeds (like mmWave) as well as broad coverage (like other sub-6 bands). The company claims that combining the two networks into one will allow the company to offer "14 times more capacity in the next six years than T-Mobile alone has today", "average 5G speeds up to eight times faster than current LTE in just a few years", and "$43 billion in synergies for all shareholders", mostly from "reducing redundant cell sites and rapidly deploying spectrum and other technologies more efficiently." The new company announced plans to invest "$40 billion into its network, business and more over the next three years." The company also announced that Mike Sievert will replace John Legere as T-Mobile CEO effective today, one month earlier than previously announced.
Apple has acquired the popular weather app Dark Sky. Dark Sky announced that it is pulling its Android and Wear OS apps from app stores, and existing installations on those platforms will stop working on July 1st, 2020. The company is also phasing out its API service, which is used by other apps and services. Dark Sky won't accept any new applications to use its API going forward, and the API service will shut down at the end of 2021. The iOS version of the Dark Sky app will continue to be sold in Apple's App Store.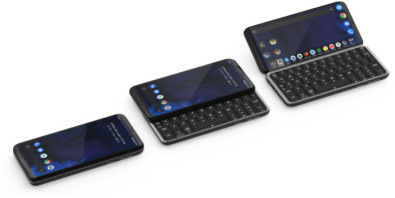 Planet Computers, known for its pocketable phones with "full" laptop-style keyboards, has revealed a new model — the Astro Slide — with a unique slide-and-tilt mechanism they call "RockUp". While the company's past models had a standard clamshell hinge that hid the main screen when closed, the main screen on the Astro Slide is always accessible, making it usable like a standard smartphone when closed. When slid open, the large backlit keyboard is available, and the screen can be tilted at an angle like a tiny laptop. The device has 6.53-inch display, MediaTek Dimensity 1000 chipset, 5G (sub-6), 4,000 mAh battery, and a 48-megapixel camera. It also has Android 10, two USB-C ports, a fingerprint reader, NFC, and wireless charging. The device is being crowdfunded on Indiegogo, with a starting price of $491 and an estimated ship date of March 2021.
AT&T is introducing a new $15 plan, and temporarily adding 10 GB of data to existing plans. The same offering is being made available under both of the company's prepaid brands: AT&T Prepaid and Cricket. The new $15/month comes with 2 GB of data and unlimited talk and text. It will only be available for a limited time. T-Mobile recently launched a similar plan. For existing AT&T Prepaid and Cricket customers with capped data plans, the company is automatically adding an additional 10 GB of data for the next 60 days. These moves are intended to help customers unexpectedly operating from home during the COVID-19 pandemic.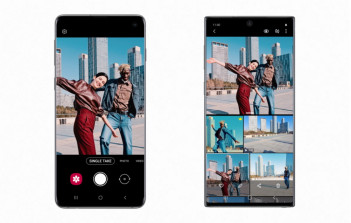 Samsung has started rolling out a significant software update for last year's Galaxy S10 and Galaxy Note10 series phone, which adds major new features first introduced on the company's latest S20 phones. In the Camera app, new features include Single Take, improved Night Mode, Night Hyperlapse, Custom Filters, and Pro Video (manual mode for video). In the Gallery app, Clean View uses AI to group similar photos together. The update also brings Quick Share and Music Share to the S10 and Note10. The update will be available "through an upcoming software update starting from March".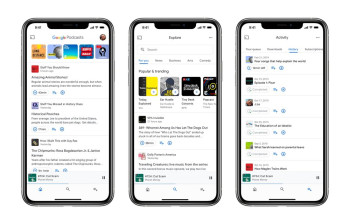 Google has redesigned its Podcasts app, and made a version available in Apple's App Store for iPhone users. Google Podcasts now stays fully synced between all platforms, including Android, web, and iOS, so you can pause a podcast on your phone and automatically pick up where you left off on the web. The new interface design has three tabs: Home, Explore and Activity. The Home tab features a feed of new episodes and gives you quick access to your subscribed shows. When you select an episode you want to listen to, you'll now see topics or people covered in that podcast. In the Explore tab, you can browse popular podcasts by category, and the app will make personalized show and episode recommendations. The Activity tab displays your listen history, queued up episodes, and downloads. For each show in your subscriptions, you can now enable automatic downloading and/or push notifications for when new episodes come out. The new Google Podcasts is available on iOS today and rolling out to Android this week.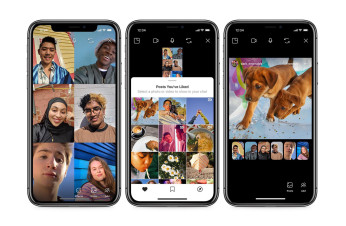 Instagram has just launched Co-Watching, a new feature that "allows you to view Instagram posts together with your friends over video chat. You can start a video chat by tapping the video chat icon in the Direct inbox or in an existing Direct thread, then view saved, liked and suggested photos/videos by tapping the photo icon in the bottom left corner in an ongoing video chat." The new feature is designed to help people stay connected while staying at home during the COVID-19 pandemic.
Apple has now fully launched Universal Purchase, a new feature of its App Store that lets customers make a single app purchase to gain access to that app across all of Apple's OS platforms, including macOS and iOS. For example, buying an app on your iPhone would automatically give you access to not only the iOS version, but also the macOS, iPadOS, watchOS, and tvOS versions of that same app, if they exist. Developers need to update their apps and App Store listings to support Universal Purchase.
Verizon is adding 15 GB of high-speed data to the plans of all wireless consumer and small business customers. Also, for low-income customers participating in the Lifeline program, the company is fully waiving the next two months of internet and voice service charges. The changes are automatic and require no action in the part of customers. These actions by Verizon are designed to help customers stay connected as they operate from home during the current COVID-19 pandemic.
Samsung has slashed the price of its flagship Galaxy S20 5G and Galaxy S20+ phones by $200 at retailers like Amazon and Best Buy, bringing the base configuration of the unlocked phones down to $800 and $1,000, respectively. The top-end Galaxy S20 Ultra is not currently being discounted. The S20 series of phones were just released on March 6th. The unlocked versions now being discounted are compatible with the 4G and 5G networks of major US carriers. The smaller S20 only supports sub-6 GHz 5G, but the larger S20+ supports both sub-6 5G and faster mmWave 5G networks.
T-Mobile is launching its cheaper T-Mobile Connect plans starting this Wednesday, March 25th, instead of waiting until its merger with Sprint closes, as originally planned. There are two plan options: $15/month (plus tax) for 2 GB of high-speed phone data, or $25/month for 5 GB of high-speed phone data. Both plans include unlimited talk and text, and include access to 5G with a compatible 5G phone. T-Mobile has also promised to automatically add a 1/2 GB of monthly data to each plan, each year for the next five years. The company also introduced new special offers for Metro customers to help them stay connected during the current pandemic. For the next two months, Metro is offering a $15 plan, half the price of the current most affordable plan. For 60 days after customers activate, it's $15/month for unlimited talk and text plus 2 GB of high-speed phone data. Also, new and current Metro customers with any voice line can also get a free 8" tablet with a new $15/month unlimited tablet data plan. Finally, Metro is offering half-off its dedicated mobile hotspot devices, and the $35/month hotspot data plan will include 20 GB — double the normal monthly data — for the next 60 days.
Verizon has announced new hours and policies for its physical locations, while AT&T has announced a new round of temporary store closings. Verizon stores will now be closed on Sundays, and open 11am – 4pm the rest of the week. Verizon is also reducing staff in stores and limiting occupancy so that the number of customers in a store may not exceed the number of employees working at any given time. The company is asking customers to use its web site and app instead of physical stores for any transaction that is not "critical". AT&T announced new closings. The company will only keep open one store within a 20-mile radius in urban and suburban areas, and just over a 30-mile radius in rural areas. AT&T is also limiting the number of customers that can enter a store at the same time.
T-Mobile is offering customers a two-month free trial of YouTube Premium, which includes ad-free viewing, offline viewing, and YouTube Music Premium. The service is normally $12/month with a one-month free trial. The special offer is being made available via T-Mobile Tuesdays, the company's bonus/reward program. Android users can access the offer starting tomorrow with the T-Mobile Tuesdays app, and iOS users can access it by visiting t-mobiletuesdays.com.
Google will no longer hold any sort of developer event this year, due to the current pandemic. The company's annual I/O event was already changed to an online-only format, but now will not happen at all.
AT&T has reached an agreement with Dish that will allow AT&T to use some of Dish's radio frequency licenses for the next 60 days. This will allow AT&T to temporarily, significantly boost the capacity its 4G LTE network. AT&T will be able to deploy the spectrum quickly using its existing network equipment for bands 66 and 29. Phones supporting those bands will be able to access the additional capacity automatically. Dish is providing the spectrum — which it owns but has not been using — at no cost to AT&T. In recent days, the FCC has taken the unusual move of forcing companies such as Dish to temporarily relinquish radio frequencies they own licenses to, but that have been sitting idle. Customers of T-Mobile, Verizon, and US Cellular have been the beneficiaries of those FCC actions this week. All of these temporary actions are designed to meet the sudden surge in demand for all types of broadband access, as people turn to video conferencing to work and learn from home during the COVID-19 pandemic.