Home
AT&T and Verizon have finally launched 5G service in the C Band, after a chaotic last-minute battle with the FAA and airlines over potential interference with airplane radio altimeters. AT&T's launch footprint today appears more limited than Verizon's. AT&T is launching the service — which it brands "5G+" — in "limited parts of" Dallas/Fort Worth, Houston, Austin, Chicago, Detroit, Jacksonville, Orlando, and Miami. Verizon's launch today covers 90 million people. Verizon originally promised 100 million people covered at launch, but had to scale back coverage near airports to appease airlines scrambling to comply with last-minute restrictions imposed by the FAA. AT&T offers at least 17 phones that are compatible with C Band 5G, including most recent phones from Apple, Samsung, and Google. 5G in the C Band should offer a better balance of good coverage and fast data speeds compared to existing 5G service. We recently published a complete guide to C Band 5G.
AT&T and Verizon are moving forward with this week's launch of 5G service in the new C Band, but have voluntarily agreed to new restrictions around airports at the request of major US airlines. The airlines have asked for 5G in the C Band to be banned within two miles of airport runways, a limitation that will severely reduce availability of the service in some cities. Verizon's initial launch will now cover 90 million people, down from the 100 million originally promised. The FCC and wireless industry insist that 5G in the C Band poses no danger to airplanes. 5G in this band is already operating in over 40 countries with no reported issues. But the FAA remains unconvinced that the service cannot interfere with some airplanes' radio altimeters, which use a nearby radio frequency to measure distance to the ground. The FAA came to an agreement with AT&T and Verizon on airport restrictions earlier this month, but also instituted new rules for airlines that apply to certain airports near C Band 5G networks and certain weather conditions. The FAA has so far tested and approved two radio altimeter models, exempting 45% of the US commercial fleet from the rules. But airlines say the rules would still have resulted in over 1,000 additional cancelled flights on days with poor weather. The new 2-mile restriction should allow the FAA to relax those rules until more testing and new rules can be put in place that will allow C Band 5G near airports.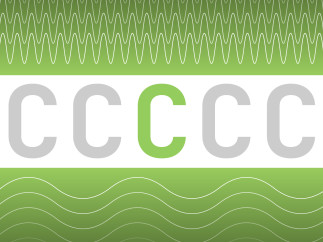 There's a whole new kind of 5G being launched and talked about in the US in 2022: C Band. It's much faster than existing "nationwide" 5G, yet has better coverage than hard-to-find mmWave 5G. For AT&T and Verizon, it represents a huge leap forward in the 5G race. For their customers, it will mean the first time many of them will experience a significant difference between 4G and 5G. So what is C Band? Is it just hype or something to actually get excited about? Is "C Band" the best term for this? Where did this band come from? Does it pose a danger to planes? And where does T-Mobile fit into all this? We answer all those questions and more in this in-depth guide to everything C-Band.
The US FCC (Federal Communications Commission) just announced the winners of its auction 110, for prime new mid-band radio spectrum ideal for 5G. AT&T and Dish spent the most, each splurging for enough licenses to cover the entire continental US. AT&T spent $9 billion, while Dish spent $7.3 billion. AT&T purchased the maximum number of licenses allowed in each area (four), giving it 40 MHz of new bandwidth nationwide. Dish appears to have purchased closer to 3 licenses per area on average, for potentially around 30 MHz of bandwidth nationwide. T-Mobile laid out $1.4 billion for licenses covering 79 of the 406 geographic areas offered. US Cellular spent $580 million. Verizon did not appear to win any licenses, although they were already big winners in the two previous mid-band auctions, and therefore did not need this particular spectrum as much as AT&T did. T-Mobile already operates more mid-band 5G than anyone else, and also participated in the C Band auction. Auction 110 is for the 3.45 GHz band (spanning 3.45 – 3.55 GHz), which is very near the new C Band spectrum that AT&T and Verizon are expected to launch next week for new 5G service. However it is a lower frequency than C Band, and therefore should not run into the same issues with the FAA that recently delayed the launch of 5G in the C Band. This new 3.45 GHz band, C Band, and Verizon's CBRS band (the 3.5 GHz band AKA band 48) are all covered by band 77, which is already supported in most new 5G phones launched by AT&T and Verizon since the beginning of 2021.
The FCC's Auction 110 has concluded, with up to 33 bidders paying a total of $22.5 billion for 4,041 licenses out of 4,060 offered. All of the top three national wireless carriers participated in the auction. The FCC is expected to announce a full list of winners very soon. This auction is for the 3.45 GHz band, which spans 3.45 – 3.55 GHz. These mid-band frequencies sit slightly below the C Band that is being deployed by AT&T and Verizon for mid-band 5G this month. Band 77 — already supported by most 5G phones launched in 2021 — covers both C Band and this new band from Auction 110. The 100-Mhz-wide band is divided into ten equal blocks of 10 MHz each. Companies are allowed to combine blocks, but no one company was allowed to buy more than four in any given area. There are a number of incumbent (existing) users of these frequencies, primarily the Department of Defense. Of the $22.5 billion raised, $14 billion will go toward relocating those users to other frequencies. But some incumbent users will remain, having priority access to the frequencies upon request. Nonetheless, this valuable spectrum is ideal for 5G and is expected to help expand carriers' mid-band 5G networks.
Google will soon launch a new feature of its platforms that will enable a Wear OS smartwatch to automatically unlock a paired Android phone, tablet, or Chromebook when close by. This mirrors a feature Apple has offered for some time. Google would only promise "in the coming months" as a timeframe for launching the feature. The company is also bringing its Fast Pair technology to more devices, enabling you to use your Android phone to instantly set up a new Chromebook, or more quickly add new smart-home devices to your home network.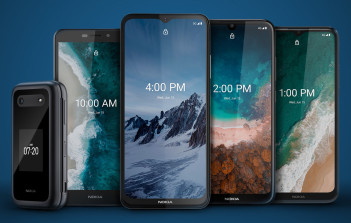 HMD Global is teasing its lineup of Nokia phones for the US for first half of 2022. The five new phones will bring the company's presence to two new US carriers, representing "its largest U.S. expansion since launching in the market more than four years ago". The claim seems to refer to the number of phones launching across all US carriers, not the number of carriers, since the list does not include previous partners Verizon, AT&T, and Cricket. Instead, Nokia will launch new phones with Dish (Boost) and Consumer Cellular, while keeping T-Mobile, Metro, and TracFone on board. The first two phones to launch (in the first quarter) will be the most affordable: the Nokia 2760 Flip 4G feature phone for $79, and the Nokia C100 4G smartphone for $99. In the second quarter, the Nokia G400 will be the company's next affordable 5G phone. It will offered by T-Mobile and/or Metro, TracFone, Dish (Boost), and Consumer Cellular. It has an MSRP of just $239. The company will also bring the C200 and G100 4G phones to US carriers in Q2, for $119 and $149, respectively. Specs and further details are being withheld until closer to launch.
Verizon has made a handful of changes to its unlimited plans, giving some customers a better value. The basic structure and pricing remain unchanged, but some plans now come with more data. Specifically, the top-end "Get More" plan now comes with truly unlimited full-speed 5G data, which Verizon calls "premium network access". Previously, full-speed 5G data was capped at 50 GB for all plans. (The 50 GB cap remains for the mid-range "Play More" and "Do More" plans.) This change to the top-end plan brings Verizon in line with the competition, which already offer plans with truly unlimited high-speed data. The top-end plan also now includes one TravelPass day per month, offering unlimited talk, text, and data in more than 185 countries for 24 hours. The top three plans also include more high-speed hotspot data than before. "Play More" and "Do More" now include 25 GB (up from 15 GB), while "Get More" now includes 50 GB (up from 30 GB). The "Start" plan remains unchanged; although it has no data cap, there is also no access to 5G Ultra Wideband (faster C Band and mmWave networks), and non-priority network access means data may be slower than for other users when the network is busy. Previously, Verizon also offered a cheaper "Just Kids" plan with unlimited throttled (speed-capped) data. Verizon has confirmed to Phone Scoop that the Just Kids plan is no longer available, although users already on the plan will be able to keep it. To differentiate the updated plans from the old, Verizon has dropped the word "Unlimited" from the actual plan names and added "5G", so "Play More Unlimited" is now "5G Play More", etc. The plan changes coincide with Verizon announcing this month's launch of 5G in the new C Band frequencies, which will mean up to 10x faster speeds for many customers. This new band counts as "Ultra Wideband" with Verizon, meaning access is included with the three "More" plans, but not the "Start" plan.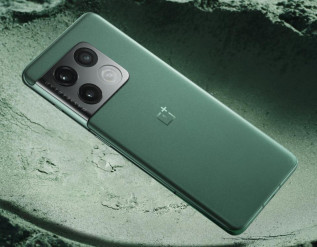 OnePlus has started releasing images and key specs of it next top-end flagship ahead of a formal launch event expected soon. A tweeted video and web site show the design of the OnePlus 10 Pro, while a tweet from OnePlus' founder lists the specs. The specs match what should be common for a top-end flagship phone in 2022. The phone is powered by a Snapdragon 8 Gen 1 chip, Android 12, and a 5,000 mAh battery. It supports 80-watt wired charging, 50-watt wireless charging, and reverse wireless charging. Its AMOLED display refreshes at 120 Hz. Its triple rear cameras with Hasselblad technology include a 48 megapixel camera, a 50 megapixel camera, and an 8 megapixel one. Other revealed features include Bluetooth 5.2, NFC, and stereo speakers. The amount of RAM and storage, display resolution and size, and rear camera functions are some of the specs yet to be revealed.
Verizon has formally announced plans to launch 5G in the new "C-band" mid-band radio frequencies later his month, and filled in details of what the launch will include. The company is promising to cover 100 million people — nearly 1/3 of the population — with the new network at launch. Coverage will include over 1,700 cities and towns. Verizon is promising that the new 5G network will deliver speeds "up to 10x faster than [median] 4G LTE" speeds. Specifically, customers should expect "typical download speeds of 90-170 Mbps with ... peaks over 1 Gbps in certain areas. Typical upload speeds of 15-30 Mbps with peak ... over 100 Mbps." The company is branding the new 5G service "5G Ultra Wideband", just like its faster (but limited-coverage) mmWave 5G network. The company will also launch tweaked plans tomorrow. As before, only premium plans ("Play More", "Do More", and "Get More") will include access to the faster 5G networks. The "Start Unlimited" and "Just Kids" plans will only be able to access "5G Nationwide" low-band 5G, and not the new, faster mid-band network. Verizon and AT&T originally planned to launch C-Band networks in early December, then delayed the launch by one month at the request of the FAA, then recently by another two weeks. The FAA maintains that the networks could interfere with airplane radio altimeters, although the industry and the FCC disagree. Although the new networks should launch in two weeks, Verizon is currently only committing to launching it by the end of this month.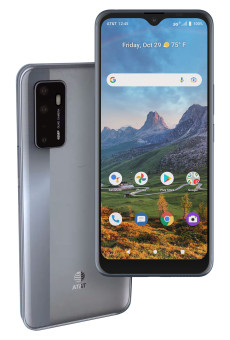 AT&T has announced the Fusion 5G, an AT&T-branded affordable 5G phone that will go on sale this Friday, January 7th for $220. Unusually for such an affordable phone, it supports wireless charging, and has a 48 megapixel main camera. The quad rear cameras also include an 8-megapixel wide-angle camera, 2-megapixel macro camera, and depth camera. It's powered by a MediaTek Dimensity 700 chip. Other features include a 6.82-inch HD+ display, 4,750 mAh battery, fast charging (fast charger included), NFC, a fingerprint reader on the back, 4 GB RAM, and 64 GB of storage (expandable). It runs Android 11. The phone is sourced through Emblem and appears to be a variant of the AT&T Radiant Max 5G, which is manufactured by FIH. The Radiant Max is also sold as the Dream 5G by Cricket.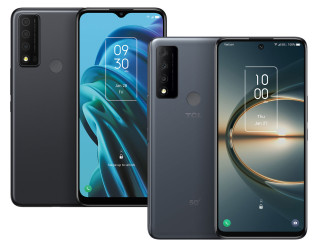 TCL has announced the first two models in its new 30 series for 2022, both of which are coming to major US carriers. Both models are affordable 5G phones.
The TCL 30 XE 5G will come to T-Mobile and Metro first, followed by other carriers. It has a 6.5-inch HD+ display with 90 Hz refresh. It's powered by a MediaTek Dimensity 700 chip paired with 4 GB RAM and 64 GB storage. It has a 13 megapixel main camera plus macro and depth cameras, and an 8 megapixel front camera.
The TCL 30 V 5G is a somewhat higher-end model coming to Verizon. It has a 6.7-inch Full HD+ display and is powered by a Snapdragon 480 chip paired with 4 GB RAM and 128 GB storage. It has a 50 megapixel main camera plus macro and 5 megapixel wide-angle cameras, and a 16 megapixel front camera. It supports both mmWave and C-band 5G.
Both phones have 4,500m mAh batteries, fast charging, and fingerprint readers. Both phones also accept memory cards for expandable storage and have headset jacks. Pricing is yet to be announced and launch timing for both is "in the coming weeks".
After initially rejecting the FAA's last-minute request to delay the launch of 5G in the C Band, the two carriers have now agreed to another two-week delay, following an earlier one-month delay. The services will now launch in mid-January.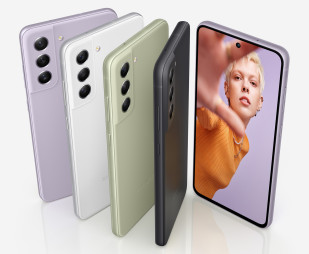 A model previously rumored to have fallen victim to supply-chain issues, the Samsung Galaxy S21 FE (Fan Edition) is finally coming to market this month. Samsung will use the new model as the more-affordable alternative to the forthcoming S22 series, rather than keep last year's flagship S21 models on the market at lower prices as the company has done in the past. This new strategy should help the company address ongoing supply-chain issues. Compared to the standard Galaxy S21 model, the new S21 FE has a larger display (6.4"), larger battery (4,500 mAh), and higher-resolution front camera (32 megapixel). It still achieves a lower price point with less RAM (6 GB), a less-capable telephoto camera (8 megapixel instead of 64), and an optical fingerprint reader instead of ultrasonic. It keeps "fan-favorite" features of the S21 series such as the Snapdragon 888 chip, 120 Hz display refresh, triple rear cameras (including wide and tele), IP68 water rating, wireless charging, fast charging, NFC, and Wi-Fi 6. It ships with Android 12 and the US version will support both sub-6 GHz and mmWave 5G. The Samsung Galaxy S21 FE goes on sale January 11th for $700 (with 6 GB RAM + 128 GB storage). A version with 8 GB RAM + 256 GB storage will also be available, for $770. It will be available in four colors: lavender, white, olive, and graphite. AT&T, Cricket, Verizon, and US Cellular will carry the phone, and it will also be available directly from Samsung's web site. Verizon confirmed that it will offer all four colors and both memory options, starting January 11th.
Verizon and AT&T this morning refused a request by federal transportation officials to delay this week's planned launch of 5G service in the critical new C Band. [Update: By evening, the two companies agreed to a two-week delay.] The FAA (Federal Aviation Administration) insists that the service could potentially interfere with radio altimeters that planes use to measure distance to the ground in poor weather. The companies, along with the FCC (Federal Communications Commission), insist that such interference is extremely unlikely, if not impossible. Radio altimeters use a frequency band close to the C Band. The frequencies do not overlap, but radio equipment with inadequate filters can sometimes be affected by adjacent frequencies. The FCC specifically set aside empty "guard bands" to avoid such interference before auctioning off the C Band to private companies, but the FAA insists a risk remains. C-Band frequencies are already in use for 5G in other countries, with no evidence of interference with airplane systems. To appease the FAA, Verizon and AT&T have already delayed the launch of 5G in the C Band by one month. In their latest letter to the FAA, they have offered to further limit the power of transmissions near airports while any potential effects are studied. While the companies had already agreed to similar temporary power limits in specific areas, the new proposal matches stricter limits currently in place in France. The two companies spent more than $80 billion in total to acquire licenses in the C Band from the FCC, with the promise that they would be able to offer improved 5G service by the end of 2021. C Band frequencies enable 5G service with a better balance of data speeds and coverage compared to the frequency bands currently in use by AT&T and Verizon.
Samsung has revealed that it sold more Galaxy Z Fold3 and Z Flip3 phones in the first month of sales than all the foldable phones it sold in 2020. Samsung's total foldable phone shipments for 2021 were four times that of 2020.
Old BlackBerry devices running BlackBerry OS (10, 7.1, and earlier) will "no longer reliably function" after January 4th. 2022. BlackBerry will shut down its back-end infrastructure for these devices, which may impact the ability of BlackBerry devices to access voice, data, and messaging services, including 911 emergency calls. This does not affect Android-based BlackBerry devices. For affected customers that need help moving to a new device, BlackBerry recommends contacting your wireless carrier. BlackBerry exited the consumer device business years ago. The last BlackBerry OS devices were the BlackBerry Passport and BlackBerry Classic, both of which debuted in 2015 and were discontinued in 2016.
The National Advertising Review Board has issued a final decision that Mint Mobile should not use the word "unlimited" to describe its top-end plan as currently implemented. The plan is actually capped at 35 GB of full-speed data. While such caps are not uncommon with "unlimited" plans, Mint throttles users down to near-useless 2G data speeds after the limit is reached. Other providers generally have less-severe data speed throttling when the cap is reached. Mint says it will abide by the Board's ruling.