Home
Microsoft SMS Organizer is an alternative SMS app for Android that includes a configurable spam filter and several smart sorting and filtering features. The app was launched in India last year, but xda-developers discovered that it has now become available in the US, UK, and Australia as well. The app uses machine learning to automatically sort incoming SMS messages into categories such as promotional, transactional and personal. Promotional messages are considered spam; they won't trigger a notification and can be deleted automatically after a configurable amount of time. The apps also detects and helps organize info received by text about travel, tickets, and bills. The app can also backup and restore messages from Google Drive. The app is available now, for free, from the Google Play Store.
Nvidia's will make its GeForce Now cloud gaming service available on certain high-end Android phones "soon". Some games will require a gamepad accessory. The company did not announce timing nor pricing.
For two years, Google shared coverage and speed data, collected from Android phones, with network operators worldwide. Google shut down the program this April over concerns that it might attract scrutiny from privacy regulators, according to a report from Reuters. The data was only collected from Android users who opted in to sharing location history and usage and diagnostics with Google. Data shared with carriers was aggregated so as not to identify any individual users. The data was essentially a map of signal strength and data speeds. It included data relating to a carrier's own service and that of competitors, which were not identified by name. Google provided the service for free and many carriers found it useful for improving service.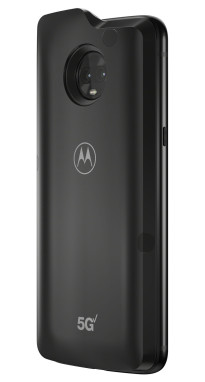 Motorola has updated the software for its Moto Mod accessory that adds 5G to existing Moto Z-series phones, improving functionality for all phones, and adding compatibility with the Z2 Force for Verizon. The update improves both 5G download speeds, and enables two-way charging between the phone and the Mod when the battery is low in either. The update is available now for the Z2 Force and Z3. The update comes pre-installed on the Moto Z4. The Z2 Force was launched in August 2017 and carried by Verizon until October 2018.
T-Mobile and AT&T can now securely confirm caller-ID info between the two networks, an important step in fighting number spoofing widely used by robocallers. Both companies have now implemented the STIR/SHAKEN protocol between their networks, allowing caller-ID info to be authenticated, resulting in a "Caller Verified" banner on the phone screen when a call is incoming. T-Mobile and Metro currently offer 12 phones from Samsung and LG that support this banner. The FCC has urged US telecom companies — under threat of new regulation — to implement STIR/SHAKEN as a means of combatting robocalling and fraud. Once adoption is widespread, consumers will be able to block calls that cannot be authenticated. Verizon has announced that it is also working to implement STIR/SHAKEN.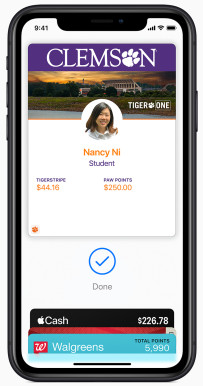 Apple has updated Apple Wallet to support additional vendors of systems that power contactless student ID cards, enabling a number of new colleges and universities to roll out support for storing a student ID card in Apple Wallet. The feature lets students use their iPhone or Apple Watch to access campus facilities and pay for meals, laundry, and other purchases where a student ID is accepted as payment. The feature supports multiple account balances per card, such as Food, Laundry, Flex, etc. The new card-system vendors supported are CBORD, Allegion, and HID. Previously, only Blackboard Transact was supported. New schools supporting Apple Wallet include Clemson University, Georgetown University, University of Tennessee, University of Kentucky, University of Vermont, and Arkansas State University. Schools that already support Apple Wallet include Duke University, University of Oklahoma, University of Alabama, Temple University, and Johns Hopkins University.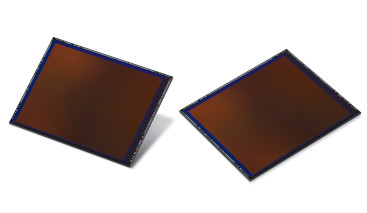 Samsung's latest camera module for phones has a world-first 108-megapixel resolution and can record 6K-resolution video at 30 fps. Samsung announced the camera sensor module today, as a collaboration with Xiaomi. As with Samsung's new 64- and 48-megapixel sensors, the new module is designed to use pixel binning by default, where four pixels act as one for better low-light performance and less noise. This makes it effectively a 27-megapixel sensor for most shots, although it can capture a 108-megapixel image in bright light. It has the same 0.8-micrometer pixel size as the company's 64-megapixel sensor, but is physically larger, being the first mobile image sensor to adopt a 1/1.33-inch sensor size. Mass production of the part will begin later this month.
US Cellular launched new unlimited plans today. The plans are, on average, $10/month cheaper, but shift several features that were previously included in the basic plan into the $10/month Unlimited Plus add-on plan. The $10/month add-on previously gave customers access to HD video. Now it will also include three features no longer included in the basic plan: mobile hotspot (now limited to 15 GB), full LTE speeds at times of network congestion, and a $10/month credit when customers use less than 3GB of data in a month. Both old and new plans were progressively cheaper with each additional line on a family plan. The old plans started at $65/month for one line, down to $40/line/month for four or more lines. The new plans start at $55/month for one line, down to $30/line/month for four or more lines, making them a better value for customers who don't need mobile hotspot, HD video, or the credit for using less than 3GB of data. US Cellular previously capped streaming media at 3 mbps on its basic plans, but now describes the limitation as 480p video. Unlimited Plus previously removed the streaming cap, but now grants access to HD video at 720p. The plans are available starting today.
Apple is expanding its bug bounty program to solicit security vulnerabilities from security researchers. The program will now be open to all, not just researchers on pre-approved list. The bug bounties have also increased from $200,000 to as much as $1 million for the most serious bugs, such as hacking the kernel — the core of any OS — with zero clicks required by the iPhone owner. Another $500,000 will be given to those who can find a "network attack requiring no user interaction." There's also a 50% bonus for hackers who can find weaknesses in software before it's released. Apple is also extending the program to watchOS. The announcements were made in a talk by Apple's head of security engineering Ivan Krstić at the annual Black Hat conference. Krstić said the bug bounty program has been a success to date, with 50 serious bugs reported since the 2016 launch.
Google is starting to roll out new features in Search, Assistant, and its Google Podcasts app to make it easier to find and listen to relevant podcasts. Starting today, including the word "podcasts" in a search will bring up a new section with playable podcast results. Soon, Google will surface playable podcast results for certain searches even without using the "podcasts" keyword. Later this year, Google will make the same function available when searching using Google Assistant. For example, when you say "Hey Google, play a podcast about Marie Curie," it will suggest relevant episodes for you. Google syncs listening progress, so you can start a podcast, and pick up where you left off in Google Podcasts. Google is also working with podcasters to let them specify where their podcasts are available, to help surface non-free podcast content.
The Samsung Galaxy Note10+ 5G will be the first phone to support sub-6 GHz FDD 5G for T-Mobile and AT&T. However, the AT&T and T-Mobile versions will not support mmWave 5G that offers faster speeds in central areas of major cities, even though the Verizon version will support only mmWave 5G. T-Mobile and AT&T spokespeople have confirmed to Phone Scoop that their versions will not support mmWave. Sub-6 GHz FDD bands (low-band) are the same bands used for 4G service today, and offer broad coverage that mmWave frequencies cannot. T-Mobile and AT&T have announced plans to launch 5G on sub-6 GHz FDD bands later this year. Verizon will be first to sell the Note10+ 5G on August 23rd. Verizon will have an undisclosed period of exclusivity, after which AT&T, T-Mobile, and Sprint will also offer it. Verizon will charge $1300 for the 256 GB model, available in black, white, or a prismatic "Aura Glow", and $1400 for the 512 GB version, available in black. The 5G and 4G versions of the Note10+ are identical in appearance, size, and features. The only difference is a 2 gram weight difference to account for the 5G components. The Note10 series includes Play Galaxy Link, which lets you stream games from your home PC to your phone, a feature that will benefit greatly from the data speeds and low latency offered by 5G.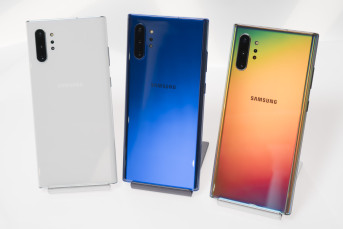 The Note10 is a huge update to the Note series. It now comes in two sizes, the design is truly all-screen, and a number of features have been removed to make room for new ones. There are also variants with 5G, different storage options, and a complex array of color options. We break it all down for you in this in-depth hands-on.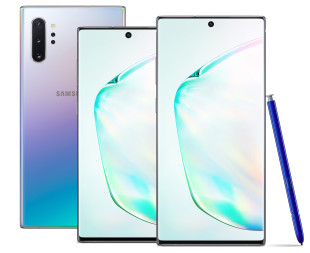 Samsung today announced the Galaxy Note10 and Note10+. The company's super-flagship Note series for 2019 comes in two sizes: The Note10 packs a screen similar to the Note9 into a smaller body, while the Note10+ sports a larger display in a body similar in size to the Note9. The Note10+ will also be available in a 5G version. The Note10 has a 6.3-inch full-HD display, 3,500 mAh battery, and 8 GB of RAM, while the Note10+ has a 6.8-inch quad-HD display, 4,300 mAh battery, and 12 GB of RAM. The Note10+ also adds a ToF camera for 3D scanning, and a memory card slot. Both new models are thinner and lighter than the Note9. Samsung accomplished this by removing the headphone jack, iris scanner, and heart rate sensor. Key features from the S10 have been included, including triple rear cameras (dual-aperture plus tele and wide), in-display ultrasonic fingerprint reader, and Wireless Power Share. The included S Pen now has a motion sensor, allowing it to support mid-air gesture shortcuts. The DeX feature that turns the phone into a computer now works via USB connected to a PC or Mac, where the phone's desktop is displayed via a new app, which supports both copy-and-paste, and file drag-and-drop between desktops. A 25W charger is included, and the Note10+ supports an optional 45W charger that can provide a "full day" charge in 30 minutes. All US models are powered by a Snapdragon 855 processor and come with at least 256 GB of internal storage. All four top US carriers will offer all three models — including the Note+ 5G — although Verizon will offer the 5G model first for a short exclusivity period. 256 GB models will be available in white, black, and a prismatic Aura Glow. Models with 512 GB of RAM will only be available in black. Best Buy will also offer the Note10+ in an exclusive Aura Blue color. All three models will go on sale August 23rd, with pre-orders starting tomorrow, August 8th. Pre-orders include a credit of $100-$150 to spend on samsung.com. The Note10 starts at $949, the Note10+ at $1099, and Verizon will sell the Note10+ 5G starting at $1300.
AT&T's mmWave 5G network is now live in parts of NYC for select business customers. AT&T did not say which parts of the city are covered, but did say "While our initial availability in NYC is a limited introduction at launch, we'e committed to working closely with the City to extend coverage to more neighborhoods throughout the five boroughs." NYC joins a list of 20 other US cites with AT&T 5G. The company plans to have at least 30 cities lit up by the end of the year, and the company plans to use 5G in sub-6 GHz bands to offer "nationwide" 5G coverage in the first half of 2020. AT&T has yet to make 5G available to consumers.
Sprint today announced that it will soon offer its first phone from OnePlus, and that it will be a 5G phone. Further details will be announced "soon". OnePlus does offer a 5G version of its newest flagship, the OnePlus 7 Pro, in some markets, including the UK. It only supports sub-6 GHz 5G, the kind Sprint recently launched. OnePlus has not shown interest in developing phones with mmWave 5G the kind deployed so far by Verizon, AT&T, and T-Mobile. Prior to this announcement, T-Mobile was the only major US carrier to carry OnePlus phones. Sprint currently offers 5G in areas of Atlanta, Chicago, Dallas-Fort Worth, Houston and Kansas City, and the company expects to launch service in areas of Los Angeles, New York, Phoenix and Washington, DC, in "the coming weeks".
Asus announced that the ZenFone 6 is now on sale from retailers including Amazon and B&H. The flagship phone offers a unique rotating camera, Snapdragon 855 processor, and large 5,000 mAh battery for $499.99.
Samsung today announced the Galaxy Watch Active2, an update to the Galaxy Watch Active that brings new features and options. The edges of the screen now function as a touch-based "rotating" bezel to navigate menus faster. The AMOLED screen has also been enlarged, from 1.1 inches to 1.2 inches, in the same 40mm body. There's also a new larger version, with a 1.4-inch display in a 44mm case. Both sizes are available in either stainless steel with a leather strap, or aluminum with a fluoroelastomer band. A version is also available with 4G LTE built in, which offers voice calling, social media apps, Spotify, and real-time voice and text translation in over 16 languages. New health sensors on the back take readings faster. The watch has built-in tracking for 39 different workouts, seven of which are detected and activated automatically, including running, walking, cycling, and swimming. The Galaxy Watch Active2 also includes Wi-Fi, Bluetooth 5, NFC for payments, heart rate sensor, ECG, and wireless charging. The small size starts at $280, while the large size will start at $300. Pricing was not announced for the LTE version, but all four major US carriers will offer it. All versions will go on sale September 27th. Pre-orders start September 6th, and customers pre-ordering on samsung.com are eligible for a free Wireless Charger Portable Battery.
AT&T has added Spotify Premium as a new option for the media service included with its Unlimited &More Premium unlimited data plan. As part of a new partnership with Spotify, AT&T will also offer "select" customers on other plans a free six-month trial of Spotify Premium. AT&T's Unlimited &More Premium plan is $8-12/month more than the standard unlimited plan (depending on how many lines are on the account), for which you get full-HD video streaming, 15GB of high-speed personal hotspot data, and your choice of one media service from seven options, which are now: Spotify Premium, Pandora Premium, HBO, Cinemax, Showtime, Starz, or VRV.