Home
Google this week announced new requirements for Android apps listed in the Google Play store to clearly disclose what user data the app collects, how it's used, how it's shared, how it's protected (such as encryption), and what choices users have in regard to that data. Also required is whether the app meets Google's requirements for family-friendly apps. The user choice section includes whether users have a choice in sharing data in the first place, and whether users can have their data deleted when the app is uninstalled. There will be an additional line for whether compliance with all of the above has been verified by an independent third party. App developers will be responsible for the accuracy of this information. If Google finds that a developer has misrepresented the data safety info they've provided, the app will be subject to "policy enforcement", after first being given an opportunity to become compliant. Developers can start submitting this info to Google toward the end of this year. It will be rolled out to users at the beginning of 2022, and become required for all apps in the second quarter of 2022. Apple launched a similar App Privacy section for its App Store listings last year.
As part of its quarterly earnings report today, T-Mobile provided an update on its 5G rollout and Sprint customer migration. The company's faster "Ultra Capacity" 5G network — the bulk of which relies on 2.5 GHz mid-band radio frequencies — now covers 140 million people and is on track to cover 200 million by the end of 2021. T-Mobile's Ultra Capacity 5G includes redeployed 2.5 GHz radio spectrum (band 41) it gained when the company merged with Sprint, as well as mmWave for even faster speeds in select urban areas. The company also offers "Extended Range 5G" which uses lower frequencies and offers lower data speeds (closer to 4G). That service now covers 295 million people across 1.6 million square miles. T-Mobile claims that is 4x more than Verizon's 5G service area and 2x more than AT&T's. T-Mobile also announced that 20 percent of former Sprint customers have been moved to the T-Mobile network, and those users represent 50 percent of Sprint customer traffic.
Boost Mobile today announced a partnership with K Health to include a telemedicine offering as part of the company's Unlimited Plus plan. New subscribers will receive free, 24/7 access to health services via the K Health app on their phone. Specifically, this will include the opportunity to chat with a doctor directly; use K Health's AI-powered symptom checker to understand what is wrong and decide what to do next; and get treatment, including medications prescribed. Boost's "Unlimited Plus" plan offers 35 GB of high-speed data and 30 GB of mobile hotspot for $60/month. Boost Mobile customers on other plans will be able to add K Health "for a discounted service fee" of $8/month. The service will launch early this summer.
Verizon has reached an agreement to sell its Verizon Media business — which includes Yahoo and AOL — to Apollo Global Management for $5 billion. Verizon will retain a 10% stake in the new company, to be known simply as Yahoo. The transaction is expected to close in the second half of 2021. Verizon bought AOL in 2015 and Yahoo in 2017.
Verizon is exploring the sale of its media businesses, including Yahoo and AOL, according to the Wall Street Journal. Verizon bought AOL in 2015 and Yahoo in 2017.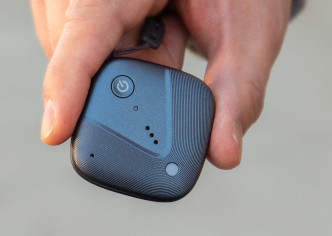 T-Mobile has announced a new tracking tag device that operates on its 4G LTE network. Like a Tile or Apple's new AirTags, the SyncUP Tracker is designed to help you track and find any item that is easily lost or stolen. While Tile and AirTags rely on specific types of devices being within Bluetooth range, the SyncUP Tracker works anywhere within T-Mobile's LTE coverage. The $60 device is rated IP67 for dust and water, and its 900 mAh battery lasts "up to 7 days depending on usage". Like competing devices, its location can be seen on a map and users can command the device to play a sound. The companion app also supports geo-fencing, so you can be notified as soon as it leaves an area you specify. Uniquely, it also has a light sensor so you can be notified if it's removed from a dark area (such as a locker or backpack). T-Mobile's SyncUP Tracker goes on sale May 7th for $60, plus $5/month for data service (with AutoPay). Verizon offers a similar device called the Verizon Smart locator for $100, plus $3/month after a complimentary first year of service.
US Mobile today introduced a new category of plans that makes family plans more affordable than ever. The new Pooled Plan lets multiple lines share a set, customizable amount of data, as a cheaper alternative to unlimited plans (which US Mobile continues to offer.) Monthly pricing for Pooled Plans is $9/line, plus $2 per GB of shared 4G/5G data. For example, four lines sharing 8 GB of data would run $13/line/month. Customers can specify any amount of data to share, down to the GB. A new dashboard helps customers analyze current and past data usage in order to right-size their plan. Prices include taxes, but not a Regulatory Cost Recovery charge of $0.48 per line. The plans are available on the company's "Super LTE" network, which appears to be Verizon's 4G+5G network.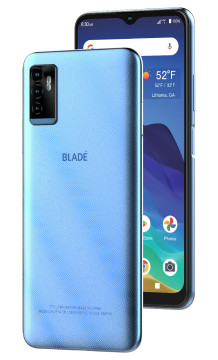 ZTE today launched the Blade 11 Prime, the company's latest affordable Android phone for Visible. It includes wireless charging, a highly unusual feature for a phone that sells for just $192. The phone has a 4,000 mAh battery and also supports reverse (wired) charging. It has a 6.5-inch HD display, MediaTek Helio P22 processor, 4 GB RAM, and 64 GB storage. The main camera clocks in at 16 megapixel, plus an 8-megapixel wide-angle camera, depth camera, and 8-megapixel front camera. Other features include Android version 11 at launch, a textured back that resists fingerprints, side-mounted fingerprint reader, memory card slot, headset jack, and USB-C. The Blade 11 Prime is available starting today from both Visible and Yahoo Mobile.
Apple has released iOS 14.5, a relatively large update that brings several notable new features to the company's operating system for iPhones. The update brings a new mask-friendly version of Face ID for users with an Apple Watch. Most controversial in industry circles is App Tracking Transparency, which requires apps to get the user's permission before tracking their data across apps or websites owned by other companies for advertising. Many users are expected to opt out of the tracking, which companies like Facebook consider a threat to their business model. The update also includes new Siri voices, new emoji, a revamped Podcasts app, support for AirTags, and more. iPhone users can download and install the free update starting today by going to Settings, then General, then Software Update.
Google's MVNO Google Fi has added a new, cheaper Unlimited plan option. The old Unlimited plan is unchanged except it's now called Unlimited Plus. The new Simply Unlimited plan is $10/month cheaper but drops international calling, international data roaming, full-speed mobile hotspot, and 100 GB of cloud storage. Simply Unlimited is $60/month for a single line, $45/line for two lines, or $30/line for three or more lines.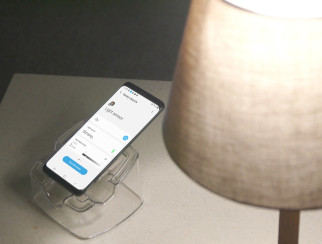 Samsung today launched a beta version of Galaxy Upcycling at Home, software that enables people to put old Galaxy phones to use as smart-home devices. Samsung's Upcycling program is an environmental one. "By offering consumers a way to upcycle their products with new features and alternative purposes, Samsung is helping to extend the lifecycle of its products while diverting its users from contributing to global e-waste." Two modes are available at launch: a Light Sensor and a smart Sound Sensor. The Light Sensor uses the phone's ambient light sensor to automatically turn on lights when the ambient light level goes below an adjustable threshold. The Sound Sensor is more sophisticated, using machine learning to detect specific sounds such as a baby crying, dog barking, cat meowing, or a knock. When selected sounds are detected, the user receives an alert on their primary phone, and can optionally listen to a recording of the sound. These features are available starting today through SmartThings Labs, a feature within Samsung's SmartThings app.
AT&T has launched the Kyocera DuraXE Epic, an update to the DuraXE rugged flip phone first introduced in early 2016. The most important addition is support for LTE band 14 and FirstNet, the LTE network operated by AT&T that gives priority to first responders. The DuraXE Epic includes a number of other features aimed at such markets, such as AT&T's Enhanced PTT with LMR network integration, and a headset jack with cam-lock that supports PTT controls. The DuraXE also has charging contacts for use with a charging dock or car kit, and enterprise Device Control. Compared to the original DuraXE, the Epic has a larger (1,770 mAh) removable battery, slightly better processor, and double the memory & storage. The new model also has a USB-C connector. Other features are similar to the original, including a very rugged, waterproof design with military ratings for dust, shock, vibration, temperature extremes, blowing rain, low pressure, solar radiation, salt fog, humidity, freeze-thaw and icing/freezing rain. Dual front-facing speakers offer 100dB of clear sound with the phone open or closed. It has programmable shortcut buttons on three sides, and a small outer display. The 5-megapixel auto-focus camera can record HD video; the phone also available without a camera for sensitive workplaces. The DuraXE Epic is available now from AT&T for $270.
Apple today announced that its Apple TV video streaming device can now leverage the sensors in an iPhone to calibrate video output for your specific television. "Apple TV uses the light sensor in iPhone to compare the color balance to the industry-standard specifications used by cinematographers worldwide." The tuning enables more accurate colors and improved contrast without adjusting television settings.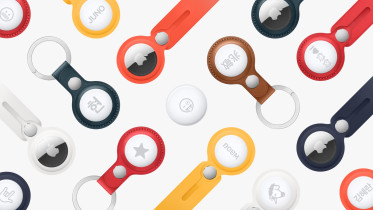 Apple today announced AirTag, the company's widely-expected competitor to Tile. The small circular device comes with several keychain-style holder options, including an Hermes luxury option. AirTag uses Apple's global Find My network to find lost items, and UWB (available in the iPhone 12 series) to help users home in on an exact location. UWB allows the Find My app to show you the exact direction and distance to a nearby AirTag. The devices can be ordered with custom engraving, including emoji. A single AirTag runs $29, or you can get a four-pack for $99. They ship April 30th, with orders opening this Friday.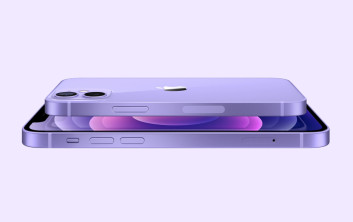 Apple today announced a purple color option for the iPhone 12 and iPhone 12 mini. It can be pre-ordered starting this Friday, with availability on April 30th. Purple joins the existing white, black, green, red, and blue color options. Color options for the iPhone 12 Pro models remain unchanged.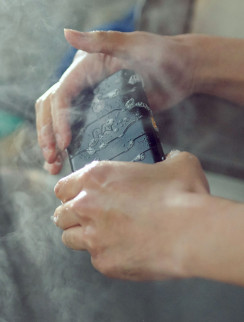 Bullitt Group, the maker of Cat-branded phones, today announced the Cat S42 H+, a new version of its S42 rugged Android phone with antimicrobial protection built into its body. All exterior components have been blended with an antimicrobial silver ion additive called Biomaster during the manufacturing process, to help fight bacteria. Biomaster is proven to inhibit bacteria cells from replicating by over 80% within 15 minutes and 99.9% within 24 hours. Bullitt claims this enhancement makes the S42 H+ "the first fully and permanently anti-bacterial phone." The S42 H+ is also waterproof, washable, and tested to withstand soap, bleach wipes, alcohol, and hand sanitizer. The S42 H+ otherwise has the same specs and features as the original S42. The Cat S42 H+ will be available in the US next month for $299. Biomaster is a made by Addmaster, a subsidiary of Polygiene.
Verizon on Thursday will launch its 5G "Ultra Wideband" service in four new cities: New Orleans, LA; Fresno, CA; Riverside, CA; and San Antonio, TX. This will bring the total number of US cities with the service to 71. Ultra Wideband is Verizon's branding for mmWave 5G, a flavor of 5G that offers very high speed but limited coverage. mmWave 5G service is typically only available in the densest parts of downtown urban areas, as well as stadiums, arenas, train stations, and airports. Verizon also affirmed its commitment to launch 5G in C-band spectrum in the first quarter of 2022. C-band enables 5G service with a better balance between data speed and coverage. Verizon says its C-band 5G network will cover "an additional 100 million mobility customers" at launch.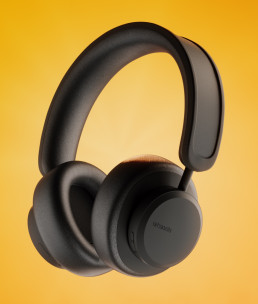 The new Urbanista "Los Angeles" over-ear Bluetooth headphones with active noise cancellation (ANC) have a novel way to extend battery life: solar cells built into the large headband. The company promises "virtually infinite playtime". One hour in sunlight adds three hours of usage, with slower charging on cloudy days or indoors. With enough light they can be charged by simply leaving them near a window. They can also be charged via USB-C. The headphones use a new solar cell material called Powerfoyle, from Swedish company Exeger. Urbanista has yet to open pre-orders but promises a price of £169 (around $200).