Home
Apple just released the first non-beta version of iOS 15 as a free update for iPhone models 6s and newer. First announced in June, the update includes revamped notifications, Focus Mode, Live Text, and support for stats ID cards in Wallet.
Older versions of Android will soon gain the Permissions Auto-Reset feature that Google introduced in Android 11. The feature will automatically revoke permissions from apps that haven't been used in "a few months". If the app is launched again, it will need to request permissions from the user again. The feature "helps protect user privacy", because "it can be tough to keep up with the permissions you've previously granted – especially if you haven't used an app for an extended period of time." The feature will roll out to devices with Android 6.0 and newer over a four-month period starting in December.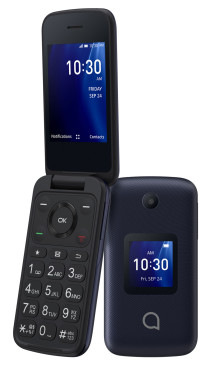 Verizon today launched the TCL Flip Pro for prepaid customers. The same phone launched recently on US Cellular as the TCL Flip, and earlier this week as the Alcatel Go Flip 4 on T-Mobile. (Alcatel is a brand of TCL.) TCL says the Go Flip 4 is also coming to Metro by T-Mobile. The phone is an update to the Alcatel Go Flip 3, with a larger battery, new shortcut buttons on the keypad, and a modern USB-C connector. Other key features are similar, including KaiOS, which has its own app store and enables smartphone-like features such as Google Assistant and Google Maps. The phone also sports a 2-megapixel camera, memory card slot, headset jack, Wi-Fi, and a 1.44-inch color outer display. US Cellular and Metro sell the phone for $100, and T-Mobile for $96. Verizon sells it for $70 on prepaid and will bring it to their postpaid lineup "in the coming weeks".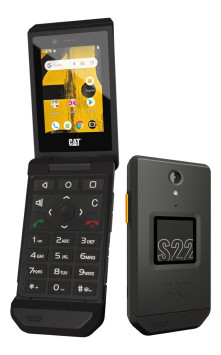 T-Mobile has started selling the CAT S22 Flip, a unique phone that blurs the line between smartphone and flip phone. The S22 Flip has the size and design of a typical rugged flip phone, but its 2.8-inch main display is a touch screen that provides access to the full Android interface, including third-party Android apps. Several other basic phones on the market leverage the open-source version of Android (AOSP) but rework the interface to operate without a touch screen, which makes them incompatible with the third-party apps available in the Play Store. By including a touch screen, the S22 Flip is able to keep the Play Store and access to most Android apps. As a smartphone, the specs are basic, including Android 11 Go Edition, a Qualcomm Snapdragon 215 processor, and 2 GB of RAM. Other specs include a 2,000 mAh battery, VGA screen resolution (480 x 640 pixels), 5 megapixel main camera, 2 megapixel selfie camera, a memory card slot, and an outer display. Like all CAT phones, it has a rugged design, rated IP68, water-proof, washable, drop-proof, and Non-Incendive Class I Division 2 Group A-D T4. It has "extra loud speakers", large buttons, and a programmable PTT button on the side. It comes with a 2-year warranty. T-Mobile is selling the phone now for $234.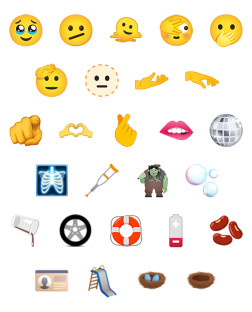 The Unicode Consortium has finalized and released version 14.0 of Unicode Standard for multi-lingual text, including 37 new emoji characters. New versions of Unicode are usually incorporated into updated versions of iOS and Android. The new emoji include: face holding back tears, face with diagonal mouth, melting face, face with peeking eye, face with hand over mouth, saluting face, dotted line face, palm up/down hands, finger pointing at the viewer, heart hands, hand with index finger and thumb crossed, biting lip, mirror ball, x-ray, crutch, troll, bubbles, pouring liquid, wheel, life preserver, low battery, beans, ID card, slide, and full/empty nests.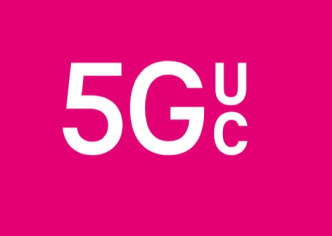 T-Mobile phones will soon display a new icon in the status bar to indicate when they are connected to 5G in a higher frequency band that offers faster data speeds. The icon will appear first on the newest iPhones, and the company is working with phone makers "to include this update on as many devices as possible". The icon says "5G UC"; UC stands for Ultra Capacity, the company's name for its mid-band and mmWave 5G networks. Those networks offer much faster data speeds than 5G operating in lower frequency bands. All three major national carriers offer 5G in both low-band and higher frequency bands. The low-band 5G networks offer the broadest coverage, but typically offer data speeds that are not much faster than 4G. T-Mobile has been aggressively rolling out 5G in mid-band frequencies (band 41) that it gained access to in its merger with Sprint. Verizon and AT&T will start to roll out their mid-band 5G networks (in band 77 AKA C-Band) by the end of this year or early next year.
Apple today announced the iPhone 13 series. All models feature improved battery life, display, cameras, and processor. Although the model options and designs are similar to the iPhone 12 series, the notch for the TrueDepth camera system that powers Face ID is now 20% smaller, allowing more usable display area. The OLED displays on all models are now more efficient and offer greater peak brightness outdoors, while supporting HDR10 and Dolby Vision. The Pro models gain adaptive refresh of 10–120 Hz. The cameras have been updated to let in much more light for better performance, especially in low light. The main camera features a f/1.6 aperture on the standard models and f/1.5 on the Pro models. Apple has also brought sensor-shift OIS to the standard models, a feature previously exclusive to the Pro Max. On the Pro models, the telephoto camera has been bumped from 2x to 3x, for 6x total optical zoom range. The Pro models also feature an all-new ultra-wide camera with an unprecedented f/1.8 aperture as well as true auto-focus, enabling a new macro mode. All three cameras now support night mode. A new Cinematic Mode in the camera app can automatically change focus based on who is looking where in the scene, and lets the user adjust focus in videos after they have been shot. A new Photographic Styles feature offers greater control over Apple's advanced multi-frame image processing. The Pro models can also now shoot and edit Apple ProRes video at 4K (30 fps). The new A15 Bionic chip powers all four models. Apple claims it's 50% faster than the best competing chip. The A15 variant in the Pro models is slightly more powerful with five GPU cores instead of four. Improved efficiency and larger batteries give the iPhone 13 Mini and iPhone 13 Pro 1.5 hours more of battery life, while the iPhone 13 and iPhone 13 Pro Max gain 2.5 hours of battery life. iPhone 13 and 13 mini will be available in pink, blue, midnight, starlight, and (PRODUCT)RED in a new entry-level capacity of 128 GB (double last year's starting option), as well as 256 or 512 GB. The standard-size iPhone 13 starts at $799 while the mini starts at $699. iPhone 13 Pro and Pro Max will be available in graphite, gold, silver, and sierra blue in 128, 256, or 512 GB, plus a new 1 TB option. The iPhone 13 Pro starts at $999 while the Pro Max starts at $1,099. Customers will be able to pre-order all four iPhone 13 models this Friday, with full availability September 24th.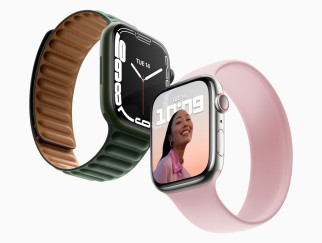 Apple today announced the Apple Watch Series 7, which features a display with 20% more screen area, in roughly the same size case as previous models. The bezels are now just 1.7mm wide. Apple has tweaked watchOS to take advantage of the larger display, including a new full QWERTY keyboard option for text input, with swipe typing. The new display also fits up to 50% more text, and key buttons have been enlarged. A new modular face fits more, larger complications. The new display is also 70% brighter in idle/always-on mode indoors. The redesigned case has more rounded cover glass (that's more durable) and corners, but still fits all existing interchangeable bands. The new watch also charges 33% faster. New cycling features in watchOS 8 improve Outdoor Cycle workout mode with automatic start, pause, and resume, and now track workouts accurately with e-bikes. There's also a new Fall Detection feature for cycling. Apple Watch Series 7 will come in titanium (2 colors), stainless steel (2 colors) and recycled aluminum (5 colors). It will be available "later this fall" starting at $399. Series 7 replaces Series 6; Series 3 and Apple Watch SE will continue to be available.
Apple today released a set of urgent security updates for iOS, watchOS, macOS, and Safari for Mac. The updates fix a previously-unknown zero-day security flaw that enabled "arbitrary code execution" when viewing a maliciously crafted PDF file, which could be transmitted by visiting a web page and/or receiving an iMessage. All versions of iOS prior to today's 14.8 update are vulnerable. The Citizen Lab, which found the issue and reported it to Apple, claims the exploit is already in use in the wild. It was used to silently install NSO Group's Pegasus spyware on the iPhone of a Saudi activist. All users of Apple devices should install the updates immediately.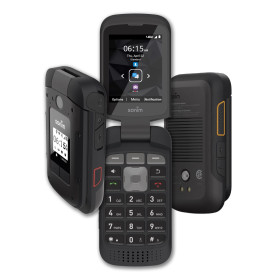 Sonim's newest rugged flip phone is the XP3plus, launching today with T-Mobile. This new model is a significant upgrade over the original XP3 from 2019, featuring larger displays and a battery that's over 50% larger (2,300 vs. 1,500 mAh). It introduces a new button configuration and interface with three soft-keys below the main display. It also adds the unique feature of two soft-keys below the outer display, one of which can be customized to user functions. The processor, memory, and (optional) camera have also been upgraded compared to the XP3. Like all Sonim phones, the XP3plus is ultra-rugged with IP68, military, and Non-Incendive ratings. It also has large, glove-friendly buttons — including dedicated push-to-talk and SOS buttons — and a 100dB+ ultra-loud speaker for noisy environments. Sonim offers a range of accessories for the phone, including vehicle kits, rugged headsets, and charging docks. The company also offers a three-year warranty. T-Mobile is selling the phone for $210. Sonim's web site says the phone will be "available at other carriers in Fall 2021."
Vimeo now lets iPhone users both upload and view videos recorded with Dolby Vision. The iPhone 12 Pro introduced the ability to capture video in the HDR format, but there have been few ways to share the content in its full glory until now.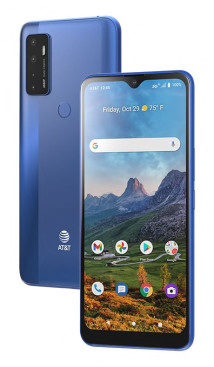 AT&T Prepaid and Cricket are offering a new, white-label 5G phone for as low as $90, a new milestone for affordability of 5G phones. AT&T Prepaid is offering the phone as the AT&T Radiant Max 5G. AT&T's web site shows a list price of $180, but is currently selling the phone for $90. Cricket (a brand of AT&T) is selling the same exact phone as the Cricket Dream 5G for $190. The phone is powered by the MediaTek Dimensity 700, a chip specifically designed to enable more-affordable 5G phones. The phone is manufactured by FIH Mobile, a subsidiary of Foxconn. Specs include a 6.82-inch HD display, 4,750 mAh battery, 48 megapixel camera, 4 GB RAM, and 64 GB storage (expandable). Key features include a fingerprint reader, 8-megapixel wide-angle camera, NFC, dual-band Wi-Fi, and a headset jack. It's available now from Cricket and AT&T Prepaid.
A US Federal Judge has ruled that Apple must allow app developers to "steer" customers away from Apple's App Store payment service, which collects a fee of up to 30%. The ruling was part of Fortnite maker Epic Games' lawsuit against Apple for anti-competitive behavior. The case did not completely go Epic's way; the court did not find that Apple's App Store constituted a monopoly, as Epic claimed. "Nonetheless, the trial did show that Apple is engaging in anticompetitive conduct under California's competition laws," according to the decision. "The Court concludes that Apple's anti-steering provisions hide critical information from consumers and illegally stifle consumer choice." Apple recently announced plans to allow specific "reader" apps to steer customers to third-party payments in response to an investigation by the Japanese government. But this new US ruling could force Apple to open up third-party payments for all apps. Apple does have the option to appeal the decision.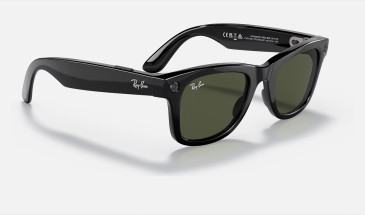 Facebook and Ray-Ban have collaborated to create Ray-Ban Stories, "smart" glasses similar to the Spectacles 3 from Snap. Ray-Ban Stories feature dual 5-megapixel cameras that capture photos with depth as well as videos up to 30 seconds. They also include open-ear Bluetooth audio for music and calls, with three microphones for beam-forming and background noise suppression. They do not include any display technology, and therefore do not compete with Google Glass, nor do they include AR features. A companion app called Facebook View (available for both iOS and Android) lets you view, edit, and share content captured by the glasses' cameras. A small light next to one of the cameras lets others know they're being recorded. The glasses are available in 20 variations, in classic Ray-Ban styles — Wayfarer, Wayfarer Large, Round and Meteor — and five colors, with a range of lenses including clear, sun, transition, and prescription. Ray-Ban Stories start at $299 and are available to order now, shipping this month.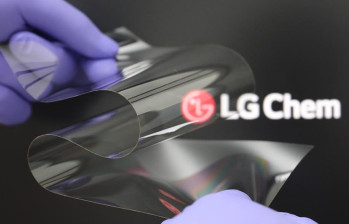 LG Chem has developed a new top layer for flexible displays that it claims is both "hard as glass" and "flexible as plastic", while offering several key advantages over materials currently used in folding displays. LG calls the new material Real Folding Window. Compared to existing materials, Real Folding Window should offer "significantly improved fold lines in the folding area", meaning less-visible creases. The material is also designed for both inward- and outward-folding displays, unlike current commercial products that are optimized for inward-folding displays. The mew material is thinner than tempered glass and cheaper than existing polyimide film products. LG's new material consists of a thin, proprietary coating on both sides of a thin PET (plastic) film. LG plans to begin "full-scale" sales of Real Folding Window from 2023. The company is already working on an improved version that removes the need for a PET base layer, which will be even thinner and better-suited to "rollable" displays.
Apple will "take additional time to make improvements" before launching its technology to detect and report known child sexual abuse material (CSAM) in users's iCloud photos. The tools, first revealed a month ago, are designed to preserve user privacy by using sophisticated hashing algorithms that run on the user's device. Only once a threshold of at least 30 CSAM images is detected can photos be decrypted by Apple for manual inspection and potential reporting to authorities. Privacy experts have expressed concern over the feature, as some governments may be tempted to force Apple to search for other types of imagery. Privacy advocates also expressed concern that the system could be abused by third parties to implicate innocent people. Apple has responded to these concerns, stating that its database of known CSAM will never include images reported from just one country, and researchers will be able to verify that all Apple devices are using the same database of known CSAM.
Samsung's new Isocell HP1 camera sensor features 200 megapixel resolution. That unprecedented number of pixels enables several specific new capabilities. The most important is variable pixel binning, which Samsung calls "ChameleonCell". While existing high-res sensors are designed with a fixed pixel binning mode of either 2x2 or 3x3, the HP1 can switch between 4x4 binning (offering 12.5 megapixel output), 2x2 binning (offering 50 megapixel output), or no pixel binning for full 200 megapixel output. The 4x4 mode combines 16 pixels acting as one, for better low-light performance. The 2x2 mode enables, for the first time, the capture of 8K video while benefitting from pixel binning for better quality. The HP1 is small enough that it "fits comfortably in today's handheld devices". The Isocell HP1 is sampling to device makers now. Samsung's first 108-megapixel sensor was announced in August 2019 and ended up in Samsung's Galaxy S20 Ultra the following February.
Starting early next year, Apple will allow media player apps like Spotify and Netflix to direct new users to subscribe via their own web sites and third-party payment systems. Previously, Apple required such apps to use Apple's payment system, where Apples takes a cut of up to 30%. Although Apple will continue to require apps that "sell digital services and subscriptions" to use Apple's in-app payment system, apps that "provide previously purchased content or content subscriptions for digital magazines, newspapers, books, audio, music, and video" are now considered "reader" apps, and will be exempt from that rule. The change comes after an investigation by the Japan Fair Trade Commission (JFTC), and was announced as a deal with the JFTC to close that investigation. However Apple will apply the change globally.