Home
Comcast's Xfinity Mobile is offering $250 back when new customers switch from another carrier and purchase a new iPhone. Customers must keep their account for 90 days, after which they will receive the $250 as a prepaid card within a month.
The FCC this week granted permission for initial commercial service to commence in the unlicensed part of band 48, also known as CBRS, a radio frequency band spanning the range of 3550 - 3700 MHz. In a new and unique arrangement, consumer phones will be able to cellular technologies like LTE in an unlicensed band that also has incumbent users such as the military and satellite operators. To prevent interference, five companies will operate central databases that coordinate access to the band in real-time. Having proven their systems in certified lab tests, it is these five Spectrum Access System (SAS) Administrators that have received permission from the FCC to begin "initial commercial deployment", which is both a real-world test phase and a commercial launch. The five approved Administrators are Google, Sony, Federated Wireless, Amdocs, and CommScope. Verizon has been most vocal among the major US carriers about deploying service in band 48 for its customers. The most recent flagship phones from Samsung, Apple, LG, OnePlus, and Razer already support band 48. In mid-2020, the FCC plans to auction a different part of the CBRS band that will be licensed in a more traditional way for deployment of 5G service.
Sprint is offering a free iPhone 11 to new customers when they trade in an iPhone 7 or newer. The old iPhone can be in any condition but must be unlocked. The deal requires a new line activation and an 18-month "lease" that costs $0 after a monthly credit is applied. Verizon is offering a similar deal of a free iPhone 11 for new customers with trade-in. T-Mobile is offering 50% off the new iPhones with trade-in.
Walmart and Verizon are both offering substantial discounts and offers for customers buying a new iPhone this year. New and existing customers of Verizon, AT&T, and Sprint can pre-order the new iPhone 11 models from walmart.com starting this Friday and receive $50 off the usual phone price when choosing a device payment plan and picking up their phone in a Walmart store (starting Sept. 20). Existing customers of Verizon and AT&T can instead opt to have the phone shipped to them with free two-day shipping, and receive the same $50-off pricing. Separately, Verizon is offering deals on iPhones for customers activating new Unlimited lines, and deals on other Apple devices for all customers. Customers activating a new Unlimited line can get up to $700 toward a new iPhone 11 (making the base model iPhone 11 free) with device trade-in. The trade-in credit of up to $500 is applied over 24 months, with the remaining $200 delivered as a prepaid card. Or customers can get a second iPhone Xr for free when purchasing the first iPhone Xr on a payment plan and activating a new Unlimited line. Verizon customers can also get a $250 discount off any iPad when purchasing any iPhone (with both devices on Verizon payment plan; discount applied over 24 months.) Verizon customers purchasing a new Apple Watch can get a second one for up to 50% off.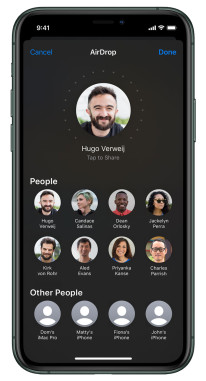 Apple's new iPhone 11 series of phones includes a new U1 chip, which uses ultra-wideband technology to determine the relative location of other devices with U1 chips nearby. Apple promises "amazing new capabilities" thanks to the new chip. The first new feature to utilize the U1 is AirDrop, which now lets you choose who to send a file to by simply pointing your phone at theirs.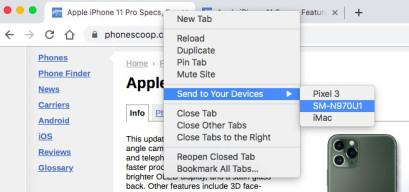 The Google Chrome web browser now lets you send the web page you're on at the moment to another one of your devices, so you can finish on your phone an article you started reading at your desk, for example, or vice-versa. The feature debuted in version 77, which just became available for all platforms. To use the feature on a desktop platform, simply right-click the browser tab and choose "Send to Your Devices". The feature is somewhat hidden on mobile: tap the three-dot menu icon at the top right, choose "Share...", scroll down to "Apps list", and there's now an extra Chrome icon that says something like "Send to yo...". After choosing a target device, a notification appears on the target device that you can click to open the sent web page. The feature does not preserve sessions on web sites that require a login. Although The Verge could not get it to work on macOS, Phone Scoop used the feature on macOS. Firefox has had a similar feature since February.
Apple today announced the iPhone 11 Pro, which comes in two sizes. The smaller model has a 5.8-inch screen like the iPhone Xs, while the larger iPhone 11 Pro Max has a 6.5-inch screen, just like the iPhone Xs Max. Both iPhone 11 Pro models have three 12-megapixel cameras on the back: one "wide", one ultra-wide, and one telephoto, together providing a total 4x optical zoom. The matte glass back and camera surround is milled from a single sheet of glass, set into a stainless steel frame. The OLED display has been improved with HDR, Dolby Vision, 1200 nits peak brightness, 2,000,000:1 contrast ratio, P3 color gamut, 458 ppi, and True Tone. Apple calls the new display "Super Retina XDR". Audio has also been improved with Dolby Atmos and spatial audio. Battery life has also been improved, adding 4 hours for the smaller size and 5 hours for the Max, and a 18W fast charger is now included. Like the cheaper iPhone 11 announced today, the iPhone 11 Pro is powered by Apple's new A13 Bionic chip, which is 20% faster than last year's A12 chip while using less power. It also include Face ID, IPX8 waterproofing, and supports slow-motion video with the selfie camera, which Apple calls a "Slowfie". The main camera now supports portrait mode for pets and objects, and has a new automatic night mode. In the fall, a software update will add a new camera feature called Deep Fusion, which combines multiple quick photos with one long-exposure using computational photography to create a higher-quality photo in lower-light situations. The iPhone 11 Pro comes in Midnight Green, Space Gray, silver, and gold. The smaller model starts at $999, while the Max starts at $1099. Pre-orders begin at 8am Eastern on Friday, September 13th, with full retail launch on September 20th.
The new iPhone 11 from Apple sports a new dual-camera system with two 12-megapixel cameras, one "wide" and one "ultra-wide". It replaces the iPhone Xr and has the same 6.1-inch display size. It's the most affordable of today's three new iPhones at just $699. It's powered by Apple's new A13 Bionic chip, which is 20% faster than last year's A12 chip while using less power. It also include Face ID, IPX8 waterproofing, 1 hour extra battery life compared to the iPhone Xr, and Wi-Fi 6. The front camera has also been updated with higher resolution, wider field of view, and the ability to shoot both 4K video and slow-motion video, which Apple calls a "Slowfie". The main camera also now supports portrait mode for pets and objects, and has a new automatic night mode. The iPhone 11 has a milled glass back and comes in six colors: cream, yellow, mint, lavender, Product Red, and black.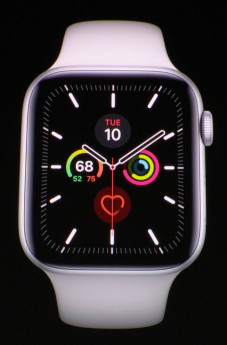 Apple today announced Apple Watch Series 5, an update that brings a new always-on display. The new display can stay on in a dim mode all day (18 hours) thanks to LTPO display technology, variable refresh rate, and an ambient light sensor. The new Watch also adds a compass sensor, which works with Maps and third-party apps, and has it own app and complication. The new Watch is otherwise similar to last year's Series 4. Series 5 is available in a variety of materials, including white ceramic, brushed titanium, and black titanium. The base model starts at $399, and the cellular version starts at $499. Pre-orders start today, with retail availability on September 20th. Apple is also keeping the basic Series 3 Watch in its lineup, and dropping the price to $199.
Apple Arcade, the company's game subscription service, will launch next week, on September 19th. It will cost $4.99 per month. One subscription will cover a whole family, and the company will offer a one month free trial. 100 exclusive games will be available "in the coming weeks", with more added over time. The games run across all major Apple platforms, including iOS, tvOS, and macOS.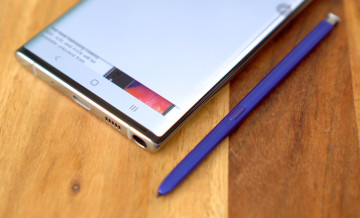 A video mini-review of the Samsung Galaxy Note10, the smaller of the two Note models this year. Here are the things that stood out to me after using the Note10 as my main phone for two weeks. It's a good phone, but a few design choices and quirks made it not the phone for me. Find out why in this video.
BLU Products is launching a new brand of phones today called "Bold". The new brand will release just one or two "premium flagship and flagship-like devices" per year. The first model, the N1, is being released today for $250. It has an all-screen, notch-less design thanks to a pop-up selfie camera. The full-HD AMOLED display measures 6.4 inches. It has a curved black glass back and a solid metal frame. It's powered by a MediaTek Helio P70 chipset with 4 GB of RAM and 128 GB of storage, plus a memory card slot. Its dual rear cameras include a 16-megapixel Sony IMX499 main sensor plus a depth sensor. It has an optical fingerprint reader built into the display. It has a 3,500 mAh battery, wireless charging, and 18W fast wired charging via USB-C. It also has a 3.5mm headset jack. The software is stock Android 9. The phone is being offered unlocked with basic support for AT&T and T-Mobile networks, and potentially Verizon. It supports US LTE bands 2, 4, 5, 12, and 13. While supplies last, boldphones.com is offering a $50 instant rebate on the N1, for a net price of just $200. The phone is also available from Amazon at the full price.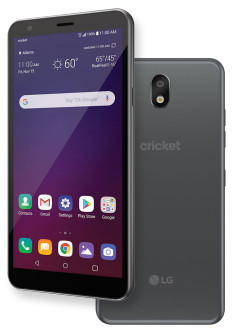 Cricket is now selling the LG Escape Plus, a new phone with basic specs for $120. Its best feature is a 5.5-inch LCD display with and tall 2:1 aspect ratio and HD+ (720 x 1440 pixel) resolution. It also has a dedicated Google Assistant button on the side, 32 GB of storage, an 8-megapixel main camera, 5-megapixel selfie camera, 3.5mm headset jack, and a memory card slot. It's powered by a 3,000 mAh battery, Snapdragon 425 processor, and 2 GB of RAM. Regulatory approvals indicate versions of this same phone are planned for AT&T, T-Mobile, and Metro as well. If history is any indication, those versions are likely to be sold under different names.
Google is making its differential privacy code freely available to all developers. Differential Privacy is a special mathematic technique that allows organizations to collect data from individuals in a way that guarantees individual privacy. Collected data cannot be traced back to any one person. For example, Google uses this technique to capture what dishes people order at restaurants. The data is then used to show which dishes are most popular at restaurants in Google Maps results. But by using differential privacy, Google has no way of using that data to go back determine what any specific person ordered. By releasing this code, Google hopes to encourage more app developers to use differential privacy techniques when they collect data from app users.
The new Samsung Galaxy A50, A20, and A10e will be available unlocked from samsung.com and other US retail partners starting September 20th. Best Buy and Amazon are now accepting pre-orders for the unlocked A50. Best Buy customers can receive a savings of up to $150 with activation. Amazon customers can receive a free Galaxy Fit fitness tracker band. Samsung.com will accept pre-orders for the A50 "soon after", and Samsung is offering credit up to $300 for a trade-in phone. The unlocked A50 will sell for $350, the A20 for $250, and the A10e for $180.
Qualcomm today revealed an accelerated timeline for bringing integrated 5G to its Snapdragon chips for mid-range phones. An unnamed 7xx-series Snapdragon chip that fully integrates a 5G modem is already sampling to customers such as LG, Motorola, and Nokia / HMD Global (among others), with the chip launching commercially before the end of 2019, and phones using the chip available "soon thereafter". The chip fully supports all mmWave and sub-6 GHz frequency bands for 5G worldwide, as well as both NSA and SA networks, both TDD and FDD modes, and DSS (Dynamic Spectrum Sharing, which allows 5G and 4G to share existing frequency bands). The company also plans to bring 5G to its 6xx-series Snapdragon chips, with devices using those those chips expected to be commercially available in the second half of 2020.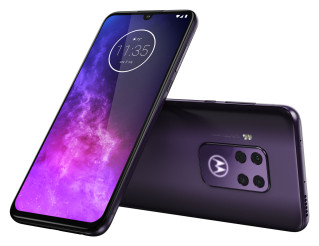 Motorola today announced the Motorola One Zoom, a mid-range phone with four rear cameras plus a 25-megapixel selfie camera, 4,000 mAh battery, 6.4" full-HD OLED display with small notch, satin glass back, and a light-up "M" logo that doubles as a notification light. The four rear cameras include a 48-megapixel main camera with 12-megapixel output, OIS, and f/1.7 aperture; 16-megapixel wide (117º) camera, 8-megapixel 3x zoom camera with OIS, and a depth camera for portrait effects. The One Zoom also has a Qualcomm Snapdragon 675 processor, 4 GB of RAM, 128 GB of storage, memory card slot, 18W fast charging, NFC, 3.5mm headset jack, in-display fingerprint reader, ultrasonic gesture sensors, water resistance, and a USB-C connector with USB 3.1. It comes in three unique colors: Electric Grey, Cosmic Purple, and Brushed Bronze. An unlocked version for the US is available starting today for $450, exclusively on motorola.com. Instant discounts may bring the price as low as $380 for some customers. It supports US LTE bands 2, 4, 5, 12, 41, and 66.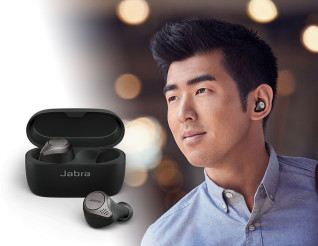 Jabra's Elite 65t true wireless Bluetooth earbuds have been very well-received, and now Jabra has a successor coming next month in the Elite 75t earbuds. The 75t buds are 20% smaller and yet have 50% better battery life. The charging case now uses USB-C, and Jabra is working on a wireless charging case. The buds themselves last for 7.5 hours, with the included charging case adding another 20.5 hours. The 75t buds are rated IP55 for dust and water, and have four microphones to cancel background noise from calls. A companion app lets users adjust the amount of ambient sound they hear, and set custom equalizer profiles. The 75t comes in black or Titanium Black. They will be available in October for $199 from Amazon and Best Buy.