Home
The FCC this week announced that it plans to make up to $9 billion available to carriers to deploy 5G in rural areas where building new coverage wouldn't otherwise make economic sense. The money will be be allotted from the Universal Service Fund, which aims to bring communication services to everyone, a key function of the FCC. The new fund will utilize a reverse auction, and at least $1 billion is earmarked for deployments that support precision agriculture. Other details have yet to be finalized. The new fund replaces a similar initiative for rural 4G deployments, called Mobility Fund Phase II (MF-II). The FCC was in the middle of carrying out MF-II but abruptly canceled the program when its own tests found that carriers had overstated their own existing coverage. Accurate maps of existing coverage are critical to programs like MF-II — and the new 5G fund — that aim to fill in major coverage gaps.
We checked out Qualcomm's new, next-gen in-display fingerprint reader, which they call Sonic 3D Max. It has a 17x larger sensor area, which solves one of the larger pain points of current in-display sensors. It's also faster, more reliable, and offers options for much greater security. This hands-on video shows the new sensor in action.
Qualcomm today revealed the full details of its first Snapdragon chip with an integrated 5G modem, the Snapdragon 765. As its model number suggests, it offers better performance than the company's 6-series chips that have previously been common to higher-end (but not "flagship") phones in the US. In the Snapdragon lineup, the 765 sits just below the new flagship Snapdragon 865 chipset, also announced today. Unlike the 865, the 765 combines all of the processing cores together with the 5G modem on a single chip. This offers a smaller, more power-efficient, and more affordable solution compared to the 865, while still offering high-end performance. Qualcomm expects the 765 to help accelerate the adoption of 5G beyond expensive flagship devices. The Snapdragon 765 uses the latest 7nm manufacturing process — the same as the 865 — for better power efficiency. The 765's integrated X52 5G modem supports download speeds up to 3.7 Gbps, (compared to 7.5 Gbps for the X55 in the Snapdragon 865,) but otherwise supports everything the company's top-end 5G modems do, including both mmWave and sub-6 GHz frequency bands, SA and NSA modes, TDD and FDD, Dynamic Spectrum Sharing (DSS), global 5G roaming, and support for multi-SIM. The chip includes a new fast charging technology designed to extend the number of charges before a phone's battery loses significant capacity. The 765 will also be available in a 765G variant with 20% better graphics performance, for gaming phones. The first phones powered by the Snapdragon 765 are expected to ship in the first quarter of 2020. Read on for additional details.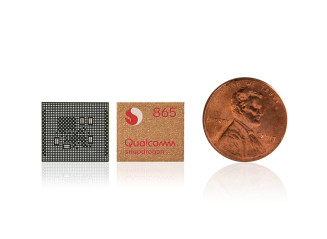 Qualcomm today announced the Snapdragon 865, its new top-end chipset to power flagship phones in 2020. Unlike most previous Snapdragon chips, the 865 is split into two physical chips: the main processor chip and a separate radio modem chip that includes a 5G modem based on the company's X55 5G modem. (The lower-end Snapdragon 765, also announced today, integrates both functions onto one chip.) The 865's modem chip supports both mmWave and sub-6 GHz frequency bands, SA and NSA modes, TDD and FDD, Dynamic Spectrum Sharing (DSS), and global 5G roaming. It supports peak download speeds up to 7.5 Gbps, twice as fast as the 765. The Kryo 585 CPU offers 25% better performance compared to the CPU in last year's 855, and 25% better power efficiency. On the GPU side, the new chip offers 35% better power efficiency and 20% faster rendering. In a first for phones, the 865 supports QHD+ displays at up to 144 Hz refresh rates. The 865 also supports a new software architecture that allows the graphics drivers to be updated more frequently via the Google Play Store. An upgraded AI processor is "2x more powerful" and offers 35% better power efficiency. It also supports a new low-power mode for AI processing of multi-sensor data. Qualcomm claims this new Hexagon AI processor can "instantly [translate] your speech into a foreign language, all while retaining the sound of your authentic voice." The 865's Spectra 480 ISP (image signal processor) can process 40% more pixels per second, enabling the 865 to support cameras up to 200 megapixels, with the ability to shoot 8K video, capture high-quality 64-megapixel photos while capturing 4K video, or capture 4K video at 120 fps. It can also record slow-motion HD video at 960 fps with no length limit, and record Dolby Vision video; both are firsts for phones. New fast-charging technology is designed to preserve battery capacity over hundreds more charging cycles. The 865 uses the latest 7nm manufacturing process for better power efficiency. The first devices powered by the Snapdragon 865 should be available in the first quarter of 2020. Read on for more details.
Qualcomm this week launched the "Snapdragon 865 and 765 Modular Platforms", which are pre-engineered and pre-certified circuit boards that include most of the critical components for a high-end 5G phone (or equivalent cellular device.) As phones have become more sophisticated and refined, the costs of developing a competitive high-end phone have become prohibitive for all but the largest companies. This new program from Qualcomm aims to level that playing field for smaller companies. Verizon and Vodafone are participating in the program by pre-certifying the modules, making it easier for smaller companies to offer their high-end phones to some of the world's largest carriers. HMD Global, maker of Nokia phones, indicated on stage at this week's Qualcomm Snapdragon Summit that it plans to utilize the modules in its phones. At a Q-and-A session on Tuesday, Qualcomm President Cristiano Amon added that many companies attempting to engineer a high-end phone resort to stacking components to fit everything required into a phone body, often resulting in thermal issues. Qualcomm's new modules are engineered as a single flat circuit board, offering better performance and enabling thinner designs.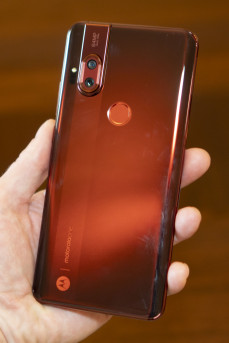 Motorola has a new One series phone it will be selling unlocked in the US. The Motorola One Hyper has an all-screen design with a pop-up selfie camera. Its main camera is 64 megapixel, while the selfie camera is 32 megapixel. It also has an 8-megapixel wide-angle (118º) camera on the back. The display is a 6.5-inch LCD with full HD resolution. The One Hyper is powered by a Snapdragon 675 chip and 4 GB of RAM. It has 128 GB of storage and supports memory cards up to 1 TB. The large 4,000 mAh battery charges quickly with the included 18W fast charger, and the phone supports 45W chargers. The fingerprint reader on the back is surrounded by a customizable circular notification light. It ships with Android 10. It has basic support for AT&T and T-Mobile networks in bands 2, 4, 5, 12, and 66. The One Hyper is available starting today from motorola.com for $400 in Deep Sea Blue. A Dark Amber color will available at a later date. Read on for more details, hands-on photos, and first impressions.
Qualcomm plans to introduce a 6-series Snapdragon chip with integrated 5G in the second half of 2020. The comment was made today by Qualcomm SVP and General Manager for Mobile Alex Katouzian during a Q&A session at Qualcomm's Snapdragon Summit in Hawaii.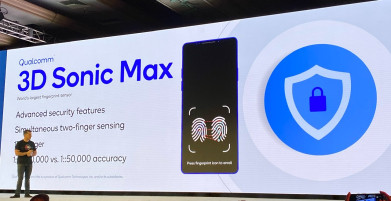 Qualcomm today announced 3D Sonic Max, a new ultrasonic sensor for in-display fingerprint readers. It offers a sensing area 17 times larger than the previous sensor offered by the company, eliminating the need to carefully align your finger with the sensor area. The larger sensing area also enables two-finger authentication for greater security. Qualcomm also promises greater "accuracy" compared to previous sensors.
Motorola President Sergio Buniac took the stage at Qualcomm's Snapdragon Summit today to announce that Motorola will deliver a phone in early 2020 powered by the Snapdragon 765 chip, as well as one powered by "Qualcomm's flagship platform", presumably the Snapdragon 865 chipset. Buniac also announced that one of the phones will support data speed in excess of 5 Gbps. Qualcomm revealed in a presentation today that the 765 will support data speeds up to 3.7 Gbps, so this seems to refer to the 865.
Google has added a new feature to Google Photos that make it easy to start a private photo and message thread with one or more contacts. When sharing a photo, the new choice lets you start a new thread or add to an existing one, making it easier to group a series of photos shared with one or more specific people. All participants can also add comments and likes, and download full-res photos.
Verizon, Qualcomm, and Ericsson today performed a live demo of 5G operating in a sub-6 GHz frequency band using DSS (dynamic spectrum sharing) technology, enabling the use of band 5 (850 MHz) for both 4G LTE and 5G NR technologies simultaneously. To date, Verizon has launched 5G only in higher-frequency mmWave bands that offer high speeds but limited coverage. 5G in band 5 would offer the same coverage as 4G in band 5. Verizon has mentioned plans to launch 5G in sub-6 GHz bands, but released few details and made few promises. Today's demo implies potential plans to deploy 5G in band 5. AT&T has already announced that it will also use band 5 for its sub-6 GHz 5G deployment. Today's demo took place at Qualcomm's Snapdragon Summit in Hawaii.
Qualcomm today revealed that its next two chipsets for high-end 5G phones will be called the Snapdragon 865 and Snapdragon 765. The 765 — and a 765G variant for gaming phones — offers "integrated 5G connectivity, advanced AI processing, and select Snapdragon Elite Gaming experiences." The 865 will require a separate X55 modem chip, but Qualcomm describes it as "the world's most advanced 5G platform ... for the next generation of flagship devices". The 865 will support cameras up to 200 megapixels, and its ISP (image signal processor) can process up to 2 gigapixels per second. Its AI engine is now twice as powerful, benchmarking at 15 TOPS. The 765 will support 4K HDR video capture and all major 5G technologies, such as DSS, SA networks, and all frequency bands. The 765 will support 5G data speeds up to 3.7 Gbps, while the 865 will support 5G data in excess of 5 Gbps. The company is saving further details for a presentation tomorrow at its Snapdragon Mobile Summit event.
The FCC has officially adopted new rules for the accuracy of location data reported to dispatchers when someone dials 911 on a cell phone in the US. For the first time, vertical position data will be required, so first responders can quickly locate people needing help in multi-story buildings. The rules will be phased in starting April 2021. Vertical position will need to be accurate to within 3 meters for at least 80% of indoor 911 calls. The rules also impose new requirements on standard location data sent to dispatchers by wireless carriers, such as a dispatch-able street address and apartment number.
T-Mobile will launch the first 5G service for US prepaid customers on its Metro brand this Friday, Dec. 6th, the same day the company's nationwide 5G service becomes available to T-Mobile customers. T-Mobile "launched" its nationwide 5G network today, but compatible 5G phones won't be available with either T-Mobile or Metro until Dec. 6th. Metro will offer the Samsung Galaxy Note10+ 5G. T-Mobile will offer that phone as well as the OnePlus 7T Pro 5G McLaren. T-Mobile's new "nationwide" 5G network covers 5,000 cities and towns across the country, 200 million people, and more than 1 million square miles. It uses low frequency bands that have the same coverage as 4G service, unlike mmWave 5G that can only cover small areas.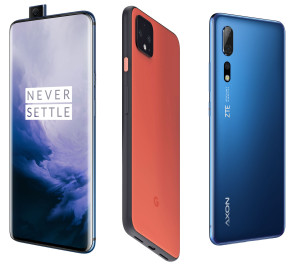 In the phone world, there's no shortage of Black Friday deals in the US this year. But most of the phone discounts and free accessories require a new line of service and/or a phone trade-in. If you are looking to switch carriers, there's never been a better time. But if you just want a good, straightforward deal on a gift — or something for yourself — here are a few notable discounts that truly have no strings.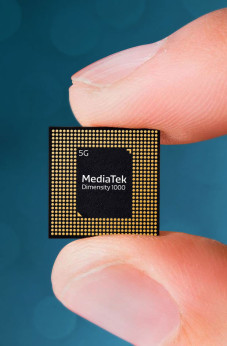 MediaTek has revealed that its first SoC with integrated 5G modem and high-end processor will be called the Dimensity 1000. The company revealed the first set of details on the chip in May. Now that it has a name, MediaTek has revealed additional details of the SoC. It's fabricated using the latest 7nm process and is designed for "premium and flagship" phones. The 5G modem component supports SA (stand-alone) and NSA (non-stand-alone) 5G networks, as well as DSS (Dynamic Spectrum Sharing) that allows 4G and 5G to efficiently share the same frequency band. It also supports 5G carrier aggregation, which enables downlink speeds up to 4.7 Gbps and seamless handovers as users move around. It also supports dual 5G SIMs, which MediaTek claims is a first. The processor part of the chip includes a five-core image signal processor (ISP) to power cameras up to 80 megapixel at 24fps. Its AI processor assists with camera functions, offering features like multi-frame video HDR, which MediaTek claims is another first. The chip also supports Full HD+ displays with refresh rates up to 120Hz, and 2K+ up to 90Hz. The Dimensity 1000 only supports 5G in sub-6 GHz frequency bands, not mmWave. By the end of this year, AT&T, T-Mobile, and Sprint will all offer sub-6 GHz 5G networks with broad coverage. The first devices powered by the Dimensity 1000 will ship in the US by the end of this year, which is earlier than previously announced. The new Dimensity brand will include a whole line of chips with integrated 5G.
Nevada has reached a settlement with T-Mobile on the terms of its proposed merger with Sprint. This comes after Texas announced a similar settlement this morning. Colorado and Mississippi previously reached their own settlements. That leaves 14 attorneys general still suing to stop the merger on antitrust grounds. As part of its deal with Nevada, T-Mobile is bound to:
Keep certain promises it made at the start of the month, such as a $15/month data plan with 2 GB of data, and a $25/month plan with 5 GB of data, with additional data added each year. New in the Nevada settlement is a commitment to keep these low-price plans for at least six years.
Provide internet access for low-income families with small children. (Another promise made earlier this month, now made legally binding.)
Donate $30 million to charities in Nevada chosen by the Attorney General.
Keep an existing call center in the state with 450 employees for at least six years.
Offer all current employees of both companies comparable jobs when the merger closes.
Meet certain 5G coverage requirements.
Texas Attorney General Ken Paxton today announced a settlement with T-Mobile over its proposed merger with Sprint. This removes Texas from the list of states suing to stop the merger on antitrust grounds. Paxton was the only conservative attorney general participating on the suit. The settlement stipulates that Texans have access to rate plans as good or better than current plans for the next five years. The settlement also includes promises on 5G coverage, and guarantees current employees will be able to keep their jobs when the merger is executed. 15 attorneys general are still suing to stop the merger. The suit is led by New York AG Letitia James and California AG Xavier Becerra. Still signed on to the suit are the AGs for Connecticut, Hawaii, Illinois, Maryland, Massachusetts, Michigan, Minnesota, Nevada, Oregon, Pennsylvania, Virginia, Wisconsin, and the District of Columbia.