Home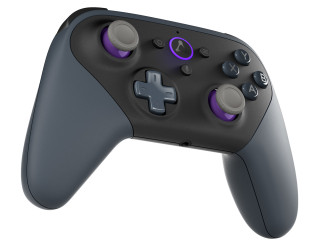 Amazon today announced Luna, the company's entry into the new field of cloud-based gaming. The service will be available on a variety of platforms, including iOS and Android. Starting today, gamers can sign up to request an invitation for the "early access" period that starts next month. It will cost $6/month during "early access". Final launch date and pricing were not announced. The iOS version will be available from the start and runs as a web app, thereby sidestepping the App Store policies that have tripped up Google Stadia and Microsoft xCloud on iOS. The Android version will be available in a few weeks. Although gamers can use their own Bluetooth game controllers, Luna works best with the official Luna controller, which runs $50. Like Google's Stadia controller, it connects directly to the cloud via Wi-Fi, offering lower latency. The Luna controller has built-in Alexa, which can launch games by voice, for example. Luna offers Twitch integration, and makes it easy to pause a game and pick up right where you left off on another device. Luna will offer several different "channels" of games that users can subscribe to individually. Luna+ is the channel included with a basic subscription, and will include around 50 titles at some point during the Early Access period, with more added over time. The initial slate will include Resident Evil 7, Control, Tacoma, Rez Infinite, Metro Exodus, The Sexy Brutale, Overcooked! 2, and more. Ubisoft will also offer its own channel for Luna, also with around 50 titles.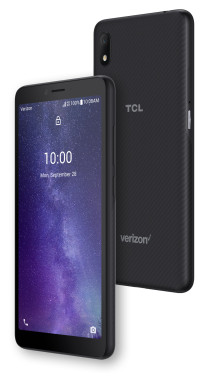 Verizon today launched the TCL Signa, the first TCL-branded phone to be launched by one of the big three US carriers. Previously, most TCL-made phones offered in the US bore the company's Alcatel brand. Although the Signa is an $80 entry-level phone for Verizon prepaid customers, it marks a major step in TCL's effort to expand the TCL brand in the US mobile market. Verizon lists the phone as the "Alcatel TCL SIGNA" on its web site, but the phone itself bears just the TCL and Verizon logos. The Signa has a 5.5-inch HD display, Qualcomm Snapdragon 429 processor, 2 GB RAM, 16 GB storage, 3,000 mAh battery, 8 megapixel main camera, USB-C, Android 10, dedicated Google Assistant button, memory card slot, and headset jack. It's available now for $80.
A new alliance of app developers have come together to form the Coalition for App Fairness. The new organization will pressure Apple and Google to change their app-store policies and commission rates to be more favorable to developers. The group includes Epic Games (developers of Fortnite), Spotify, Basecamp, and the developers of Tinder and ProtonMail. The group claims that Apple and Google collect excessive commissions and give unfair advantages to their own products and services. One specific demand is the ability to use third-party payment services for certain transactions. The nonprofit group is registered in Washington, DC and plans to push for legal and regulatory changes governing how the companies operate app stores.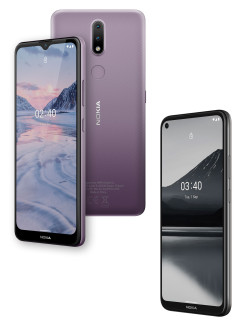 Nokia this week introduced two new entry-level Android phones, and started taking pre-orders for its first 5G phone.
Nokia 2.4: This $139 phone has a huge 4,500 mAh battery offering two-day battery life. It also sports a large 6.5-inch display with HD resolution and a notched design, rear fingerprint reader, 13 megapixel camera, depth camera, new Portrait Editor tool, NFC, MediaTek Helio P22 processor, 2 or 3 GB RAM, 32 or 64 GB storage, headset jack, and dedicated Google Assistant button. In the US, it will be available unlocked from Amazon initially, and later, Best Buy. It's available for pre-order now, shipping on October 11th.
Nokia 3.4: This $179 phone adds a has a 6.4-inch HD display with a hole-punch design, Qualcomm Snapdragon 460 processor, 3 GB RAM, 64 GB storage, 4,000 mAh battery, USB-C, fast charging, metal chassis, rear fingerprint reader, memory card slot, headset jack, and dedicated Google Assistant button. It will be available in the US "later this year".
Nokia 8.3 5G: First announced in March, the company's first 5G phone is now available for pre-order on Amazon for $699 unlocked, shipping October 26th. Like the 2.4, it will come to Best Buy in "the coming weeks".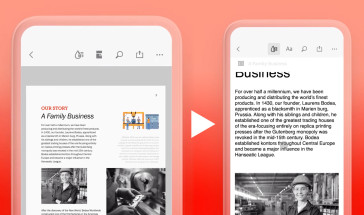 Adobe has released a new version of its free Acrobat Reader app for iOS and Android that can intelligently reformat the content of PDF files to make it easier to read on a mobile phone. The new feature, called Liquid Mode, uses Sensei, Adobe's AI engine. It converts all content into a single column the width of the phone screen, eliminating the need to zoom in or scroll sideways. All text is automatically made large enough to read easily, and also made searchable. The tool also automatically identifies headings and sections, auto-generating a table-of-contents menu for navigating longer documents. Controls also let the user adjust the font size and line spacing.
Next year's Mobile World Congress — the mobile phone industry's largest global trade show — has been postponed from March to late June. The 2020 edition was cancelled at the last minute just as the COVID-19 pandemic was starting, and the hope is that this new date will coincide with widespread vaccines that will enable large in-person events once again.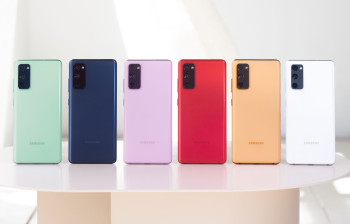 Samsung has a new, more affordable Galaxy S20 phone that starts at $699 while keeping the S20 specs and features that Samsung says surveyed users cared about most. The Samsung Galaxy S20 Fan Edition (abbreviated "FE") keeps flagship-level specs in some areas, such as Qualcomm's flagship Snapdragon 865 chipset, large (6.5") AMOLED display with 120 Hz refresh, 25W wired charging, 15W wireless charging, reverse wireless charging, LPDDR5 RAM, DeX, memory card slot, IP68 dust and water rating, and a metal frame. It also has triple rear cameras (12 megapixel main, 12 megapixel wide, and 8 megapixel tele), 32 megapixel selfie camera, NFC, in-display optical fingerprint reader, and Samsung's latest advanced camera features such as Single Take and Space Zoom (30x). Most US carriers will offer three color options: Cloud Mint, Cloud Navy, and Cloud Lavender. Verizon will also offer a Cloud Red option. The unlocked version from samsung.com will come in those four colors plus Cloud Orange and Cloud White. Most US carriers are expected to offer the Galaxy S20 FE. Most versions will only support sub-6 GHz 5G, but a version that also supports mmWave 5G will be available from Verizon for $750, ($700 after $50 instant discount when choosing a two-year payment plan and either: adding a new line, or upgrading while on a premium Unlimited plan). While the 6.5" screen and 4,500 battery are closer to the $1200 S20+, the S20 FE naturally makes a few compromises compared to the $1000 S20 to achieve its low price: less RAM at 6 GB, a full-HD screen that's perfectly flat, no 8K video capture, and a polycarbonate back instead of glass. Pre-orders start today and include a $70 credit (for accessories, for example) on samsung.com. The Samsung Galaxy S20 Fan Edition ships on October 2nd.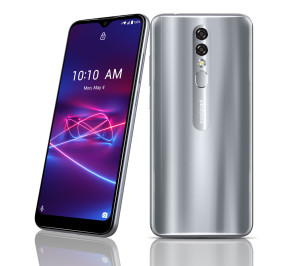 Boost this week launched the Coolpad Legacy Brisa, a new Android phone for $100. It replaces the original Coolpad Legacy released in the middle of last year. It has similar design and features, but improvements include a Snapdragon 665 processor, 16 megapixel selfie camera, and a slightly larger display at 6.53 inches, thanks to a more modern notched design. Like the original Legacy, it sports full-HD display resolution, large 4,000 mAh battery, 3 GB of RAM, 32 GB storage, memory card slot, 16 megapixel main camera, rear fingerprint reader, and USB-C.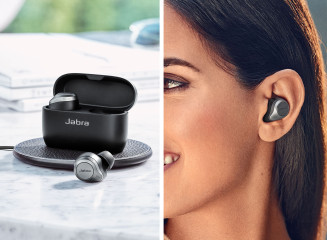 Jabra today announced the new Elite 85t true wireless earbuds, a successor to the well-reviewed Elite 75t series. In a first, Jabra also announced a major firmware update for existing Elite 75t earbuds that adds Active Noise Cancellation (ANC). The new Elite 85t upgrades the speakers and mics, moving from 6mm speakers (in the 75t) to 12mm, and from four microphones to six, for improved wind noise protection and call clarity. While the 75t is gaining basic ANC via firmware, the 85t features Jabra Advanced ANC, using a dedicated ANC chip. The ANC and HearThrough features (piping in ambient sound) are fully adjustable. Similar to the updated 75t, the 85t features 5.5 hours of battery life with ANC on, and 25 hours total with the charging case. Also like the 75t, the 85t's charging case can be charged using standard Qi wireless charging. While the 75t was rated IP55 (water-resistant) against dust and water, the 85t is rated IPX4 (protected against splashes). Jabra Elite 85t will be available for pre-order in October, and for sale in November, for $229. Titanium/Black is the only color available at launch. In January, they will also be available in Gold/Beige, Copper/Black, Black, and Grey.
Qualcomm today announced the Snapdragon 750G, the fourth 7-series chip the company has announced this year. The 750G replaces last year's 730G but adds 5G, has 20% better CPU performance, 10% better graphics performance, and 20% better AI performance. The 750G supports new AI-based technology for echo cancellation and noice suppression. It also supports HDR gaming, cameras up to 192 megapixel, and 4K video capture with both HDR and live bokeh. Its X52 5G modem supports both sub-6 and mmWave 5G, as well as advanced 5G features like SA networks and DSS. It's made using an 8nm manufacturing process. In Qualcomm's 2020 lineup of Snapdragon SoCs to power smartphones, the 750G sits between the 768G and the 732G (which was announced last month but lacks 5G). The 7 series powers high-end (but not quite "flagship") phones. Most 7-series chips now carry the "G" designation to indicate they're suitable for gaming phones. The Snapdragon 750G will appear in phones before the end of 2020.
Popular Chinese-owned apps WeChat and TikTok narrowly avoided a US government ban on new downloads Sunday night. On Friday, President Trump directed the US Department of Commerce to issue a ban on US companies (including Apple and Google) facilitating downloads of — or updates to — the WeChat and TikTok apps specifically, citing national security concerns. It would have also banned financial transactions using WeChat in the US, and gone into effect on Sunday, Sept. 20th. A judge issued a last-minute preliminary injunction temporarily preventing the ban from going into effect against WeChat, citing free-speech issue raised by WeChat users who sued to stop the ban. Separately, the Trump administration signaled that it might approve a proposed deal whereby Oracle and Walmart would take a 20% stake in a new "TikTok Global" company. TikTok would also move data from US users to a new cloud infrastructure provided by Oracle. Microsoft also offered to take over TikTok's US operations, but Current TikTok owner ByteDance is said to have focused on doing a deal with companies favored by the Trump administration. Oracle's Larry Ellison is a vocal supporter and fundraiser for Trump. Under the proposed deal, Chinese ByteDance would initially retain a controlling 80% stake in TikTok Global, but the new company would be required to have an IPO on a US stock exchange, with American ownership expected to "grow over time." To allow time for the proposed deal to reach a more firm agreement, the Dept. of Commerce delayed its ban on TikTok downloads by one week, to September 27th.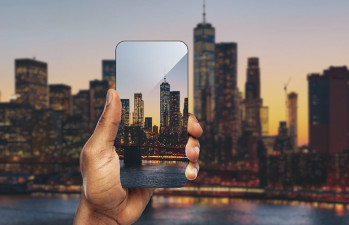 A new optical sensor from ams could enable phone makers to make display bezels even thinner, for truly all-screen designs. The optical sensor works from underneath an OLED display, similar to new technology that allows the front camera to be placed under the display. The sensor detects proximity, ambient light levels, and ambient light flicker. Most phones today have such a sensor, but need to make room for it in the bezel area above the display. The sensor incorporates several specific innovations, including compensating for display output when sensing ambient light, and dispersing infrared light from the proximity sensor to avoid activating OLED materials and introducing visible display distortion. The part is available to manufacturers now for sampling.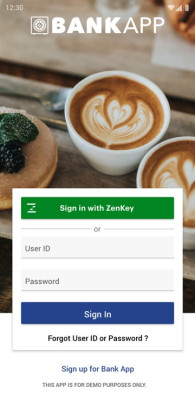 Verizon, AT&T, and T-Mobile have officially launched ZenKey, a new way quickly log in to apps that leverages the authentication that happens automatically every time your phone connects to the cellular network. Apps must be updated to support ZenKey, and developers have the option of enabling ZenKey as the primary login, or as the second token in two-factor logins, replacing PIN codes sent my text message, for example. Customers must also download the ZenKey app (available for both iOS and Android) to start using ZenKey. Currently, only a handful of apps support ZenKey login, (mostly the carriers' own apps,) but carriers hope more apps will add support.
Verizon has introduced new Unlimited data plans for non-phone devices including smartwatches, tablets, and mobile hotspots. The new $10/month plan intended for smartwatches covers both watches with their own phone number and those using NumberShare to share a phone number between a phone and a watch. It includes 15GB of top-speed 4G LTE data, plus unlimited voice and texting. Previously, Verizon charged up to $15/month for just 1 GB of data. Existing customers will automatically be switched to the new pricing. The $20 plan, intended for tablets and hotspots, also includes 15 GB of top-speed data but adds hotspot functionality. Finally, a new Unlimited Plus plan for $30/month doubles the "premium" 4G data allotment to 30 GB and includes unlimited 5G data. Customers with a higher-end Unlimited phone plan (Do More or Get More) can get a 50% discount on Unlimited Plus, bringing it to just $15/month. The new plans are available starting today.
Apple today introduced Apple One, a new bundle of Apple services offering savings of $6 – $25 per month. The basic Individual plan includes Apple Music, Apple TV+, Apple Arcade, and 50 GB of iCloud storage for $15/month. The Family plan ups the iCloud storage to 200 GB and can be shared among up to six family members. It runs $20/month, an $8/month savings compared to subscribing separately. Finally, the Premier plan adds Apple News+ and the new Apple Fitness+, as well as upping the storage to 2 TB. It will run $30/month, a $25/month savings. Apple Fitness+ offers a variety of trainer-led workouts and incorporates real-time data from Apple watch sensors. Apple Fitness+ is also available separately for $10/month or $80/year. A one-month free trial is available, and new Apple Watches now come with a free three-month trial of Fitness+.
Apple today announced a new, more affordable Apple Watch variant: Apple Watch SE. It will start at $279, a full $120 cheaper than the new Apple Watch Series 6, even though it has most of the same features. The cellular version is an even better deal at $329, $170 cheaper than the cellular Series 6. The features sacrificed for cost are the always-on display, blood oxygen sensor, and ECG function. It also uses last year's S5 processor instead of the new S6. However the design, functions, and specs are otherwise identical to the new Watch Series 6. That includes the large Retina display, waterproof aluminum body in two sizes, optical heart sensor, GPS, fall detection, compass, always-on altimeter, noise monitoring, and digital crown with haptic feedback. It's available to order today, and in stores this Friday, September 18th.
Apple has concluded the beta testing period for its latest OSes. The final version of iOS 14 will be available tomorrow, September 16th.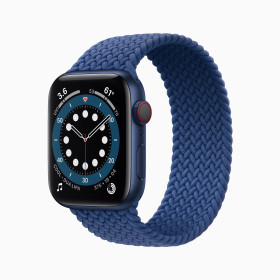 Apple has revealed Apple Watch Series 6, which adds a new blood oxygen saturation sensor. Blood oxygen is an important vital sign that can drop to dangerous levels in those with COVID-19. Apple has started three research studies that use the new sensor, including one focused on COVID-19 and the flu. The other studies are focused on asthma and heart failure. The Watch can measure blood oxygen periodically in the background, or on demand in 15 seconds. Series 6 also uses a new S6 processor, has a display that's 2.5 times brighter in always-on mode, and has an always-on altimeter. Apple also announced new family features designed to make Apple Watch better-suited for kids and seniors. Family Setup lets you use your iPhone to set up someone else's cellular Watch, such as your phone-free kid. It also lets you control the contacts your kid can communicate with, and set up location alerts. A School Time mode restricts functions to help kids focus during school hours. Series 6 is available in new color options, including a blue or red aluminum body. New band options include "Solo Loop", a single fixed band without a clasp, available in nine sizes. Solo Loop is available in a variety of colors, and either solid silicone or a woven design made with silicone yarn. To reduce electronic waste, Series 6 does not come with a USB power adapter. Apple Watch Series 6 is available to order today, and in stores this Friday, September 18th, starting at $399, or $499 with cellular (LTE).