Home
You can now contact emergency dispatchers in New York City and San Francisco by texting 911. The service is intended primarily for the deaf, hard of hearing, and survivors of domestic violence. For everyone else, a voice call is still the recommended method to contact 911. Text-to-911 is already available in many other cities and counties, including Los Angeles, Seattle, and Dallas.
Google has rolled out another "feature drop" for its Pixel phones, adding several new features via software update. The Personal Safety app, previously exclusive to Pixel 4, will now be available on all Pixel phones. It also gains a new "Safety Check" feature that lets you schedule a time for the app to ask if you're safe. If you fail to acknowledge, it will alert your emergency contacts. The app will also support car crash detection on Pixel 3 devices. The feature drop also includes a new "bedtime" feature in the Clock app, which includes an array of features to help you maintain a consistent sleep schedule. Finally, the update also improves battery life and adds Assistant shortcuts for the Recorder app.
Five satellite operators have agreed to the FCC's "accelerated" plan to reallocate 300 MHz of valuable mid-band spectrum so it can be used for enhanced 5G service as soon as late 2021. Without acceleration, the plan might not have been complete until 2025. The so-called C Band consists of 500 MHz around 3.7 GHz, a frequency ideal for 5G. The band is currently used for communication with satellites in space, but it is used inefficiently. By moving the satellite operators into just the upper 200 MHz of the band, 280 MHz can be freed for new 5G service on the ground. The FCC will auction licenses of the new spectrum to wireless carriers starting in December of this year, and carriers will be able to use some of the licenses starting one year later. In a second phase of the accelerated plan, the full 280 MHz will be available for use by the end of 2023.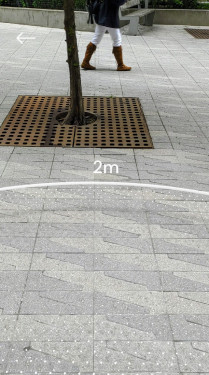 Google has launched an experimental project called Sodar that uses AR on your phone to show you what 2 meters of distance looks like where you are. The project uses WebXR, a relatively new API for implementing AR and VR in web browsers. Sodar is therefore a web site, not an app. It currently works only in the Chrome browser on Android devices. Once launched, it launches the camera and simply overlays a white circle showing 2 meters of distance from where you are standing. 2 meters is a little over six feet, the CDC-recommended distance for practicing social distancing, to prevent the spread of the COVID-19 virus during the current pandemic.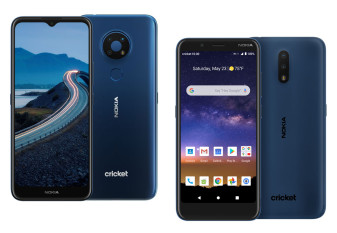 Nokia has two new affordable phones for Cricket: the Nokia C5 Endi and C2 Tava/Tennen. Both offer HD+ display resolution, multiple rear cameras, a dedicated Google Assistant button, Android 10, 3.5mm audio jack, and USB-C.
Nokia C5 Endi: Sports a 6.5-inch notched HD display, MediaTek Helio P22 processor, 4,000 mAh battery, 3 GB RAM, 64 GB storage, memory card slot, fingerprint reader, and a polycarbonate unibody design. Cameras include a 13 megapixel main camera, 5 megapixel wide camera, depth camera, 8 megapixel selfie camera. The camera app has AI scene detection and optimization, advanced portrait mode, and automatic multi-frame night mode. The Nokia C5 Endi will be available June 5th from Cricket for $170.
Nokia C2 Tava: Unlike the rest of Nokia's current global lineup, the C2 does not have an all-screen design; its display measures just 5.45 inches. Other specs include a removable 3,000 mAh battery, 2 GB RAM, MediaTek Helio A22 processor, 32 GB storage, and a memory card slot. It has an 8-megapixel main camera, depth camera for portrait mode, and a 5-megapixel selfie camera. The C5 Tava goes on sale with Cricket tomorrow, May 29th, for $110. The Nokia C2 Tennen is the same exact phone as the C2 Tava, but in a different color (Steel instead of Tempered Blue) and with different pricing for different sales channels. It will cost just $70 and be available from "select National retail stores" starting June 15th.
Qualcomm has announced the latest version of its FastConnect solution, which provides the Wi-Fi and Bluetooth functions for their phone chipsets. The FastConnect 6900 and 6700 support Bluetooth 5.2, Bluetooth LE Audio, and Wi-Fi 6E. These new FastConnect solutions will be integrated into Snapdragon-powered phones that will go on sale before the end of the year, according to Qualcomm. Wi-Fi 6E includes the 6 GHz band recently approved by the FCC, which opens up a relatively huge new swath of radio waves for Wi-Fi. Qualcomm claims the FastConnect 6700 supports peak Wi-Fi speeds approaching 3 Gpbs. By supporting 4-stream Dual Band Simultaneous (DBS) technology, the FastConnect 6900 supports Wi-Fi speeds up to 3.6 Gbps, which Qualcomm claims is the fastest in the industry for a mobile solution. By supporting Bluetooth LE Audio, the new solution supports audio sharing and broadcast audio. Qualcomm's new solution also supports dual Bluetooth antennas with intelligent switching, for better reliability and range.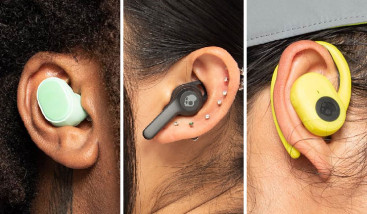 Skullcandy launched four new affordable true wireless Bluetooth earbuds today. All four models have Tile tracking technology to help find them if they are lost. Uniquely, each bud in the pair can be located individually using Tile, and they can be located both in and out of the charging case. Tile tracking works locally using Bluetooth, but also globally using the Community Find feature, whereby the phones of other Tile users can anonymously help find your lost item anywhere in the world. All of the new models offer at least IP55 water, sweat, and dust resistance. They range in price from $60-$100. The cheapest is the Sesh Evo. For $60, they offer a compact bud-style form factor, 24 hours of total battery life (6 for the buds alone), three equalizer modes, and the ability to use either bud on its own. The Indy Evo offers 30 hours of total battery life (6 for the buds alone) in a stick-style form factor (like AirPods) for $80. The Indy Fuel is the Indy Evo with a wireless charging case, for $100. The Push Ultra is the sport model, with IP67 sweat and rain protection, moldable ear hooks, 40 hours of total battery life, and a wireless charging case. They are also $100. All four models are available now from the Skullcandy web site.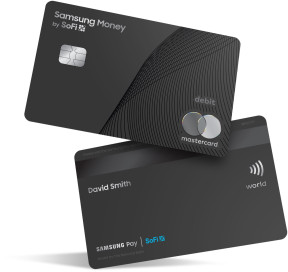 This summer, Samsung will launch Samsung Money by SoFi, a new financial product integrated with Samsung Pay. Like Apple Card, Samsung Money can be used as a payment method with the wallet app (Samsung Pay), the account is managed within the wallet app, and the product also includes a physical payment card. However, Samsung Money is not a credit card like Apple Card. Instead, it consists of a Mastercard debit card linked to a SoFi cash management account, which functions much like a free (no-fee) online checking account. The account will earn interest at a variable rate that would currently be 0.20% APY. Using Samsung Money earns Samsung Rewards points, which can be redeemed for purchases on samsung.com or with the Shop Samsung app. Or, one time only, points can be redeemed for cash at a rate of 1,000 points = $5 (minimum 1,000 points). (Apple Card offers 2% unlimited cash back on all purchases — and 3% with select retailers — which can be spent on anything.) The debit card can be used to withdraw cash without fees at any of the 55,000+ Allpoint ATMs. As with Apple Card, the physical card will not display the card number, expiration date, or CVV; those can be accessed securely from the Samsung Pay app when needed. Users are not liable for unauthorized transactions. Although Samsung Money presents itself to the user as one checking-like account, behind the scenes, SoFi "sweeps" money daily into accounts at partner banks, which in turn provide FDIC insurance protection once those "sweep" transactions clear. Because SoFi has partnered with six different banks for this service, and can divide your money between them, it can provide up to $1.5 million in FDIC insurance coverage, instead of the usual $250,000. The Samsung Pay app will enable Samsung Money users to check their balance, review past statements, search transactions, flag suspicious activity, pause or restart spending, freeze or unfreeze their card, and more. Samsung has just updated its Samsung Pay app with a new "Money" tab where those interested can join a waitlist, or they can head to www.samsung.com/us/money.
Arm today announced a suite of new processing core intellectual property intended for the chips that will power high-end phones starting in 2021. The new designs are for the new, cutting-edge 5nm manufacturing process that is just becoming available for the most high-end chips. (Currently, the main chips for flagship phones are made with a 7nm process.) The new Cortex-A78 offers 20% more sustained general computing performance compared to the A77. The new Mali-G78 offers 25% better graphics performance compared to the G77. Up to 24 Mali-G78 cores can be used in a single chip design. The new Ethos-N78 machine learning core offers 25% better performance efficiency compared to the N77. The N78 can be configured in over 90 different ways, offering anywhere from 1 TOP/s to 10 TOP/s. Companies that design processor chips often license Arm designs and use them as a starting point for their own chips, customizing the Arm designs along the way. Arm is extending its collaboration with such companies in a program called Cortex-X Custom, to produce even higher-end CPU designs. The first result of this program is the Cortex-X1, developed with an unnamed partner. The Cortex-X1 will have a 30% peak performance increase over the Cortex-A77. Arm is also announcing the Mali-G68, a "sub-premium" GPU core that brings many of the modern features of the new Mali-G78 to "sub-flagship" phones; it supports up to six GPU cores in one chip.
Sony will start accepting pre-orders for the $1200 4G flagship smartphone on June 1st. Those who pre-order by June 28th will receive a free set of Sony noise-canceling earbuds.
A federal judge in Seattle has ruled that the FBI violated a defendant's Fourth Amendment rights when it collected evidence by powering on the defendant's smartphone and photographing a notification displayed on the lock screen. The judge ruled that the FBI's actions amounted to a search, even though they made no attempt to unlock the phone. Because the FBI did not obtain a search warrant, it was unconstitutional. However, in the same case, the same judge stated that police officers collecting the same information at the time of arrest did not necessarily violate the defendant's constitutional rights. That's because arresting officers checking the lock screen "took place either incident to a lawful arrest or as part of the police's efforts to inventory the personal effects". Under those circumstances, search warrants are not necessarily required.
Verizon is offering a $200 discount on the brand-new Motorola edge+ flagship phone through June 3rd. Customers must purchase he phone online and will receive the discount in monthly credits over 24 months, but there are no other conditions.
Google marked today's Global Accessibility Awareness Day with the launch of new accessibility features across several of its apps and services. Google Maps now indicates wheelchair accessibility for businesses and other destinations in the US, UK, Japan, and Australia. When the (opt-in) feature is enabled, search results will include a wheelchair icon for accessible locations, and full listings will show more detail, such as whether the entrance, parking, seating, and restroom are wheelchair-accessible. The updated Maps app is now available for both Android and iOS. Google also added several major features to Live Transcribe, its Android app that provides real-time, speech-to-text transcriptions of everyday conversations for people who are deaf or hard of hearing. You can now set your phone to alert you by vibrating when someone nearby says your name to get your attention. Live Transcribe can also now be customized with a personal dictionary of custom names or terms for different places and objects. Finally, an optional feature makes it easy to search all conversations from the past three days. Google has also improved its Sound Amplifier Android app to support Bluetooth headphones. Sound Amplifier clarifies the sound around you. Now you can leave your phone near the source of the sound, like a TV or a lecturer, and have your phone transmit clarified sound to your Bluetooth headset up to 30 feet away. Finally, Google announced a new Android app: Action Blocks. A simple shortcut interface, Action Blocks is designed to make multi-step tasks on your phone simpler. People with cognitive disabilities or age-related cognitive conditions can now perform tasks like "call my daughter" in one step, right from their Android home screen.
T-Mobile is offering free, unlimited service to all official EMS, police, and fire agencies in the US. The new type of plan includes unlimited smartphone and tablet data within the US, including 5G. Streaming video is limited to SD quality (1.5 Mbps) and mobile hotspot is limited to 1 GB at high speed, but otherwise, data, text, and voice are all unlimited and free within the US. The plan includes 5 GB of high-speed data in Canada and Mexico, but no other international features are included in the free plan. A step-up plan for $15/month offers unlimited texting and basic data worldwide, 20 GB of mobile hotspot data, and unlimited in-flight Wi-Fi with Gogo. The new plans are available to all full-time staff using a company account registered to a verified first responder agency. Inclusion of volunteers will be at the discretion of the station chief or commander in consultation with T-Mobile. T-Mobile has committed to offering these plans for ten years.
Apple and Google have started to make their new, jointly-developed Exposure Notification technology available for public use. The technology automatically tracks which other phones your phones has been near for a certain period of time, using a new, Bluetooth-based system. When one user reports that they have tested positive for COVID-19, other users they have come into contact with are automatically alerted, so they can get tested. The system uses anonymous, frequently-changed tokens to preserve privacy. To use the system, users must install an official app from their local public health agency and explicitly opt in to the service. Apple and Google are only allowing one app per geographic region, and have multiple safeguards in place to protect user privacy, including a ban on collecting users' locations. The system is available now for public health agencies to develop and release their apps using the system, although not all governments plan to do so. It requires a new OS version to function. Apple released iOS 13.5 today, which includes Exposure Notification as well as other features specific to the ongoing pandemic. New versions of Android are expected soon that support Exposure Notifications. The two companies have promised a more comprehensive version of Exposure Notification in the coming months that will not require the installation of a special app, although it will remain opt-in.
Verizon has enabled data uplink functionality on its entire 5G network, enabling faster uploads for 5G devices in areas of Verizon mmWave 5G coverage. The company also announced that it will soon launch 5G in San Diego. Previously, Verizon's 5G network only supported downlink (download) connections, relying on 4G for uplink (upload). Now that an entire two-way data connection can occur over 5G, the network can provide better quality video calling/conferencing, faster upload and sharing of video files, faster cloud sync and backup, and better multi-player gaming. Verizon claims that 5G uploads should about 30% faster compared to 4G. On May 28th, Verizon will light up mmWave 5G service in parts of San Diego, bringing Verizon's total number of "5G cities" to 35. The service will be "concentrated in parts of Mission Valley near Westfield Mission Valley and SDCCU Stadium, Linda Vista along Linda Vista Road, Kensington near El Cajon Blvd, and in Banker's Hill on 1st Avenue."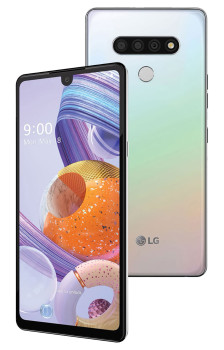 Boost Mobile is the first US carrier to launch the LG Stylo 6, an update to the popular Stylo 5 series. Compared to the 5 series, the Stylo 6 has a larger display, larger battery, more storage, and more cameras. It's about the same width and thickness as the 5, but taller. This, plus a modern all-screen design, allow an increase in screen size from 6.2 to 6.8 inches. It also has a 4,000 mAh battery and 64 GB of storage. The 13-megapixel rear camera has been joined by a depth camera and 5-megapixel wide-angle camera. The front camera, which sits in a small screen notch, has been upgraded to 13 megapixel. The Stylo 6 is powered by Android 10 running on a MediaTek Helio P35 processor with 3 GB of RAM. Other features are similar to the Stylo 5 series, including a pop-out stylus, full-HD display resolution, NFC, rear fingerprint reader, memory card slot, and 3.5mm audio jack. Boost is selling the LG Stylo 6 for $180, starting today. The FCC has also approved a different variant of the Stylo 6 that seems designed for T-Mobile's network. The Stylo 5 series was offered by all major US carriers and most prepaid brands.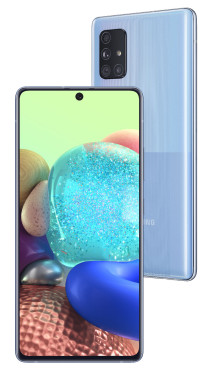 Samsung is developing a version of its Galaxy A71 5G phone for Verizon, according to information made public today in the Bluetooth SIG's database of devices that have passed the Bluetooth qualification process. The new listing describes the device as "Galaxy-A71-5g US VERIZON". Samsung announced the A71 5G last month, saying it would launch in the US and cost $600. The phone has a 6.7-inch full-HD display, 64-megapixel camera, 4,500 mAh battery, and 25W fast charging. 5G phones must be specifically designed for Verizon to work with the company's 5G unique network, since Verizon is currently one of the few carriers worldwide to rely exclusively on mmWave 5G. So while it cannot be confirmed that Verizon will definitely sell the Galaxy A71 5G, it would be very unusual for Samsung to expend the (considerable) effort to develop such a phone and then cancel it.