Home
Blu Products today said it plans to announce a new flagship phone at the end of the month. The Vivo XI+ will feature 128 GB of storage and 6 GB of RAM. Blu didn't say what other features the phone might have. The new device arrives in the midst of a revised strategy for Blu. The company says its previous pattern of releasing a lot of phones each year left it unable to support them well with software updates and parts. Moving forward, Blu will focus on fewer phones in order to better support them down the road. Blu says this change will deliver a "renewed commitment to quality" and "stronger" phones that are more well thought-out. More details about Blu's new flagship will be revealed later this month.
Gmail users on Android now have a few seconds to reconsider the email they may have just sent. Version 8.7 of the Gmail app for Android has added a new "undo" feature, similar to the one that appears on the desktop version of Gmail. For several seconds after sending an email, users can recall the message by pressing the new "undo" button that appears in the lower-right corner of the app. When tested, the app provides about 4-5 seconds to recall emails. Gmail for Android is free to download from the Google Play Store.
Apple has made a new beta of iOS 12 available to its developer community. iOS 12 developer beta 9 was released today to registered developers. Apple didn't spell out any specific changes in this build other than bug fixes and improvements. iOS 12 includes a number of new features, such as improved notifications, memoji for the iPhone X, performance refinements, Screen Time for monitoring usage, and better security. The final version of iOS 12 won't arrive until September or October. A new public beta is expected to arrive later this week.
Microsoft today said that it will soon cease accepting new apps for Windows Phone 8.x or 8/8.1. Microsoft will stop taking in new Windows Phone 8.x and 8/8.1 apps on October 31 of this year. Microsoft will stop pushing updates to apps for Windows Phone 8.x starting July 1, 2019, and will stop pushing updates to apps for Windows Phone 8/8.1 on July 1, 2023. Microsoft asks developers to consider updating to the Windows 10 platform. "We encourage you to explore how you can port your existing app to the Universal Windows Platform (UWP) where you can create a single Windows 10 app package that your customers can install onto all device families." Windows Phone 8 has been discontinued for some time. Microsoft has also stopped making new Windows Mobile 10 phones. Some of these devices remain in use, however, and are still receiving support from Microsoft.
FitBit today announced the Charge 3, a fitness tracker that ups the ante thanks to a larger screen and smartwatch-like features. The Charge 3 has a heart rate monitor and tracks the rate 24/7. The software can show owners their heart rate zones in real time as they work out to ascertain if they are at a fat burn, cardio, or peak rate. The Charge 3 can automatically recognize a number of activities, such as runs, walks, and bicycle rides, and it tracks more than 15 different goal-oriented exercises. The Charge 3 is waterproof to 50 meters, making it an excellent option for swimmers. The wearable also tracks sleep patterns and female health for a more complete picture of well-being. The Charge 3 runs a handful of apps, including a calendar, the weather, and FitBit Pay. The wearable integrates with the owner's Android phone or iPhone to provide incoming call and message alerts, and can be used to send quick message replies on Android. Other features include a larger, sharper touch screen, aluminum design with Gorilla Glass 3, and up to seven-day battery life. The Charge 3 comes in various sizes and colors. It costs $150 and is available for pre-order on FitBit.com.
Google has quickly pulled a change from its recently updated Android Messages app. Last week, Google pushed an update to the app that refreshed the design with new fonts and background colors, including a dark mode. Without explaining why, Google has reverted Android Messages to the old design even for those who've installed the most recent version of the app. It was able to do this from its servers, without requiring a new install to the app. It has not said if or when the new design will return.
Samsung is pushing a small update to the Galaxy Note9 that introduces new options in the camera application. Before the update, the Note9 was limited to taking 0.2 seconds of 960fps slow-motion footage in manual mode. After the update, owners can alternately elect to record 0.4 seconds of 480fps slow-motion. The update also installs the August security patch from Google. The Note9 goes on sale August 24, so this update will likely be waiting for most people when they first turn on the device.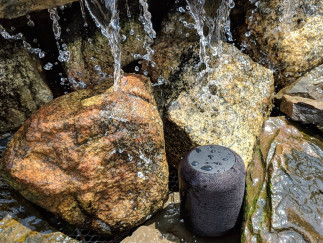 The Motion Q from Soundcore is a small, portable Bluetooth speaker that's rugged, waterproof, and inexpensive. If you're looking for a cheap beach companion to enhance the last few days of summer, this could be it.
BlackBerry today announced updates to many of its productivity apps for Android devices. For example, the BlackBerry calendar now offers a month view with a refined picker for selecting times/dates when creating appointments. The contacts app is streamlined with automatic field population to speed up the process of creating new contacts. BlackBerry's DTEK security software sees a significant number of updates. For example, the app's home screen has been overhauled with a new dashboard to better show the phone's stauts. Notifications and applications can be more finely tuned via new permissions settings. Further, DTEK will scan the phone at least once per week to make sure the device is up to date. The privacy shade should be easier to turn on thanks to new home screen controls, and the power management center should be more efficient and offer more useful alerts. All these apps are free to download individually from the Google Play Store.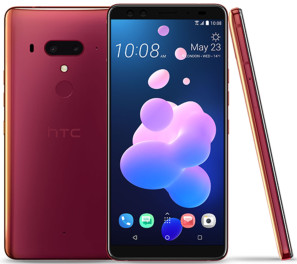 HTC today made its flagship phone available in a third color option. Consumers interested in a red phone can now pick that instead of black or blue. The red U12+ carries the same $799 retail price as the others. Other than the color, the specs of the phone are unchanged. The U12+ has a 6-inch quad HD+ screen, Snapdragon 845 processor, dual cameras on front and back, and Cat 18 LTE. The red U12+ is only available from HTC.com. HTC experts the phone to ship in September.
Verizon Wireless today said that together with partner Nokia it has completed a mobile 5G call with the receiving device moving from one cell to another. This is an important step in the development of 5G, as it will eventually allow people to use 5G devices freely when moving around outside. Verizon says it completed the test at Nokia's Murray Hill, NJ, location using the 3GPP New Radio (NR) 5G standard. It used two radios on Nokia's building to broadcast 28 GHz (mmWave) to a receiver in a moving vehicle. Verizon says the vehicle traveled between the two radio coverage zones and made a successful handoff from one to the other. Verizon is preparing to deploy fixed 5G service as an in-home broadband replacement later this year. It won't launch mobile 5G service, which this test covered, until 2019.
T-Mobile will sell OnePlus' next flagship phone, the OnePlus 6T, in October according to CNET. OnePlus has said twice this year already that it is working with U.S. carriers. This would mark the first time OnePlus has scored a carrier distribution deal in the U.S. To-date, OnePlus has marketed and sold its phones to U.S. consumers online. Citing people familiar with the company's plans, CNET reports that OnePlus will create a version of the 6T specifically for T-Mobile's network, including support for T-Mobile's 600 MHz spectrum (Band 71). The 6T will still be sold online unlocked with support for either AT&T or T-Mobile, in addition to global carriers. Pricing for the phone is expected to be around $550. Other features of the phone were not revealed. OnePlus releases two phones each year. The OnePlus 6 arrived in May and the company's second phone is expected in the October timeframe.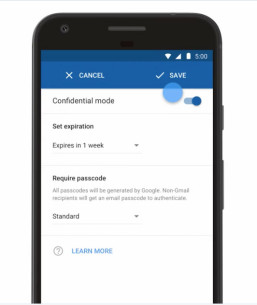 Google today said that confidential mode, which can help protect sensitive information from unauthorized access, is available via the mobile Gmail app. Users will need to enable confidential mode when composing an email. Emails sent via confidential mode can be revoked at any time, or set to expire after a specific period. People who receive confidential emails won't be able to forward, copy, print, or download them. Google points out that confidential mode cannot stop people from taking screen shots of confidential emails. The updated mobile Gmail app is being distributed via the Google Play Store over the next few days.
Google today updated the way it displays search results in order to surface a more complete picture of search subjects. Rather than simply supply a list of links, Google is introducing new panels with a set of relevant subtopics for additional information. In the example provided by Google, people to search for "quartz vs. granite" will discover not only where they can buy those materials, but also comparisons of the two materials and how they apply to home renovations. Google says the new format is "meant to help guide you with what we understand to be common, useful aspects of the topic and help you sift through the information available." The panels are created automatically based on related content from around the web. Google says people should begin to notice the panels in search results over the next few days.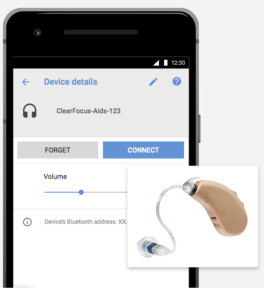 Google today said that it partnered with GN Hearing to create an open specification meant to stream audio to hearing aids. The published spec is called Audio Streaming for Hearing Aids (ASHA) on Bluetooth Low Energy Connection-Oriented Channels. Google says the spec will allow hearing aid users to connect their phone to the aid, monitor battery life, and listen to any audio content from their phone. Google says it created the spec to ensure connections have minimal impact on battery life and provide low latency for near instant response time between the phone and the hearing aid. Google said it expects to add ASHA to a future version of Android down the road. Since the spec is open, any hearing aid manufacturer can build in native update the spec over time.
Google is rolling out a new version of its Android Messages application and given the app a fresh coat of paint. To start, the "+" button has been removed in favor of a "start chat" button, making it clearer for people to use. The app also adopts Google's Material Design, which means some changes to the fonts and coloring. A new toggle allows people to switch to a new dark theme that features a black background and light-colored text. The app is rolling out slowly. Android Messages is free to download from the Google Play Store.
Sony plans to begin updating a number of its mobile phones to Android 9 Pie beginning in November. The devices first on deck for the refreshed operating system from Google are Sony's flagships, the Xperia XZ2, XZ2 Premium, XZ2 Compact, Xperia XZ Premium, XZ1, and XZ1 Compact. Sony says the mid-range XA2, XA2 Ultra, and XA2 Plus devices will receive Android 9 in early 2019. Android 9 Pie introduces machine learning and more predictive behaviors to the OS, as well as a Digital Wellbeing suite meant to help people use their devices less. Pie is already available to the Google Pixel phones. Motorola also recently committed to updating some of its phones to Pie.
Google is prepared to begin screening all apps submitted to the Android Wear OS Play Store in a bid to bolster quality. For the moment, submitting Wear OS apps for review is optional. Beginning later this year it will be mandatory. Google says all new Wear OS apps submitted after October 1 will have to go through the review process. Existing apps will be reviewed after March 4, 2019. The review process itself is not being changed. Updates to mobile apps will not be blocked if the Wear OS variant fails review. One of the requirements is the ability of the app to support screenshots, which Google explains will help with discovery in the Google Play Store. Google also wants to ensure that apps will run on both round and square screens. "We hope this lightweight app review process will improve the quality of Wear app experiences across the wide range of devices available to your users," said Google.