Home
Popular Chinese-owned apps WeChat and TikTok narrowly avoided a US government ban on new downloads Sunday night. On Friday, President Trump directed the US Department of Commerce to issue a ban on US companies (including Apple and Google) facilitating downloads of — or updates to — the WeChat and TikTok apps specifically, citing national security concerns. It would have also banned financial transactions using WeChat in the US, and gone into effect on Sunday, Sept. 20th. A judge issued a last-minute preliminary injunction temporarily preventing the ban from going into effect against WeChat, citing free-speech issue raised by WeChat users who sued to stop the ban. Separately, the Trump administration signaled that it might approve a proposed deal whereby Oracle and Walmart would take a 20% stake in a new "TikTok Global" company. TikTok would also move data from US users to a new cloud infrastructure provided by Oracle. Microsoft also offered to take over TikTok's US operations, but Current TikTok owner ByteDance is said to have focused on doing a deal with companies favored by the Trump administration. Oracle's Larry Ellison is a vocal supporter and fundraiser for Trump. Under the proposed deal, Chinese ByteDance would initially retain a controlling 80% stake in TikTok Global, but the new company would be required to have an IPO on a US stock exchange, with American ownership expected to "grow over time." To allow time for the proposed deal to reach a more firm agreement, the Dept. of Commerce delayed its ban on TikTok downloads by one week, to September 27th.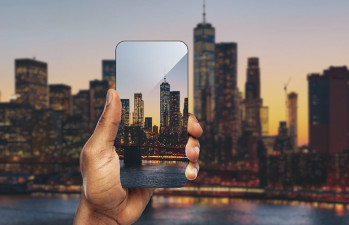 A new optical sensor from ams could enable phone makers to make display bezels even thinner, for truly all-screen designs. The optical sensor works from underneath an OLED display, similar to new technology that allows the front camera to be placed under the display. The sensor detects proximity, ambient light levels, and ambient light flicker. Most phones today have such a sensor, but need to make room for it in the bezel area above the display. The sensor incorporates several specific innovations, including compensating for display output when sensing ambient light, and dispersing infrared light from the proximity sensor to avoid activating OLED materials and introducing visible display distortion. The part is available to manufacturers now for sampling.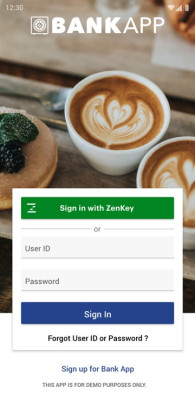 Verizon, AT&T, and T-Mobile have officially launched ZenKey, a new way quickly log in to apps that leverages the authentication that happens automatically every time your phone connects to the cellular network. Apps must be updated to support ZenKey, and developers have the option of enabling ZenKey as the primary login, or as the second token in two-factor logins, replacing PIN codes sent my text message, for example. Customers must also download the ZenKey app (available for both iOS and Android) to start using ZenKey. Currently, only a handful of apps support ZenKey login, (mostly the carriers' own apps,) but carriers hope more apps will add support.
Verizon has introduced new Unlimited data plans for non-phone devices including smartwatches, tablets, and mobile hotspots. The new $10/month plan intended for smartwatches covers both watches with their own phone number and those using NumberShare to share a phone number between a phone and a watch. It includes 15GB of top-speed 4G LTE data, plus unlimited voice and texting. Previously, Verizon charged up to $15/month for just 1 GB of data. Existing customers will automatically be switched to the new pricing. The $20 plan, intended for tablets and hotspots, also includes 15 GB of top-speed data but adds hotspot functionality. Finally, a new Unlimited Plus plan for $30/month doubles the "premium" 4G data allotment to 30 GB and includes unlimited 5G data. Customers with a higher-end Unlimited phone plan (Do More or Get More) can get a 50% discount on Unlimited Plus, bringing it to just $15/month. The new plans are available starting today.
Apple today introduced Apple One, a new bundle of Apple services offering savings of $6 – $25 per month. The basic Individual plan includes Apple Music, Apple TV+, Apple Arcade, and 50 GB of iCloud storage for $15/month. The Family plan ups the iCloud storage to 200 GB and can be shared among up to six family members. It runs $20/month, an $8/month savings compared to subscribing separately. Finally, the Premier plan adds Apple News+ and the new Apple Fitness+, as well as upping the storage to 2 TB. It will run $30/month, a $25/month savings. Apple Fitness+ offers a variety of trainer-led workouts and incorporates real-time data from Apple watch sensors. Apple Fitness+ is also available separately for $10/month or $80/year. A one-month free trial is available, and new Apple Watches now come with a free three-month trial of Fitness+.
Apple today announced a new, more affordable Apple Watch variant: Apple Watch SE. It will start at $279, a full $120 cheaper than the new Apple Watch Series 6, even though it has most of the same features. The cellular version is an even better deal at $329, $170 cheaper than the cellular Series 6. The features sacrificed for cost are the always-on display, blood oxygen sensor, and ECG function. It also uses last year's S5 processor instead of the new S6. However the design, functions, and specs are otherwise identical to the new Watch Series 6. That includes the large Retina display, waterproof aluminum body in two sizes, optical heart sensor, GPS, fall detection, compass, always-on altimeter, noise monitoring, and digital crown with haptic feedback. It's available to order today, and in stores this Friday, September 18th.
Apple has concluded the beta testing period for its latest OSes. The final version of iOS 14 will be available tomorrow, September 16th.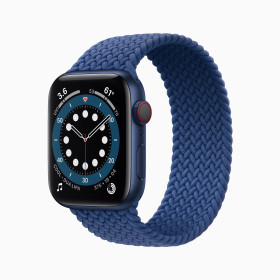 Apple has revealed Apple Watch Series 6, which adds a new blood oxygen saturation sensor. Blood oxygen is an important vital sign that can drop to dangerous levels in those with COVID-19. Apple has started three research studies that use the new sensor, including one focused on COVID-19 and the flu. The other studies are focused on asthma and heart failure. The Watch can measure blood oxygen periodically in the background, or on demand in 15 seconds. Series 6 also uses a new S6 processor, has a display that's 2.5 times brighter in always-on mode, and has an always-on altimeter. Apple also announced new family features designed to make Apple Watch better-suited for kids and seniors. Family Setup lets you use your iPhone to set up someone else's cellular Watch, such as your phone-free kid. It also lets you control the contacts your kid can communicate with, and set up location alerts. A School Time mode restricts functions to help kids focus during school hours. Series 6 is available in new color options, including a blue or red aluminum body. New band options include "Solo Loop", a single fixed band without a clasp, available in nine sizes. Solo Loop is available in a variety of colors, and either solid silicone or a woven design made with silicone yarn. To reduce electronic waste, Series 6 does not come with a USB power adapter. Apple Watch Series 6 is available to order today, and in stores this Friday, September 18th, starting at $399, or $499 with cellular (LTE).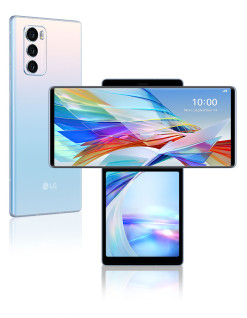 The first phone in LG's "Explorer Project" series is the LG Wing, a phone with a unique swivel display design. The 6.8-inch full-HD OLED main display swivels up to reveal a 3.9-inch second screen. The hinge features a hydraulic damper for smooth motion, and is rated for 200,000 swivels. The unique design is optimized for viewing videos full-screen while commenting or messaging on the second screen, for example. It can also keep GPS navigation full-screen while offering call controls on the second screen. A Grip Mode ignores accidental touches while recording video with the hinge open. A "Gimbal Motion Camera" mode takes this further with joystick, lock, and follow controls on the second screen. The 64 megapixel main camera is accompanied by two wide-angle cameras: a 12 megapixel "big pixel" camera plus another 13 megapixel wide camera. One wide-angle camera is mounted in standard portrait orientation while the other is rotated 90º to match the shape of the swivel screen when open. The 32 megapixel selfie camera pops up from the top of the phone. The Wing is powered by a Qualcomm Snapdragon 765G chip with 8 GB of RAM. It will come with either 128 or 256 GB of storage, plus a memory card slot. The 4,000 mAh battery can be charged via Quick Charge 4.0 or wireless charging. The Wing is rated IP54 for water and dust resistance. Available colors include Aurora Gray and "Illusion Sky". In the US, the LG Wing will launch first with Verizon, followed by T-Mobile, AT&T, and other US carriers. "Specific pricing, availability, specs and color options will vary by network partner."
Verizon has reached an agreement to buy TracFone, the country's leading prepaid mobile provider and largest reseller of wireless services. TracFone operates a family of value-oriented brands that includes StraightTalk, Net10, Simple Mobile, Total Wireless, PagePlus, Walmart Family Mobile, SafeLink, and ClearWay. As an MVNO, TracFone replies on other mobile networks. Out of 21 million total TracFone customers, 13 million already use the Verizon network. "Following the acquisition, Verizon expects to bring its award-winning 4G LTE and 5G networks and other innovative technologies to Tracfone customers". Verizon already offers its own prepaid service and has a prepaid subsidiary called Visible. Verizon expects to keep all 850 TracFone employees. The $6.25 billion deal is expected to close in about a year.
Nvidia and Softbank have announced a $40 billion deal whereby Nvidia will acquire Arm from Softbank. Arm is a UK-based designer of processor architectures. Nearly all phones are powered by SoC chips that are based on Arm technology. Qualcomm, Apple, MediaTek, and Samsung all license Arm technology and use it as the basis for their mobile chip designs. Arm has been successful with a relatively neutral open licensing model. Nvidia promises that it "will continue Arm's open-licensing model and customer neutrality and expand Arm's IP licensing portfolio with Nvidia technology". Nvidia is a leader in graphics and AI processor technology.
Recent listings in the public Bluetooth database show approvals for an unannounced Samsung phone called the "Galaxy S20 FE 5G" or "Galaxy S20 FE UW". We assume that "FE" stands for "Fan Edition", a model name modifier Samsung used recently in the Note series. The model numbers in the database indicate versions for every major US carrier, with variants such as "SM-G781V ... for VZW", "SM-G781U ... for ATT", and "SM-G781U ... for TMB". The Bluetooth approvals reveal little else, except that the phones will offer Bluetooth version 5.0.
Bose is launching its first true wireless earbuds with company's famous QuietComfort brand of ANC (active noise cancelling). The Bose QuietComfort Earbuds (QC Earbuds for short) include a "proprietary electronic chip loaded with an exclusive new algorithm" that can compensate for changing outside noise in a fraction of a millisecond. It offers 11 levels of noise control to let through the exact amount of background noise you want to hear. The QC Earbuds offer 6 hours of battery life, plus another 12 via the included charging case. They come in black or white, and will be available Sept. 29th for $279.
Google has announced the Android 11 version of Android Go, the special edition of Android tailored for the most affordable devices with limited memory specs. While previous versions of Android Go were targeted at phones with just 1 GB of RAM, Android 11 (Go edition) will also be made available to phones with up to 2 GB of RAM. This change accommodates features such as fingerprint readers and dual cameras, which are increasingly common on entry-level phones, and require extra RAM. In version 11, apps now launch 20% faster. Google also continues to shave down the RAM and storage required by the OS itself, making available 270 MB more RAM for apps, and 900 MB additional free storage space. The new OS includes many of the key features of standard Android 11, including new privacy controls and a dedicated notification area for conversations. Android 11 (Go edition) will be available starting next month.
Motorola today revealed the 2020 edition of its razr foldable phone, with upgraded specs across the board and a tweaked design. The general design is largely similar to the 2019 original, including the same flexible inner display and folding mechanism. The hinge has been tweaked with slightly more enclosed gears and is rated for 200,000 flips. The design is sleeker thanks to a 3D curved Gorilla Glass 5 front, and a chin made thinner by moving the fingerprint reader to the back. The frame is now made from 7000 series aluminum instead of stainless steel. Spec bumps include the addition of 5G, a larger battery (2,800 mAh), much better cameras (48 megapixel main with laser auto-focus and OIS + 20 megapixel selfie), Qualcomm Snapdragon 765G processor, 8 GB RAM, and 256 GB storage. The new razr has the same 2.7-inch, high-resolution touchscreen on the outside, which can run scaled-down versions of select Android apps. The outer interface includes a new navigation bar at the bottom and a customizable app menu. The revamped camera app includes a customizable mode carousel. 5G support includes bands 2, 5, 25, 41, 66, 71, and 78. The new Motorola razr will be offered by both AT&T and T-Mobile, a change from last year's model that was exclusive to Verizon. It will also be available unlocked for $1,400 from motorola.com, Best Buy, B&H Photo, and Amazon. It will be available in Blush Gold, Polished Graphite, and Liquid Mercury (shown). Motorola would only cite "this fall" as the launch timeframe.
CAT today launched the S42, its latest "mid-range" rugged phone, for sale unlocked in the US. Like most CAT phones, it's rugged and waterproof (IP68), but also fully washable with soap and water. It's rated for 6-foot drops onto steel, and also meets US military spec for thermal shock, vibration, humidity, and salt mist. It has a large 4,200 mAh battery and NFC. Its 5.5-inch HD screen is protected by Gorilla Glass 5 and works with both gloves and wet fingers. Other specs include a MediaTek Helio A20 chip, 3 GB RAM, 32 GB storage, memory card slot, LTE Cat. 6, dual-band Wi-Fi, and VoLTE. It ships with Android 10 plus a commitment to an Android 11 update. It also has a programmable side button, headset jack, and micro-USB connector. It has good support for AT&T's 4G network including band 14, and good support for T-Mobile's 4G network including bands 25, 26, 41, 66, and 71. It's available now for $329, from catphones.com and multiple online retailers.
Google is launching Android 11 today, having completed the beta period. The new OS will begin rolling out today on select Pixel and OnePlus phones, with more partners launching and upgrading devices over the coming months. Key features of Android 11 include:
New treatment for "conversation"-related notifications from messaging apps, including a dedicated area in the Notifications shade, and Bubbles, which lets you briefly view a conversation thread as a pop-up overlay, without leaving the app you're in.
Privacy improvements, including the ability to grant apps one-time access to sensitive permissions, an "auto-reset" of permissions for apps that haven't been used in a while, and an extra steps required to enable background access to location. Google will also start requiring that developers obtain explicit permission from Google before their app is allowed to ask for background access to location.
A revamped screen when the lock button is pressed provides quick access to smart-home device controls.
Support for digital IDs, including digital driver's licenses.
Support for wireless Android Auto on all phones.
New media controls that make it easier to switch output device.
New screenshot tools, including built-in screen recording on all phones. On Pixel phones, Android 11 brings a new feature when taking a screenshot that lets you easily copy an image or text to the clipboard instead.
For phones linked to a company network, the personal/work Profiles features has several improvements. New Personal/Work tabs have been added to several places including the Share pop-up sheet. A new API available to apps will allow certain apps to present both work and personal data together, while protecting both company data and employee privacy. Google Calendar will support this feature, and third-party apps will be able to support it as well.
New APIs allowing apps to better support new display technologies, including "waterfall" displays that wrap around the side, and variable refresh rates.
Further, on Google Pixel phones, Android 11 brings a new feature called Live View with Location Sharing. When someone sends you their location, the feature uses AR to show you exactly where that person is in the real world, how far away they are, and can guide you to them, even in parks or the wilderness.
Google is making its own Phone app available to "even more Android devices" starting this week. Google's Phone app offers Google's unique Verified Calls feature, which shows the caller's name, logo, reason for calling and a verification symbol indicating the business has been authenticated by Google for incoming calls from participating businesses. The Google Phone app comes pre-loaded on Pixel and select other Android phones, but many manufacturers pre-load their own Phone app on their phones. Google's app hasn't been made available to most such phones before now.