Home
T-Mobile US and Dish Network today announced that they have completed the previously-announced sale of Boost, the prepaid arm of Sprint. Dish now owns the Boost brand and takes responsibility for its 9.3 million customer accounts, hundreds of employees, and thousands of independent retailers. Boost customers are promised a smooth transition thanks to a seven-year agreement for Dish to use the T-Mobile network while Dish builds its own 5G SA (stand-alone) network. Dish unveiled two new plans for Boost customers. The "$hrink-It!" plan offers lower rates over time, to encourage customers to stay with Boost. It's similar to a plan Boost offered six years ago, as well as Verizon's new prepaid plans. It starts at $45/month for 15 GB of data, with a $5/month discount after three on-time payments, and an additional $5/month discount after six total on-time payments. The other new plan offers 10 GB of data plus unlimited talk and text for $35/month. Both plans will be available starting tomorrow, July 2nd. Dish also unveiled a new logo for Boost that blends the existing Boost logo with the Dish logo. Dish paid $1.4 billion for Boost, the same amount originally agreed upon when the deal was first announced. The sale was required by the government in order for T-Mobile to win approval for its deal to merge with Sprint. Dish has started building its own 5G SA network, having recently signed infrastructure deals with Fujitsu, Altiostar, and Mavenir.
Qualcomm's latest chipset to power smartwatches is the Snapdragon Wear 4100 Platform. The new platform brings improved performance and efficiency. An optional Always On (AON) co-processor chip brings new always-on features, including continuous heart rate monitoring and sleep tracking. The new AON chip also supports always-on displays with 64,000 colors (up from 16 in the previous generation) and faster tilt-to-wake responsiveness. The main Snapdragon Wear 4100 chip offers 85% faster performance compared to Snapdragon Wear 3100 platform and supports cameras up to 16 megapixel. The 4100 uses a 12nm manufacturing process, offering much better efficiency compared to the 28nm process used for the 3100. The Category 4 LTE modem supports dual antennas for better data performance. The Snapdragon Wear 4100 platforms support both Wear OS by Google and the Android Open Source Platform (AOSP). Devices using the new chips are expected to ship later this year.
AT&T this week launched sub-6 GHz 5G in 28 new markets, including Puerto Rico and several major cities. Major new 5G markets include Miami, Orlando, Austin, Dallas, and Salt Lake City. AT&T's 5G network now covers 179 million people across 355 markets. Among the new markets, "parts of some" of them are using DSS (Dynamic Spectrum Sharing) technology, which enables 4G and 5G technology to efficiently share the same frequency bands.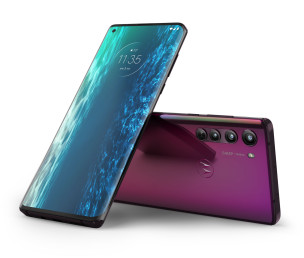 Motorola has dropped new details for its forthcoming edge high-end phone. While the top-end edge+ is already available from Verizon, the edge will be available unlocked in the US for $700 this summer. Motorola has also decided to bump up the memory from what was previously announced. Instead of the US version having less RAM than the global version, the US version will now have the same 6 GB of RAM, plus an upgraded 256 GB of storage. The edge has the same 6.7-inch "Endless Edge" display as the edge+. The edge is powered by a Qualcomm Snapdragon 765 processor and supports 5G in all sub-6 GHz frequency bands used for US 5G networks. It has a 64 megapixel main camera, 16 megapixel wide/macro camera, 8 megapixel 2x telephoto camera, and a 25 megapixel front camera. It can record in 4K using either the main or wide-angle camera. It also has a 4,500 mAh battery and 18W fast charging.
Google is rolling out its own call verification system that will allow the incoming call screen on Android phones to not only confirm that a call is legitimate, but also display the calling business' reason for calling and company logo. The feature requires that the phone's default phone app be set to Google's Phone app, that businesses supply this information to Google's servers before each call, and that users have the phone's mobile number associated with their Google account.
Apple's Safari 14 web browser — part of the forthcoming iOS 14 for iPhones — adds support for the Web Authentication (WebAuthn) API, part of the industry-standard FIDO2 specification. This will allow mobile web sites to add an option for users to quickly log in via fingerprint or Face ID instead of entering a username and password. This feature is already available in the Chrome browser on Android, and within full apps on both iOS and Android.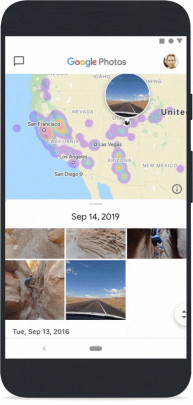 The Google Photos app and service has been redesigned, and now includes a map feature that lets you explore all of the photos you've ever taken as pins on a map. The map feature is part of a new Search tab in the redesigned app interface. The new Search tab also includes automatic shortcuts to specific people and pets that you frequently photograph, using automatic facial recognition. The new Google Photos app "rolls out over the next week" on Android and iOS.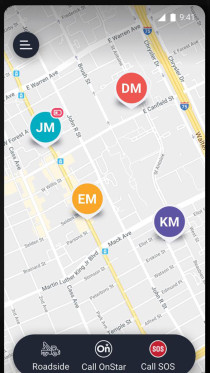 OnStar, the roadside- and emergency-assistance service for GM vehicles, is now available as an app for iOS and Android phones. The new OnStar Guardian app uses phone sensors to detect when you've been in a vehicle crash, including non-GM vehicles without OnStar. It will then automatically connect you with an OnStar Advisor who can provide emergency assistance. On Android, the connection is fully automatic, while on iOS, OnStar will call your phone when a crash is detected. The app also lets you contact an OnStar Advisor at any time for roadside or emergency assistance. Finally, the app has a location-sharing feature for families. The app is available free for six months for any existing OnStar subscriber and up to seven additional family members. OnStar did not disclose what the app may cost after the first six months.
Verizon has improved the value of its prepaid plans across the board, and added additional discounts the longer you keep your account. Customers will now receive a $5/month discount after three months, and an additional $5/month discount after nine months. As before, a further $5/month discount is available when using Auto Pay. The Unlimited prepaid plan is now $65/month instead of $70. That's before any discounts, so after nine months and with Auto Pay, that brings the Unlimited plan to $50/month. The $50/month (before discounts) plan now includes 15 GB of data instead of 8 GB, and the $40/month plan now includes 5 GB instead of 3 GB. With the new discounts, that makes the cheapest plan as low as $25/month. All plans include unlimited talk and text, including texting to/from Canada and Mexico. The 15 GB and Unlimited plans also include unlimited calling to/from Canada and Mexico. Mobile Hotspot is included with the 5 GB and 15 GB plans, and can be added to the Unlimited plan for $5/month.
Apple is opening up its "Find My" service — originally launched as Find My iPhone — to third parties, enabling non-Apple devices to be located using the vast network of Apple devices in the world. The functionality is similar to Tile, although Apple's solution would provide more coverage as it would not require installation of the Tile app. It's not clear whether the service could be compatible with Tile, or compete with it. Like Tile, the new Find My service can use Bluetooth to locate devices that lack their own connectivity to the Internet. Also like Tile, the technology is designed to be encrypted, anonymous, and data- and battery-efficient.
Apple has released a full list of new features in iOS 14, which includes many not mentioned in today's WWDC keynote presentation. One notable new feature is a setting that will let users choose which app launches when a user clicks on a web link or email address. For example, in iOS 13, clicking on an email address always launches Apple's Mail app. In iOS 14, you will be able to set this to Gmail instead.
Apple today announced that the 2021 BMW 5-series will support digital car keys, letting owners use their iPhone with Wallet and NFC to unlock and start the car. Users can share key copies with others via iMessage, and choose full or restricted driving profiles. The feature works with iOS 13 and newer.
Apple has revealed iOS 14, which brings a number of new features to the OS for Apple's iPhones:
Widgets: Apple has promoted Widgets to the main home screen. Just as Android has always allowed, you can now mix re-sizable widgets in with your app icons. A special widget called Smart Stack collects several widgets into one rectangle that lets you scroll through multiple widgets while taking up minimal home screen space.
App Clips: A new kind of micro-app designed to let you complete a single transaction using a rich app interface, without installing a full app. App Clips are limited to 10 MB so they download quickly. App Clips can be launched from a Maps listing, a message, a QR code, or a new type of physical sticker that includes an NFC tag and a visual code similar to QR codes. App Clips can leverage Sign in with Apple and Apple Pay so users don't need to spend time creating a new account. App Clips can be used to order take-out or delivery, rent a scooter, pay for parking, and more. To help small businesses to take advantage of App Clips, Apple will work with larger services like Yelp to help them create App Clips for individual business listings.
App Library: A new screen past the right-most home screen with auto-generated folders of apps, including Suggestions, Recently Added, Arcade, Social, etc. To make it easier to access, you can now hide infrequently-used home screens.
Picture in Picture: Video apps can now display playing video in a floating window over other apps. (Android has supported this since 2017.)
Translate app: Apple now has its own dedicated app for language translation. In landscape orientation, it switches to a Conversation Mode, for seamless two-way conversation with someone while both people look at the display. It auto-detects the language for each phrase spoken. The app supports English, Mandarin Chinese, French, German, Spanish, Italian, Japanese, Korean, Arabic, Portuguese, and Russian.
Apple has also updated
Siri
so it's no longer a full-screen experience every time it's activated. A small animation pops up at the bottom of the screen while it's listening, and many results pop up in a small box at the top, like a notification. Apple has also updated
Maps
to finally add directions for
cycling
, including elevation info. At launch, this feature is available in New York City, Los Angeles, San Francisco Bay Area, Shanghai, and Beijing. Maps also now has dedicated features for
electric cars
. It can track your battery status and estimate range, as well as direct you to charging stations compatible with your specific car. At launch, it's compatible with BMW and Ford EVs. Finally,
CarPlay
now supports various wallpaper options, and supports new types of apps, including parking, EV charging, and fast food ordering. Apple is also adding a new indicator in the status bar to show when apps access your camera and/or microphone. Apple said iOS 14 will launch for consumers "this fall".
Verizon has successfully tested Dynamic Spectrum Sharing (DSS) technology in a "live network environment" in both Texas and Minnesota. DSS is a key element of Verizon's unique 5G deployment strategy. So far, Verizon's 5G network has been limited to mmWave frequency bands, which offer high speeds but very limited coverage (typically only the densest parts of downtown areas in major cities, and venues such as arenas and stadiums.) While other major US carriers have already deployed 5G in existing, lower frequency bands for broad 5G coverage, Verizon is waiting until DSS technology is ready. DSS allows carriers to deploy 5G in existing frequency bands much more efficiently, ensuring 4G network capacity is not reduced unnecessarily. DSS allocates radio frequencies between 4G and 5G in real time, based on demand at each moment. Earlier this month, AT&T announced it has started deploying DSS.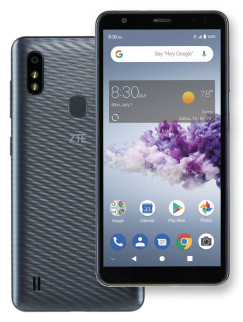 Visible is now offering the ZTE Blade A3 Prime for $99. This entry-level Android phone has a fingerprint reader, dual LED flash, and USB-C. Its 5.45-inch display has HD resolution and a tall, modern 2:1 ratio. Other specs include a 2,660 mAh battery, MediaTek Helio A22 processor, dual-band Wi-Fi, 2 GB RAM, 32 GB of storage, memory card slot, and a 3.5mm headset jack. The rear camera is 8 megapixel while the front is 5 megapixel. It runs Android 10.
Regulatory filings for a new phone from TCL bear the name "REVVL 4+" and describe a phone supporting all of the network bands unique to the T-Mobile/Sprint network. Since 2017, T-Mobile has offered a series of white-label phones under its own "T-Mobile REVVL" brand. Most of the first and second generation REVVL phones were made by TCL. Last year's REVVLRY and REVVLRY+ were the third generation, and the first to be made by Motorola. The filings reveal very few details about the phone, except the FCC approval confirms it will have NFC, and the Bluetooth SIG approval confirms it will have Bluetooth 5.0. The Bluetooth approval for this phone is shared with the TCL 10L, indicating the REVVL 4+ may be based on the 10L. The TCL 10L is a mid-range Android phone with a Snapdragon 665 processor, 48 megapixel main camera, wide-angle camera, and "Super Bluetooth" supporting up to 4 simultaneous connections.
T-Mobile's rewards program — T-Mobile Tuesdays — is now available to Sprint customers. Upcoming offers include 50 Starbucks Stars and three free months of Postmates Unlimited.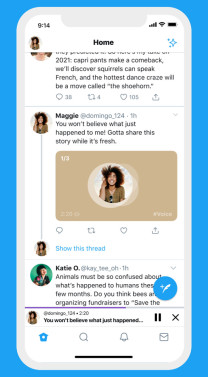 Twitter has started to roll out a new audio feature that lets users record and share voice clips. It's similar to recording a video of yourself. However, on iOS, when playing them, you can play the audio while continuing to scroll and read other tweets. Audio clips can be up to 140 seconds long. For now, only users of the iOS version of the Twitter app can record and attach audio, but the clips are playable on other platforms, including Android.