Home
President Trump this week signed the Defense Authorization Act, which bans the use of Huawei or ZTE devices by government personnel. The Defense Authorization Act is an annual piece of legislation that provides funding to the military. Congress added language to the act that makes it illegal for any government employee to buy or use devices or components from either Huawei or ZTE, both of which are considered by some to be security threats. The move puts a bookmark at the end of a tumultuous year for Huawei and ZTE, which have seen their U.S. businesses come under attack. Early in the year, Huawei lost distribution deals with AT&T and Verizon. Later, ZTE was hit with a ban on using U.S. components and software. ZTE was forced to pay a significant fine and agree to other conditions in order to get back to business. The ban on government use of Huawei and ZTE gear goes into effect over the next two years.
Apple has made a new beta of iOS 12 available to its developer community. iOS 12 developer beta 7 was released today to registered developers. Apple didn't spell out any specific changes in this build other than bug fixes and improvements. iOS 12 includes a number of new features, such as improved notifications, memoji for the iPhone X, performance refinements, Screen Time for monitoring usage, and better security. Apple has, however, pulled the Group FaceTime feature, according to a report from The Verge. "Group FaceTime has been removed from the initial release of iOS 12," said Apple in a message to developers. Instead, Group FaceTime "will ship in a future software update later this fall." The final version of iOS 12 won't arrive until September or October. A new public beta is expected to arrive later this week.
Google defies the wishes of mobile device users and tracks their whereabouts even after people turn location history off, reports the Associated Press. An investigation conducted by the Associated Press found that many Google apps and services on both Android and iOS devices continued to pinpoint users despite their wishes to the contrary. The AP says computer-science researchers at Princeton confirmed its findings. Those who allow Google to track their location can see their daily movements plotted in a timeline that's visible on a map. Google allows people to pause location history so location data is not stored. While Google Maps may stop tracking users' locations, other apps including weather and search will still pinpoint users. The AP claims this issue impacts two billion people. "If you're going to allow users to turn off something called 'Location History,' then all the places where you maintain location history should be turned off," said Jonathan Mayer, a Princeton computer scientist. Google claims it is living up to its commitments. "There are a number of different ways that Google may use location to improve people's experience, including: Location History, Web and App Activity, and through device-level Location Services," said Google in a statement provided to the AP. "We provide clear descriptions of these tools, and robust controls so people can turn them on or off, and delete their histories at any time." Google explains that tuning off "Location History" prevents the device from adding location to users' timelines, but the phone still captures and stores location data from other apps. Users wishing to more fully disengage tracking need to deactivate location in the "Web and App Activity" setting. Critics of Google's policy suggest it continues to track location to better target advertising, which is Google's main source of revenue.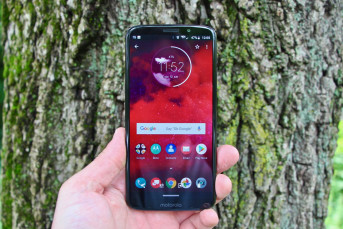 The Moto Z3 is the first 5G-upgradable phone thanks to a forthcoming Mod from Motorola and Verizon. This mid-range device sports a 2:1 screen, metal-and-glass design, and compatibility with Motorola's ecosystem of swappable modules. It is good enough without 5G? Here is Phone Scoop's in-depth report.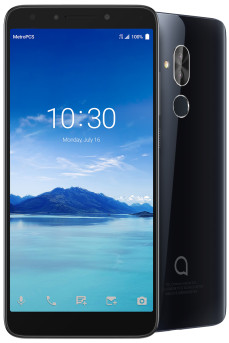 Alcatel and MetroPCS today announced the Alcatel 7, a large Android phone that focuses on entertainment. The Alcatel 7 has a 6-inch, full HD+ screen at a 2:1 aspect ratio. Alcatel says it kept the bezels to a minimum. The phone is powered by an octa-core MediaTek MT6763T processor with 2 GB of RAM and 32 GB of storage. Alcatel opted for a dual-camera system on the rear with a 12-megapixel main sensor and a 2-megapixel depth sensor to provide features such as bokeh and re-focus. The front-facing 8-megapixel camera boasts its own, dedicated selfie flash. Other hardware features include a fingerprint reader, Face Key unlocking, 4,000mAh battery with rapid charging, and support for microSD memory cards. On the software front, the Alcatel 7 runs Android 8.1 Oreo and includes Alcatel's CloserTV app, which is a single place for users to watch their favorite online streaming services and cable TV content. Alcatel says users can log in to their various video providers via this one app and then cast it to their TV. MetroPCS is selling the Alcatel 7 beginning today for $180. Customers who port their number to MetroPCS and subscribe to an unlimited plan can get the Alcatel 7 for free. Customers who open a new line of service or have an upgrade can get the phone for $129.
HTC took to its Twitter account today to announce that a handful of its phones will eventually receive the Android 9 update. "We're pleased as pie to confirm updates to Android Pie for the HTC U12+, U11+, U11, and U11 life (Android One). Timeframes for roll-out will be announced in due course," said the company. Google released Android 9 Pie to the Pixel phones earlier this week. Essential has also distributed Pie to its phone. New versions of Android generally appear on older phones slowly. HTC didn't specify a date for the upgrade.
All the major carriers in the U.S. plan to sell the Samsung Galaxy Note9 when it becomes available August 24. Each has a different offer on hand to entice consumers to buy the phone.
AT&T: AT&T is asking customers to pay $33.34 per month for 30 months for the $999.99 128 GB version of the Note9. For a limited time, customers who buy the Note9 can get a second Note9 or Galaxy S9/S9+ for free when the phones are financed on an installment plan.
Sprint: Sprint customers can get the Note9 for half off for a limited time, which puts monthly payments on the Sprint Flex Lease at $20.83. Customers who opt for the Galaxy Forever plan can upgrade to a new phone after completing 12 monthly payments. Sprint's deal includes the AKG headphones and/or Fortnite V-bucks.
T-Mobile: The Uncarrier is asking customers to make a downpayment of $280 for the 128 GB Note9 and then pay $30 per month for 24 months. The 512 GB Note9 will require a $530 down payment followed by 24 months of payment at $30 each. For a limited time, T-Mobile is offering 50% off the price with a qualifying Samsung trade-in. The price will be reduced via the monthly payments.
U.S. Cellular: The carrier is offering $150 in bill credits to those who buy the Galaxy Note9 with a new line of service.
Verizon Wireless: Big Red is asking for $41.66 per month for 24 months for the 128 GB model and $52.08 per month for 24 months for the 512 GB model. For a limited time, customers who initiate a new line of service and buy one Note9 on a monthly plan can score a free 128 GB Note9, or Galaxy S9/S9+. Verizon's deal includes the AKG headphones and/or Fortnite V-bucks.
Qualcomm has reached an agreement with Taiwan to close an investigation concerning its patent licensing practices. Qualcomm will pay a fine of $93 million, and has promised to invest some $700 million in Taiwan over the next five years. Taiwan had accused Qualcomm of improperly pressuring partners that wanted to use its chips with high royalty rates. Taiwan also accused Qualcomm of cutting Apple a discount on royalties to use its chips over that of competing firms. Qualcomm will have to license patents to its competitors, including Intel and MediaTek, at fair and reasonable rates before it takes them to court over fees. Qualcomm will have to provide a report to Taiwan's trade body every six months for the next five years to show that it is adhering to the terms. Qualcomm is facing similar disputes with the U.S. government, the European Commission, and the Korea Fair Trade Commission.
YouTube has begun to recognize what it calls Signature Devices, or phones that deliver the best-in-class experience for YouTube content. YouTube says these phones have the latest technology and provide optimal viewing. In order to qualify as a Signature Device, a phone must include features such as high dynamic range, 4K, 360 video, reliable DRM performance, and a high frame rate. YouTube says it has worked with select manufacturers to verify a handful of Signature Devices. They include the new Samsung Galaxy Note9, as well as the S8, S8+, Note8, S9, and S9+; the LG V30 and G7 ThinQ; the Sony Xperia XZ2 Premium, XZ2, and XZ2 Compact; the HTC U12+; the Huawei Mate 10 Pro; the Xiaomi Mi Mix 2S and Mi 8; the HMD Global Nokia 8 Sirocco; the OnePlus 6; and the Google Pixel 2 and Pixel 2 XL. People who own these devices don't need to do anything in order to enjoy a good YouTube experience. YouTube will add devices to the list over time.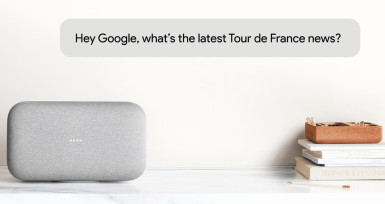 Google has matched Google Assistant with the new Google News to make it easier for people to find the stories they want to hear. People with Android phones and Google Home products can ask to hear specific news stories by asking Assistant "What's the latest on NASA?" and similar queries. On devices such as the new Lenovo Smart Display, Assistant will find relevant videos to show. On Google Home speakers and Android phones, Assistant will read out excerpts from preferred news sources. Google says this functionality is limited to the U.S. for now.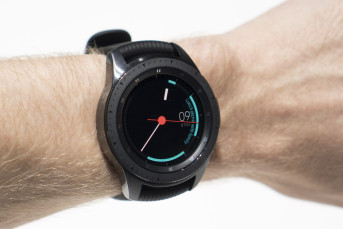 Samsung debuted a new smartwatch in Brooklyn called the Galaxy Watch. This Tizen-based wearable has a classier air about it when compared to last year's Gear S3. Here are our first thoughts about Samsung's latest smart device.
Samsung devices will feature Spotify as the default music service moving forward thanks to a new partnership between the two companies. Samsung Galaxy phone owners will be guided through the process of signing up for Spotify out of the box. People will be able to access Spotify not only on their phones, but also Samsung's tablets, smart TVs and other products. The service supports seamless listening as people move about their day, transitioning between devices at home, on the road, or in the office. Samsung didn't say if Spotify will be preloaded on the Galaxy Note9.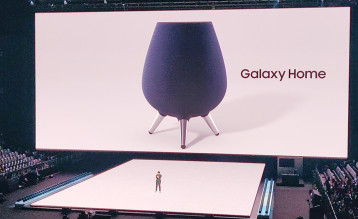 Samsung today unveiled a smart speaker for the home. The Galaxy Home is powered by Bixby and Samsung's Smart Hub technology. Speaking the "Hi Bixby" catchphrase wakes the speaker thanks to eight microphones. It can handle requests, such as accessing playlists and controlling smart home technology. There are multiple speakers and a built-in subwoofer for rich sound. It relies on natural sound processing to produce a stereo effect. Samsung said more information about Galaxy Home will be shared during the Samsung developer conference later this year.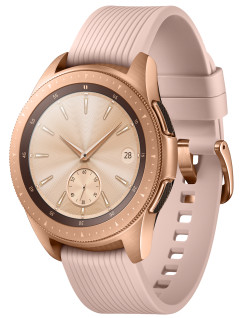 Samsung today announced the Galaxy Watch. It includes the company's signature circular, rotating bezel. It comes in two sizes, 42mm and 46mm in rose gold, silver, and black. The Galaxy Watch is powered by a Samsung-made Exynos processor and it comes with 4 GB go storage. The wearable is water resistant (for swimming) and is rugged for protection from drops and other abuse. One variant will come with LTE for constant connectivity. Samsung says it is compatible with most worldwide LTE bands. The company says the new low-power architecture of the processor helps the battery last much longer, up to several days on a single charge. The watch can charge wirelessly. The 46mm Watch has a 472mAh battery and the 42mm Watch has a 270mAh battery. Samsung is targeting health and fitness with the watch. New stress management tools can monitor heart rate to establish a baseline and then offer a breathing guide when it senses that the wearer is stressed. The watch is designed to make workouts easier to track, and can handle 39 different exercises, 6 of which can be detected automatically. The watch also tracks sleep. All three of these work together to monitor and manage health. Samsung says the phone is compatible with most normal watch straps, and it has access to 60,000 watch faces via the software. The Galaxy Watch will go on sale in select markets August 24. The Bluetooth-only model costs $330, while the LTE model costs $350.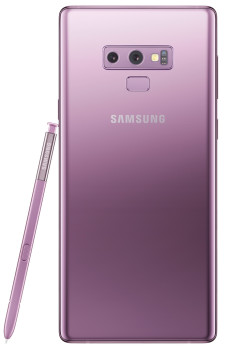 Preorders for the Samsung Galaxy Note9 kick off on August 10. The 128 GB capacity variant will be available in blue and lavender from AT&T, Sprint, T-Mobile, Verizon Wireless, U.S Cellular, and Xfinity for $999.99. Samsung will sell an unlocked version of the phone on its web site. The device will also be available from Amazon, Best Buy, CostCo, Sam's Club, StraightTalk Wireless, Target, and Walmart. The 512 GB model will be available from AT&T, T-Mobile, U.S. Cellular, and Verizon Wireless, but not Sprint for $1,249.99 The Galaxy Note9 streets August 24.
Samsung's new flagship is here, and it's an enormous piece of hardware. The Galaxy Note9 showcases Samsung's best in terms of technology and design. With a bigger screen, bigger battery, and fancy S Pen features, the Note9 is vying to be the productivity and creativity champ. Here are our first impressions.
People who preorder the Samsung Galaxy Note9 from Samsung directly will be able to score a pair of free headphones. The noise-cancelling Bluetooth headphones come from AKG and have a retail value of $299. Samsung didn't indicate how long the headphon offer will be available. Preorders for the Galaxy Note9 stat August 10 and the phone goes on sale August 24.
Samsung today announced a new wireless charging accessory that can charge two devices at the same time. It incorporates two separate charging pads, one upright and one laying down, so people can charge their Galaxy phone, such as the new Note9, and another device. The Galaxy Duo comes in black or white. It goes on sale August 10. Pricing wasn't immediately announced.