Home
Google is buying intellectual property (IP) related to a smartwatch technology, currently under development by Fossil Group, as well as the research and development (R&D) team responsible for that IP. The $40 million deal was announced by Fossil Group today. Fossil has developed "a technology that has the potential to improve upon our existing platform of smartwatches". Fossil Group retains more than 200 R&D team members to focus on innovation and product development. The transaction is expected to close this month.
Motorola will soon revive the RAZR brand for a pricey folding-screen phone for Verizon, the Wall Street Journal reports today. The phone is in testing but could launch as soon as February. The phone would cost roughly $1,500 and be exclusive to Verizon Wireless. Samsung has said it also plans to introduce a phone this year with a screen that bends, allowing the phone to fold in half. Motorola Mobility is owned by Lenovo. The original RAZR was a thin metal flip phone introduced in 2004. Motorola revived the RAZR brand in 2011 for a line of Droid phones that were also exclusive to Verizon. The new "foldable" RAZR has yet to be announced and no other details are available.
Sprint this week became the last major US carrier to commit to ending its relationships with location aggregators, companies that resell phone location data, including real-time customer location. AT&T and T-Mobile last week pledged to cut off location aggregators in March, while Verizon has also told The Washington Post that it's working to end its location aggregator contracts. An investigation by Motherboard published last week found that loose regulation and oversight had led to location data being made available on an effective black market, with bounty hunters and other private citizens able to purchase real-time location data. Legitimate users of the data may be affected by the cutoffs, including roadside assistance services and banks that use customers' location to detect credit card fraud. Several members of congress have called for inquiries into the sharing and protection of location data.
Verizon's top two unlimited postpaid plans now include an Apple Music subscription. The most affordable plan, GoUnlimited, still includes just a six-month trial of Apple Music, as the other plans did previously.
Sprint has a new app offering exclusive deals and cash back rewards up to 20 percent. The company launched My Sprint Rewards today, available for both iOS and Android phones. The app lets Sprint customers access exclusive discounts at Sprint as well as other brands, enter for a chance to win prizes, and earn 3-20 percent cash back on select purchases. The program is similar to T-Mobile Tuesdays, but "can be used any time, day or night, to fit your schedule. New deals will be added regularly from a variety of different brands". Today the app is offering a free large one-topping pizza from Papa John's "while supplies last".
Google's Fi mobile service now supports RCS, the standards-based rich messaging standard. Also today, the company announced that Fi overseas roaming in 33 countries (mostly in Europe) will now take advantage of faster 4G networks. The RCS standard offers rich services like typing indicators, read receipts, and hi-res videos. Fi users can take advantage of RCS simply by using Google's Messages as their default messaging app. Google Fi already offers data service — albeit at slower 3G speeds — in over 200 countries, with no special roaming charges.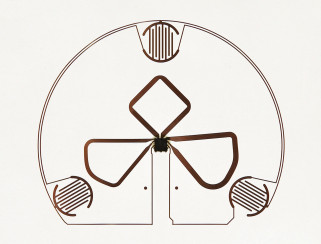 A new design for Bluetooth LE tags removes the need for a battery and fits into a cheap, thin, stamp-size sticker, or can be embedded directly in consumer product packaging. A tiny ARM processor transmits an ecrypted ID code like other Bluetooth tracking tags, but is powered by a new antenna design that harvests power from ambient radio waves. It can also sense temperature and weight info, and transmit that data, as well, to nearby Bluetooth LE devices, including phones. The tags have been created and successfully demonstrated by Wiliot, which has secured $50 million in funding from eight major investors, including the investment arms of Samsung, Qualcomm, and Amazon. Wiliot expects manufacturers to embed its tag into products and product packaging, which consumers could interact with, both in stores and at home, to get additional product information on their phones, or track lost items.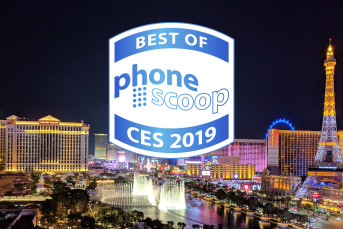 CES is the world's consumer tech show. Every year we head out to Vegas to check out everything in person. We honor the standouts with our Best of CES awards. This year, five products really caught our eye.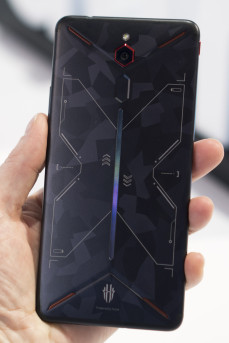 The Red Magic Mars is a gaming phone with a much more affordable price than other gaming phones, without skimping on the key specs. Nubia (a subsidiary of ZTE) revealed at CES that it plans to bring the Mars to the U.S. in the coming weeks. The base model has a top-end Snapdragon 845 processor paired with a generous 6 GB of RAM and 64 GB of internal storage for just $400. Step-up models offer 8 or 10 GB of RAM as well as more storage. The 6" display has a 2:1 shape and FHD+ resolution (2160x1080). Its gaming chops include a large 3,800 mAh battery, performance mode, advanced cooling, configurable capacitive shoulder buttons, a dedicated physical switch to enter gaming mode, and a highly customizable strip of animated RGB lights on the back. It also has a 16 megapixel camera and fingerprint reader. Read on for our first impressions.
T-Mobile has now launched Caller Verified technology, which uses the STIR and SHAKEN standards to confirm that caller ID information hasn't been spoofed. The anti-robocall service is currently available only on the Galaxy Note9, but is coming to other T-Mobile smartphones "later this year". The technology requires other telecom companies around the world to also implement STIR / SHAKEN in order to work for all legitimate calls. When caller ID info is confirmed authentic, "Caller Verified" will appear on the phone's incoming call screen.
Sprint this week reached a milestone toward launching 5G when it successfully tested 5G in the real world, on its network in San Diego. The company used a smartphone test device from Qualcomm and network equipment from Nokia. Sprint's 5G network uses massive MIMO technology in Sprint's unique 2.5 GHz band. Sprint's tests have demonstrated 5G delivering a 4-10x increase in capacity and speed compared to 4G LTE. Sprint plans to launch 5G in nine cities by the middle of the year.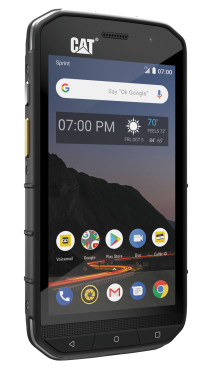 The ultra-rugged CAT S48c will soon be available to Verizon business customers, the two brands announced this morning. The S48c has been available with Sprint since early November. The Verizon version will have 64GB os internal storage and a two-year warranty (including screen breakage), but is otherwise the same as the Sprint version. The phone is well-rated for being waterproof and rugged, as well as extreme temperature ranges and safe for areas with flammable materials. Its screen is protected by extra-thick Gorilla Glass 5 in front, and a special metal plate behind it. The screen works through gloves and with wet hands, and the camera has an underwater mode. It's powered by a Snapdragon 630 processor paired with 4 GB of RAM. It also has a 4,000 mAh battery, NFC, USB-C, and a 13-megapixel camera. The CAT S48c will be available through Verizon business channels by the end of January.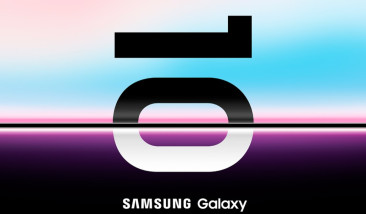 Samsung's next big launch event for a Galaxy-brand product will be February 20th in San Francisco. The company is teasing the event with a "10" and the Galaxy brand. Last year's flagships were the Galaxy S9 and Galaxy Note9, so the next version is logically the 10, and it will be the ten-year anniversary of the Galaxy S series in March.
There's a new touch panel technology in town, and it's coming to next year's phones with flexible displays. Sensel makes touch panels that have the precision and multi-touch capability of today's capacitive touch technology, but are better suited to the flexible displays coming to phones this year and next. Sensel touch panels can can measure the amount of pressure applied, and work perfectly underwater. Sensel is working with two different companies to launch phones with this technology in 2020, one with a bending display, and one with a fixed, curved display.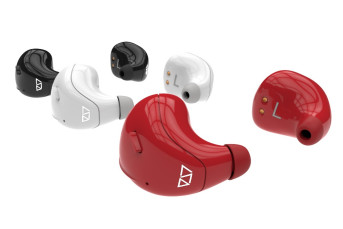 Pilot earbuds translate among 15 different languages, listening to the person in front of you and speaking the translation right into your ear. They come in a pair, so you can offer one to the other person and have a full two-way conversation in two different languages. Waverly Labs Demonstrated the earbuds at CES in Las Vegas this week. The Pilot earbuds double as standard Bluetooth fully-wireless earbuds. They contain special microphone technology to isolate nearby speech and clean it up for translation. The earbuds work with a companion app, which sends phrases to the cloud for translation. It therefore requires a data connection for translation to work, and there is a delay of a couple seconds for the translation to process. Languages supported include English, French, German, Italian, Portuguese, Spanish, Arabic, Greek, Russian, Hindi, Turkish, Polish, Chinese Mandarin, Japanese, and Korean. A charging case is included. The Pilot buds are $200, and are available now in red, black, and white.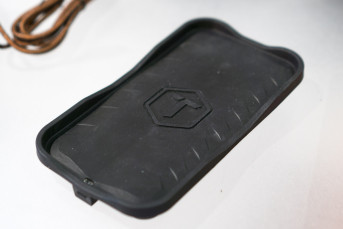 ToughTested has a new Qi wireless charging pad designed primarily for cars. Its grippy all-rubber construction ensures it stays put, and that your phone stays put while charging. It supports wireless fast charging up to 10W, including Apple's 7.5W fast charging mode for iPhones. It's large enough to accommodate the largest phones, but designed so that a phone placed anywhere in the tray will charge; no centering needed. It has foreign object detection and is Qi-certified to ensure it won't overheat the phone. It includes a Quick Charge power supply that plugs into a car's 12V power port. It will go on sale in March for about $50. Read on for photos and first impressions.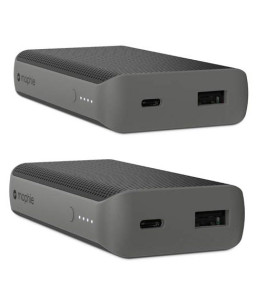 Mophie's new Powerstation PD and Powerstation PD XL external batteries include USB-C PD technology up to 18W, allowing them to charge phones at the maximum fast-charging speeds supported by most phones, including the iPhone. The USB-C port is two-way, used for charging phones and also for charging the battery itself. It supports fast charging up to 15W for charging the battery. A separate full-size USB port allows two phones to be charged from the battery at once. A battery meter on the side is activated by a button. The smaller Powerstation has 6,700 mAh capacity and sells for $60. The Powerstation XL has a 10,050 mAh capacity and runs $80. Both are available now.
Do you ever wish your iPhone had a notification light? Do you use the LED flash to notify you of incoming calls, but wish it weren't blindingly bright? Iconcase is an attractive new case for iPhones that adds a large notification light to the back. The newest model charges by sipping a little juice whenever the iPhone is wirelessly charging through the case, so you never have to worry about charging it. It communicates with the iPhone via standards built in to Bluetooth LE, so you only need to pair it; no special app or setting is required. The standard model includes one light-up icon for incoming calls and second for messages. The company is also working on a range of cases with fixed full-color designs that light up, and a skull design with eyes that light up red. The company says they are close to a deal to sell the cases through Apple's online store in the US. Pricing has yet to be determined, but is expected to be roughly $50. Read on for our hands-on impressions and photos.