Home
Verizon has streamlined its Free Trial program and made the offering permanent after a successful pilot. Non-Verizon customers with an eSIM-capable phone can now sign up for a free 30 days of Verizon service by simply downloading the My Verizon app; a step of scanning a QR code has been removed.
AT&T has released updated numbers on its growing 5G network. AT&T 5G now covers 290 million people, or 87% of the US population. AT&T has also accelerated its rollout of higher-speed 5G using mid-band (C-Band) and mmWave (which AT&T brands "5G+") frequencies. AT&T now offers fast mid-band 5G covering 150 million people, "more than double our original end-of-year 2022 target". The company also doubled the number of arenas, stadiums, and airports with ultra-fast mmWave 5G, bringing that number to nearly 70. Including 4G, AT&T's network now covers more than 2.91 million square miles, the most of any US carrier. That's an increase of 100,000 square miles in 2022, an area the size if the UK. That includes a 40% increase in coverage on federally recognized tribal lands in the last 2 years.
Google has discovered and disclosed a set of severe security vulnerabilities in the Samsung modems found in many recent Google Pixel phones and some recent Samsung phones, mostly A-series models. Software updates made available this month fix the issue, but are not yet available for all models. The flaws allow an attacker to remotely compromise a phone with no user action, knowing only the victim's phone number. Users of the Google Pixel 6 series should immediately disable Wi-Fi Calling and VoLTE until a software update is available for those models. A software update has been released to address the issue on the Pixel 7 series. Also affected are the Samsung Galaxy A71, A53, A33, A21, A13, A12, and A04 series.
Qualcomm's just-announced Snapdragon 7+ Gen 2 chipset will power a new wave of high-tier (or "affordable flagship") phones that will launch starting this month. The chip is dramatically more powerful compared to last year's Snapdragon 7 Gen 1 that it replaces. Both GPU (graphics) and AI performance has been boosted up to 2x compared to the Gen 1, while the CPU is 50% faster. All while delivering 13% better power efficiency. The chip boasts several features that were previously exclusive to the 8 series, including Auto Variable Rate Shading graphics and aptX Lossless sound. For photography, it's the first 7-series with an 18-bit triple ISP and a Mega Low Light camera feature that combines 30 frames into one for high sensitivity and low noise. The triple ISP can process 3 gigapixels per second and supports HDR video capture at 4K resolution using staggered HDR. The X62 5G modem component supports carrier aggregation between mmWave and sub-6-GHz frequencies, and peak data rates of up to 4.4 Gbps. The FastConnect 6900 component supports Wi-Fi 6E and up to four simultaneous streams with low latency for "VR-class" experiences over Wi-Fi. Qualcomm has tweaked what the "+" means in its new naming scheme; the plus now indicates that this chip is the most powerful in this series for this generation.
The FCC today formally adopted multiple new rules to fight spam and scam calls and texts. Wireless carriers will now be required to actively block text messages "that are highly likely to be illegal", including ones from phone numbers that cannot or do not send text messages. Another new FCC rule requires additional telecom companies to implement STIR/SHAKEN, the authentication system intended to fight spoofed caller-ID schemes that enable illegal robocalling. Additionally, all telecom providers "will now be required to take 'reasonable steps' to mitigate illegal robocall traffic".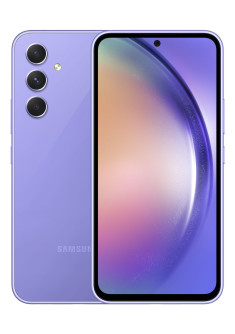 Samsung's new Galaxy A54 5G launches April 6th for $450. This mid-range phone has nearly identical specs compared to its predecessor, the Galaxy A53 5G. The design is significantly updated, however, more closely resembling the company's flagship S series. The body and display are more rounded, with a flat back punctuated by three cameras aligned vertically. Like the A53, it has a FHD+ AMOLED display with 120 Hz refresh, 5,000 mAh battery, IP67 water rating, 6 GB of RAM, 5G, NFC, memory card slot, 12 megapixel wide camera, and a 32 megapixel front camera. The main camera is 50 megapixel instead of 64. The Galaxy A54 5G will be available in graphite or violet. Pre-orders start March 30th and entitle buyers to the Galaxy Buds Live earbuds for $50 (normally $100 – $150).
T-Mobile has signed a deal to buy Ka'ena Corporation and its subsidiaries and brands: Mint Mobile, Ultra Mobile, and Plum. The Mint and Ultra brands will continue under the T-Mobile umbrella, alongside Metro by T-Mobile and Connect by T-Mobile. Ryan Reynolds, the existing owner of Mint, "will continue on in his creative role on behalf of Mint." Mint already uses the T-Mobile network and will continue to do so. T-Mobile promises that Mint's $15/month pricing will remain unchanged. The deal is a mix of cash and stock valued at up to $1.35 billion, dependent on future performance. The transaction is expected to close later this year.
A SpaceX executive has confirmed that — this year — the company plans to "start getting into testing" its new service that will let regular cell phones connect directly to its next-generation Starlink satellites. SpaceX announced plans for the service last year and a partnership with T-Mobile to offer the service in the US. In the US, the service will use a small, unique frequency band called the G block of band 25 (1910–1915 MHz for uplink and 1990–1995 MHz for downlink). T-Mobile has exclusive nationwide rights to that band in the US. Existing T-Mobile phones are compatible with the band, and setting it aside exclusively for satellite use should avoid conflicts with land-based networks. The service for phones requires new second-generation Starlink satellites with larger antennas. SpaceX intends to launch most 2nd-gen. satellites on its new Starship rocket, but has already started launching a "mini" version of the new satellites on its existing Falcon 9 rockets. It's unclear if the "mini" version includes the larger antennas necessary for service to phones.
Google has added VPN service and dark web monitoring to all Google One plans, including the Basic plan that starts at $2/month. The VPN service creates an encrypted "tunnel" to Google's servers for all internet traffic, keeping your web and app activity private even while using an untrusted connection, such as public Wi-Fi. The VPN service was previously only available on more expensive plans starting at $10/month. The new dark web monitoring service continuously scans the dark web for your personal information and will alert you if it is found. This might happen as the result of a corporate data breach. The alert would help you take timely steps to protect your money, identity, and credit.
Apple has introduced a new yellow color option for the iPhone 14 and iPhone 14 Plus. It "will be available to pre-order this Friday, March 10, with availability starting Tuesday, March 14."
Verizon's 5G Ultra Wideband network now covers "more than 200 million people, or roughly two out of every three Americans." This fulfills a pledge to reach this milestone in the first quarter of 2023. Verizon's "5G Ultra Wideband" includes both mmWave and mid-band frequencies (the newly-available C Band). While mmWave offers faster speeds, it has very limited coverage. This new coverage relies mostly on new mid-band deployments, offering broad coverage and faster speeds compared to lower-frequency sub-6 GHz 5G networks. Only newer phones that support 5G in band 77 can access this better 5G service. Verizon continues to add more bandwidth to its mid-band 5G network, further improving capacity and speed.
T-Mobile has announced two key steps in upgrading its 5G network to be faster and more advanced. First, the company has successfully tested four-carrier aggregation with 5G SA (stand-alone). In the test, this technology allowed a Samsung Galaxy S23 to hit peak speeds topping 3.3 Gbps. The test combined two channels (carriers) of 2500 MHz spectrum (band 41) and two channels of 1900 MHz spectrum (band 2/25), creating an one effective channel of 5G SA that was 225 MHz wide. "Customers with the Samsung Galaxy S23 will be among the first to experience four-carrier aggregation later this year with more devices to follow." The other announcement is the deployment of VoNR in six cities. VoNR is 5G-native voice calling; currently, most voice calls are still made over 4G LTE. The six cities that now have VoNR enabled are: New York City, Seattle, Portland, New Orleans, Cincinnati, and Salt Lake City. Consumers are unlikely to notice a change, although voice call setup time should be slightly faster. Behind the scenes, VoNR allows phones to stay connected to 5G continuously, which in turn enables 5G SA features like network slicing (for enterprise customers). VoNR is also necessary to enable the eventual phase-out of 4G LTE, although that is not expected any time soon.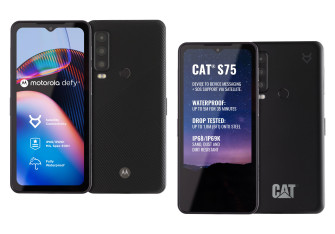 Bullitt has announced the first Android phones that will include two-way satellite messaging capability. The Motorola defy 2 and CAT S75 are both designed to connect to Bullitt's new Satellite Connect platform. The platform enables two-way messaging via satellite, for both emergency and non-emergency use. The two phone models appear to be essentially the same phone, sporting nearly identical specs and features. Those include sub-6 5G, a 5,000 mAh battery, 15W wireless charging, 6.58-inch FHD+ display with 120 Hz refresh protected by Gorilla Glass Victus, 50 megapixel main camera, 8 megapixel wide camera, and underwater photo capture. Both phones are powered by the MediaTek Dimensity 930 chipset, paired with 6 GB RAM and 128 GB of storage (expandable with memory cards). The phones are rated IP68 and IP69K for water and dirt. They're also military rated for vibration, humidity, salt mist, and thermal shock. The phones come with Android 12 and a promise of three years of quarterly software updates (including two full OS upgrades), and two additional years of "emergency" security updates. The CAT S75 is launching initially in Europe, while the Motorola defy 2 is coming to "selected operators" in North America before the middle of the year. The defy 2 is priced at $599, which includes one year of SOS Assist via satellite. For additional satellite service, "plans start from as little as $4.99/ month". Bullitt also announced the "motorola defy satellite link", a small Bluetooth device that can add the same satellite connectivity to any iOS or Android phone.
Bullitt and Motorola has unveiled the "motorola defy satellite link", a small Bluetooth device that acts as a gateway for two-way satellite messaging, adding that capability to any iOS or Android phone. Using Bullitt's Satellite Messenger service, a connected phone can both send and receive text messages where cellular service isn't available. While it includes an SOS mode, the service is also available for non-emergency use. The device has a rugged, waterproof design and multi-day battery life. It can function independently of a phone with two buttons: an SOS button and a "check in" button that sends your location to a predefined contact. The Motorola defy satellite link will be available globally in April for $99. Service is extra, starting at $4.99/month. Or, for $149, a bundle will be available that in includes the device and one year of service, including SOS Assist and up to 30 non-emergency messages per month.
In the next few months, Cox "customers will be able to combine Cox Mobile and Cox Internet". Cox recently launched Cox Mobile for Cox Internet customers, but with separate billing.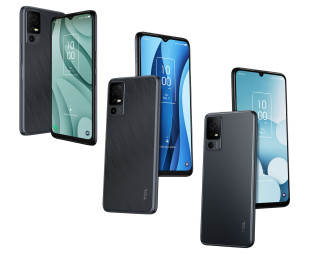 TCL this week took the wraps off three new affordable Android phones coming to the US next quarter. All three share a similar "minimalist" design and will sell for under $200.
The TCL 40 XE 5G is TCL's most affordable 5G phone to date at just $169. It's powered by a MediaTek Dimensity 700 chipset paired with 4 GB RAM and 64 GB storage. Its 6.56-inch HD+ display has 90 Hz refresh and TCL's NXTVISION display technology. The main camera is 13 megapixel.
The TCL 40 X 5G is basically the same phone but with a better, 50 megapixel main camera. It will sell for $199.
The TCL 40 XL is only 4G (using a MediaTek G37 chipset) but thanks to that trade-off, it offers a few upgrades for an even lower price. It has a larger screen at 6.75 inches, it has more built-in storage at 128 GB, it has a 50 megapixel camera like the 40 X, and it has stereo speakers. Yet it will sell for just $149.
All three phones have a 5,000 mAh battery, side fingerprint reader, and expandable storage. Each also has an 8 megapixel front camera, 2 megapixel macro camera, and a depth camera for portrait shots. The 40 XL is coming in May while the two 5G models will launch in June. Which US carriers will offer which model(s) is yet to be announced.
Google is bringing its Magic Eraser feature of Google Photos to more users, including all Pixel phone owners and everyone that subscribed to Google One, even on iOS. Magic Eraser lets you "erase" unwanted people or objects in any photo, using AI to fill in the erased area.
Microsoft has added its (in)famous new AI-powered Bing chatbot to several of its mobile apps. The service, previously only available on the web and desktop apps, acts like an intelligent search engine that you can have a complete conversation with. The Bing service is based on ChatGPT from OpenAI. On mobile, Microsoft's Bing app, Edge browser app, and the Skype app now include access to the chatbot in both Android and iOS versions. In Skype, the chatbot can even be added to a group conversation.