Home
Samsung's latest memory chip part for phones offers 12 GB of LPDDR5 RAM. Samsung's previous 12GB RAM offering was LPDDR4x; LPDDR5 is about 30% faster.
Google Maps now includes real-time data on how many bikes (and empty spots) are at each bike-sharing dock station in 24 major cities. Available in both iOS and Android version of the Maps app, the information covers Barcelona, Berlin, Brussels, Budapest, Chicago, Dublin, Hamburg, Helsinki, Kaohsiung, London, Los Angeles, Lyon, Madrid, Mexico City, Montreal, New Taipei City, New York City, Rio de Janeiro, San Francisco Bay Area, São Paulo, Toronto, Vienna, Warsaw, and Zurich. To use the feature, search in a covered city for a phrase like "bike share", or the name of the local system, like "Bixi". Result cards include an indicator in the top-right showing the current number of bikes and the total number of spots.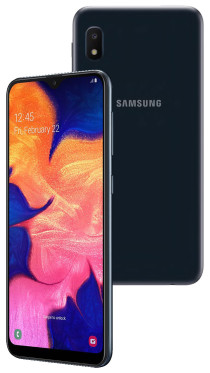 Boost has started selling the Samsung Galaxy A10e, Samsung's entry-level phone in its newly expanded A-series. The $140 phone is currently offered for just $100 by Boost, in a two-day introductory sale. The A10e has an all-screen design with small notch in its 5.8-inch, HD LCD display. The phone has a USB-C connector, 3,000 mAh battery, 8-megapixel main camera, 5-megapixel front camera, 2 GB of RAM, 32 GB of storage, a memory card slot, and a 3.5mm audio jack. Samsung's web site also reveals a version for AT&T, which has not yet gone on sale.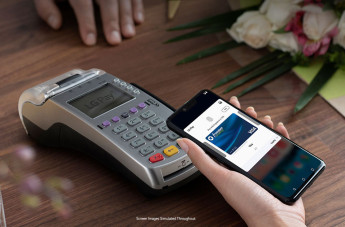 LG's flagship phone — the LG G8 ThinQ — now supports magnetic-stripe payment terminals with the LG Pay app, similar to a key feature of many recent Samsung phones. The feature can emit a magnetic signal when held near magnetic-stripe readers, which emulates a credit card being swiped through the reader. LG has signed up a list of just a few, but major, banks to support the feature, including Chase, PNC Bank, US Bank, and Regions Bank. LG says the feature will roll out to additional LG phones soon.
Comcast's mobile service — Xfinity Mobile — will now let customers bring their own phone instead of requiring a new phone purchase. Recent high-end Samsungs are supported now, with additional Android device support coming later this year.
Nokia today launched the Nokia 2.2, an entry-level Android phone with a premium-looking design including a 5.71-inch HD display with a small notch. The 2.2 has Android One 9.0 (Pie), a dedicated Google Assistant button, and a solid polycarbonate body with a glossy finish. Nokia claims the 13-megapixel main camera has advanced low-light capability. It's powered by a MediaTek A22 chipset with 3GB of RAM and 32GB of ROM. Amazon and Best Buy are selling the Nokia 2.2 unlocked for $139. It comes in Steel and Tungsten Black.
In the coming weeks Asus will announce the ROG Phone II, a new high-end gaming phone. Asus has revealed one detail is advance: it will use the just-announced, top-end Snapdragon 855 Plus chipset from Qualcomm.
Qualcomm today announced the Snapdragon 855 Plus, a higher-performance version of the company's flagship Snapdragon 855 chipset for phones. With a more powerful CPU and GPU, it's designed for high-end gaming phones coming out later this year. The 855 Plus is based on the same Kryo 485 CPU and Adreno 640 GPU as the standard 855, but the CPU top clock speed has been boosted from 2.84 GHz to 2.96 GHz, and the GPU offers "a 15% increase". The chipset is paired with a suite of gaming-oriented software features to make the "Snapdragon Elite Gaming Experience". The software suite includes Game Jank Reducer, Game Fast Loader, Game Anti- Cheat Extensions, and more.
Sprint is launching its 5G network in Chicago this week. Utilizing the company's 2.6 GHz (band 41) spectrum, the network offers better coverage and building penetration than the mmWave 5G networks launched by other companies in Chicago to date. The coverage area reaches from the historic IL-64 in the north to Stevenson Expressway in the south, and as far as California Avenue in the west. It covers 700,000 people. Chicago joins Atlanta, Dallas-Fort Worth, Houston, and Kansas City among Sprint's 5G cities, and the company promises to launch 5G in Los Angeles, New York City, Phoenix, and Washington, DC "in the coming weeks". Sprint customers in Chicago will be able to buy a 5G device starting Friday, July 12th. Sprint currently offers the LG V50 ThinQ 5G and Samsung Galaxy S10 5G.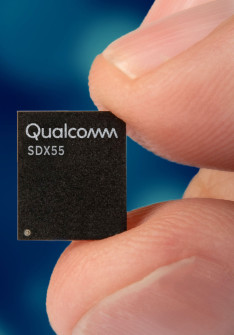 Qualcomm and T-Mobile have successfully completed the first data call using Qualcomm's X55 modem, the first 5G chip for phones to support all 5G networks to be launched in the US in 2019, including T-Mobile's band 71 (600 MHz). All 5G phones currently on the market in the US use the X50 chip, which only supports mmWave bands and TDD bands such as Sprint's band 41. mmWave bands offer high speeds, but short range and poor building penetration. US carriers will only offer mmWave 5G in central areas of major cities. T-Mobile and AT&T will offer broader 5G coverage using sub-6-GHz FDD bands later this year, and the first phones in the US to support those networks will use this new X55 chip.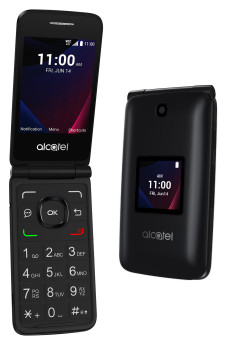 Verizon today started selling the Alcatel Go Flip V, a close cousin of the similar-looking feature phone Alcatel offers on other US carriers as the Go Flip, MyFlip, QuickFlip, and Cingular Flip 2. Unlike those other models — which run KaiOS — the Go Flip V runs custom software based on AOSP (open-source Android), with more memory (both RAM and storage) to support the more-demanding software. (Like other feature phones based on AOSP, it cannot run third-party Android apps.) Other than the software and memory, the phone's features match related models on other carriers, including the large 1.44-inch outer color display, 2.8-inch main display, large buttons, 2-megapixel camera, HD video capture, memory card slot, mobile hotspot, 3.5mm audio jack, and Wi-Fi. The Go Flip V also supports HD Voice, Voice over LTE, Voice over Wi-Fi, RTT, TTY, and M4/T4 hearing-aid compatibility.
At today's FCC meeting, the Commission voted to approve two actions that will open up four radio frequency bands to new 5G service. Three of the bands are ultra-high mmWave frequencies near 40 GHz, while the fourth is mid-band, near 2.5 GHz. For the three mmWave bands, today's action finalized the rules for Auction 103, which will allow companies to bid on licenses for Upper 37 GHz, 39 GHz, and 47 GHz bands. Auction 103 will commence on December 10th, 2019. The 39 GHz band was first auctioned off in 2000, with some of those licenses ending up in the hands of Verizon and AT&T via sales and acquisitions. However some 39 GHz licenses remain privately-owned, but unused. Auction 103 will include an incentive auction component to facilitate the sale of those licenses to companies that will use them. The 2.5 GHz band was originally set aside for educational TV broadcast service, which never took off. Today the FCC voted to remove rules requiring the band be owned by education institutions and used for educational purposes. Existing license holders will be able to lease out the spectrum, making it available for commercial 5G. Many licenses in the band remain unsold, which the FCC will auction off, after giving priority to Tribal Nations. The 2.5 GHz band is near the band 41 that Sprint already uses for 5G service. It has better range and building penetration than mmWave bands.
T-Mobile's 3rd generation of own-brand REVVL phones have larger, notched screens, fast charging, and modest spec upgrades all around. Dubbed the REVVLRY and REVVLRY+, these mid-range phones ship July 19th. The larger REVVLRY+ has a 6.24-inch, full-HD screen with a small notch. It has a 27W fast charging, Snapdragon 636 processor, 4 GB of RAM, 64 GB storage, and Cat. 12 LTE. It has a 16+5-megapixel dual rear cameras and a 12-megapixel selfie camera. It will sell for $350. The smaller REVVLRY has a 5.7-inch HD display with a large notch. It also has 10W fast charging, Snapdragon 632 processor, 3 GB of RAM, 32 GB of storage, Cat. 6 LTE, and a 13-megapixel camera. It will sell for $200. Both phones have a 3,000 mAh battery, fingerprint reader, basic water resistance, and Android 9 (Pie).
AT&T will enable free automatic fraud blocking and suspected spam-call alerts to all mobile lines by default over the coming months. It will be applied to all new lines going forward, and to existing lines "over the coming months". The features have been available since last year as an option. Last month the FCC issued a ruling allowing companies to opt customers into such tools by default, and now AT&T is doing just that. Existing customers can get the features today by downloading AT&T Call Protect or turning it on in myAT&T account settings.
Qualcomm today announced a new Snapdragon chip to power the most affordable Android phones. The Snapdragon 215 replaces the 210, and offers greater performance in a number of key areas. As the most affordable Snapdragon chips, the 200 series sets the bar for the minimum amount of performance in $100 phones. The 215 has a number of firsts for the 200 series, including: support for NFC, Hexagon DSP for low-power processing of audio and sensor data, full-HD video capture, Wi-Fi 802.11ac, dual ISP for dual camera support, 64-bit CPU, and support for screens up to 1560 x 720 resolution. The CPU is up 50% faster compared to the 210, and the Adreno 308 GPU offers up to 28% faster graphics. The 215's X5 modem supports Cat 4 LTE. The chip also supports Qualcomm Quick Charge 1.0.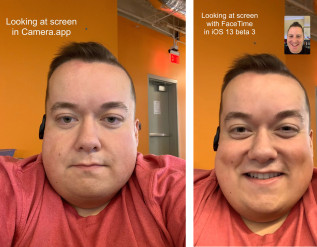 The latest beta version of iOS 13 includes a new feature in FaceTime called Attention Correction, which subtly alters the image of your face in real time to make it look like you're looking into the camera even when you're looking down at the screen to see the other person. It only seems to work on the very newest generation of iPhone models, (Xs, Xs Max, and Xr, but not the original iPhone X,) indicating that the feature may require the A12, Apple's newest processor chip.
Samsung just launched Bixby Marketplace, which lets users add third-party "capsules" to their Bixby Assistant. The Marketplace includes a variety of convenience-enhancing capsules such as Google Maps, Spotify, iHeartRadio, NPR, and Yelp, across categories such as Productivity, Communication, Travel and transportation, Food and drink, Local, Music and audio, Shopping, and Business and finance. Installed capsules can be summoned by name to perform specific actions. Users can also customize Bixby with a "preferred capsule" for certain actions, so that "Get me a ride to San Francisco airport" will use the Lyft capsule, for example. The Marketplace lets users search for capsules by category, keyword, or developer, and includes a curated section of staff picks.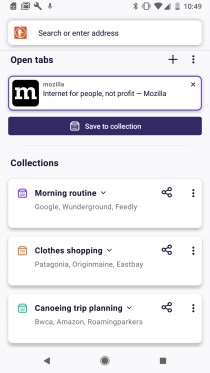 Mozilla has released a preview version of a completely revamped Firefox browser app for Android. Firefox Preview uses Mozilla's own GeckoView web rendering engine instead of Google's Blink. This enables Tracking Protection by default, which keeps advertisers and bad actors from tracking your activity across different web sites. Mozilla also promises speeds up to twice as fast. GeckoView and Tracking Protection debuted in the minimalist Focus browser app. Mozilla is now folding these features into its more full-featured Firefox browser. Firefox Preview also includes Collections, which lets users define a set of web sites to open at once, such as "morning routine" or "travel planning". Firefox Preview is available now, and with the final version available as the Firefox app this fall.