Home
Colorado's attorney general has dropped out of the multi-state lawsuit attempting to block the merger of Sprint and T-Mobile. In exchange, Colorado received a promise from Dish to locate the headquarters for its new wireless division in Colorado. Dish will create its new wireless division using assets being divested from Sprint and T-Mobile as part of their deal with the US Department of Justice to approve the merger. 16 states remain attached to the lawsuit challenging the merger.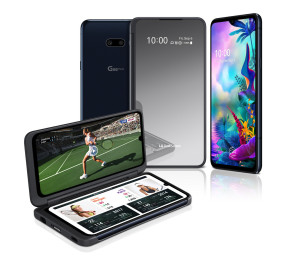 LG is bringing its dual-screen concept to the US along with a new variant of the G8: the G8X ThinQ. The G8X drops the 3D depth camera and quad-HD display resolution in favor of a 32-megapixel selfie camera, full-HD display, stereo speakers, and a larger 4,000 mAh battery. It also has an in-display fingerprint reader instead of the standalone sensor on the G8. Other features of the G8X are similar to the G8, including a Qualcomm Snapdragon 855 chip, standard and wide-angle rear cameras, high-end audio chip, extra-loud speakers, 3.5mm headphone jack, IP68 water resistance, NFC, wireless charging, fast charging, 6 GB RAM, 128 GB storage, and a memory card slot. The snap-on Dual Screen sports a full-HD OLED screen identical to that on the G8X, including the small notch. It also has an extra "cover" display on the outside that shows notifications, date, time, and battery life. The hinge folds a full 360º, and locks in place at 120º, 140º, 180º (flat), and 270º (tent). The phone + Dual Screen together will sell for $700 unlocked. Both AT&T and Sprint will offer the LG G8X ThinQ. AT&T is including the Dual Screen for free for a limited time. Sprint will offer an online rebate form for a Dual Screen, which will ship from LG. Sprint will have "more details to share next week" on its launch offer. Pre-orders start Friday, will full availability on November 1st.
At launch, Verizon and T-Mobile won't support RCS on the Pixel 4 and Pixel 4 XL. RCS is an industry-standard messaging protocol designed to replace SMS and MMS, offering many of the features of Apple's iMessage. Verizon supported RCS on the Pixel 3. T-Mobile has been a vocal proponent of RCS, but only supports it on Samsung phones.
The FCC today held a vote on — and gave its blessing to — the proposed merger of T-Mobile and Sprint. The five commissioners voted as expected and/or promised. The vote was along party lines, with the three Republican commissioners voting to approve, and the two Democratic commissioners voting against. The deal has also been approved by the Department of Justice. However the deal could still be stopped by a bipartisan coalition of 17 state Attorneys General that are suing to block the deal. Pennsylvania was the most recent state to join the lawsuit, one month ago.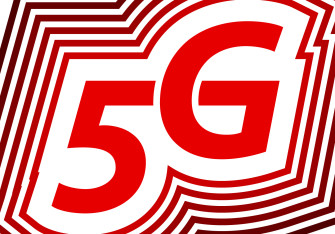 5G is a new radio technology, so naturally those most concerned about environmental health have been asking if it's safe. New antennas are going up outside apartment windows, and most of us tend to keep our phones quite close to us at all times. There's a lot of science on the subject, and also a lot of pseudo-science. We try to cut through the bull to explain the safety issues with radio waves in general, cell phones in particular, and what makes 5G different.
Google has stopped selling Daydream VR headsets and the new Pixel 4 phones won't support Daydream VR. The Daydream headset used a phone's display and processor to power a mid-range VR experience.
Google has unveiled the Pixel 4 and Pixel 4 XL, its new own-brand flagship Android phones. The phones have Motion Sense, which uses a tiny RADAR sensor to read mid-air hand gestures, and power advanced face recognition for phone security. Google claims its face unlock is the fastest on the market, and requires no screen touch at all. This technology was first developed as Google's Project Soli. The OLED display supports an auto-adjusting refresh rate, up to 90 Hz. The Pixel 4 also reacts to squeeze gestures. The Pixel 4 comes with Google Recorder, which includes real-time, on-device voice recognition and dictation that produces searchable transcripts. The camera includes both standard (12 megapixel, f/1.7, 77º) and telephoto (16 megapixel, 52º) lenses, as well as multi-frame hi-res digital zoom. The improved HDR+ now supports live preview and dual exposure controls for greater creative control. An AI-powered white balance feature recognizes scene elements to provide better color. The improved portrait function uses both cameras. The new night mode supports astrophotography with long exposures up to 4 minutes. The larger XL model has a 6.3-inch QHD+ display and 3,700 battery, while the smaller model has a 5.7-inch FHD+ display and 2,800 mAh battery. Both models have a Snapdragon 855 processor, 6 GB of RAM, 64 or 128 GB of storage, and 18W fast charging. The Pixel 4 will be available from all major US carriers on October 24th, with pre-orders available today. It will start at $799 ($899 for the XL) and come in Just Black, Clearly White, and Oh So Orange.
Google today announced that its Stadia game-streaming service will launch on November 19th. Separately, Microsoft has formally launched a public preview of its xCloud game streaming service, starting with Android.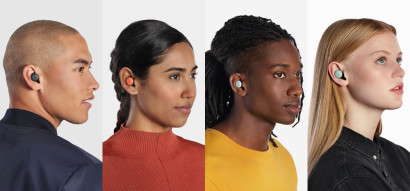 Google today previewed the new Pixel Buds, which are its first fully wireless Bluetooth earbuds. They feature built-in machine learning processing that powers Google Assistant, language translation, and other experiences to be announced. They have long-range Bluetooth that can reach up to the length of a football field. The design fits almost completely inside the ear, with a spatial vent that allows you to hear a limited amount of ambient sound at all times. Beam-forming mics allow you to be heard clearly on calls, and power an auto-volume feature. The new Pixel buds last 5 hours on their own, or 24 hours with the included charging case. They'll be available in the spring of 2020 for $179.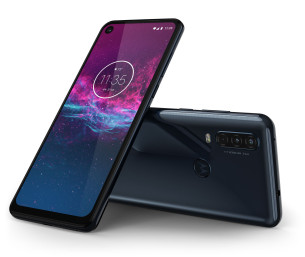 Motorola is bringing its One Action phone to the US this month in an unlocked version for $350. This otherwise typical mid-range Android phone has a wide-angle (117º) camera on the back that's oriented to shoot landscape video when the phone is held vertically. The phone also has a standard 12 megapixel camera, a depth camera for portrait effects, and a 12 megapixel selfie camera. The 6.3-inch LCD screen has full HD resolution and a small hole-punch cutout for the selfie camera. The One Action has a Samsung Exynos processor, 4 GB of RAM, memory card slot, NFC, fingerprint reader, and 3.5mm audio jack. Pre-orders start today and the phone will be available from Motorola, Amazon, Best Buy, and B&H Photo by October 31st.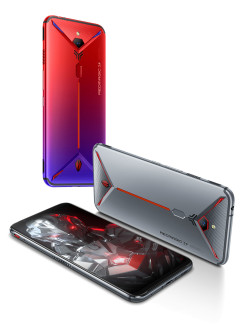 The Nubia Red Magic 3S gaming phone will launch next week — October 16th — starting at $479. It has a faster processor (Snapdragon 855+) and storage (UFS 3.0) than original Red Magic 3, but the specs and design are otherwise almost identical. It has a 6.7-inch, full-HD OLED display with 90 Hz refresh rate, 240 Hz touch sampling rate, 5,000 mAh battery, shoulder buttons, liquid+air cooling with integrated fan, and a customizable light-up strip on the back. It also has a 48-megapixel Sony main camera, 3.5mm headset jack, fingerprint reader, and 27W fast charging. It does not have NFC, wireless charging, nor a memory card slot. It supports LTE 2/4/5/12/25/26/30/41/66 for US networks, giving it better support for AT&T's network than many other unlocked phones. The base version has 8 GB of RAM / 128 GB of storage, and is available in black or silver for $479 direct from the Red Magic web site. An upgraded "Cyber Shade" version has 12 GB RAM / 256 GB storage and a red/purple gradient design for $599.
Hulu is rolling out the ability for users on its ad-free plan to download shows to watch offline. The feature is available now for iOS, and soon for Android.
Sony is updating its PS4 software this week for both console and mobile platforms. The new PS4 Remote Play app for Android will work on all phones with Android 5.0 and up; it was previously available only on Sony Android phones. Remote Play is already available for iOS. Sony is also updating its Second Screen app that turns your phone into a companion device while console gaming. Second Screen will now include a voice transcription accessibility feature for group chats, which converts party voice chat to text, and enables you to enter text that is read aloud to other party members. The new software is rolling out this week.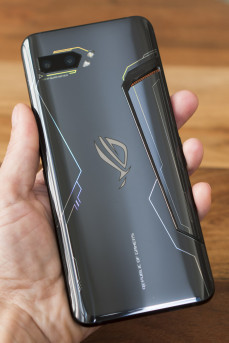 The Asus ROG Phone II is a beast of a phone. It's loaded to the gills with top-end specs and unique extra features that cater to hard-core gamers. But some of its wilder specs — like its massive 6,000 mAh battery and huge screen — might appeal to casual gamers, and even people who don't game on their phones at all. Other sites will tell you how this phone stacks up for gamers; we're going to focus on whether it makes sense for anyone else. Here are our thoughts after using it daily for two weeks.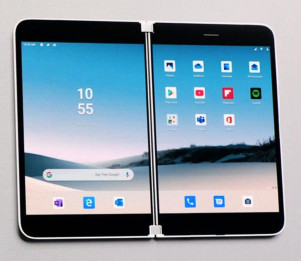 The Microsoft Surface Duo is a unique dual-screen device running Android that functions as a foldable tablet and mini version of the company's just-announced Surface Neo. Its dual 5.6-inch displays are joined by a 360-degree hinge that lets it fold with the displays facing either in or out. When folded, it's far wider than most phones, making it a slightly distinct category of device. It can run two apps side-by-side, use the second display as a keyboard, or function like one unified tablet. It won't be available until fall 2020.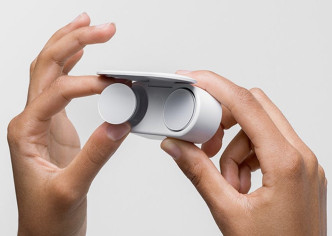 Microsoft's new Surface Earbuds are true wireless Bluetooth earbuds that promise 24-hour battery life. The buds integrate with Spotify and Microsoft Office. Touch controls on the outside can control Spotify music, or a PowerPoint presentation. They also include voice dictation and translation features. For example, they can add real-time captions of what you're saying to a live PowerPoint presentation, and translate those captions into any one of 60 languages. Surface Earbuds will sell for $250 and be available this fall.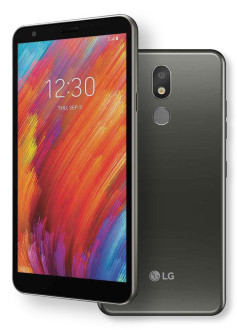 LG's entry-level K30 2019 model has launched in several different versions, under a variety of names, at AT&T, T-Mobile, and Cricket in recent weeks. Cricket launched the phone as the Escape Plus a few weeks ago, and sells it for $80. Since then, AT&T Prepaid has launched the same phone as the Arena 2 for $120, and LG now sells it unlocked as the K30 2019 for $140. Also, a slightly higher-end version with a fingerprint reader and better camera (13 megapixel instead of 8) is now available as the Prime 2 on AT&T (also $120) and Aristo 4+ on T-Mobile for $162.50. Those two models also differ: the Prime 2 has NFC, while the Aristo 4+ has dual-band Wi-Fi instead. Unusually, the Prime 2 and Aristo 4+ have only 16 GB of storage, while the otherwise lower-end Escape Plus and Arena 2 have 32 GB. All versions in the series have a tall HD display, 3,000 mAh battery, dedicated Google Assistant button, 5-megapixel selfie camera, 3.5mm headset jack, and a memory card slot.
Going forward, all new phones shipping with Android 9 or 10 will come with the YouTube Music app. On Android 10 devices, it will be the only music app from Google to be pre-installed, replacing Google Play Music.