Home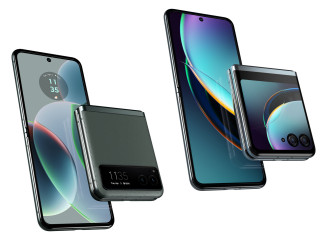 Motorola has launched two new foldable phones, creating a lineup of 2023 razr phones with flexible display technology. The higher-end razr+ has the largest outer display of a modern flip-style phone, and is the thinnest when closed. The design no longer features a "chin", bringing it closer to Samsung's Galaxy Z Flip series in appearance, and Motorola is matching Samsung on price at $1,000. The lower-end model will presumably be more affordable, breaking new ground in the US as a sub-$1,000 foldable at launch. Both new razr phones have the same 6.9-inch AMOLED inner display with FHD+ resolution, HDR10+, and at least 144 Hz refresh (165 Hz for the razr+).
The 2023 razr+ is powered by a Snapdragon 8+ Gen 1 chip paired with 8 GB of LPDDR5 RAM and 256 GB of UFS 3.1 storage. The large AMOLED outer display surrounds the outer cameras. It measures 3.6 inches and sports 1066 x 1056 resolution, HDR10+, and up to 144 Hz refresh. Motorola has created a new software experience for the large outer display that includes functionality for apps like Google Maps, Google News, Google Wallet, weather, and Spotify. It also has new customization options and even mini-games. The battery is 3,800 mAh. The main camera is 12 megapixel with f/1.5, dual-pixel PDAF, and OIS. Standard colors are Glacier Blue and Infinite Black, both of which employ a 7000-series aluminum frame and Gorilla Glass Victus on both sides. A Viva Magenta (Pantone color of the year) edition swaps out glass for vegan leather on the bottom half. This color will be exclusive to T-Mobile in the US.
The 2023 razr will be a more affordable option and perhaps the most affordable foldable phone on the market, although Motorola has not yet set a specific price. Its OLED outer display is a more modest 1.5 inches with just 194 x 368 resolution. Powering the phone is a Snapdragon 7 Gen 1 chip paired with 8 GB RAM and 128 GB storage. The main camera is 64 megapixel (f/1.7) with OIS and laser autofocus. Interestingly, the battery is larger at 4,200 mAh. The design consists of 7000-series aluminum, vegan leather, and Gorilla Glass Victus protecting the outer display. It will come in Sage Green, Summer Lilac, and Vanilla Cream.
Both phones also have Android 13, excellent support for sub-6 5G and 4G networks in the US, a 13 megapixel wide+macro camera, 32 megapixel inner camera, Wi-Fi 6E, Bluetooth 5.3, 30W fast charging, 5W wireless charging, IP52 water rating, stereo speakers with Dolby Atmos, NFC, and a fingerprint reader. The 2023 razr+ will go on sale June 23rd with AT&T, T-Mobile, Spectrum, Google Fi and Optimum, as well as universally unlocked. Pre-orders start June 16th. The 2023 razr "will be available in the coming months."
A Federal judge in New York has ruled that a warrant is required for a cell phone search at the border, "absent exigent circumstances". U.S. Customs & Border Protection (CBP) has long asserted broad authority to conduct warrantless, and often suspicionless, device searches at the border, which includes ports of entry at the land borders, international airports, and seaports. "In Fiscal Year 2022, CBP conducted an all-time high of 45,499 device searches." The EFF (Electronic Frontier Foundation) has been fighting this potentially unconstitutional practice in the courts for several years.
Google is updating its Wallet app to support more and new types of cards, bringing the app closer to a full replacement for physical keys and wallet. The app will now let you scan any physical barcode or QR code and turn it into a scannable card in Wallet. This feature can be used for things like a physical gym membership card, transit ticket, parking pass, or e-commerce returns. Google is also working to enable secure, protected health insurance cards in Wallet. The first partners to support this feature will be Humana in the US and National Insurance in the UK. Google is also introducing a new shortcut that makes it easier to save travel passes received via RCS in the Messages app. Finally, Maryland is now the latest US state to support a digital driver's license or state ID in Wallet. Google says digital IDs will soon be available for Arizona, Colorado, and Georgia.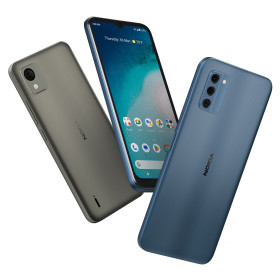 HMD Global today announced two new very affordable Nokia 4G smartphones for the US. The Nokia C110 and C300 will sell for $99 and $139, respectively. Both have an HD+ display, 13 megapixel main camera, 3 GB RAM, 32 GB storage (expandable), IP52 water resistance, and Android 12. The Nokia C110 has a 6.3-inch display, 3,000 mAh battery, and is powered by a MediaTek Helio P22 chip. The Nokia C300 has a 6.52-inch display, 4,000 mAh battery, fingerprint reader, macro and depth cameras, and is powered by a Snapdragon 662 chip. Both phones go on sale this month. The C110 comes in grey and will be available from Walmart, Target, Consumer Cellular, and Tracfone. The C300 comes in blue and will be offered by Walmart, Target, Best Buy, Amazon, Consumer Cellular, and Tracfone.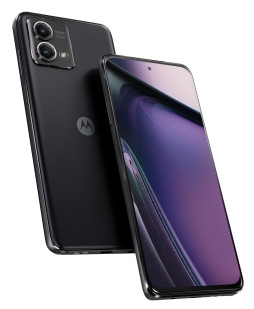 Motorola has launched the 2023 edition of its moto g stylus 5G, a mid-range phone that offers a few extras for $400 (or less through some carriers). This year's model is more compact, with a 6.6 inch display instead of 6.8". It also updates the processor to the newer Snapdragon 6 Gen 1 chip and adds stereo speakers. Other specs and features remain the same, (and a major upgrade over this year's 4G model). That includes the integrated stylus, 120 Hz display, 5,000 mAh battery, 50 megapixel main camera, combined wide/macro camera, NFC, memory card slot, headset jack, and fingerprint reader. The phone has excellent support for all major (sub-6) frequency bands used in the US. It comes with either 4 or 6 GB of RAM and 128 or 256 GB of storage,. It appears to be very popular with carriers. Cricket will sell it starting this Friday, June 2nd. It will also be offered by AT&T, T-Mobile, Metro, Consumer Cellular, US Cellular, Boost, Google Fi, Xfinity, Optimum, and Spectrum.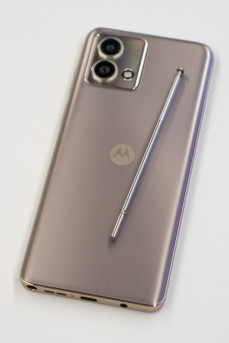 The Moto g stylus 5G has long been one of the few popular mid-range phones in the US. It's a tricky category, but Motorola usually gets it right. So for this year's model, they're not changing much. The 4G model changed a lot this year, but the 5G model is probably closer to what you were expecting, if you follow such things. So what's new, and what's it like in person? Read on for our hands-on report and first impressions.
Arm has revealed Total Compute Solution 2023 (TCS23), its next-generation chip designs for mobile devices including phones of all types. Apple, Qualcomm, MediaTek, and Google all use Arm's designs and technology as a foundation for their own processor chips that power essentially all of today's phones. The new Arm Cortex-X4 is a high-performance "prime" core for flagship phones. Compared to last year's X3, it offers 15% better performance using 40% less power. Arm also has new "big" and "little" CPU core designs for all classes of phones: the Cortex-A720 and Cortex-A520 (respectively). They both offer a 40% performance boost and 20–22% better power efficiency compared to last year's designs. On the graphics side, the new Immortalis-G720 GPU offers a 14% improvement in total system efficiency and introduces Deferred Vertex Shading (DVS) technology. In addition to the new cores, TCS23 includes designs for other chip components, including the interconnect that links the cores and memory, which boasts 25% better latency. Arm is also working more closely with TSMC, the world's leading chip manufacturer. Through this partnership, TCS23 is optimized for TSMC's new, cutting-edge N3E manufacturing process. Arm revealed that it has already produced a physical chip with TCS23 on TSMC N3E. This example chip exists only to proves the technology. It is not a full SoC (it doesn't have a modem, for one) and Arm has no intention of competing with its partners like Qualcomm and MediaTek. The chip is intended to help those partners bring chips based on TCS23 and N3E to market faster.
Samsung has revealed "Sensor OLED", a new display panel technology that has many tiny light sensors embedded directly into the whole OLED panel surface. This allows the panel to read fingerprints anywhere on the display, as well as check cardiovascular health. Current in-display fingerprint readers utilize a seperate sensor module under a small part of the display; this new technology is embedded directly in the display itself and covers the whole display area. When placing two fingers on the display, (one from each hand,) the display "can measure the user's heart rate, blood pressure and stress level". Samsung also showed off several new foldable phone concepts using its flexible display technology. One is called Rollable Flex, a display that unrolls like a scroll to become five times larger, essentially transforming from a slim phone to a large tablet.
The FCC has adopted new rules governing the 12 GHz band that rule out using the lower half for cellular service, while specifically setting aside the upper half for cellular service. The lower 12 Ghz band, spanning 12.2 – 12.7 GHz, is currently used for satellite services such as SpaceX's Starlink service. Dish and RS Access had wanted to use this band for terrestrial 5G service as well, claiming it would not interfere. SpaceX insisted that its own tests showed interference would be significant. The FCC today sided with SpaceX, finding that there was "a significant risk of harmful interference". For the upper half, spanning 12.7 – 13.25 GHz, the FCC will move forward with a process to make this band available for flexible terrestrial wireless service, "including 6G wireless services." Incumbent non-federal licensees may need to be relocated or adopt a sharing system. The Commission is seeking comment on the best way to accomplish that.
The conversational AI app is available now, for free, in the US. ChatGPT Plus subscribers get additional features. It will come to Android and other countries soon.
Apple today previewed several new accessibility features that are coming to iPhone and iPad later this year. The major new features address those with speech, cognitive, and vision disabilities. Live Speech lets users type to speak out loud. The feature works during phone or FaceTime calls, or on its own for in-person conversations. It includes bookmarks for quick access to frequently-used phrases. Personal Voice is an enhancement to Live Speech that lets users create a voice that sounds like them. This is for users at risk of losing their ability to speak, such as those with a recent diagnosis of ALS. Assistive Access replaces most of iOS with a dramatically simplified interface for those with cognitive disabilities. It presents large tiles for Music, Calls, Messages, Photos, and Camera, and a simplified interface within each of those apps. A trusted supporter can customize the experience. "For example, for users who prefer communicating visually, Messages includes an emoji-only keyboard and the option to record a video message". Point and Speak will read aloud any text that your finger points to when using Detection Mode in the Magnifier app. "For example, while using a household appliance — such as a microwave — Point and Speak [will] announce the text on each button as users move their finger across the keypad." Detection Mode already announces and describes whatever is in front of the camera, and is a feature of the existing Magnifier app, which helps those with low vision navigate their physical environment. Other improvements include phonetic suggestions for similar-sounding words in Voice Control, and adjustable speech rate for Siri (0.8x – 2x) in VoiceOver.
Verizon today launched myPlan, a totally new plan structure. Users choose from one of two unlimited-data base plans, then add as many or as few "perks" as they want, for $10/month/each. Available perks include 100 GB of mobile hotspot data, a smartwatch plan, 3 international travel day passes (which don't expire if unused). Perks also include a Disney+ bundle (with Hulu and ESPN+), Apple One, or even Walmart+. Another perk is a $15 credit to Verizon's "+play" service, where other subscriptions such as Netflix and HBO Max are available. Because all "perks" are $10, they offer savings that vary depending on the perk. For example, the Disney+ bundle is normally $15/month. An Apple One subscription is normally $17/month. There is no minimum number of perks and they can changed at any time. The two base plans are Unlimited Welcome and Unlimited Plus. The Plus plan includes access to Verizon's "Ultra Wideband" 5G network, meaning its faster mid-band and mmWave frequencies, and truly unlimited "premium" data. Neither plan has any set data limit where speeds become slower, although customers on the Welcome plan may see slower speeds during times of network congestion. The Plus plan also includes 30 GB of hotspot data and better device discounts. Both plans have discounts available if you bring your own device. The Unlimited Welcome plan is $65/month for one line, or as low as $27/line/month for 5+ lines. The Unlimited Plus plan is $80/month for one line, or as low as $42/line/month for 5+ lines. All prices are with Auto-Pay. myPlan becomes available May 18th and replaces Mix & Match. Mix & Match customers can keep their existing plans if they prefer.
Sony has announced the Xperia 1 V, a $1,400 flagship phone aimed at professional content creators. The design is a minor iteration of last year's Xperia 1 IV. Specs have been updated, features added, and an all-new main camera sensor promises better photos and videos. The new "Exmor T for mobile" sensor is about 1.7 larger than the sensor in last year's model. Sony promises "approximately double" the low-light performance and "a wider dynamic range that is equivalent to a full-frame camera." The 1 V keeps the adjustable optical zoom tele camera that made the 1 IV so unique. It also keeps the 4K OLED display with 120 Hz refresh. The processor has been updated to the new Snapdragon 8 Gen 2. New camera features include: high-speed continuous shooting of up to 30 frames per second with AF/AE tracking, a Product Showcase setting that keeps focus on an object instead of a person, and an interactive chat feature for YouTube live-streaming. Most other specs carry over from the previous model, including 5,000 mAh battery, fast charging, wireless charging, IP68 dust/water rating, headset jack, 12 GB of RAM, and the ability to serve as a monitor for certain Sony Alpha cameras. Curiously, the built-in storage is down to 256 GB (from 512 GB last year), although it is expandable by up to 1 TB via memory card. Also, the version announced today does not seem to include mmWave 5G like the previous model. These changes may account for the price that's $200 lower than last year. The phone does have excellent support for almost all other (sub-6) 5G and 4G frequency bands used in the US, including mid-band 5G. The Sony Xperia 1 V ships July 28th and pre-orders start today. It comes unlocked in black from various retailers in the US, or a "khaki green" color (shown) available exclusively from Sony directly. For "a limited time", pre-order customers will be eligible to receive Sony's latest LinkBuds Truly Wireless Earbuds (WFL900/H) with purchase (a $180 value).
Google is working with the major video conferencing providers to enable audio-only versions of their apps for Android Auto. The apps would simply let you join a previously scheduled meeting.
Google has dropped an update on Wear OS, its smartwatch platform, including new and enhanced apps coming this year. The company also outlined several key features coming in Wear OS 4. A major update to the Google Home app (rolling out today) will let you "check who rang your Nest doorbell right in your notifications, remotely unlock your door and more." Google will also introduce Gmail and Google Calendar for Wear OS. Gmail will let you reply to emails. Calendar will let you "check your schedule, view and RSVP to events, and update task statuses". Google also highlighted what popular third-party apps are introducing. WhatsApp is coming to Wear OS. Spotify and Peloton are also introducing new Tile widgets that make it easier and quicker to interact with those services. Finally, Google announced several key features coming in Wear OS 4, like backup and restore support. "And if you're setting up a watch from your phone, any permissions you've granted on your phone will automatically carry over."
The top three US carriers will all sell both the Google Pixel 7a and Pixel Fold. All three will sell the Pixel 7a starting this afternoon. T-Mobile will sell it for the same price as Google ($500), while AT&T will charge $520 and Verizon will charge $540. The 7a comes in both mmWave and non-mmWave versions. The addition of mmWave 5G accounts for the price difference with Verizon. Although T-Mobile's version does not support mmWave, it will support three-carrier aggregation on the company's unique 5G SA network. AT&T's version does not support mmWave either, but does support mid-band 5G: band 77-C today and band 77-A (3.45 GHz) "enabled in a future software update". T-Mobile and AT&T say they will offer the Pixel Fold "soon" or "this summer" (respectively). Verizon is being much more specific, saying Pixel Fold pre-orders start June 20th, with full availability on June 27th. Verizon will offer the phone with the option of either 256 or 512 GB of storage.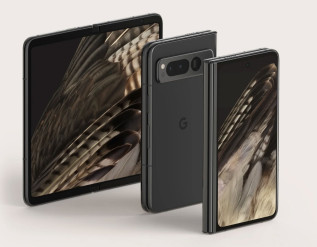 Google today announced its first foldable phone, the Google Pixel Fold. The Pixel Fold features a 7.6-inch flexible inner display for a tablet-like experience when open. The concept is similar to the Samsung Galaxy Z Fold series, as are the high-end specs. When closed, the 5.8-inch outer display offers OLED technology and FHD+ resolution. Both displays support up to 120 Hz refresh. Google claims that the Fold is the thinnest foldable on the market (when open), and has the best zoom camera (5x optical) of any foldable phone. Google also claims that its hinge mechanism is the most durable on the market, thanks to "multi-alloy steel construction" and a custom "dual-axis, quad-cam synchronized mechanism". Like Samsung's Z Flip series, the hinge is stable at any angle, allowing you to set the phone down and keep the camera pointed wherever you choose. A unique Dual Screen Interpreter Mode uses both displays to give two people real-time, two-way language translation. Corning Gorilla Glass Victus protects the outside and the phone offers IPx8 water resistance. The Pixel Fold is powered by Google's own Tensor G2 processor, paired with 12 GB LPDDR5 RAM and 512 GB UFS 3.1 storage. The battery is rated 4,821 mAh and the phone supports wired fast charging up to 30W (no charger is included) as well as wireless charging. The main camera is 48 megapixel with OIS, while the tele and wide camera are both 10.8 megapixel. Although Google claims the inner selfie camera is the best in a foldable, it is just 9.8 megapixel and fixed focus. The phone also includes mmWave 5G, UWB, Wi-Fi 6E, and stereo speakers. It will be available for $1,799 in either Obsidian or Porcelain. It ships "next month". Pre-orders start today and include a free Pixel Watch.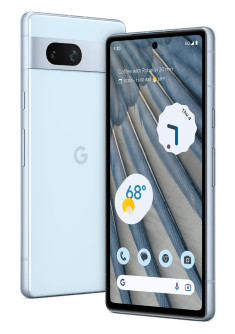 Google today announced the Pixel 7a, a more affordable model in the company's Pixel 7 series. At $499, it's $100 cheaper than the Pixel 7. However it's a big jump up from last year's Pixel 6a, which was only $349. The Pixel 7a is relatively compact with its 6.1-inch display, smaller than the Pixel 7. The display sports FHD+ resolution, OLED technology, and 90 Hz refresh. The 64-megapixel main camera is the best in an a-series phone yet thanks to a larger sensor. There's also a 13 megapixel wide-angle camera and 13 megapixel front camera. The 7a is powered by a Google Tensor G2 processor paired with 8 GB LPDDR5 RAM and 128 GB UFS 3.1 storage. It has a 4,385 mAh battery and an IP67 rating for dust and water. It will come in four colors: Sea (light blue), Charcoal, and Snow, plus Coral available exclusively from Google. Google promises 5 years of Pixel updates for the 7a. The Google Pixel 7a is available starting today.