Home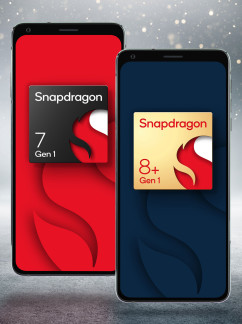 Qualcomm has taken the wraps off the Snapdragon 8+ Gen 1 and Snapdragon 7 Gen 1. The Snapdragon 8+ Gen 1 is, as its name implies, a turbo-charged version of the existing Snapdragon 8 Gen 1 flagship chip. The CPU has 10% faster performance and 30% better power efficiency. The GPU has 10% faster clock speeds and 30% better power efficiency. The AI engine has 20% better power efficiency. Overall, the chip is 15% more power-efficient. All other specs and features are identical to the 8 Gen 1. The Snapdragon 7 Gen 1 is the first 7-series chip to get Qualcomm's new single-digit naming scheme. It has 20% faster graphics rendering and 30% better AI performance compared to the Snapdragon 778G it replaces. It brings a number of premium features down to the 7 series for the first time, including 3GPP Release 16 5G (with the X62 modem, supporting speeds up to 4.4 Gbps), Qualcomm's Trust Management Engine, Android Ready SE, and up to 200 megapixel photo capture. Its Spectra triple ISP also supports 14-bit processing, 4K HDR video capture, triple active cameras, and 4K staggered HDR image sensors. It supports up to QHD+ display resolution, or 144 Hz refresh at FHD+ resolution. Its FastConnect 6900 subsystem supports Bluetooth 5.3, LE Audio, dual Bluetooth antennas, and Wi-Fi 6E at up to 3.6 Gbps. The CPU runs at up to 2.4 GHz and the chip is made with a 4nm manufacturing process. Both chips are expected to be included in new phones shipping in a just a few weeks, before the end of the second quarter.
Visible has added flagship Samsungs to the list of phones for which it supports activation via eSIM. New customers with a Samsung S22 series, S21 series, or Note20 series Samsung phone can now start mobile service with Visible "in as little as 15 minutes" by simply downloading the Visible app to sign up and activate their phone, with no physical SIM card required. Visible already supports eSIMs on newer Apple iPhones and Google Pixel phones. Visible says it has an "ongoing commitment to become a fully eSIM-based wireless carrier." Visible offers 5G service on the Verizon network, and the company is backed by Verizon.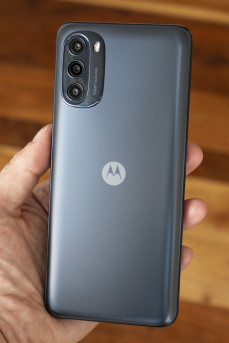 Motorola has a new affordable 5G phone that they're calling simply "moto g 5G". It has a 50 megapixel camera with a wide array of Motorola's distinct camera software features. It also has some extras like 90 Hz display refresh and a fingerprint reader. But it's a pretty straightforward-seeming phone overall. But what is it like in person? We walk you through the details in this hands-on report.
A new software update for the LG Wing adds support for Verizon's C-Band (mid-band) 5G network. The update reflects LG's commitment to continue supporting its phones despite quitting the phone business.
For Global Accessibility Awareness Day, Apple is announcing several new accessibility features coming to iOS "later this year", possibly in iOS 16. A new feature called Door Detection uses the camera and LiDAR sensor in higher-end iPhones and iPads to help blind or low vision users "locate a door upon arriving at a new destination, understand how far they are from it, and describe door attributes — including if it is open or closed, and when it's closed, whether it can be opened by pushing, turning a knob, or pulling a handle." Door Detection will be added to Detection Mode in the Magnifier app. Apple will also be adding system-wide Live Captions for all audio sources, including FaceTime calls. Google has offered a similar feature since 2020. Finally, Apple is Apple Watch Mirroring, which helps users control Apple Watch remotely from their paired iPhone. This feature helps users who might have difficulty with the smaller touch screen of the Apple Watch.
Apple has released iOS 15.5, which adds the ability for Apple Cash users to send and receive money, as well as automatic storage management for Podcasts. It also patches a long list of potentially serious security vulnerabilities.
Verizon is raising the monthly costs for its postpaid wireless customers by increasing the "administrative fee" from $1.35 to $3.30 per line. The fee applies to voice lines and Verizon says it covers "administrative and telco expenses and costs of complying with regulatory requirements".
Boost Mobile has rolled out a new app called BoostOne that lets customers earn credits toward their bill by playing games, watching videos, and "engaging with ... partners to complete offers". By playing games like "Spin & Win", users earn blockchain-backed "Boostcoins". Boostcoins can then be redeemed for discounted and free wireless service. "In the future, Boost expects the coins may be used for additional goods and services like free phones, other third-party products and exchanged with other users." The BoostOne app is available now for Android and iOS.
Google is revamping the user interface of Android Auto, again. Split-screen mode will now be standard on all screen types and sizes, giving users immediate access to functions such as audio, messages, and maps, all on one screen. The interface will also flow to fill different screen shapes better, including ultra-wide and portrait displays. The new version of Android Auto will also update Google Assistant with new "contextual suggestions" for actions such as suggested replies, sharing arrival times with a friend, and playing recommended music. The new Android Auto will roll out "in the coming months".
Google has announced that it will bring end-to-end encryption to group conversations in its RCS-based Messages app, starting with an open beta "later this year". End-to-end encryption is already available for one-on-one conversations.
Google has introduced a new feature in Android that will let health and fitness apps securely access and share one unified set of health and fitness data across Android devices. The new Health Connect platform and API provides a central place on the device to store data such as activity, sleep, nutrition, body measurements, and vitals like heart rate and blood pressure. It also includes security, privacy, and permission features that give users "granular controls". Users must give permission for each app to have access, and users "will have the ability to shut off access or delete data they don't want on their device, and the option to prioritize one data source over another when using multiple apps." Google has developed Health Connect in partnership with Samsung. MyFitnessPal, Leap Fitness, and Withings have already started working with the platform, and it is now available to all developers.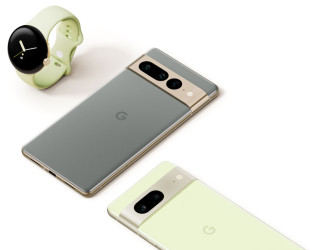 At its I/O developer event today, Google gave the world a teasing glimpse of its forthcoming Pixel 7 phones and all-new Pixel Watch, both coming this fall. The new Pixel 7 and Pixel 7 Pro will feature an evolution of the Pixel 6 design that includes a 100% recycled aluminum frame that wraps uninterrupted around the sides and across the camera bar. It will be powered by a "next-generation" Google Tensor SoC chip. The 7 Pro will have three rear cameras, while the non-Pro version appears to have two. Various slides showed three different colors: white, grey, and a very light green. The Pixel Watch matches recent leaks, sporting a completely round design with a rotating crown (dial) on the side. The body will be made from recycled stainless steel and support interchangeable bands. It will run an "improved" WearOS with integrated Fitbit features, including continuous heart-rate tracking as well as sleep tracking. It will integrate smart-home controls, and features like Maps and Wallet will work even when you leave your phone at home. It will be available around the same time as the Pixel 7 series phones, some time "this fall".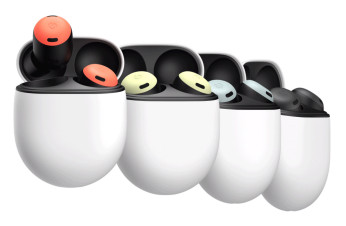 Google today announced the Pixel Buds Pro, the company's first wireless earbuds with ANC (active noise cancellation). Like most competing buds, they offer a Transparency Mode that lets you hear your surroundings if you wish. A custom six-core processor chip designed by Google powers a custom ANC algorithm that includes Silent Seal, a feature that detects and compensates for poorly-sealed tips. The beam-forming microphones are aided by a noise suppression algorithm that insures you can be heard clearly on a call. The buds also support multi-point, for smooth transitions across multiple source devices. Each bud also has independent Find My Device support in case one or both buds are lost. A future update will add support for Spatial Audio. The buds will last for up to 11 hours of listening time, or 7 with ANC on. They ship July 28th for $199 and will be available in four colors. Pre-orders start July 21, the same date as the new Pixel 6a.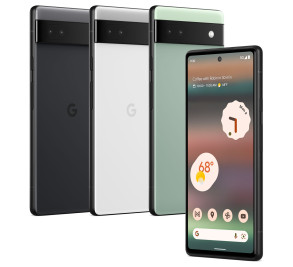 Google has taken the wraps off its newest more-affordable Pixel, the Pixel 6a. In contrast to the growing size of other recent Pixel models, the 6a has a relatively compact 6.1-inch display. It shares the same distinctive design as the pricier Pixel 6 series models, the same Google Tensor processor chip, and same Titan M2 security chip as the higher-end Pixel 6 series. It has two rear cameras: standard and wide, both 12 megapixel. It also has a recycled aluminum frame and under-display fingerprint reader. It will receive five years of security updates. The Google Pixel 6a will be available in black, white, and green for $449 unlocked. Pre-orders start July 21st and it ships on the 28th. AT&T and T-Mobile will sell the standard Pixel 6a. Verizon will also carry it — with support for Verizon's mmWave and C-Band 5G networks — although this version will sell for $500.
In the coming weeks, Google will roll out a new app called Google Wallet that replaces the G Pay / Google Pay feature of Android. It will continue to support digital credit and debit cards, boarding passes, tickets, transit cards, vaccine cards, and student IDs. But Google is finally adding official support for state and government ID cards, including Digital Driver's Licenses in the US. You will be able to present your Digital Driver's License to authorities via NFC or QR code. Google is also working to add office and hotel keys. The name change reflects the ambition that it could completely replace a physical wallet.
Google will update Android and Chrome this summer to automatically use a one-time virtual credit card number when entering credit card info using auto-fill. The feature reduces the chances that you will be the victim of credit card fraud due to a data breach.
Later this year, Google will add a new option to Multisearch to make a search local. By searching for a photo of something and adding "near me", you can find where that thing is available nearby.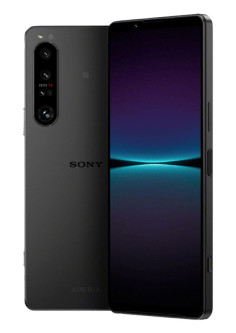 Sony has revealed its latest flagship phone, the Xperia 1 IV. It's the world's first phone with a true optical zoom lens that can adjust seamlessly from 85 to 125mm. The phone also has standard (24mm) and wide (16mm) lenses. All three lenses have the same 12 megapixel, 1/1.7" Exmor RS sensor with "Eye AF" 60 fps continuous auto-focus and exposure, and the ability to shoot 4K HDR video at up to 120 fps. The standard and zoom lens also have OIS. There's also a dedicated shutter button. The front camera has been upgraded with a larger 12 megapixel sensor. Several features let you use the phone together with a professional Sony Alpha camera. Every other spec and feature is top-end. The Xperia 1 IV also has an OLED display with 4K resolution, HDR, and 120 Hz refresh. It's powered by Qualcomm's top-end Snapdragon 8 Gen 1 processor paired with 12 GB of RAM. It has 512 GB storage and a memory card slot. It also has a 5,000 mAh battery and two-way wireless charging. The body features Gorilla Glass Victus on the front and back, with a frosted finish on the back. It's also rated IP65/68 for water and dust. It has a 3.5mm headphone jack, stereo speakers, 360 Reality Audio, High-Resolution Audio, and is "ready for" Bluetooth LE Audio. The Xperia 1 IV has excellent support for Verizon and T-Mobile 5G and 4G networks in the US, including mmWave 5G, as well as Wi-Fi 6E. It will come with Android 12. Color options include black and purple (available exclusively from Sony's web site.) It will ship September 1st, 2022 and is priced at $1,600. Pre-orders start today and, for a limited time, include Sony's latest WF-1000XM4 true wireless noise cancelling earbuds (a $280 value.)