Home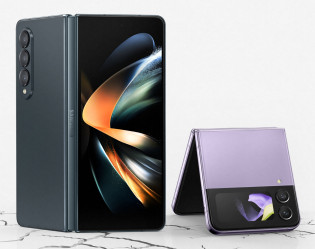 Samsung has announced its newest generation of foldable phones: the Galaxy Z Fold4 and Galaxy Z Flip4. Both have similar designs and features compared to their predecessors, with a slew of small updates and refinements across the board. Both have been updated with Qualcomm's newest, best Snapdragon chip: the 8+ Gen 1. Both also have upgraded main cameras that perform better in low light. Both have a "slimmer hinge", although the difference appears to be slight. Both are constructed from Armor Aluminum and Gorilla Glass Victus for durability, in addition to IPx8 water resistance.
The Galaxy Z Flip4 has slightly slimmer bezels on the main display, a larger (3,700 mAh) battery, and 14% faster charging. The cover display has been enhanced with more functionality, including SmartThings home controls and Quick Shot in camera mode. Similarly, Flex Mode — when the phone is half-folded — now provides a special split-screen interface for more apps, particularly third-party social and video apps. Like the Z Flip3, it has dual 12 megapixel rear cameras, display refresh up to 120 Hz, mmWave 5G, and two-way wireless charging. Also like the Z Flip3, the Z Flip4 will start at $1,000 for the base model with 128 GB storage (and 8 GB RAM). A 256 GB version will also be available, as well as a new 512 GB option. It will come in Bora Purple, Graphite, Pink Gold, and Blue. On samsung.com, a Bespoke Edition will allow users to mix and match frame and cover colors in 75 different possible combinations.
The Galaxy Z Fold4 is slightly lighter and more compact than the Z Fold3, while offering wider displays inside and out. The 7.6-inch main flexible display panel is brighter, 45% "stronger", and better hides the under-display camera. The main camera is upgraded to 50 megapixel, while the telephoto camera is now 10 megapixel instead of 12. The software has been overhauled thanks to Android 12L, Google's new version of Android optimized for foldable and large-screen devices exactly like this one. A new task bar floats at the bottom of the main display, and there are new options for split-screen multi-tasking and Flex Mode. Some apps can now be opened in two side-by-side instances of the same app. Other features and specs are similar to the Z Fold3, including the 6.2-inch HD+ AMOLED outer display with 120 Hz refresh, UWB, S Pen compatibility, 12 GB RAM, and two-way wireless charging. The Galaxy Z Fold4 will start at $1,800 with 256 GB storage. It will also be available 512 GB or a new 1 TB option. It will come in Graygreen, Beige, and Phantom Black, as well Burgundy exclusively from samsung.com.
Both phones — along with
Samsung's new smartwatches and earbuds
— will be available August 26th. All major US carriers will offer both phones. Customers who pre-order will receive a free storage upgrade and a free case. Pre-orders for the Z Fold4 will also come with a $100 Samsung Credit. Various trade-in offers are available depending in where you buy from. AT&T's is the most generous, at $1,000 off either phone when trading in any Galaxy phone, in any condition. That offer is available to all customers and makes the Z Flip4 free.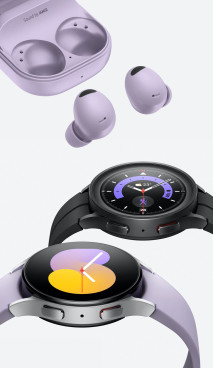 Alongside its new foldable phones, Samsung has revealed its newest smartwatches and Bluetooth earbuds, each with significant engineering improvements. The new Galaxy Watch5 has a 13% larger battery and 60% more durable face compared to the Watch4. The new Galaxy Buds2 Pro are 15% smaller and filter out 40% more outside noise compared to the original Buds Pro. The company has also introduced an all-new "Pro" watch model.
The Galaxy Buds2 Pro are not only smaller and block more outside noise, but improve comfort with improved air flow to reduce unwanted pressure, and a revised design to prevent rotation, helping them stay in the ear more securely. They also support 24-bit Hi-Fi audio, Bluetooth 5.3, and are "LE Audio ready". Misplaced buds can be located with SmartThings Find. They can also connect directly to the newest Samsung TVs. The buds alone provide up to eight hours of continuous music, or five when using ANC (Active Noise Cancellation). The charging case provides up to 30 hours total play time. The buds are made from 90% recycled plastic. The buds will cost $230 and come in three colors: Graphite, Bora Purple, and white.
The new Galaxy Watch5 not only has a large battery, but 30% faster charging as well. The body sensors now make better contact with the skin for better accuracy, and are joined by a new temperature sensor. The watch no longer has a physically rotating bezel, but it is more durable, with an improved Sapphire Crystal glass face, Armor Aluminum case, IP68 water rating, and pressure resistance up to 5ATM. Updated software will support full navigation mode in Google Maps without a smartphone. Other features include an always-on Super AMOLED display, Bluetooth 5.2, dual-band Wi-Fi, GPS, NFC, and 16 GB of storage. The watch comes in two sizes: 40mm (with a 284 mAh battery) and 44mm (with a 410 mAh battery). Both sizes are available Graphite or silver, plus one other color; the smaller version is available in Pink Gold, while the larger one is available in Sapphire. All of these options are available with or without 4G LTE cellular. The LTE models start $330, while non-LTE models start at $280.
The all-new Galaxy Watch5 Pro is similar to the larger Watch5, but with an even larger 590 mAh battery and a titanium case. It will come in black or gray, starting at $450 without LTE, or $500 with LTE.
All of these wearable devices will go on sale August 26th, the same date as
Samsung's new foldable phones
, also announced today. Various pre-order deals are available, including a free dual charger and a $50 credit to spend with Samsung. Some bundle deals are also available, such as Verizon offering $75 off the Buds2 Pro when also purchasing a new Galaxy Z Flip4 or Z Fold4.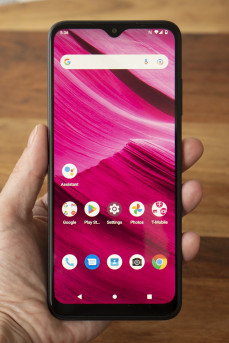 T-Mobile's REVVL 6 Pro 5G is a large-screen 5G phone with decent specs and a decent feature set. And it's just $220. What do you get for that price? What's it like in person? How well does it work? We took it for a quick spin. Read all about our first impressions in this hands-on.
The state Attorneys General for North Carolina, Indiana, and Ohio are leading a new "Anti-Robocall Litigation Task Force" consisting of all 50 state Attorneys General. This bipartisan nationwide task force is focused on the "gateway providers and other entities that are allegedly responsible for a majority of foreign robocall traffic." The task force has already issued civil investigative demands to 20 such entities. "Gateway providers that bring foreign traffic into the U.S. telephone network have a responsibility to ensure the traffic is legal, but these providers are not taking sufficient action to stop robocall traffic. In many cases, they appear to be intentionally turning a blind eye in return for steady revenue. The task force will focus on the bad actors throughout the telecommunications industry".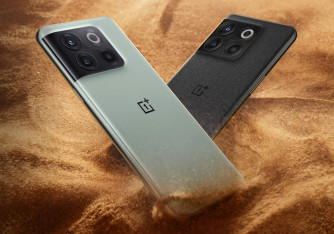 OnePlus has announced the OnePlus 10T 5G, its newest flagship-class phone. Key improvements include 125-watt fast charging (in the US; 150-watt in other regions) and up to 16 GB of RAM. The power system has a dual-cell 4,800 mAh battery and 13 temperature sensors for safe fast charging. The phone is powered by Qualcomm's latest and greatest Snapdragon 8+ Gen 1 chip. While the 10T does not have a Hasselblad camera system like the 10 Pro, it does have a 50 megapixel Sony main camera with OIS and 10-bit color. The rear cameras also include wide-angle and macro cameras. The 6.7-inch AMOLED display has full-HD+ resolution, adaptive refresh up to 120 Hz, and HDR10+. It will be available with 128 or 256 GB of UFS 3.1 (2-lane) storage, and 8, 12, or 16 GB of LPDDR5 RAM. It has a total of 15 antennas to ensure reliable connectivity even when held in landscape for gaming. A new "Cryo-velocity" cooling system promises to stave off thermal throttling better than competing flagship phones. The unique design features a seamless 3D glass back that includes the camera hump. Color options are a textured Moonstone Black and a smooth Jade Green. The OnePlus 10T 5G will start at $649 for the 8 / 128 GB version, or $749 for the 16 / 256 GB version. Pre-orders in the US start September 1st, with full availability on September 29th.
The new self-repair program that Samsung announced in March has now launched. The collaboration with iFixit allows customers to order kits that will let them repair their own Galaxy S20 or S21 phone.
New York's MTA has announced a ten-year plan to expand cellular service to all 418 miles of subway tunnels in New York City. The project is a partnership with Transit Wireless, which already provides cellular and Wi-Fi service at all 281 underground stations. The $600 million project to add service between stations will allow uninterrupted connectivity as passengers move through the system. The announcement comes after the MTA and Transit Wireless successfully launched a pilot project in 2020 that brought cellular service to the L train tunnel connecting Brooklyn and Manhattan. The new project will also expand Wi-Fi service to all above-ground stations. Transit Wireless will pay for the new infrastructure and the MTA is expected to benefit financially from the deal, to the tune of $410 million.
Google has notified developers that they need to prepare their apps for a new way the "back" gesture will work in a future version of Android, possibly Android 14. Google calls it a "predictive back gesture", and it will display an animation as the user performs the swipe gesture that shows a preview of the screen that "back" will take them to. This will allow users to pause mid-gesture and decide whether to continue or cancel the action.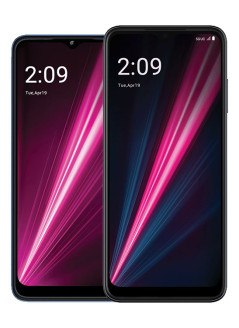 T-Mobile has announced it latest series of T-Mobile-branded affordable phones, the REVVL 6 5G and REVVL 6 Pro 5G. They will sell for $170 and $220, respectively.
The REVVL 6 5G has a 6.52" HD+ display, 4,500 mAh battery, 13 megapixel main camera, 4 GB RAM, and 64 GB storage.
The REVVL 6 Pro 5G has a 6.82" HD+ display, 5,000 mAh battery, wireless charging, 50 megapixel main camera, NFC, 6 GB RAM, and 128 GB storage.
Both phones have a fingerprint reader and 15-watt fast charging. The REVVL 6 series will be available on August 4th from both T-Mobile and Metro. Both phones are powered by the MediaTek Dimensity 700 chipset and Android 12. The phones were brought to market quickly using
GMS Express
, a program offered by MediaTek and Google that streamlines the software development, testing, and certification process for phones running full Google Android on MediaTek-powered hardware. FCC approvals show that both phones are manufactured by Wingtech, which also made the REVVL V series.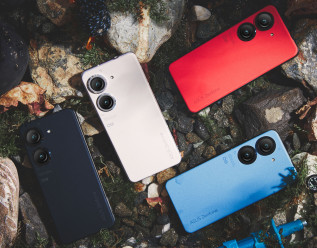 Asus has unveiled its next flagship phone: the Zenfone 9. The 5.9-inch display makes this high-end phone relatively compact. Uniquely, the phone has a "6-Axis Hybrid Gimbal Stabilizer" on its 50 megapixel Sony main camera. This plus an IP68 water rating allows it to double as an action camera. The Zenfone 9 is powered by the Snapdragon 8+ Gen 1, paired with 6–16 GB LPDDR5 RAM and 128–256 GB UFS 3.1 storage. Its Samsung-made AMOLED display has FHD+ resolution and 120 Hz refresh. The 4,300 mAh battery supports 30-watt fast charging. It supports Wi-Fi 6E, Bluetooth 5.2, and NFC. It has both stereo speakers and a headset jack. It will come in four colors: Moonlight White, Sunset Red, Starry Blue, and Midnight Black. US pricing and launch date are to be announced.
Apple has released the fourth beta version of iOS 16, and it makes significant changes to the way Edit and Unsend work in the Messages app. There is now just a two-minute window to unsend an iMessage, down from 15 before. There is also now a full edit history available to all parties. Further, iMessage editing is now limited to five edits. As before, editing is only available for 15 minutes after the initial iMessage is sent. The final version of iOS 16 is expected to be released this fall.
Qualcomm has introduced a new chip designed to power the next generation of smartwatches. The Snapdragon W5+ Gen 1 is a major leap over the company's previous efforts, offering "50% lower power, 2X higher performance, 2X richer features, and 30% smaller size compared to previous generation". Much of the raw efficiency benefit comes from moving to a 4nm manufacturing process, the current state of the art for high-performance chips. The previous generation (Snapdragon Wear 4100+) used a relatively old, inefficient 12nm process. The new chip supports Bluetooth 5.3 and LTE, as well as cameras. It has several new features that enable various low-power modes, and it's paired with an always-on co-processor chip. Qualcomm says the new chip is powerful enough to enable features such as "3D watch faces, rich real-time maps, and even two-way video calls." Qualcomm says that 25 new smartwatches will launch soon using the chip.
Verizon recently added bandwidth to its C-Band (mid-band) 5G network, improving 5G speeds and network capacity in "many markets". Verizon launched its mid-band 5G network in January with 60 MHz of bandwidth in most markets. But thanks to a recent agreement with the satellite companies that are in the process of vacating the C Band, Verizon is now able to deploy 100 MHz of bandwidth in many markets. Verizon says its testing shows real-world speeds of up to 1.4 Gbps using this upgraded part of its network. When the C Band is fully deployed around the end of 2023, Verizon will offer even more bandwidth in this band: 140–200 MHz nationwide.
Sonim has introduced the XP5plus, an update to its XP5s rugged feature phone with PTT (push-to-talk) designed for first responders and other field workers. While the phone has several upgrades, the most unusual is the two large physical knobs on the top, for PTT channel select and volume. This makes the phone physically operate more like the traditional two-way radios it's designed to replace. The knobs allow full control over the PTT features "without users ever taking their eyes off the mission in front of them." A version without the knobs is also available. It also has a "Sonim SecureAudio" accessory connector to ensure that the "wide range of industrial grade accessories including headsets [and] RSMs" available stay attached even during rigorous activity. Its rugged creds include military ratings for ruggedness and IPx9K, which rates it for not only water, but high-pressure steam, pressure washing, and detergents. The XP5plus has a larger display and battery compared to the XP5s. It has extra-loud front-facing speakers, camera, and expandable storage. AT&T is offering the XP5plus starting today for $298. The XP5plus is, of course, compatible with FirstNet, AT&T's exclusive network that offers first responders priority access to band 14.
Google has released Android 13 Beta 4, the last public beta before the final release, which is now "a few weeks away", according to Google. Android 13 will feature support for Bluetooth LE Audio, as well as new personalization and privacy features.
The Bluetooth Special Interest Group (SIG) today announced the completion of the full set of specifications that define LE Audio, the next generation of Bluetooth audio. "Initial consumer products supporting LE Audio, including those with Auracast broadcast audio, are expected to come to market in the coming months, and the Bluetooth SIG anticipates LE Audio product availability to ramp up as we approach the holiday season and end of the year." The Bluetooth SIG has opened up the qualification process for LE Audio devices.
Verizon has introduced a new entry-level unlimited plan that's $5/month cheaper. The new Welcome Unlimited plan is mostly similar to the company's 5G Start plan (which was previously the cheapest, and remains available), but does not include the 5 GB of mobile hotspot data that was recently added to that plan. Instead of offering any special phone deals, Verizon is encouraging customers to bring their own compatible 4G or 5G phone. Customers who switch to Verizon and bring their own phone to this new plan will receive one $240 Verizon e-gift card for each line. Welcome Unlimited costs $65/month for a single line, $55/line for two lines, $40/line for three lines, $30/line for four lines, or $25/line for five or more lines. Unlike the company's other Unlimited plans, Welcome Unlimited cannot be "mixed and matched"; all customers must be on the Welcome Unlimited plan to qualify for the family plan discount. Like 5G Start, Welcome Unlimited has unlimited 4G and 5G data, but not access to the faster Ultra Wideband 5G, nor is it "premium" data, so other customers get priority access when the network is busy. Welcome Unlimited does include unlimited talk and text to and within Canada and Mexico, as well as 1/2 GB of high-speed data per day when roaming in those countries. It also includes unlimited global texting to most countries. Like the company's other plans, the advertised prices require paper-free billing and Auto Pay (otherwise add $10/line/month).
Apple has made a beta version of the forthcoming iOS 16 available to the public. As usual, Apple cautions users to back up their data first and avoid installing beta software on critical devices.