Home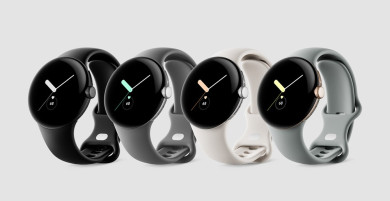 Google has revealed its first own-brand smartwatch, which is partially a product of its acquisition of Fitbit. In today's launch event, Google emphasized the quality and accuracy of its all-day continuous heart rate tracking. The watch has a round design with a 3D domed glass front and 80% recycled stainless steel body. Interchangeable straps attach with a unique curved slide-in system. On the side is a rotating crown knob and a single button. The watch is water-resistant down to 50 meters. It has 32 GB of on-board storage, NFC for payments, and is available with or without 4G LTE cellular. The WearOS 3.5 software offers sleep tracking and and a remote viewfinder for the Pixel 7's camera. An array of fitness features are included. A purchase includes six months of FitBit Premium, which has more advanced fitness features such telling when you should focus on recovery or work out. Three months of YouTube Music Premium are also included. Google claims up to 24 hours of battery life, and fast charging can get you 50% charged in 30 minutes. Color options include black, silver, and gold, with a variety of straps available, including woven, stretch, active, and leather styles, with metal coming next spring. The Google Pixel Watch is available now for pre-order and ship October 13th. Google is charging $350 to start, or $400 with 4G LTE cellular.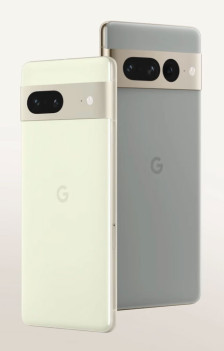 Google has revealed the full details of its new Pixel 7 and Pixel 7 Pro flagship phones. The new Pixel 7 is smaller, while the larger Pixel 7 Pro has a much more advanced camera system than any previous Pixel phone. An evolved design features a 100% recycled aluminum frame — unified with the camera bar — with a zirconia-blasted matte finish. Corning Gorilla Glass Victus covers both sides. Both models are powered by a new Google Tensor G2 chip with machine learning that's 60% faster and 20% more efficient compared to the original Tensor chip (in the Pixel 6 series). A 50 megapixel main camera with laser auto-focus offers high-quality 2x zoom via multi-frame capture. Video capture is improved in several ways, including 4K video at 60 fps, 10-bit HDR that works with third-party apps, Cinematic Blur (portrait mode for video), and improved stabilization & auto-focus for video. The front camera is also improved, with a larger sensor and 4K video capture. The standard Pixel 7 is smaller than the Pixel 6, with a 6.3-inch display with FHD+ resolution, 90 Hz refresh, and 25% higher peak brightness. The larger Pixel 7 Pro has a 6.7-inch display with QHD+ resolution and variable refresh up to 120 Hz. The Pro also adds a telephoto camera and improves the wide camera. The 12 megapixel wide camera is 21% wider and has auto-focus, allowing it to take macro photos. The 5x 48 megapixel telephoto camera works with the other cameras and multi-frame capture to provide a total "Pro" zoom of 0.5x – 10x, or up to 30x for video. Both phones have fast wired and wireless charging and reverse wireless charging. They also both have Wi-Fi 6E, Bluetooth 5.2, NFC, and an in-display fingerprint reader. The bodies are rated IP68 for water. The Pixel 7 has 8 GB of LPDDR5 RAM while the Pro has 12 GB. Both phones also have new software features, including emoji dictation, transcription of incoming audio messages, a voice recorder that separates different speakers, Guided Frame to help low-vision users take well-framed photos, and Photo Unblur to "fix" older photos taken with other phones. A feature drop coming later will add Clear Calling, which uses machine learning to clean up incoming audio on calls. Google is also introducing a free VPN service for Pixel phones to improve privacy. The Pixel 7 series will receive a guaranteed five years of security updates. Both models come in three colors. The Pixel 7 will be available in Obsidian, Snow, or Lemongrass. The Pro will be available in Obsidian, Snow, or Hazel. The new Pixels are available now for pre-order, and reach store shelves on October 13th. The smaller Pixel 7 will cost $599 (or $700 for the Verizon version with mmWave 5G), with the Pixel 7 Pro (with mmWave standard in the US) going for $899 for all US carriers. Both models start with 128 GB of storage, but have a 256 GB option. The Pro is also available with 512 GB.
Google is revamping its Home app for smart homes to focus on customization, and announcing future updates that will add even more customization as well as more powerful automation. The new app — available for preview in the coming weeks — opens to a Favorites tab, which can include shortcuts to control specific home devices, as well as tiles showing live camera views. New Spaces tabs group together devices types, such as lights, cameras, and thermostats. An update coming next year will let users create custom Spaces, such as Pets. Also coming next year is the ability to create much more powerful automations with scripting.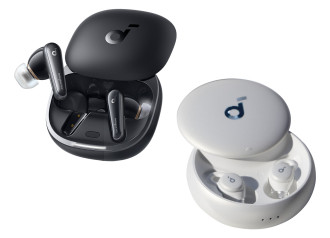 Anker's Soundcore brand has three new models of true wireless earbuds, including the feature-packed Liberty 4 as well as models tailored for sleep and gaming.
The Liberty 4 have a stick design similar to the Liberty Air 2 Pro or AirPods, but incorporate an impressively long list of features for buds that run just $150. Most notable is a heart rate sensor, but features also include Spatial Audio, personalized ANC (active noise cancelling), Hi-Res Audio, LDAC support, and Bluetooth 5.3. Soundcore's ACAA 3.0 Coaxial Acoustic System puts dual drivers (9.2mm + 6mm) in each bud for better sound quality. Each bud has three mics. The buds themselves last for up to nine hours, and the wireless charging case offers 28 hours of total playtime. With ANC enabled, the buds last for up seven hours on one charge. They're available directly from soundcore.com today for $150, and via Amazon in two weeks.
The new Sleep A10 are ultra-tiny for all-night comfort. They can block up to 35dB of noise (passively) while tracking your sleep. Adaptive noise masking delivers customizable, smart white noise. A customizable alarm clock function can wake you slowly. The buds last for ten hours straight, and the charging case adds 40 hours. They also double as standard Bluetooth earbuds for any audio. They're available now for $180.
Anker also previewed the upcoming VR P10 gaming earbuds (not shown). They can work as standard true wireless Bluetooth earbuds, but can also use a proprietary protocol to connect to a dedicated USB dongle for lower-latency audio than is possible with Bluetooth. Additional details are to be announced.
In the aftermath of Hurricane Ian, AT&T will allow customers of other carriers to roam on its network in Florida for free, "even if their carrier's service isn't available after the storm."
Google will shut down its Stadia cloud gaming service on January 18th, 2023. The service launched in 2019, offering high-quality gaming streamed over the internet to any Chrome-capable device, including Android phones. Google will offer full refunds for all Stadia games, add-on content, and even hardware purchased from the Google Store.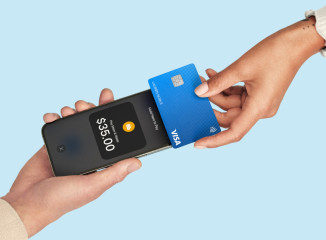 The Square Point of Sale app now fully supports Tap to Pay on iPhone, allowing any iPhone (11 or newer) to act as a payment terminal able to accept NFC (tap) payments without any additional hardware. Previously, merchants needed a separate hardware accessory to accept any kind of in-person card or tap payments. Tap to Pay on iPhone is compatible with Apple Pay, Google Pay, and Samsung Pay, as well as physical credit and debit cards with a contactless chip. The feature carries no additional cost to the seller. Apple announced Tap to Pay on iPhone in February. Stripe and Shopify also support the feature.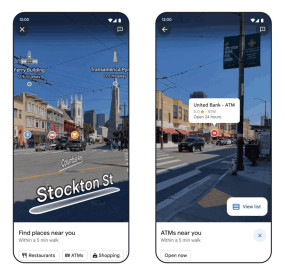 Google has announced an update to the Google Maps app with several interesting new features. The augmented-reality Live View feature now works in a search mode to find and show you specific places nearby, instead of just overlaying walking directions during ongoing navigation. From the main screen, a camera icon will appear in the main search box. Tapping that icon opens the new mode, which starts by showing landmark info overlaid on the real-world view from the phone's camera. It gives a few default search options, such as finding restaurants or ATMs within a five-minute walk. Those search results appear overlaid on the real-world view, with options view more details, such as hours, how busy a place is, and services offered. The feature "starts rolling out in London, Los Angeles, New York, San Francisco, Paris and Tokyo in the coming months on Android and iOS." Google also announced a new "neighborhood vibe" feature that displays a visual guide to local highlights when searching for a neighborhood by name. That feature is also rolling out "in the coming months", but will be available globally.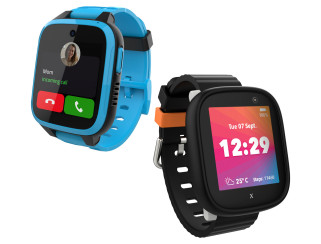 Xplora has a new lineup of connected watches for kids ages 4–11, spanning prices from $150 to $249. Xplora watches include a camera — so kids can check in with parents visually — as well as a connected step counter with reward-point system to encourage physical activity. These 4G devices include voice calling, messaging, and MMS (such as voice messages and photos). A companion app (for iOS and Android) lets parents set up approved contact lists, see GPS location, set up geofencing alerts, and enable "school mode", where only SOS is available during school hours.
The entry-level XGO3 improves on the XGO2 with a 2 megapixel camera and larger 850 mAh battery, in a slimmer and lighter design. It has a 1.3-inch TFT LCD display and is rated IP68 for dust wand water. It's powered by a Unisoc W307 chipset. It comes in black, blue, green, orange and pink, and retails for $150. It's available now from Xplora.com, Amazon, Target, Best Buy, and other retailers.
The mid-range X6 Play sports a larger, high-resolution 1.5-inch screen, faster response times thanks to a Qualcomm Snapdragon Wear 2500 chipset, and 5 megapixel camera. Improved battery life "will enable the watch to run for up to four days before recharging." It also has more physical-activity sensors. The watch comes with two wristbands and two bezels, with the option to purchase accessories in additional colors, for more than 3,465 possible style combinations. It will be available in late 2022 for $199, initially from Xplora.com.
The premium X6 Pro (not shown) is designed to appeal to slightly older children with a high-resolution AMOLED screen, improved speaker, and the faster Snapdragon Wear 4500 chipset, "eclipsing the performance of other smartwatches for kids." It will be available in seven colors and cost $249. Like the X6 Play, it will be available first from Xplora.com, with "additional retail availability" in 2023.
The FCC today issued proposals for new rules to fight scam text messages and other robotexts. The FCC wants to apply "caller ID authentication standards to text messaging". Mobile wireless providers would be required to "to block texts, at the network level, that purport to be from invalid, unallocated, or unused numbers, and numbers on a Do-Not-Originate (DNO) list." The FCC is also asking the industry if more can be done to detect and block texts from spoofed phone numbers. The FCC is seeking comment on these and any other steps the Commission might take to fight illegal texts.
Eligible T-Mobile customers receive free in-flight Wi-Fi — including streaming — on American, Delta, Alaska, and now United, for the whole duration of the flight. The perk applies to domestic and short-haul international flights. On United, it's now available on planes outfitted with Viasat or Thales connectivity. This includes United's 737s, MAX8s, MAX9s, select 757-300s, and select A319s. It will be coming soon to planes with other systems — such as Gogo or Panasonic — as well as United Express flights. United recently lowered its Wi-Fi rates to $10 per flight, or $8 for MileagePlus members.
Apple released iOS 16.0.2 today. It fixes two high-profile bugs: one that cause the camera to loudly "vibrate and cause blurry photos" when using third-party apps on iPhone 14 Pro models, and another that caused excessive security prompts when copying and pasting between apps.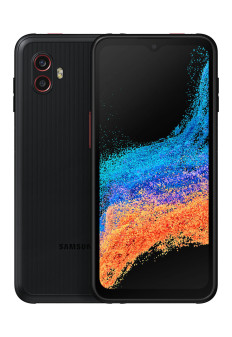 Samsung will bring its newest rugged phone for enterprise customers — the Galaxy XCover6 Pro — to the US next month. The XCover6 Pro replaces the original XCover Pro, which launched with AT&T in late 2020. The XCover6 Pro has a wide range of features designed to appeal to business users in a wide variety of industries. Compared to the original, it sports (sub-6) 5G, a larger 6.6-inch FHD display, a better main camera, and better durability thanks to Gorilla Glass Victus+. Like the original, it has a durable, waterproof body, replaceable 4,050 mAh battery, side fingerprint reader, 8 megapixel wide-angle camera, expandable storage, and a headset jack. The new model is powered by a Qualcomm Snapdragon 778G chip paired with 6 GB RAM and 128 GB storage. It supports Wi-Fi 6E as well as NFC designed to support the phone's use as a PoS (Point of Sale) payment terminal. The main camera is now 50 megapixel and supports "enterprise-grade" barcode scanning. The display is designed to work with gloved and/or wet fingers, and the phone has a "significant increase" in maximum speaker volume when using VoIP apps. It supports fast charging, including via pogo pins (for use with a dock). It also supports Samsung DeX for "PC-like productivity out in the field or in a vehicle". Samsung is providing industry-leading OS support for the XCover6 Pro at four OS upgrades and five years of security updates. Samsung did not announce which US carriers would offer the XCover 6 Pro, only that "select carriers" would offer it in the US starting Oct. 20th. Both AT&T and Verizon offered the original model, although the version approved by the FCC recently seems better suited to AT&T's network, including support for AT&T's new 3.45 GHz mid-band spectrum.
Verizon today launched Total by Verizon, a relaunch of Total Wireless, a brand of TracFone, which is now owned by Verizon. Total by Verizon is "created to serve the upper end of the prepaid market: value-conscious consumers who want speed and connectivity, but also the freedom of no contracts". The standard unlimited plan is mostly unchanged at $50/month, including 10 GB of mobile hotspot data as well as limited international talk & text. A new $60 unlimited plan includes access to Verizon's faster 5G Ultra Wideband network, a subscription to Disney+, double the hotspot data, and expanded international talk & text. At the lower end, $30 and $40 plans offer 5 or 15 GB of data, respectively. For multiple lines, each additional line is only $35/month, regardless of the plan level. This is effectively a multi-line discount for plans $40 and up, with greater discounts at the high end. For example, the $60 plan would work out to just $40/month/line for five lines. Total by Verizon will be available at more than 50,000 retail locations, including Walmart, Target, and Dollar General.
Apple has released the final version of iOS 16 as free update for iPhone 8 and newer. The new software has many new features, the most obvious of which is a completely new, customizable lock screen.
Google Fi has improved the international roaming offered with its plans, and improved overall iPhone compatibility. Google tripled its 5G coverage abroad, bumping the number of countries where users can roam on 5G from 26 to 39. (Full-speed 4G is available in over 200 countries.) Fi's Unlimited Plus plan has no extra roaming charges, so all your 50 GB of monthly full-speed data is available even overseas. Google also extended international 5G service to Samsung phones, instead of just its own Pixel phones. For iPhones, Google added international mobile hotspot and Wi-Fi calling, features that previously only worked with Android phones on Fi. Google Fi plan pricing remains unchanged.
Apple has quietly (in a footnote) announced that iOS 16 will be available as a free update on Sept. 12th. iOS 16 brings a new, more customizable lock screen as well as message editing and more.
Apple has refreshed its Apple Watch lineup with Series 8, a new Watch SE, and added a larger, more rugged Apple Watch Ultra for athletes and extreme adventurers.
Apple Watch Series 8 has two main upgrades over Series 7: temperature sensors and Crash Detection. The temperature sensors are primarily for detecting ovulation. Two sensors, (one to compensate for ambient changes,) take readings every five minutes during sleep. This is used to detect biphasic shift, so the watch can provide retrospective alerts about ovulation. It can also detect cycle deviation, which could indicate a serious health issue. Crash Detection uses upgraded sensors to detect a severe car crash and automatically call for help. The features uses an "improved" 3-axis gyroscope, high-g-force accelerometer, and the barometer (to detect airbag deployment). It samples 3000 times per second, but only when it detects you are in a moving car. When it detects a crash, it calls 911, shares your location, and calls your emergency contacts. The design and other features are similar to the Series 7. Color choices (for aluminum) are: Midnight, Starlight, Silver, and Product Red. It starts at $399 for the smaller 41mm size, in aluminum, without cellular. Add $30 for the larger 45mm size. Add $100 for cellular. Add $300 for stainless steel. It ships Sept. 16th.
Apple Watch SE (2nd Gen.) is just $249, or $299 with cellular. It also gains Crash Detection, and it's powered by the same 8th-gen chip as the Series 8, making it 20% faster than the 1st gen. Watch SE. It will be available in Midnight, Starlight, or Silver. Like the Series 8, you can order today and it ships Sept. 16th.
Apple Watch Ultra (shown) has a flat sapphire crystal face and ultra-rugged titanium body. It adds a new, customizable action button, alongside larger standard controls designed to work with gloves. Improved GPS now supports the L5 band for better performance in challenging areas such as urban races. A new compass app includes waypoints on the face and automatic backtracking. A bigger battery offers 36 hours of battery life. It's twice as waterproof, able to withstand depths of up to 100m, and designed for SCUBA diving at up to 40m. It automatically shows a depth gauge when submerged, and Apple teamed with Huish Outdoors to develop Oceanic+, an app that turns the watch into a dive computer. Its rugged cred includes MIL-STD 810H rating for low pressure (altitude), high temperature, low temperature, temperature shock, rain, humidity, sand and dust, freeze/thaw, ice/freezing rain, shock, vibration, and more. It has three mics and two speakers for clearer calls (cellular is standard). Those speakers can emit an 86 dB emergency siren that can be heard 600 feet away. A software update coming this fall will enable a new 60-hour low-power mode, as well as automatic detection when you arrive at a running track, for more accurate run tracking in that environment. It also includes all of the features of the Series 8. Apple designed three new types of bands for the Ultra, tailored for different activities. The Alpine Loop is for "outdoor adventurers", and is rugged and secure. The Trail Loop is for "endurance athletes", and is light, thin, stretchy, and easy to adjust. The Ocean Band is for "water sports and recreational diving", and has a stretchy design that can fit over a wetsuit, with a titanium buckle to keep it secure. The Apple watch Ultra comes in one size (49mm) and one color (titanium). It costs $799 and ships Sept. 23rd.
Apple also revealed that watchOS 9 will bring new features to older Apple Watches. Series 4 and newer will gain a new Low Power mode. Series 5 and newer with cellular will gain international roaming on over 30 carriers globally.