Verizon Continues Updating Rugged Lineup with Sonim XP10
Article Comments 1
Jul 20, 2023, 10:02 AM by Rich Brome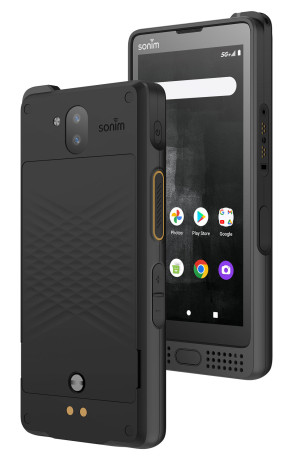 Verizon has launched the Sonim XP10, a rugged smartphone with a wide range of features for field workers and "workers in dangerous environments". Just last week, Verizon launched the Kyocera DuraForce Pro 3, a similar but higher-end rugged smartphone. AT&T launched the XP10 in November with sub-6 5G, but the XP10 is launching on Verizon as a 4G device. The XP10 replaces the XP8, with a lighter and sleeker design, larger screen, longer battery life, more memory, and better cameras. Its rugged credentials include MIL-STD-810H ratings for drops (from six feet directly onto concrete), water immersion (in six feet of water for 60 minutes), and all weather conditions (from -4° F to 131° F). The XP10 can also be "sprayed, submerged and rigorously cleaned in soap and water or with harsh chemicals, like isopropyl alcohol or bleach, to ensure it is fully disinfected." For dangerous work environments, the XP10 is rated Non-Incendive Class I, II and III Div 2. Other key features include a removable 5,000 mAh battery, wireless charging, PTT+, extra-loud 100bB+ speakers, fingerprint reader, memory card slot, and NFC. Sonim offers a full suite of accessories, including ultra-rugged headsets, Remote Speaker Microphones (RSM), vehicle kits, and multi-bay chargers. The Sonim XP10 is available for Verizon business customers starting today for $550. For a limited time, Public Sector customers can get the XP10 for free with a 2-year agreement while business customers can get it for $0.99 with a 2-year agreement.
Sonim
Sonim makes really good rugged phones.
Shame that this one is only 4G.
Looks like the Kyocera has the higher end feature package.
I hope Caterpillar comes back to US carriers as well.