Hands On with Doro's New Interface for Android
Article Comments 2
Feb 26, 2013, 8:23 AM by Rich Brome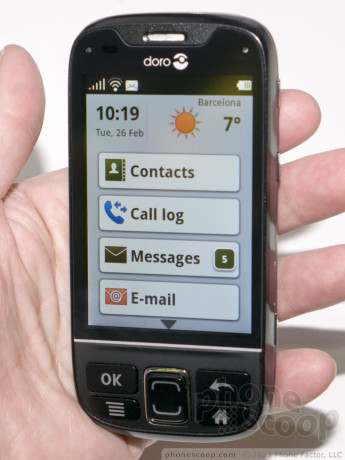 Doro is known for making really simple phones aimed at seniors. Now that the world is moving to smartphones, they've developed an interface that simplifies Android, and they're working to bring it to other manufacturer's Android phones in the U.S. Check it out in our hands-on.
Doro is making its own Android phones now, and the PhoneEasy 740 has the kind of form factor differentiation we wish there was more of in the U.S. market. It looks like a standard old-school slider phone, but with extra-large buttons for people with less-than-stellar dexterity, and a 911 button on the back. The form factor itself isn't innovative, but the combination of this form factor and Android is unique. Surely there are people out there that want a smartphone, but need the big physical keys of the 740.
Unfortunately, U.S. carriers have an iron grip on their territory, and getting a phone certified with them is so expensive that it's just not worth it when the market is very small. That's the position Doro feels it's in with this phone.
So Doro's new tack in the U.S. is to bring its software to other manufacturer's phones. Imagine a Pantech or Alcatel phone running this interface, for example.
The interface is pleasant-looking and very easy to use. It's very much the interface of a non-smartphone, but it has hooks into an app store, and the web browser. It even does basic email. It also has a small app store of sorts. You can download just small simple apps. It's nothing hugely innovative, but it works. I can see this being great for its target market, although it very much replaces Android instead of making it easy to use.
A more comprehensive solution would integrate more tightly with Android, or at least not throw you into a more complex Android interface when you want to download and run an app from Google's Play Store. Doro says they're working on that problem, specifically in response to U.S. carrier requests. We look forward to seeing how they address it.
911 button
I could forsee numerous false 911 calls with that large button so easy to hit. 😢
I love the big ok button lol