Hands-On: Samsung Galaxy Note 8
Article Comments 5
Feb 24, 2013, 11:21 AM by Eric M. Zeman
updated Feb 24, 2013, 12:05 PM
Updated: corrected "Tab" to "Note"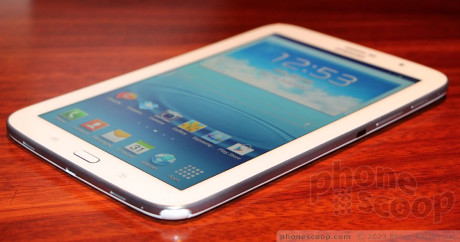 Samsaung introduced a new tablet at Mobile World Congress, the Note 8. It's a compact Android device that can also make voice calls.
source: Samsung
Advertisements article continues below...
Samsung announced (yet) another tablet at Mobile World Congress, the Galaxy Note 8. As the name implies, the Note 8 features an 8-inch display. The design language of the tablet is clearly "Samsung" and in fact the device looks and feels like an over-large Galaxy S III.
First, some of the specifics. The Note 8 runs Android 4.1.2 Jelly Bean with Samsung's familiar TouchWiz user interface. The screen measures 8 inches across the diagonal and and has 1280 x 800 pixels — the same as the smaller Galaxy Note II smartphone. The Note 8 does not use an AMOLED display. Instead, it uses a TFT LCD screen. The device is powered by a 1.6GHz quad-core processor with 2GB of RAM and either 16 or 32GB of built-in storage. It supports microSD cards, too. It has two cameras. The main camera rates 5 megapixels and can capture 1080p HD video, and the user-facing camera is 1.3-megapixels and can be used for video chats. It supports all the usual wireless networks, including GPS, Wi-Fi, Bluetooth, NFC, and GLONASS. It will come in a version with LTE, too.
The hardware feels good, some of the best I've seen from Samsung. Don't get me wrong, it has the same slippery tactile feel that the Galaxy S III and Note II have, but it is put together more firmly. There's no creakiness to the hardware. Everything fits tightly. It is narrow enough to hold it in one hand as you would a cell phone, and Samsung even suggests that this is how the device be used. It doesn't feel like a phone though, and putting it up next to your head (as if to make a phone call) feels beyond ridiculous. I like the quality of the hardware, though, and hope Samsung is able to make its Galaxy smartphones feel as good as this does.
The buttons are all in their usual places. Along the bottom of the front surface you'll see the typical Home, Back, and Menus buttons. Unlike the Note II, the S Pen (stylus) will interact with these buttons, which should make some uses happy. The volume toggle is on the left and the screen lock button is on the right. They are both small in comparison to the rest of the device, and you have to use two hands to really interact successfully with either of them.
The real story with the Note 8 isn't the hardware, though, it is the software. Aside from Android 4.1.2 Jelly Bean and TouchWiz, Samsung has added a lot of custom features to make the Note 8 an ideal living room companion.
For example, it uses the same S Note tools that are on the Note II, but add a really cool note-taking and to-do list app called Awesome Note (yeah, I know). It also offers the split screen mode for multitasking, the ability to hover over content and see link previews, and so on.
Beyond these, the Note 8 has a new TV companion app that is meant to be used while channel surfing. It works with your TV to provide an interactive TV guide so you can search for shows and other content. It also can act as a remote control for your home theater equipment thanks to the IR blaster. The Note 8 also comes with a new version of Samsung's ChatON app, for IM and messaging.
According to Samsung, the Note 8 will ship first to world markets. Samsung has said that the Note 8 will come to the U.S. with at least one wireless network operator behind it, but it has yet to announce which. If you're wondering why we're even writing a hands-on article with a tablet, it is because of this feature. The cellular-equipped versions of the Note 8 will be able to make cellular voice calls, as long as the carrier decides to turn it on. In other words, the Note 8 could in fact be used as a massive phone if you really, really want to look that stupid.
In all, the Note 8 is a cute little tablet that I found comfortable to hold and use. It comes with some neat software that offer plenty of power for this handheld device.
phone calls from a tablet
really seems ridiculous. who would use that function? video calls through Skype are one thing, but carrying this around as a replacement phone?
it' designed for women!
they carry the purse all the time, so why carry two devices, phone and tablet when you can just carry one.
I don't want to sound rude, but it's called 'Bluetooth', I seriously doubt anyone would be deranged enough to try to hold an 8 inch tablet up to his ear....