Hands-On: LG Optimus G Pro
Article Comments 2
Feb 25, 2013, 3:53 AM by Eric M. Zeman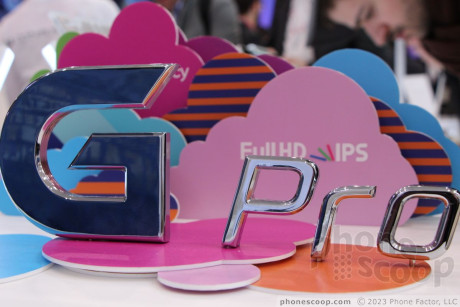 LG had its massive phablet on display at Mobile World Congress in Barcelona. Here's a quick look at LG's Galaxy Note II killer.
source: LG
Advertisements article continues below...
Optimus G Pro
LG announced the Optimus G Pro earlier this month, but showed it off to the public at Mobile World Congress in Barcelona this week for the first time. To call it a Galaxy Note II clone is being kind. One side-by-side look at the G Pro and the Note II, and it is obvious where LG drew its inspiration.
The G Pro is a phablet with a 5.5-inch FHD display. It is enormous, just as the Note II, but it is thinner and lighter than its competitor. It is plastic through-and-though, with no metals weighing it down. The plastics are off decent quality, but I've definitely felt better. LG only had white versions of the phone on hand, and it is a big, white slab of a device that you simply can't miss.
The display is absolutely ridiculous. With 1920 x 1080 pixels in the IPS LCD screen, you're got one of the brightest, sharpest displays I've ever seen. It completely out-shown a Note II that I had with me. The pixel density is insane (more than 400 ppi), and everything I saw on the screen was razor sharp with no visible pixels anywhere.
There are three buttons below the display, just as with the Note II: back, home, menu. The back and menu keys are capacitive, and the home button is a real, physical button. All three worked well. The volume toggle is on the right side of the device and I found it easy to find and use. Travel and feedback was quite good. There's also a dedicated button for launching a TV remote app on the left edge. The screen lock button is opposite it on the right edge.
Overall, the materials are slightly disappointing. I'd happily trade a little bit of weight for higher-quality materials.
The user interface is the same one we've seen from other LG devices in recent months. Look at the Optimus G available from Sprint or AT&T, and you've got a pretty good idea of what sort of user interface themes and features are on board. This thing is powered by a quad-core processor at 1.7GHz each. To call it fast would be an understatement. It powered through everything I threw at it.
There's no word on whether or not this will come to the U.S., but given its high-end appeal, it wouldn't surprise us if it did.
No Stylus???
I don't have a Note 2, so I can't say if its really required or just a novelty, but why is there no stylus with this device? I'd miagine it'd be nice to use when operating a device so big.
No stylus would be a deal breaker for me. I know many here don't like LG, but I have personally never had an LG device I disliked. However, it's also fair to say I have never had an Android device made by LG either. My last LG device was an EnV Touch....
(continues)