Hands On with the Nokia Lumia 520
Article Comments
Feb 25, 2013, 4:11 AM by Rich Brome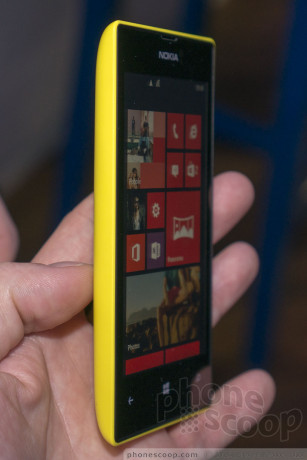 We spent a few moments handling Nokia's new Lumia 520, which will come to the U.S. as the Lumia 521 for T-Mobile USA. This Lumia is small and affordable. How's the hardware? Read on for our impressions.
The Lumia 520 has a very flat front. Very. There's no curved glass here, which is to be expected at the low price this will sell for. Ringing the glass is a band of black plastic that sticks out just a tad, to protect your fingers form the sharp glass, and protect the glass from getting scratched.
The back shell has a unique shape that comes to a sharp edge around the front. It helps the phone sink into the curve of your hand, but it doesn't help you grip the phone. Keeping a good grip puts your fingertips on the sharp corner; it works, but isn't terribly comfortable.
The back shell is one piece of plastic that peels off to reveal the battery, although it feels much more solid than that sounds. The plastic is high-quality and relatively thick. It has a matte texture that feels nice, and it snaps into place quite firmly. When can manage to wrangle the cover off, the battery is removable, and you'll need to remove it to access the memory card slot.
If you can manage the sloped shape of the sides of the phone, the side keys are excellent. They stick out quite far and work well. The two-stage camera key is a luxury compared to many Android phones costing much more. My only gripe with the side keys is that the volume key is somewhat small.
In the end, the phone's light weight and sharp front edge will remind you that this is no flagship phone, although it looks and feels nice for the expected price range. Nokia's expertise in design and hardware construction - even at affordable end of thing - are apparent.
There's not much to say about the software. It's standard Windows Phone 8, with Nokia's Here mapping service and extra camera options, such as Cinemagraph.
We look forward to trying the 521 for T-Mobile USA, which Nokia indicated would come out after March.
No messages