T-Mobile's Lumia 521 to First Be Sold Via Home Shopping Network
Article Comments 13
Apr 25, 2013, 11:19 AM by Eric M. Zeman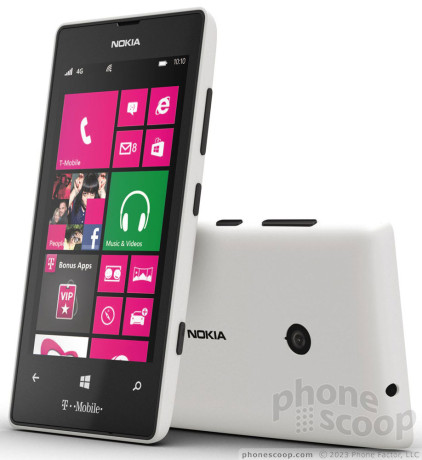 T-Mobile USA today announced that the Nokia Lumia 521 smartphone will be featured on the Home Shopping Network television channel beginning April 27. The device can be purchased from HSN, HSN.com, or HSN Mobile directly for $149.95, which includes a car charger and screen protector. Following the 521's availability on the Home Shopping Network, the Lumia 521 will be available at Microsoft Retail Stores and Walmart stores beginning May 11, where it will cost $149. Walmart will be selling the 521 with its no contract $30 per month unlimited Web and text plan. T-Mobile said the Lumia 521 won't reach T-Mobile's retail stores until some unspecified date in the future.
No flash for the camera=fail
I would have considered picking one up had the included a flash for the camera. I wonder how much that really would drive up the price..? This will be pretty useless in low light night indoor shots etc. I'll stick w my L9. Puzzling to me they tout the camera yet leave that off.
ahaha yeah, but I mean they are selling it on the HSN.... I am under the impression that only seniors watch it and order from it? xD.

South Park anyone? 😛
Obviously, this phone is for people who just want a smartphone and don't really focus on taking pictures with a phone. This was a way for MS to get the phone into the hands of people who don't want a contract or spending $200-$300 for a phone.
Rivalizes in quality with those higher resolution cameras found in more expensive devices. The lack of a flash is somewhat extrange (I guess It is due to the small battery nokia put into this device... Battery life is way better than you would expect ...
(continues)
Price Question
I should probably know this, but..

is that $149.00 price FULL price, or is that the downpayment for an installment plan, does anybody know ?
The Windows Phone 8 smartphone will be bundled with a car charger and screen protector for $149.95 with free shipping and handling and a flex pay option will be available

Straight from Tmobile website.

Looks like that is the final price with the...
(continues)
That's the full retail price for the phone.