Hands-On: Yota Phone
Article Comments
Feb 26, 2013, 11:02 AM by Eric M. Zeman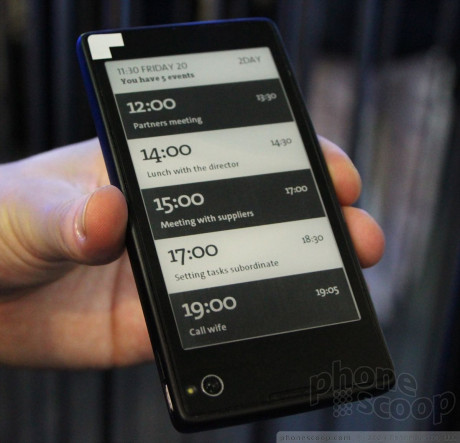 A company called Yota is pitching a device to network operators that has two displays. The front houses a traditional touch screen, while the back holds a black-and-white ereader display. Here are our thoughts.
Advertisements article continues below...
The Yota Phone is a concept device that the maker hopes will be picked up by a mobile network operator by the end of the year. It takes the novel approach of including two displays, one of the front and another on the back. The idea is to allow owners of the device to consume certain types of content on the ereader display in order to save battery life. It is a neat idea, if a bit convoluted.
The device Yota has on hand is a prototype, and it has not begun manufacturing it. It is a fairly typical looking black slab, the exception of course being the screen on the back. The main display looks good enough and the ereader screen is crisp and really easy to read in the dark or under bright lights.
In order to get content on the back screen, Yota has developed its own software for selecting the content, pushing it to the screen, and controlling its behavior. The software is clunky at best, but Yota said it will be cleaned up in final form. There are a lot of icons, screens, and menus you have to swipe through to set up how you want the back screen to behave. Even the rep with whom we spoke had trouble with it from time to time.
The types of content that be displayed on the back include a time/clock screensaver that provides incoming notifications, pictures (black-and-white), Twitter, RSS feeds, the day's agenda, barcodes/boarding passes, and even maps for directions. It can also be set to display incoming text messages.
In an interesting twist, the messages can be displayed with "emotion." The software looks for keywords, such as the word "love," and displays a simple graphic (in this case, a heart) to go along with the text on the screen. This happens automatically if the feature is enabled, and does not require the sender to attach anything to the message.
Some might think that adding a second display to a device would sap battery life even faster, not make a device last longer. Yota claims, however, that the ereader software and screen will continue to function even when the phone itself is dead (or at least can't provide enough power to illuminate the main display). It seems like a lot of effort just to save some battery life, but we're happy to see something unique at Mobile World Congress.
No messages