Yota
Phones & Info News
YotaPhone plans to launch its unique dual-screen YotaPhone 2 in the U.S. this spring via crowd-funding site Indiegogo, according to Matthew Kelly, YotaPhone's Managing Director for Americas. The YotaPhone 2 is a high-end Android phone with a large e-paper display on the back that uses no power when displaying static images and graphics, greatly extending battery life when used often instead of the traditional front display. It is compatible with both T-Mobile and AT&T networks, including LTE. It will sell for approximately $600. As usual for Indiegogo, the company will offer incentives to early backers. Those incentives have not been nailed down, but may include a bumper case or even a discount on the phone. After a successful Indiegogo launch, the company plans to expand availability to third-party retailers such as best Buy. YotaPhone is hard at work on its software upgrade to Android 5.0 (Lollipop), which should be available by the time units start shipping in the U.S., or shortly thereafter. The software update will also include an overhauled 2.0 version of the API for third-party app support of the e-paper screen. The company will also launch a white version of the YotaPhone 2, which has a white back and sides, but keeps the black face. The white color is expected by late summer.
---
YotaPhone is planning a cheaper version of its YotaPhone 2 dual-screen phone that will be called the YotaPhone 2c, according to Matthew Kelly, YotaPhone's Managing Director for Americas. In order to reach a lower price point, the new model will bring some specs down to typical mid-range level, including the front color display. The 2c will keep the same large e-paper touch screen on the back as the YotaPhone 2. The e-paper display uses no power to display static information and graphics, greatly extending battery life when used often instead of the traditional front display. The standard YotaPhone 2 normally sells for about $600. The company is also working on a YotaPhone 3 that it hopes to debut at CES in ten months.
---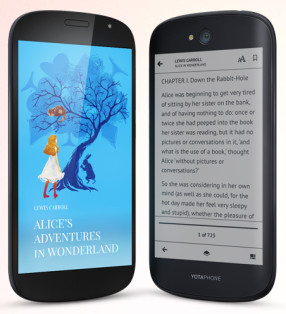 YotaPhone today announced the availability of the YotaPhone 2, a smartphone that has a traditional display on one side and an e-ink display on the other. The YotaPhone 2, which was first revealed in February of this year, is meant to help people access and read content while preserving battery life. The device runs Android 4.4 KitKat on the main screen and a slimmed down UI on the e-ink screen that lets users scan their email, check the weather, read text messages, check the news, and read e-books. The e-ink display measures 4.7 inches and boasts 48 hours of reading time. The YotaPhone 2 is powered by a 2.2GHz quad-core Qualcomm Snapdragon 800 processor with 2GB of RAM and 32GB of storage. It includes an 8-megapixel main camera and a 2-megapixel user-facing camera. It supports select LTE 4G networks and goes on sale this week in Russia and the U.K. for approximately $870. According to YotaPhone, it may be made available in the U.S. next year.
---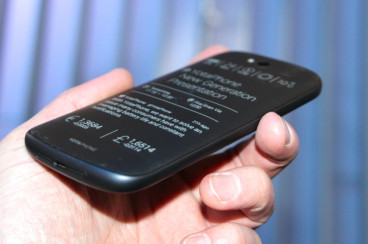 Yota announced a second-generation Android smartphone that has an e-ink display on one side and a regular screen on the other. Here are a few thoughts about Yota's unique handset.
---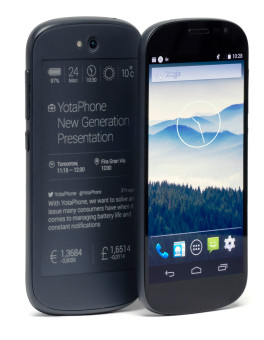 Yota Devices today announced its next-generation YotaPhone. Like its first phone, the new model has one regular display plus a large e-paper display on the back. On the new version, both displays are full touch displays. The design is also now more curved and comfortable. The specs have been upgraded to include a Qualcomm Snapdragon 800 processor and NFC. With displays on both sides, a full 74% of its surface area is touch screens. The 4.7-inch e-paper display is not only a full touch screen, but has been upgraded with better resolution and a light to be visible in the dark. Like all e-paper displays, it only uses power when changing, so it can display information constantly using almost no battery. The standard display on the other side is a 5-inch AMOLED panel. The new YotaPhone is planned to be available in Russia and Europe by the end of 2014, with a U.S. version to follow in early 2015.
---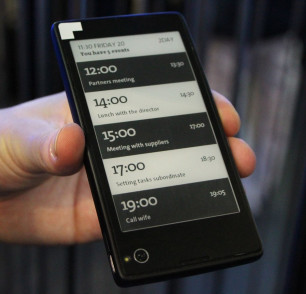 A company called Yota is pitching a device to network operators that has two displays. The front houses a traditional touch screen, while the back holds a black-and-white ereader display. Here are our thoughts.
---