YotaPhone Upgraded With Full Touch, Better Specs
Article Comments 1
Feb 24, 2014, 5:37 AM by Rich Brome @rbrome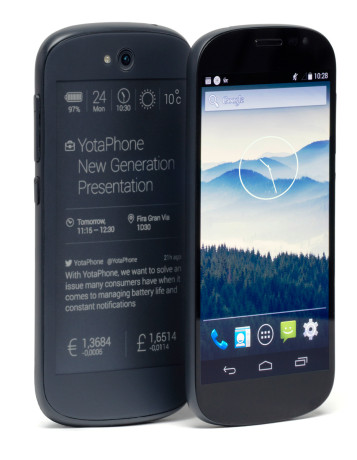 Yota Devices today announced its next-generation YotaPhone. Like its first phone, the new model has one regular display plus a large e-paper display on the back. On the new version, both displays are full touch displays. The design is also now more curved and comfortable. The specs have been upgraded to include a Qualcomm Snapdragon 800 processor and NFC. With displays on both sides, a full 74% of its surface area is touch screens. The 4.7-inch e-paper display is not only a full touch screen, but has been upgraded with better resolution and a light to be visible in the dark. Like all e-paper displays, it only uses power when changing, so it can display information constantly using almost no battery. The standard display on the other side is a 5-inch AMOLED panel. The new YotaPhone is planned to be available in Russia and Europe by the end of 2014, with a U.S. version to follow in early 2015.
source: YotaPhone
Advertisements article continues below...
Verizon version please?
pretty please?