All Liveblogs Samsung LG HTC more... Discuss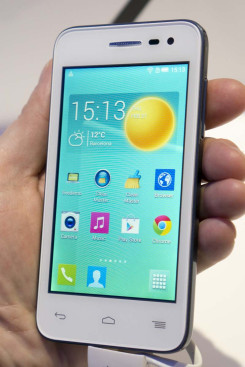 Alcatel this week announced a new range of phones in its Pop series of affordable, colorful Android phones. The new Pop S range has LTE 4G, unlike previous Pop phones. The range includes a small phone, a 5-incher, and a full-on phablet. We checked them out. Read on for our impressions.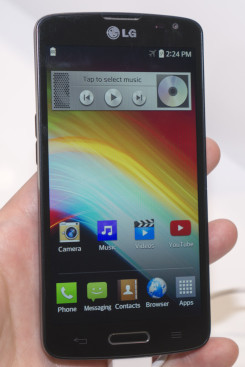 LG launched its new F-series at MWC this week, which consists of the F90 and very similar but smaller F70. The specific F90 that they're showing off is a variant for Sprint, which appears to be named Volt. It's a mid-range Android phone with a 4.7-inch display, Snapdragon 400 processor, and 8-megapixel camera. We took it for a quick spin. Read on for our first impressions.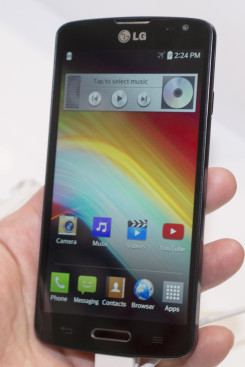 LG this week revealed two new mid-range Android phones with LTE 4G: the F70 and F90. At the Mobile World Congress trade show in Barcelona this week, they showed off a Sprint version of the F90, which seems to be called the Volt. The Volt has a 4.7-inch qHD display, 8-megapixel main camera, front camera, Snapdragon 400 processor, NFC, removable 3,000 mAh battery, tri-band LTE (Sprint Spark,) IR remote control, and a memory card slot. The software includes LG's QSlide, Knock Code, and Smart screen, which keeps the screen from timing out while you're looking at it. It ships with Android Kit Kat 4.4. Pricing and release date were not announced. The F70 is a smaller cousin to the F90. It has a 4.5-inch display, 5-megapixel camera, and a smaller battery, but is otherwise identical.
Samsung recently announced two additions to its family of Exynos mobile processors. The Exynos 5 Octa 5422 is an eight-core processor meant for premium devices. It uses a big.LITTLE configuration with four ARM Cortex A15 cores at 2.1GHz for intensive calculations and four ARM Cortex A7 cores at 1.5GHz for low-power calculations. According to Samsung, the 5422 can support displays with greater-than-HD resolutions, such as WQHD (2560 x 1440), as well as image processing techniques that help reduce power requirements by 10%. The 5422 was developed with a 28nm processes and will be available for mass production during the first quarter. Samsung also announced the Exynos 5 Hexa 5260, a six-core chip that targets mid-level devices. It includes two ARM Cortex A15s at 1.7GHz and four ARM Cortex A7s at 1.3GHz. Samsung claims this chip makes a significant jump in performance when compared to the previous generation chip, and it can support up to WQXGA screens, full 1080p HD video capture/playback, and external displays. The Exynos 5260 is already in volume production.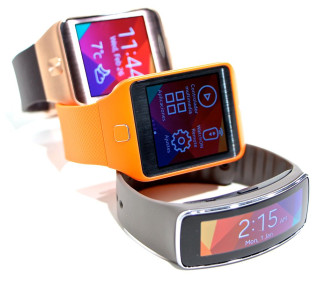 Samsung hopes its new smartwatches will make enticing companions to the Galaxy S5 and other smartphones. The Gear 2 is a re-do of Samsung's original smartwatch, while the Gear Fit is a fresh take on wearables.
Samsung today made new SDKs available to app writers seeking to target the Galaxy S5 smartphone and Gear 2 and Gear Fit smartwatches. The software developer kits, which are free to download starting today, provide developers with the tools they need to create apps for the devices. The Samsung Mobile SDK 1.5 adds APIs that can hook into the GS5's fingerprint scanner, as well as the motion-detection function, and split-screen mode for developing apps that can operate on TV and mobile devices at the same time. Samsung's S Health service gets its own SDK, which will allow developers to latch their own apps into the fitness and health functions of the GS5. There are separate SDKs for the Gear 2 and Gear Fit. The Gear 2 runs Samsung's Tizen operating system, but the Gear Fit runs a proprietary operating system. Apps for the Gear Fit will be more limited in scope.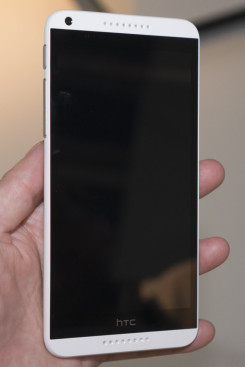 HTC's first new mid-range phone of 2014 is a phablet, with a design that echoes the HTC One. The Desire 816 is almost as big as the One max in size (but not quite) yet thin and light, with a relatively premium design, 13-megapixel camera, and BoomSound speakers, for a low price. We check out the hardware in this hands-on.
MasterCard today announced a new program that will use customers' cell phone location data to help determine if it should or shouldn't approve purchases. The opt-in program is meant for travelers who often visit other countries. Customers register their cell phone number with the program and allow MasterCard to track the location of their phone. If the customer travels to another country and activates their registered phone in that country, MasterCard will approve transactions made there. The program does not actually facilitate mobile payments through cell phones, but ties consumers' phone number and location to their credit card. MasterCard believes it will help prevent fraud, as well as offer travelers peace of mind in knowing that when they need to make purchases abroad, their card won't be declined. MasterCard also sees it as an opportunity to offer targeted offers. Syniverse is providing the location data to MasterCard.
Qualcomm recently announced the Snapdragon 801, an update to its existing Snapdragon 800 processor. While the basics of the 801 are similar to the 800 - software and pin compatibility - the rest of the CPU has been overhauled with significant new features. Qualcomm upgraded the Krait 400 core to a maximum clock speed of 2.5GHz, and integrated 4G LTE Category 4 and 802.11ac Wi-Fi directly into the module (the 800 has to be paired with a separate LTE baseband). The 801's imaging processor has been dramatically improved, offering a 45% jump in processing speed and the ability to handle more powerful camera sensors. The chip also adds support for dual-SIM/dual-active (DSDA) service for devices marketed in China. The Adreno 330 GPU remains the same. Qualcomm said the 801 is already in production and will makes its first appearance in the Samsung Galaxy S5. The improved chip is positioned just under the Snapdragon 805, which is Qualcomm's top-of-the-line processor for premiere devices. The 805 won't ship until close to the end of 2014.
Nokia today made a new software developer kit available to app writers that will allow them to add more Lumia imaging tools to their own applications. Nokia Imaging SDK 1.1 adds several key functions, such as performance optimizations that allow advanced features, such as Lens Blur, to run on low-end Lumia devices like the Lumia 520. This means app writers can target a broader range of devices with their app and won't be limited to high-end hardware. The SDK also gives developers more tools to dip into editing functions, such as reframing images and crop/zoom. Last, the SDK adds support for Windows 8.1 desktop and RT. Nokia Imaging SDK 1.1 is free to download from Nokia's developer portal.
BlackBerry today announced the Q20, its first phone to combine BlackBerry 10 software with the trackpad, menu & back buttons, and QWERTY keyboard of its more popular older devices. The Q20 will carry over the popular keyboard design from the Q10, but will increase the screen size to 3.5 inches, and include a larger battery. Send and end keys are also included next to the menu and back keys. New BlackBerry CEO John Chen described the phone as a reaction to consistent customer feedback that "the hard buttons and trackpad are an essential part of the BlackBerry QWERTY experience." Few other details were released. The phone is planned to be available in the second half of 2014.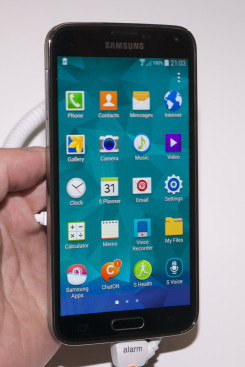 Samsung unveiled the Galaxy S5 smartphone today in Barcelona. Those expecting a great leap forward are bound to be disappointed, but the Galaxy S5 makes progress all the same. Here are Phone Scoop's first impressions.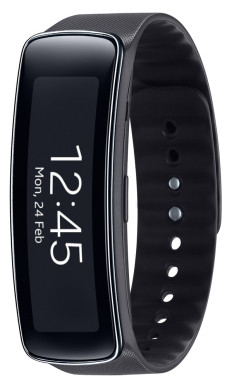 Samsung today announced the Galaxy Gear Fit, a health-focused wearable that offers a simpler experience than the more capable Gear 2 and Gear 2 Neo smartwatches. The Gear Fit has a curved 1.84-inch display with 432 x 128 pixels. The Fit has a number of sensors and can track steps, exercise, heart rate, and sleep. It includes a stopwatch, timer, schedule, relay, and media controller. The plastic strap is changeable, and it is resistant to water and dust thanks to its IP67 rating. It connects to smartphone via Bluetooth 4.0 Low Energy and comes with a 210mAh battery that provides three to four days of battery life. The Fit can keep owners up to date thanks to notifications from Galaxy smartphones, such as incoming calls, emails, text messages, alarms, and other apps. The Gear Fit will be available globally starting from April.
Samsung today announced the Galaxy S5, the fifth-generation of its flagship smartphone. It borrows a bit from the design language of the Galaxy Note 3 in that it is less round around the edges and more square - what Samsung calls the "modern glam look." The phone is more refined, but is also clearly a member of the Galaxy S family. Samsung worked to improve the camera, which rates 16 megapixels. The autofocus function has been sped up to help improve time-to-capture, as has the HDR function which can now work with video. Samsung has added a depth of field control to help blur the background, called Selective Focus. The video camera can capture 4K Ultra HD video. The GS5 puts more of an emphasis on health and fitness with revised S Health apps and services. S Health interacts with a built-in pedometer to help track activity, and a heart rate monitor tracks the owner's heart health. Samsung also has worked to incorporate S Health with third-party apps. The phone features a 5.1-inch 1080p HD screen, dual-band Wi-Fi with 2x2 MIMO, and Category 4 LTE speeds. The GS5 has what Samsung calls a Download Booster, which uses Wi-Fi and LTE together to increase download speeds over the air. Like the GS4 Active, the GS5 is water and dust resistant thanks to an ingress protection rating of IP67. The device has a 2,800mAh battery and Ultra Power Saving Mode, which turns the display black and white and shuts down all but the most essential apps and services to save battery life. It is powered by a quad-core 2.5GHz Snapdragon 800 processor with 2GB of RAM; NFC and Bluetooth 4.0; and it comes with either 16GB or 32GB of storage. It supports microSD cards up to 128GB. Last, the GS5 adds a fingerprint scanner for biometric security and a trick swipe-to-pay feature. The device will be available globally beginning in April.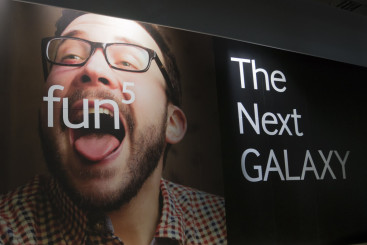 Samsung's Unpacked events are always big news, usually revealing a new Galaxy S flagship, or a new Galaxy Note. With heavy emphasis on the number five, everyone is expecting to see the Galaxy S 5 revealed. We'll bring you the news as it happens, right here.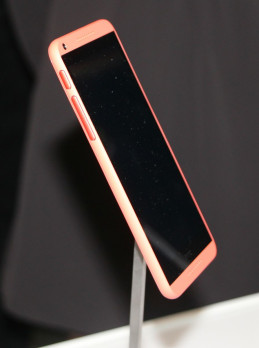 HTC announced the Desire 816 at Mobile World Congress today. Here are some first impressions based on a quick look at the new phone.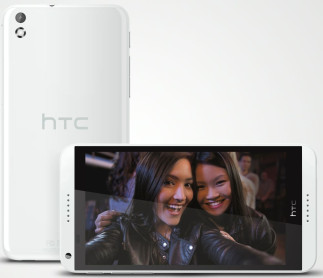 HTC today announced the Desire 816, a mid-range device that offers the best features of HTC's One series devices in a less expensive package. The Desire is made from a polycarbonate shell and has a 5.5-inch 720p HD display. It comes with some of HTC's more advanced features, such as BoomSound, BlinkFeed, and Sense 5.5. It has a 13-megapixel main camera with an aperture of f/2.2, and a 5-megapixel user-facing camera with back-side illumination. It is powered by a 1.2GHz quad-core Qualcomm Snapdragon 400 processor with 1.5GB of RAM and 8GB of storage. The Desire 816 supports microSD cards up to 64GB. It uses a nano SIM card and has a 2,600mAh battery. Connectivity options run the norm, with LTE, NFC, Wi-Fi, Bluetooth, GPS, and GLONASS all on board. The device runs the latest version of Android and will go on sale first in China in March and worldwide in April.
Geeksphone and Silent Circle today announced new details of their privacy-oriented Blackphone. The phone includes LTE, a 4.7-inch screen, 16 GB of storage, and 2 GB of RAM. The Android-based PrivatOS software not only offers secure calling, text and data, but also comes with software for secure video calling, anonymous web search, secure file exchange, and secure conference calling. Special software controls the Wi-Fi radio to expose the phone only to trusted networks and devices. Each phone includes two years of these Silent Circle services, and one year of "friends and family" service for up to three people, which enables secure communication with other people with standard Android or iOS phones. Pre-orders start today, with shipment estimated for June. It is fully unlocked and priced at $629.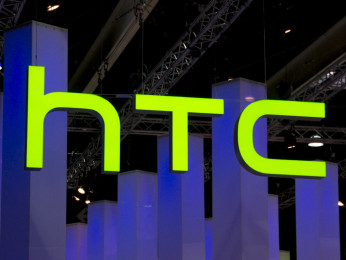 HTC is widely expected to reveal new phones at MWC this year. They already have a big dedicated event on the calendar in a few weeks, where we expect to see their new flagship. But today we're expecting some interesting new mid-range phones. Tune in here to get the news as it's revealed.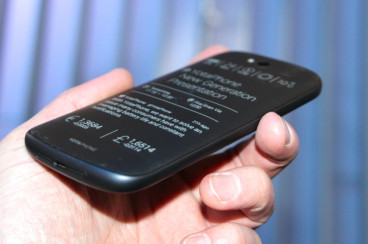 Yota announced a second-generation Android smartphone that has an e-ink display on one side and a regular screen on the other. Here are a few thoughts about Yota's unique handset.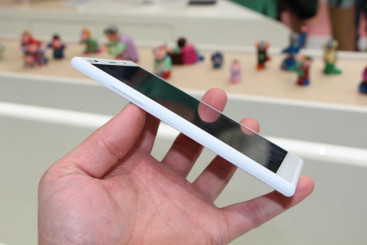 ZTE showed off a sequel to its flagship phablet. The Grand Memo II LTE is a gigantic device. Here are our first impressions of ZTE's latest monolithic piece of hardware.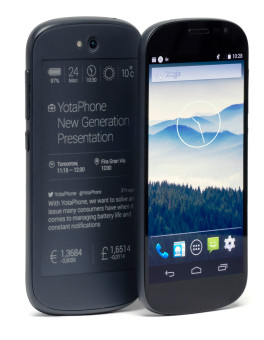 Yota Devices today announced its next-generation YotaPhone. Like its first phone, the new model has one regular display plus a large e-paper display on the back. On the new version, both displays are full touch displays. The design is also now more curved and comfortable. The specs have been upgraded to include a Qualcomm Snapdragon 800 processor and NFC. With displays on both sides, a full 74% of its surface area is touch screens. The 4.7-inch e-paper display is not only a full touch screen, but has been upgraded with better resolution and a light to be visible in the dark. Like all e-paper displays, it only uses power when changing, so it can display information constantly using almost no battery. The standard display on the other side is a 5-inch AMOLED panel. The new YotaPhone is planned to be available in Russia and Europe by the end of 2014, with a U.S. version to follow in early 2015.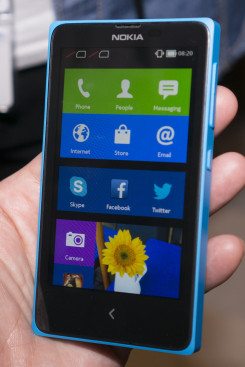 The rumors seemed surreal: an Android phone from Nokia?! Well it's real, and it's part of Nokia's aggressive strategy at the lower end of the market. With a unique blend of slick Lumia design, Android software, Microsoft services, Asha features, and a very low price, Nokia has created something that feels altogether new. Read on for our first hands-on impressions.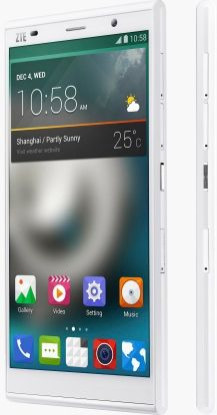 ZTE today announced the Grand Memo II LTE smartphone, a thinner, bigger version of its flagship phablet. The Grand Memo II LTE features a 6-inch HD screen protected by Corning Gorilla Glass 3. ZTE says the screen consumes 80% of the device's front surface, which is among the highest screen-to-bezel ratios. The phone is powered by a Snapdragon 400 processor that is paired with 2GB of RAM and 16GB of on-board storage. The phone features a 13-megapixel main camera with an f/2.2 aperture and back-side illumination. The front camera rates 5-megapixels. Other hardware features include Bluetooth, Wi-Fi, GPS, various sensors, and a 3,200mAh battery. ZTE claims the Grand Memo II offers 16 hours of HD video playback or several days of normal use. It measures 7.2mm thick. The Grand Memo II runs Android 4.4 KitKat skinned with ZTE's MiFavor 2.3 user interface. ZTE says MiFavor can memorize user habits to present useful information when needed, and it offers split-screen multitasking for power users. ZTE expects the Grand Memo II will go on sale in select markets later this year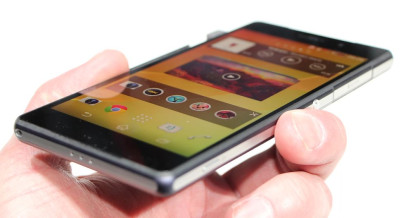 Here is a first look at Sony's new flagship and mid-range Android smartphones. Both are thin and light and loaded with all things Sony.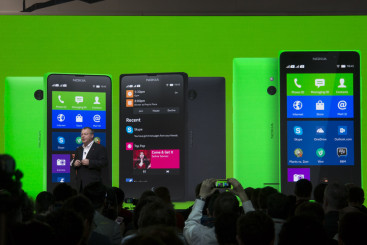 Nokia today announced the Nokia X, Nokia X+, and Nokia XL, its first phones to run the Android Open Source Project (AOSP) platform. The phones run standard Android apps, available through a new Nokia Store, or side-loaded. The phones offer Microsoft services - such as Outlook, Skype, HERE Maps, and OneDrive - instead of Google services. The interface is a blend of Lumia and Asha, including re-sizeable live tiles like Windows Phone, plus FastLane from Asha. The Nokia store supports carrier billing and in-app purchases. Facebook is pre-loaded. The X and X+ include a 4-inch display. The X+ adds a memory card slot. The XL steps up to a 5-inch display and a 2-megapixel front camera. The Nokia X will sell for 89 Euros. The X+ will sell for 99 Euros, in Q2. The XL is coming in early Q2 for 109 Euros. Nokia will sell the X family globally, starting in "growth markets." Nokia also re-affirmed its commitment to Lumia and Windows Phone. The company expects to price all X family phones lower than its Lumia phones. It will also continue offering Asha touch phones, at even lower price points, such as the new Asha 230, which will sell for only 45 Euros.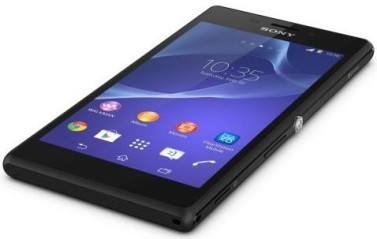 Sony today announced the Xperia M2, a mid-range Android smartphone that offers both performance and value. The M2 makes use of Sony's omnibalance design language, but steps down the features when compared to its flagship devices. It includes a 4.8-inch qHD display, 1.2GHz quad-core Snapdragon 400 processor, LTE 4G, and a 2,300mAh battery. The M2 includes an 8-megapixel main camera with Sony's Exmor RS sensor. It can shoot HDR images and offers a handful of Sony's advanced camera functions, such as Intelligent Auto. The M2 also offers Sony's entertainment services, such as Music Unlimited and Walkman. The Xperia M2 will launch globally in April. Sony will also offer a dua-SIM variant of the M2 to select markets.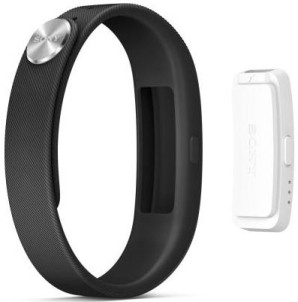 Sony today announced the SmartBand SWR10, a smartphone accessory that offers a variety of fitness and alert functions. The SmartBand is a fully waterproof band worn on the wrist that pairs with smartphones via NFC and Bluetooth. It is accompanied by an Android application called LifeLog. The LifeLog app and SmartBand together track the wearer's steps, activity, sleep cycles, and more. The LifeLog app can be used to set health and fitness goals, as well as track progress. The SmartBand can also be used to control the Walkman music player on Sony smartphones, as well as provide vibrating alerts for incoming calls, messages, emails, and social media activity. According to Sony, the SmartBand was developed using open standards and it is encouraging developers to expand the functionality of the accessory via LifeLog. Sony said the SmartBand SWR10 will be available globally beginning in March. Pricing was not disclosed.
Nokia today announced plans to bring BlackBerry's BBM messaging app to its Lumia devices.
Qualcomm today announced new 600-series processor and radio chipsets for phones, including its first chip with eight main processing cores, the Snapdragon 615. A quad-core version, the 610, was also announced. Both chips support a high number of LTE bands, plus HSPA+ 42 and CDMA. LTE-Broadcast and LTE Category 4. The chips include Adreno 405 graphics, previously only available on the top-end 800 series chips. The 615 and 610 are also 64-bit chips. The first phones using the news chips are expected to ship by the end of 2014.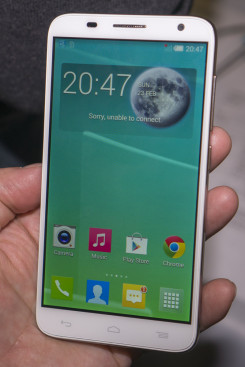 Alcatel's new Idol phones are slim and light, something the company is known for, but now have LTE. We check out these nice-looking, affordable Android phones.
Alcatel today announced the Idol 2 S and Idol 2 Mini S, two thin and light Android phones. Both phones include 4G LTE, an 8-megapixel main camera, front camera, quad-core 1.2 GHz processor, NFC, and Android 4.3, ugrade-able to 4.4. The Idol 2 S sports a 5-inch 720p display and is 7.4 mm thick, while the Idol 2 Mini S has a 4.5-inch qHD display and is 8.5 mm thick. They both launch globally in the 2nd quarter of this year.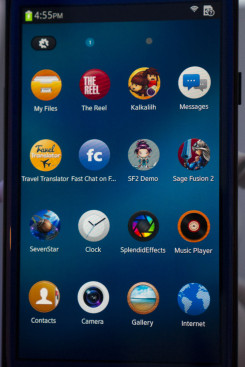 We spent a few minutes with a current version of the Tizen OS for phones. There's nothing surprising about it. It looks almost exactly like Android. But that in itself is interesting.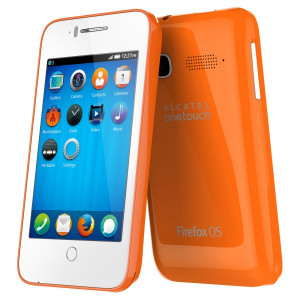 Mozilla today made a handful of announcements about the progress of Firefox OS, which is garnering more support from phone makers and carriers around the world. To start, the Firefox OS family has grown with the ZTE Open C and Open II, and Alcatel OneTouch Fire C (pictured), Fire E, Fire S handsets all making their debut in Barcelona. The devices are all running the latest version of Firefox, which has been sped up and performs better across the board thanks to new support from Qualcomm Snapdragon processors. Notably, these devices offer a mid-range experience, unlike the first device, which was marketed as an entry-level handset. In addition to the hardware partners, Mozilla has won agreements from Telkomsel and Indosat, which join the list of 21 operators supporting Firefox OS around the world. Mozilla also said it worked with Spreadtrum to create a WCDMA and EDGE turnkey reference design for Firefox OS, and a $25 chipset for low-cost Firefox OS smartphones. Last, Firefox outlined changes headed to the operating system. It will add a new universal search function available from any screen on the phone. New navigation features in the user interface will make multitasking easier, such as swiping between full-screen apps. The OS will also make it easier to share content thanks to support for NFC, as well as LTE for markets with 4G deployments. Mozilla also talked up new support it has from developers, who've begun to write more apps for the operating system.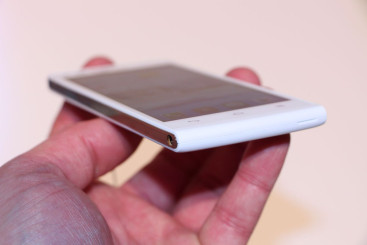 Huawei envisions the Ascend G6 as the phone that will make its brand more globally recognized. We take a look.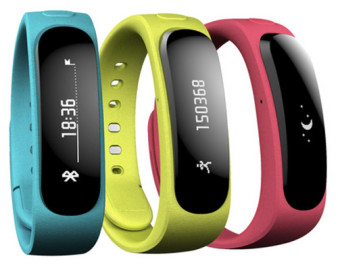 Huawei today announced the TalkBand B1, a smartphone accessory that doubles as a fitness tracker and a Bluetooth headset. The device has a 1.4-inch flexible OLED screen and relies on NFC and Bluetooth 4.0 Low Energy to connect to smart devices. It is compatible with Android 2.3 and up, and iOS 5.0 and up. It includes a removable earpiece that's good for up to seven hours of talk time. The TalkBand wirelessly tracks the wearer's activity time, such as steps taken, miles covered, and calories burned. It also records sleep duration and quality, and it has its own alarm. The TablkBand B1 has a 90mAh battery that lasts about six days for tracking activity and sleep. Huawei didn't say when the TablkBand B1 will be available, nor how much it will cost.
The Tizen Association today announced that it is promoting two new versions of the Tizen OS software. One is designed for televisions, and the other is targeted at wearables. Samsung is the using the wearable version in its new Galaxy Gear watches. Tizen previously had two versions: for phones and for vehicle information and entertainment systems.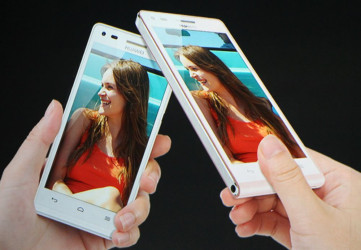 Huawei today announced the Ascend G6, a premium Android smartphone that will be sold at a low price. It features a high-quality design that will be offered in metallic and pastel colors. The device runs Android, but Huawei is offering two separate user interfaces: plain Android and its own home-designed UI. The G6 has a 4.5-inch qHD screen and is powered by a quad-core 1.26GHz processor. It boasts NFC, Bluetooth Low Energy, dual-band Wi-Fi, and LTE. The G6 includes an 8-megapixel main camera and a 5-megapixel, wide-angle, user-facing camera that offers a selfie preview panel. The G6 also packs a 2,000mAh battery. Huawei said the device will be available in April, though it didn't share plans to launch the device in the U.S. It will cost about $300.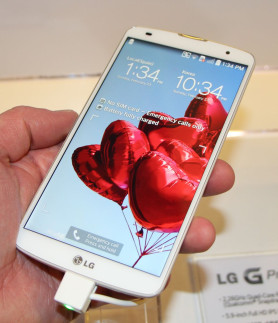 Here are our first impressions of the G Pro 2 and G2 Mini from LG.
Microsoft today announced a handful of features of the next version of Windows Phone. The slate of changes announced center on supporting cheaper hardware and developing markets. The new software will support Qualcomm's newer low-end Snapdragon 200 and 400 chipsets. It will also reduce memory requirements and allow apps loaded on removable memory cards. Microsoft will also remove the requirement for three hardware buttons below the screen and a dedicated camera button. This is designed to allow manufacturers to re-use hardware designed for Android phones. Microsoft will also expand its driver support for common hardware parts used in Android phones, further making it easier for manufacturers to offer a phone in both Android and Windows Phone versions. Microsoft will also support dual-SIM phones in the new version. The company is expected to fully reveal the new Windows Phone OS at its upcoming Build conference.