Hands On with Tizen OS
Article Comments 2
Feb 23, 2014, 11:36 AM by Rich Brome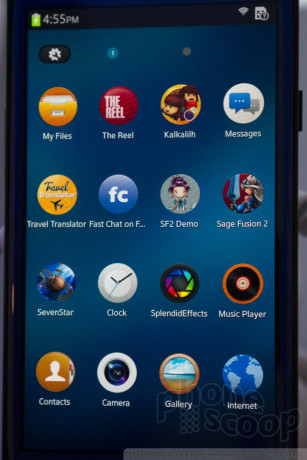 We spent a few minutes with a current version of the Tizen OS for phones. There's nothing surprising about it. It looks almost exactly like Android. But that in itself is interesting.
The version of Tizen we tried was running on a Samsung Galaxy S 4. It had all of the basic features of Android, and looked similar enough that you might mistake it for a manufacturer skin on Android.
The take-away here is that Tizen is designed to offer exactly what Android offers - with a similar interface, on similar types of phones - but free of Google's ecosystem and control. Tizen is not trying to offer an innovative new interface; they've opted for the familiar. Tizen is simply trying to offer an alternative to Android, one that's more free and truly open-source.
The types of apps that Tizen showcased here at MWC reflects that mission as well. There was a news reader app, a reminder app, a photo editor, and of course a full slew of games with impressive graphics.
The interface has everything you'd expect from a basic smartphone OS, including a home screen with a grid of re-arrangeable app icons, a pull-down notification shade, a task manager, etc. It all works smoothly.
It's still not entirely clear if Tizen will ever some to the U.S. Samsung is the most prominent manufacturer for Tizen phones, and they have said they have no plans for Tizen in the U.S. market. But Sprint and their new parent company SoftBank both recently joined the Tizen Association.
I wonder
If samsung is expecting a general rejection of android for business purposes? The risk of google conducting industrial espionage?

And then we just heard about the Apple breach.. apparently there's a gaping security hole in how all of apple's software works..
a Geek Phone
If Samsung released a Vanilla (no skin) I would at least give it a go. I love Android, but I would love to see what could be done with Tizen for the simple reason of being a geek.