Hands On with the Motorola edge+ (2023)
Article Comments
May 2, 2023, 8:00 AM by Rich Brome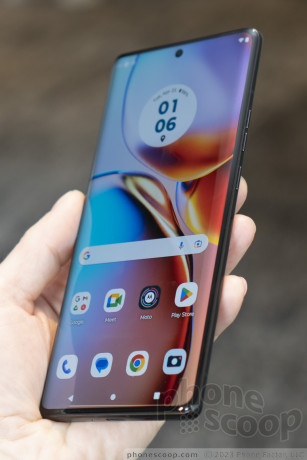 The new Motorola edge+ (2023) is the company's newest flagship phone. It builds on the same formula as last year's model when it comes to features, including dual 50 megapixel cameras. But in terms of design, it's a return to form for the edge series, giving us another curved-edge display after briefly going flat last year. Not only that, but Motorola has doubled down on this aspect, giving us more curved edges all around, as well as a thin body and thin bezels. In photos, this might look like any other phone. But in person... the design might be the phone's best feature; it feels exceptional. We spent some time with it, so allow us to explain in this hands-on report.
Hardware
Motorola has really pulled off something special with the design of the new edge+. Curved display edges are a great trick to fit a larger display in a smaller body. They allow a phone that has almost no bezels on the sides, so it can be "all screen". They also help a phone be not as wide, which is important for hand fit. Motorola applied curves to the back glass as well, and to all four sides, making this phone feel even smaller. Never before have I held a phone with a 6.7-inch display that felt this small and thin.
The outside is all metal (sandblasted aluminum) and glass (Gorilla Glass Victus, the latest and greatest from Corning). The silky matte finish on the back glass is the icing on the cake. Or maybe that would be the IP68 water resistance. It doesn't feel heavy, and yet it still feels high-quality and well-made. It feels great.
When you look closely, you can see that the display itself isn't actually curved at the top and bottom; just on the sides. But the top surface of the glass is curved at the top and bottom, overlapping with the display area. This gives a subtle effect of the display being slightly curved on all four edges. An all-screen design like this with such thin bezels and so many curves comes off looking and feeling slightly organic, uniquely sophisticated, and a little futuristic.
I do wish it came in more colors. For now, it's strictly black.
Where the design comprises a bit is the thin frame on the sides, and the camera hump.
There's so much curve to the glass that, on the sides, the frame narrows to an impossibly thin little strip of metal, and the side buttons sit within that. Weirdly, Motorola has made the buttons relatively short and sharp-edged as well. These are some seriously tiny buttons that almost stab at your fingertips when you use them. I mean, they work, but they're not great.
The camera hump is fairly thick, but that's par with this class of phone these days. There's just no other way to fit in decent cameras. I like how the hump's cover glass is curved at the sides to match the design of the rest of the phone; it's a cute design touch. What I don't like is how the whole hump is covered by one completely smooth piece of glass. So when you hold the phone, it's a little too easy to leave fingerprints on your camera lenses without realizing it. This could impact photo quality if you're not careful.
Other highlights of the hardware include a Snapdragon 8 Gen 2 chip (the best from Qualcomm), incredibly fast 68-watt charging, and two-way wireless charging. There's a 50 megapixel main camera, 50 megapixel wide-angle (and macro) camera, and a 60 megapixel front camera. Those last two are unusually high resolution, and that's great to see. There's also a new 12 megapixel 2x telephoto camera, which Motorola is positioning more for high-quality portrait shots of people rather than taking photos of far-away things. In all, the specs and features are competitive.
Software
This edge+ will ship with Android 13 and receive three subsequent OS upgrades. It will get four years of security updates, which is good. As usual, Motorola has a lot of software and tweaks that they've added, and yet they manage to maintain a relatively clean-looking version of Android that's true to Google's (excellent) design. (In fact, Google has taken to more-or-less copying some of Motorola's personalization features.)
The Moto app is the one place you can go to see and control everything Motorola has added, software-wise. There you can toggle features like Edge Lights, which takes advantage of the curved display to light up your desk (for example) when the phone is face down and you have an incoming call, text, or notification. I still don't like the design of the Moto app, but it works well enough, and a lot of these controls are also accessible in the usual Settings app.
Motorola has a well-regarded camera app. Every year, they add a few features, and this year is no exception. (And thanks to good design, it still doesn't feel cluttered.) When recording video, there are new "night vision", portrait, and subject-tracking features. Most unique is the new "Horizon Lock": Imagine you strap the phone to your chest and do a full cartwheel while recording video. With Horizon Lock, the scene would remain perfectly right-side-up the whole time. It's neat, although I'm not quite sure who it's for. Skateboarders might like it, perhaps. Regardless, I like that you can customize the camera app for the modes you use most often.
Of course this phone also has the full suite of ReadyFor features that let you make a wireless or wired connection to a TV or monitor, and make it easy to do all sorts of business or entertainment stuff on a bigger screen. That feature didn't always work well on some of Motorola's lower-end phones that I tried last year. But it should work much better on this phone, thanks to its top-end chipset and better wireless capabilities.
Summary
I like this phone a lot. It has a great set of specs and features at any price, and the price is good at just $800 (unlocked). I think it sets itself apart with the design; not in a "look at me" way, but in how it feels. It feels absolutely great.
If you're interested in the unlocked model, it has great support for all 5G (sub-6) and 4G networks in the US. Pre-orders start May 19th and it ships a few days later on the 25th.
It will also come to Boost, Spectrum, and Consumer Cellular. Weirdly, there's no mention of Verizon or other US carriers, at least not yet.
No messages