Quick Look: HTC Desire 816
Article Comments
Feb 24, 2014, 11:23 AM by Eric M. Zeman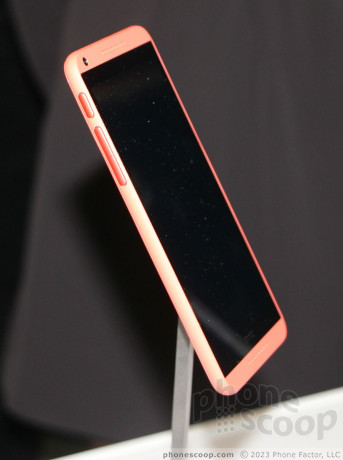 HTC announced the Desire 816 at Mobile World Congress today. Here are some first impressions based on a quick look at the new phone.
Advertisements article continues below...
This is not a hands-on. Instead, it is an eyeballs-on. The Desire 816 was on display, but was being closely gaurded by HTC staffers and no one was allowed to hold it or use it. That said, it looks really nice.
There's no doubt the 816 qualifies as a phablet. The 5.5-inch screen necessitates the phablet label. It's big. It looks like a plastic version of the One Max. It's about the same size, but made from polycarbonate instead of aluminum. It has the same set of drilled speaker holes for the BoomSound speaker on the front both above and below the screen, and that signature HTC "look." The edges are rounded, rather than sharp, and the materials smooth and high quality.
The screen, from what we could tell, looks fairly good for the size/resolution. I'd prefer to see a 1080p screen at this size, but the 720p resolution still comes off looking decent. There are two buttons on the left side of the phone for power and volume. The memory card and SIM card slots are protected on the right side by a hatch. There are no buttons on the front of the device; rather it relies on the on-screen buttons from the Android operating system.
HTC didn't announce pricing, but the HTC Desire 816 is an attractive mid-range device.
No messages