Hands On with Alcatel's Idol 2 S & Idol 2 mini S
Article Comments
Feb 23, 2014, 4:14 PM by Rich Brome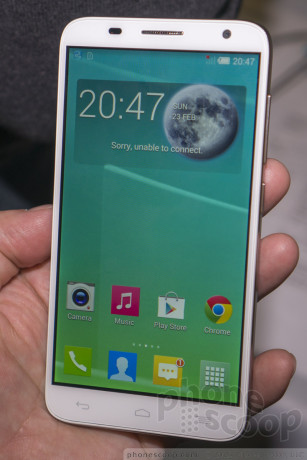 Alcatel's new Idol phones are slim and light, something the company is known for, but now have LTE. We check out these nice-looking, affordable Android phones.
Article
Alcatel has been slowly but surely gaining ground in the U.S. in recent years. They excel at producing phones that are remarkably thin and light, yet very affordable.
The Idol 2 series updates a range of phones that are very new. Some of the models being replaced were announced just six months ago. The Idol 2 and Idol 2 mini don't have LTE, and therefore have slim hopes of coming to the U.S. on a major carrier. The Idol 2 S and even-more-awkwardly-named Idol 2 mini S are similar but do have LTE, making them a bit more interesting. (The "S" is for "speed".)
Of the four phones, the Idol 2 mini has the most interesting design, with some small but clever innovations such as a hidden proximity sensor on its white glass front. Unfortunately, the LTE version - the Idol 2 mini S - has a duller design.
Both the Idol 2 S and its mini cousin share a similar design with a brushed-metal-looking band around the sides, glass front, and gently curved back with a matte finish. The differences are very slight. The mini has a more metallic-looking finish on the back, while the larger version is decidedly plastic. It's that sort of matte plastic that looks and feels great when new, but doesn't seem like it would look or feel as nice after a few months of scuffing and collecting grime. The metallic band around the edge has a colored tint to it on the mini, which cheapens the look, if you ask me.
Both phones are a nice size and weight for their respective screen sizes. The larger version is noticeably thinner and feels lighter relative to its size. The curve on the back of each helps them feel thin and fit comfortably in your hand. Both phones feel solidly built. The displays are respectable quality.
Both phones have embedded batteries, yet support memory cards via a tray, located right next to the SIM card tray. Both phones have the same volume and lock keys on the right, which are easy to find and use; they work well. The front glass has a slight plastic lip around it, which protects the screen a bit, but makes a sideways swiping gesture a bit uncomfortable. That's too bad because that's how you unlock the phone.
The software is standard Android, with just a few tweaks. Alcatel has adopted Android's new Quick Settings screen, but enhanced it to be customizable. The camera software has one of the better pop-up settings screens I've seen. And they brilliantly include an easy-to-access QR code scanner right in the camera app. (I've always wondered why that isn't built into Android. It seems like such a no-brainer.)
I do have to knock the Idol 2 S (and mini) on speed. The low-end 1.2 GHz processor is a big part of how they make these phones affordable. They'll do everyday tasks fast enough for many people, but if you look for it, the lack of speed is noticeable in a few places.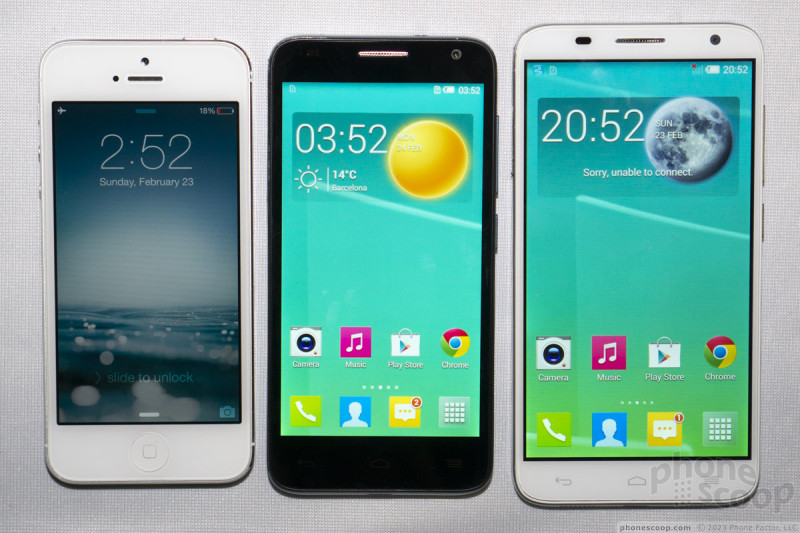 iPhone 5 / Idol 2 mini S / Idol 2 S
Look for these to launch "globally" in the second quarter, although no specific U.S. launch plans have been announced.
No messages