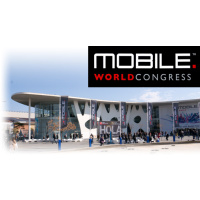 MWC 2014
The world's largest annual mobile event - Mobile World Congress - takes place the last week of February. We're on the ground in Barcelona to bring you all of the week's news. Tune in here for our full coverage, including hands-on with new phones from Samsung, LG, HTC, Nokia, ZTE, and Huawei.
All Liveblogs Samsung LG HTC more... Discuss
Samsung recently announced two additions to its family of Exynos mobile processors. The Exynos 5 Octa 5422 is an eight-core processor meant for premium devices. It uses a big.LITTLE configuration with four ARM Cortex A15 cores at 2.1GHz for intensive calculations and four ARM Cortex A7 cores at 1.5GHz for low-power calculations. According to Samsung, the 5422 can support displays with greater-than-HD resolutions, such as WQHD (2560 x 1440), as well as image processing techniques that help reduce power requirements by 10%. The 5422 was developed with a 28nm processes and will be available for mass production during the first quarter. Samsung also announced the Exynos 5 Hexa 5260, a six-core chip that targets mid-level devices. It includes two ARM Cortex A15s at 1.7GHz and four ARM Cortex A7s at 1.3GHz. Samsung claims this chip makes a significant jump in performance when compared to the previous generation chip, and it can support up to WQXGA screens, full 1080p HD video capture/playback, and external displays. The Exynos 5260 is already in volume production.
---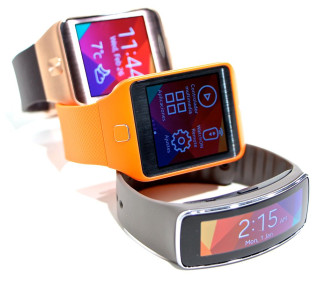 Samsung hopes its new smartwatches will make enticing companions to the Galaxy S5 and other smartphones. The Gear 2 is a re-do of Samsung's original smartwatch, while the Gear Fit is a fresh take on wearables.
---
Samsung today made new SDKs available to app writers seeking to target the Galaxy S5 smartphone and Gear 2 and Gear Fit smartwatches. The software developer kits, which are free to download starting today, provide developers with the tools they need to create apps for the devices. The Samsung Mobile SDK 1.5 adds APIs that can hook into the GS5's fingerprint scanner, as well as the motion-detection function, and split-screen mode for developing apps that can operate on TV and mobile devices at the same time. Samsung's S Health service gets its own SDK, which will allow developers to latch their own apps into the fitness and health functions of the GS5. There are separate SDKs for the Gear 2 and Gear Fit. The Gear 2 runs Samsung's Tizen operating system, but the Gear Fit runs a proprietary operating system. Apps for the Gear Fit will be more limited in scope.
---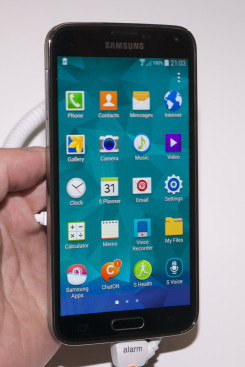 Samsung unveiled the Galaxy S5 smartphone today in Barcelona. Those expecting a great leap forward are bound to be disappointed, but the Galaxy S5 makes progress all the same. Here are Phone Scoop's first impressions.
---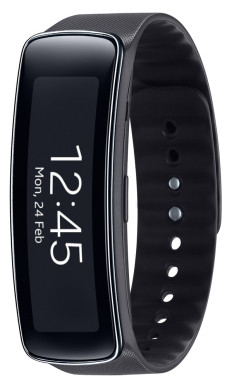 Samsung today announced the Galaxy Gear Fit, a health-focused wearable that offers a simpler experience than the more capable Gear 2 and Gear 2 Neo smartwatches. The Gear Fit has a curved 1.84-inch display with 432 x 128 pixels. The Fit has a number of sensors and can track steps, exercise, heart rate, and sleep. It includes a stopwatch, timer, schedule, relay, and media controller. The plastic strap is changeable, and it is resistant to water and dust thanks to its IP67 rating. It connects to smartphone via Bluetooth 4.0 Low Energy and comes with a 210mAh battery that provides three to four days of battery life. The Fit can keep owners up to date thanks to notifications from Galaxy smartphones, such as incoming calls, emails, text messages, alarms, and other apps. The Gear Fit will be available globally starting from April.
---
Samsung today announced the Galaxy S5, the fifth-generation of its flagship smartphone. It borrows a bit from the design language of the Galaxy Note 3 in that it is less round around the edges and more square - what Samsung calls the "modern glam look." The phone is more refined, but is also clearly a member of the Galaxy S family. Samsung worked to improve the camera, which rates 16 megapixels. The autofocus function has been sped up to help improve time-to-capture, as has the HDR function which can now work with video. Samsung has added a depth of field control to help blur the background, called Selective Focus. The video camera can capture 4K Ultra HD video. The GS5 puts more of an emphasis on health and fitness with revised S Health apps and services. S Health interacts with a built-in pedometer to help track activity, and a heart rate monitor tracks the owner's heart health. Samsung also has worked to incorporate S Health with third-party apps. The phone features a 5.1-inch 1080p HD screen, dual-band Wi-Fi with 2x2 MIMO, and Category 4 LTE speeds. The GS5 has what Samsung calls a Download Booster, which uses Wi-Fi and LTE together to increase download speeds over the air. Like the GS4 Active, the GS5 is water and dust resistant thanks to an ingress protection rating of IP67. The device has a 2,800mAh battery and Ultra Power Saving Mode, which turns the display black and white and shuts down all but the most essential apps and services to save battery life. It is powered by a quad-core 2.5GHz Snapdragon 800 processor with 2GB of RAM; NFC and Bluetooth 4.0; and it comes with either 16GB or 32GB of storage. It supports microSD cards up to 128GB. Last, the GS5 adds a fingerprint scanner for biometric security and a trick swipe-to-pay feature. The device will be available globally beginning in April.
---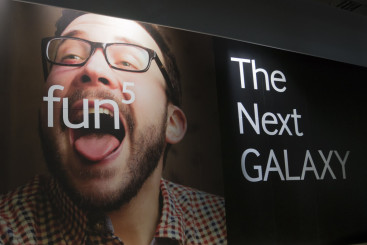 Samsung's Unpacked events are always big news, usually revealing a new Galaxy S flagship, or a new Galaxy Note. With heavy emphasis on the number five, everyone is expecting to see the Galaxy S 5 revealed. We'll bring you the news as it happens, right here.
---
The Tizen Association today announced that it is promoting two new versions of the Tizen OS software. One is designed for televisions, and the other is targeted at wearables. Samsung is the using the wearable version in its new Galaxy Gear watches. Tizen previously had two versions: for phones and for vehicle information and entertainment systems.
---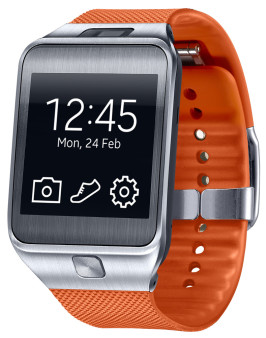 Samsung today announced the Gear 2 and Gear 2 Neo, two new smartwatches that run Samsung's Tizen operating system rather than Android. Where the original Gear device relied on Android 4.2.2 and used select Android-based apps, both the Gear 2 and Gear 2 Neo adopt Samsung's home-grown, Linux-based platform. Samsung says that despite the OS switch, several dozen apps will be available for the Gear 2 and Gear 2 Neo at launch. Some apps that Samsung has developed include CNN, Expedia, eBay, Evernote, Feedly, Path, PayPal, and The Weather Channel. Both new watches appear similar to the original watch, but the camera has been moved from the strap to the body of the watch itself. They also feature swappable wrist bands, which are offered in several colors, and are water resistant. The watches include an IR port and can act as a remote for home theater equipment. The watches now include an on-board music player so they can be used to play music without requiring a smartphone to be nearby. They also include a handful of fitness apps and sensors to assist with exercising. The Gear 2 and Gear 2 Neo each include a 1.63-inch touch display with 320 x 320 pixels, 1GHz dual-core processor with 512MB of RAM and 4GB of storage, Bluetooth 4.0 Low Energy, and a 300mAh battery that's good for two or three days of use. The only difference between the two is that the Gear 2 Neo does not include a camera. The Gear 2 and Gear 2 Neo will be available worldwide in April. Pricing was not announced.
---