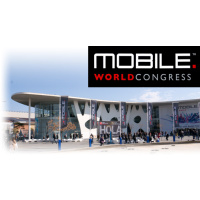 MWC 2014
The world's largest annual mobile event - Mobile World Congress - takes place the last week of February. We're on the ground in Barcelona to bring you all of the week's news. Tune in here for our full coverage, including hands-on with new phones from Samsung, LG, HTC, Nokia, ZTE, and Huawei.
All Liveblogs Samsung LG HTC more... Discuss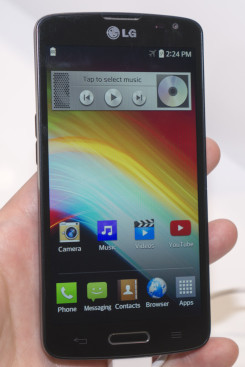 LG launched its new F-series at MWC this week, which consists of the F90 and very similar but smaller F70. The specific F90 that they're showing off is a variant for Sprint, which appears to be named Volt. It's a mid-range Android phone with a 4.7-inch display, Snapdragon 400 processor, and 8-megapixel camera. We took it for a quick spin. Read on for our first impressions.
---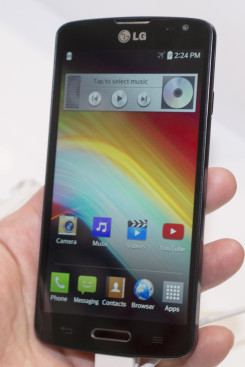 LG this week revealed two new mid-range Android phones with LTE 4G: the F70 and F90. At the Mobile World Congress trade show in Barcelona this week, they showed off a Sprint version of the F90, which seems to be called the Volt. The Volt has a 4.7-inch qHD display, 8-megapixel main camera, front camera, Snapdragon 400 processor, NFC, removable 3,000 mAh battery, tri-band LTE (Sprint Spark,) IR remote control, and a memory card slot. The software includes LG's QSlide, Knock Code, and Smart screen, which keeps the screen from timing out while you're looking at it. It ships with Android Kit Kat 4.4. Pricing and release date were not announced. The F70 is a smaller cousin to the F90. It has a 4.5-inch display, 5-megapixel camera, and a smaller battery, but is otherwise identical.
---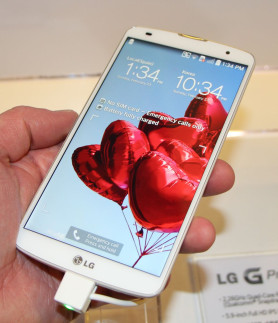 Here are our first impressions of the G Pro 2 and G2 Mini from LG.
---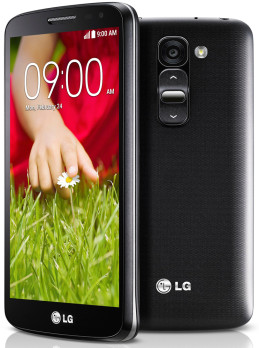 LG today announced the G2 Mini, a smaller version of its flagship smartphone, that aims at the middle of the market. Like the G2, the G2 Mini places the volume and screen lock buttons on the back surface where LG believes it is easier to reach them. Compared to the G2, the G2 Mini reduces the display from 5.2 inches and full HD to 4.7 inches and qHD. The phone is powered by a quad-core 1.2GHz Qualcomm processor (for LTE markets) with 1GB of RAM and 8GB of built-in storage. The phone uses an 8-megapixel/1.3-megapixel back- and front-camera configuration. The G2 Mini includes Bluetooth 4.0, Wi-Fi, GPS, and NFC. It supports microSD cards and has a 2,440mAh battery. The device runs Android 4.4 KitKat and will be loaded with user interface elements and apps/services from LG, such as Guest Mode, Capture Plus, and Clip Tray. The LG G2 Mini will be offered in several colors, including black, white, gold, and red. It will debut in select markets in March, with others to follow in April and May. LG did not specifically state plans to offer the G2 Mini in the U.S.
---
LG today announced the third-generation collection of L Series smartphones, the L90, L70, and L40. All three devices run Android 4.4 KitKat with LG's user interface enhancements. The hardware puts LG's minimalistic design esthetic to use. Shared features include support for HSPA+ networks, Bluetooth, GPS, and Wi-Fi.
L90: This is the largest and most well-equipped version of the three new L Series III devices. It has a 4.7-inch qHD display, quad-core 1.2GHz processor with 1GB of RAM, 8GB of internal storage, 2,540mAh battery, and an 8-megapixel/1.3-megapixel camera configuration.
L70: The L70 steps the display down to 4.5 inches and 800 x 400 resolution, a dual-core 1.2GHz processor with 1GB of RAM, 4GB of internal storage, a 2,100mAh battery, and an 8- or 5-megapixel/VGA camera configuration.
L40: This entry-level phone features a 3.5-inch 480 x 320 display, dual-core 1.2GHz processor with 512MB of RAM, 4GB of internal storage, a 1,700mAh battery and a 3-megapixel camera.
LG did not release pricing or availability details for the L Series III smartphones, though it did say they'll target markets limited to 3G.
---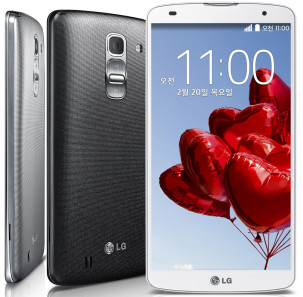 LG today introduced the G Pro 2, a successor to last year's phablet. The G Pro 2 starts with a 5.9-inch 1080p HD display that is surrounded by a minimal amount of bezel. LG's KnockOn feature has evolved into Knock Code, which can be used to unlock the screen, as well as power the device on, thanks to tens of thousands of different knock codes. The G Pro 2 has a 13-megapixel camera with optical image stabilization. The camera can record video at 120 frames per second for slow motion, or in 4K ultra HD. The camera also includes Magic Focus, which lets users adjust the depth of field after the image is taken, a more natural flash for better skin tones, and a "flash" for self portraits that works by reducing the viewfinder on the screen and filling in the rest of the space with white light. Other software features include Content Lock for securing files, photos, videos and memos; Mini View, which shrinks the display to a smaller size on the screen for easier one-handed use; and Dual Browser, which lets users interact with two open browser windows on the screen at the same time. The LG G Pro 2 is powered by a 2.26GHz quad-core Qualcomm Snapdragon 800 processor with 3GB of RAM and it ships with either 16 or 32GB of internal storage. It supports a range of LTE networks, in addition to Wi-Fi, Bluetooth 4.0, GPS, and NFC. It has a 3,200mAh battery and a 1 watt amplifier powering the speaker for louder ringtones and speakerphone performance. Pricing and availability have not net been determined.
---