LG Reveals G2 Mini with Ramped Down Size and Specs
Article Comments 11
Feb 19, 2014, 9:34 PM by Eric M. Zeman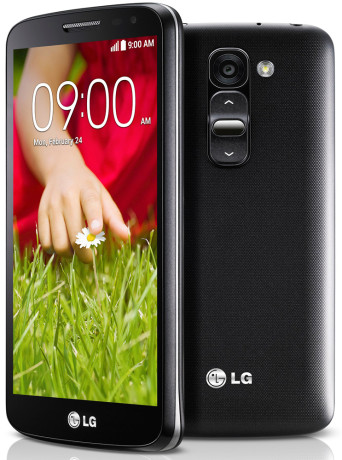 LG today announced the G2 Mini, a smaller version of its flagship smartphone, that aims at the middle of the market. Like the G2, the G2 Mini places the volume and screen lock buttons on the back surface where LG believes it is easier to reach them. Compared to the G2, the G2 Mini reduces the display from 5.2 inches and full HD to 4.7 inches and qHD. The phone is powered by a quad-core 1.2GHz Qualcomm processor (for LTE markets) with 1GB of RAM and 8GB of built-in storage. The phone uses an 8-megapixel/1.3-megapixel back- and front-camera configuration. The G2 Mini includes Bluetooth 4.0, Wi-Fi, GPS, and NFC. It supports microSD cards and has a 2,440mAh battery. The device runs Android 4.4 KitKat and will be loaded with user interface elements and apps/services from LG, such as Guest Mode, Capture Plus, and Clip Tray. The LG G2 Mini will be offered in several colors, including black, white, gold, and red. It will debut in select markets in March, with others to follow in April and May. LG did not specifically state plans to offer the G2 Mini in the U.S.
This is a joke right?
LOL 4.7 inches = MINI. I remember in 2010-11 when 4.3 inches was considered HUGE! I miss those days...
I know right? I remember when the Samsung Galaxy S Vibrant came out, everybody was saying the screen was huge, even this website's own review said it had a huge screen, and it was 4 inches. I dont know how they can call 4.7 inches mini, they should h...
(continues)
Things are very, very different in 2013/2014>>>>

Personally, in comparison to a 5.0-5.2 inch screen, I think a mini should be 4.3-4.5
Since size seems to be a relative term nowadays. I'd like to request all smartphone manufacturers to also make "ULTRA-MINI-COMPACT" versions of their flagships... you know, so the final product ends up between 3.8 to 4.3 inches 😁
1 GB of RAM? 8 GB of on-board storage?

This is an oh-so-slight update of Verizon's LG Lucid 2:
- Quad core instead of dual core.
- 4.7" instead of 4.3". But wait, the Lucid 2's 4.3" doesn't have on-board navigation keys, so in most uses, it...
(continues)
this could be great
I love my G2, and I don't have small hands, but the screen on the G2 is just bordering on too big. I have to adjust the way I hold my phone and balance it on my pinky in order for my thumb to reach the top far corner of the screen. 4.7 inches would be just about perfect screen size. Not having a microSD card slot hasn't been as big a deal as I anticipated, but that being said I'm glad we are seeing new phones (besides Samsung) bring back the card slot. I never bothered moving my pictures and app backup data from my old phone when I got my G2, I just know they are still on the old card so I can get to them if I want to from a computer. As someone who sells phones and helps people transfer stuff from their old phone to their new phone, I haven...
(continues)
Remember when
'mini' phones used to have 3" screens?

Pepperidge Farms remembers.