Samsung Galaxy S5 Is Waterproof, Adds Fingerprint Sensor
Article Comments 30
Feb 24, 2014, 2:03 PM by Eric M. Zeman
updated Feb 24, 2014, 2:49 PM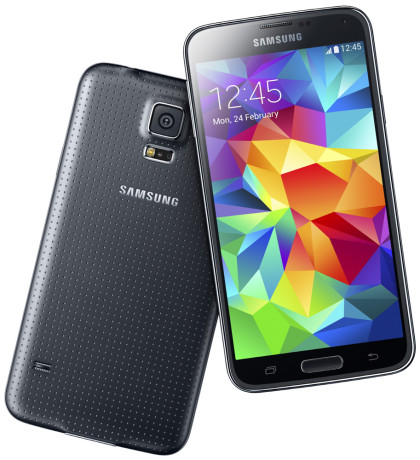 Samsung today announced the Galaxy S5, the fifth-generation of its flagship smartphone. It borrows a bit from the design language of the Galaxy Note 3 in that it is less round around the edges and more square - what Samsung calls the "modern glam look." The phone is more refined, but is also clearly a member of the Galaxy S family. Samsung worked to improve the camera, which rates 16 megapixels. The autofocus function has been sped up to help improve time-to-capture, as has the HDR function which can now work with video. Samsung has added a depth of field control to help blur the background, called Selective Focus. The video camera can capture 4K Ultra HD video. The GS5 puts more of an emphasis on health and fitness with revised S Health apps and services. S Health interacts with a built-in pedometer to help track activity, and a heart rate monitor tracks the owner's heart health. Samsung also has worked to incorporate S Health with third-party apps. The phone features a 5.1-inch 1080p HD screen, dual-band Wi-Fi with 2x2 MIMO, and Category 4 LTE speeds. The GS5 has what Samsung calls a Download Booster, which uses Wi-Fi and LTE together to increase download speeds over the air. Like the GS4 Active, the GS5 is water and dust resistant thanks to an ingress protection rating of IP67. The device has a 2,800mAh battery and Ultra Power Saving Mode, which turns the display black and white and shuts down all but the most essential apps and services to save battery life. It is powered by a quad-core 2.5GHz Snapdragon 800 processor with 2GB of RAM; NFC and Bluetooth 4.0; and it comes with either 16GB or 32GB of storage. It supports microSD cards up to 128GB. Last, the GS5 adds a fingerprint scanner for biometric security and a trick swipe-to-pay feature. The device will be available globally beginning in April.
Let me predict the reaction...
The phone looks virtually identical to its predecessors, but fanboys are going to praise the subtle shift of a few molecules here and there as a revolutionary visual design shift.

The phone, lacking holographic output and mind-reading capabilities, will cause fanboys to cry in agony that a phone released just 1 year after its predecessor fails to be a complete technological revolution in mobile phones.

Thankfully the market is not full of insufferable fanboys looking for a substitute for a human companion. To the masses, the public will see the GS5 as yet another excellent phone from Samsung with nice technological upgrades. This will likely be a phone any manufacturer would be proud to have in its product list.

Actually the phone...
(continues)
I agree with your sentiments that this is a solid device and that there isn't really a big need for a ton of new features. I also agree that its important to start making phones more durable (but watch out people will have stop pining over glass and a...
(continues)
TOO BIG and still has terrible phyiscal button layout
NO thank you, Samsung...make a SMALLER phone, with on-screen buttons and maybe I'll pay any attention to you
This phone is obviously not for you. I get that.
Thank god for Fingerprint sensor
Now i have a good reason to upgrade my GS4 so it better work like Apples.
now we have a way to hide our porn.
The OS is still buggy and the phone is second class!
Big, bulky and just more of the same. This new smartphone tells me more than ever that you have nowhere to go if it has a problem. Is there a Samsung store like the Apple stores that help you out and are first class.
Do you really want yet another plastic phone that offers nothing but glitz and no real quality build or advancements.

Get an iPhone 5S and be done with. I did and I will never look back. Samsung phones all have issues that interfere with using the device.

Apple builds the operating system themselves and the phone is 100% Apple. The quality is volumes ahead of the other smartphones.

I am sure you will be very happy with that new iPhone 5S.

WOW!
Nice sales pitch. But, I'm not buying.

I've been around Apple since '78 and had owned Apple products for close to 10 years. Apple is not entirely flawless and it has it share of issues and it too, can be more or the same.

I'll stick with Androi...
(continues)
HAHAHAHAHAAH! Wow...my Apple Fanboy Sensor is going berserk!! How much of the Kool-Aid did they force feed you? Allow me to break it down for you without the brainwashing...

Who cares if there are specific stores? If I have issues with my Android d...
(continues)
I didn't know you went to Barcelona.
High Expectations
It's cool and everything, but I expected more. Don't get me wrong, I own an S4 and I LOVE it. But I don't see anything on this one that makes me want to jump from my S4 to an S5 right now. Maybe I expected too much?
Or maybe you're happy with what you have and don't need a new phone every year just to have the highest number at the end of your phone? 🙄
Little Disappointed
I guess I set my expectations too high. I was waiting on getting a G2 and now I feel like the G2 would be a good purchase for me.

Samsung just puts too much bloatware on the phone that what I think I needed from them was both a large battery and 3 GB of RAM.
Yeah Samsung is a bloatware whore...no doubt...but as for the RAM, keep in mind that 2GB of triple channeled RAM performs just as well as 3GB of dual channeled RAM. For the most part anyway. There is almost no difference in benchmark scores that I hav...
(continues)