Hands-On: Huawei Ascend G6
Article Comments
Feb 23, 2014, 11:12 AM by Eric M. Zeman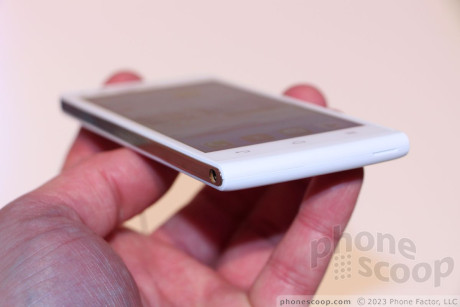 Huawei envisions the Ascend G6 as the phone that will make its brand more globally recognized. We take a look.
Advertisements article continues below...
Huawei did not mask its ambitions at Mobile World Congress this year. The company wants to push its brand into more countries around the world. Though it already has a toehold in the US market, it believes devices such as the G6 will help it increase its presence across America.
Huawei billed the G6 as an ultra-premium device that is still affordable. From several feet away, the G6 certainly looks nice. It is being sold in a bevy of colors, and most have a metallic band that rims the sides and top. We played with a white one, and the band was gold. It looks classy, no doubt., perhaps even Kardashian-esque. The phone has a curved bottom edge that gives the design a bit of flair.
Once you pick it up, though, the aura of classiness starts to dim a bit. The plastics feel incredibly cheap, which I hate to have to say, but it's the truth. The materials are simply not up to snuff. They come across as thin, flimsy, and sharp. The side edges, which are flat to accommodate the metal band, have very sharp edges that I thought were uncomfortable against the skin. That said, the G6 is compact that's to the 4.5-inch screen. It has a nice footprint and will certainly fit into any pocket or bag you might want to carry it in.
The screen is OK, but not great. It offers only qHD resolution. The slightly smaller size helps out a bit as far as increasing pixel density. It thought most items on the screen looked good, though the display could certainly be brighter.
The Ascend G6 ships with two user interfaces. It comes with a regular version of Android with a light skin treatment from Huawei, and it also comes with an "Easy Mode." More than other devices, Huawei's Easy Mode offers a far more dramatic change. It reduces the entire UI to just three screens, with large icons and easy-to-read text (see below). It almost resembles Windows Phone's Live Tiles. Thankfully, there's a dedicated button in Easy Mode that lets you jump right back to the full version of Android. What's Easy Mode for? Your Grandma.
The phone is powered by a quad-core 1.2GHz processor and I didn't see any performance problems with the devices on hand. Screen transitions were fluid and quick, and the Easy Mode flies by very quickly. The device has an 8-megapixel main camera and a 5-megapixel "selfie" camera. The user-facing camera has a wide angle of view, and a low aperture. It also offers a trick preview pane of what your selfie is going to look like. The rest of the UI is pretty standard for an Android device.
Will it comes to the US? Probably, though likely through a pre-paid carrier.
No messages