Hands-On: Alcatel Idol Ultra
Article Comments
Feb 24, 2013, 3:20 PM by Eric M. Zeman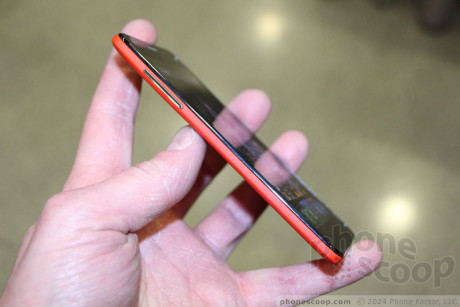 The Idol Ultra, an Android smartphone, may not be headed to the U.S. any time soon, but it was impressive enough that we though we'd share our first impressions.
source: Alcatel
Advertisements article continues below...
The Alcatel OneTouch Idol Ultra is the world's thinnest phone, for the moment anyway. Imagine an HTC 8X, and you'll get a good idea about the basic feel of the Idol Ultra.
It is incredibly thin at 6.45mm. An iPhone 5 looks downright chunky next to the Idol Ultra. It's a monoblock slab that has a black glass front and a soft-touch finish on the sides (if you can call them that) and the back. It is as light as a feather. The thickness is really quite impressive, and hard to convey in words or even pictures.
For such a thin and light device, it is solidly put together and uses fine materials. The glass front has a great feel under the thumb, and the rounded edges and grippy texture of the back make it exceptionally comfortably to hold and use. I doubt there's a pocket on earth that couldn't fit the Idol Ultra.
The display itself measures 4.7-inches and has 1280 x 720 pixels, making it an HD display. It looks really, really good. It is sharp, bright, and colorful. Text was easy to read, and icons/graphics were rich and vibrant on the display.
The volume toggle is on the left side. I found it easily thanks to its shape, and it offered good travel and feedback. The screen lock button is on the top. It, too, is easy to find and use, and the travel and feedback was quite rewarding. The microUSB port is hidden underneath a hatch, and the SIM card tray is similarly hidden.
There are a couple of major trade-offs with this design, however. First, there is no headphone jack. Instead, you have to use the microUSB port an an adapter. Second, the battery is not removable.
The user interface is nearly stock Android 4.1 Jelly Bean, though it has obviously been given the ole once-over by Alcatel. The icons look a bit different and there are Alcatel-designed screen transitions and such. The inner menu system sticks with stock Android, though.
The slim profile is certainly impressive, but proves once again that you can't always have everything.
No messages