CES 2015
All Liveblogs LG Google AT&T more... Discuss 1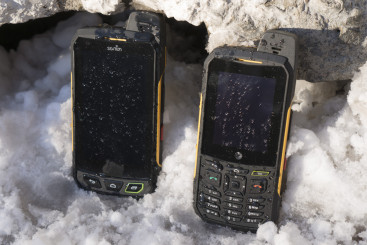 Sonim is hitting its stride in its quest to make the best rugged phones for demanding industries. The XP6 and XP7 are the company's best efforts to date, and represent much more than just two phones, with support for a whole ecosystem of software and specialized accessories. We check them out in our hands-on.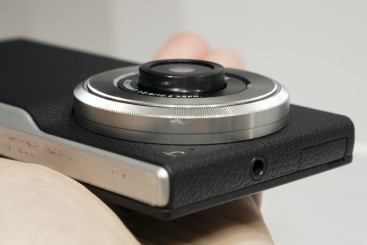 Panasonic's Lumix phone is just as much camera as phone, much in the same vein as Samsung's Galaxy Camera series. It pairs an Android phone with a 20-megapixel Lumix camera with a massive sensor and extending multi-element lens for the kind of photo quality you don't find in most camera phones. Panasonic is planning to expand global availability, so we checked it out. Read on for our impressions.
HTC plans to broaden the scope of its business during the course of 2015 to include more connected devices across its portfolio. HTC pointed to the recent release of the RE camera and its partnership with Under Armour as examples spearheading its new efforts. The Connected Products Business Unit will operate separately from — but in parallel with — HTC's existing smartphone business. The idea isn't to build accessories to help HTC sell more phones, or jump into existing markets with me-too hardware; instead, HTC wants to meaningfully create new products that solve consumer pain points. The Connected Products business has four main pillars: Connected Life, Connected Self, Connected Entertainment, and Connected Home. The Life category will include imaging products such as the RE. The Self category will include health and fitness products. The Entertainment product will include a variety of items. The Connected Home category will include items such as appliances and home security. HTC said it won't pursue items such as connected thermostats or media hubs. HTC is committed to bringing to market at least one product from each of these four categories by the end of the year. HTC is confident it can relaunch itself as a consumer electronics company and not just exist as a smartphone company. "Want people to think 'HTC makes great stuff, not just great smartphones,'" said the company. HTC said it will have more details to share regarding its Connected Products business later this year.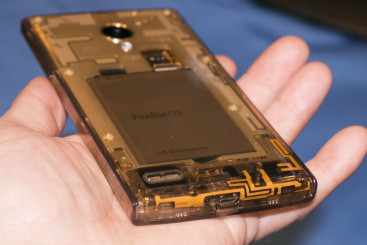 The first high-end phone with the Firefox OS recently went on sale in Japan, and it's a thoroughly unique phone. Most obviously, it sports a gold-tinted case that's completely transparent. But with LTE and NFC, it's also a new direction for Firefox OS, which previously only found its way into quite low-end devices. Further, the marketing is unique, specifically targeting tech-minded consumers for whom a hackable, open-source OS is a major selling point. We spent a few moments with one.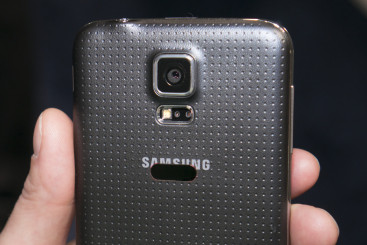 At CES this week, Synaptics is demonstrating a new generation of smaller fingerprint sensors that offer the ease and reliability of a touch sensor in the space of a swipe-style sensor. The company has a prototype working in a Samsung Galaxy S5. The S5 already comes with a fingerprint sensor integrated into the home button, that requires a swipe motion, which can be cumbersome to use. The prototype Synaptics sensor on the back is the same size and narrow shape as Samsung's home button sensor, but is operated with a simple light touch, much like the TouchID sensor on recent iPhones. The company has developed advanced pattern recognition technology to provide robust security using only partial fingerprints. In our hands-on time with the prototype, it worked well, and was much easier to use than the swipe-style sensor.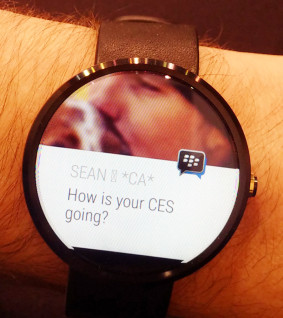 BlackBerry today showed off BBM for Android Wear. With BBM on your wrist, Android Wear owners will be able to read incoming BBM messages, review and accept BBM invites, scan through the BBM inbox, and respond with either canned messages or dictated messages via Google Now. BlackBerry said BBM for Android Wear will be available soon — and that the company has other cross-platform wearable apps in the pipeline.
The MHL Consortium this week revealed superMHL, a new specification that future proofs its against changes in device connectors and makes dramatic improvements with respect to handling media content. The superMHL connector is reversible, much like Apple's Lightning cable. Further, it supports the new, reversible USB Type-C connector, which will eventually replace the microUSB connector found on mobile devices. Beyond the physical elements of the cable/connector, superMHL can deliver 8K video at 120fps and supports up to 48-bit color. It adds HDR video and immersive sound support, including Dolby Atmos, DTS-UHD, and 3D audio. It also supports daisy-chaining between multiple devices (TVs, Blu-Ray players, receivers) and can control them all with a single remote. The new superMHL spec also supports power charging up to 40W. The superMHL specification will be available for consumer electronics makers to download at the end of January.
TCL Communications, the parent company of Alcatel OneTouch, today confirmed to Phone Scoop that it has acquired the Palm brand and plans to revive the failed tech company. "We are interested in the brand because we believe the brand has value," said TCL CEO George Guo. "It was once a very strong brand and there are many fans of this brand around the world, including people at TCL." TCL intends to resurrect Palm with new hardware, software, and services — but not on its own. It will ask the community to contribute ideas for potential new devices, operating systems, and apps. It will commit engineers and its manufacturing resources to the project, but hopes much of the R&D will come from the tech community at large. TCL said it hasn't worked out the details of how this community-driven revival will function, but it is confident it can restore luster to the brand. "Palm was an original pioneer and we want to keep it that way. We want to attract the people who have ideas on how to revive the brand in a meaningful way." Guo shot down the idea of using webOS, which is owned by LG, and ran on the Palm Pre, Pixi, and other phones. "We are open to all ideas, but probably not webOS," said Guo. "Palm built by Palm fans is the intent." TCL expects to eventually offer both Alcatel- and Palm-branded products in the US. TCL said it couldn't comment on the terms of the acquisition. It will provide more details as they are developed.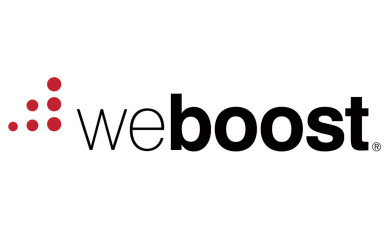 Wilson Electronics - long known for its cellular signal boosters - this week announced that its consumer products will now be sold under the new weBoost brand. weBoost's new Life line of boosters for home and car boost weak signals across all major U.S. frequency bands and technologies, including 4G, 3G, and 2G signals. The car boosters come in both cradle and cradle-free form factors, and start at $150. The home boosters come in models both small and large homes, and start at $300. Its new Life models for the home dynamically adjust for changing network conditions, improving reliability.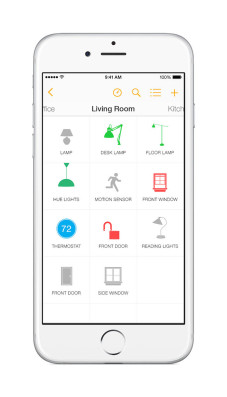 Insteon today announced the Insteon App, a comprehensive iOS app that lets you control a wide variety of HomeKit-compatible home automation gear. Via Apple's HomeKit, the app controls gear using the Insteon standard as well as competing standards such as ZigBee and Z-Wave. The app is one of the first complete HomeKit apps to be shown to the public. The app can control lights, door locks, color-changing bulbs, garage door openers, thermostats, and much more. Insteon also unveiled the Insteon Hub, a small $150 box that connects Insteon home automation gear to Apple's HomeKit system. The Hub supports advanced features such rooms, zones, scenes, and schedules. Insteon's proprietary home connectivity standard uses both wireless and power-line communication for improved reliability. Insteon makes its own line of home automation gear, and several other manufacturers support Insteon technology as well.
Microsoft today expanded the availability of its Office productivity to suite to more Android tablets. Microsoft said all ARM-based Android tablets running KitKat or Lollipop with screens between 7.0 and 10.1 inches can run Office. The company made Word, Excel, and PowerPoint available for free in the Play Store. People interested in the apps can download them without joining a waitlist or registering for access. Microsoft warned the apps are in a preview status and users may encounter bugs. Microsoft hopes early adopters will offer constructive feedback to it can improve the apps for all users. Microsoft already offers Office to Android smartphones, as well as the iPhone and iPad.
Under Armour today announced UA Record, a health and fitness app for Android and iOS devices that allows users to monitor and share their fitness data and goals. Smartphone owners can track motion and GPS activity, view analysis from individual workouts (steps, sleep, weight), as well as see a snapshot of overall progress towards specific goals. UA Record lets people invite up to 20 friends to health and fitness challenges, and even allows people to share videos, photos, workout stories, and nutrition guides. As part of the announcement, Under Armour mentioned that third-party hardware makers can support UA Record through the Under Armour Connected Fitness API/SDK platform. HTC is among the first smartphone vendors to voice support for the platform and it said it has a series of UA Record-compatible products in the pipeline, which will debut later this year. Samsung has worked with Under Armour in the past (notably with the Galaxy S5 Sport), but it has yet to say it will adopt UA's Connected Fitness platform. The Android and iOS apps are free to download from the Play Store and App Store, respectively, beginning today.
AT&T today announced it will soon offer Modio Smartcases to the Apple iPad Mini and Apple iPad Air tablets. The case serves as a mobile hotspot for WiFi-only versions of the iPad and allows them to connect to AT&T's LTE 4G network when out of WiFi range. The case includes a large battery that provides for 10 hours of continuous LTE 4G web browsing and provides addition storage through a microSD memory card slot. AT&T said the LTE 4G service can be added to existing Mobile Share plans. AT&T typically charges $10 per month to add tablet access to accounts, but didn't specify if that rate will be available to case owners. The case will first be available for the iPad Mini, Mini 2, and Mini 3, followed by the iPad Air and Air 2. AT&T didn't say how much the case will cost. Apple sells LTE-equipped iPads for $130 more than the WiFi-only models.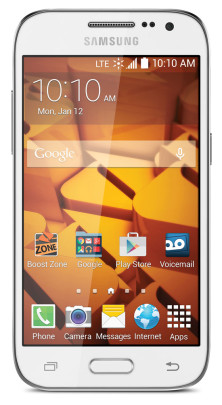 Boost Mobile today announced that a new version of the Samsung Galaxy Prevail will reach its stores on Jan. 19. The Galaxy Prevail LTE adds LTE 4G connectivity; improves the screen from 4 inches to 4.5 inches; increases the size of the battery from 1750mAh to 2000mAh; and updates the operating system from Android 4.1 to Android 4.4. Other features include a 5-megapixel main camera and 2-megapixel user-facing camera, 1.2GHz quad-core Snapdragon 410 processor with 1GB of RAM and 8GB of storage, and support for Sprint's HD Voice service. The Samsung Galaxy Prevail LTE will cost $130. Boost Mobile does not require contracts and service plans start at $35 per month.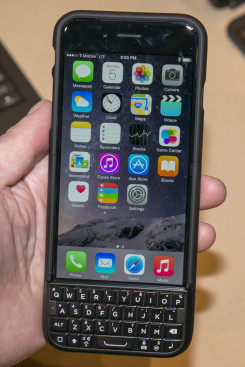 Typo was forced to redesign its iPhone accessory keyboard thanks to some legal trouble. The result isn't all that pretty.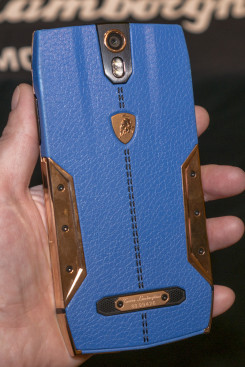 Lamborghini has a second-generation Android phone at CES this year. With a price tag of $6,000, it's safe to say it isn't for most people.
There's a new USB connector coming that will replace both the micro-USB connector on phones, and the full-size USB connector. It's reversible like Apple's Lightning connector, and it can handle lots of electricity plus very fast data transfers. It's coming to a lot of phones and other devices this year, so you should get used to what it looks like. Here's what it looks like.
The Alliance for Wireless Power and the Power Matters Alliance today announced plans to fully merge the two entities into a single organization. The two groups created separate, competing wireless charging standards until February 2014, when they agreed to work tougher on a compatible standard. Today carries the two organizations to the next logical step of merging operations around the single standard. The A4WP and PMA believe the merger will help speed up the development of wireless charging products and get them to market sooner. "One of the main objectives of the new organization is to accelerate the transition to volume economies of scale of wireless power transfer technology to benefit consumers, mobile network operators, consumer-facing commercial and retail brands, and the consumer electronics industry. Consumers will gain access to an exciting and enhanced battery charging and power management experience sooner across the full spectrum of devices in daily use." Though the A4WP and PMA are going to merge, the Wireless Power Consortium's Qi standard is still in use in mobile products around the world, such as Nokia's, leaving two competing standards still facing off against one another.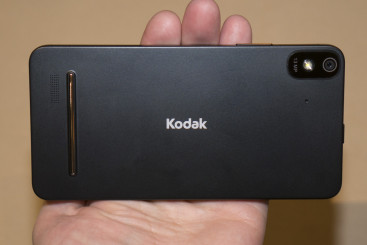 Bullitt made an Android smartphone with Kodak's name on it. That's almost all there is to say about this handset, but we'll squeeze out a few more words for you in this hands-on report.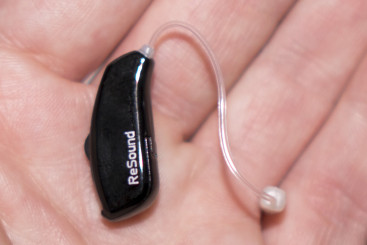 ReSound is a line of proper hearing aids that connect to your iPhone or Android phone for both audio and control. They connect just like a Bluetooth headset, to enable the user to hear calls, music, and video clearly. An app also offers detailed control over the hearing aid functions. The app lets the user choose from and customize various sound profiles, and also includes a "find my hearing aid" feature to help locate a lost hearing aid. ReSound is already available for iPhone; Android support was just announced this week, starting with the Samsung Galaxy S5. Read on for more detail in our quick hands-on report.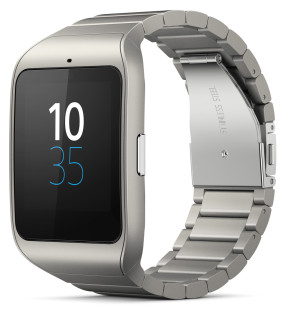 Sony today announced several new initiatives surrounding its wearable devices and services. Fist, the company revealed a new stainless steel version of the Smart Watch 3, which will be available in the weeks ahead. The company is soon going to sell a holder for the Smart Watch 3 that makes it compatible with standard 24mm watch bands. Sony plans to push to exclusive apps to the Smart Watch 3 in the weeks to come, including Golfshot and iFit. The company also talked about pending improvements to its Lifelog application, which will be accessible from any web browser (desktop, tablet, smartphone). Through the web, users will be able to see a more visually appealing representation of their health and fitness data. The company is working with If This Then That, Habit Monster, and Withings to further expand the functionality and appeal of Lifelog. Lifelog is free to download from the Google Play Store. Sony said it is partnering with with Virgin Atlantic to explore possible SmartWear initiatives that Sony and Virgin Atlantic customers can use "to support operational activities" in the months ahead. Sony showed off a Smart Eyeglass Developer Edition, which is a single lens that can be attached to standard glasses for unique sports and entertainment purposes. Last, Sony debuted the Smart B-Trainer Prototype, which is a waterproof headset with multiple sensors meant for runners. It provides voice coaching, music playback, as well as tools to help runners analyze their workouts and performance.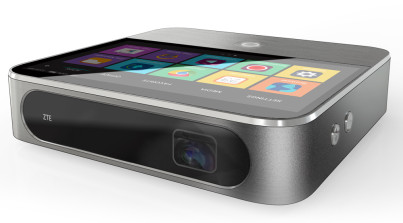 ZTE unveiled a new version of its hotspot projector today with several improvements on board. This device can project a 720p HD image or video up to 120 inches large (across the diagonal) onto a wall or screen. At 200 lumens, it's twice as bright as the first-generation device, and it can connect to smartphones, tablets, and laptops via Bluetooth, HDMI, or USB. The device has its own Android operating system with a 5-inch touch screen and a refined user interface that makes it easier to use. ZTE said it can be used to stream just about any content directly from the web, including Google Play Store purchases, such as movies and television shows. The device is powered by a 2.1GHz Qualcomm Snapdragon 800 processor, has 2GB of ROM, 16GB of internal storage, and supports microSDXC cards up to 2TB. The battery is good for three hours of projection time, or up to 10 hours as a mobile hotspot. ZTE said the device will be sold by the nation's two largest carriers at some point during the second quarter of the year. Pricing wasn't disclosed.
Volkswagen today took the diplomatic route with respect to enabling smartphone connectivity in its cars. Beginning with select models later this year, Volkswagen's second generation modular infotainment platform will support Google's Android Auto and Apple's CarPlay platforms, in addition to the platform-agnostic MirrorLink spec. The company said Android Auto will support devices from the likes of Samsung, HTC, LG, and Sony, while CarPlay will support Apple's iPhone. The services will allow smartphone owners to access their device content, apps, and services through the infotainment console of their Volkswagen. The Volkswagen Golf will be the first model to support these connectivity platforms.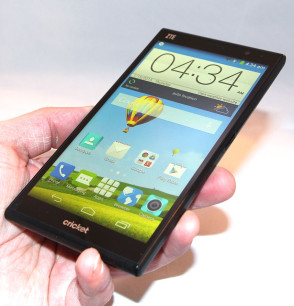 Here is a quick take on ZTE's new hero phone for Cricket Wireless as well as a peek at the new mobile hotspot projector.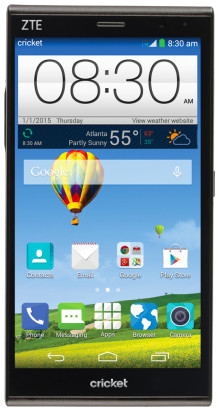 ZTE and Cricket Wireless today announced the Grand X Max+, an Android smartphone that boasts a 6.0-inch display and premium design. ZTE has improved the materials and build quality and packed it into a phone measuring 7.87mm thick. The Grand X Max+ offers high-end features that are available at an affordable price point. The large display offers 720p HD resolution and the phone is powered by a quad-core 1.2GHz Snapdragon 400 processor with 2GB of RAM and 16GB of storage. It supports memory cards up to 32GB. The Grand X Max+ includes a 3,200mAh battery with Qualcomm's QuickCharge 1.0 technology, and it supports LTE, WiFi, Bluetooth, and GPS. The main camera rates 13 megapixels and the user-facing camera rates 5 megapixels and features a wide viewing angle. The phone runs Android 4.4.4 KitKat. The ZTE Grand X Max+ reaches Cricket stores Jan. 9. It will cost $199.99 without a contract.
In addition to AT&T and Sprint, U.S. Cellular plans to carry the LG G Flex 2 "this spring", according to spokesperson Katie Frey. No further details were revealed.
Qualcomm today said more hardware makers and app developers have voiced support for its AllPlay media streaming technology. For example, Bayan Audio, Goodmans, House of Marley, Inkel/Sherwood, Optoma Nuforce, SVS, TCL Communications, and TP-LINK will add AllPlay to their gear over the coming year. Similarly, popular apps such as SoundCloud, KT Music, QQ Music, and Tidal have announced that they will integrate AllPlay into their streaming music offerings. AllPlay is a competitor technology to DLNA, Apple's AirPlay, and Google's Cast for Audio.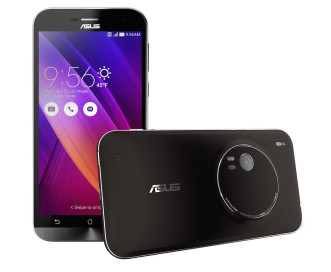 Asus today announced the Zenfone Zoom, an Android phone with top-end camera features. The 13-megapixel camera has a 10-element lens with 3x optical zoom, laser focusing, optical image stabilization, and a macro mode. It also sports a full manual mode with control over white balance, focus, and exposure. The front camera is 5 megapixels. The Zenfone Zoom has a 5.5-inch full HD display and runs Android 5.0 Lollipop. It supports LTE bands compatible with AT&T and has a 3000 mAh battery. It will be available in Q2 for $399 unlocked. Specific US release plans were not announced.
AT&T today announced commercial support for Web Real-Time Communications (WebRTC), a client that will allow browsers to make voice/video calls across the internet without the need for additional plugins. According to AT&T, it will support WebRTC on both desktop and mobile browsers. What's key is that when smartphone owners make a call from their mobile browser, the recipient will see the user's mobile number, not a generic ID tag. Moreover, user's can assign their AT&T mobile number to their laptop browser for caller ID purposes, too. AT&T's new support for WebRTC also comes with APIs for developers. AT&T expects developers to use the APIs to add WebRTC-based voice and video calling services to their apps and web sites over time.
AT&T will carry the 32 GB version of the G Flex 2 that LG just announced at CES. Sprint will also offer the phone. Pricing and availability date for both carriers will be announced at a later date.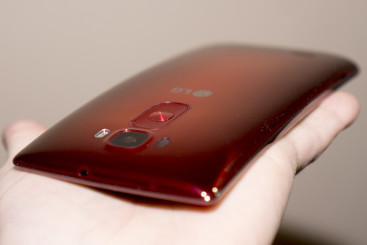 LG is back with another bendable phone. It's best to think of the G Flex 2 as a curved LG G3 - especially since it carries over most of the specs.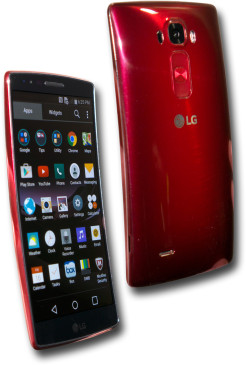 LG today announced the G Flex 2, a second-generation curved Android smartphone. The device makes dramatic improvements over the original in terms of design, features, and usability. The screen shrinks to 5.5 inches across the diagonal, but ups the resolution from 720p to 1080p HD. The plastic OLED panel has a Gorilla Glass 3 coating to help prevent damage, and the rear shell's self-healing powers have been improved, too. The G Flex 2 relies on a quad-core Snapdragon 810 processor with 2 or 3 GB of RAM and 16 or 32 GB of storage, depending on the market. The device supports external memory cards up to 2TB and runs Cat. 6 LTE with Carrier Aggregation. The Flex 2 has a smaller 3,000 mAh battery than its predecessor, but it supports fast charging for a 50% charge in under 40 minutes. The phone offers Bluetooth 4.1, GPS, NFC, and WiFi. Like the LG G3, the main camera sports a 13-megapixel sensor with optical image stabilization and laser focus. It can record 4K video. The user-facing camera captures 2.1-megapixel pictures and 1080p HD video. The Flex 2 runs Android 5.0 Lollipop with LG's user interface skin on top. It will be sold in silver and red. LG said it will be available "soon" but it didn't specify where or for how much.
T-Mobile today said it is working on new technology called Licensed Assisted Access. According to T-Mobile, LAA is an LTE-based technology that helps combine licensed and unlicensed spectrum in order to increase peak and average data speeds while also reducing latency. T-Mobile says LAA pairs LTE's quality of service controls with WiFi in order to improve coverage and throughput. The company has added LAA to its technology roadmap and plans to begin trialling it in some capacity later this year. T-Mobile points out that there's currently about 550MHz of under-used spectrum in the 5GHz range (typically reserved for WiFi) that could be tapped to help with LTE via LAA. T-Mobile didn't say when it expects to begin trials of LAA with consumer-grade equipment.
Google today announced Cast for Audio, a new version of its Chromecast technology that will allow people to cast audio content from their device to properly equipped speakers, receivers, and soundbars. According to Google, compatible audio equipment from Sony, LG, and HEOS by Denon will arrive in the U.S. this spring, with others to follow. The audio equipment will have built-in radios that can receive cast content and/or access it from the web. The initial batch of apps to support Cast for Audio include Deezer, Google Play Music, iHeartRadio, NPR One, Pandora, Rdio, and TuneIn Radio. Google says many more are on the way. The technology competes with Apple's AirPlay.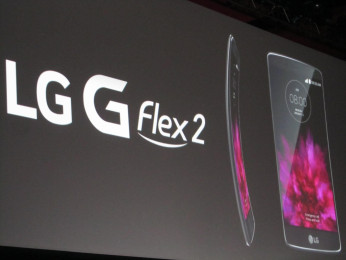 It's the big day in Las Vegas for big companies to hold big press conferences, and the morning belongs to LG. A tweet from Qualcomm has all but confirmed rumors of a new, high-end LG phone with a Snapdragon 810 processor. This liveblog will bring you all of the phone-related details as they happen on stage.
SanDisk today announced the SanDisk Ultra Dual USB Drive 3.0, a flash drive that features a standard USB connector for computers and a microUSB connector for mobile devices. Android device owners can connect the drive directly to the USB port of their phone and transfer content from the phone to the drive or vice versa. The Drive 3.0 supports USB 3.0 with the standard connector, with data transfer speeds of 130Mbps. When users connect the drive to their smartphone (or tablet) it launches the SanDisk Memory Zone app. The app, which is free to download from the Google Play Store, lets users locate, organize, transfer, and back-up their data. SanDisk said the microUSB connector is extra long to account for cases or unique phone designs. The SanDisk Ultra Dual USB Drive 3.0 is available in 16GB to 64GB capacities with price tags ranging from $23 to $65.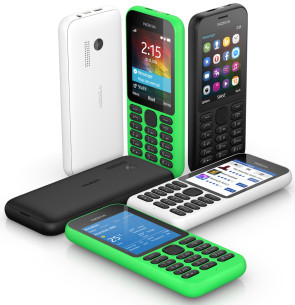 Microsoft today revealed the Nokia 215, a $29 feature phone meant to help more people get online for the first time. The bar-style phone has a 2.4-inch screen and a numeric keypad. It runs the Series 30+ platform and includes apps such as Facebook, Messenger, Twitter, Opera Mini, Bing Search, music player, and MSN Weather. Hardware features include a flashlight, VGA camera, an FM radio, Bluetooth 3.0, and support for microSD cards up to 32GB. The device will reach select markets in the Middle East, Africa, Asia, and Europe beginning in the first quarter of the year.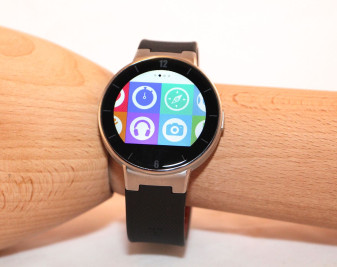 Alcatel believes its Android- and iOS-compatible smartwatch will outgun the competition with a low price point. Here are our initial thoughts.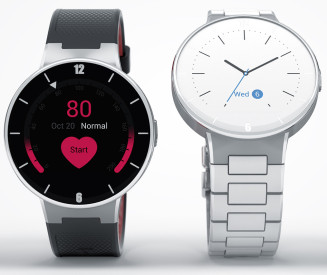 Alcatel today provided more information about its forthcoming Watch Series and said the wearable is compatible with both Android and iOS. The Watch Series does not run Android Wear, but instead uses a proprietary operating system that Alcatel claims is simpler to use than Android Wear. Users of Android 4.3 devices or iOS 7 devices and newer will be able to download an accompanying app from the Play Store or iTunes App Store, respectively, to interact with the wearable. The device has a built in accelerometer, gyroscope, heart rate monitor, altimeter, and e-compass. Alcatel says owners will be able to track fitness (steps taken, distance traveled, etc.) and sleep cycles, as well as manage incoming notifications and even remotely control media. The Watch Series, which comes in several different styles, has a 1.22-inch circle display, Bluetooth 4.0, and a 210mAh battery. The USB charge port is built directly into the end of the strap. Alcatel claims it takes only an hour to charge the watch, which can then run for one to two days per charge. The Alcatel Watch Series goes on sale later this year for $149.
Nvidia today announced the Tegra X1 processor, a new chip that brings the power of its Maxwell desktop architecture to mobile devices. The X1 has an octa-core 64-bit ARM processor paired with a 256-core Maxwell GPU. Nvidia touted it as bringing desktop performance to mobile devices, while at the same time delivering noticeable power efficiency gains. The company say the X1 is twice as powerful as the K1, which it replaces, and claims it is the first to achieve 1 teraflop floating point calculations. The company also showed off the Tegra X1-based Drive CX, which is for automobiles. The Drive CX will let car makers stick Android, Linux, or QNX into the dashboard of automobiles. Nvidia didn't say when it expects to see the X1 or Drive CX reaching consumer-grade equipment.