Gloves-On with the Sonim XP7 & XP6 for AT&T
Article Comments 7
Jan 12, 2015, 1:47 PM by Rich Brome
updated Jan 12, 2015, 2:40 PM
Updated: Tweaked headline, fixed minor grammar typos / Corrected: XP6 model does not have NFC as originally stated.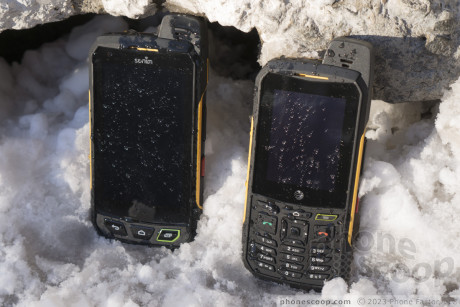 Sonim is hitting its stride in its quest to make the best rugged phones for demanding industries. The XP6 and XP7 are the company's best efforts to date, and represent much more than just two phones, with support for a whole ecosystem of software and specialized accessories. We check them out in our hands-on.
Sonim has been building rugged phones for a few years, starting with unlocked models, followed by a feature phone for Sprint. As a consumer, that may be all you're aware of. But behind the scenes, the company has been selling their phones aggressively to companies that need to equip their employees in the field with tough phones to do their jobs. Sonim targets industries such as construction, logistics, oil, refining, security, maintenance, and utilities. There are actually quite a lot of large companies that have deployed Sonim phones, including one of the largest private trash haulers in the US.
With consumers, it makes all the difference to have a big national carrier selling your phones. It's not that different with industry, so the prize for Sonim has always been a lineup of phones with AT&T and Verizon. Sure, Sprint is something, and Sonim is targeting companies that previously relied on Nextel phones. But Sprint has largely squandered that situation and lost many of those customers. AT&T and Verizon are widely known for their vast, reliable national networks. People in charge of finding reliable phones for their employees know this, so that's where Sonim's focus is going forward.
The XP6 and XP7 are extremely similar, with the obvious difference being a numeric keypad on the XP6, and a shrunken screen to make room for it. The XP6 is a bit narrower as a result. But holding both, you'd be hard-pressed to find any other difference. Inside, they both sport LTE, a camera with flash, a Snapdragon 400 processor, Android 4.4, and a huge 4,800 mAh battery.
Both have the same ultra-durable construction. They feel like they're built like tanks, and they are. They are not small, nor are they thin, nor are they lightweight. If you want something sleek that will disappear into your pocket, you're way off-base with a Sonim phone. But these beasts can be tossed around a construction site or used as a chew toy by your dog, and keep right on ticking. They feel absolutely indestructible, and that inspires the kind of confidence you want in a phone like this. We look forward to testing their durability in a full review, but we'd be surprised if they failed.
The side keys are easy to find and use, even with gloves. A notification light on the top is a welcome addition for those who will wear this on a belt clip or in a tool belt, and for those in noisy environments. Instead of a flimsy micro-USB port, Sonim has created its own large charging connector with magnets, which preserves water-tightness and works well with either a cable or a charging cradle.
Charging connector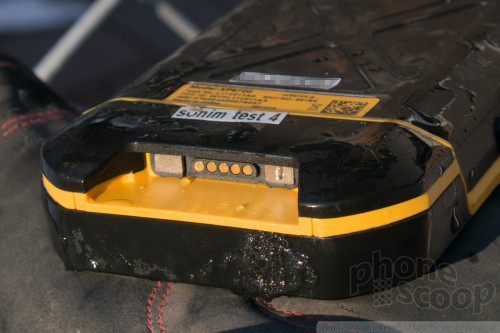 Charging connector
These are just some of many features borrowed from the industrial walkie-talkies these are designed to replace.
If you asked me to develop a rugged Android phone for the orange-vest market, to replace Motorola walkie-talkies, I'd probably design something like the XP6. That familiar shape and physical keys just seem right. Unfortunately, it's an idea that's better on paper than in practice; the compromises required make it nearly useless as a general-purpose device. Specifically, both the screen and keypad are far, far too small.
The smallest Android screens are generally 3.5 inches diagonal, but the XP6's measures just 2.6. That makes everything in the standard Android interface impossibly tiny to see, and even more difficult to press accurately. You need great eyesight and a capacitive stylus to operate standard Android via the touch screen on the XP6, which is just silly.
The keypad fares better, but just slightly. It's usable with bare fingers, but feels cramped. It's nearly impossible to use with work gloves; the keys - even the d-pad - are just too small and close together.
The Android OS does respond to the d-pad, so that in theory you can navigate the whole phone without touching the screen. Unfortunately, in the version we tested, that worked very poorly. It worked unreliably, and when it did work, was confusing. Very early versions of Android were designed to work this way, but that was a long time ago. This is the age of touch screens, and Android 4.4 simply isn't designed for d-pads.
That's why I could never recommend the XP6 to a consumer looking for a rugged phone. It's useless for that. But the XP6 isn't designed for that user anyway.
Sonim wants to sell the XP6 to companies that will deploy the phones to their employees, in many cases with customized software and specialized apps. If the software were sufficiently customized with the small screen and cramped keypad in mind, and employees spent nearly all of their time in said customized apps, it could work. It would help if employees won't be wearing leather gloves most of the time, as that's still a deal-breaker with this keypad.
Thankfully, the XP7 is a happier story. While a physical keypad sounds great in theory, the XP7 proves that this kind of phone is better without one.
The XP7 has a small display by today's standards at just 4.0 inches, but it's just big enough. It's probably the perfect size, actually. With the thick protective frame necessary to give Sonim phones their extreme durability, a 5-inch screen would mean an unacceptably huge phone. Four inches is just enough to make it easy to see and tap in most apps reliably, even through leather gloves.
The three keys below the XP7's display work very well.
The screens on both the XP7 and XP6 perform very well in all lighting, even direct sunlight. Touch performance is impressive. We used both phones with thick leather work gloves while the screens were covered in dirty snow melt; the touch sensors performed flawlessly.
The XP7 takes advantage of the extra size (compared to the XP6) to fit in NFC, a front camera, and a better rear camera (8 megapixel versus 5.) Both have a flash. Cameras with a flash are useful in countless worksite scenarios, from barcode scanning to documenting all kinds of site conditions and events. The camera flash doubles as a flashlight, and Sonim helpfully provides not only a flashlight widget on the home screen, but a shortcut on the lock screen as well. Smart. The front camera could be used for mandatory selfies to prove that employees don't skip patrols, etc.
The stock XP6 and XP7 come with stock Android, including the camera app. That's a shame, as Google's Android 4.4 camera app is terrible. It's useful only for demonstrating how tough Sonim phones are, as you're sure to pitch the phone to the ground in frustration trying to figure out the camera app. But Sonim phones are designed to be deployed as solutions with customized software. So companies can (and should) replace the camera app with something better. Also, many solutions will have employees using the camera from within some other app anyway (such as a UPS driver using a custom UPS app to scan a 2D barcode.)
The XP7 also comes in an "IS" version, which means intrinsically safe. Such devices are designed for dangerously flammable environments such as oil rigs and gas refineries. Special construction, materials, and safety measures ensure that they can never - no matter what - create any kind of spark, or even too much heat. This is a small but crucial market, previously served only by expensive, outdated devices. An up-to-date, certified-IS Android smartphone is a big deal, and this one is much cheaper than most IS devices.
Perhaps the neatest thing about the XP6 and XP7 is the XPand system, which is a series of attachable accessories. The core XPand devices attach via a special connector built into the back of both models. Demoed for us was a compact laser barcode scanner, ideal for delivery people and warehouse workers.
Bar-code Scanner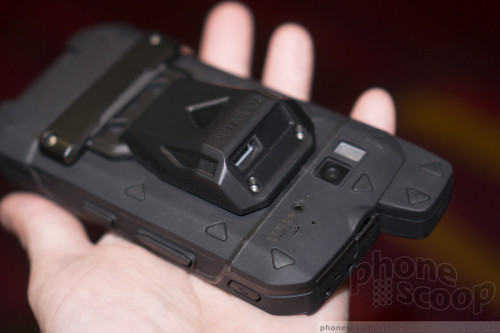 Bar-code Scanner
Another accessory adds a "radio channel" knob to the top. This makes it easy for users to switch PTT groups, emulating the familiar walkie-talkie functionality of switching radio channels to talk to different teams on the work site.
Another accessory connects to the phone via Bluetooth and continuously monitors and reports dangerous gas levels. This critical safety function can't be interrupted, so for this (and similar) situations, Sonim provides an API to let software developers and employers ensure that users can't turn off Bluetooth and interrupt this feature. The API covers many other features and scenarios, as well.
Ultimately, Sonim seems to have designed devices and an ecosystem that are well thought-out. The XP6 is available now from AT&T. The XP7 is perhaps the more promising of the two, and we're told to expect it from a major U.S. carrier in a month or two. For certain employers looking for rugged phones designed specifically for their unique needs, these phones are definitely worth a look.
Look for our in-depth reviews in the coming weeks.
Other than NFC not a single useful sensor. Do yourself a favor get a CA-201L (j) instead.
This thing while it may look nice to some extremists it doesn't have any sensors that are currently in newer phones out and is bulky as ****. If i wanted something like this i would buy a sheepphone and a lunatik tactik case.

Don't let this company fool you. They hyped this device up royally. And i'm a little disappointed phonescoop would even do a review on it.

Unless you are a alaskan rock climbing motocross driver this is a complete waste of money.
...Don't pay any attention to the above opinion. My work-issued Sonim is very rugged and also water resistant. Otterboxes and other covers won't give devices the level of protection that are built in to these phones.

Bulky? Yeah, so are all six in...
(continues)