Hands On with the LG Fx0 See-Through Firefox Phone
Article Comments
Jan 7, 2015, 4:17 PM by Rich Brome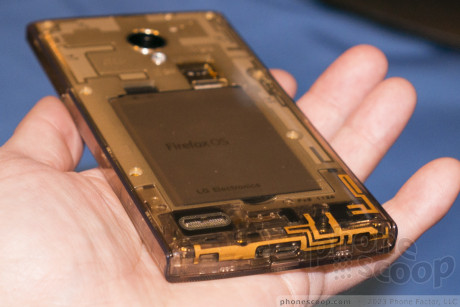 The first high-end phone with the Firefox OS recently went on sale in Japan, and it's a thoroughly unique phone. Most obviously, it sports a gold-tinted case that's completely transparent. But with LTE and NFC, it's also a new direction for Firefox OS, which previously only found its way into quite low-end devices. Further, the marketing is unique, specifically targeting tech-minded consumers for whom a hackable, open-source OS is a major selling point. We spent a few moments with one.
The Fx0, as the phone is called, is made by LG for the Japanese market, but Mozilla hinted to us that this phone (or something similar) has good odds of coming to other markets, as well.
The phone has a very nice design visually. Unfortunately, it's not quite as nice physically. The shape is very boxy and feels thick. The plastic somehow feels very cheap. The phone doesn't feel fragile or poorly constructed, it's just that the material reminds one of that cheap plastic used for things like Tic Tac containers and CD jewel boxes. Ultimately, it feels like a reference device or prototype, not a finished product for consumers.
There are two versions of the back cover available in Japan. One is perfectly transparent, while the other has the same grid texture as the front. The grid texture doesn't improve the feel of the plastic much.
The buttons and screen of the phone are decent.
Unlike most Firefox phones - which focus on a low price point and target non-tech-savvy users - the Fx0 is not only higher-end but is actively marketed toward tech-savvy users as being a "hackable" phone. That's extremely rare for a phone sold through a major carrier. Kudos to Au for being on board with that idea. If only US carriers were as progressive.
The transparent design was created specifically to mirror the open, hackable nature of the phone's Firefox software.
No messages