Hands On with the New USB Plug
Article Comments 4
Jan 5, 2015, 11:59 PM by Rich Brome
updated Jan 6, 2015, 3:29 AM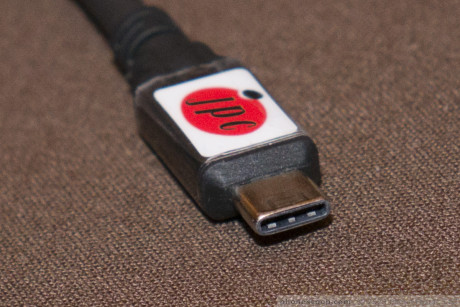 There's a new USB connector coming that will replace both the micro-USB connector on phones, and the full-size USB connector. It's reversible like Apple's Lightning connector, and it can handle lots of electricity plus very fast data transfers. It's coming to a lot of phones and other devices this year, so you should get used to what it looks like. Here's what it looks like.
At first glance, the new USB "Type C" connector looks like a reversible micro-USB connector. It is that, but it's also a lot more. You can charge a laptop with it, and it handles very fast data. If you ever saw the USB 3.0 SuperSpeed connector on the Samsung Note 3, you know it was pretty big. It was so big and difficult to use that Samsung actually ditched it for the slower standard micro-USB connector on the Note 4.
That changes with the Type C connector. It supports the high speed without the larger connector, meaning we'll actually see fast USB 3.0 SuperSpeed implemented in more phones than just the Note 3.
The Type C connector replaces not only micro-USB, but full USB, too, which means we can look forward to USB cables that have the same small (reversible) connector on each end, instead of today's cables with a large connector at one end and a small connector at the other end. That will make for a messy transition period, (get ready to replace the USB outlets in your home,) but it should be worth it in the end when we have one connector for everything and cables that are the same on both ends.
too much
Replacing the micro USB-B it's one thing, like me a lot more people applaud that, but the full USB-A that's too much, we being using that plug for ever and we have it everywhere, so why mess with that?
If you're not replacing those devices, you won't have to. Just keep using the cables you have. This is the first step in a transition. New devices will start coming with the new connectors and, likely there will be cables that have the sold that hav...
(continues)
It can replace it, and as a generally superior plug, it's assumed that it will. Eventually.

But no one is forcing anyone to switch to it. It's up to companies to choose which connector to use. As I said in the article, the transition ...
(continues)