SanDisk Shows Off New USB Drive for Android Phones
Article Comments 2
Jan 5, 2015, 10:15 AM by Eric M. Zeman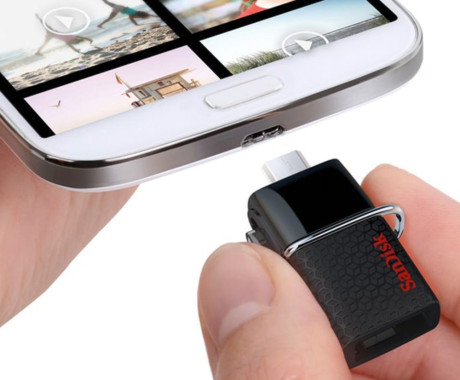 SanDisk today announced the SanDisk Ultra Dual USB Drive 3.0, a flash drive that features a standard USB connector for computers and a microUSB connector for mobile devices. Android device owners can connect the drive directly to the USB port of their phone and transfer content from the phone to the drive or vice versa. The Drive 3.0 supports USB 3.0 with the standard connector, with data transfer speeds of 130Mbps. When users connect the drive to their smartphone (or tablet) it launches the SanDisk Memory Zone app. The app, which is free to download from the Google Play Store, lets users locate, organize, transfer, and back-up their data. SanDisk said the microUSB connector is extra long to account for cases or unique phone designs. The SanDisk Ultra Dual USB Drive 3.0 is available in 16GB to 64GB capacities with price tags ranging from $23 to $65.
Apple
surprised they didnt make one for apple first, would make a lot more money of it from them with the lack of additional memory, id possbily get one since i cant use an sd card
Apple doesn't embrace USB. So, they would have to develop for a proprietary technology instead of an open one. I think they realized that embracing universal standards has a larger appeal.