CES 2015
The mother of all trade shows, the Consumer Electronics Show takes over Vegas for the first week of January. A few major phones are usually announced, and we'll have hands-on reports for each one, plus hands-on details of other interesting apps, services, and accessories in the world of phones.
Bookmark this page and don't miss a thing!
All Liveblogs LG Google AT&T more... Discuss 1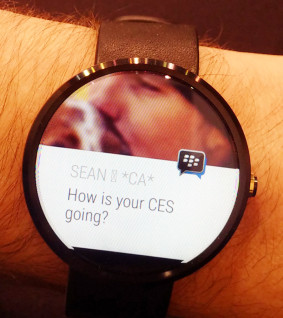 BlackBerry today showed off BBM for Android Wear. With BBM on your wrist, Android Wear owners will be able to read incoming BBM messages, review and accept BBM invites, scan through the BBM inbox, and respond with either canned messages or dictated messages via Google Now. BlackBerry said BBM for Android Wear will be available soon — and that the company has other cross-platform wearable apps in the pipeline.
---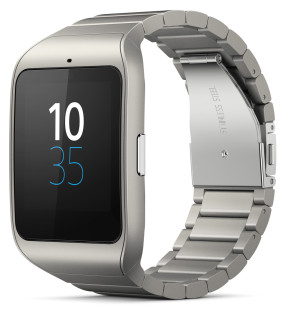 Sony today announced several new initiatives surrounding its wearable devices and services. Fist, the company revealed a new stainless steel version of the Smart Watch 3, which will be available in the weeks ahead. The company is soon going to sell a holder for the Smart Watch 3 that makes it compatible with standard 24mm watch bands. Sony plans to push to exclusive apps to the Smart Watch 3 in the weeks to come, including Golfshot and iFit. The company also talked about pending improvements to its Lifelog application, which will be accessible from any web browser (desktop, tablet, smartphone). Through the web, users will be able to see a more visually appealing representation of their health and fitness data. The company is working with If This Then That, Habit Monster, and Withings to further expand the functionality and appeal of Lifelog. Lifelog is free to download from the Google Play Store. Sony said it is partnering with with Virgin Atlantic to explore possible SmartWear initiatives that Sony and Virgin Atlantic customers can use "to support operational activities" in the months ahead. Sony showed off a Smart Eyeglass Developer Edition, which is a single lens that can be attached to standard glasses for unique sports and entertainment purposes. Last, Sony debuted the Smart B-Trainer Prototype, which is a waterproof headset with multiple sensors meant for runners. It provides voice coaching, music playback, as well as tools to help runners analyze their workouts and performance.
---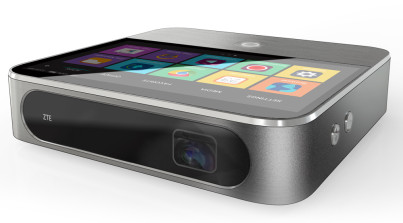 ZTE unveiled a new version of its hotspot projector today with several improvements on board. This device can project a 720p HD image or video up to 120 inches large (across the diagonal) onto a wall or screen. At 200 lumens, it's twice as bright as the first-generation device, and it can connect to smartphones, tablets, and laptops via Bluetooth, HDMI, or USB. The device has its own Android operating system with a 5-inch touch screen and a refined user interface that makes it easier to use. ZTE said it can be used to stream just about any content directly from the web, including Google Play Store purchases, such as movies and television shows. The device is powered by a 2.1GHz Qualcomm Snapdragon 800 processor, has 2GB of ROM, 16GB of internal storage, and supports microSDXC cards up to 2TB. The battery is good for three hours of projection time, or up to 10 hours as a mobile hotspot. ZTE said the device will be sold by the nation's two largest carriers at some point during the second quarter of the year. Pricing wasn't disclosed.
---
Volkswagen today took the diplomatic route with respect to enabling smartphone connectivity in its cars. Beginning with select models later this year, Volkswagen's second generation modular infotainment platform will support Google's Android Auto and Apple's CarPlay platforms, in addition to the platform-agnostic MirrorLink spec. The company said Android Auto will support devices from the likes of Samsung, HTC, LG, and Sony, while CarPlay will support Apple's iPhone. The services will allow smartphone owners to access their device content, apps, and services through the infotainment console of their Volkswagen. The Volkswagen Golf will be the first model to support these connectivity platforms.
---
Qualcomm today said more hardware makers and app developers have voiced support for its AllPlay media streaming technology. For example, Bayan Audio, Goodmans, House of Marley, Inkel/Sherwood, Optoma Nuforce, SVS, TCL Communications, and TP-LINK will add AllPlay to their gear over the coming year. Similarly, popular apps such as SoundCloud, KT Music, QQ Music, and Tidal have announced that they will integrate AllPlay into their streaming music offerings. AllPlay is a competitor technology to DLNA, Apple's AirPlay, and Google's Cast for Audio.
---
Google today announced Cast for Audio, a new version of its Chromecast technology that will allow people to cast audio content from their device to properly equipped speakers, receivers, and soundbars. According to Google, compatible audio equipment from Sony, LG, and HEOS by Denon will arrive in the U.S. this spring, with others to follow. The audio equipment will have built-in radios that can receive cast content and/or access it from the web. The initial batch of apps to support Cast for Audio include Deezer, Google Play Music, iHeartRadio, NPR One, Pandora, Rdio, and TuneIn Radio. Google says many more are on the way. The technology competes with Apple's AirPlay.
---
SanDisk today announced the SanDisk Ultra Dual USB Drive 3.0, a flash drive that features a standard USB connector for computers and a microUSB connector for mobile devices. Android device owners can connect the drive directly to the USB port of their phone and transfer content from the phone to the drive or vice versa. The Drive 3.0 supports USB 3.0 with the standard connector, with data transfer speeds of 130Mbps. When users connect the drive to their smartphone (or tablet) it launches the SanDisk Memory Zone app. The app, which is free to download from the Google Play Store, lets users locate, organize, transfer, and back-up their data. SanDisk said the microUSB connector is extra long to account for cases or unique phone designs. The SanDisk Ultra Dual USB Drive 3.0 is available in 16GB to 64GB capacities with price tags ranging from $23 to $65.
---