CES 2015
The mother of all trade shows, the Consumer Electronics Show takes over Vegas for the first week of January. A few major phones are usually announced, and we'll have hands-on reports for each one, plus hands-on details of other interesting apps, services, and accessories in the world of phones.
Bookmark this page and don't miss a thing!
All Liveblogs LG Google AT&T more... Discuss 1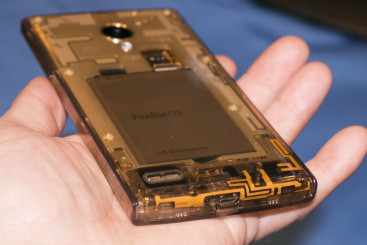 The first high-end phone with the Firefox OS recently went on sale in Japan, and it's a thoroughly unique phone. Most obviously, it sports a gold-tinted case that's completely transparent. But with LTE and NFC, it's also a new direction for Firefox OS, which previously only found its way into quite low-end devices. Further, the marketing is unique, specifically targeting tech-minded consumers for whom a hackable, open-source OS is a major selling point. We spent a few moments with one.
---
TCL Communications, the parent company of Alcatel OneTouch, today confirmed to Phone Scoop that it has acquired the Palm brand and plans to revive the failed tech company. "We are interested in the brand because we believe the brand has value," said TCL CEO George Guo. "It was once a very strong brand and there are many fans of this brand around the world, including people at TCL." TCL intends to resurrect Palm with new hardware, software, and services — but not on its own. It will ask the community to contribute ideas for potential new devices, operating systems, and apps. It will commit engineers and its manufacturing resources to the project, but hopes much of the R&D will come from the tech community at large. TCL said it hasn't worked out the details of how this community-driven revival will function, but it is confident it can restore luster to the brand. "Palm was an original pioneer and we want to keep it that way. We want to attract the people who have ideas on how to revive the brand in a meaningful way." Guo shot down the idea of using webOS, which is owned by LG, and ran on the Palm Pre, Pixi, and other phones. "We are open to all ideas, but probably not webOS," said Guo. "Palm built by Palm fans is the intent." TCL expects to eventually offer both Alcatel- and Palm-branded products in the US. TCL said it couldn't comment on the terms of the acquisition. It will provide more details as they are developed.
---
Volkswagen today took the diplomatic route with respect to enabling smartphone connectivity in its cars. Beginning with select models later this year, Volkswagen's second generation modular infotainment platform will support Google's Android Auto and Apple's CarPlay platforms, in addition to the platform-agnostic MirrorLink spec. The company said Android Auto will support devices from the likes of Samsung, HTC, LG, and Sony, while CarPlay will support Apple's iPhone. The services will allow smartphone owners to access their device content, apps, and services through the infotainment console of their Volkswagen. The Volkswagen Golf will be the first model to support these connectivity platforms.
---
In addition to AT&T and Sprint, U.S. Cellular plans to carry the LG G Flex 2 "this spring", according to spokesperson Katie Frey. No further details were revealed.
---
AT&T will carry the 32 GB version of the G Flex 2 that LG just announced at CES. Sprint will also offer the phone. Pricing and availability date for both carriers will be announced at a later date.
---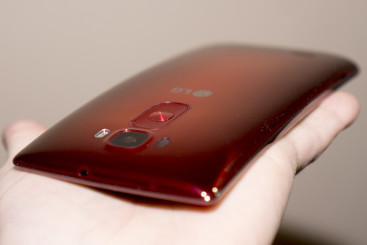 LG is back with another bendable phone. It's best to think of the G Flex 2 as a curved LG G3 - especially since it carries over most of the specs.
---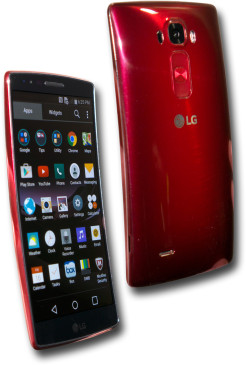 LG today announced the G Flex 2, a second-generation curved Android smartphone. The device makes dramatic improvements over the original in terms of design, features, and usability. The screen shrinks to 5.5 inches across the diagonal, but ups the resolution from 720p to 1080p HD. The plastic OLED panel has a Gorilla Glass 3 coating to help prevent damage, and the rear shell's self-healing powers have been improved, too. The G Flex 2 relies on a quad-core Snapdragon 810 processor with 2 or 3 GB of RAM and 16 or 32 GB of storage, depending on the market. The device supports external memory cards up to 2TB and runs Cat. 6 LTE with Carrier Aggregation. The Flex 2 has a smaller 3,000 mAh battery than its predecessor, but it supports fast charging for a 50% charge in under 40 minutes. The phone offers Bluetooth 4.1, GPS, NFC, and WiFi. Like the LG G3, the main camera sports a 13-megapixel sensor with optical image stabilization and laser focus. It can record 4K video. The user-facing camera captures 2.1-megapixel pictures and 1080p HD video. The Flex 2 runs Android 5.0 Lollipop with LG's user interface skin on top. It will be sold in silver and red. LG said it will be available "soon" but it didn't specify where or for how much.
---
Google today announced Cast for Audio, a new version of its Chromecast technology that will allow people to cast audio content from their device to properly equipped speakers, receivers, and soundbars. According to Google, compatible audio equipment from Sony, LG, and HEOS by Denon will arrive in the U.S. this spring, with others to follow. The audio equipment will have built-in radios that can receive cast content and/or access it from the web. The initial batch of apps to support Cast for Audio include Deezer, Google Play Music, iHeartRadio, NPR One, Pandora, Rdio, and TuneIn Radio. Google says many more are on the way. The technology competes with Apple's AirPlay.
---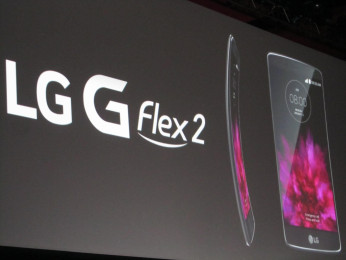 It's the big day in Las Vegas for big companies to hold big press conferences, and the morning belongs to LG. A tweet from Qualcomm has all but confirmed rumors of a new, high-end LG phone with a Snapdragon 810 processor. This liveblog will bring you all of the phone-related details as they happen on stage.
---