Liveblog of LG at CES
Article Comments
Jan 5, 2015, 10:48 AM by Rich Brome
It's the big day in Las Vegas for big companies to hold big press conferences, and the morning belongs to LG. A tweet from Qualcomm has all but confirmed rumors of a new, high-end LG phone with a Snapdragon 810 processor. This liveblog will bring you all of the phone-related details as they happen on stage.
Article
Jan 5, 2015, 11:54 AM: That's a wrap for the event. Be sure to check out our full hands-on report with the G Flex 2.
Jan 5, 2015, 11:53 AM: It's much more square overall, but the curve of the back does nice things for ergonomics.
Jan 5, 2015, 11:52 AM: Having tried out the G Flex 2 briefly last night, I can say that it's pretty nice. The smaller size is a huge improvement over the original. It's very thin and feels nice.
Jan 5, 2015, 11:51 AM: There's a cover available for the G Flex 2 with a circular window, just like for the G3.
Jan 5, 2015, 11:50 AM: And that's basically a wrap for the press conference. They're recapping everything now.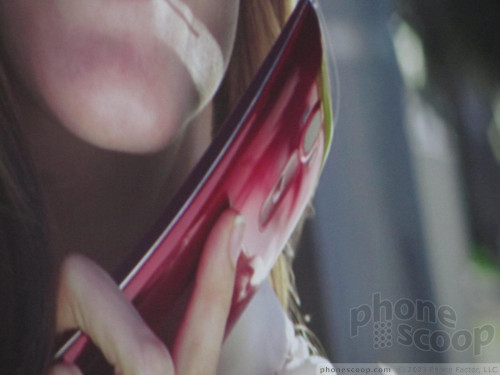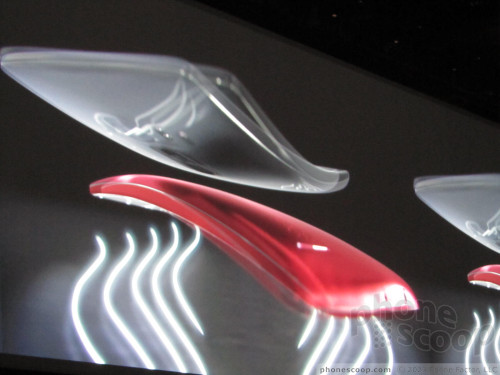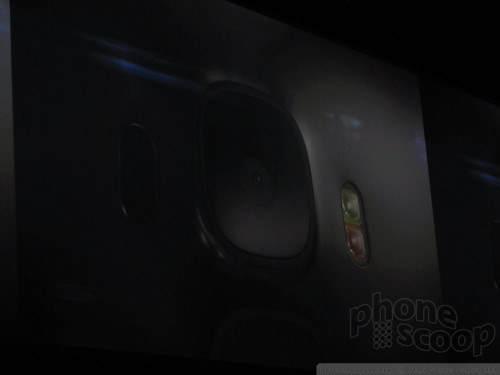 Jan 5, 2015, 11:47 AM: The gesture view lets you preview selfies by holding the phone down to your waist. Raise the phone up again, and it's automatically ready to take another selfie.
Jan 5, 2015, 11:46 AM: The (very) glossy back has improved self-healing that heals in just 10 seconds.
Jan 5, 2015, 11:46 AM: A new special treatment (proprietary LG) on the front improves durability by 30% and strength by 20%.
Jan 5, 2015, 11:44 AM: Android 5.0 Lollipop!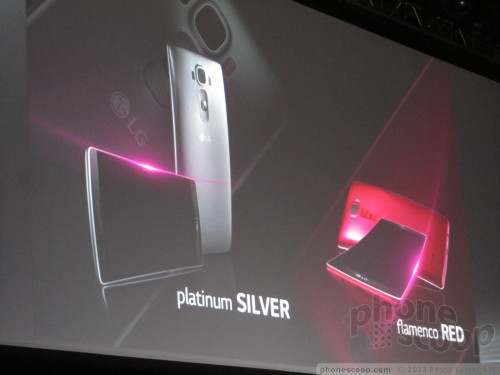 Jan 5, 2015, 11:44 AM: Chipset: Qualcomm Snapdragon 810 with 64-bit tech and 8 cores.
Jan 5, 2015, 11:43 AM: G Flex 2 camera has laser focus and OIS.
Jan 5, 2015, 11:43 AM: Will come in "Platinum" silver and "Flamenco" red.
Jan 5, 2015, 11:42 AM: The 5.5-inch display is the "sweet spot" for large display but comfort in hand, according to LG. It's been bumped up to 1080p, too (the first Flex was a measly 720p.)
Jan 5, 2015, 11:41 AM: "Four curves": front, back, sides.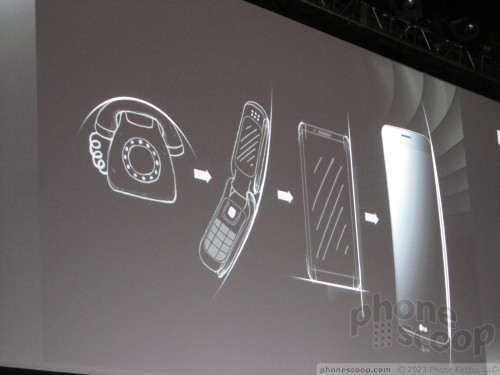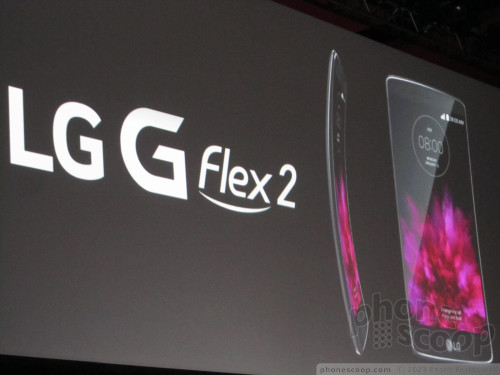 Jan 5, 2015, 11:41 AM: Recapping G Flex design inspiration...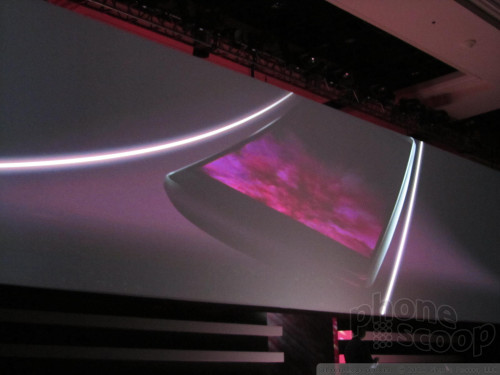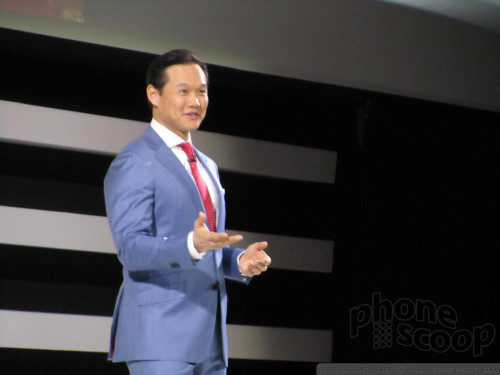 Jan 5, 2015, 11:40 AM: Here it is. The G Flex 2!
Jan 5, 2015, 11:38 AM: Now onto phones. Finally! Of course the news already broke, but we;ll bring it to you anyway.
Jan 5, 2015, 11:37 AM: Oh hey, since everyone else on the web just published a hands-on with the G Flex 2, here's ours! Hands On with the G Flex 2
Jan 5, 2015, 11:35 AM: LG's "NFC TagOn" tech has something to do with phones and laundry machines.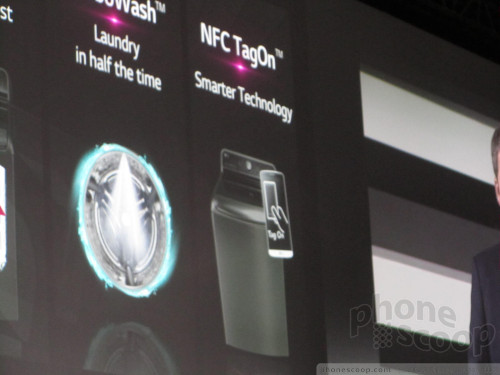 Jan 5, 2015, 11:30 AM: LG's new washing machine is the "Slim DD". Are they describing a washing machine or a porn star?!
Jan 5, 2015, 11:26 AM: Next topic: home appliances.
Jan 5, 2015, 11:25 AM: LG's new MusicFlow wireless audio tech. competes with Sonos, etc. It has an app to control your multi-room home music from your phone. With your LG phone in your pocket, your music will follow you from room to room automatically. It supports Google's just -announced Cast for Audio, plus many streaming services.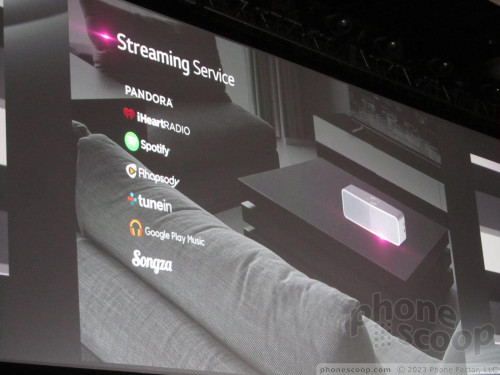 Jan 5, 2015, 11:21 AM: The Netflix executive is talking about how phone interfaces have set the bar for speed and ease of use, forcing TV interfaces to catch up with things like webOS. (He's right.)
Jan 5, 2015, 11:10 AM: Next topic: TVs, specifically OLED technology.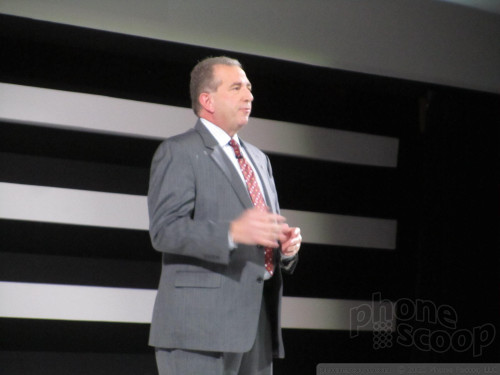 Jan 5, 2015, 11:08 AM: Now they're talking cars, and how they will connect to phones via AllJoyn support from the AllSeen Alliance, of which LG is member. No real details about that, though. They're just implying that their phones will support AllJoyn for connecting to cars.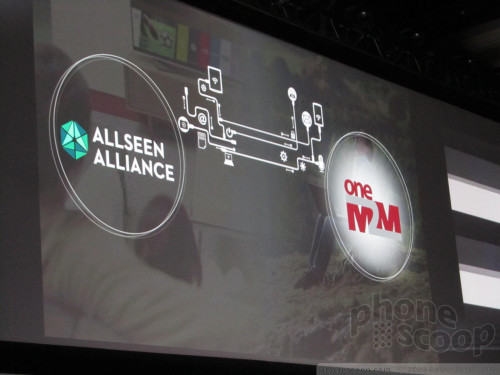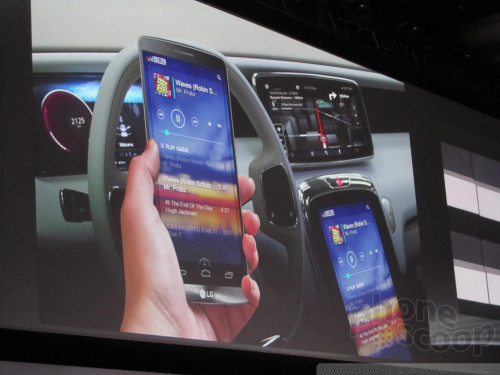 Jan 5, 2015, 11:06 AM: Somehow IoT = TVs. Uh, right. But hey, it's our old friend webOS, which has a new version for TVs. Man, if only they're bring that back to phones...
Jan 5, 2015, 11:03 AM: First subject: IoT (Internet of Things)
Jan 5, 2015, 11:00 AM: And LG is starting exactly on time. That alone is (sadly) impressive.
Jan 5, 2015, 10:59 AM: We're extremely confident that we'll see a new high-end phone from LG this hour. A Qualcomm tweet a few days ago promised a new phone at CES with a Snapdragon 810 processor, (their new top-end chip,) and it showed a photo with LG's distinct back-button layout.
Jan 5, 2015, 10:54 AM: We're just going to cover things phone-related, so there may be quiet bits while they talk about the latest innovations in fridges with doors inside doors inside doors that read your mind. But if you care about phones, we'll have every last detail.
Jan 5, 2015, 10:51 AM: Rich here. I'm seated and ready of things to start in ten minutes. Are you ready?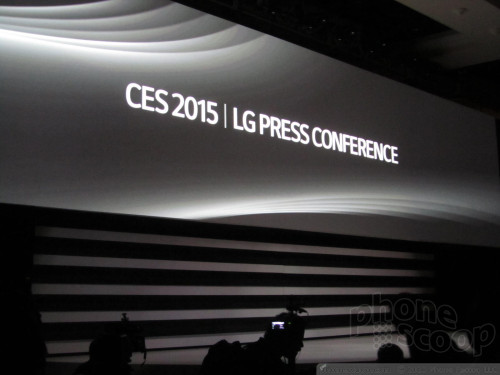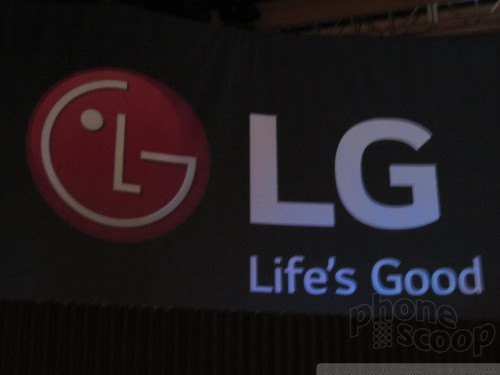 No messages