Hands-On: Bullitt's Kodak Phone
Article Comments
Jan 5, 2015, 11:24 PM by Eric M. Zeman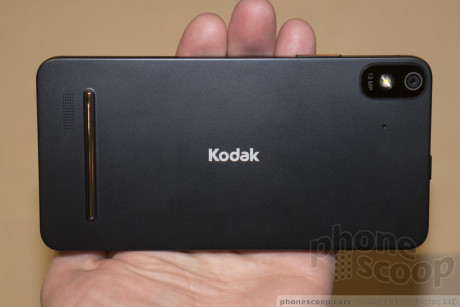 Bullitt made an Android smartphone with Kodak's name on it. That's almost all there is to say about this handset, but we'll squeeze out a few more words for you in this hands-on report.
Advertisements article continues below...
Bullitt Kodak Phone
Bullitt, which is perhaps best know for manufacturing CAT's branded rugged smartphones, recently debuted the IM5, an Android device bearing the Kodak brand. When most people think "Kodak" they probably think high-quality imaging. That's not what Bullitt wants you to think with the IM5.
To start, Bullitt representatives here at CES specifically said the IM5 is not a camera phone. They created the device to solve specific consumer pain points, which we were told are the management of on-device photos. That means the device has a capable camera, but it's more about sharing, retrieving, and printing device-side photos. The plan doesn't appear to be particularly well rounded. We'll get to that in a minute.
The design is conservative, but not terrible. The front surface is glass and it is rimmed by a chrome band that looks nice. The sides and back surfaces are formed by a single plastic shell. There are three capacitive buttons below the screen, a volume toggle on the right edge and a screen lock button on the top. The headphone jack is on top, too, and the microUSB port is on the bottom. There are trays buried in the sides to hold the memory and SIM cards.
The hardware feels incredibly cheap. The device, which is made mostly from plastics, is light enough to make you question whether or not the phone has any components hiding under the skin. The overall impression is not overly favorable in my book. The chrome band that circles there screen looks nice, but it has a nasty edge to it that isn't comfortable against the skin. The buttons have minimal profiles and travel and feedback isn't that great.
The 5-inch screen has 720p HD resolution and isn't very impressive. I was able to tell immediately that it doesn't offer full HD and pixels are clearly visible. Brightness was OK, but not great, and colors looked a bit flat to me.
Then there's the user interface. The device runs Android 4.4 KitKat, but you wouldn't know it by looking at the home screen. Instead, it resembles the UI commonly found on a Great Call device (or other phone for senior citizens). The Android UI is buried deep, and only a handful of apps/services populate the single home screen. They of course include the camera, printing services, phone and contacts, and so on. You can, through the settings, find the native Android user interface. Bullitt told us users will be able to turn off the Kodak Launcher in favor of stock Android if they wish.
The camera software is minimal and not what I'd expect to see from something bearing the Kodak brand. It's point-and-shoot simple. You can snap a shot, record video, and jump to the gallery. That's about it. There are no controls for adjusting exposure, white balance, contrast, ISO, or any advanced functions. The gallery app is simple, too, but offers some nice editing functions. If has the standard crop, rotate features, in addition to a wide variety of filters and fun effects.
The one thing Bullitt's staff mentioned over and over is the phone's ability to print images at Kodak kiosks at malls and/or shopping centers. This, combined with the simplified user interface, tells us one thing: The Bullitt Kodak phone is meant for older people who prefer printed photos to digital ones. Bullitt and Kodak are clearly still working out the details of the printing component, but since printing is Kodak's largest remaining business it makes sense that the company wants to continue to sell ink and paper to old people who are willing to still print photos.
The selling price of the Bullitt Kodak phone is $249, but it's not something I can recommend in good conscious. You'd be much better off spending that same money on a prepaid device. Further, Bullitt isn't sure the device will be sold in the U.S.
No messages