Qualcomm vs. Bullitt: Satellite Connectivity Comparison and Hands On
Article Comments 2
Jan 5, 2023, 5:57 PM by Rich Brome
updated Jan 5, 2023, 5:58 PM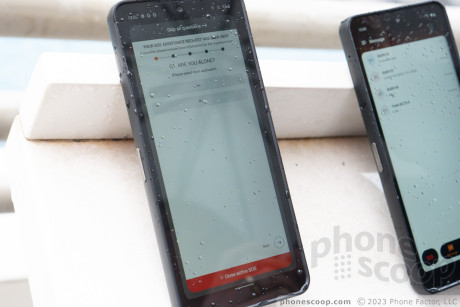 Both Bullitt and Qualcomm have just announced new solutions for putting satellite connectivity in Android phones. Both services offer full two-way messaging for non-emergency use, in addition to an SOS service. Both systems are already operational and the companies were doing live demos here in Las Vegas. I checked out both demos and talked with company executives about the details. While the basics are similar, there are a lot of small but important differences. Read on for a full breakdown of how these services differ and how well they work. I'll also explain how they differ from competing services from Apple, T-Mobile/SpaceX and AST.
I'll start off by saying that both demos were very similar, and both worked quite well. I saw messages sent and received quickly, via satellite, and it worked just fine. Most messages took just a few seconds.
Both services will give you SOS service when you're out of cellular coverage for a minimal fee. This includes sending your location to a call center where trained staff will contact the appropriate emergency services for your area, on your behalf. Since it's two-way messaging, staff can ask follow-up questions and you can reply with more info, all relatively quickly.
Both services will also let you two-way text with anyone in your contacts while out of cellular coverage for non-emergency uses, for a little more money. This is just text; you should be able to use emoji, but no photos, etc.
Both services are being offered to any and all phone manufacturers to integrate into their (mostly Android) phones.
Coverage
This is a big one. Qualcomm Snapdragon Satellite uses the Iridium satellite network, which offers 100% global coverage, even in the middle of the ocean and at the poles. (That's because Iridium is a LEO (low-earth orbit) constellation with polar orbits and inter-satellite links.)
Bullitt Satellite Connect may end up using multiple networks, but their initial launch in the US and Europe seems to be with Inmarsat. These satellites are at a much, much higher orbit called geostationary. That means they orbit in perfect sync with the earth's rotation, so they stay "stationary" relative to a specific point on the equator. That means each satellite can only cover a specific part of the planet. There aren't very many, and coverage can be further limited by where their antennas are aimed. Those antennas aren't aimed at the middle of the ocean — so no coverage there — and geostationary satellites simply can't reach the poles. But you should get great coverage anywhere in the US or Europe, and even quite a ways offshore.
Android Integration
Bullitt has come up with a clever set of apps for its service, but it's not very integrated into the OS, nor with SMS. You need to use the "Bullitt Satellite Messenger" app whenever you use the service. When you first message someone, they receive it as an SMS, but they need to download the free app to reply and continue the conversation.
Qualcomm, meanwhile, lets the service fully integrate with SMS for a seamless experience. People on the other end of your conversations see the messages as standard SMS and can reply that way. Also, if you dial 911 outside of cell coverage, it automatically prompts you to start an SOS message over satellite.
Both services have an API that lets the service work with third-party messaging apps like WhatsApp, but it will be up to the phone makers and messaging app developers to actually implement that.
Aiming
Qualcomm's setup does sometimes require aiming. It's pretty simple: just move the phone around until the red dot is in the white circle. Iridium satellites zoom around the sky quickly, so the phone maintains a database of Iridium satellite orbits. That way it always knows where you should aim your phone at any give moment.
With the Inmarsat satellites used by Bullitt's system, it usually helps to point the phone to the south, (since the satellites are over the equator,) but that's about it. There is no aiming guide in the interface like other systems, because it's just not necessary.
Receiving Messages
This is another big difference. Bullitt's system receives messages from satellites automatically. You'll get a notification when you have a new message from space, just like with any other messaging service.
With Qualcomm's system, you have to manually check for new messages to receive them over satellite. Presumably this is related to the aiming thing. Also, so as not overwhelm the system, you're limited to one check every 30 seconds.
Pricing
Bullitt does have pricing to share. The SOS service is free for the first year, and a "minimal" fee after that. Non-emergency use starts at $5/month for 30 messages. That goes up to $10 for 125 messages, or $30 for 400. You can also buy an annual plan of 250 messages/year for $60/year.
It's important to note that Bullitt considers "one message" to be their maximum of 140 characters, but they actually bill in 50-byte increments. That means you can be billed for a fraction of a message and get more value. A single location check-in only uses 8 bytes, so it's billed as 50 bytes, or 1/3 of a "message". You would also only be billed for 1/3 of a message if your message was really short, like just "I'm fine".
It's also worth noting that you're only charged when actually using a satellite, which is only when there's zero cellular coverage. You can chat in Bullitt's app to your heart's content for free while in cellular or WiFi coverage.
Pricing for the Qualcomm system is up to the phone makers, but Qualcomm's vague comments on pricing make it sound like it should be roughly similar to what Bullitt is charging in most cases.
Qualcomm did say that they don't have a limit on message size, although that seems ripe for abuse (like some hack that lets you send photos) so I suspect that may change.
Launch Timing
Bullitt is planning on launching first, by the end of this quarter (so end of March). The first phone will be a Motorola Defy-series phone, also made by Bullitt. (But Bullit does want to put this system in non-Bullitt phones.)
Qualcomm says to expect phones from multiple manufacturers, with the first arriving in the second half of this year.
Hardware Implementation
Bullitt's system requires manufacturers to add an extra satellite modem chip (from MediaTek) as well as a dedicated antenna and some extra RF components. But it should work with any MediaTek (or even Qualcomm) main chipset, so it can go into non-flagship phones easily. The demo device (shown) looked like a normal 5G phone; it wasn't unusually bulky to make room for the extra antenna and other parts.
Qualcomm's satellite modem is baked into the Snapdragon 8 Gen 2 chipset and can share an existing antenna, like the one for GPS. That means far fewer extra components for manufacturers to add, but also limits the solution to very high-end (expensive) phones.
Apple
Apple introduced Emergency SOS via satellite with the iPhone 14. Coverage is being rolled out on a country-by-country basis. Like Qualcomm's system, it pops up when you try to dial 911 outside of cellular coverage. It often requires aiming and takes much longer to send: anywhere from 15 seconds to a few minutes. It does support automatic two-way messaging, but you have to aim the whole time. You can share location for non-emergency use, but there is no non-emergency messaging. It's free for two years.
T-Mobile / SpaceX
T-Mobile's planned system using SpaceX Starlink is a completely different approach. It will work with any T-Mobile phone and support MMS or RCS, not just plain text messaging. Coverage will be limited to the US and oceans due to the special US-specific frequency band that lets it work with existing phones. T-Mobile says they plan to include the service for free with their premium plans. The big downside is that a full launch is still a couple of years away, since it requires that thousands of new, next-generation Starlink satellites be launched.
AST / AT&T
AST SpaceMobile is a company doing something very similar to what T-Mobile and SpaceX are doing, and AT&T has a deal to offer their service. It will work with existing phones, but this will likely limit coverage beyond the US due to the frequency bands involved. Test satellites have already been launched, but it could be a couple of years before the full fleet is operational. That's about all we know for now.
Summary
This is a really exciting time for satellite connectivity. Some smart people thought Apple would never launch their rumored satellite service for iPhones because the physics were "impossible". But it turns out it wasn't impossible, just very difficult. And here we are just a few months later with the Android world not only catching up, but offering multiple solutions that seem superior to what Apple has done.
Satellite connectivity is definitely the big new feature in Android phones in 2023.
Ha! Qualcom aiming at a mountain.
I love how the aiming in the Qualcomm pictures shows a mountain range. Last I knew mountain ranges were not radio transparent at any frequency.
And you think because the back of the phone is facing a mountain that satellite connection is also horizontal and not vertical, like at the top of the phone to the sky? REALLY?