All Motorola Lenovo Samsung HP more... Discuss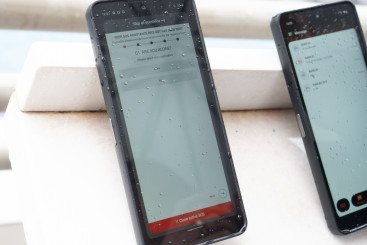 Both Bullitt and Qualcomm have just announced new solutions for putting satellite connectivity in Android phones. Both services offer full two-way messaging for non-emergency use, in addition to an SOS service. Both systems are already operational and the companies were doing live demos here in Las Vegas. I checked out both demos and talked with company executives about the details. While the basics are similar, there are a lot of small but important differences. Read on for a full breakdown of how these services differ and how well they work. I'll also explain how they differ from competing services from Apple, T-Mobile/SpaceX and AST.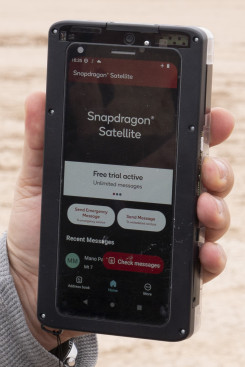 Qualcomm has revealed Snapdragon Satellite, the company's solution for connecting Android phones directly to satellites for truly global coverage. The feature uses the Iridium network, a satellite constellation that has has been in operation for 25 years. As a polar LEO (low-earth orbit) constellation with inter-satellite links, Iridium offers full global coverage, even mid-ocean and in polar regions. The low-bandwidth data channel is designed to support basic 2-way messaging. It works in two specific modes: emergency and "premium". The emergency SOS feature is designed and supported by Qualcomm and Garmin. When a user tries to dial 911 outside of cellular coverage, the phone automatically asks if you'd like to use the satellite messaging feature to contact emergency services. This routes your messages through the same call centers as Garmin's InReach service, which already offers service worldwide. Manufacturers can also implement an SOS button wherever they like in software (or hardware) to trigger the feature. Like Apple's version of this technology, it sometimes (but not always) requires aiming, which the phone automatically guides you through if necessary. However Qualcomm claims several advantages over Apple's solution: it can send much longer messages, and they are sent and received much faster (3 seconds, on average). Users must manually check for new messages to receive them, which is rate-limited to every 30 seconds. Qualcomm expects the emergency feature to be very affordable or possibly even free on some phones. The "premium" service for non-emergency use will cost more. This can either be integrated with SMS or added to a third-party messaging app. It will be up to manufacturers to determine how this feature is implemented and priced. The already-announced Snapdragon 8 Gen 2 chipset includes support for Snapdragon Satellite, (though not all phones with that chip will necessarily support the feature). Iridium uses the L band, which is near 1,600 MHz. This is close enough to GPS/GNSS and cellular mid-band frequencies that it can share one of those existing antennas in a phone, requiring only the most minimal extra radio components to implement. Multiple manufacturers are planning to launch phones with Snapdragon Satellite in the second half of the year.
Phone maker Bullitt has teamed up with a number of partners to create its own two-way satellite messaging service. An upcoming Motorola Defy-series phone (made by Bullitt) will support the new service and launch in the US soon. Bullitt is offering the service to other manufacturers as well. The Motorola Defy phone will use a MediaTek add-on modem chip that supports NTN (non-terrestrial network) communications. Bullitt is relying on Skylo to provide the satellite service, with is powered by "existing licensed GEO satellite constellations, such as Inmarsat and others." Bullit has created it own messaging app for the service. The app will try using cellular or Wi-Fi networks when available, but fall back to satellite. An emergency SOS service will be free for the first year, and is backed by critical event response specialists FocusPoint International. Subscription plans start at $5/ month for 30 non-emergency messages. SOS messages do not count against the bucket, and shorter messages (including location check-ins) count as fractional messages. When texting other people for non-emergency use, the other person receives a standard text message, but must download a free app to reply and have it relayed by satellite. The app will be available for both Android and iOS. Only the user of the satellite-capable phone is charged for satellite messaging. The service is launching first in the US and Europe, and only provides coverage in launched regions. It reaches far offshore, but not in the middle of the oceans nor polar regions. When in satellite-only coverage, messages via the service are received automatically, unlike some competing solutions. Users should usually not be required to aim the phone to connect to a satellite.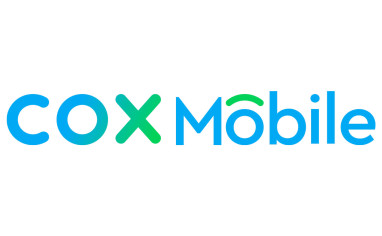 Cable company Cox has formally launched its mobile service, Cox Mobile. Like Comcast's Xfinity Mobile, Cox Mobile is only available to customers of Cox home internet service. Rather than a bundle offering, customers will receive a separate bill for the mobile service. The service is available via two different plans: "Pay As You Gig" is priced at $15/GB of data, while Unlimited is $45/month. Both plans include unlimited talk and text, as well as 5G. Customers can easily switch between the two pricing options as often as they like, with no limits, commitments, or activation fees. Cox Mobile offers a full lineup of Samsung phones, from entry-level to the Z Fold. Cox is operating as an MVNO, using Verizon's 5G and 4G network. Cox operates its cable/internet service in 18 states.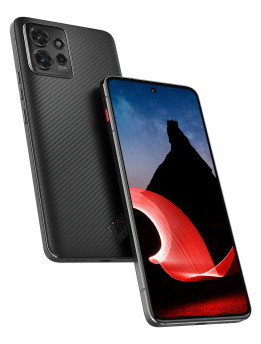 Motorola's newest phone is the Lenovo ThinkPhone, a mobile phone designed to appeal to business customers and integrate seamlessly with Lenovo ThinkPad laptops. The ThinkPhone has high-end specs, a durable body, and extensive security features. A full array of connectivity features with ThinkPad laptops includes Instant Connect seamless discovery when nearby, Unified Clipboard, drag-and-drop file sharing, and Instant Hotspot with 5G. Android apps can be opened on the laptop, including launching with one click from Unified Notifications. Advanced Webcam lets you use the phone's 50-megapixel camera for higher-quality online meetings. Other phone specs include a Snapdragon 8+ Gen 1 processor, 8–12 GB RAM, 128–512 GB storage, 6-inch FHD+ OLED display, Wi-Fi 6E, and USB 3.1. It has a 5,000 mAh battery, 68-watt fast charging (68W charger included), and wireless charging. It comes with Android 13 and four years of security updates. A secondary rear camera offers 13 megapixels of 120º wide-angle, while the front camera is 32 megapixel. An aircraft-grade aluminum frame, Kevlar-like "lightweight aramid fiber that's stronger than steel", and Gorilla Glass Victus give the phone durability as well as an IP68 rating for proper water resistance. In addition to ThinkShield and advanced enterprise mobile device management, the ThinkPhone comes with Moto KeySafe, "a separate processor ... that adds an additional layer of security to better protect the most sensitive data in the smartphone. It isolates PINs, passwords, and cryptographic keys, storing them in a tamper-resistant environment protecting the data from the inside out." The ThinkPhone will be available to US business customers and unlocked online "in the coming months". Pricing was not announced.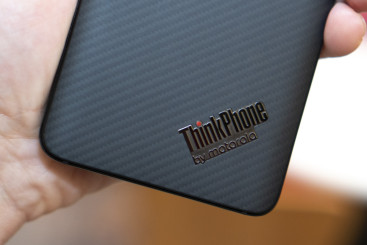 Motorola has a new phone specifically for "business" folks. It's a high-end phone with a design inspired by Lenovo's ThinkPad laptops. The Lenovo ThinkPhone by Motorola has the full range of enterprise software you'd expect, plus it's built to last with a durable body. Motorola has expanded the capability of its Ready For software to create seamless links between the ThinkPhone and a ThinkPad laptop. So what's it like in person? Read on for our first impressions.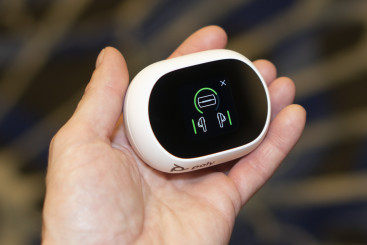 A new category of Bluetooth earbuds has popped up: buds that are certified by Microsoft to offer the best audio quality when used with its popular Teams video conferencing service. Most obviously, these buds come with a USB dongle that plugs into your PC. But they also have new levels of advanced features not found in any Bluetooth earbuds before. So what does certification mean? Is it a gimmick? Are these new "enterprise grade" earbuds just a play to drain expense accounts, or are the fancy features worth it for professionals who lead a lot of video meetings? We talked to Jabra and Poly to find out, and checked out their respective entries in this category (the Jabra Evolve2 and Poly Voyager Free 60+). Read on to find out what we learned, and our first impressions.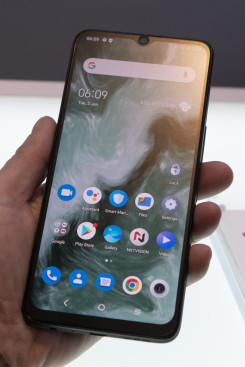 TCL is showing off a concept phone at CES that it calls the NXTPAPER Phone, a phone that implements the paper-like display technology the company has put in some of its recents tablets. Unlike almost all other phones on the market today, the display surface has a matte finish, somewhat like paper, instead of the usual glossy glass. So how does it feel, how does it work, and how does it look in person? We break it down for you in this hands-on. Read on for our impressions.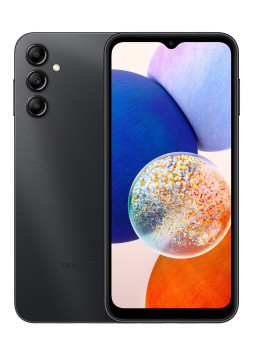 Samsung has unveiled the Galaxy A14 5G, its most affordable 5G phone to date. The new phone shares most specs with its predecessor, the Galaxy A13 5G. The biggest upgrade is the front camera, which goes from 5 megapixel to 13 megapixel. The display is also slightly larger at 6.6 inches. Other features remain the same, including a 50 megapixel main camera, 5,000 mAh battery, and a fingerprint reader. Cricket's price is $190, while AT&T is offering the phone for $2/month over 36 months (to both new and existing customers, no trade-in required. Both brands will start selling the phone on January 13th.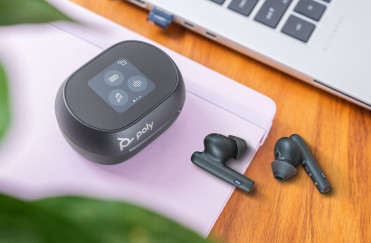 HP has announced the Poly Voyager Free 60+ "pro-grade wireless earbuds for hybrid lifestyles." The unique smart charging case sports an LCD touchscreen for "easy access to volume and mute functions, fast insight into battery life and call status". The case also holds a USB dongle that lets the buds work with PCs that don't have Bluetooth built in. It also comes with a 3.5mm cable that lets the buds work with wired audio on planes, via the case as a Bluetooth adapter. The buds support Bluetooth 5.3. Multipoint means they can remember up to eight devices, and the case controls make it easy to switch between two active devices. The true wireless earbuds naturally feature 3-mic adaptive ANC, transparency mode, and two-way background noise reduction. The buds can last 5.5 hours on a call or eight hours of listening with ANC on. The charging case adds up to 16 hours for up to 24 hours total. The case supports wired and Qi wireless charging. The buds are rated IP54 for dust and water resistance. The buds support Poly's remote IT management tools. The Poly Voyager Free 60+ will ship in March for $350. A step-down model with a basic charging case will sell for $300. It will also be available in a Microsoft Teams-certified version.
The Wireless Power Consortium (WPC) has announced Qi2 (pronounced "chee two"), a new version of the popular Qi wireless charging standard. It incorporates the magnetic alignment technology that Apple added to its Qi charging devices, which Apple calls MagSafe. Apple is a WPC member and contributed MagSafe as the basis for the new Magnetic Power Profile in Qi2. This enables perfect alignment for faster charging. Better alignment also improves energy efficiency and safety. Qi2 will remain backward-compatible with Qi, but users may experience faster charging when using a Qi2 Certified phone on a Qi2 charger.   Qi2 Certified mobile phones and chargers are expected to be available for the 2023 holiday season.