Hands On with the Lenovo ThinkPhone by Motorola
Article Comments 1
Jan 5, 2023, 11:00 AM by Rich Brome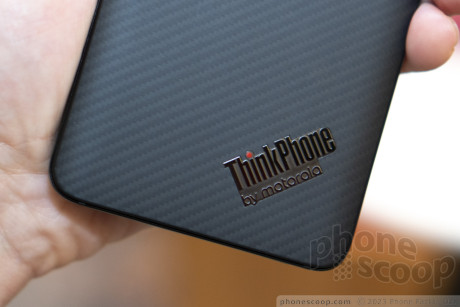 Motorola has a new phone specifically for "business" folks. It's a high-end phone with a design inspired by Lenovo's ThinkPad laptops. The Lenovo ThinkPhone by Motorola has the full range of enterprise software you'd expect, plus it's built to last with a durable body. Motorola has expanded the capability of its Ready For software to create seamless links between the ThinkPhone and a ThinkPad laptop. So what's it like in person? Read on for our first impressions.
Article
The ThinkPhone looks and feels great. The size and weight feel very well-balanced and solid; it has a high-quality feel. The aramid back is supposedly "stronger than steel", but I mostly appreciated its silky soft-touch feel; it really is delightful. (Aramid is the same stuff Kevlar is made from.)
The bezels around the display are fairly thin and even around all four edges; there's no "chin" here. The OLED display looks nice. For durability, there's Gorilla Glass Victus protecting the display. The whole phone is rated IP68 for water and military-rated for durability.
The metal frame and side buttons have an extra bit of precision that most Motorola phones don't usually have these days. They definitely convey that "professional tool" feel that sets this apart from a consumer device. The buttons are sharp and very "clicky".
Speaking of side buttons, there is an extra red button on the left side. This is a bit of Lenovo "Think" design-language branding, but it's also practical. You can configure single and double presses to trigger whatever shortcut you like. A long press brings up these configuration options. IT departments can override these (even the long press) to be something else that make sense for the company.
Naturally there are extensive MDM (mobile device management) options for IT shops to set company policies on these phones.
The Android software is mostly standard for a Motorola. There's a new Moto Secure app, but it's mostly just a screen full of shortcuts to everything security-related on the phone. More useful is the locked folder feature, which lets you put certain apps behind an additional layer of security to access them.
You can mirror your Android screen to your ThinkPad laptop. But you can also "stream" Android apps to a new window on your ThinkPad laptop. This isn't mirroring, as your ThinkPhone can be doing something else at the same time. So it's like multi-screen multi-tasking with your phone. That's neat.
The software also makes it easy to transfer files and do copy-and-paste across devices. Take a photo with your ThinkPhone, and it's instantly ready to paste that image into a document on your laptop.
You can also use your phone's camera as a webcam for your laptop. There's a 50 megapixel camera on back, and also a 32 megapixel front camera, so either way should work well for this. It seems a bit laggy in a demo, but it did work. This was on Wi-Fi, so plugging it in might help here.
Features like these don't always work well without a really good Wi-Fi connection (I've had this issue with Ready For on Motorola phones in the past) so it's good that this phone has Wi-Fi 6E for the best possible Wi-Fi connections.
Speaking of connectivity, the phone does of course have 5G, and there's "Instant Hotspot" to share that 5G connection with your laptop. Oddly there's no mmWave 5G, but it does fully support mid-band 5G in the US. It doesn't have 100% of the 4G/5G bands that all US carriers use, but it has enough to offer good service on Verizon and AT&T.
The included 68-watt fast charger can fill the phone's 5,000 mAh battery half-way in just 15 minutes. And even though it's quite compact, it can charge your ThinkPad laptop at a decent speed as well.
Overall, I think this looks like a solid phone for road warriors. The laptop integration actually seems well thought-out, which could tip the scales and make this the right choice for companies with a lot of ThinkPads.
holepunch :-(
When are we going to see more under-screen front-facing cameras, or even pop-up cameras, or just thin bezels with the camera, I'm tired of notches and hole punches ruining the beautiful screen you look at ALL DAY...