Hands On with Teams-Certified Bluetooth Earbuds
Article Comments
Jan 5, 2023, 12:22 AM by Rich Brome
updated Jan 5, 2023, 3:24 PM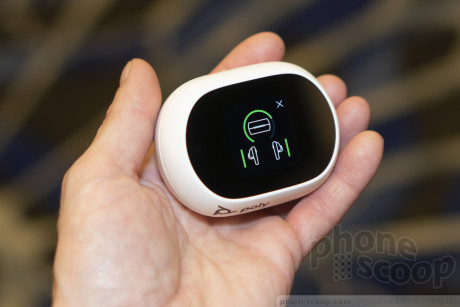 A new category of Bluetooth earbuds has popped up: buds that are certified by Microsoft to offer the best audio quality when used with its popular Teams video conferencing service. Most obviously, these buds come with a USB dongle that plugs into your PC. But they also have new levels of advanced features not found in any Bluetooth earbuds before. So what does certification mean? Is it a gimmick? Are these new "enterprise grade" earbuds just a play to drain expense accounts, or are the fancy features worth it for professionals who lead a lot of video meetings? We talked to Jabra and Poly to find out, and checked out their respective entries in this category (the Jabra Evolve2 and Poly Voyager Free 60+). Read on to find out what we learned, and our first impressions.
I got some different answers on why Microsoft Teams certification requires a USB dongle for your PC, but the answer that made the most sense to me is that it ensures the connection can use a higher-quality codec. Perhaps that means a higher bitrate, different encoding, or even lossless, but regardless, better audio quality than standard Bluetooth.
If you're often the one speaking during your Teams calls, that can make a big difference. Standard Bluetooth is only designed to carry your voice at the quality of a 2G phone call, which is not great. So an upgrade in that department makes sense. Poly also said that its USB dongle includes audio processing capability to reduce background noise and further improve quality.
Another reason I was given for the dongle is better range and connection stability.
Both the Jabra Evolve2 and Poly Voyager Free 60+ include this tiny USB dongle in the charging case. Also, both offer the option of either USB-A or USB-C (but you have to choose when you purchase.)
The Jabra is reasonably priced at $269. It includes all of the features you expect from a high-end set of earbuds, such as Active Noise Cancellation (ANC) and hear-through mode.
The Poly Voyager Free 60+ adds a few notable features that take things to the next level. Most obvious is the touch screen on the "smart" charging case. It lets you control everything about the earbuds that would normally require digging into an app on your phone. Some people find this silly, but I think it's a fabulous idea. I can never remember what all of the the tap gestures are on my earbuds; a visual interface seems much better.
Poly Voyager Free 60+ interface
The interface is simple: you can swipe through three screens, then tap an option to bring up that control. In the transparency modes, there's a "speech" option that lets you hear someone speaking but filters out other noise.
Also unique is a broadcast mode that lets you listen to wired audio, such as from a plane's entertainment system. You just connect the included 3.5mm cable between your audio source and the charging case, and it transmits the sound to your earbuds over Bluetooth. Clever.
You can read more about the many features of the Poly Voyager Free 60+ here. They are a bit pricey at $350.
The Jabra Evolve2 may be simpler, but they're more reasonably priced. Also, the case and buds themselves are significantly smaller.
No messages