ReSound Smart Hearing Aid Connects To Your Phone
Article Comments 2
Jan 5, 2015, 10:03 PM by Rich Brome
updated Jan 5, 2015, 10:03 PM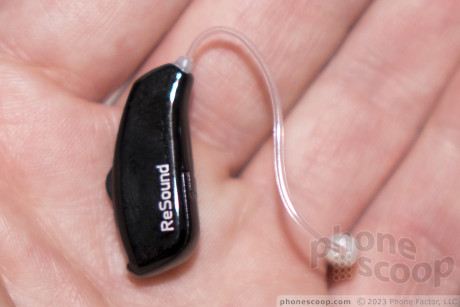 ReSound is a line of proper hearing aids that connect to your iPhone or Android phone for both audio and control. They connect just like a Bluetooth headset, to enable the user to hear calls, music, and video clearly. An app also offers detailed control over the hearing aid functions. The app lets the user choose from and customize various sound profiles, and also includes a "find my hearing aid" feature to help locate a lost hearing aid. ReSound is already available for iPhone; Android support was just announced this week, starting with the Samsung Galaxy S5. Read on for more detail in our quick hands-on report.
source: ReSound
No one wants a hearing aid, but if you need one, it's a necessity. Many hearing aids and phones offer some level of compatibility, but that really means non-interference - which can vary - or a T-coil, which may require flipping a super-tiny switch or using an unsightly wire. There should be a better way, and that's what ReSound offers with their Bluetooth hearing aid.
The Bluetooth audio function of the ReSound is very straightforward. It pairs exactly like any Bluetooth headset. That's it. The app is where things get more interesting.
main menu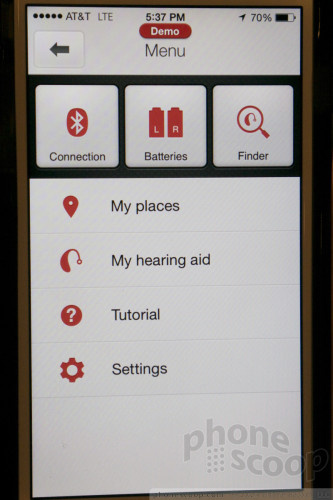 main menu
The app lets you control the hearing aid in a few ways. You can select from various sound profiles, such as "restaurant" and "outdoors". The restaurant profile prioritizes nearby voices over sound from across the room, which the outdoors profile filters our wind noise. And so on. You can also create your own custom profiles for your own common locations and situations. You can also tweak the volume, etc. If you have two hearing aids, you can adjust volume for each ear. There's also a battery meter, perfect for those with battery anxiety.
The great thing about this is how discreet it is. No one likes showing off their hearing aid. Like most good hearing aids, the standard ReSound (model name: LiNX) is extremely tiny and essentially invisible. But unlike most hearing aids, you never have to reach up and fiddle with it. You can just whip out your phone and adjust it while everyone else assumes you're checking your texts.
If you lose your hearing aid, it has an excellent feature to help find it. It will show you on a map the approximate last place the phone was connected to the hearing aid (likely the place you lost it.) Then, to be more precise, you switch to Bluetooth mode where a signal strength meter makes it easy to home in on it by playing "hot/cold". Smart.
The company also offers an accessory to broadcast Bluetooth audio from a TV or other audio source directly to your ReSound.
The company also offers a model (the Enzo) for those with more profound hearing loss. It's a bit larger.
The ReSound is pricey (think $2,000-3,000), but if you're shopping for hearing aids at all, you know that's the name of the game for nearly all hearing aids.
The iPhone is supported, as is the Galaxy S5 (just announced and available in early February.) Additional Android phones will be supported in the coming months. (As a medical device, ensuring - and advertising - phone compatibility is a bit trickier than for most Bluetooth accessories and apps.)
There are a lot of "smart" products out there with Bluetooth and other technologies added to dubious effect. Do you really need a Bluetooth pacifier or yoga mat? Probably not. But the features of the ReSound seem extremely practical for anyone needing a hearing aid.
A Great First Effort, But......
Thank you for bringing cell phones and hearing aids together in everyday life! On a professional level I'm thrilled. HOWEVER, I've a number of questions/comments:

1. T-Coils have been around for decades and have never used a "wire" that I'm aware. I've never heard of anyone ever having a problem flipping a t-coil switch.

2. Needing to 'fiddle'with a hearing aid is usually due to user error.... not too different from cell phones, lol.

3. Equating a "good" hearing aid with being "extremely tiny and essentially invisible" is like saying that cell phone A has better battery life than cell phone B simply because A's battery is physically larger. ??? Exactly, it doesn't make any sense.

4. I believe that the heavy hitters of the hearing...
(continues)
Hearing aid companies certainly boast about how invisible their models are in all of their marketing. It's nothing to be ashamed of, (I certainly didn't mean to imply that,) but I think most users would prefer that they be inconspicuous. I would.

I...
(continues)