Apple-Made iPhone 6 Battery Pack Graces Apple Store
Article Comments 6
Dec 8, 2015, 8:16 AM by Eric M. Zeman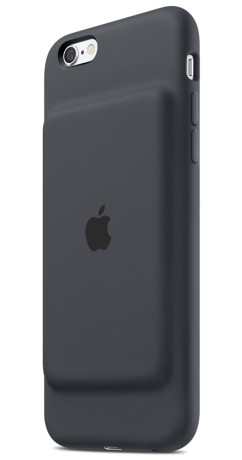 Apple has designed and released its own external battery case for the iPhone 6 and iPhone 6s. The accessory is formed by soft-touch silicone. The battery itself is concentrated in an obvious rectangle on the back surface. The case wraps around the phone entirely and plugs into the Lightning port on the bottom to deliver its charge. Apple says the external power cell is good for 18 hours of LTE web surfing. Both the phone and the case can be charged at the same time. The case works with the iPhone to deliver intelligent battery stats to the notification center. The case, sold in white or gray, is available online for $99.
?
No details on their website about capacity or weight of this unsightly aberration
Yeah, this thing is fugly as all get out.. First a protruding camera from the phone (which makes Steve Jobs roll in his grave), now a fugly protruding battery... Apple's design has really gone down the toilet.
Does Apple Make Anything NEW Anymore?
It would appear that Apple has failed to deliver on the jaw dropping wow factor since they released the iPhone and iPod touch (essentially the same device) back in 2007.

The only innovations that I have seen is that they are taking things that have already proven themselves in the marketplace and rebranding it "Apple".
BYE BYE MOPHIE, IT WAS NICE KNOWING YOU!
APPLE SAYING FU TO THIS COMPANY...