Apple Improves iPhone 6s and 6s Plus with 3D Touch
Article Comments 4
Sep 9, 2015, 1:39 PM by Eric M. Zeman
updated Sep 14, 2015, 9:51 AM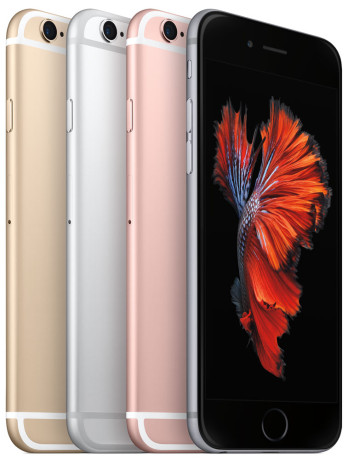 Apple today announced the iPhone 6s and 6s Plus, which are enhanced versions last year's iPhones. Like the iPhone 6 and 6 Plus, the 6s and 6s Plus have 4.7-inch and 5.5-inch screens, respectively, slim metal designs, and fingerprint readers built into the home button. The signature feature of the new iPhones is 3D Touch, or the screen's ability to differentiate between light and firm presses. Together with APIs given to developers, 3D Touch will open up new possibilities for interacting with the iPhone and applications. During Apple's live event, the company showed how light and firm presses can bring up email previews or secondary actions for replying to or deleting messages. 3D Touch adds myriad functions to Maps, such as dropping pins, or to the camera, such as selfies. Apple installed a large Taptic Engine module in the new iPhones to provide more fine-tuned feedback when using 3D touch. Apple said it improved the strength and rigidity of the iPhone 6s and 6s Plus by switching to 7000 series aluminum. The phones have an A9 processor, which is 70% faster at calculations than the A8, and 90% faster at pushing graphics. It is joined by an improved M9 motion co-processor, which is embedded into the A9 and always on for tracking heath and fitness data. The Apple ID fingerprint sensor has been improved and is now twice as fast. The camera has been bumped up to 12 megapixels, and has 50% more auto-focus sensors to aid clarity. Apple worked hard to reduce cross-talk and image degradation so the iPhone 6s and 6s Plus capture accurate color. The iPhones can now capture 4K video, as well. On front, the display can be used as a two-tone flash to aid in 5-megapixel selfie shots. Further, the camera can capture video and photo information simultaneously, resulting in moving "Live Photos" that resembles the HTC Zoe. Apple says the Live Photo captures 1.5 seconds before and after the shutter button is pressed, and the files are kept small for easy sharing. The iPhone 6s supports 23 LTE bands and LTE-Advanced for 300Mbps cellular data speeds. The iPhone 6s and 6s Plus run iOS 9, which features transit maps, News reader, better battery life, wireless CarPlay, and support for loyalty cards in Apple Pay. The iPhone 6s and 6s Plus will be available in silver, space gray, gold, and rose gold. The phones come in 16GB, 64GB, and 128GB variants, with prices ranging from $649 to $949 at full retail. Pre-orders start Sept. 12 and the handsets reach stores Sept. 25.
Advertisements article continues below...
16 GB??? why bother?!
the phone comes with 4k video... once you turn on the phone... u only left with like 7 GB. You take like 5-6, 4k videos... ur memory is already full. A lot people buy the 64 gb... I mean apple should make 32gb instead of this 16 gb. Apple is just like any other corporation, they want to make the big $$.
OH no!!!
I had hoped that Apple would not release the 6s and 6s plus with a base model of 16 GB. I have told everyone who asked me in the last year not to buy the 16 GB model since iOS needs 10-12 GB to run your iPhone which leaves only 4-6 GB for apps, pics, videos, podcasts, etc. I tell them to buy at least the middle model of 64 GB. The 16 GB is a non-starter phone at best and my joke is that the 16 GB is handicapped in that you can not use it to its full potential since you run out of space for the apps you want, and one finds it hard to upgrade new versions of the iOS due to lack of space on your phone. A base model of 32 GB would be the lowest storage space that would make sense.

Don't get me wrong, I love my iPhone 6 plus (128 GB) and ...
(continues)
What in bloody hell are you talking about? iOS does not take anywhere NEAR what you speak of.



16GB is for people whom do not desire what you do. Should it have been 32GB? Yes. But 16 is perfectly fine for those whom don't use their phones in t...
(continues)