Hands On with Panasonic's Phone Camera
Article Comments
Jan 8, 2015, 12:26 AM by Rich Brome
updated Jan 8, 2015, 3:55 AM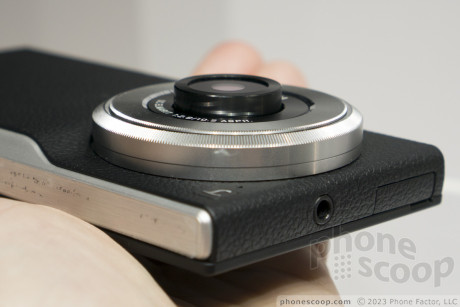 Panasonic's Lumix phone is just as much camera as phone, much in the same vein as Samsung's Galaxy Camera series. It pairs an Android phone with a 20-megapixel Lumix camera with a massive sensor and extending multi-element lens for the kind of photo quality you don't find in most camera phones. Panasonic is planning to expand global availability, so we checked it out. Read on for our impressions.
The design and finishes are authentically like a classic camera, with a large lens ring that actually turns, a very camera-like textured pleather finish, metal frame, and a large, excellent shutter button. They really nailed the traditional camera look and feel, but in thin phone form factor. It's sexy in a retro way and feels great. They ended up with something both functional and satisfying to hold and use. I'm impressed.
The two-stage shutter button works very well, and the pleather finish provides a firm grip that's easy to hold, which is important for a device this thin (by camera standards, anyway.) The lens ring - which adjusts varying settings depending on the mode - is easy to use and works well. I'm huge fan of these kinds of analog-like controls, and this one is well-implemented.
The camera interface has a dizzying array of options. This is obviously a device geared for people serious about photography, and the camera app reflects that through-and-through. The options are closer to what you'd find on a good standalone camera than the interface on most phones. There are ample auto, semi-auto, and manual modes, plus a plethora of scene modes for every situation and then some, including "freeze animal motion" and "artistic nightscape", which is just one of many night modes.
The camera performance seemed excellent, at least from trying it briefly in Panasonic's booth. It certainly snaps photos extremely quickly, with almost no lag. Quality looked good, even in the challenging environment of a trade show booth with concert-style lighting constantly changing color and creating glare. The Leica lens seemed to do its job.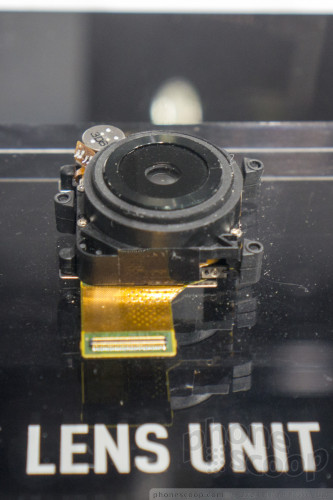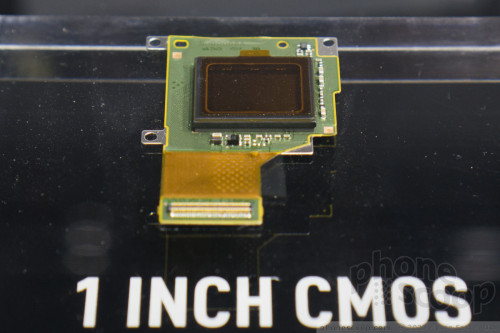 On the phone side, the Lumix phone is just average when it comes to design and interface. The back is a plain slab of glass displaying a very vanilla version of Android. The refinement of the camera side doesn't quite carry over to the design of the screen side. Similarly, the lock and volume buttons don't work quite as well as the camera shutter button.
In the middle of the button group is a sliding, spring-loaded switch to activate the camera. It works even when the phone is locked, which is convenient. I don't like these kinds of sliding switches, but I assume they chose it (over a simpler button) to avoid accidental activations in the pocket, etc. That's important because the lens extends in camera mode. (If that happened in your pocket it could perhaps lead to damage of the mechanism.)
The Lumix phone is powered by a Qualcomm Snapdragon 801 chip and supports LTE and memory cards up to 128 GB. Its full HD display measures 4.7 inches. So it's not a bad Android phone in terms of specs.
If you're looking for something that's more camera than phone, but pulls its weight as an Android phone, too, this might be worth a look.
No messages