Panasonic
Phones & Info News Forums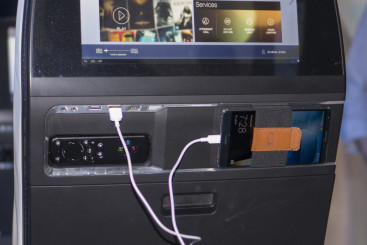 Panasonic's latest seatback systems for planes are more phone-oriented than ever, providing a dedicated spot for your phone, Qi wireless charging, USB 3.0 SuperSpeed for charging and media, and even an HDMI input. The multiple USB ports can not only charge your phone but also let you access your videos, photos, and music on the seat's 13-inch full-HD touch screen, which is actually based on an Android tablet. Panasonic showed off a couple of different designs at CES this week, and we checked them out.
---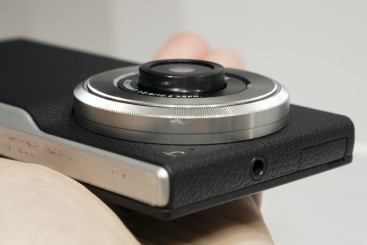 Panasonic's Lumix phone is just as much camera as phone, much in the same vein as Samsung's Galaxy Camera series. It pairs an Android phone with a 20-megapixel Lumix camera with a massive sensor and extending multi-element lens for the kind of photo quality you don't find in most camera phones. Panasonic is planning to expand global availability, so we checked it out. Read on for our impressions.
---
Google today announced that Android smartphone owners will be able to push YouTube content directly to more TVs beginning this year. In November, Google enabled Android smartphones and tablets to connect to Google TV boxes (via Wi-Fi) and push YouTube videos directly to the Google TV box (and ultimately the attached TV). Moving forward, Android YouTube fans will be able to do the same thing, but without the Google TV box. New television sets from Bang & Olufsen, LG, Panasonic, and Sony, to be announced at the Consumer Electronics Show next week, will ship with support for this YouTube feature built in. Google expects more TVs from Philips, Samsung, Sharp, Toshiba, Vizio, and Western Digital to arrive with the same feature later in the year. Android phones and tablets can also act as a remote control for the YouTube video, and control play, pause, fast-forward, and other functions.
---
NTT DoCoMo today cancelled plans to form a joint venture with Fujitsu, Fujitsu Semiconductor, NEC, Panasonic Mobile Communications, and Samsung Electronics that would have had the companies working together to create mobile processors. The joint venture was first announced in December with the goal of competing with chips from Qualcomm and Broadcom. The joint venture was dissolved because a consensus on the details of the company could not be reached by the target deadline, which was the end of March.
---
NTT DoCoMo today signaled that it, along with a handful of other Asian electronics makers, intend to band together to form a joint venture that will eventually supply the participants with wireless baseband chips. The goal is to reduce the companies' reliance on Qualcomm for such components. Reuters reports that some of the companies involved include Fujitsu, NEC, Panasonic Mobile Communications, and Samsung. DoCoMo will take a majority stake in the joint venture, which the companies believe will help reduce the cost of certain smartphone components. The companies would use the chips developed by this joint venture rather than Qualcomm's chips. The joint venture will be headquartered in Japan and start with an initial capitalization of $389.6 million.
---