CES 2020
All Coolpad Verizon TCL T-Mobile more... Discuss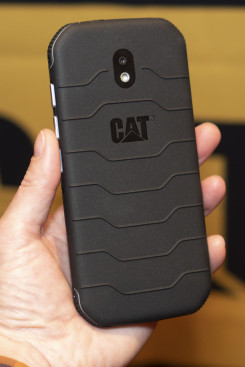 CAT's latest rugged phone for the US market is the S32. It's a bit more affordable than past models at $349. It's rated IP68 for water and dust. It can withstand being submerged under 1.5 meters of water for up to 35 minutes. It also has a military rating for drop and shock. It has a 5.5-inch HD display covered in DragonTrail Pro glass that works with gloves and wet fingers. It has a 4,200 mAh battery. It's powered by a MediaTek Helio A20 processor with 3 GB RAM, 32 GB storage, and Android 10. Features include NFC, 13 megapixel main camera, memory card slot, 3.5mm audio jack, and a user-assignable shortcut key on the side. The US variant will have full support for Verizon and T-Mobile 4G LTE bands, and decent support for AT&T, including band 14 for FirstNet.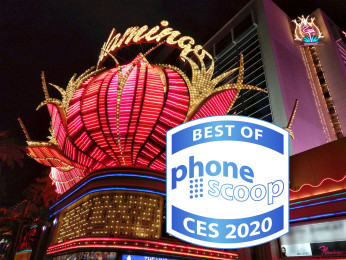 CES is the world's consumer tech show. Every year we head out to Vegas to check out everything in person. We honor the standouts with our Best of CES awards. This year, four products wowed us, each for a different reason.
Coolpad is planning to introduce a new smartwatch later this year that will target the senior market, according to Coolpad US CEO Steve Cistulli in an interview with Phone Scoop. It will be based on the company's Dyno 2 smartwatch for children, but add an optical heart rate monitor and two-contact ECG sensor. It will also offer a new user interface tailored for the senior market. It will be offered under its own brand, while Dyno will remain a kid-focused brand. Similar to how the Dyno watches connect to a platform that allows parents to monitor their children, the new watch will allow adults to keep tabs on the whereabouts and health of their aging parents, and stay in touch more easily. Coolpad hopes the watch will enable more "aging in place" living.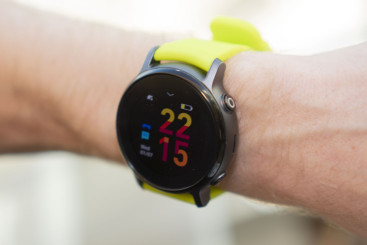 Coolpad has a new version of its Dyno smartwatch for kids, and it's better in every way. The Dyno 2 is a "kids" smartwatch that slightly older kids might not be embarrassed to wear, thanks to new color and interface options. And they've upgraded the display, processor, and charging connector. It also has dramatically better LTE network support. A new feature called Quests lets parents game-ify chores. Like the original Dyno, it has an SOS button, full parental control, location tracking, voice calling, and text messaging. Coolpad it currently planning to ship it April for $190. Read on for more details and hands-on impressions.
Quibi, short for "quick bites", is a new video streaming service designed specifically for phones. It will launch in early April and cost $5/month, or $8/month for the ad-free version. To optimize for phone viewing, all content is available in both landscape and portrait orientation, and users can switch orientation at any time while watching. All Quibi content is original, filmed and framed specifically to work in both orientations. Also, all content is ten minutes or less, for viewing on the go. Quibi has been busy teaming up with big names and giving them big budgets to produce original content. They're working with, among others, Zac Efron, Idris Elba, Kristen Bell, Chrissy Teigen, Kendall Jenner, Tyra Banks, Steph Curry, and 50 Cent. The company has raised $1 billion. The top-tier programs are budgeted at up to $125,000 a minute. The company plans to roll out more than 175 original shows and 8,500 episodes within its first year.
Certain materials used in current phone cases can block the mmWave frequencies used in some 5G networks. D3O has developed a new, less-dense version of its D3O shock-absorbing material that lets mmWave 5G signals pass through unimpeded. D3O calls it D3O with 5G Signal Plus Technology. The material is impregnated with "micro-voids" to make it less dense. D3O says it can provide the same degree of shock absorption as its standard material. Gear4 (a Zagg brand) is the exclusive licensee and user of D3O material for phone cases, and will use D3O with 5G Signal Plus Technology in its 2020 cases for 5G phones.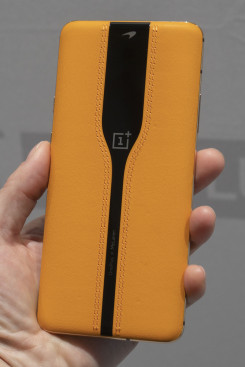 A quick look at the new concept phone from OnePlus, including its unique electro-chromatic technology that seamlessly hides the cameras when not in use. Read on for technical details, video of the Invisible camera in action, hands-on photos, and impressions.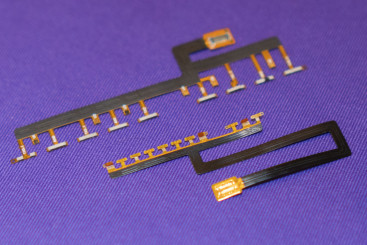 You may be familiar with phones you can squeeze, or that have touch-sensitive sides. Sentons makes those sensors, but they can do more than those simple actions. Much more. This quick video demos the more advanced possibilities, and gives you an up-close look at the ultrasonic sensors themselves.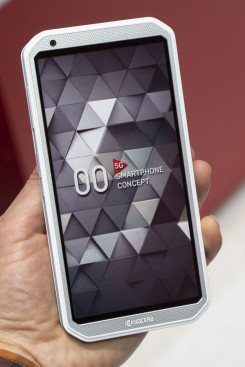 Kyocera is at CES this year showing off mock-ups of 5G devices under development, including their next rugged smartphone for the US, which will have 5G. Kyocera's Product Planning Manager Curtis Wick confirmed to Phone Scoop that the company is still actively developing rugged smartphones for the US market, similar to the DuraForce Pro 2 that is currently offered by AT&T and Verizon. The mock-up shown at CES is not a functional prototype, nor the final design. But it shows the direction the company is going with its designs.
At CES this year, Google is showing off several new functions coming to Google Assistant on Android phones. Soon, you'll be able to say "Hey Google, read it" or "Hey Google, read this page" when you're viewing an article. When you do, it will use "new voice datasets to create more expressive and more natural sounding voices" for reading long-form content. The content can also be translated into 42 languages. Google is also adding two new voice actions for people to easily control their privacy. The first is "Hey Google, that wasn't for you," which lets you tell the Assistant to forget what it heard if an unintended activation occurs. The other is "Hey Google, are you saving my audio data?" to learn about your privacy controls and go directly into the settings screen to change your preferences. Google added several other privacy-related commands recently, including "Hey Google, delete everything I said to you this week."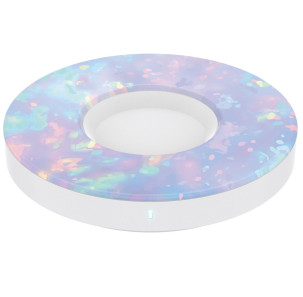 PopSockets today announced PopPower, a Qi wireless charger with a hole in the middle to accommodate the company's popular PopGrip pop-out grip accessory. The $60 charger supports fast wireless charging on Apple and Samsung phones, as well as the new Qi Extended Power Profile (EPP) standard for 15W fast charging. The charger is only compatible with non-metallic PopGrips. The PopPower is available now from the PopSockets web site in three designs: Matte White, Mountainscape and Cosmic Cloud (shown).
Razer has introduced a new accessory that adds full-size physical game controls to a much wider range of phones than its previous Junglecat accessory. The Kishi comes in versions for both iOS and Android. The iOS version has a Lightning connector and is compatible with the iPhone 7 and newer. The Android version is designed to work with most phones that have a centered USB-C connector on the bottom. Kishi's controls are full-size and close to the ergonomics of a typical console game controller. The bottom of the right controller has a USB-C (or Lightning) connector for pass-through charging. The Kishi is powered directly by the phone, so it never needs charging. Kishi will be available in a few months for a price in roughly the same range as the Junglecat, which currently sells for $100. Read on for our hands-on impressions and notes.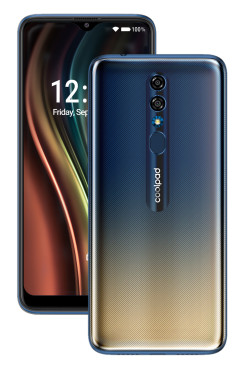 Coolpad's first 5G phone will be offered as an unlocked phone in the US with wide support for most US 5G networks. It will sell for under $400, making it the most affordable 5G phone to date in the US. It will be fully compatible with the current and planned sub-6 GHz 5G networks of AT&T, T-Mobile and Sprint, supporting 5G NR in frequency bands 2, 5, 12, 25, 41, 66, and 71. That is, by far, the largest number of US 5G bands supported in a single phone announced to date. (It won't support the faster mmWave 5G networks offered by Verizon, AT&T, and T-Mobile, although those networks offer limited coverage in only the densest area of major cities.) This new phone will feature a 6.53-inch Full-HD+ display with HDR10 and a small notch, Qualcomm Snapdragon 765 chip, 4 GB RAM, 64 GB storage, 4,000 mAh battery, and 18W fast charging. For cameras, it will have a 48 megapixel main, 8 megapixel wide, and a 16 megapixel front camera. It will also come with Android 10, 3.5mm headphone jack, THX-certified stereo speakers, and a memory card slot. A unique color gradient on the back fades from denim to sand. It will be available in the second quarter of 2020. The exact model name and additional details will be announced later.
Aukey's new Omnia USB-PD chargers use GaN technology to offer fast charging for all types of USB-C devices in unusually compact form factors. Aukey claims they are "the world's smallest PD chargers". The smallest is the size of an average phone charger, but offers up to 61 watts of power, enough to charge a standard laptop at full speed. It has a single USB-C output. Also available are slightly-larger 65W models with either two USB-C ports or one USB-C and one USB-A. The 100W models are slightly larger still, and come with either one or two USB-C ports. Chargers like these allow road warriors to carry a single compact charger for both their phone and laptop. All Omnia chargers feature foldaway wall prongs for compact stowage. The new chargers will be available in the second quarter of 2020. Pricing is yet to be determined.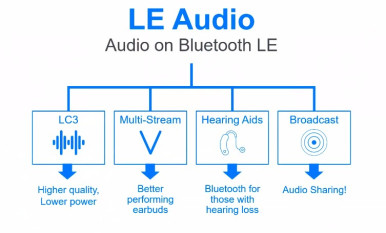 The Bluetooth SIG today announced Bluetooth LE Audio, a new part of the Bluetooth standard designed to replace all previous audio profiles, which will now be referred to as "Classic Audio". LE Audio uses the Bluetooth LE radio, a version of Bluetooth optimized for low power consumption. LE Audio takes advantage of the broadcast capability of Bluetooth LE, which will allow one audio source to transmit to an unlimited number of Bluetooth devices nearby. Individuals will be able to use this feature to listen to music or watch video together. The broadcast feature is also designed for buildings such as theaters, airports, museums, gyms, and convention centers. Users will be able to choose a public (or password-protected) Bluetooth LE audio stream, much the same as choosing Wi-Fi networks today, and listen to the audio channel (or language) of their choice. Because it uses the LE radio and also a new "LC3" codec, LE Audio devices should use up to 50% less power compared to Classic Audio devices. Alternately, device makers can choose to offer much better sound quality using the same amount of power as Classic Audio devices. LE Audio also supports multi-stream and stream syncing. This will provide better native support for stereo true wireless earbuds, and allow earbuds to remain connected to multiple source devices simultaneously. The LE Audio spec also includes specific features to better support Bluetooth-enabled hearing aids. LE Audio requires Bluetooth 5.2, a new version of the core Bluetooth spec that was formally adopted and published earlier today. The first LE Audio devices are expected to ship around the end of 2020.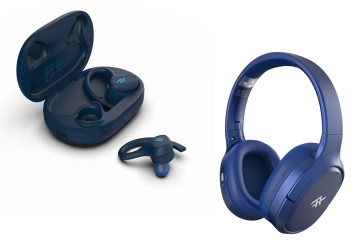 iFrogz has new affordable Bluetooth headphones to address new categories. The Airtime Sport are the company's first true wireless earbuds with a fitness/sport focus, featuring "around-the-ear sport wings". The Airtime Sport also feature 6mm drivers, touch controls, and a charging case with Qi wireless charging and a USB-C connector. iFrogz also offers free replacement earbud tips for life. They will sell for $80 and be available later this quarter. The Airtime Vibe are the company's first with Active Noise Cancellation (ANC), to reduce outside noise by approx. 20 dB. These over-ear cans also feature up to 30 hours of battery life, or 25 when using ANC. They're rated IPx2 for light water resistance and support wired mode as well. They will go on sale later this quarter for $100.
Qualcomm today introduced a new high-quality codec for voice calls over Bluetooth. aptx Voice brings the high quality of aptX — currently available for stereo music connections over Bluetooth — to voice calls over Bluetooth. Standard Bluetooth voice call profiles don't deliver the full quality offered by newer HD Voice services available on 4G networks. aptX Voice corrects this, allowing 32 kHz voice call quality over Bluetooth. aptX Voice is already supported on Qualcomm's new Snapdragon 765 and 865 chipsets.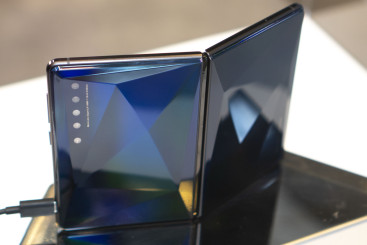 TCL has put out a few folding-screen concepts in the past year, and now they have a new one to show off at CES. It's a little more polished and functional than previous concepts, but it's also definitely not market-ready. The device resembles a small Android tablet when open, but is smaller than a phone when closed. In an interview with Phone Scoop, TCL spokesperson Jason Gerdon said that TCL currently plans to bring a foldable phone to market in 2020, but isn't trying to "rush it"; the company won't hesitate to delay their first foldable if the software and/or market isn't ready. We had some time with the concept model. Read on for our impressions and thoughts.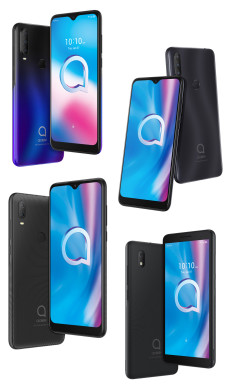 Alcatel today announced four new affordable phones in its 1- and 3-series. While they are mostly similar to least year's models, all have significantly larger batteries. Most have 4,000 mAh batteries. Only the very lowest-end Android Go model has a 3,000 mAh battery, (up from 2,200 mAh in last year's version).
3L: Three rear cameras, including a 48-megapixel main camera, 12-megapixel wide camera, and a 2-megapixel macro camera; 8 megapixel front camera; 6.22-inch HD display with small notch; 4,000 mAh battery; MediaTek MT6762 processor; 4 GB RAM; 64 GB storage, memory card slot; fingerprint reader; Android 10; dedicated Google Assistant button. An "Aurora" laser-etched finish on the back displays a wavy shimmering effect. Priced starting at $155.
3: Three rear cameras, including a 13-megapixel main camera, 5-megapixel depth camera, and a 2-megapixel macro camera; 5 megapixel front camera; 3 GB RAM; 32 GB storage. All other specs and features are the same as the 3L, including the screen, processor, and Aurora finish on the back. In some regions it will be sold as the Alcatel "1S" instead of "3". Priced starting at $110.
1V: The same specs and features as the 3, but without the macro camera or Aurora finish, and 2 GB of RAM instead of 3. A textured back resists finger smudging. Priced starting at $88.
1B: This new entry-level model runs Android 10 Go Edition. Key features include a 5.5-inch HD display with 2:1 ratio, dedicated Google Assistant button, 8 megapixel main camera, 5 megapixel front camera, memory card slot, and 3,000 mAh battery. Priced at just $66.
No US variants were announced, but in recent years, Cricket, Metro, and Verizon have launched their own variants based on Alcatel's global models. Read on for a quick hands-on of the 1V.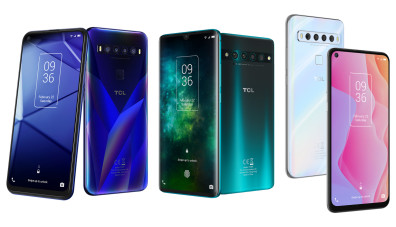 After "soft-launching" with the Plex phone last year, TCL is now previewing its first widely-available lineup of own-brand phones: the 10 series, all of which offer premium features for under $500. TCL officially announced very few details of the three phones, but shared more with Phone Scoop in a hands-on session. All three models offer four rear cameras. The TCL 10 5G offers sub-6 GHz 5G powered by the new Qualcomm Snapdragon 765 chip and an extra-large battery. It also has a large display with a "hole punch" for the selfie camera in the top-left corner. A fingerprint reader is located on the back. The 10 Pro has a premium design with a curved-edge AMOLED display, in-display fingerprint reader, matte glass back with reflective gradient effect, and metal frame. It will be available in black and green. The 10L (L for Lite) is similar in design to the 10 5G, but thinner and lighter. The 10L and 10 Pro will be available in the US unlocked for under $500 in the second quarter. TCL did not announce launch details for the 10 5G, but said it would also be priced starting under $500. Further details on the 10 series will be announced at the MWC trade show in late February. Read on for more details and our hands-on impressions.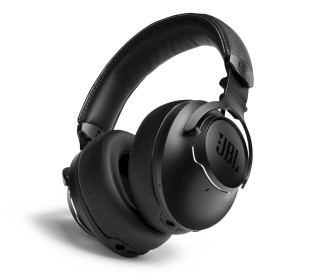 JBL's Club series is the company's new line of high-end Bluetooth headphones. The Club One is the flagship model, offering a long list of pro-grade technologies and features not seen on most other Bluetooth headphones. The graphene drivers are High Res certified. JBL's "True Adaptive Noise Cancellation" samples ambient sound 50,000 times per second and compensates for sound leakage caused by factors such as eyeglasses and movement. A SilentNow feature invokes the noise cancellation without activating Bluetooth, for complete isolation from all sound. Other features include Ambient Aware and TalkThru functions for when you want to hear outside sound, Personi-Fi personal calibration, support for Google Assistant and Amazon Alexa, touch controls, and durable metal hinges. The Club One are full-size over-ear cans, and will sell for $350 this spring. The company also introduced the Club 950NC and Club 700BT models, for $250 and $150, respectively. The models have most of the features of the Club One, but the 950NC have a less-advanced active noise cancellation. The 700BT does not have noise cancellation and is on on-ear model, instead of over-ear. All three models have roughly 50 hours of battery life, or half that when using noise cancellation.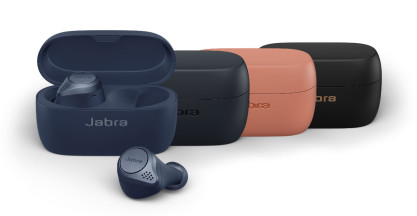 Jabra has unveiled its latest high-end true wireless earbuds for "active lifestyles". The Elite Active 75t are based on the standard Elite 75t, but "enhanced for durability and optimized for workout and fitness use." They replace the Elite Active 65t. Compared that previous model, the new model is 22% smaller, features 89% more battery life, and has an improved IP57 rating for dust and water resistance. Like its predecessor, the Elite Active 75t has passive noise isolation with an optional HearThrough feature to hear important ambient noise for safety. The buds alone can last for 7.5 hours on a single charge, and the USB-C charging case allows up to 28 hours of battery life. A software update coming in Q2 will enable single-earbud mode, and also add a calibration feature that can actively tune the earbuds to your specific ears and hearing. The Elite Active 75t will be available in February for $199. The earbuds will be available in three colors at launch: Navy, Copper Black (Amazon exclusive), and Titanium Black (Best Buy exclusive). In March-April, three additional colors will become available: Grey, Sienna, and Mint.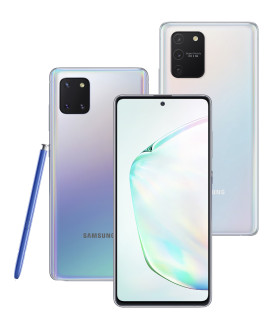 Samsung today announced two new phones: the Galaxy S10 Lite and Galaxy Note10 Lite. In spite of the naming scheme, the two new models are quite similar to each other. Both have a 6.7-inch, full-HD Super AMOLED display, 4,500 mAh battery, fast charging, in-display fingerprint reader, 6 or 8 GB of RAM, 128 GB of storage, memory card slot, and a 32-megapixel front camera in a centered hole-punch in the display. The phones differ in processor (not specified), rear camera specs, and of course the Note10 Lite has a stylus. The S10 Lite has standard, wide, and macro cameras on the back (48, 12, and 5 megapixel, respectively.) The Note10 Lite has standard, wide, and telephoto cameras (all 12 megapixel.) Pricing, regions, and launch date were not announced. The FCC has approved a version of the Galaxy Note10 Lite that could be offered by Verizon, but no other versions compatible with US carriers have been approved to date.
JLab Audio today announced the Go Air fully wireless Bluetooth earbuds, which will sell for just $29. The small earbuds last for up to 5 hours in a single session. The included charging case adds 15 hours of battery life, plus it has an integrated USB charging cable. Integrated touch controls on the earbuds allow the user to choose from three different sound profiles without using an app. The buds use Bluetooth 5 and are rated IPx4 for water resistance. They come with a 2 year warranty. They will be available in March.