Razer's Kishi Adds Full Game Controls to More Phones (Hands On)
Article Comments
Jan 7, 2020, 9:00 AM by Rich Brome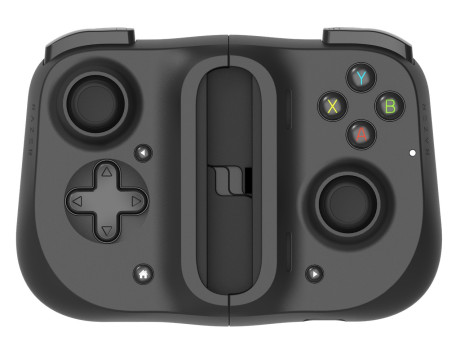 Razer has introduced a new accessory that adds full-size physical game controls to a much wider range of phones than its previous Junglecat accessory. The Kishi comes in versions for both iOS and Android. The iOS version has a Lightning connector and is compatible with the iPhone 7 and newer. The Android version is designed to work with most phones that have a centered USB-C connector on the bottom. Kishi's controls are full-size and close to the ergonomics of a typical console game controller. The bottom of the right controller has a USB-C (or Lightning) connector for pass-through charging. The Kishi is powered directly by the phone, so it never needs charging. Kishi will be available in a few months for a price in roughly the same range as the Junglecat, which currently sells for $100. Read on for our hands-on impressions and notes.
Article
I spent some time using the Kishi this week. It's a clever design, and they've done a good job making serious gamers' fingers feel right at home.
Designing something like this to fit universally over any phone, and grip it securely, is no easy task. I don't even know where I'd start on a project like this. But Razer has done an admirable job here. I tried it on a OnePlus 7T that I happened to bring along, and it fit well, both with and without a slim case. As long as your phone isn't absurdly thick or wide, and it has a centered USB-C or Lightning port on the bottom, it should fit just fine.
The controls are full console size and quality, as are the hand grips (well, almost). That's a major change from most previous attempts at this, (including Razer's own Junglecat,) with their miniature controls. The full-size controls felt great and worked well when I tried a little gaming session with them.
Of course the trade-off is that the Kishi is on the large side, both attached to the phone and when collapsed for storage.
The expanding mechanism it quite clever. The engineering looks a little complicated, but I figured out how to use right away; it's very intuitive.
There are a couple of odd things to note. If your phone has a camera "hump", it may cause the left grip to hug the phone at a slight angle. My OnePlus 7T had this issue. But it didn't seem to hurt the ergonomics one bit. I couldn't even tell it was angled when gripping it and gaming.
Also, depending on how things are arranged at the top of your phone, the left cradle may block the top few rows of pixels, and also the selfie camera and speaker. It may also interfere with the ambient light sensor and cause the display to dim if it's set to auto-brightness, although that's easy to fix by cranking up the brightness.
No messages