Hands-On with TCL's Newest Foldable Concept
Article Comments
Jan 6, 2020, 3:30 PM by Rich Brome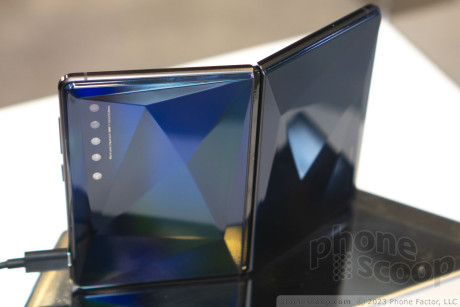 TCL has put out a few folding-screen concepts in the past year, and now they have a new one to show off at CES. It's a little more polished and functional than previous concepts, but it's also definitely not market-ready. The device resembles a small Android tablet when open, but is smaller than a phone when closed. In an interview with Phone Scoop, TCL spokesperson Jason Gerdon said that TCL currently plans to bring a foldable phone to market in 2020, but isn't trying to "rush it"; the company won't hesitate to delay their first foldable if the software and/or market isn't ready. We had some time with the concept model. Read on for our impressions and thoughts.
Article
Everyone is trying something different in the "foldable" category right now, and TCL is no exception. The company's new 2020 concept is something like a cross between Samsung's Galaxy Fold and Motorola's new razr. It's a little chunky when folded, but will still fit well in most pockets. Unfolded, it's a nice little tablet.
The engineering is extremely similar to the Motorola razr. It folds completely flat with no gap visible from the outside. To accomplish this, the flexible screen bends into two empty spaces next to the hinge, just like the razr. Also like the razr, the screen "floats" on the underlying surface and slides a little as you close the phone. But whereas only the bottom half slides on the razr, both sides of the screen float and slide on TCL's concept unit. It's not clear if the screen is firmly attached to any part of the frame.
The phone has a satisfying snap when you close it, and it stays closed easily. It feels like magnets are used for this. But it doesn't have the same effect when it's fully open. A phone like this needs to snap into the fully-open position and want to stay there. TCL hasn't figured that part out yet. Every part of opening and closing the razr feels more refined and satisfying. TCL has work to do. But that's why they call it a concept phone and not a finished product, right? I can tell you that TCL has made dramatic progress from the hinge prototypes I handled at MWC last February.
TCL also has work to do on the supporting mechanism that backs the screen when open. Swiping your finger across the screen (across the hinge, that is), it feels anything but smooth. There are a multiple gaps and uneven parts. Swiping across the screen is quite a common gesture, of course.
Other aspects of the phone felt well-made. But the folding part is hard, and TCL has work to do there.
No messages