TCL
Info & Phones News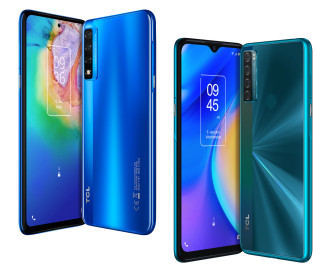 TCL today formally unveiled the TCL 20 Series, a lineup of five TCL-branded phones for 2021. The company provided details on the first two models launching this month — the TCL 20 5G and TCL 20 SE (shown) — and teased three additional models "coming soon": the TCL 20 Pro 5G, TCL 20L, and TCL 20S. The company also revealed that it will bring a device with a flexible display to market this year. The company has shown off several interesting prototypes of foldable and rollable phones over the past couple of years. LG teased a similar rollable device at its CES press conference earlier today.
The TCL 20 5G is an affordable 5G phone already available in Italy for 299 euros. It features a 6.67-inch full-HD display with HDR10, 48 megapixel main camera, 8 megapixel wide-angle camera, macro camera, and 8 megapixel front camera. It's powered by a Qualcomm Snapdragon 690 chipset paired with 6 GB LPDDR4x RAM and 128 GB UFS 2.1 storage. Its 4,500 mAh battery supports 18W fast charging via Qualcomm Quick Charge 4.0+. Other features include a side-mounted fingerprint reader, memory card slot, NFC, and dual-band Wi-Fi. It also features "Super Bluetooth" which allows audio playback through up to four Bluetooth devices simultaneously.
The TCL 20 SE offers a huge 6.82-inch display, 5,000 mAh battery, and 48-megapixel main camera for just 149 euros. It uses a Snapdragon 460 processor paired with 4 GB RAM.
Presumably, the TCL 20 Pro 5G is a higher-end model. No details were released on that model, nor the 20S and 20L. TCL says one or more models in the 20 Series will come to the US this year, but would not specify which models nor when.
---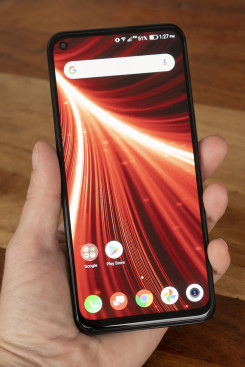 In late 2020, the focus of the mobile world is still on 5G, but it's not on flagship phones; the hot race is who can offer the best $400 5G phone. Verizon's big bet in this race is on the TCL 10 5G UW, which stands out for including faster mmWave 5G, a feature that usually carries a price premium. And this phone has a number of other specs usually found only on much pricier phones. So what corners did TCL cut to reach this low price? Is the phone actually any good? We took it for a quick spin to find out. Here are our first impressions.
---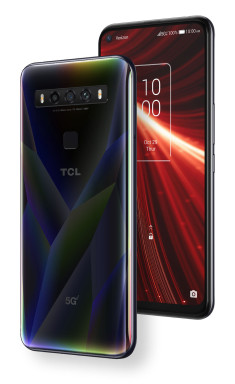 Getting a 5G phone for Verizon just got a lot more affordable with the introduction of the TCL 10 5G UW. The phone is notable for several reasons. First is the $400 price point, a full $150 lower than Verizon's cheapest 5G phones before today. The $400 price point matches T-Mobile's cheapest 5G phone, the REVVL 5G, which is also made by TCL. In fact, the two phones are closely related, sharing many specs and the same "T790" technical model number. The TCL 10 5G UW is also notable for including faster mmWave 5G, a feature that usually carries a price premium. No competing phone near this price point includes mmWave, and Verizon's 5G phones usually carry a $50-100 premium because Verizon requires that all of its 5G phones include mmWave. The 10 5G UW is also notable for being the first TCL-branded phone in the postpaid lineup of Verizon, the largest carrier in the US; this marks a major milestone for the TCL brand. Finally, the 10 5G UW includes several high-end specs one might not expect in such an affordable phone, such as a Qualcomm Snapdragon 765G — a chip also found in some flagship-level phones — as well as 6 GB RAM, HDR10 display, and a 48-megapixel main camera. The premium design sports Gorilla Glass 3 on the front and 3D curved Gorilla Glass 5 on the back covering a subtle, dark prismatic crystal design. Additional specs include a 6.53-inch full-HD display, 128 GB storage plus memory card slot, 4,500 mAh battery, fast charging, and Super Bluetooth for connecting up to four audio devices simultaneously. It also has a wide-angle camera, macro camera, NFC, rear fingerprint reader, and a headset jack. It ships with Android 10 but TCL promises an update to Android 11 is on the way, along with at least two years of quarterly security updates. The TCL 10 5G UW will be available from Verizon starting this Thursday Oct. 29th.
---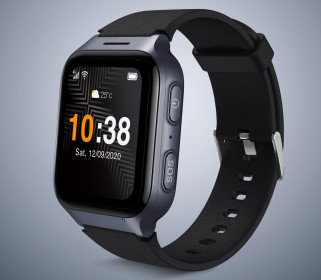 TCL today announced the MoveTime Family Watch MT43A, a wrist-worn wearable device designed specifically for the needs of seniors, with a design similar to the Apple Watch. It includes an array of communication, health, and safety features. It has 4G and two-way voice and texting capability, including emoji and photos. It accepts voice commands for hands-free interaction. Health features include daily activity tracking with the built-in pedometer, sleep monitoring, medication reminders, and heart rate tracking that can alert the user to an unusually low or high heart rate. Other safety features include fall detection — which can send a message to designated emergency contacts with the wearer's precise location — and geo-fencing to alert when outside of a designated "safe zone". It also has a dedicated SOS button on the side. It's rated IP67 for dust and water resistance, and has an OELD touch display. TCL says its 600 mAh battery should provide two-day battery life. The software is proprietary and sports extra-large icons. The MoveTime is sold as a standalone device that can be added to a cellular plan like any other connected smartwatch. It's available in dark grey or black in the US starting this fall for $199. Earlier this year, Verizon launched a similar device, and Coolpad announced it is working on one as well.
---
The FCC has approved a version of the TCL 10 5G with a combination of frequency bands unique to Verizon's 4G and forthcoming sub-6 GHz 5G networks. Unlike all of Verizon's current 5G phones, it does not seem to support Verizon's existing mmWave 5G network. mmWave offers fast speeds but very limited coverage. mmWave also required special antennas in the phone, which is why Verizon's 5G phones to date have often been $50–100 more expensive than the the versions without mmWave offered by other carriers. No longer requiring mmWave will enable Verizon to offer more affordable 5G phones. Verizon is expected to launch its sub-6 GHz 5G network (with vastly greater coverage) in the coming months. TCL has already announced that the TCL 10 5G would come to a major US carrier by the end of the year, with TCL branding, for under $500.
---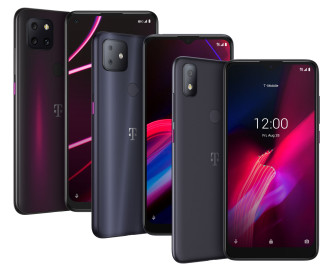 T-Mobile today introduced three new models in its own-branded REVVL series: the REVVL 4, REVVL 4+, and REVVL 5G. The REVVL 5G will sell for $400 — or $200 with a new line of service — making it the most affordable 5G phone in the US to date. All three phones run Android 10 and have a fingerprint sensor.
REVVL 5G: Powered by a Qualcomm Snapdragon 765 chip and a 4,500 mAh battery. Key specs include 6.53-inch full-HD display, 6 GB RAM, 128 GB storage, and triple rear cameras. The main camera has a 48 megapixel sensor, joined by an 8-megapixel wide camera and 5 megapixel macro camera. A 16 megapixel front camera sits behind a corner hole-punch in the display.
REVVL 4+: Powered by a Qualcomm Snapdragon 665 chip and a 4,000 mAh battery. Key specs include 6.52-inch HD display, 4 GB RAM, and 64 GB storage. The main camera has a 16 megapixel sensor. A 16-megapixel front camera is located in a display notch. It will sell for $192.
REVVL 4: Powered by a MediaTek Helio A22 chip and a 3,500 mAh battery. Key specs include 6.22-inch full-HD display, 2 GB RAM, 32 GB storage, 13 megapixel main camera, and 5 megapixel front camera. It runs $120.
All three new REVVL phones will be available starting September 4th from both T-Mobile and Metro. As we
reported two months ago
, TCL is making some or all of these new phones. TCL also makes phones under the Alcatel brand and has made several previous generations of REVVL phones for T-Mobile.
---
Regulatory filings for a new phone from TCL bear the name "REVVL 4+" and describe a phone supporting all of the network bands unique to the T-Mobile/Sprint network. Since 2017, T-Mobile has offered a series of white-label phones under its own "T-Mobile REVVL" brand. Most of the first and second generation REVVL phones were made by TCL. Last year's REVVLRY and REVVLRY+ were the third generation, and the first to be made by Motorola. The filings reveal very few details about the phone, except the FCC approval confirms it will have NFC, and the Bluetooth SIG approval confirms it will have Bluetooth 5.0. The Bluetooth approval for this phone is shared with the TCL 10L, indicating the REVVL 4+ may be based on the 10L. The TCL 10L is a mid-range Android phone with a Snapdragon 665 processor, 48 megapixel main camera, wide-angle camera, and "Super Bluetooth" supporting up to 4 simultaneous connections.
---
Qualcomm's newest and best 6-series Snapdragon chip for phones is the Snapdragon 690, which has 5G as well as high-end performance previously found only on the company's pricier 7- and 8-series chips. The 690, intended for mid-range phones, supports sub-6 5G, but not mmWave 5G. It includes several firsts for the 6 series, including support for 4K HDR video capture, 120 Hz display refresh, dual Wi-Fi antennas, and Qualcomm's Hexagon Tensor Accelerator for on-device AI. Compared to the Snapdragon 875 — the previous top-end chip in the 6 series — the 690 has 20% better CPU performance, 60% faster graphics rendering, and 70% better AI performance. The Snapdragon 690 also supports up cameras up to 192 megapixel, Quick Charge 4+, and Wi-Fi 6. The 690 is made using an 8nm manufacturing process. Phones based on the Snapdragon 690 are expected to ship in 2020. Nokia, LG, Motorola, and TCL announced plans to use the chip in their phones.
---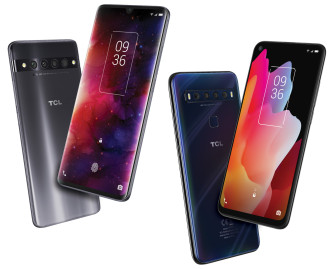 TCL Communication, maker of Alcatel-branded phones, is launching its first TCL-branded phones in the US. The TCL 10 Pro and TCL 10L will launch as unlocked phones. TCL also makes televisions and their own display panels. TCL phones use TCL displays.
TCL 10 Pro: A mid-range phone with a flagship-level design, including a curved-edge OLED display and matte glass back. The 6.47-inch display sports full-HD resolution and Netflix-certified HDR10 color. The four rear cameras include a 64-megapixel main camera, 16-megapixel 123º wide-angle camera, macro camera, low-light camera, laser focusing, and separated dual LED flashes. The front camera is 24 megapixel. It's powered by a 4,500 mAh battery, Qualcomm Snapdragon 675 processor, and 6 GB of RAM. It has 128 GB of storage plus a memory card slot. Other features include Android 10, in-display fingerprint reader, 3.5mm headset jack, USB-C, and, unusually, an IR emitter. A fast charger and clear case are included. 4G LTE network support includes US bands 2, 4, 5, 12, 13, 25, 26, 41, and 66. The only color option at launch in the US is Ember Gray. It will sell for $450.
TCL 10L: A more affordable option at $250, the 10L has a 6.53-inch full-HD display, Snapdragon 665 processor, 6 GB of RAM, and a 4,000 mAh battery. It also has quad rear cameras like 10 Pro, including a 48-megapixel main camera, 8 megapixel, 118º wide camera, 2 megapixel macro camera, and depth camera. The front camera is 16 megapixel. It has a rear-mounted fingerprint reader and 64 GB of storage. Like the 10 Pro, it has a memory card slot, 3.5mm headset jack, USB-C, multi-stream Bluetooth, Android 10, and 4K video capture. It supports the same US LTE bands as the 10 Pro: 2, 4, 5, 12, 13, 25, 26, 41, and 66. It will come in Mariana Blue with a "holographic finish on the back that reflects an iridescent shine."
Both phones will be available from Amazon, Best Buy, and Walmart starting May 19th.
---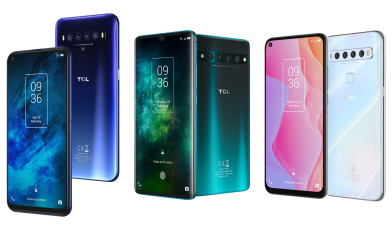 TCL has announced select launch details for its first proper lineup of TCL-branded phones: the TCL 10 5G, 10 Pro, and 10L. The 10 5G will come to a "major" US carrier "later this year". Pricing of the 5G model in the US is yet to be determined, but it will sell for €399 overseas. Both the TCL 10 Pro and 10L will be available unlocked in the US in May, for $449 and $249, respectively. The 10 5G has a 6.53-inch full-HD LCD display, Qualcomm Snapdragon 765 chipset, 6 GB of RAM, four rear cameras, memory card slot, and a 4,500 mAh battery. The 10 Pro has similar specs except it has a 6.47-inch curved AMOLED display, an in-display fingerprint reader, and a Snapdragon 675 chipset. The affordable 10L has specs similar to the 10 5G except for a Snapdragon 665 chipset and a 4,000 mAh battery. We published additional details and a hands-on report in January.
---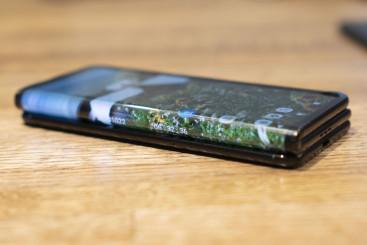 TCL has a new batch of concept phones to show off in 2020 that use flexible-display technology in interesting ways. Two are foldables, including a unique "tri-fold" design with two different hinges allowing it to reach full tablet size when open. An even more unique design offers all the screen-expanding advantages of a foldable without the thickness penalty. It looks like a standard smartphone, but magically "stretches" sideways to turn into a tablet. We had hands-on time with all three concepts at three different events in recent weeks. Here are our impressions, with photos and a video.
---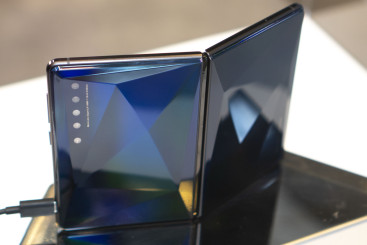 TCL has put out a few folding-screen concepts in the past year, and now they have a new one to show off at CES. It's a little more polished and functional than previous concepts, but it's also definitely not market-ready. The device resembles a small Android tablet when open, but is smaller than a phone when closed. In an interview with Phone Scoop, TCL spokesperson Jason Gerdon said that TCL currently plans to bring a foldable phone to market in 2020, but isn't trying to "rush it"; the company won't hesitate to delay their first foldable if the software and/or market isn't ready. We had some time with the concept model. Read on for our impressions and thoughts.
---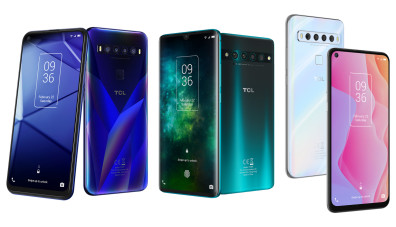 After "soft-launching" with the Plex phone last year, TCL is now previewing its first widely-available lineup of own-brand phones: the 10 series, all of which offer premium features for under $500. TCL officially announced very few details of the three phones, but shared more with Phone Scoop in a hands-on session. All three models offer four rear cameras. The TCL 10 5G offers sub-6 GHz 5G powered by the new Qualcomm Snapdragon 765 chip and an extra-large battery. It also has a large display with a "hole punch" for the selfie camera in the top-left corner. A fingerprint reader is located on the back. The 10 Pro has a premium design with a curved-edge AMOLED display, in-display fingerprint reader, matte glass back with reflective gradient effect, and metal frame. It will be available in black and green. The 10L (L for Lite) is similar in design to the 10 5G, but thinner and lighter. The 10L and 10 Pro will be available in the US unlocked for under $500 in the second quarter. TCL did not announce launch details for the 10 5G, but said it would also be priced starting under $500. Further details on the 10 series will be announced at the MWC trade show in late February. Read on for more details and our hands-on impressions.
---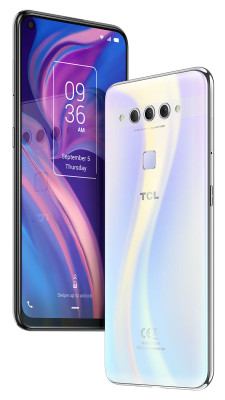 TCL Communication — the company behind Alcatel, BlackBerry, and Palm phones — is branching out with a new line of phones under its own TCL brand. The first model is called the Plex and is higher-end than most Alcatel-branded phones. TCL will also introduce 5G and folding phones under the TCL brand next year, making it a decidedly higher-end brand for the company. The Plex has a full-HD+ 6.53-inch display on the front and triple rear cameras. The display is a "Dotch" LCD panel made in-house by TCL; it achieves 90% screen-to-body ratio thanks to a hole-punch design for the selfie camera. The display also automatically adjusts to ambient light color. The main camera is a 48-megapixel Sony sensor. It's assisted by a dedicated 2-megapixel (1080p) low-light sensor for video. The third camera is a 16-megapixel wide-angle camera. The unique dual flash design puts a separate LED on each side of the camera lenses. The Plex is powered by a 3,820 mAh battery, Qualcomm Snapdragon 675 processor, 6 GB of RAM, and comes with 128 GB of storage plus a memory card slot. It also has a fingerprint reader on the back, headphone jack, and USB-C connector supporting Quick Charge 3.0. The version announced today features Cat. 6 LTE supporting European frequency bands. It will launch by the end of this year "starting with select markets" in Europe at a recommended retail price of €329.
---