Hands On with the TCL 20 XE and TCL 20 A 5G
Article Comments 1
Oct 29, 2021, 12:23 PM by Rich Brome @rbrome
updated Nov 4, 2021, 11:25 AM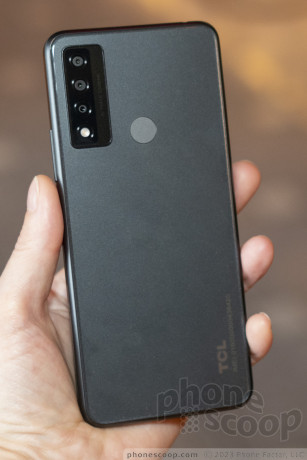 TCL has two new affordable phones for the US market: the entry-level TCL 20 XE, and the $200, 5G-enabled TCL 20 A 5G. While the price is certainly right, are they truly a good value, or just cheap? US carriers have trusted TCL's affordable phones for many years (often under the Alcatel brand), so the company should know what it's doing. Read on for our hands-on report and first impressions, to find out how these models turned out.
Advertisements article continues below...
Hardware
The TCL 20 A 5G joins a growing list of 5G phones at or under $200. This is a hot category now. (US carriers would really love it if you upgraded to a 5G phone yesterday. There are actually good technical reasons for this.) The TCL 20 XE is an entry-level 4G phone. It sells for $160 with Metro by T-Mobile, although Boost will sell it soon for just $120.
TCL's extensive experience making phones in this category seems to have paid off here. You won't mistake either for a premium phone, but they've made all the right choices to ensure these phones don't look or feel cheap, either. They both feel comfortable and well-made. They won't win style awards, but they do look classy and professional. There are no fancy shimmer effects on the back, and I'm absolutely fine with that. I particularly appreciate the matte finishes on the rear, which feel nice, look nice, and will keep looking nice since matte finishes don't show finger smudges quite as much (though they still can in the right light).
Both phones are the same size, and use the same 6.52-inch screen. It's pretty much the standard, average size for phones (of any price) these days. There is a "chin" below the display, but overall the bezels are relatively thin. The phones are just heavy enough to not feel cheap. The side buttons work well.
There are a few small external differences between the two. The 20 XE has relatively flat sides, and no extra shortcut button. The 20 A 5G has rounded sides and a dedicated Google Assistant button on the left side. The phones are otherwise the same on the outside.
If you care about camera quality, this is probably not the price range you should be shopping in; you'll simply have to spend more to get great photos from your phone. With that said, I do wish manufacturers of affordable phones would at least just focus on the basics. Instead, they try to trick us into thinking a phone has a fancier camera system than it really does. For example, at first glance, you might think these phones have four rear cameras, (as if more is always better.) But of course one is just the flash. And those two "extra" cameras are so low-resolution that you're unlikely to want to share the output. What are you supposed to do with a 2 megapixel macro photo, or a 5 megapixel wide-angle photo? These are gimmicks. At least the 20 5G has a main camera with 16 megapixel resolution. That's something.
Software
The software is Android 11 with very little added or changed by TCL, which is just fine by me.
On Android phones, the camera app is where manufacturers really try to stand out with a unique software experience. In that respect, TCL has come up with something clever on the 20 XE: They've made the row of toggles at the top into an expanding drawer. This is kind of like how Quick Settings work in Android's notification shade. This doesn't technically save you any taps compared to tapping Settings and changing one of the top options there, but it feels a lot faster and more convenient. On this phone, it provides easy access to toggles for touch to capture, auto (smile) capture, guidelines (thirds grid), and gradienter (horizon level). I think this is a smart interface innovation that I hope TCL brings to its other phones down the road.
TCL's unique camera modes on both phones include Light Trace (long exposure) mode, a "calorie counter", and a stop-motion mode. Unfortunately, only the 20 A 5G does slow-motion video as well. Google Lens has a handy shortcut right on the main camera screen, for quick access to that QR-code restaurant menu.
Summary
There isn't a whole lot to say about phones like this. I don't expect to be blown away by anything at this price point. I do hope for a solid value with smart design choices, and on that, TCL seems to have delivered. These two phones look decent, feel good, and have no obvious flaws. The trade-offs they've made to reach these low prices generally seem like the right ones, making these competitive in their price class. If you're looking for a good $120 phone, or a good 5G phone under $200, these should be worth a look.
Good info!
Thanks! There's no glory in reviewing bargain tech, just cold reasoning. But it's as a category it's as important as it is neglected!