Hands On with the TCL 20 Series
Article Comments
Jul 2, 2021, 2:11 PM by Rich Brome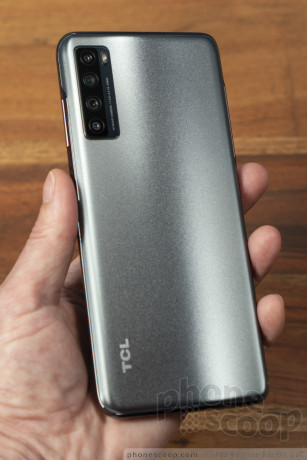 TCL just brought three new phones to the US market in its signature 20 series: the 20 Pro 5G, the 20 S, and the 20 SE. As you might guess from the "Pro" in the name, the 20 Pro 5G is the highest-end, filling the role of "affordable flagship". The 20 SE is the most affordable at just $190. Does that make the 20 S the Goldilocks of the group? What are they actually like in person? Read on for our impressions in this hands-on with all three phones.
Oh how they differ
Normally I'd start an article like this by telling you what they have in common. Looking at photos of the 20 series, you'll notice that they share camera and logo placement, and some have a stripe down the back. However, that's the entirety of TCL's current design language, and it's about all these phones have in common.
Holding them, each of these three phones feels like it was designed by a completely different company. While they share TCL software, I found little in the way of common threads when examining the hardware.
They vary quite a bit in shape and size, both overall and with the screen, specifically. Each has a different style of display, and different style of fingerprint reader. The physical phone widths are all over the place. (Width is the most crucial measurement for how a phone fits in your hand.) My point is that TCL doesn't seem to have a clear philosophy for its phone designs. They don't seem to have settled on an ideal phone width, strong design language, or what sets TCL phones apart.
(TCL would probably say it's their display technology that sets them apart, but I have trouble noticing any difference compared to the competition.)
So if you're trying to decide between the 20 SE and the 20S, for example, I'd normally recommend that you go check them out in person at a store, because they feel so different. But since these are sold unlocked, online in the US, that may not be an option. Hopefully this hands-on will help.
20 SE
The 20 SE is the most affordable at $190. It has a huge 6.82-inch HD screen and huge 5,000 mAh battery. That seems to be a trend this year: some of the most affordable phones now have the largest screens and batteries. I can't complain about that.
But I can complain about how huge that makes the phone overall. This is a whopper of a phone, and simply too big for me, personally. Dion't consider this phone unless you have large hands, or are sure you don't mind huge phones. Even so, don't ever plan on using it one-handed.
included cases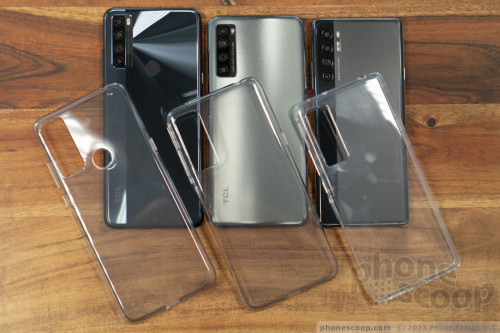 included cases
I do love that all three of these phones include a clear case that seems like it will protect the phone well. I give TCL major credit for that move and wish other companies would follow suit. With that said, adding a case of course makes the 20 SE even larger.
Aside from size, the 20 SE feels fine. I like the customizable shortcut button on the side. The buttons all work well, though the volume control is a bit high and difficult to reach. The fingerprint reader is well-placed on the back. The back design is highly reflective and a bit flashy, but at least it doesn't have a gaudy rainbow effect. It also collects fingerprints like a magnet.
Aside from the screen size and battery size, the specs are mostly basic. The 4 GB of RAM and 128 GB storage are a notch above the most entry-level phones today. The 48 megapixel main camera does offer easy access to the full 48 megapixel resolution if you like, which can't be said about all competing phones. The wide-angle camera is only 5 megapixel, though, which makes it a toy in my book.
My gravest concern with the 20 SE is that only has the most basic support for US 4G networks. TCL won't be getting this one approved for Verizon and it doesn't support band 71 for full coverage with T-Mobile. It will work with AT&T, but you won't get great data speeds because it's only LTE Cat. 4 and doesn't support AT&T's extra bands like 14, 29, and 30.
20S
The 20S is a completely different phone that fixes almost everything I don't like about the 20 SE. At $250, I think it's well worth the extra $60 over the 20 SE.
For starters, it has vastly better support for US 4G networks. It has full support for all T-Mobile bands, and good support for Verizon and AT&T. With Cat. 11 LTE, it should get very fast speeds with T-Mobile and pretty good speeds with Verizon and AT&T. (Not supporting bands 14, 30, and 48 could keep it from getting the best possible speeds on those networks, but it should still be very respectable.)
It also adds NFC (a feature I use daily) and fast charging, which is key on a phone with a huge 5,000 mAh battery. The processor, Wi-Fi, and cameras have also been upgraded. Crucially, the wide-angle camera is 8 megapixel. I'd prefer still more resolution, but it's less of an afterthought than the 5mp wide camera on the SE. The main camera is also 64 megapixel, so when you're using pixel binning for high-quality and low-light shots, you're still getting a nice, sharp 16 megapixel image.
The display is slightly smaller, which brings the phone down to a noticeably more manageable size. It's still a large phone, and it's just as wide and thick. But that little bit of height chopped off the top helps the phone feel much more balanced in the hand. Adding a case does make it a bit wider than I'd prefer.
The display is still plenty large, and the bump up to full-HD resolution means everything looks noticeably sharper. It does have some uneven backlighting, a common issue with hole-punch LCD displays like this. And I've seen brighter displays. Given that TCL makes it a point to brag about its phone display technology, this one doesn't live up to the hype. But I think most people will still find it a fine display in everyday use.
The design is definitely borrowing inspiration (ahem) from Samsung's Galaxy S20 series, but it's very attractive all the same. The frame looks convincingly like metal, but feels like plastic.
It's the back surface that I absolutely love, though. It has a luxurious satin feel. I just love touching it, but it's also great at rejecting fingerprints. And the design reflects light in a way that gives it depth. It strikes the perfect balance of eye-catching yet classy. And it looks great through the included clear case, too.
Again, if you're wondering if the 20S is worth $60 more than the 20SE, the answer is absolutely, yes.
20 Pro 5G
The 20 Pro 5G is such an odd phone to categorize. It's a little bit stuck in the past, and yet... I like it.
First, there's a big jump in price here. At $500, it's twice the cost of the 20S. The rest of the industry is busy churning out the cheapest-possible 5G phones, with some now selling for just $200. TCL isn't playing that game; "cheap 5G" seems to be a category TCL is leaving out of its US lineup for the moment. 5G phones that sell for $200-300 use cheap 5G chipsets and come in plastic bodies. The 20 Pro 5G is decidedly higher-end than that. This is more in the "affordable flagship" category, where 5G is simply standard by now.
So what's so "Pro" about this phone? The specs are all boosted, including a Snapdragon 750G chip, Sony sensor in the 48-megapixel main camera, 16 megapixel wide-angle camera, and wireless charging. It also has 6 GB RAM and 256 GB of expandable storage.
The body is also a big upgrade, with a premium metal-and-glass design. The front has an AMOLED display with curved edges, which helps the phone achieve thinner bezels and a narrower design. This means the display is just as large as the one in the 20S, but the phone feels way smaller in your hand. The metal frame and curved, satin glass back make this phone feel just as high-end as any flagship phone out there; it feels really great. They've also achieved the neat trick of putting all the cameras under the main glass back, which looks very slick. There is a reflective effect that gives the design some depth, but it's very restrained; TCL clearly wanted its Pro phone to look professional, and it does.
The US network support is also excellent, supporting all major bands of 4G and most sub-6 5G bands as well. Of the unlocked phones on the market, few have the network support to offer the data speeds that this phone should be capable of in the US. Even fewer can do it at this price point.
The 20 Pro 5G competes against phones like the Samsung Galaxy A52 5G, and I think it competes well. For the same price, you get a more premium design that packs a larger display into what feels like a smaller body. The Samsung A52 has a high-refresh display and true water resistance, but the TCL 20 Pro 5G delivers wireless charging and a better wide-angle camera.
I said earlier that the 20 Pro 5G feels a bit stuck in the past. That's partly because the phone has a curved-edge display and optical fingerprint reader, two technologies that some manufacturers have tried before and recently turned away from.
But the real blast from the past is the IR blaster. Yes, this phone can replace an infrared remote and control your TV. Remember when that was a thing phones did? TCL does. Of course that makes sense, since TCL also makes TVs. TCL has even integrated the remote-control functions into it system-wide shortcut bar. Which leads us to...
Software
I really like TCL's current flavor of Android software. A lot. For the most part, it's "stock" Android as designed by Google. Where TCL has added customizations, they're thoughtful and useful.
You can choose a standard Android home screen, or a more iPhone-like setup without a separate app drawer. You can even choose whether app icons arrange themselves without gaps, just like an iPhone. You can choose to use Android system gestures, or classic buttons at the bottom, and choose the back button location if you prefer a Samsung layout.
TCL's displays are all too blue out of the box for my taste, but in Settings you can easily adjust the color temperature to whatever looks more natural to you. TCL calls this Eye Comfort Mode. You can also put this feature on a schedule to use it as a night mode. (I'd like it better if you could set the color temp for both day and night modes.)
customized UI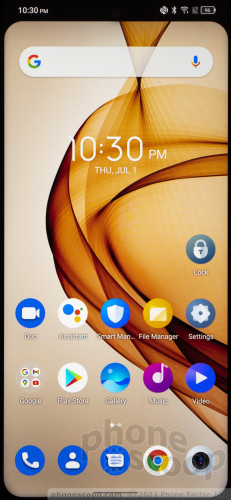 customized UI
I appreciate that TCL lets you customize how the camera notch/hole is handled at the top of the interface. If you prefer a back bar that "hides" the notch/hole, you can choose that.
TCL also has a shortcut bar feature that's available at all times. On the 20 SE and 20 Pro 5G, this is called Edge Bar, and it's a little tab that sticks out from the side of the screen. Swipe in from the side to access a column of shortcuts and a ruler tool. (This is exactly like what Samsung introduced with its first curved-edge-display phones.) The whole feature is highly customizable. The 20 SE only lets you add shortcuts to apps and contacts, while the other two let you add more specific actions like "launch front camera", "add a new contact", or "take a note". And as I mentioned earlier, the 20 Pro 5G has a dedicated section in the Edge Bar for your TV remote controls.
On the 20S, instead of Edge Bar, it's Fingerprint Quick Launch. This is launched by tapping twice on the fingerprint sensor on the side. It maxes out at four shortcuts while the phones with Edge Bar support many more. But the general idea is the same.
The camera software is fairly standard and decent. I do appreciate easy access to Google Lens and TCL's "Night Trace" mode for nighttime long exposures.
There are only two small things I don't like about TCL's software. First is the small amount of bloatware. I don't mind Netflix and Facebook being pre-loaded, but I doubt most people will appreciate their new phone coming with the 92 MB Booking.com app and some shooter game I've never heard of. The second thing I don't care for is that apps in the app drawer are grouped by category by default. Fortunately that's easy to change.
In sum, my first impression is that I'm impressed with the 20S and 20 Pro 5G. I think they're both solid choices at their respective price points. I'm less impressed with the 20 SE, although if you want the largest display and battery at the cheapest possible price, it delivers on that.
No messages