TCL Launches 20 Series in US
Article Comments
Jun 28, 2021, 8:45 AM by Rich Brome
updated Jun 28, 2021, 8:04 PM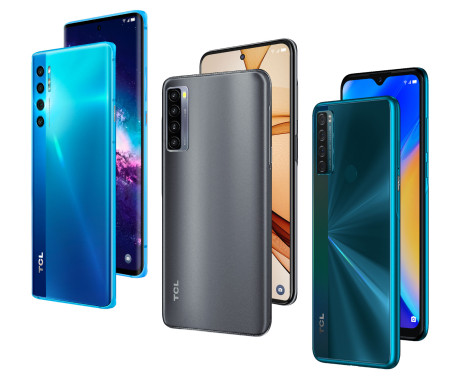 TCL today revealed the US launch details for its new 20 series of phones: the TCL 20 Pro 5G, 20S, and 20 SE.
The 20 Pro 5G is an affordable flagship phone with 5G for $500. It has a curved-edge TCL AMOLED display, satin glass back, 48 megapixel Sony-made main camera, 16 megapixel wide-angle camera, and wireless charging. It's powered by a Qualcomm Snapdragon 750G chip with 6 GB RAM, 256 GB storage, and a 4,500 mAh battery. It has excellent support for all 5G and 4G US networks, including Verizon. It's available in Moondust Gray and Marine Blue.
The 20S has a 64 megapixel main camera, 8 megapixel wide camera, huge 5,000 mAh battery, and 18W fast charging. It also has a Snapdragon 665 processor and 4 GB RAM. It has excellent support for Verizon and T-Mobile 4G networks, and decent support for AT&T. It runs $250 and comes in Milky Way Black and Frosted Blue.
The 20 SE is only $190 but comes with 48 megapixel main camera, wide camera, 4 GB RAM, and huge 5,000 mAh battery. It has basic support for AT&T and T-Mobile networks, and comes in Nuit Black and Aurora Green.
All three phones are available starting today on Amazon.com. As a launch promotion for this week only, TCL is offering a free pair of TCL MOVEAUDIO earbuds with the purchase of a TCL 20 Pro 5G or 20S. The 20 Pro 5G comes with the MOVEAUDIO S600 (a $100 value) using promo code TCL20BOGO1
, while the TCL 20S comes with the MOVEAUDIO S150 (a $40 value) using promo code TCLBOGO2.
No messages