Hands On with the TCL Stylus 5G
Article Comments
Jun 7, 2022, 7:00 AM by Rich Brome @rbrome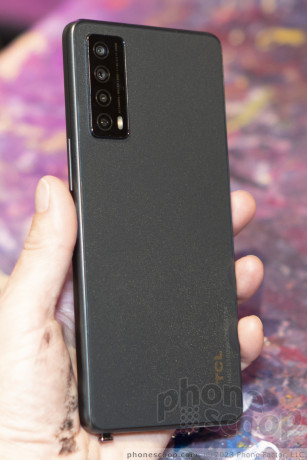 Now that LG is no longer making its Stylo phones, TCL isn't content to let Motorola have all the fun in the popular affordable-stylus segment of the US market. Enter the TCL Stylus 5G, an entirely new foray for TCL. It delivers exactly what you would expect from a phone competing with the moto g stylus series, but at a very impressive price. What's it like in person? Read on for our hands-on report and first impressions.
Advertisements article continues below...
Hardware
The TCL Stylus 5G is a large, tall phone, which allows for the large screen space you expect on a phone like this. At 6.81 inches, it is, indeed, quite large. The bezels around the display aren't too large, making for a respectable screen-to-body ratio.
I was pleasantly surprised that it felt relatively thin and light. I think the 4,000 mAh battery (smaller than the competition) is what allows for this. I appreciate that TCL has created an alternative for people who might find the Motorolas too heavy to hold for long periods.
The design looks a bit plain at first, perhaps even cheap. But inspecting it in person, it surprised me. The back may not have the curves or fancy shimmer of some competing phones, but it has a very practical finish that feels very smooth and comfortable, while being just matte enough to resist fingerprints. I would say it feels more premium than it looks.
Around the sides, you'll find a very unusual herringbone texture. I'm not sure it provides any specific advantage, but I kind of like the feel of it, and definitely appreciate that TCL tried to do something unique here.
Stylus
As for the stylus, I liked it. It's very easy to make a phone stylus too small and fiddly, but I think they've done a good job making this one the right size.
In a brief tests, it worked well. Motorola did something weird with the tip material on its new stylus phones; this one seems more "normal" and I prefer it.
One thing I did notice with the new Motorolas is a tiny bit of lag when using the stylus. It's not dramatic, but it can take away from any illusion that you're using a pen on paper. TCL specifically says that this phone has 38% better stylus latency compared to the competition, and I appreciate that. It may sound like a small thing, but if you actually use the stylus a lot, I promise it's a big deal.
Software
I think TCL's flavor of Android is just fine.
The key software here is Nebo, a note-taking app with handwriting recognition, and MyScript Calculator 2, a math-equation app. There are some other software additions that take advantage of the stylus, but those are the main two apps. I didn't have enough time to really evaluate these, but they are popular and well-rated apps in Google's app store.
When you remove the stylus, that triggers a simple full-screen menu for stylus-related tasks. It's very efficient compared the small, fiddly pop-up windows that some competing phones have. TCL says this phone is targeted at productivity-oriented people, and this is a good example of where they have such people in mind.
The camera app is just okay. I do appreciate that the main camera is 50 megapixels, with pixel binning for better everyday quality as well as a true 50-megapixel mode available. The wide and macro cameras are afterthoughts at best, that exist mainly to inflate the camera count (I really wish that trend would end.)
I like that there are slow-motion, stop-motion, and "light trace" (long exposure) modes, but Motorola does have a better camera app with more functions.
Summary
I think this phone goes head-to-head with the Moto g stylus 5G very well, and even has an advantage or two. (The battery is a trade-off, but one you might be willing to make for better weight.) That this phone also has 5G and sells for $42 less ($258 on T-Mobile) is quite impressive. You really can't deny the value.
The TCL Stylus 5G is available now from both T-Mobile and Metro by T-Mobile.
No messages